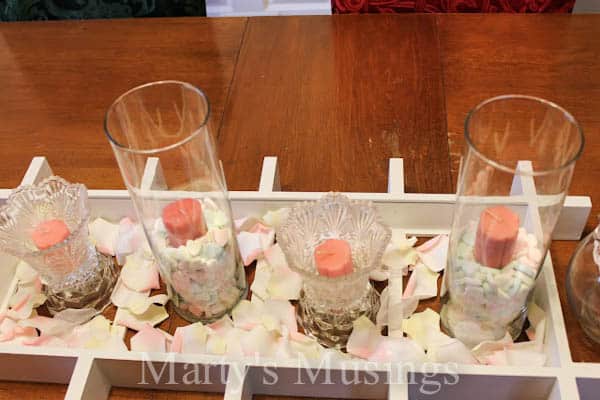 I am enjoying stretching my mind and learning how to decorate more creatively. I'm not very good at it (as my daughter would tell you) but I try hard! I love surfing Pinterest for new ideas to reuse and renew. I'm a yardsaler so I have access to loads of items. I just have to figure out what looks good in MY house.
Our 25th wedding anniversary is coming up on Valentine's Day so I set up my tablescape as soon as I took down the Christmas decorations.
I don't have before pics but the frame that my candles are in was purchased at a yard sale for $1. It originally had frosted glass in 4 sections and I was considering using it for a wall display. Instead I took out the glass, hubby painted it white and in went the rest of the centerpiece! The large vases (from my daughter's
wedding
) have pastel conversation hearts in them.
The two candles holders on each end were made for my daughter's 16th birthday party (7 years ago!)
The two candle holders in the middle are a combination of two holders. Love the look of crystal.
For good measure I threw in the flower petals.
Total cost: $4 (frame, candles, candy)
***Since I originally wrote this post I have found my decorating style! I'd love it if you would check out my project gallery and see!