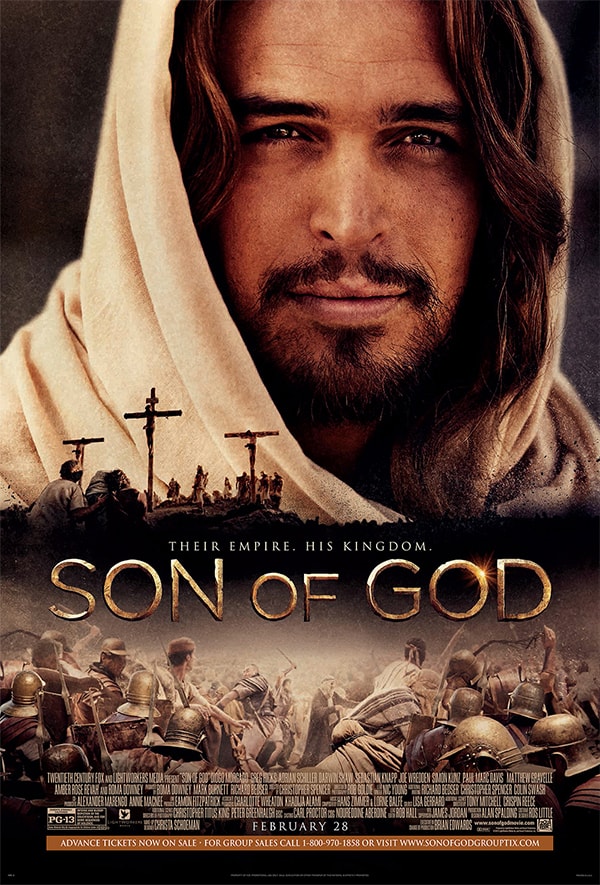 **I have been out of town so I couldn't start the giveaway any sooner so I'd love if you'd share the giveaway on your social media and allow more folks a chance to win!
Instead of my usual Simple Gift Sunday post I wanted to share a terrific giveaway to celebrate the joy of the Easter story.
Have you heard the buzz about the Son of God movie? I have not seen it but my two teenagers did and they were both moved to tears with this retelling of the story of Christ.
Each Prize Pack Includes:
1 pair of movie tickets to see SON OF GOD in theaters through Easter
1 Music Inspired By Son of God CD
1 Son of God Epic Motion Picture Soundtrack CD
Here's a clip to entice you to enter for tickets to see the movie:
SON of GOD MOVIE Prize Pack
Courtesy of 20th Century Fox, Lightworkers Media and Motive Entertainment, enter for a chance to win movie tickets to see SON of GOD in theaters through Easter!
From the award-winning producers of the record-breaking miniseries "The Bible", Roma Downey and Mark Burnett, comes Son of God, the larger-than-life story of The New Testament, released by 20th Century Fox and in theaters now. Son of God is a major motion picture that brings the life of Jesus Christ to the big screen like never before.
Told with the scope and scale of an action epic, the film features powerful performances, exotic locales, dazzling visual effects and a rich orchestral score from Oscar®- winner Hans Zimmer. Award-winning actor Diogo Morgado portrays Jesus as the film spans from his humble birth through his teachings, crucifixion and ultimate resurrection.
The movie is action-packed with special effects, powerful acting, and beautiful cinematography. It marks the first major motion picture about Jesus' life since Passion of the Christ, released ten years ago.
SON of GOD (Music Inspired by the Epic Motion Picture)
Courtesy of Word Entertainment. The biggest names in Christian Music collaborate to accompany the story of Jesus through song. 'Son of God: Inspired by the Epic Motion' features exclusive songs by Francesca Battistelli and Chris August plus hits from for KING & COUNTRY, Big Daddy Weave, Sidewalk Prophets and more. http://bit.ly/inspiredbysog
SON of God (Original Motion Picture Soundtrack)
Courtesy of Universal Music. With music composed by Hans Zimmer and Lorne Balfe and vocals by Lisa Gerrard from the major motion picture Son of God, the soundtrack has a unique and motivational inclusion featuring the words of Jesus! http://bit.ly/hearwordsofJesus
This would be a great idea for date night!
To enter to win simply leave me your email address in the comments below. I will pick two winners Monday evening, April 21st. Continental US address only.