31 Days to a Beautiful Home: Day One
This post may contain affiliate links which won't change your price but will share some commission.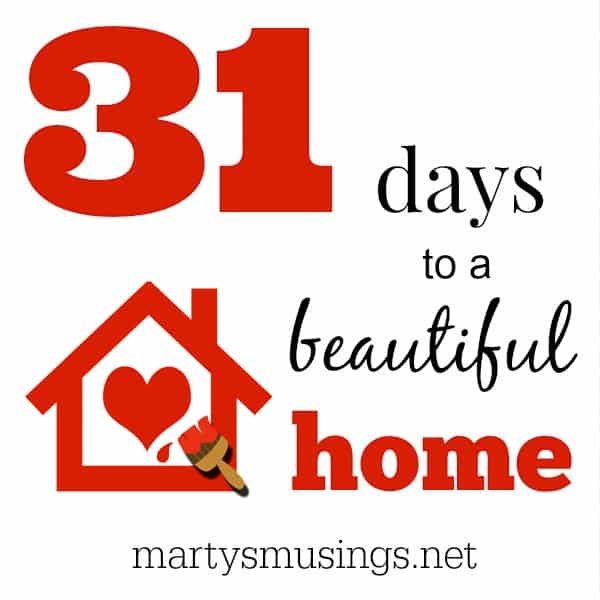 I'm going to share something with you today that scares me half to death.
Are you ready?
I'm joining The Nester and tons of other writers who are committing to writing 31 days for the entire month of October.
I know I'm a little melodramatic.
Why should this scare me so much?
Because I'm an A personality who doesn't deal well with failure. I rarely undertake a task unless I believe I can complete it.
The idea of putting that much stress on myself BY CHOICE is a little crazy!
I'm doing it anyway. Stretching outside my comfort zone.
And you know what? I'm giving myself permission to fail.
Life happens. Sickness, chores, responsibilities and home repairs happen.
My desire to write for a month is a way of putting words to my heart's desires to inspire, encourage and empower you.
Have you ever noticed my tagline?

Home is where your story begins.
Every home, every family has a story to tell.
I can tell you from personal experience that it's more than just large rooms, impeccable home decor or perfect families.
I have always tried to ask myself "what can I give me family that no one else can?" Is it amazing home cooked dinners?
Is it training my children "in the way they should go" and reaching for their hearts?
It's all these things and more.
I hope to share how I am seeking to let go of unrealistic expectations and dreams and embrace the imperfection that is my life.
I want to answer the question "what does a beautiful home really look like?"
My desire is to inspire you with our story of perseverance while parenting wounded children who stretched our hearts and lives more than we could imagine.
I hope to encourage you to change your idea of what home really is and embrace your life right where you are.
I hope to empower you to take small steps to change your family story one day at a time.
Will you take the challenge with me? Your challenge may not be writing every day, but surely you have something that's been eating at you. Some area of your life that spending just a few minutes each day tackling could result in big changes.
I'd love to know you're joining me in pushing yourself out of that comfort zone.
Ready? Let's go! See you here tomorrow!
My hope is that my 31 Days to a Beautiful Home series will motivate and inspire you to spend just a bit of time creating a home you will love and embracing the life you have been given! Just click here to view all the posts.