Simple Dinners with Baked Chicken Fingers
This post may contain affiliate links which won't change your price but will share some commission.
This shop has been compensated by Collective Bias, Inc. and its advertiser. All opinions are mine alone.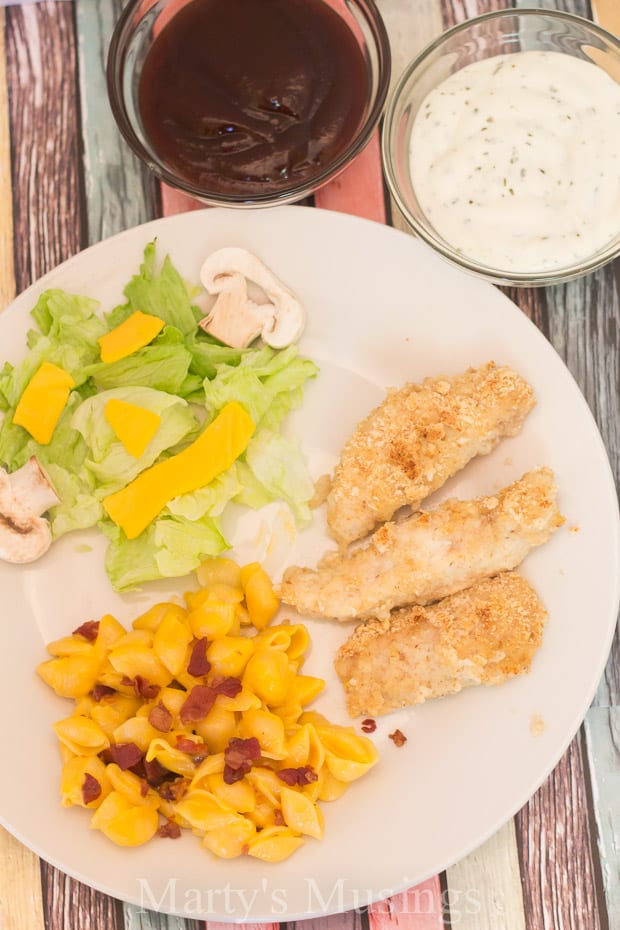 It's almost time for back to school! Is everyone ready? I have a terrific budget recipe to get you started on the right foot.
Since I've been homeschooling for 20 years it's not as much the start of the year that I dread but the reminder that I only have a limited time with my youngest two teenagers.
I guess one of the positives of being around my kids 24/7 is that our food budget doesn't change in the summer like it does for some of you, although we always seem to struggle with stretching the budget to the next paycheck. Are your finances tight around the 1st and 15th of the month as well?
I want to prepare my children as much as I can for this adult life that is just a few years outside their grasp. One of my goals is to teach them food preparation and budgeting and put it into practice. Shopping at Walmart is definitely a tool to help him when he's out on his own.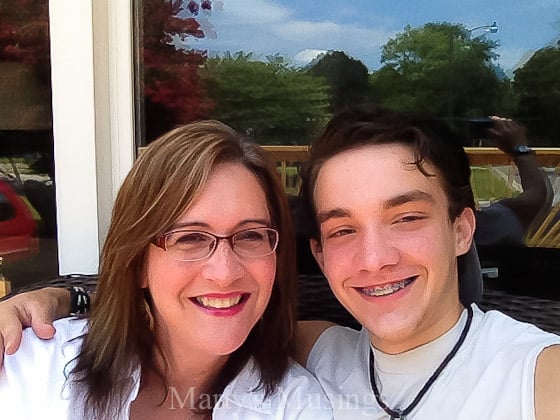 Last year I decided that cooking was going to be the life skill that we focused on the most. Since I'm working from home blogging full time I needed my kids to step up and contribute in this area. We all need to eat, right?
From the first conversation my teenage son put up a wall of resistance. This son would rather eat peanut butter and jelly. Every day. Every meal.
I've always had my kids in the kitchen with me at an early age, but being totally responsible for the meal was pushing the limits for him.
My youngest son is funny, goofy, annoys his sister and challenges me every day. This adopted son of mine is endearing, kind and has healed so much in his struggle with attachment disorder.
This is the son that carried an entire stack of books around the block with us on our walk because we found them free on the side of the road and his mama wanted to use them in a DIY project.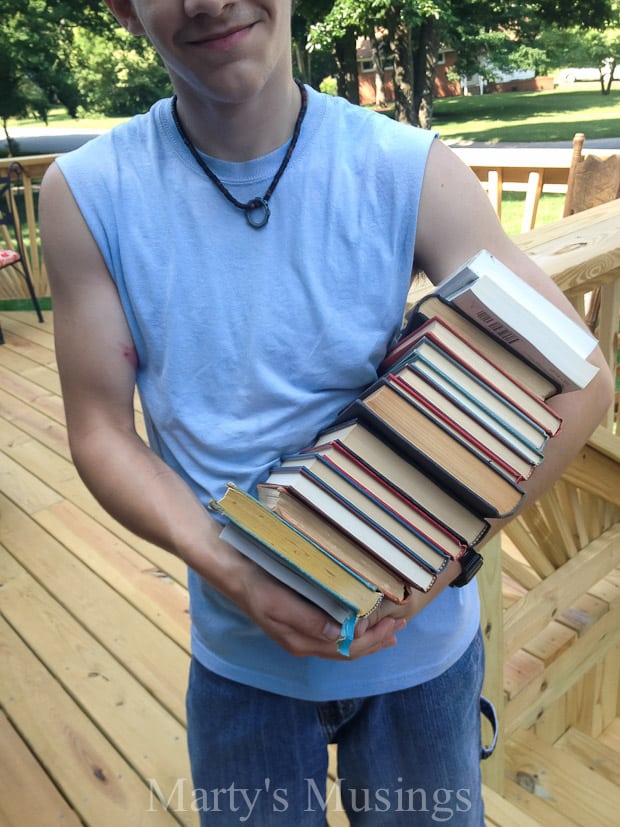 He has developed great compassion and is a fun helper with his younger cousins.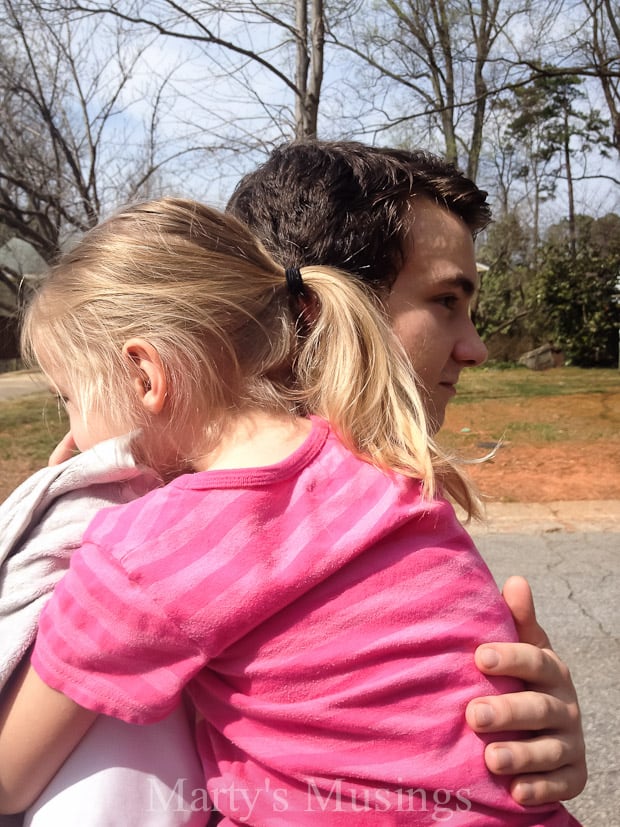 I kid to his teenage sister that boys turn into aliens at this age (which really goes a long way to keep them far, far away from her. That and the shotgun her dad carries. Kidding. Sorta.)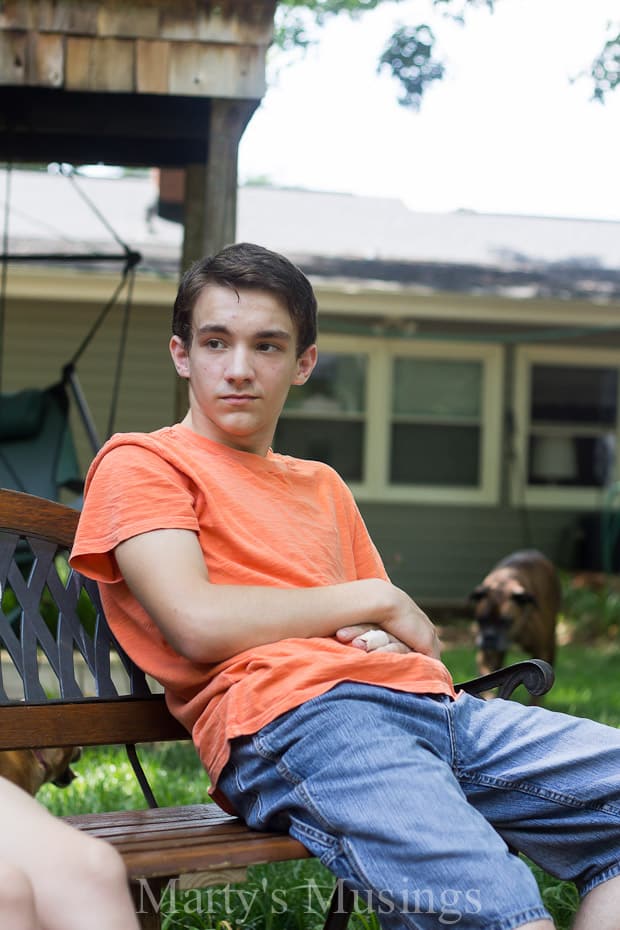 My son has learned to cook this year and really doesn't mind it as long as I pick out the menu. Deciding what to fix was his big stressor.
So I headed to Walmart for #RollIntoSavings to search for this simple dinner with baked chicken fingers that he could make and wouldn't break the budget.
My ever so patient husband was rewarded with subs with his bride, in Walmart itself. I know. Aren't we just big spenders?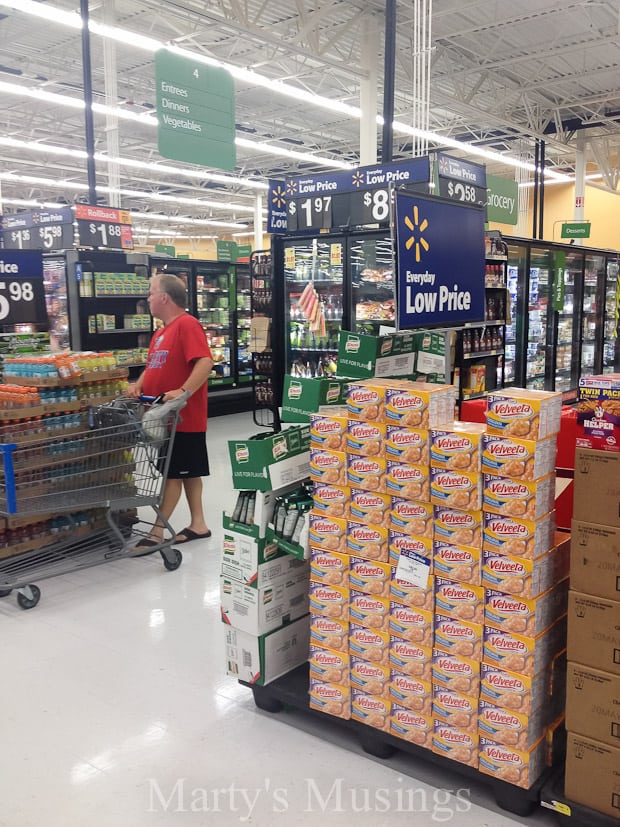 My son and I had fun preparing this easy meal, which included Kraft Mayo with Olive Oil , Kraft Ranch Dressing, Kraft Sweet & Spicy Chipotle Barbecue Sauce and Velveeta Shells & Cheese. I was trying to stay under $20 and this budget meal for four actually cost under $15. Yay!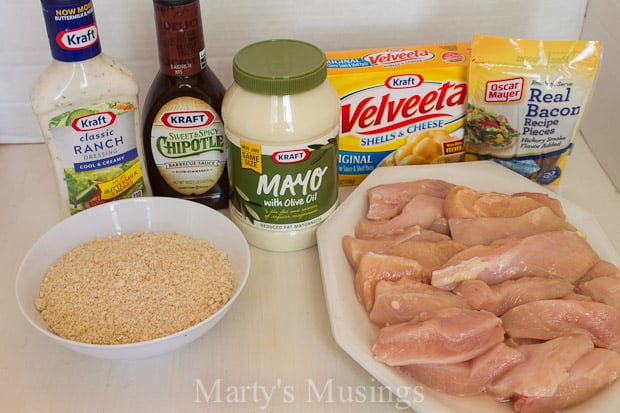 What do you think was the most fun part for a 15-year-old young man? That's right. Banging on crushing the crackers! (Although brushing the chicken with the Kraft mayo appealed to his artistic senses!)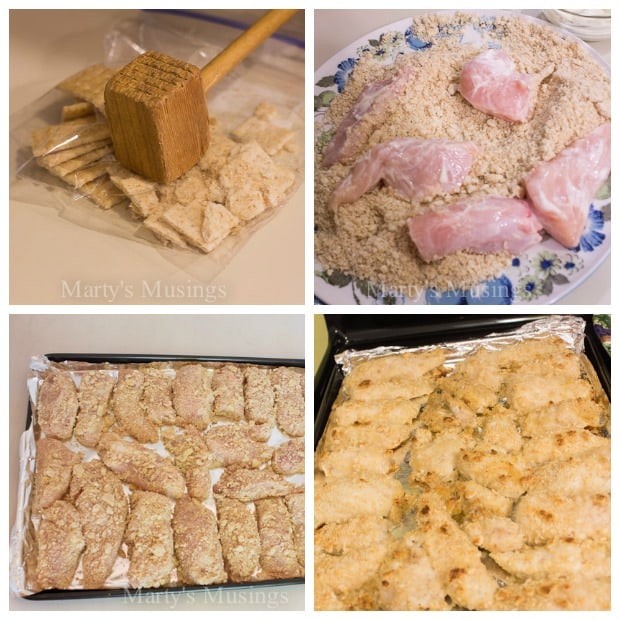 Velveeta Shells and Cheese is a favorite for my kids and even the youngest kids can make it because you don't have to measure any ingredients. We confiscated the bacon bits that came with the Kraft Ranch Dressing and used them in the Velveeta Shells and Cheese. Yum!
Make a little happy face salad with Velveeta Cheese Slices and call it good!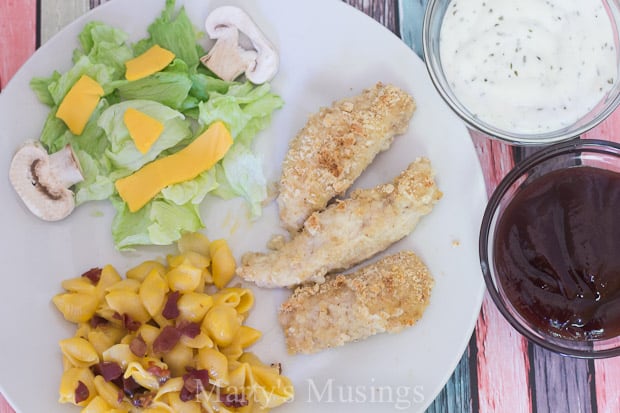 And son? I'm praying your future wife loves to cook. And meal plan. And grocery shop.
Love,
Mom
#CollectiveBias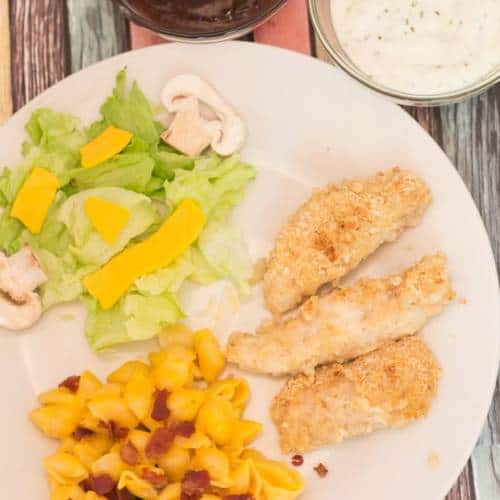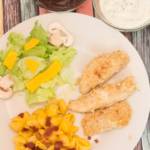 Print
Baked Chicken Fingers
These homemade chicken fingers are easy enough for the kids to make!
Ingredients
Kraft Mayonnaise

I used mayo with olive oil

one sleeve of crackers

2

lbs

boneless chicken

Kraft Ranch Dressing

Kraft Barbecue Sauce

I used Chipotle
Instructions
Spray bottom of cookie sheet (or use foil) and preheat oven to 350 degrees.

Crush crackers in a storage bag and pour onto a plate.

Brush chicken with mayonnaise and roll in cracker crumbs, coating thoroughly.

Bake on cookie sheet for 25-30 minutes, or until done and cooked to desired crispiness.

Serve with ranch dressing and barbecue sauce for dipping with Velveeta Shells & Cheese and a salad on the side.
Notes
Cooking time may vary with thickness of chicken.
For crispier tenders cook a few minutes longer and/or flip them over during cooking.