What Does This Blogger Mom Do All Day?
This post may contain affiliate links which won't change your price but will share some commission.
Blogging started out as a release and creative outlet for me in 2008. In March of 2012 I started researching blogging for income and I spent six months learning and making some choices for my future.
Fast forward to today. I'm still a homeschooling mom with two 10th graders, but I'm also a full time blogger mom. My days are a juggling act with no set office hours. I work anytime I can squeeze in a few minutes: before the kids get up; while they're getting ready for the day and school; most afternoons and late into the night.
As my blog has grown and opportunities expanded I decided I needed a grownup work space!
When given the opportunity to share the Sauder Experience I was excited to tackle a long overdue project in our home with new home office furniture. I searched through sauder.com to find a desk that was solid with a large workspace that allowed me to work through my day as both business woman, mom and teacher.
I also had a limited amount of space and the desk I found at sauder.com was the same standard size as the one I was replacing. I knew I had found a great desk when I saw that the Carolina oak finish blended in with other darker furniture in the room.
When we first put together my desk I knew I would love it but now I've had three months to live with it.
My hope was to get my office space all prettified but that just didn't happen. I have plans for art for the wall and some cute storage but I'm just not there yet.
My desk, however, is practical and equipped for long hours spent juggling roles within my family.
Homeschool Mom
Even though my youngest two children are both 10th graders and responsible for much of their schoolwork there are still times throughout the day that clarification or correction is needed from me. That's when I'm glad my new desk has more surface area to allow me some room to answer questions and check work.
This cubby hole storage allows room for all those office and school items I need close within reach.
Blogger/Writer
I don't know about you but I need my workspace to be functional and work for ME. I'm so happy to say that this desk does just that. The dimensions are the same as my previous desk (picked up off the side of the road) but the arrangement suits me much better.
I have this massive computer screen that pretty much dominates the desk. Having a slide out drawer for my keyboard frees up the desk for all my papers, to do lists and school assignments.
Business Woman
The desk drawers hold letter or legal size hanging files and I use mine to organize both business files and homeschool information.
There is a hidden storage area behind the raised panel door
where I have plastic tubs for all my office necessities such as tape, labels, pens, pencils and markers.
In all honesty this is what it looks like most of the time. Papers everywhere, post it notes scattered haphazardly and to do lists and calendars right where I can see them.
Sound a bit like your life? You're in good company! I'm here doing my best juggling right along with you.
Want some additional ideas on how to get the most use out of your furniture? My Pinterest board has tons of ideas to get you started.
This is a sponsored conversation written by me on behalf of Sauder. The opinions and text are all mine.

Have you been following along with my 31 days series?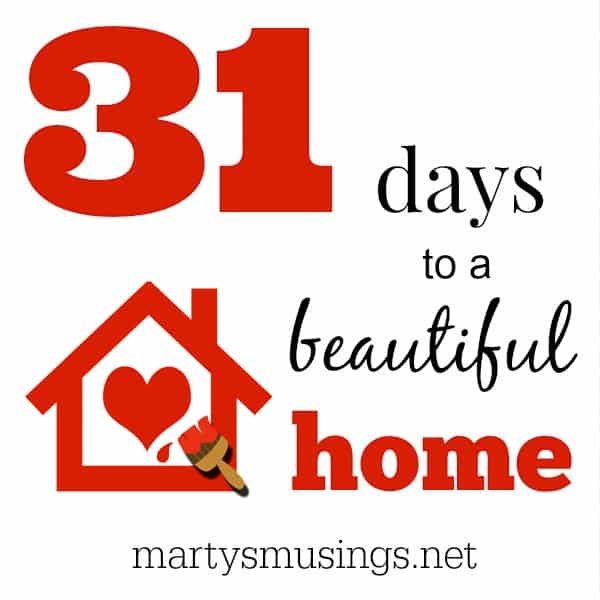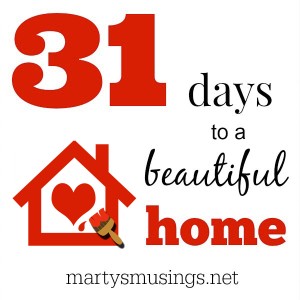 My hope is that my 31 Days to a Beautiful Home series will motivate and inspire you to spend just a bit of time creating a home you will love and embracing the life you have been given! Just click here to view all the posts.