The instructions, given ahead of time so no one complained: family picture time. Nice dinner, some laughs and playing with the kids. Then pictures. And this, my friends, is the result:
Nice looking family. Not color coordinated but not too bad. Everyone is looking at the camera. Quite a success.
No, don't leave yet. The fun is about to begin.
Still holding it together. Kinda.
Stop making me laugh. Mom…..he's making me laugh!
You have to click on the picture below and enlarge it. Really. The baby's face says it all. 
Notice how someone is always sticking out their tongue. And it's not the children.
But mom, I raised my hand……..
A thought is dawning.
Wait for it.
It's snowing.
In April.
And a big thank you from all us allergy sufferers.
Order is restored again.
I'm exhausted. 
And a Happy, blessed Easter to all!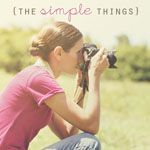 Want thrifty home ideas you can do yourself?
Sign up and get my FREE guide: 5 Easy Ways to Decorate Your Home for Practically Nothing!