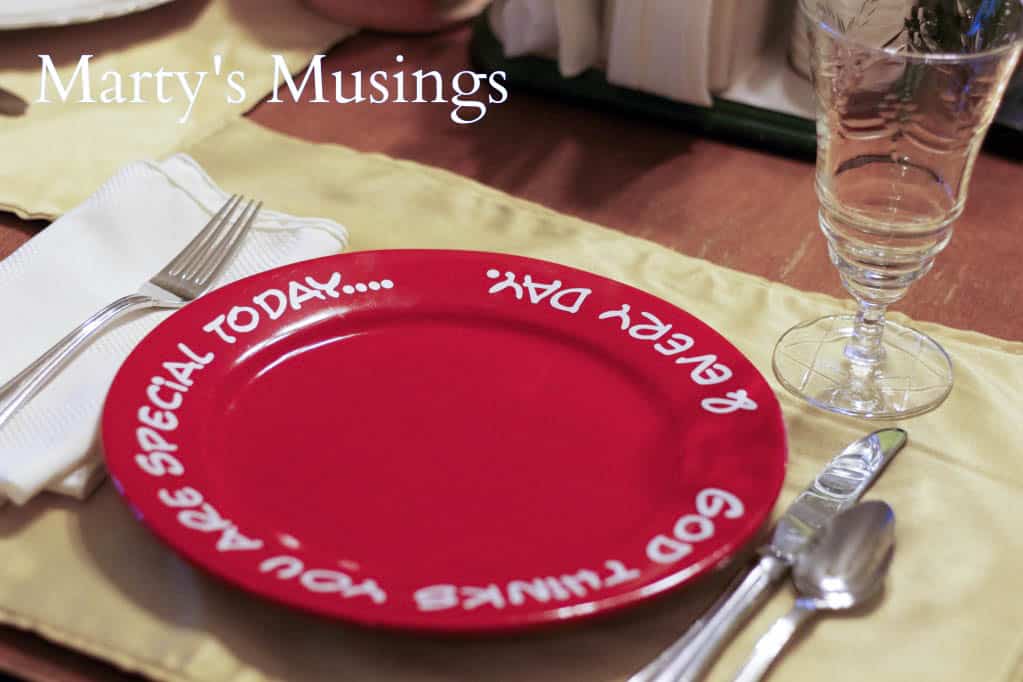 A few years ago I initiated the idea of having a "special plate" to celebrate birthdays and holidays by setting one family member apart for that day. I just purchased a glass plate that was different from my everyday plates and we used this for several years. Sometimes we used the plate to celebrate everyday occasions and other times it was once a year celebrations.
Last year I was on one of my usual Saturday yard sale excursions and I found the perfect plate to celebrate each family member. Bright red, shiny and reads "God thinks you are special today…..and every day." (Bonus: And it only cost $.50)
For our Father's Day meal my husband got to use the special plate:-)
Here's a look at my mom's china which I love and for the first time ever I used my mom's crystal glasses.
We had my family favorite "Love Chicken".
You can see part of my fence slat centerpiece and might remember I used it outside for
Mother's Day
. Right now it's my everyday centerpiece.
I love the idea of the special plate because you can celebrate the everyday as well. Use it for good grades, special sporting event, dance recital, Bible verses learned. Or use it as a reason to encourage one of your family members who is struggling by going around the table and naming one thing you love about that person. We all need to be recognized as special children of God.
Special plate, special families. All designed by God. From my house to yours, be blessed!