Get Inspired with Havertys
This post may contain affiliate links which won't change your price but will share some commission.
I was asked by Havertys to share what is inspiring me these days, and I thought I'd share a piece that never fails to get my creative juices going.
Here's my inspiration.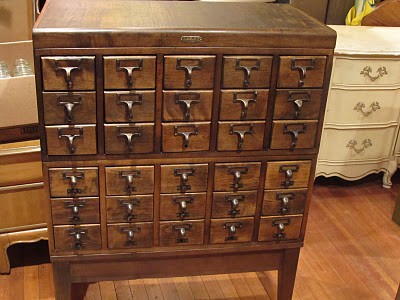 Do you even know what this is?
My children have heard of it but have no knowledge of the beauty and memories it holds for me.
They are card catalog drawers. For those of us who are old enough to know what it was like to actually have to physically go to the library, here's the deal. If you wanted to find a book you had to look in these catalog drawers under the alphabetical listings of titles and authors, find the card, write down the Dewey Decimal number and try to go locate said book on the shelves. If it wasn't there you were out of luck!
I have been a book nerd since my childhood. I loved books and reading provided an escape for my shy, introverted self.
My stack of books was usually bigger than I was. My best friend and I had a contest to see who could devour more books in one week. I don't even remember who won, but we spent hours lost in adventures and mysteries.
Hardcover books, not the flimsy paperback ones. Books that held the promise of hours of enjoyment and distraction.
Nancy Drew. Charlotte's Web, The Secret Garden and Little House on the Prairie.
Sweet memories. So I have always, always wanted a card catalog for the delicious memories it holds for me.
I've never found one (but if I did I'd snatch it up!) However, I do love Havertys Newbury Apothecary Chest. It doesn't contain individual cubbies but I love that the look is so similar and the piece feels like it has a unique story behind it.
This chest is the ideal accent piece for adding character to your space. Built with mahogany solids, the piece is complemented by antiqued brass hardware. An adjustable wood shelf provides storage space inside. The dust-proofed and smoothly finished drawer has wood-on-wood guides and English dovetail joinery.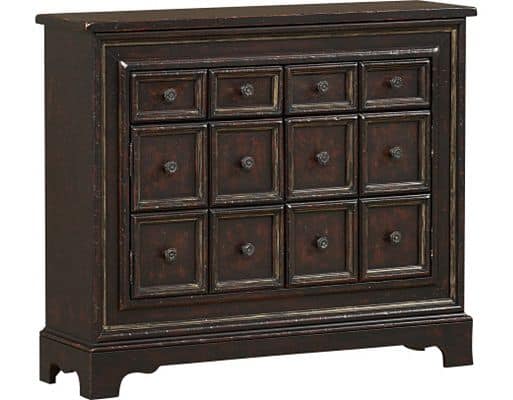 Now that's my inspiration for today. Where do you find inspiration when decorating your home? Whether it's a favorite photograph or a gorgeous garden, we want to know! Show us the Havertys product that matches your design inspiration via the entry methods below. Be sure to include the product link from www.havertys.com in the photo caption as well as the inspiration behind it. The entry with the most votes wins, so be sure to share with your friends and followers! Limit six unique entries per person. See the official rules here.
For your chance to win $1,000 from Havertys, enter the Get Inspired Contest! Like us on Facebook at www.facebook.com/havertys. Use the official contest app to submit your entry.
Follow us on Twitter at www.twitter.com/havertys. Tweet us your entry and use the hashtag #HavertysGetInspired. Don't forget to include the product link.
This is a sponsored conversation written by me on behalf of Havertys. The opinions and text are all mine.