Ingenious ways for jewelry organization and storage using repurposed hardware drawers and labels to identify jewelry by color.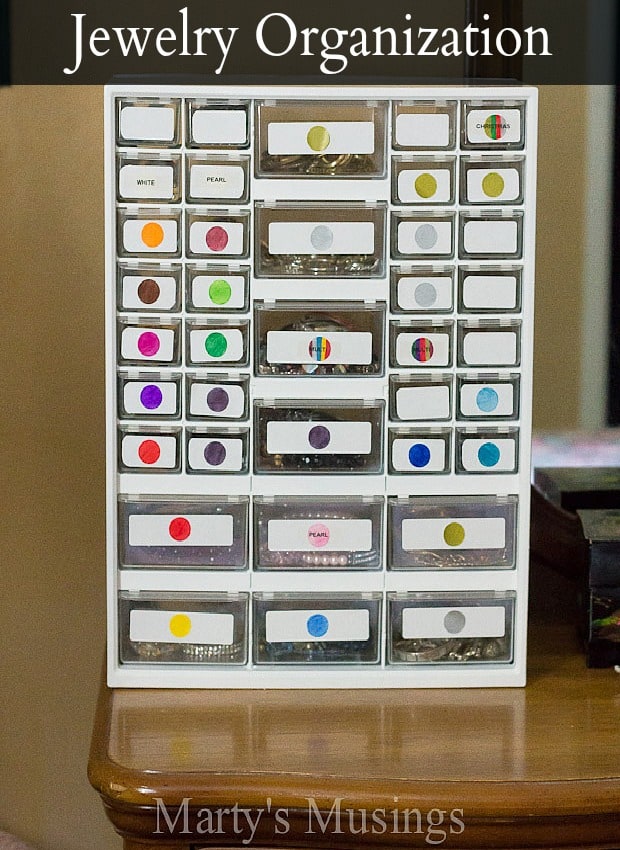 I don't know about you, but finding ideas for jewelry organization is difficult. Even though this may not be the cutest organizer you've ever seen it is a lifesaver for me!
It started with transforming my son's bedroom into my scrapbook room. I know. Messy, messy.
You can see the tool drawers I had for all sorts of embellishments and "stuff." It took up way too much space on my old countertop. (Each of these drawer units cost between $20-$25 retail.)
Here's an after pic of the closet in my scrapbook room. You can see that I repurposed one of the drawer units for alphabet letters and misc. embellishments.
And yes, I love to label things ~smile~
What did I do with the other units? Since jewelry organization has been a thorn in my side for YEARS, I repurposed one of these hardware storage units for some of my jewelry. I do have a decent amount of jewelry, all inexpensive and mostly found at yard sales or passed down.
I needed better organization for my earrings and bracelets so one of these units was perfect for my bedroom. As you can see above I used labels (found at a yard sale, of course) on the drawers when I stored my scrapbook embellishments in them. These labels helped me to identify the contents. Big mistake. The labels did not come off well. We used goo gone, fingernail polish remover and soaking.
You can tell below that some of the sticky is still left on the units.
Although you can't really tell it, I have my jewelry divided into colors, earrings and bracelets separated. This system works best for me to find what I need quickly. Now, how to remember what was in each drawer?
In order to find some way of making the unit more attractive, the first thing was to spray paint the unit white.
I actually made my first attempt at spray painting (which is funny since my DIY husband is a painter), but he finished the job for me. I just have to get him to give me some pointers. Then I grabbed some labels and my corner rounder.
I sized the labels for the different drawers and then used white dots and shaded them according to my drawer colors.
Here it is! I know this won't earn any great prize on pinterest but I repurposed something rather utilitarian and made it useful and much prettier to look at it (as well as organized the heck out of it!)
I also used my label maker for a few of my drawers to further identify the contents.
Here are the drawers in my bedroom. This project did take a bit of time, but I am wearing more of my jewelry now that I can find it! I still have a few drawers that are empty so I know what to be looking for on my yard sale travels!
Want to see more of our DIY projects? Simply click on the picture to go straight to the post for details!