My Word for 2014: Simplify
This post may contain affiliate links which won't change your price but will share some commission.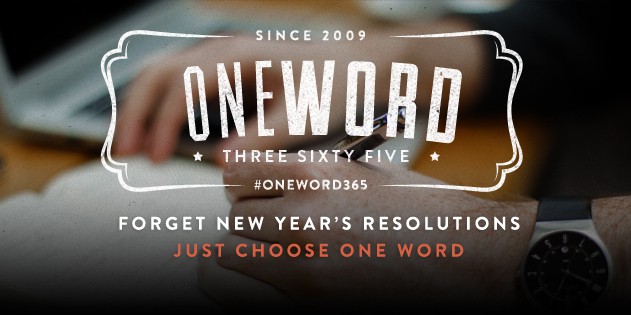 Are you one to make New Year's Resolutions? Do you end up breaking them by the end of the first month? First week? First day?
I don't make resolutions anymore. Instead I chose my word for 2013: simplify. This word will help guide my goals and life for this year.
Mary Carver wrote the following on (in)courage in explaining the One Word movement.
Choose just one word.
One word that sums up who you want to be or how you want to live. One word that you can focus on every day, all year long.
It will take intentionality and commitment, but if you let it, your one word will shape not only your year, but also you. It will become the compass that directs your decisions and guides your steps.
Discover the big impact one word can make.
One word. 365 days. A changed life.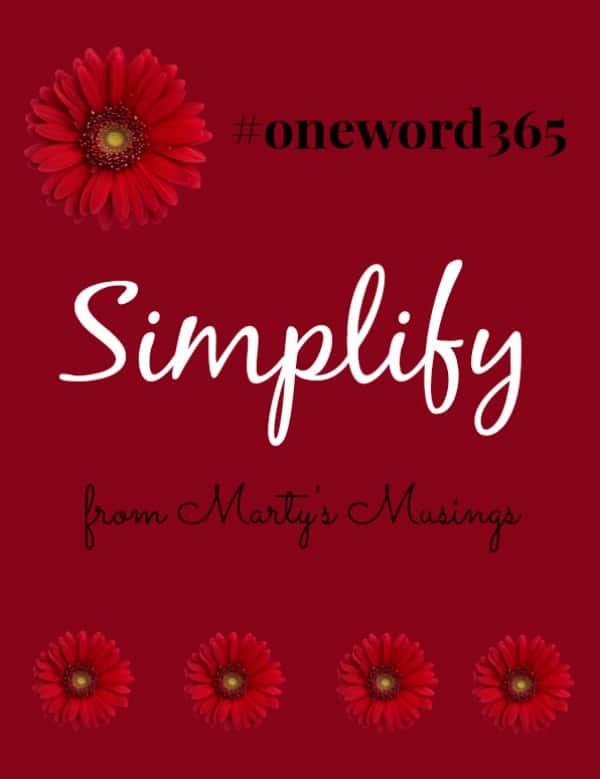 I have a friend who has faced downsizing from a 3800 sq. ft. home to an 800 sq. ft. condo because of a financial disaster. I've watched her spend months making decisions on what to keep and let go of. Heart wrenching decisions but freeing because the "stuff" is not as important as she imagined.
As I've tried to be a friend and help in any way possible during this difficult time I've realized that I don't want to be tied to my "stuff" either. I don't want it to rule me but rather find its proper place in my life and heart.
As I was tasked with selling my parents home when they went from there to full nursing care overnight practically, I had to make decisions on every belonging from 60 years of marriage and those months were overwhelming to me. It was a difficult time in their life and mine.
One trip to my attic and storage building and I knew what my word for 2014 would be.
Simplify.
I am quite content with my smallish home and thrifted DIY decor. I love our projects and want to make our home work for us and be beautiful as well, just without spending much money.
I want to find ways to incorporate (and continue to discover) my signature style, but with less "stuff."
I want to keep my husband busy with projects because his honey do list just keeps getting longer!
I want the possessions I keep in my home to have purpose and meaning, not just take up space.
I want to leave my family a legacy of memories and days spent living life together.
So what does that mean for the blog this year?
With my convictions to simplify my life I already have a few projects in the works:
Reorganize my craft room. When I first shared all the details here I didn't know how much my life would change when this blog turned into a full time commitment while still homeschooling my two youngest children. The space no longer works well for me and needs some TLC and organization.
Totally redo our master bedroom (which is small like most of the rest of the house) on a small budget. This room has not had any attention paid to it in years! That's why I've never shown it to you here on the blog. I commit to showing the real before and after if you promise not to judge!
Build a deck on the front of house (I know, I know. It's just a little project. Not.) This may be a project that is contracted out, but you know my DIY hubby will tell you all about the need to know details. We've started the process by having 2 enormous trees removed.
Figure out my business/office workspace (which happens to be in the den). I have no vision for this so I hope to share some of the process going from ugly to beautiful and functional (always inexpensively).
On the personal side, I want to share more of our adoption story, the struggles and joys of parenting adult children and the amazing work God has done in my husband's heart which has felt like a second honeymoon! I simply want to be more transparent.
What would you like to see more of? I'd love to know what you enjoy about my blog and any questions you want answered. Pretty please?