Every husband's question: What's the perfect gift for my wife?
This post may contain affiliate links which won't change your price but will share some commission.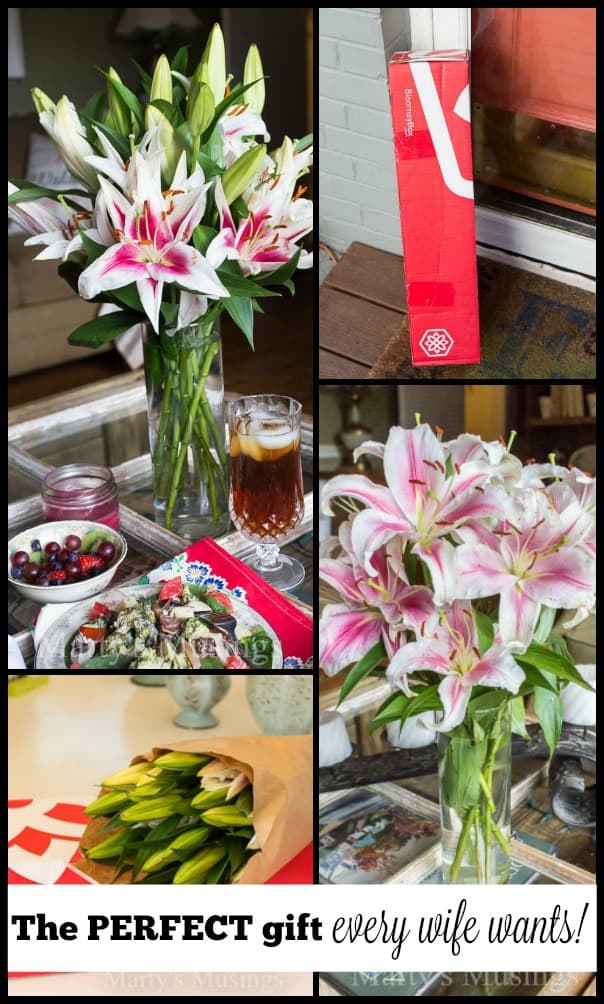 One of the hardest questions every married man asks at one time or another is this: What's the perfect gift for my wife?
Probably what he really wants to know is how to keep from being in the dog house? ~grin~
Since I usually write for the ladies (although a few men might wander by) this means you'll need to email this post to your husband!
(You gotta do what you gotta do, and sometimes the menfolk need a little help in this area. #preach)
But before I share the gift that keeps on giving, a sweet love story.
While this was a sponsored opportunity from BloomsyBox all content and opinions expressed are my own.
The first time I laid eyes on my (now husband) Tim he was sitting stage center at a dinner theater in Rock Island, Illinois, strumming a guitar and singing.
I had traveled all the way from West Palm Beach, Florida to perform in a musical theater production in what felt like the middle of nowhere.
Although Tim wasn't in the same main stage production, he was rehearsing for another event and caught my eye.
I don't believe in love at first sight but I was instantly captivated by his voice and musical talent.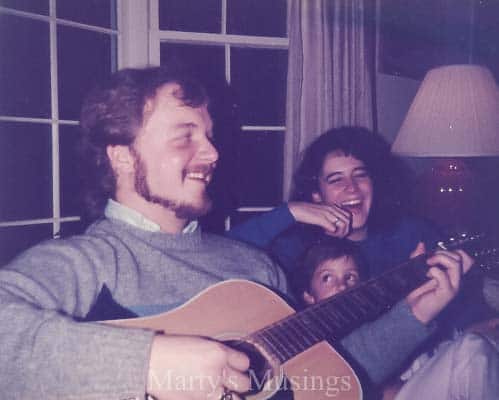 His artsy, creative soul piqued my curiosity and his tenor singing voice was dreamy.
~swoon~
Little did I know he was checking me out as well, but I'm not sure it was my voice he was taking a second look at, though.
~wink, wink~
We began dating immediately and got engaged four months later on Christmas Eve. Not a lot of wasting time for us!
Back then my husband was the best gift giver EVER. For the first birthday we celebrated together he bought me this lovely blue dress.
Try not to get sidetracked by the big hair. ~smile~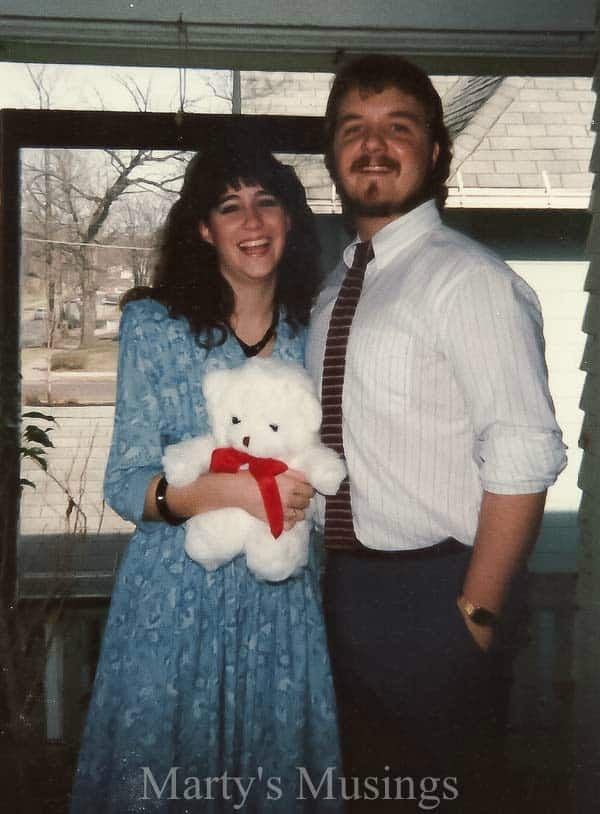 Tim was shopping with me (which might have been the one and only time we've ever shopped for clothes together!) when I saw this printed jean dress and fell in love. He not only surprised me with the dress, but also with flowers and my favorite dessert at intermission of the show I was performing.
Yep, I was smitten and bowled over and all that jazz.
We were married 14 months later on Valentine's Day. (Tim says it makes it easier to remember the date. I remind him it also gets him in double trouble when he forgets. See dog house comment above.)
We have now celebrated 29 years of wedded bliss.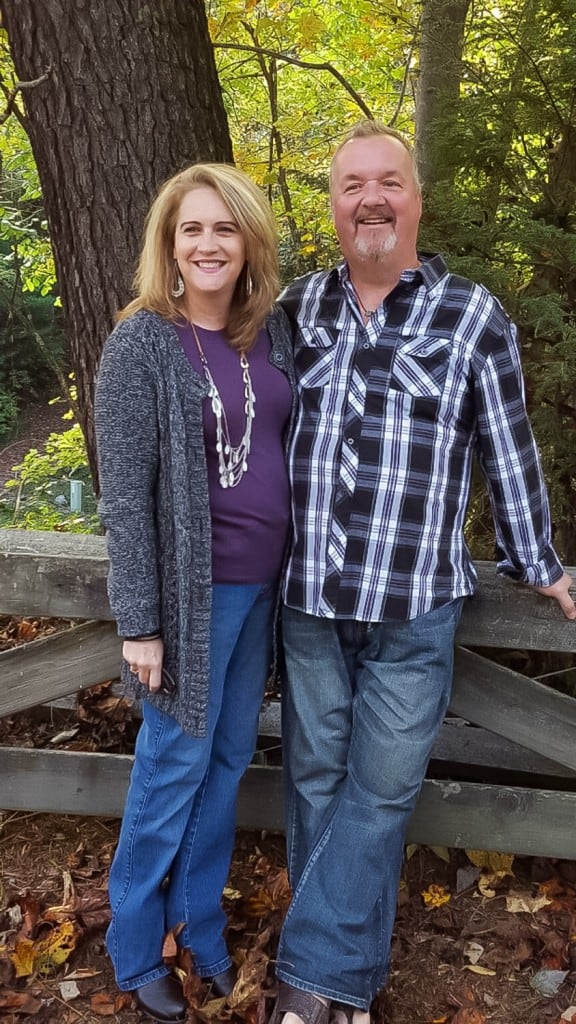 Twenty nine years, yes. Wedded bliss, not so much.
Seriously? Who made up that term? Anyone who's been married more than five minutes knows marriage is more than just sentiment and romance.
It takes hard work, faith and most days, the perseverance to take one more step forward because a commitment was made before God and family.
Sometimes it even takes courage to hold each other up when life is beating you both down.
2015 was one of those years for Tim and I. Through two rotator cuff surgeries and months of unemployment, a diabetic seizure (when I could have lost him) and hospital stay, the devastating loss of his younger brother, and a hard journey with our youngest adopted son, we survived by clinging to our faith and each other.
It wasn't pretty much of the time but real life usually isn't.
Yet we survived and love each other deeper and stronger because true love, the kind that endures through storms, is willing to do the hard work.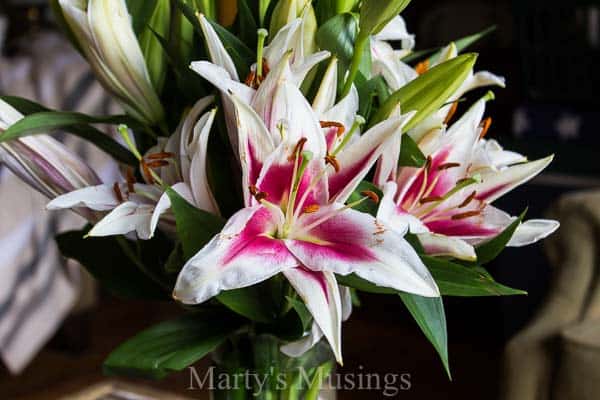 Now I told you I had the answer for husbands asking, what's the perfect gift for my wife.
After our traumatic last year my own hubby could have used the answer to this question!
When BloomsyBox asked me to partner with them in sharingt their amazing product I realized I could help men (and ladies, moms, sisters and friends) wanting a gift for those hard to buy for people on their list.
BloomsyBox is a subscription flower delivery service that can be set up for weekly, bi-weekly or monthly deliveries. Perfect for keeping your home beautiful week after week.
I love flowers, but especially when I don't have to plant, water or do anything but enjoy their beauty!
Can I tell you how excited I was to find this at my door?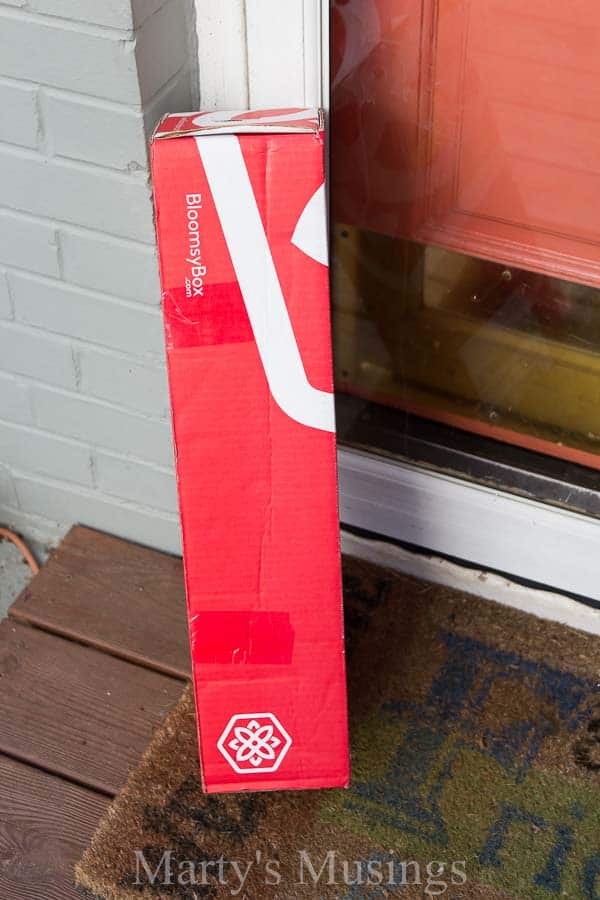 I was like a kid at Christmas tearing into the box to discover these perfectly preserved oriental lillies.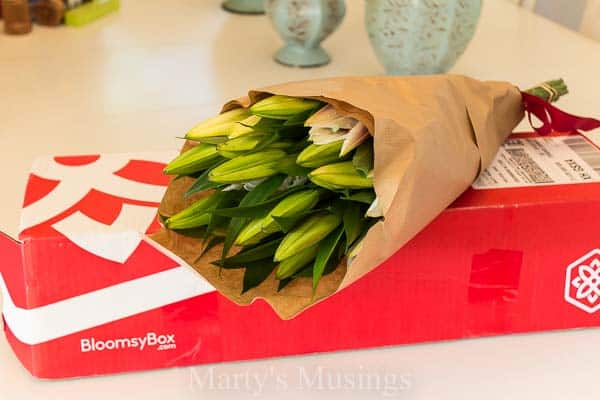 BloomsyBox is different from the average floral supplier in a couple of ways: no mixed bouquets with unnecessary extras – BloomsyBox only deals in "single-variety"- hand-tied bunches;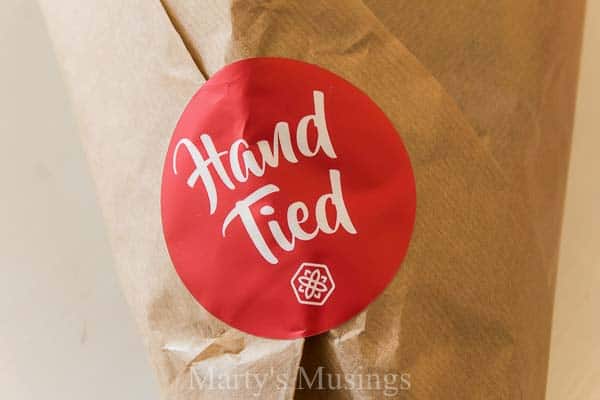 and second, the flowers are sourced direct from suppliers in South America, Holland, Thailand and California, meaning no middle-man mark-up to increase the price.
Let me tell you. These are not your average grocery store flowers!
All I had to do was take the flowers out, cut off the ends, and add water for a beautiful bouquet. They created the perfect atmosphere for a girly lunch and a few moments to recharge. Even though I work from home my days are far from relaxing but these few moments allowed me to take a deep breath and move on with the day!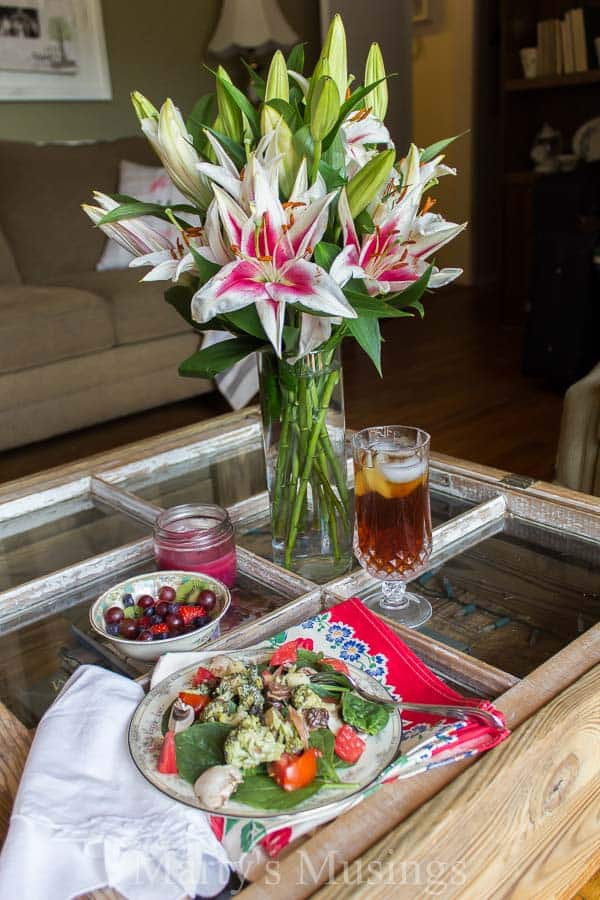 BloomsyBox believes it should be super easy for everybody to receive and enjoy fresh, beautiful blooms at home, work, or wherever you want. For those of you working outside the home, wouldn't it be fun to receive these at your place of business? You'd be a star for the day!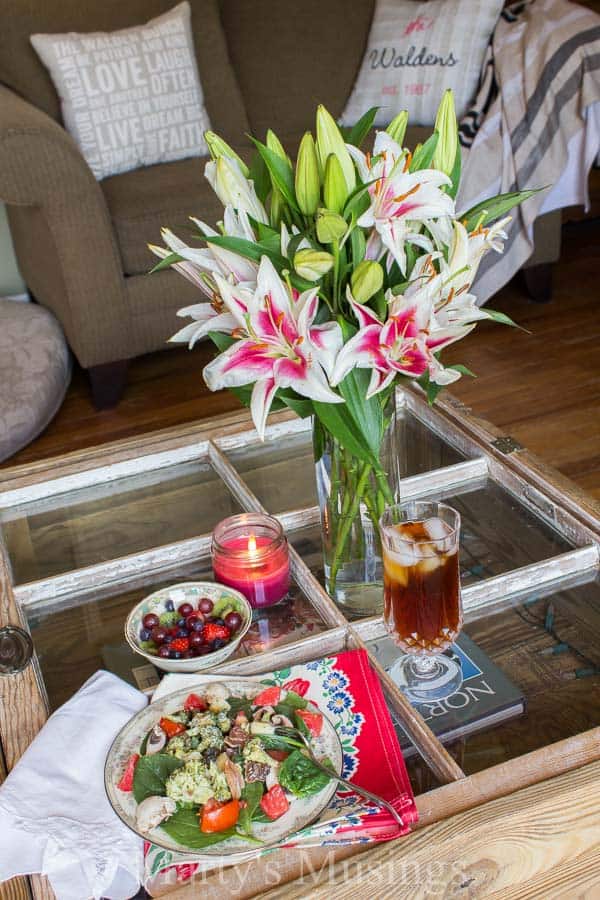 Isn't this the perfect gift from your husbands or special person in your life to give you? And there's no planning on their part after setting up the service! Seasons change and so will your Bloomsy Box!
There's something incredibly exciting about that element of surprise, don't you think? Plus, I'm so forgetful Tim could set this up and it would be like my birthday every month!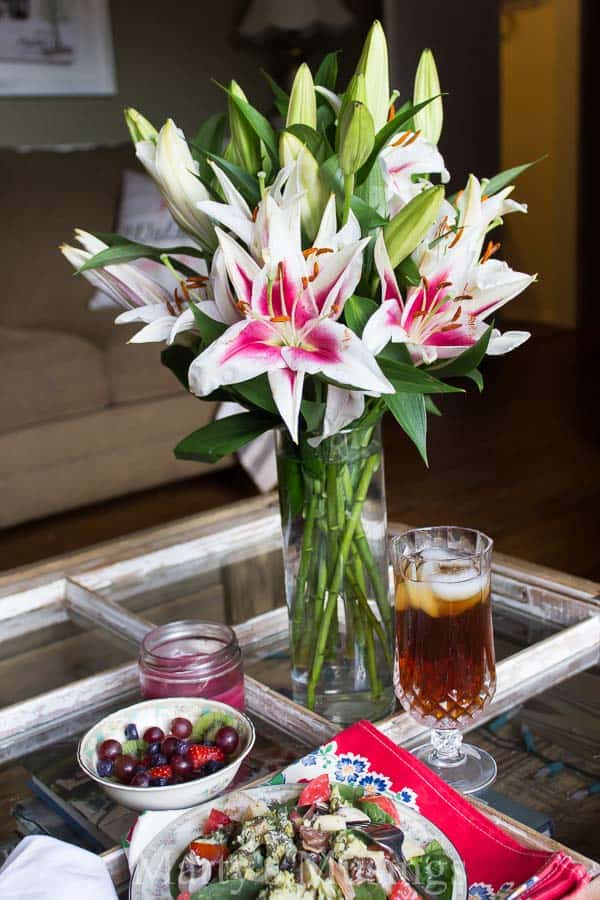 Men, this is the gift that keeps on giving and you don't even have to think about it! Total win/win!
Didn't I tell you this was the perfect gift?
As I write this post my bouquet of lilies is 10 days old and they're still blooming! Seriously, y'all. When was the last time you bought flowers at the grocery store that lasted that long?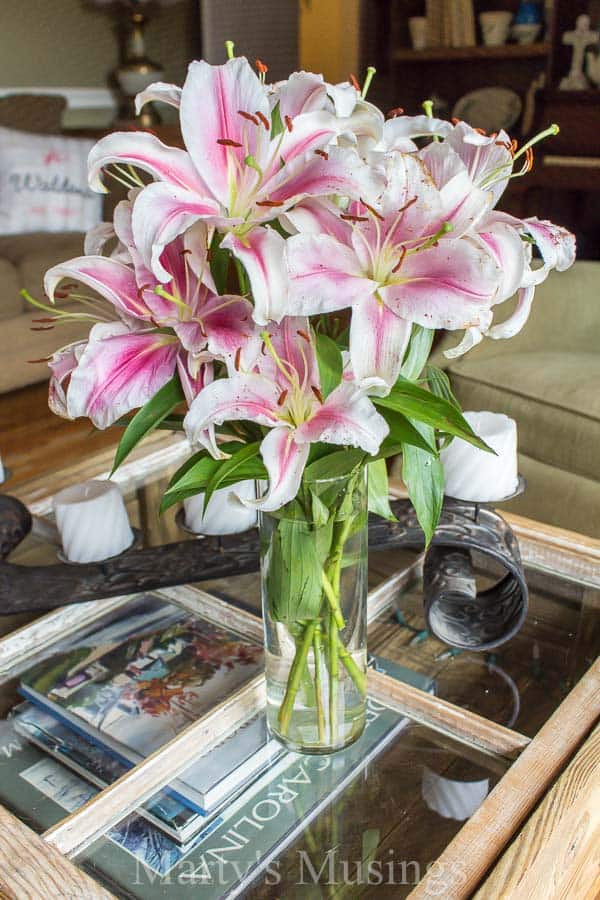 For all the details on how Bloomsybox works go here.
Now y'all have my permission to email this post to your husbands. You can thank me later!