This post may contain affiliate links which won't change your price but will share some commission. Click here to read my full disclosure policy.
Why, yes, I'm seven weeks behind on my Project Life album. Golly. What happened here? My blog makeover happened! After reading and researching for several months on how to continue to do what I love (writing and blogging) while possibly earning an income, I've let everything mostly slide except the blog. Yikes! I've never gotten so far behind on Project Life, but the beauty of it is that it didn't take too long to catch back up. I have kept current on printing my pics and saving memorabilia, as well as making notes on our refrigerator calendar. I also use journaling from my blog to save time when I'm putting the pages together.
What is Project Life? Click on the link and it will take you to Becky Higgins' blog. Becky is the "inventor" of Project Life, a system of recording memories that can be both simple or more time consuming, depending on how much time you spend. I started Project Life in 2009 (the first year it was available). (Go here to compare one layout from each of the four years.) However, I dallied and did not buy her kit and had to put together one of my own. Talk about time consuming! I have at least bought the core pieces of each year's kit since then. I use a binder I've bought 1/2 off at a craft store, page protectors I've purchased on Amazon and the core kit which retails at $25 and includes all the journaling cards, title cards and first and last page cards. This year I've been mixing up my page protectors (with both vertical and horizontal 4×6 slots) and have bought some sleeves at craft stores and some online. These don't have to be Becky Higgins products. I love the system because it keeps me up to date on editing and printing my photos. I don't make a huge deal of it. In the past I have spent a couple of hours once a month to arrange my pics in the sleeves and do the journaling. I have used edited journaling from my blog which can be a huge time saver for me.
I will say that my kids love to look at these albums most of all. They feature pics of everyday moments, special events and unique family traditions. I am a firm believer in memory keeping this way (and hate that Amazon won't use affiliates from NC so I could make a tiny bit of money on something I support wholeheartedly.)
On to two layouts from July. (Click on the pic to see picture in detail.) The first spread is a layout that features our transition to a new church home and some misc.pictures and journaling.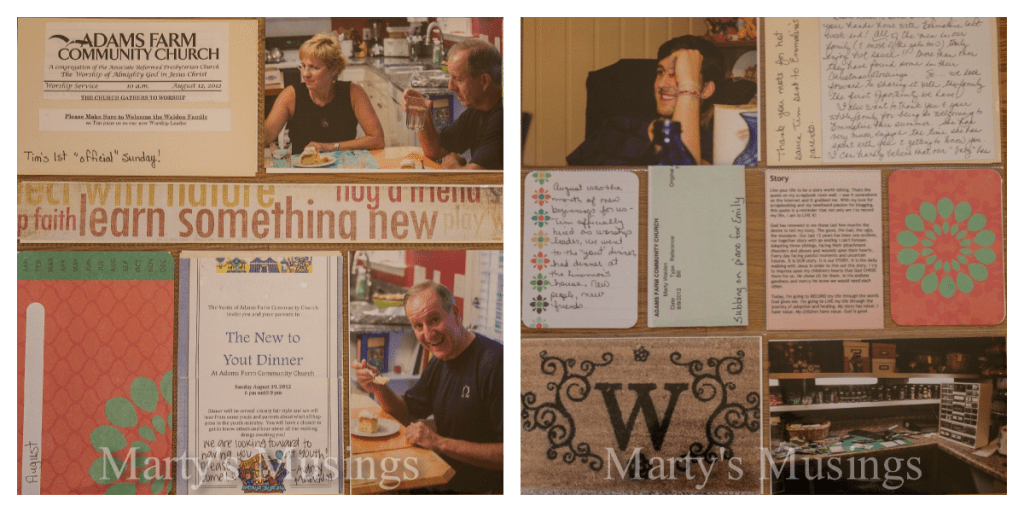 The second layout features pics I took when we went swimming at a house with a pool where Tim was working. Rare perk of his job but it was nice!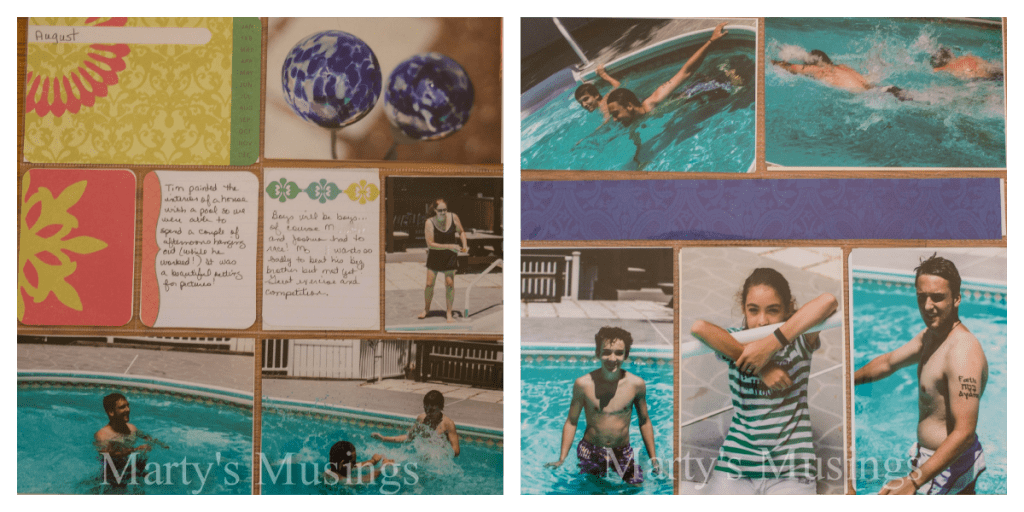 Anyone have any questions about Project Life or want to share any of your layouts with me? I usually try to link up at The Mom Creative with my layouts because it keeps me accountable, and I guess if my house ever burns down or someone steals our family albums (ha!) I'll have an online collections of pages. If you're interested in seeing other Project Life layouts click on the family tab at the top of my blog and click on project life. As always, thanks for visiting my blog!