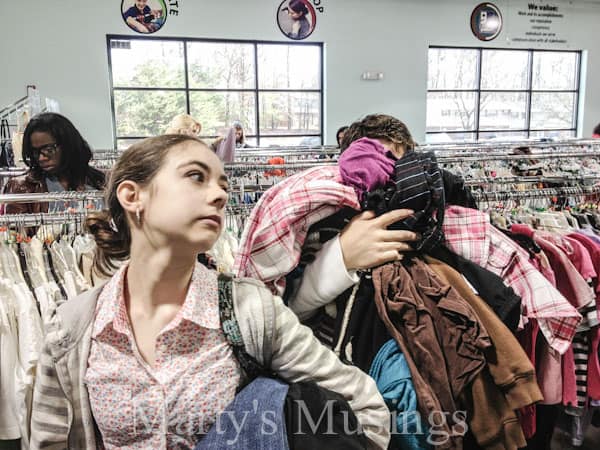 Dictionary.com says a fiasco is "a complete and ignominious failure."
I won't go so far as saying our latest attempt at saving money was an "ignominious failure" but it was a crazy mess!
My son Joshua was home from college for his Easter break (the only time we'll see him during the semester), and this one particular day coincided with 1/2 off day at one of the local thrift stores. We decided to make it a morning adventure.
This particular thrift store is in a fairly large warehouse and the aisles between the clothing racks are pleasantly wide. On 1/2 off day you do have to steal, beg, borrow, negotiate for a cart which is a rare commodity.
There are only four dressing rooms so time must be spent waiting in line and trying on items as quickly as possible so as not to tie up a room for hours.
After we were all exhausted and ready to go home we waited in line at the register to tally our bill.
I spent $73 for five people (which sounds like a tremendous amount to me) but it included the following: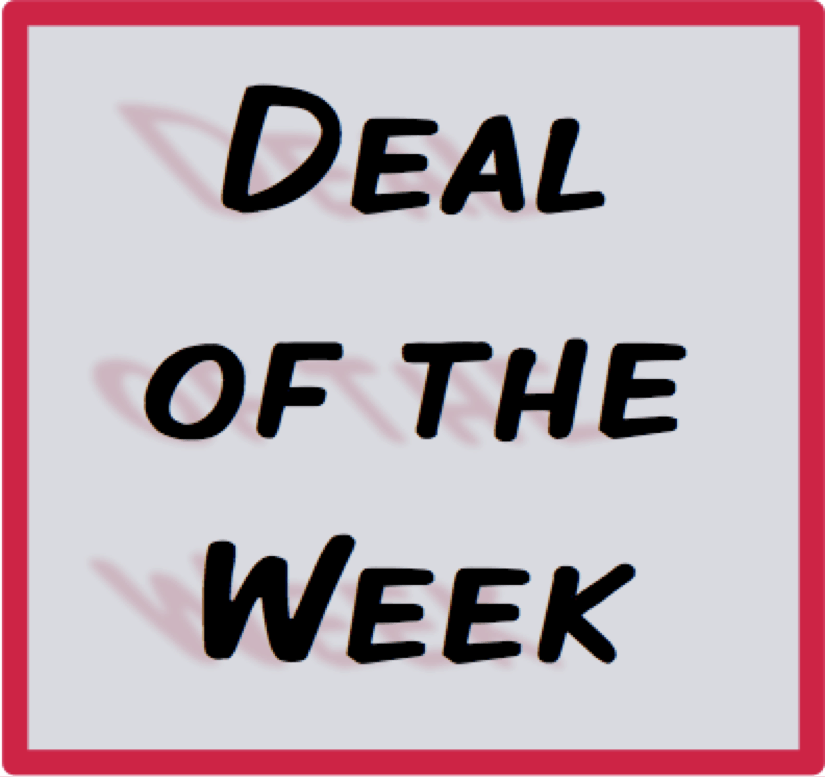 2 pairs shorts
5 pairs jeans
7 dress pants
2 dresses
3 capris
16 shirts
1 sweater
5 pairs shoes
3 ties
3 belts
I know this sounds like a wasteful amount of clothes but it was an opportunity for my growing teenagers, slimmed down husband, college son and I to fill some wardrobe holes.
The only problem? After I got home I realized I was missing a few items, all mine of course. Somehow the cashier didn't hand us all of our bags. I called up to the store and the manager looked but couldn't find anything. I asked him to take my name down just in case something turned up. I was in tears because it was my birthday in two days and those few items tickled my fancy. I was disappointed and feeling dumb because the merchandise didn't make it home with me.
A few moments later the phone rang. The manager was calling to tell me he had gotten permission to give me a store credit for $20. Yippee! I left everyone else at home and turned around and went back to the store.
I was praying all the way that I would find those wardrobe pieces that God would want me to have. I prayed that I would know that in spite of the huge inconvenience and detour in my day God knew my heart and delights in His daughter.
What do you think I found on one of the racks? Oh, yeah. The shirts that I was so disappointed at not making it home! I just smiled at the way God wanted to teach me that day that I am important to Him and He not only wants to encourage and uplift me, but He knows the secret ways that will fill me with love.
This extra visit also showed me God has a sense of humor. I tried on several new items to buy with the $20 store credit. While I was swapping out clothes from the cart, one of the workers came in the dressing room to clear out what other customers had left behind on the floor. I pointed out to her which items were mine, but as I later pulled my haul clothes out of the dressing room I realized she had picked up my own shirt by mistake! I had to wear one of the store shirts with the bright pink tag stapled on the outside to go retrieve my own off the rack of merchandise waiting to be returned to the floor!
Then at the register I discovered this same hard working attentive worker had also taken my coat and hung it up on a rack to sell!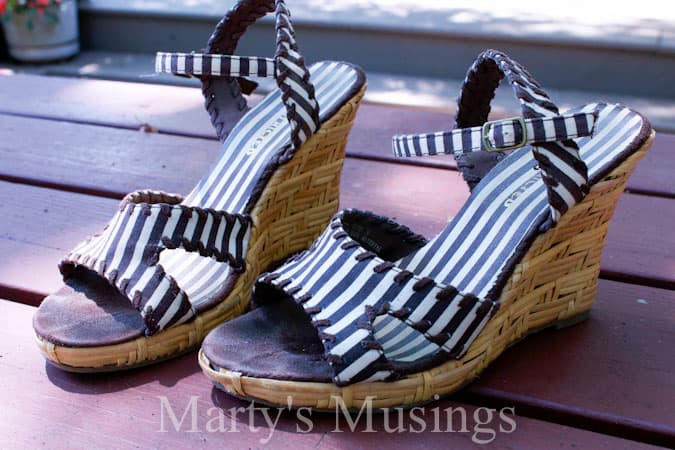 Here are some of the practical tips I learned from my thrift store fiasco adventure.
Check for stains and working zippers and buttons to prevent purchasing something unwisely.
To check out faster take the clothes off the hanger and fold them so the tag is easily seen by the cashier.
Take the time to try on as many of the clothes as you can.
Keep a strong hand on your merchandise or someone might take the shirt off your back!
Keep a positive attitude and realize mistakes happen and people are fallible.
Talk to God and allow Him to change your heart and surprise you with His blessings.
Because of the store credit I was actually able to get quite a few more items than the ones I left behind originally! I realized that God delights in pleasing me, even in the smallest details of my life. Nothing is too insignificant for His attention. "I have loved you with an everlasting love." Jeremiah 31:3
In what ways has God blessed you this week?
If you want to see more of my thrifty bargains check out my Deal of the Week posts.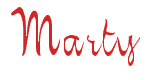 Delivered by FeedBurner