Encouragement from One Woman to Another
This post may contain affiliate links which won't change your price but will share some commission.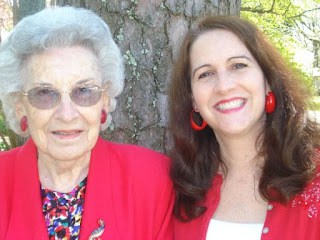 There are some things that only time and perspective can teach you. If your mom is still alive (or you are blessed with a relationship with another woman that is important to you) I want to share some things that I am learning only through retrospect.
My sister passed away suddenly in 2000. My mom passed away under adverse conditions in 2010. Today I went to my son-in-law's grandfather's funeral. I cried. In the church. In the car. After visiting my son at college. Again in the car most of the way home.
Why the tears? Because for so many years I have been the strong one. My sister died and my parents needed to rely on me. My niece needed me to be her family, her rock. My adopted kids needed me to be the constant in their struggles to learn to attach. My dad passed away and my mom needed my strength and presence. When my mom died, settling her estate and dealing with a lawsuit allowed me to postpone the grief.
Today I allowed myself just to feel. To remember the funerals. To be sad.
As much as I believed I had done everything I could to be present and strong, I realize if I could go back there are some things I would do differently. Words I would say and moments I would change. I can't live in regret, but I can tell you what I've learned.
See your mom as as individual. Someone with a past, a present and a desire for a future filled with hope. She is more than just your mom. She has dreams and goals and memories to share. Ask her specific questions. Look at her through eyes that see her afresh.
Tell her she is pretty. Compliment her. My mom could be negative and not take a compliment well. At some point I probably stopped trying. I should have tried harder. Looked in her eyes and told her I was proud when people said I looked like her. Which they did. And I do. Look like her. I look at her pictures now and realize how truly lovely she was.
Tell her you are proud of her. Today as I left my son at his college I told him I was proud of him. He held me and said he was proud of the way I raised him. Yes, I cried.
Say thank you. As a mother, I know nothing means more to me than words of gratitude from a thankful heart. They are balm to my soul.
Affirm her role in your life. Tell her you need her and love her and want her to be a part of your life in whatever way she can. Everyone needs to be needed.
Most of all, tell her she is "beautifully and wonderfully made."