Print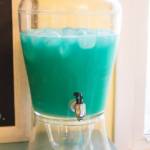 Blue Frozen Punch
1 large container of blue Hawaiian punch 1 2-liter of 7-up (or ginger ale, Sprite, etc.) 2 cups pineapple juice
1

gallon

container of blue Hawaiian punch

1 2-

liter

of 7-up

or ginger ale, Sprite, etc.

2

cups

pineapple juice
Mix together all ingredients in a punch bowl or dispenser.

Serve cold with ice cubes.
A variation of this recipe for a children's Frozen party is to add scoops of vanilla ice cream for snow. The punch is delicious with ice cream in it!
I actually used Sprite Cranberry because my daughter was craving it!
The more pineapple juice you add the less teal color the punch will have. If you want it very blue just leave out the pineapple juice.
We froze some Hawaiian punch in ice cube trays the day before to help keep the punch cold. You can also refrigerate the ingredients in their original containers to keep them cold as well.