Print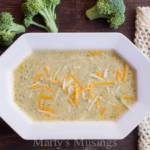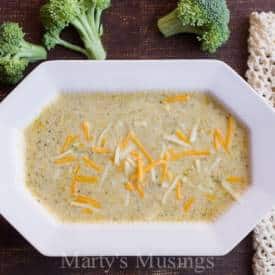 Slow Cooker Broccoli Cheese Soup
With only 6 ingredients this recipe is also budget friendly and delicious!
Combine all ingredients except flour cheese and cook on high for 2 1/2 to 3 hours or low for 4.

Whisk in flour until combined and stir in cheese.

Cook on high for 30 minutes more or until cheese is melted thoroughly.
If you want larger chunks of broccoli don't chop it quite as fine. The more it cooks the less the chunky the soup.
Can substitute low fat milk and margarine if desired.
I make homemade chicken broth but you can also use one chicken bouillon cube per one cup hot water.