Print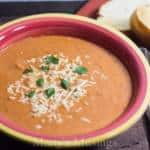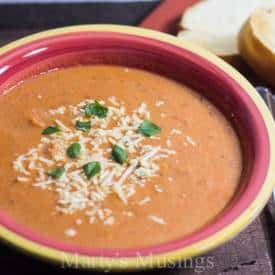 Slow Cooker Tomato Basil Soup
Homemade Tomato Basil Soup using the slow cooker saves time but still tastes great!
Put marinara, tomatoes, bell pepper strips, shallot and chicken broth into slow cooker.

Cook on low for 5-7 hours or on high for 3 hours.

Thirty minutes before serving make the roux.

Melt butter over low heat in a skillet and add in flour.

Stir constantly for about 5 minutes.

Slowly add in 1 cup of hot soup.

Add in 3 more cups of soup and stir until smooth.

Put all back into the slow cooker.

Stir and add parmesan cheese, half and half, salt and pepper, oregano and basil.

Heat on high for another 30 minutes or until ready to serve.
I used frozen chicken broth I had on hand, but you could also use one chicken bouillon cube per one cup of water.
You could also substitute dried basil for fresh.