Slow Cooker Tomato Basil Soup
This post may contain affiliate links which won't change your price but will share some commission. Read more here.
This slow cooker Tomato Basil Soup recipe tastes like you spent hours slaving in the kitchen. It's delicious, easy, economical!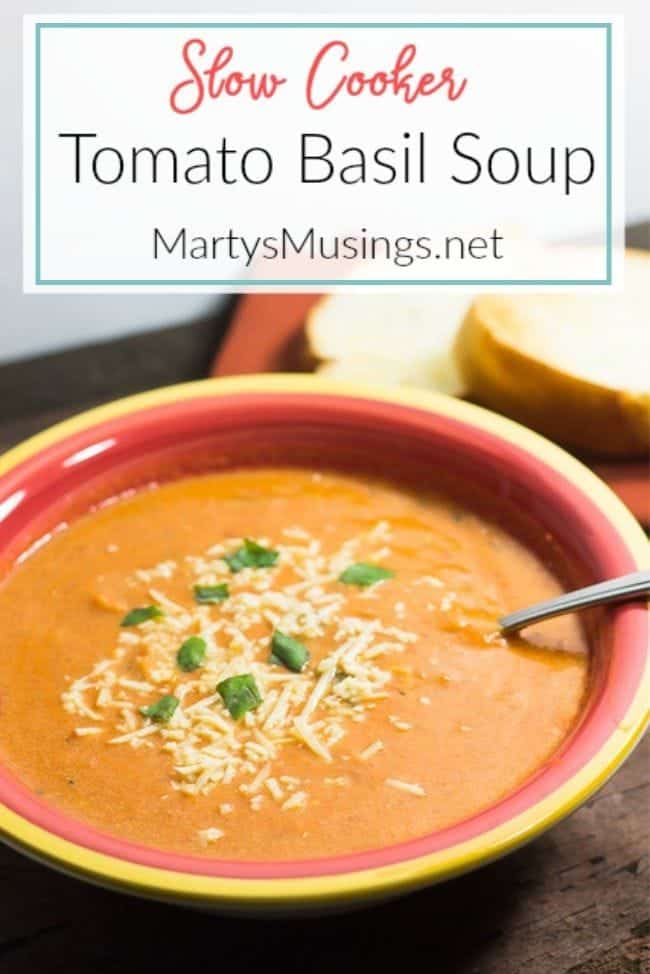 When I first started blogging I adopted the tagline "home is where your story begins," Making memories with my family and telling stories is an important part of my identity.
With two adult married children, two grandsons and another on the way, and only one kid living at home, we cherish every opportunity to create memories together.
We have many Christmas traditions but interestingly enough, none really center around food. Unlike Thanksgiving, where the menu is set in stone and repeated every year, we don't have a set menu for our time together.
For us, it's just all about being together and enjoying those qualities that make us family: sharing laughter; reminiscing over family stories and playing games around the table. (Although playing games is a lot more difficult with little creatures running around!)
We're not perfect and while everyone has their little (or big) quirks, we know God divinely brought us together through both the bond of blood and adoption.
It's the most wonderful time of the year!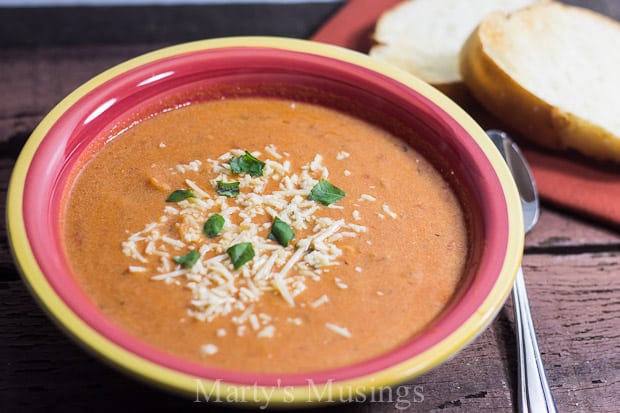 I love using my slow cooker for easy recipes (even though my hubby can't stand it in the summer!)
I've been looking for a slow cooker tomato basil soup recipe that would fill the house with scrumptious smells while we celebrate the season together.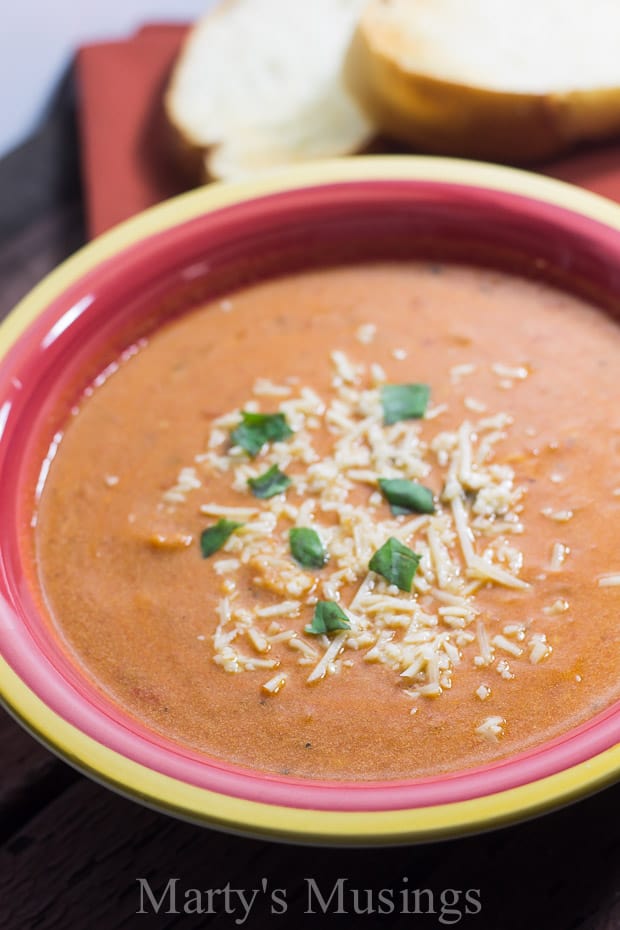 I have to confess I wasn't really a tomato soup lover, but I have changed my tune thanks to this recipe.
My secret ingredient? Marinara sauce and roasted bell pepper strips.
I'd like to show you pictures of each step but I know y'all are smart cooks.
Plus I had a little run in with a blender. Let's just say I baptized our new countertops and bead board! You can definitely leave out that step!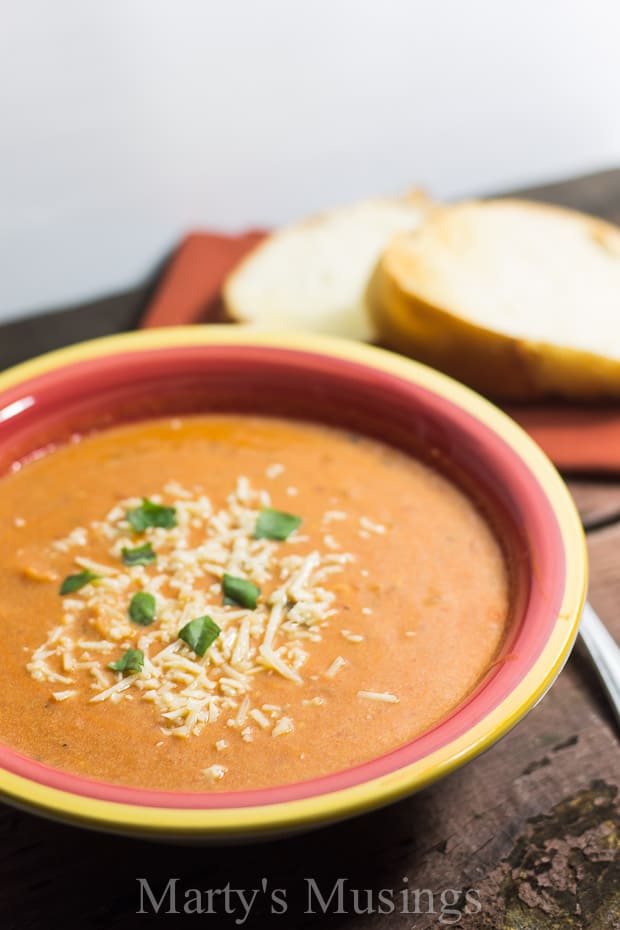 Slow Cooker Tomato Basil Soup
Homemade Tomato Basil Soup using the slow cooker saves time but still tastes great!
Ingredients
1 24.5-

oz. marinara sauce

1 28-

oz

can crushed tomatoes

1/2

cup

roasted bell pepper strips

diced (optional)

1

shallot

or onion, diced

1

tsp

dried oregano

1/4

cup

fresh basil

minced

4

cups

chicken broth

1/2

cup

flour

1/2

cup

margarine

1

cup

grated Parmesan Cheese

2

cups

half and half

salt and pepper to taste
Instructions
Put marinara, tomatoes, bell pepper strips, shallot and chicken broth into slow cooker.

Cook on low for 5-7 hours or on high for 3 hours.

Thirty minutes before serving make the roux.

Melt butter over low heat in a skillet and add in flour.

Stir constantly for about 5 minutes.

Slowly add in 1 cup of hot soup.

Add in 3 more cups of soup and stir until smooth.

Put all back into the slow cooker.

Stir and add parmesan cheese, half and half, salt and pepper, oregano and basil.

Heat on high for another 30 minutes or until ready to serve.
Notes
I used frozen chicken broth I had on hand, but you could also use one chicken bouillon cube per one cup of water.
You could also substitute dried basil for fresh.
I love a good slow cooker soup recipe and you can find several here or check these out.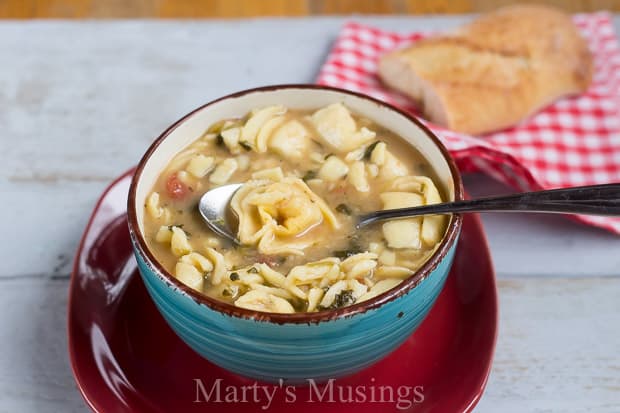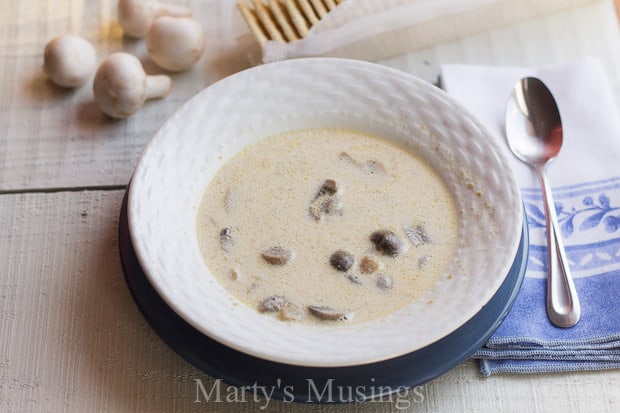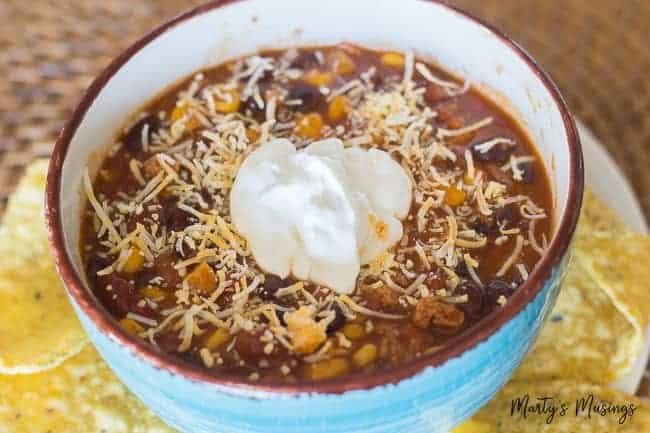 It's all about the memories isn't it?
What is your favorite holiday tradition?