How to Repair Pet Damaged Walls
This post may contain affiliate links which won't change your price but will share some commission.
Has your favorite pet made a mess of your walls or cabinets? These tips will show you how to repair pet damaged walls by sanding, spackling, priming and painting them to look like new!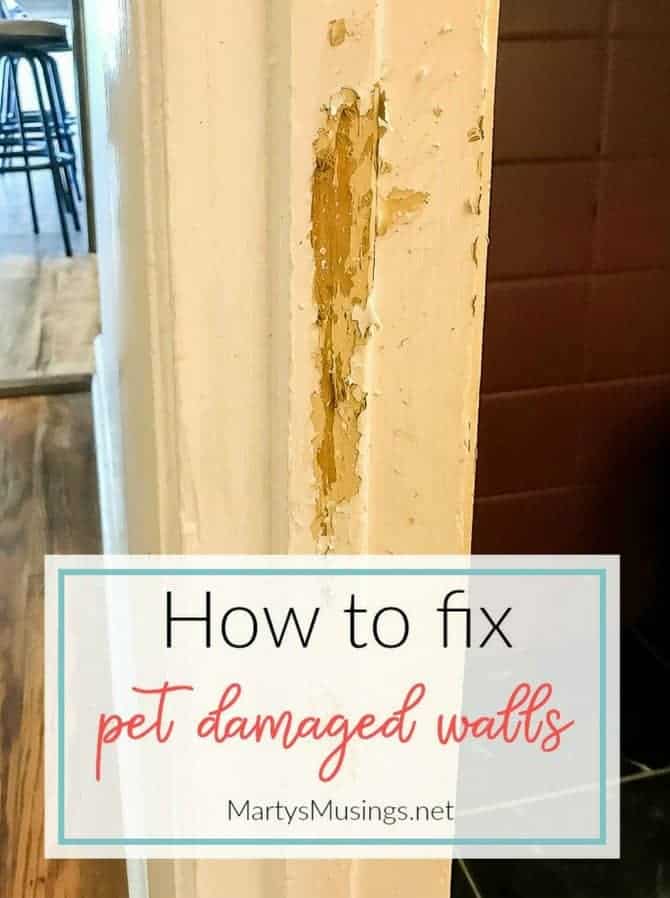 If you're like our family, you probably have at least one pet to love and nurture, maybe even a couple of dogs like we do.
Over the years my husband did NOT play fair where that larger category of fuzzy creatures was concerned.
I didn't grow up with a dog, unless you count the itty bitty chihuahua named Frisky that I liked to torment by bouncing up and down on the bed.
As Tim says, if you get a dog that little you might as well have a cat.
Well said, dear.
Anyhoo, although we did actually pick out our very first family dog together at the pet store, I could share many more stories of puppies that somehow wandered into my husband's possession and into the arms of my children.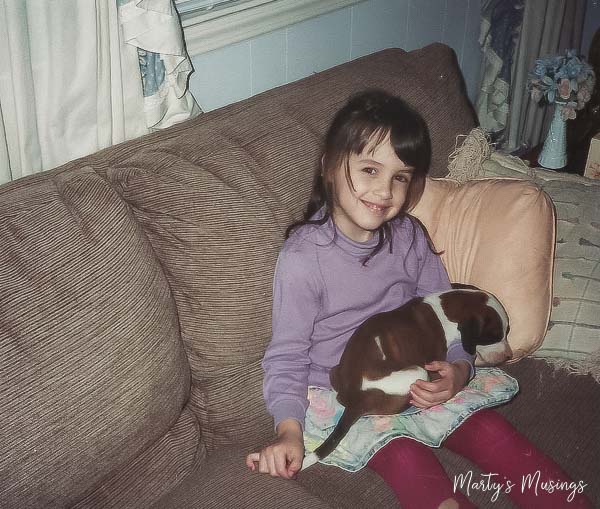 Like I said, he didn't play fair.
Since our children are becoming adults and leaving home I determined our latest dog would be MINE.
I may live to regret it because this 75-lb bundle of joy is all lap dog!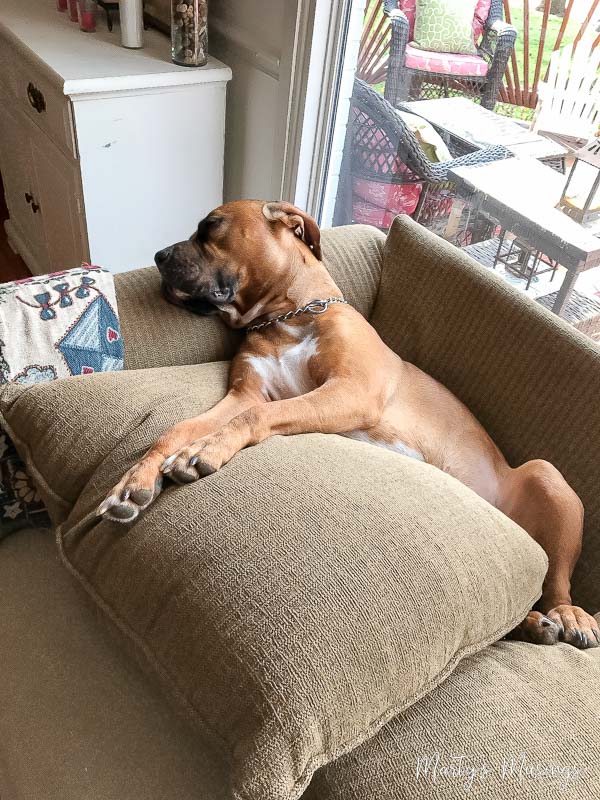 That's right. When Carson's not sunning himself he's sitting in our laps if at all possible.
Spoiled.Rotten.
The one thing we haven't been able to quite get past is leaving our dogs for extended periods of time.
Like the one Fourth of July when our dogs practically ate all the way through a door because of the fireworks.
Or even the recent example when we locked the dogs out of the room with the Christmas tree.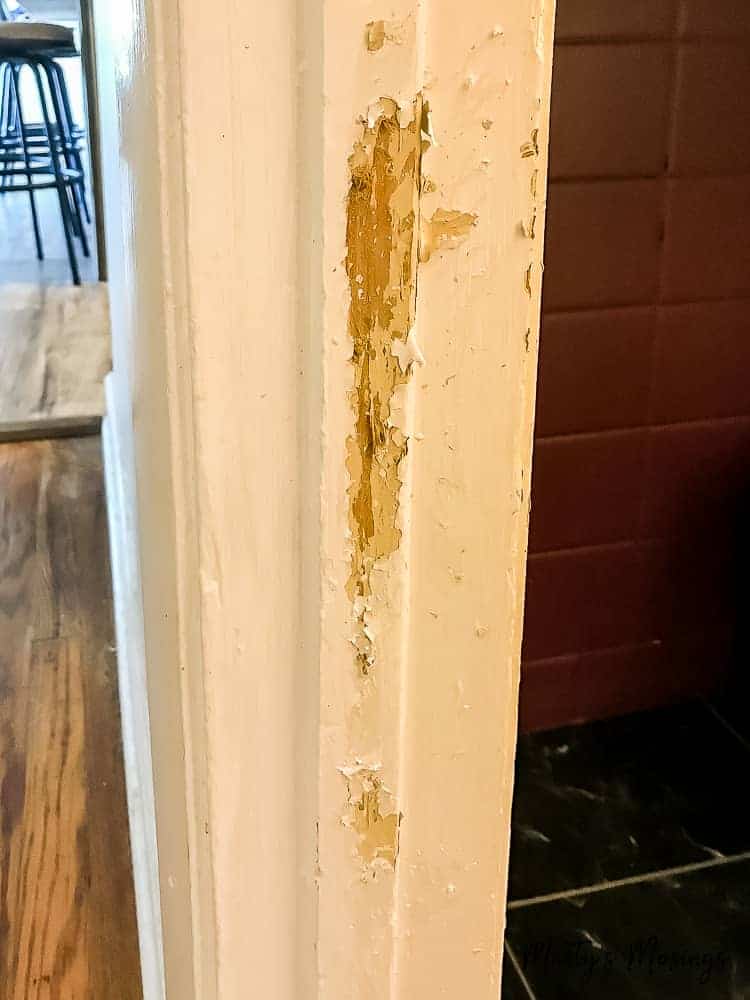 Yep, they ate the door frame! Not good.
I thought I'd share a few of my handyman hubby's tips on how to repair pet damaged walls and other areas since we seem to encounter this when we least expect it.
If you have this problem, too, just know you have my sympathies!
From Tim: Usually animal scratches are pretty localized and, therefore, easy to fix.
How to Repair Pet Damaged Walls
Step 1. Sand and spackle
Take a course sanding block (or sandpaper) and go over the damage just to get rid of any high spots and debris.
Do a quick pass with spackle, just to fill in the holes a bit and let dry (or use a hair dryer if you want to speed this whole thing up).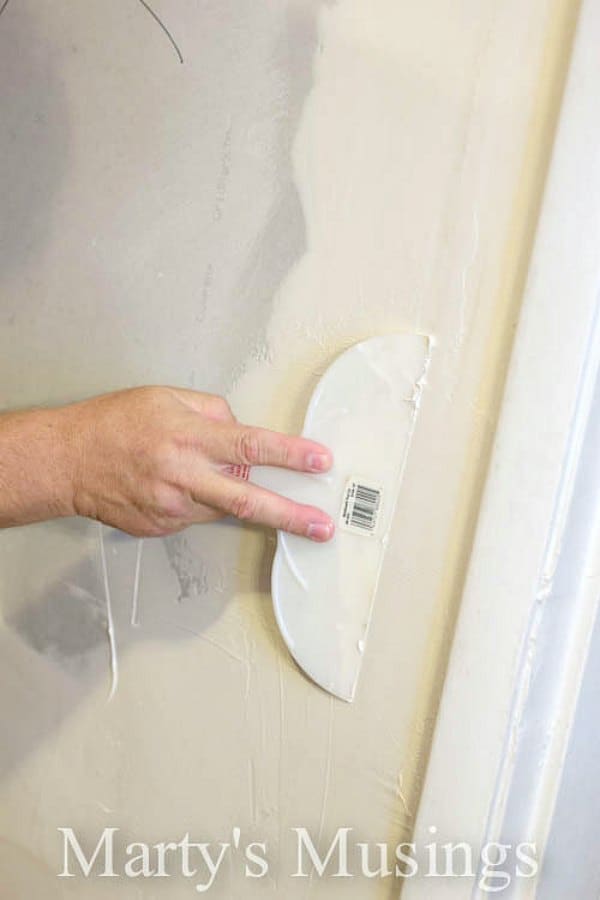 Try to keep your spackle smooth with this, and each subsequent, layer – you may need to make three passes, enlarging the area just a bit each time. A cereal-sized spot may end up the size of a framed picture, or more.
Step 2. Sand
When it comes to sanding, I use a wet wallpaper sponge, but most people will grab that sandpaper again. I just don't like the dust. Smooth to your satisfaction.
Step 3. Prime and Paint
You can prime if you want with an aerosol Kilz or Zinser product, but protect the floor from over-spray. The final step is painting.
I'm assuming we're talking about sheetrock here. If you have paneling or something else, you can still do it this way, but you need to do it with a little more finesse. Wallpaper will be almost impossible to repair, but I figured we weren't going there!
Marty: I hope my husband's tips help if you get in a jam! Check out more in our post on 7 Chalk Painting Tips for Beginners, 5 Accent Wall Ideas and Tips and Everything You Need to Know to Paint a Room.