How to Use Chalk Paint Wax + Tips on Distressing
This post may contain affiliate links which won't change your price but will share some commission.
Can't find answers to your questions on chalk painting? This post has it all, from learning how to use chalk paint wax to tips on distressing and more!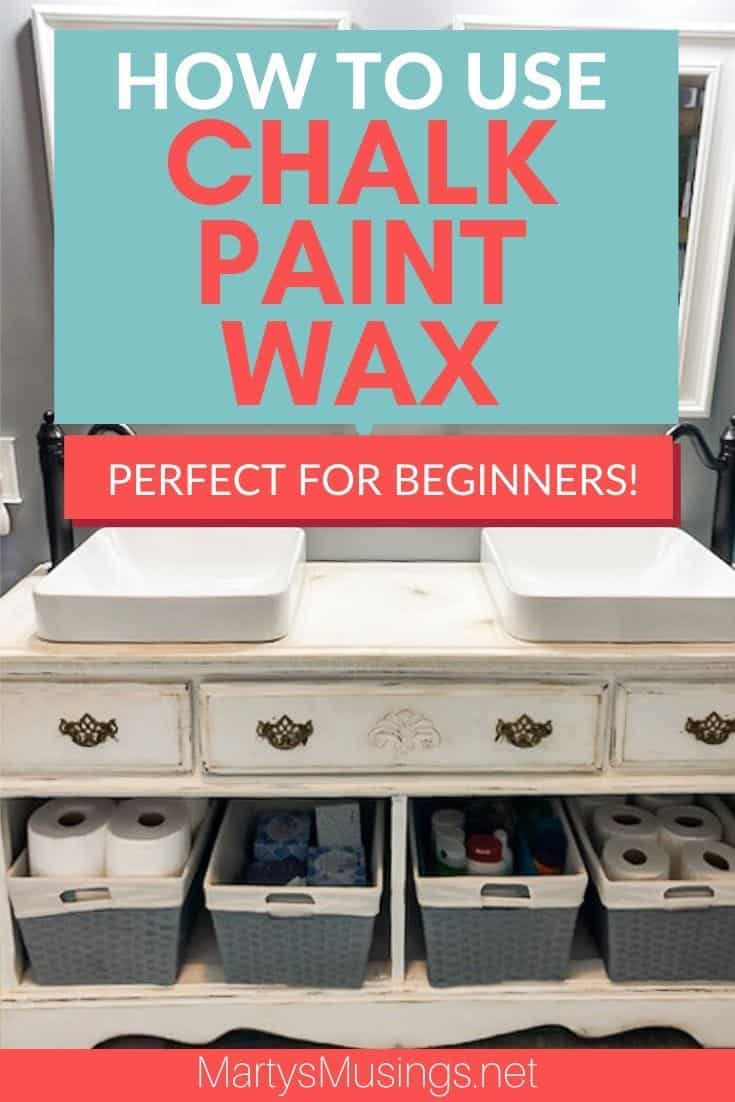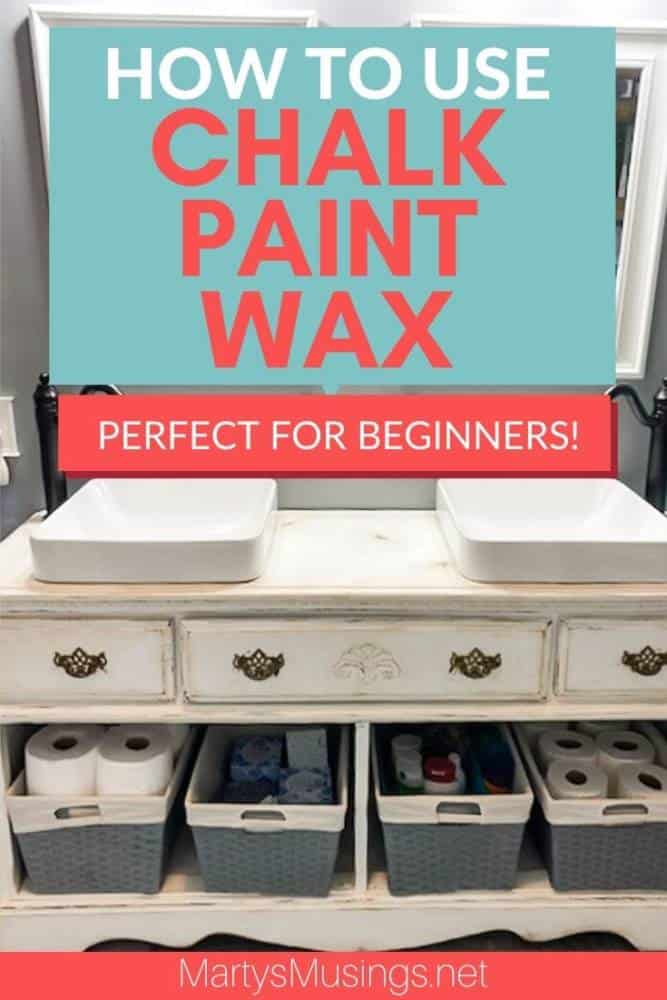 One of my readers' favorite posts is the one with 7 Chalk Painting Tips for Beginners. I love encouraging others to try this technique that is easy and fun!
You may think chalk painting is only for the rustic farmhouse look. I believe this painting technique can be used in many more applications.
My husband and I get tons of questions asking for specific help with furniture projects and I thought a follow-up post would be a great way to help you!
How to Use Chalk Paint Wax + Tips on Distressing
How to use chalk paint wax + tips on distressing:
Don't need to prep or sand unless surface is uneven.
If wanting to distress, make sure you do it where usage would naturally show, such as handles and corners.
Waxing is an important step. Use clear wax or a color if wanting a more dramatic appearance.
Chalk paint varnish can be used if project is going to see a lot of wear and tear.
It's possible to make your own chalk paint but there are many brands to choose from as well.
(If you'd rather watch a video here are all my best tips!)
Here is a list of all the products my husband and I recommend for chalk painting. (You can also visit my Amazon store here!)
(I've included some affiliate links for your convenience. Click here to read my full disclosure policy.)
Materials:
Chalk Paint: there are many different types available now. As I try different brands I'll link to the ones that I like.
Simple Green Degreaser and Cleaner (for cleaning furniture)
DecoArt Americana Chalky Finish Paint (is one we love and is less expensive)
FolkArt Home Décor Chalk Finish Paint
Creme Wax, Clear (seals with a transparent finish)
Creme Wax, Golden Brown (seals with color and dimension)
Creme Wax, Dark Brown (darkest of the wax finishes)
Light Satin Varnish (like polyurethane, perfect for sealing a project)
Ultra Matte Varnish (also like polyurethane but with a flat finish) I've never used this product but I would definitely try it.
Minwax Polycrylic Protective Finish (not formulated for chalk paint but a durable alternative for sealing.
Kilz Primer (for covering difficult stains or bleed-through)
Paint Brushes (a basic inexpensive set)
Two in One Chalk Paint and Wax Brush (specifically for chalk painting)
Foam Brushes (for smaller projects)
Sandpaper Sheets (for distressing)
Medium/Coarse Sanding Sponge (for distressing)
Palm Sander (one of our favorite tools for heavy sanding)
Do I need to prep or sand before I chalk paint?
Such a good question! Chalk paint is designed to skip that first step. The main reason I would recommend sanding is if your surface is uneven.
If you're going to distress your project then it probably won't be an issue. I've had readers chalk paint over laminate that wasn't in good condition, and in that situation you might need to sand first.
A second consideration is if your wood is mahogany (which might bleed through a pink shade, called tannin) or knotted pine and cedar (which might expose yellow or orange.)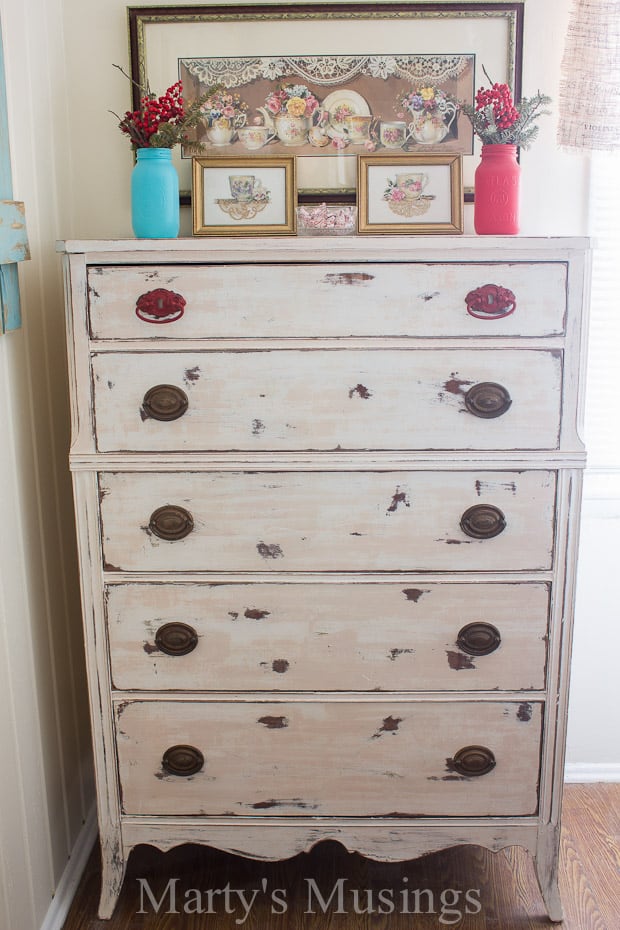 Trash to Treasure Chalk Painted Dresser
In those cases I would use Kilz Primer for a first coat of paint.
I do recommend that you clean the surface before you paint it, especially if it's been used or is a thrift store find. This degreaser and cleaner works really well and is inexpensive.
Should I distress and if so, what's the best way to do it?
If you are going to distress your piece, do this step first before you wax.
The key is to distress naturally. Think about the areas where a piece would naturally wear over many years and remove paint there.
Typically, this is around handles or knobs, corners and along edges, and random spots here and there.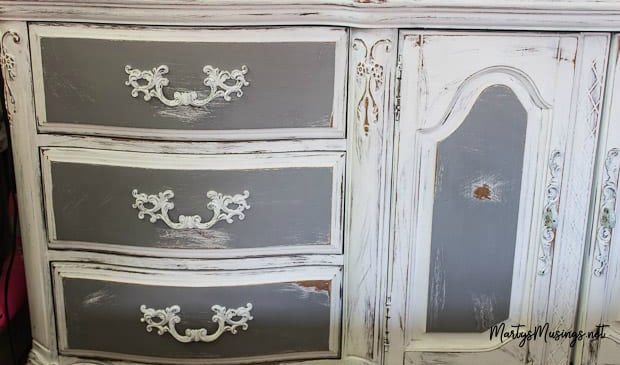 Don't distress as if the piece fell off the back of a truck going down the highway. Distress as though your piece enjoyed many happy generations sitting in the corner!
A popular tip is to apply Vaseline on any spot where you know distressing will take place. Chalk paint will not bond here and it will be much easier to sand it off.
The only problem is you'll have to plan in advance where those spots will be!
Remember that wherever you distress will reveal the wood/surface underneath the paint. Make sure and always wipe your surface after distressing.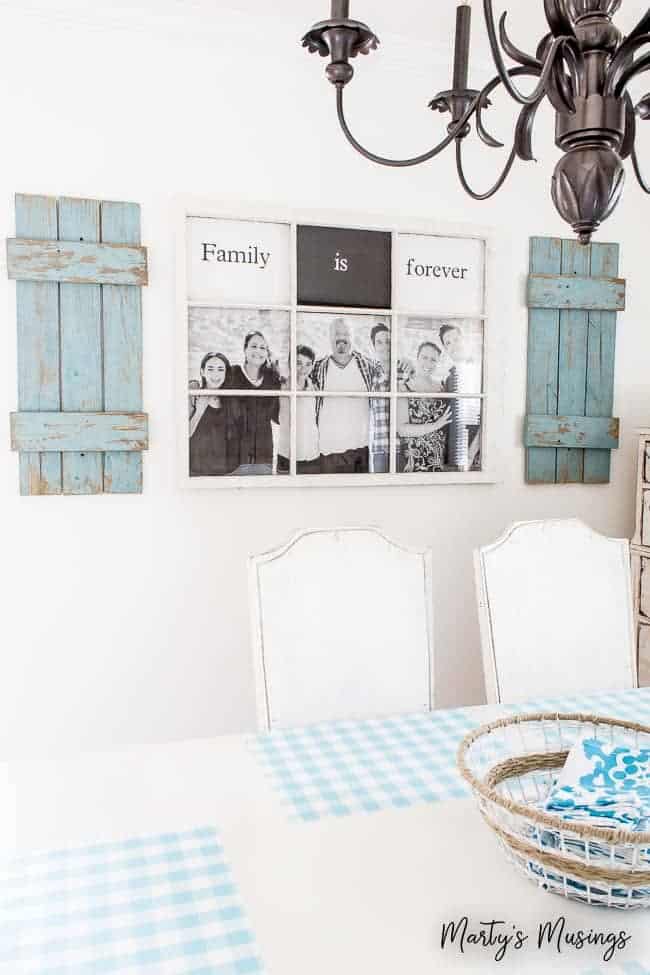 What's the deal with wax? Should I use it and what about colors?
The most difficult part of this process is waxing. There's no "easy" way to do it but it's a step you don't want to skip.
You will have to decide whether you want a clear wax or a dark wax (golden brown or deep brown.) A clear wax will seal the piece almost invisibly, depending upon the color of the paint.
Dark will have a more significant impact on both color and appearance. The dark wax really accents the dimensionality of the piece, as it will collect in crevices, corners, and any decorative accents.
The previous tip about using vaseline is appropriate with waxing as well. You can apply vaseline wherever you want to remove the wax.
For example, if you're using a dark wax you may not want such a dark brown finish.
You can apply vaseline to specific areas and then apply your dark wax. Use a second cloth to remove the wax from any areas that seem too dark.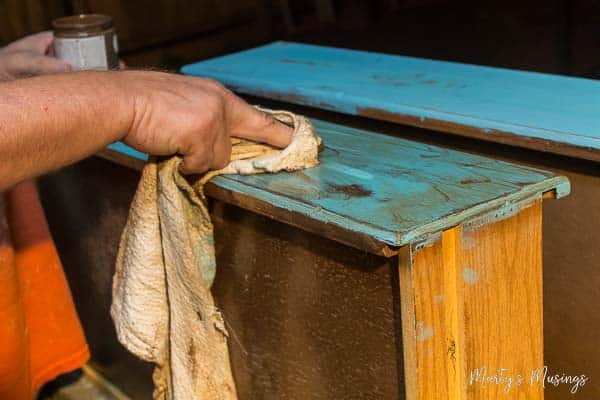 You can also use clear wax with these steps. For me, vaseline is cheaper so that's usually what I go with!
The purpose of the wax can be sealing (like the clear) or to add color and seal (like the dark satin). Dark satin is going to adhere wherever you apply it even if you wipe it back off.
My suggestion would be to paint a section on the underneath of the piece and test it out there. That way if you don't like it you haven't ruined your entire piece.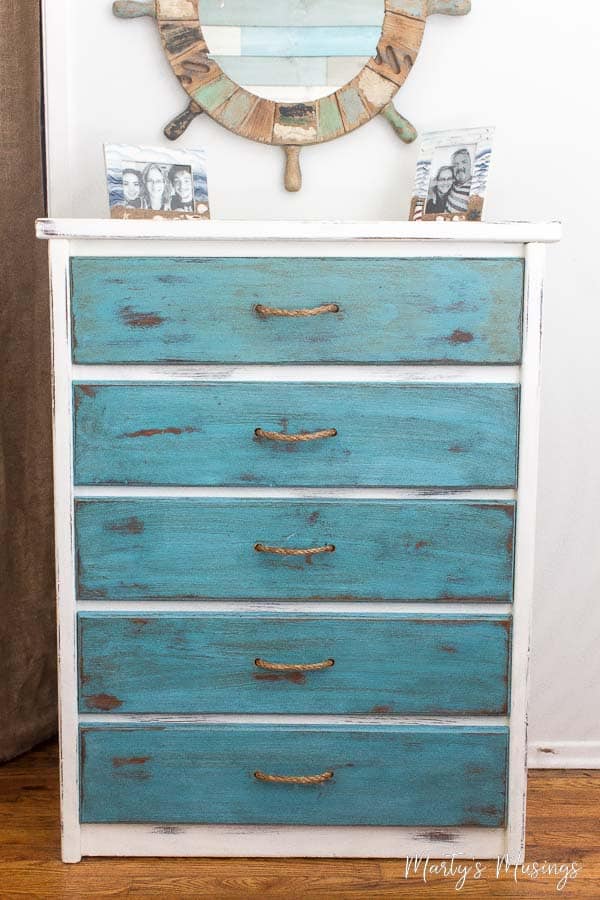 How to Paint Furniture with Chalk Paint
What kind of soft cloth do you use to apply the wax or do you use a brush?
I often use a cut-up t-shirt, preferably lint free. You can use a brush if you want but I just like to get my hands a little dirty!
Apply wax with a soft cloth and buff the finish after the wax is dry with another soft cloth.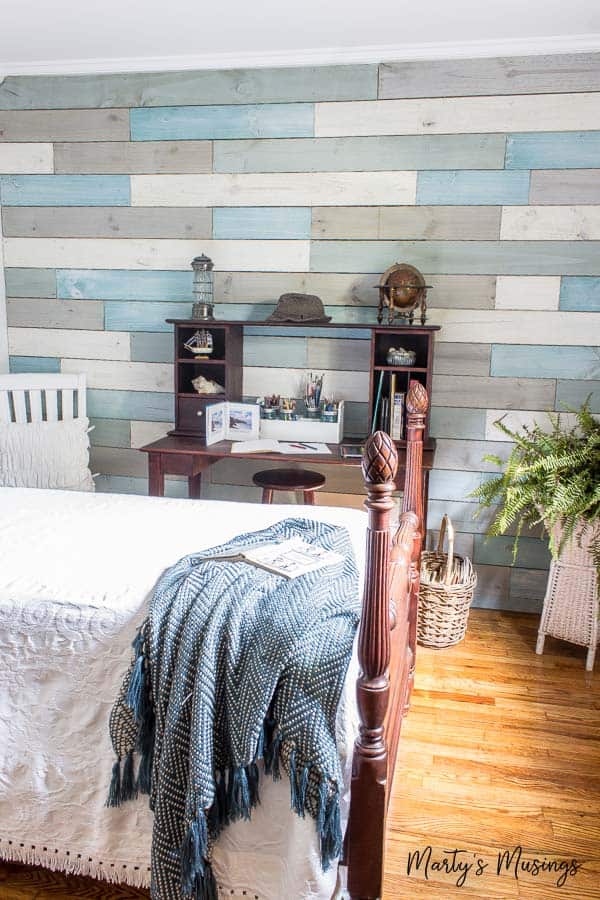 How to DIY Plank Walls with Chalk Paint
What about varnish?
Light Satin Varnish is used with a project that is going to see a lot of use, such as a table. You would go through the regular process of applying chalk paint, distressing (if desired) and wiping down with a clean cloth.
Then you would go ahead and seal it with the varnish at this point. You don't need to wax it since the varnish IS the sealant.
Does chalk paint do well in a bathroom environment? Anything special I should know?
We actually remodeled a bathroom recently and used a dresser for a vanity.
My husband and I went through this entire process of chalk painting, distressing, etc. We used a light satin varnish on the top but I didn't feel like it was enough to repel water.
Instead we applied Minwax Polycrylic Protective Finish to give us the coverage we needed.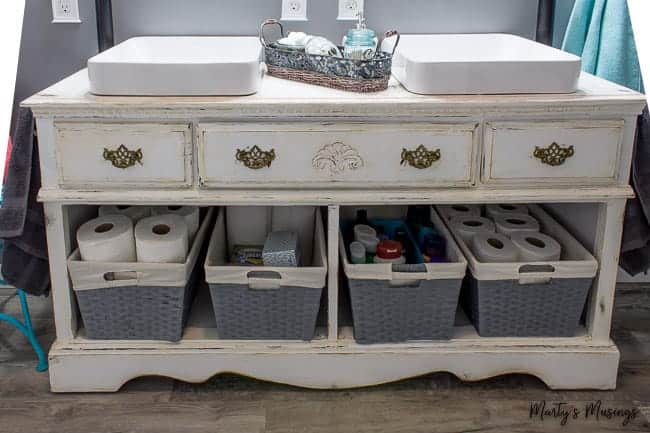 Small Farmhouse Bathroom Remodel
I purchased a good brush that was quite pricey. Can you tell me how to clean it after painting?
Chalk paint is water soluble so you just need to rinse it in the sink until the brush is clean!
I often just use inexpensive foam brushes for smaller projects.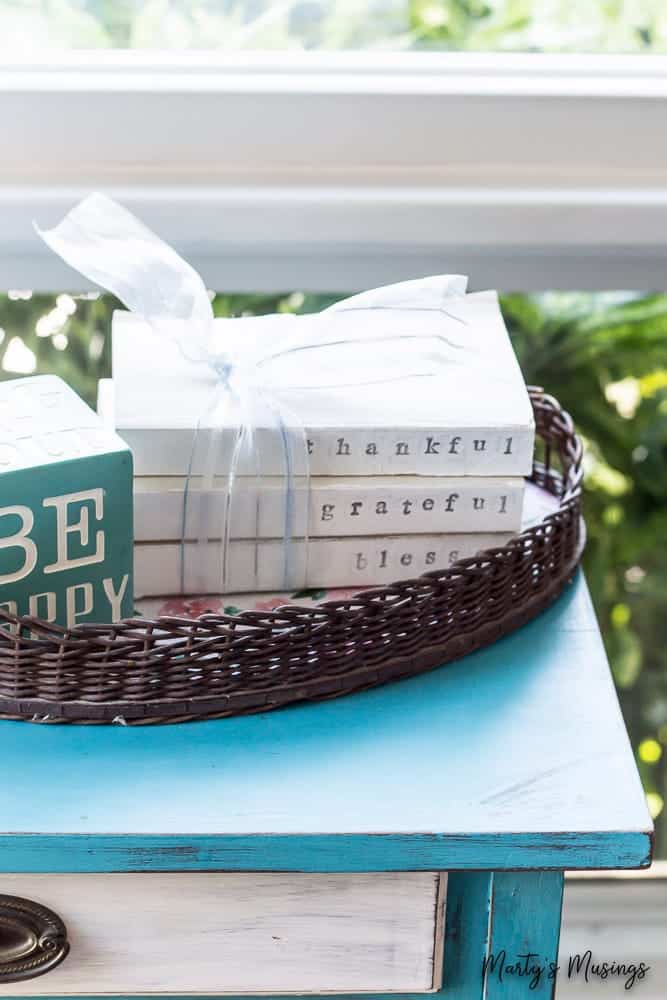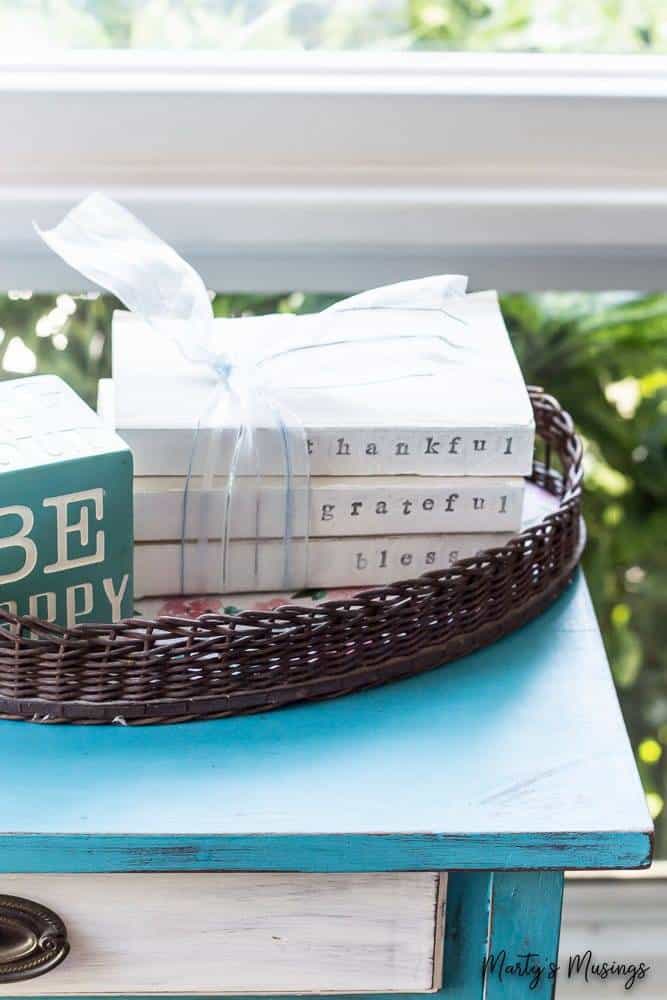 DIY Stamped Books using Chalk Paint
Can I paint over the chalk paint and/or wax or do I have to remove it first?
You can absolutely paint over wax. If a piece has been previously painted you just need to clean before applying a new chalk paint.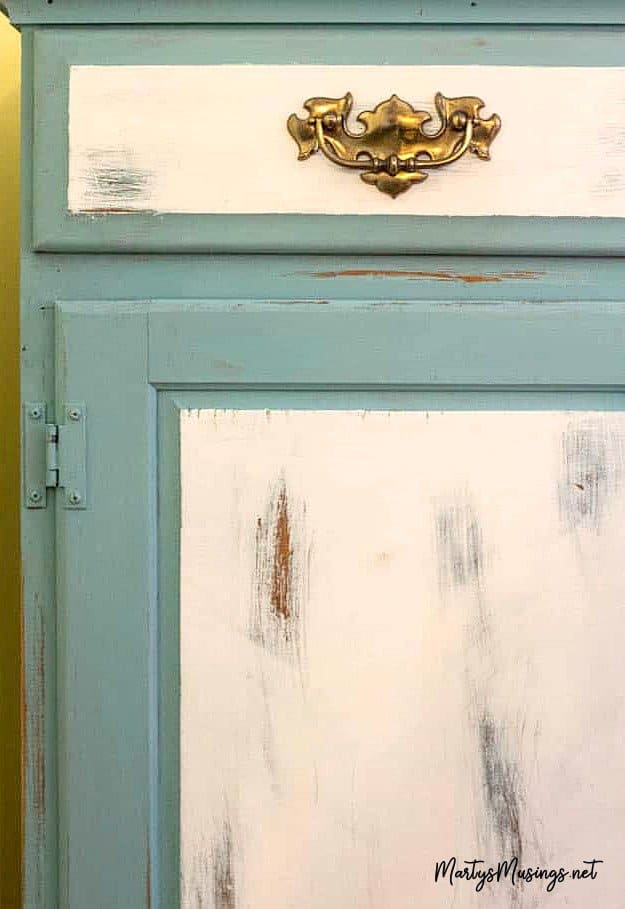 Can I use chalk spray paint for the project? I have seen they are less expensive than the regular but I'm not sure if it's going to work.
You could certainly try spray painting smaller objects, but my concern for something like a table would be getting an even coat over the entire area. Plus it would take a few cans to do it depending on the size of the table.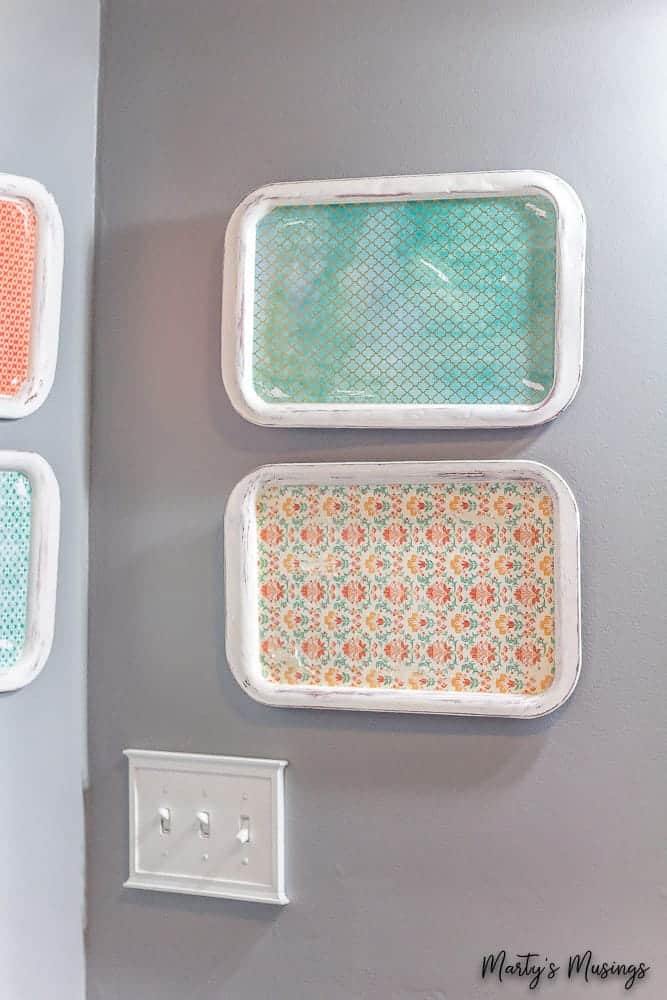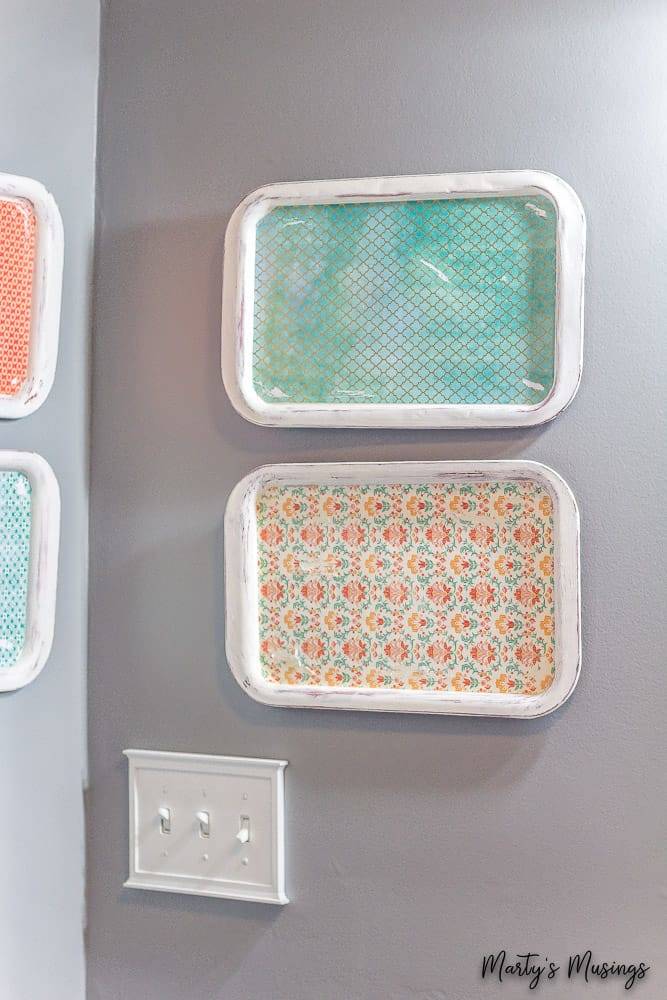 If want to change the black picture frames in my house to a lighter, more distressed/farmhouse type look. Will you see the black through the color if I distress it?
When you chalk paint over black, that is the color that will show through unless it's just a finish.
If it's a finish you could just sand off the black and chalk paint over the bare wood, but that may be more work than you want to do.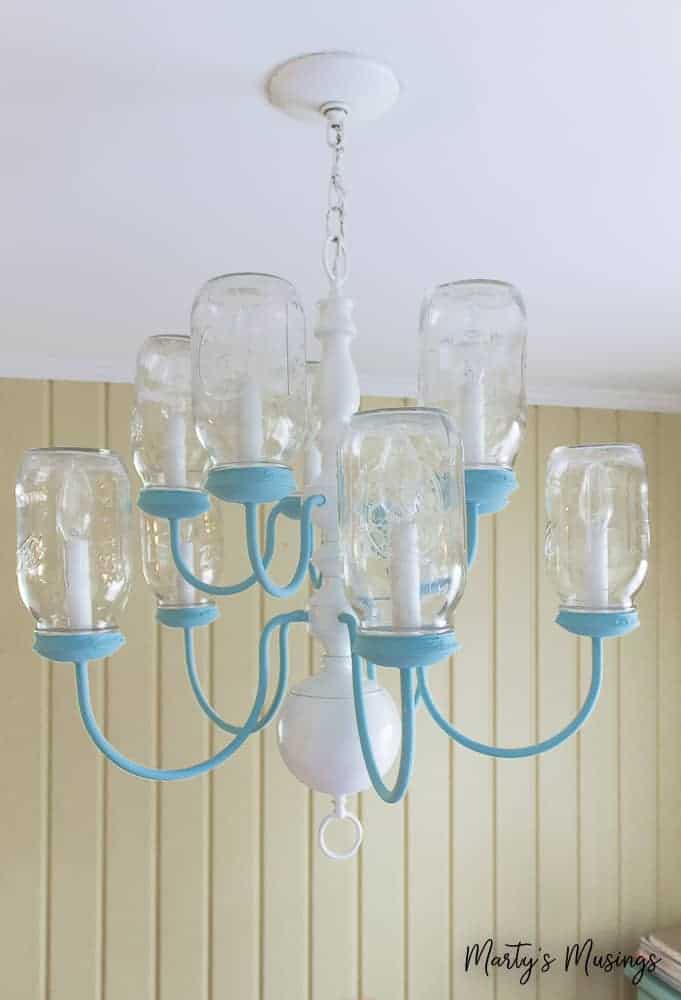 Should I make my own chalk paint?
I know many other bloggers that have made their own chalk paint, but I don't want to invest time and money in a product that might not work.
In case you DO want to try it, this tutorial looks pretty straight forward.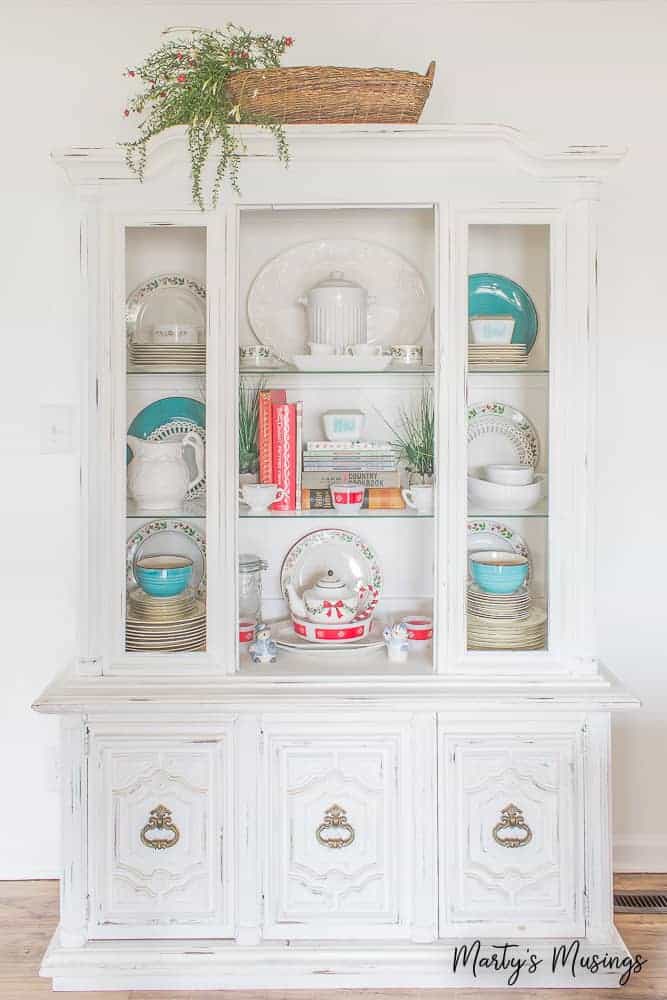 Can chalk paint be sprayed through an airbrush/gun?
Chalk paint is a clay-based medium that has fairly large particulates, making it more difficult to spray. While we have never sprayed it, we would assume that you would need a spray tip with a large opening, high pressure and even possibly thinning the paint with water.
Whew! Those are a lot of questions we tackled!
Do you have any more questions on how to use chalk paint wax or any other part of the process?
Tips and projects for beginners and pros alike that prove that anyone can learn to paint furniture and home decor accessories with chalk paint!