Orange Fluff Jello Salad
This post may contain affiliate links which won't change your price but will share some commission.
With only five ingredients, Orange Fluff Jello Salad is the go to dish for potlucks and easy family dinners. Your family will beg you to make it!
How to Make Orange Fluff Jello Salad
When I got married this Orange Fluff Salad was one of the first recipes I requested. Known only to me as "Orange Salad," this dish didn't have a fancy title or special ingredients (only a color distinction!)
It's obvious I've enjoyed making this tried and true recipe. Cookbooks don't lie! The messier the pages, the more loved the recipes!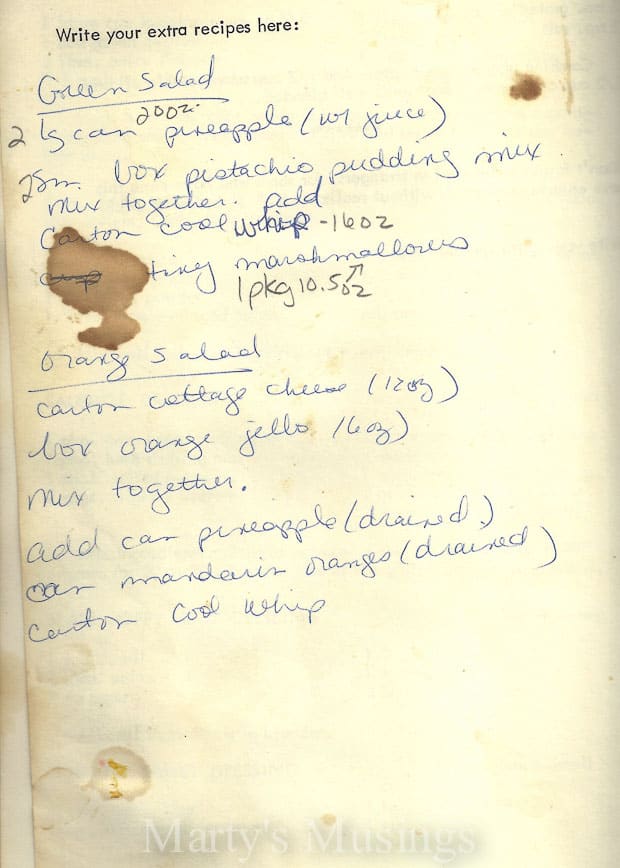 When I was growing up my mom always made sure there was a home cooked meal waiting for us each and every Sunday. Saturday nights were spent preparing the dishes for the oven the next morning.
I never really thought of these weekly rituals as traditions, and I'm sure I didn't appreciate the effort and time that went into the preparations.
After I became an adult and started a family of my own my mom would gather all our extended family together to create new memories. We all squished into my parents' small dining room with our contributions to the meal all crammed into her small kitchen.
She would set out the good china and glasses, with plastic plates for the grandkids. I always wondered why she went to such efforts when it was "just" family.
Just a taste from my mama's kitchen, made with love and handed down through the years.
After my mom passed away I discovered her handmade recipe book, filled with yellowed clippings from newspapers and notes written in her shaky cursive handwriting.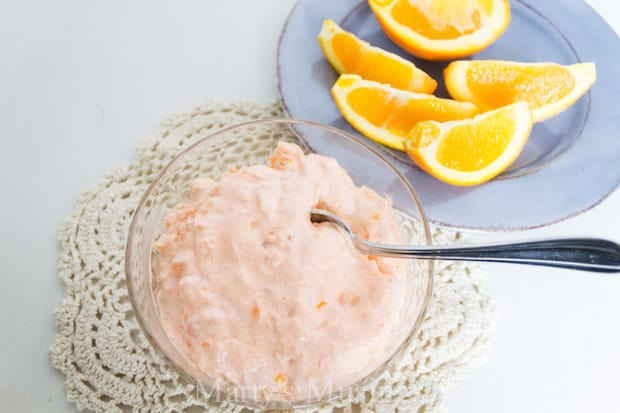 Her recipes are precious reminders that memories are created when we gather around the table, sharing stories and life together.
This is the secret my mom understood about family.
My own family is now scattered, miles apart from the home they were raised in. Unfortunately my husband and I are also now divorced which adds even more difficulty for gathering together.
Yet any opportunity for all of us to share a meal together brings such joy to my heart. Although it doesn't matter what we eat, I'm pretty fond of this Orange Fluff Jello Salad!
Is Orange Fluff a dessert or a salad?
Good question! There's certainly nothing green in here but you can call it a fruit salad or side dish. Plus it's so delicious you could serve it for dessert!
How many ingredients are in this Mandarin Orange Marshmallow Salad?
This is such a simple fruit recipe with only five ingredients! Some people may balk at the cottage cheese but I promise the texture isn't bad!
Can you make this recipe ahead of time?
This is the perfect recipe for making ahead of time the day before an event. Just take the time to stir it all together before serving and store in the fridge.
Variations and Tips
Try using raspberry jello mix and fresh raspberries for a delightful variation. Pineapple jello mixed with fresh pineapple bits (or canned pineapple tidbits) would also be delicious.
Sugar free gelatin powder can be used to make it a little less sweet. Or go the other direction and add mini marshmallows for an additional treat! (I personally love the tiny marshmallows!)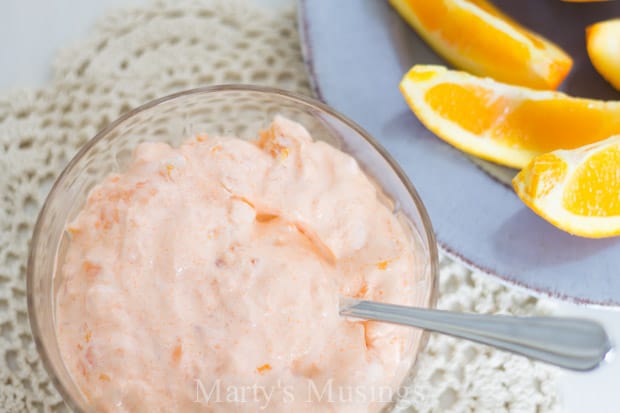 Ingredients
cottage cheese
orange jello mix
crushed pineapple (or pineapple tidbits)
mandarin oranges
whipped cream
mini marshmallows (optional)
See the recipe card for quantities.
Instructions
Drain pineapple well and add to bowl.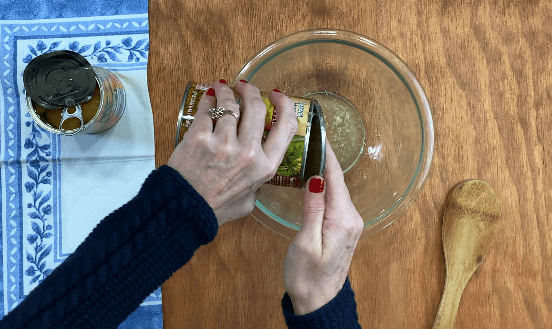 Add drained mandarin oranges and stir together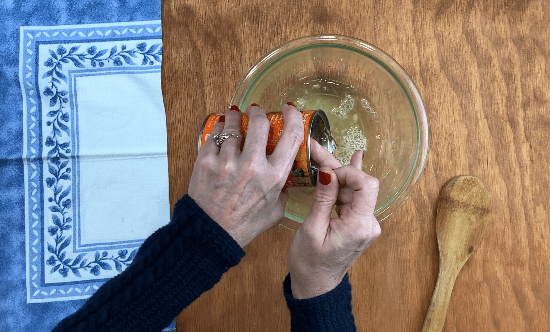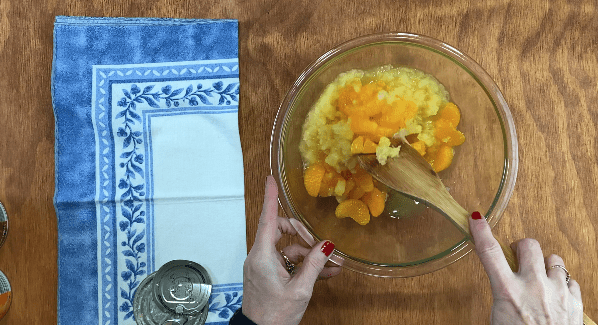 In separate large bowl mix together cottage cheese and powdered orange jell-o mix.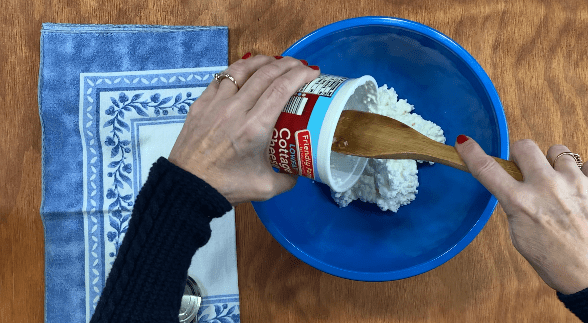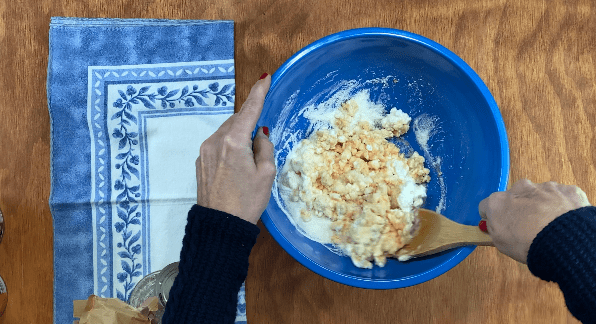 Stir both bowls together with rubber spatula or whisk.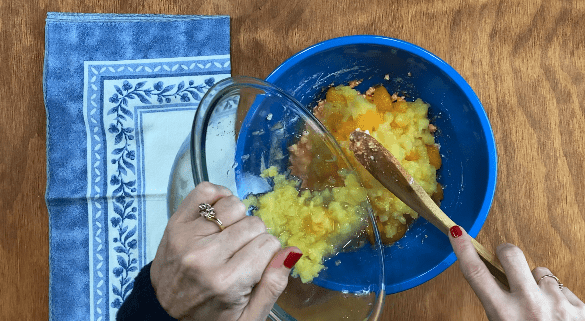 Fold in cool whip.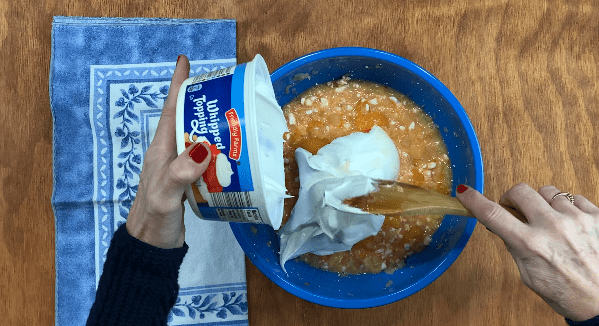 Cover with plastic wrap and refrigerate your orange fluff salad recipe until ready to serve.
Just like my mom, I always prepared a big Sunday lunch for my family as my kids were growing up. A couple of my favorite resources for make ahead recipes were Fix-It and Forget-It Big Cookbook and Taste of Home Slow Cooker Recipes.
More fun side dishes:
Orange Fluff Jello Salad

Printable Recipe and Video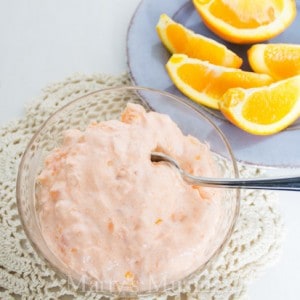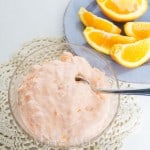 Print
Orange Fluff Jello Salad
With only five ingredients, Orange Fluff Jello Salad is the go to dish for potlucks and family dinners.
Ingredients
1 12-

oz

carton cottage cheese

2 3-

oz

pkgs orange jello

1 20-

oz

can crushed pineapple

drained

1 11-

oz

can mandarin oranges

drained

1 12-

oz

carton whipped topping
Instructions
Drain pineapple and mandarin oranges well and stir together.

In separate bowl mix together cottage cheese and powdered jello.

Mix both bowls together and stir well.

Fold whipped topping into mixture.
What is your favorite family memory as you shared meals together?