Watergate Salad (Pistachio Fluff)
This post may contain affiliate links which won't change your price but will share some commission.
Call it Watergate Salad or Pistachio Fluff! Either way this classic old school recipe is EASY and inexpensive! Don't leave home without it!
When I left home for college I was woefully unprepared for adult life, especially in the area of cooking. I could fry up a hamburger or toast a cheese sandwich but that was about it!
Of course I was a little better with desserts, no surprise! By the time I got married I had added a few staples to the list. Not impressive but it was a start!
Nothing says home cooking like a church cookbook! Some of my family's favorite recipes come from the tattered, smudged pages of the church where I grew up.
On one of the pages I wrote a recipe for "green salad" (otherwise known as Watergate Salad) passed down to me via a phone call from my mom as a newlywed.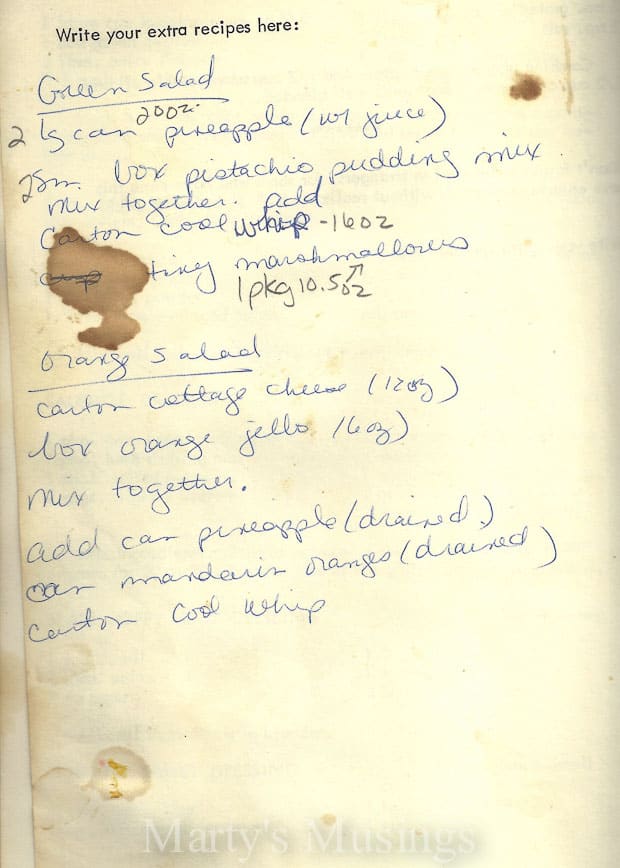 Do your cookbooks look like this? This page collected the remnants of recipes in past years. Since my mom passed several years ago I treasure the recipes she made in my childhood. (For her Orange Fluff Jello Salad recipe go here.)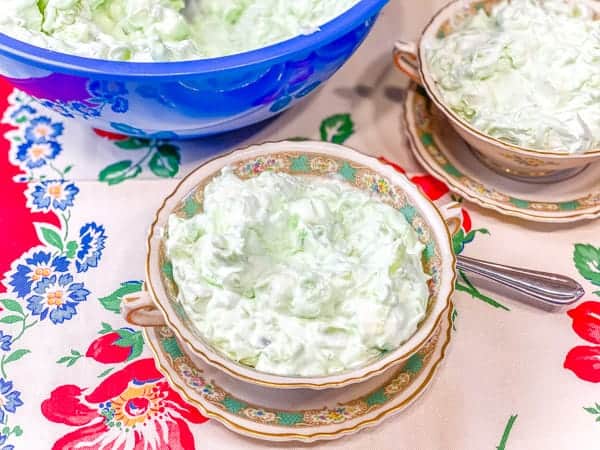 Before I share the recipe let's talk about how it got its name.
How did Watergate salad get its name?
Watergate salad is a throwback to the mid-1970s, when instant gelatin was still a new invention. Kraft began selling pistachio pudding around the same time and this quick and easy dish was born. The perfect salad without a hint of leafy greens!
Historians don't know for sure but it's possible the salad was named after the Watergate presidential scandal happening around the same time.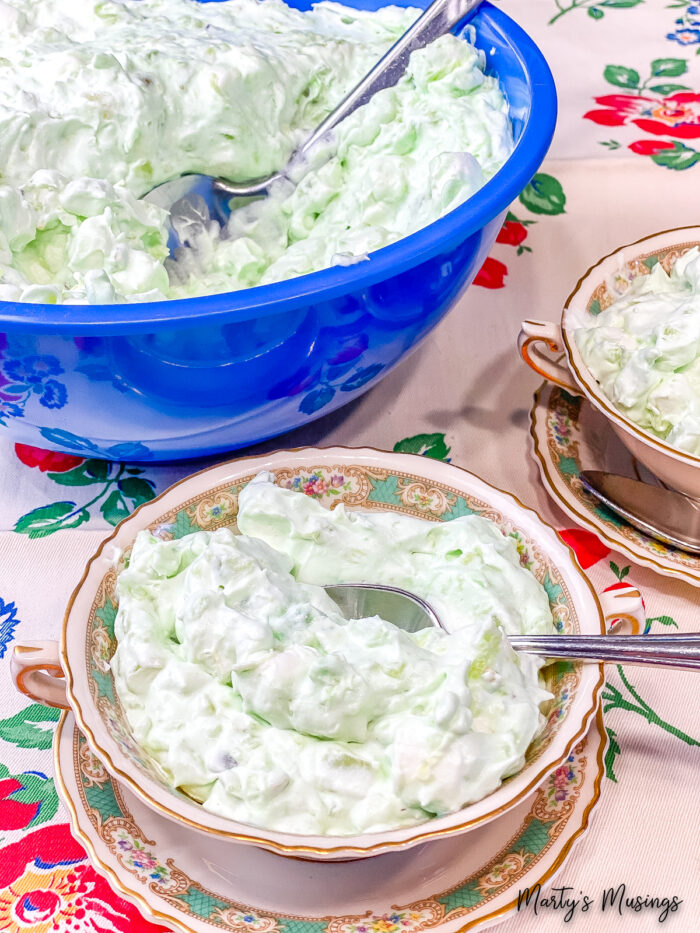 What are some other names for Watergate salad?
My family always knew this recipe by Pistachio Fluff but this fruit salad is also known as Green Fluff, Green Goop or Pistachio-Pineapple Delight. Pretty catchy names for such a simple recipe!
Does pistachio pudding have nuts?
Yes, pistachio IS a nut so the pudding will have some as an ingredient. This one might sneak up on you if you have a nut allergy so beware!
Some people also add nuts to this recipe as well but I prefer it without.
Do you have to use instant pudding?
The simple answer is yes! Instant pudding is a quick pudding that requires no cook time while cook and serve has a given amount of preparation time. Instant pudding is also generally served cold and cook and serve pudding hot.
What to serve with Watergate salad
This recipe is perfect for a ladies luncheon or potluck, along with a main dish and vegetables. (Gotta eat something healthy!) Or serve it as a dessert and your guests will love it!
When I was growing up we just called it the "green salad." I loved when we came home from church on Sundays and this dish was waiting for us!
Ingredients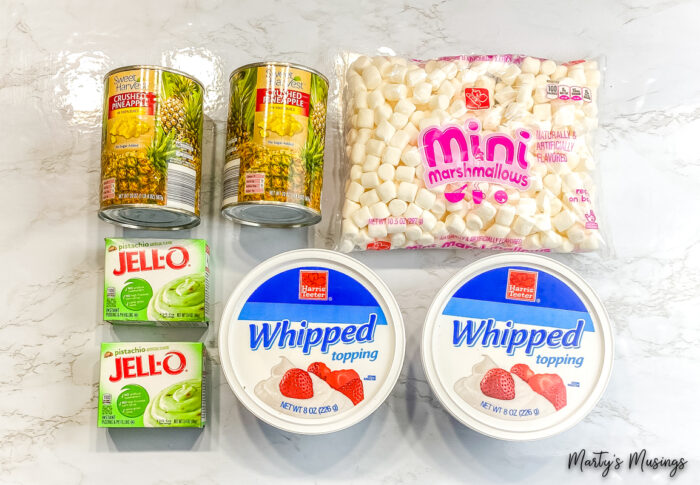 crushed pineapple
instant pistachio pudding mix
whipped topping
tiny marshmallows
See the recipe card for quantities.
Instructions
Pour the crushed pineapple into a large bowl.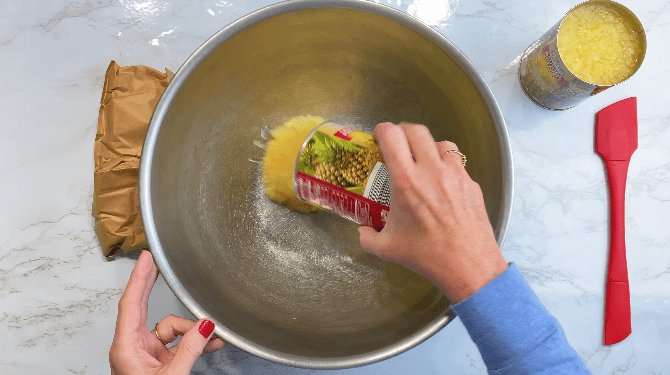 2. Add the pistachio pudding.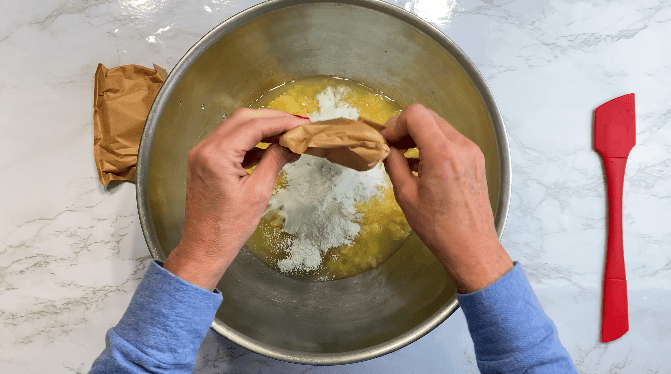 3. Mix together both ingredients.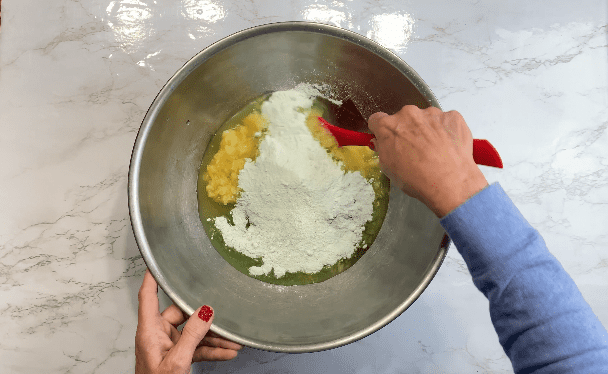 4. Add thawed whipping topping and stir gently.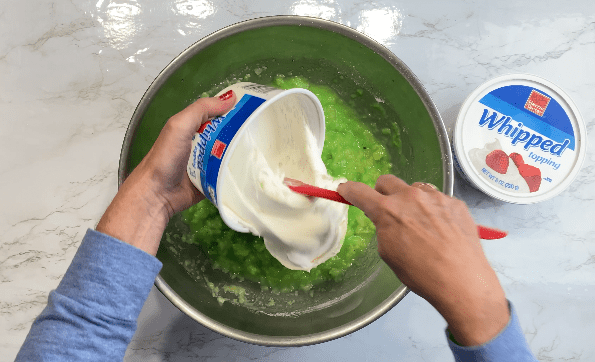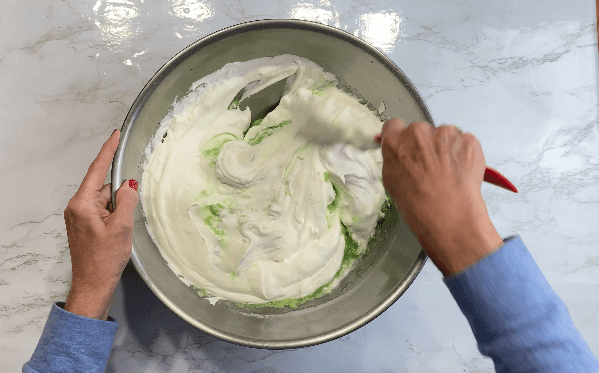 5. Mix in the tiny marshmallows and refrigerate until chilled.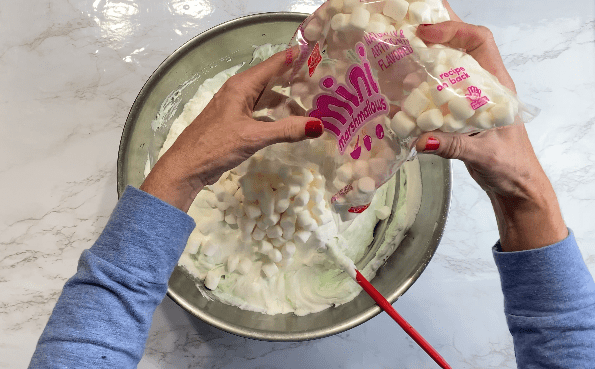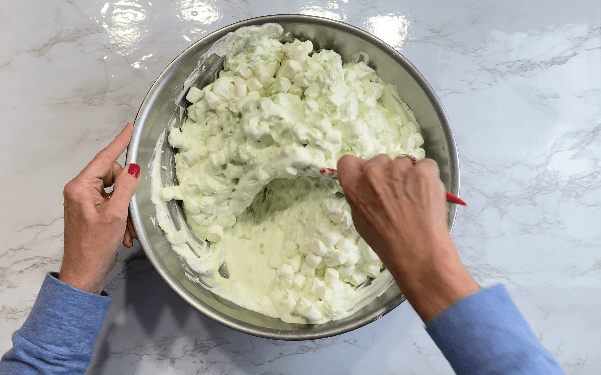 Have you ever had this old time recipe? I guarantee it's delish!
Watergate Salad Printable Recipe and Video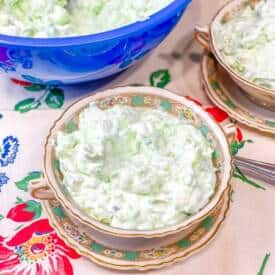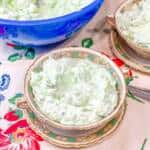 Print
Watergate Salad Recipe
Call it Watergate Salad or Pistachio Fluff! Either way this classic old school recipe is EASY and inexpensive! Don't leave home without it!
Ingredients
2 20-

oz

cans crushed pineapple

with juice

2 3-

oz

boxes instant pistachio pudding mix

16

oz.

whipped topping

thawed

1 10.5-

oz

pkg tiny marshmallows
Instructions
In large bowl mix together pineapple and pistachio pudding mix.

Add thawed whipped topping and marshmallows until blended.

Refrigerate until chilled and serve.
Notes
Can substitute pineapple chunks for crushed pineapple if necessary.
More favorite side dishes:
Want some more easy recipe ideas? Try my