Salt and Vinegar Smashed Potatoes Recipe
This post may contain affiliate links which won't change your price but will share some commission. Read more here.
Add a little zing to an ordinary side dish by making Salt and Vinegar Smashed Potatoes.This easy recipe uses red potatoes and everyday ingredients.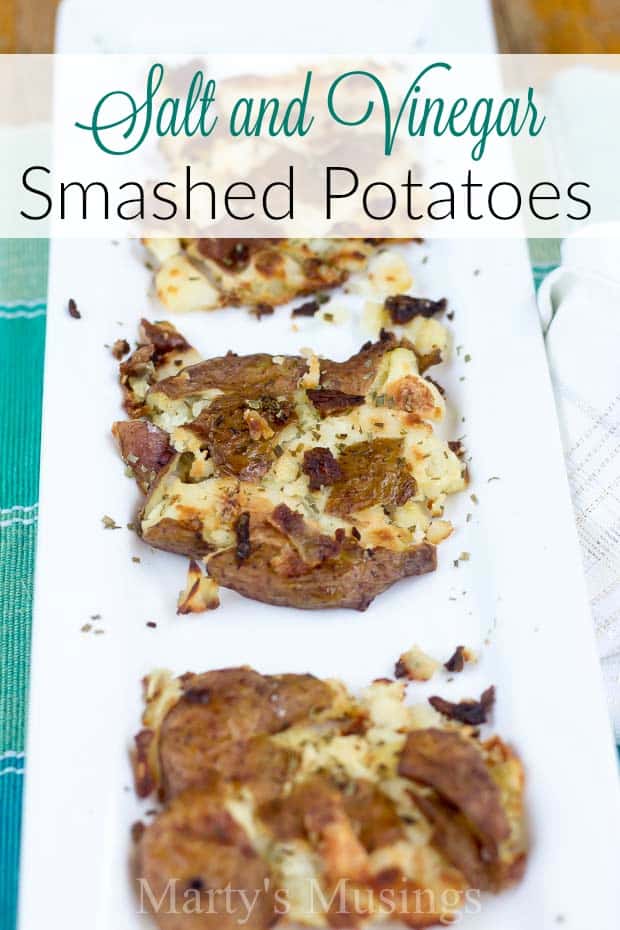 I never knew when I got married there would be all these unwritten rules I had to learn to follow.
Don't leave the cap off the toothpaste.
If we're not ten minutes early we're late.
You only get one chance to hang a picture on the wall.
Don't talk to me in the morning until I've had my coffee.
There must be a meat with every dinner.
Say what?
My husband is an old fashioned meat and potatoes kinda guy. Growing up, his family ate out most every night of the week.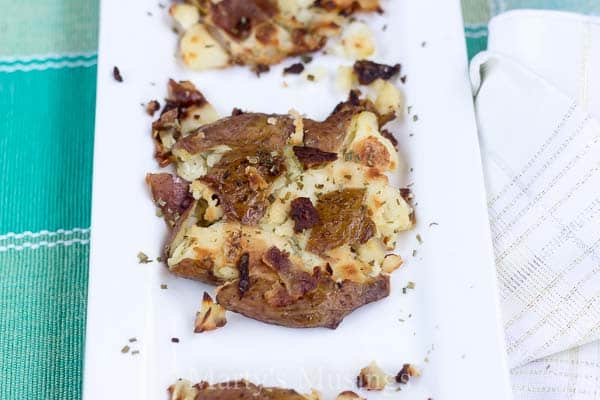 Can you imagine? Four boys? Just the thought of wrangling four rambunctious boys into a nice restaurant gives me the shivers.
When Tim said "I do" I said "we won't" be going out to eat on our budget! Or only on birthdays and our anniversary.
My mom didn't teach me how to cook, and we had plenty of cans of ravioli for dinner in those early months. (There's meat in there somewhere, right?)
As the years passed, our family grew but our budget didn't seem to grow in proportion! I had to be a little bit more creative with his "meat at every meal" rule but somehow I managed and he didn't starve.
Now that we're verging on being empty nesters I'm looking towards healthier recipes and he's willing to suspend a few of his rules. However, he's still a meat and potatoes guy at heart so out of the depth of true love today I want to share my favorite Salt and Vinegar Smashed Potatoes recipe.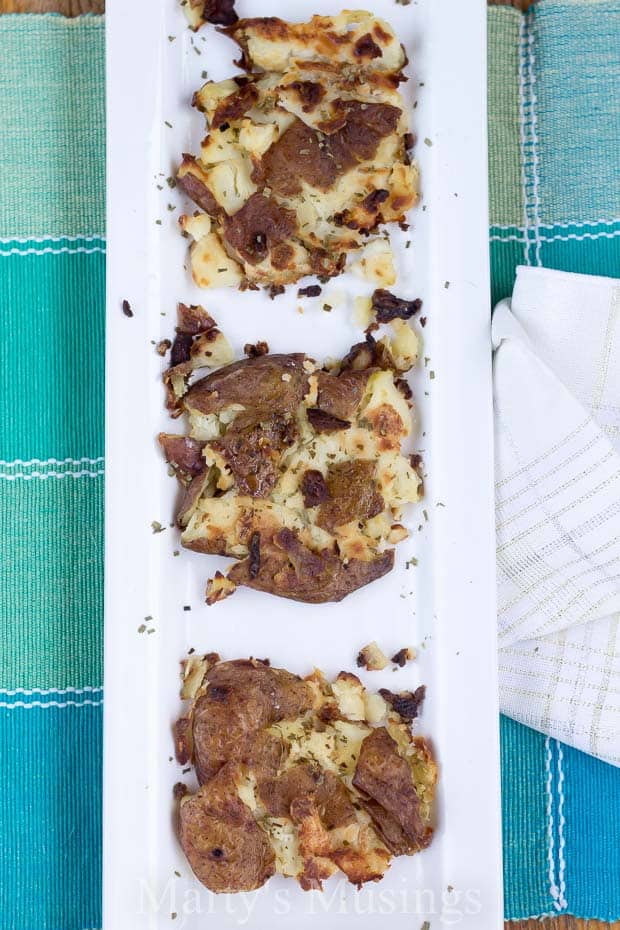 Who doesn't love smashed potatoes? This recipe is a take on a crispy mashed potato using a smaller potato such as red or yukon gold.
One of the changes I've made in my cooking is the switch to olive oil everywhere I can and this recipe is an example. Also, if you don't want to coat the potatoes in butter before smashing and baking that would cut out extra calories as well.
This recipe is totally approved by my meat and potatoes guy! (You can read how I compared our marriage to our shabby chic decor in this post! You have to keep a sense of humor in marriage, don't you agree?)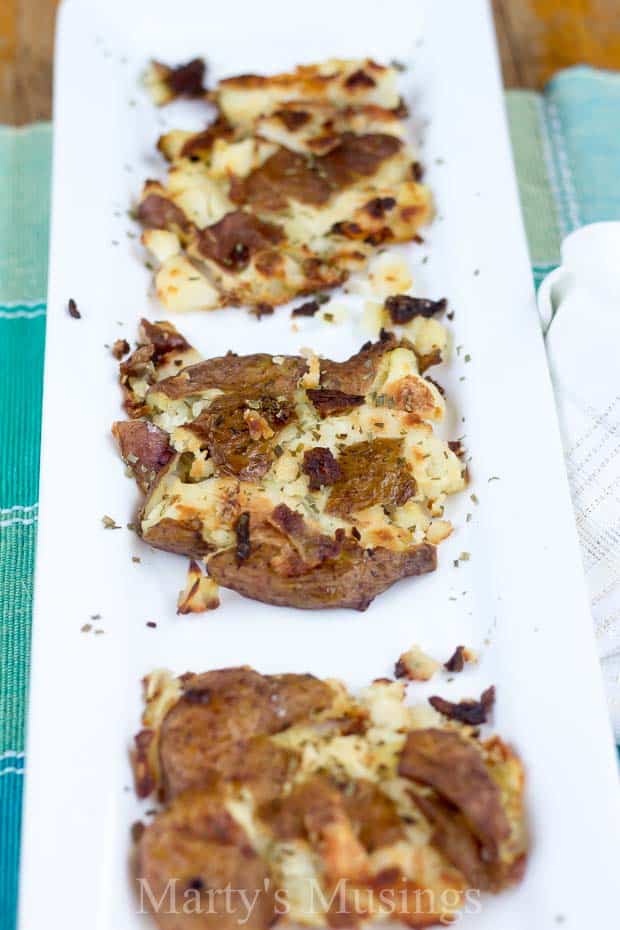 I'm joining with a few other blogger friends to bring you 40+ potato recipes for all of you that love and crave this simple little taste of heaven. Take some time to visit the links below and you'll find some recipe gems!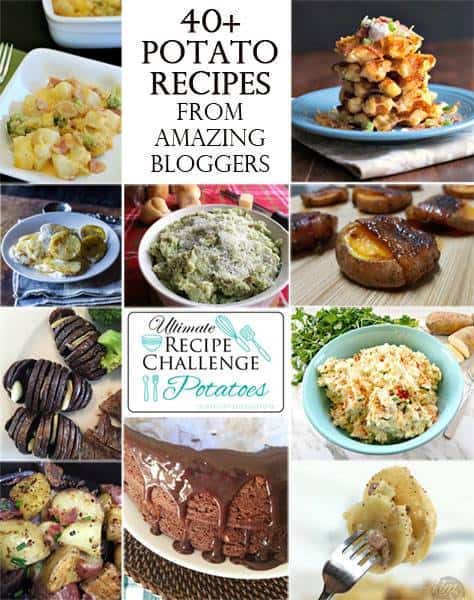 Salt and Vinegar Smashed Potatoes
Salt and Vinegar Smashed Potatoes
Add a little zing to an ordinary side dish by making Salt and Vinegar Smashed Potatoes. This easy recipe uses red potatoes and everyday ingredients.
Ingredients
4

lbs.red potatoes

4

tbs

butter

melted

4

tbs

olive oil

4

tbs

white vinegar

sea salt

pepper

chopped fresh or dried chives
Instructions
Preheat oven to 450 degrees. Line two large baking sheets with parchment paper.

Add potatoes to a medium saucepan, cover with water and bring to a boil.

Reduce heat and cook on medium until potatoes are tender, about 20 minutes.

Drain and return potatoes to saucepan. Add butter and gently toss to coat. (You can put lid on pan, turn it upside down and toss this way or stir carefully with a wooden spoon.)

Transfer potatoes to prepared baking sheet, spreading out in a single layer. Using a heavy mug or glass, smash each potato to about 1/2 inch thickness.

Back for 20 minutes, remove from oven and turn with a spatula. Drizzle with olive oil and bake for 20 minutes more.

Once baked, sprinkle with vinegar, chives sea salt and pepper.

Serve hot with dinner or as a snack or appetizer.