How to Remodel a Ranch Style Kitchen [Before and After]
This post may contain affiliate links which won't change your price but will share some commission. Read more here.
Stunning before and after pictures show how to remodel a ranch style kitchen by taking out a load bearing wall and creating a new open space.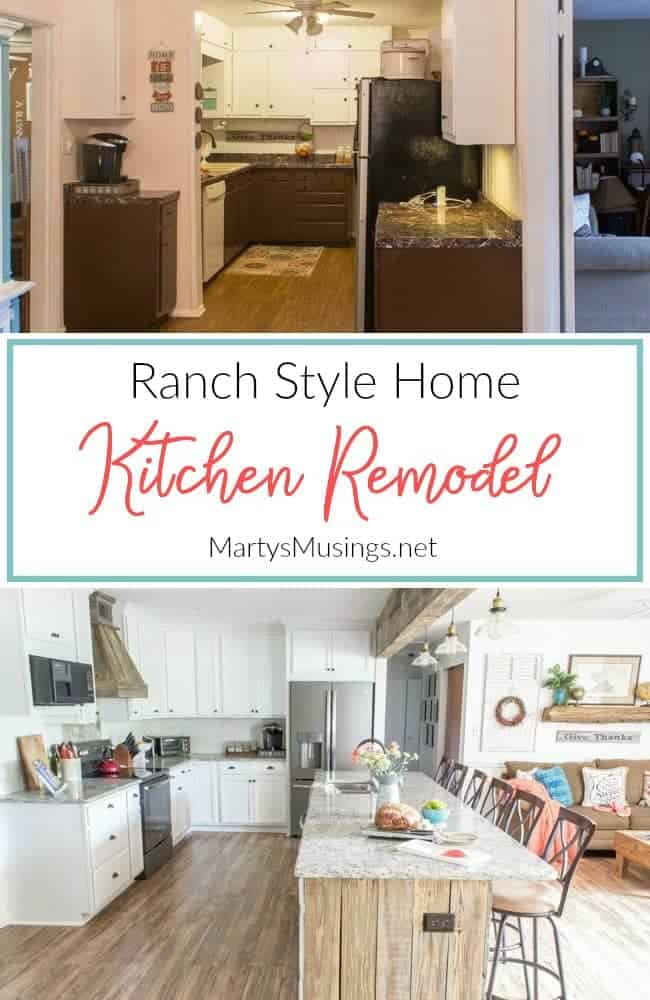 Home is more than just a place to lay your head.
More than colors on a wall filled with pretty pictures.
Home is the place where love lives, where the people who greet you at the door know more than just your name.
They know your heart.
Home together should always be a safe place.
The often harsh reality, though?
Sometimes you have to face past brokenness to create a home where peace and love reign.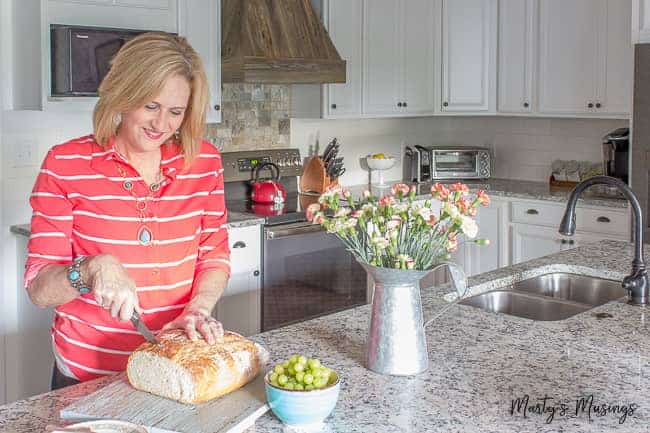 If I may be a little transparent here, 2017 was a tough one. There were a lot of changes, with room for growth in almost all the relationships in my life.
That's code for parts of my family life went to he** in a handbasket.
What does that even mean?
Apparently it means headed for trouble. I even looked it up and found "the expression might possibly have been inspired by the heads of decapitated prisoners falling or being dumped into handbaskets or handcarts."
Ewwww.
Luckily no one in my family was decapitated.
Won't say we didn't come close ~eye roll~
Life is hard, sometimes achingly, heartbreakingly so.
There's no room to come up for air when circumstances and past hurts collide.
Job loss, almost empty nest, a child's hurtful decisions, mid life transitions.
Instead of celebrating 30 years of marriage on Valentine's Day that year my husband and I did the best and hardest thing for each other.
We went to counseling both individually and together to try and find our way back to old love and create a new life together.
Years of parenting children with trauma and loss left us exhausted and empty.
There are seasons in life where you just have to do the hard work if you want to break out of old patterns.
Put on those big boy and girl pants and tough it out.
Because on the other side?
There's new hope full of unimagined dreams.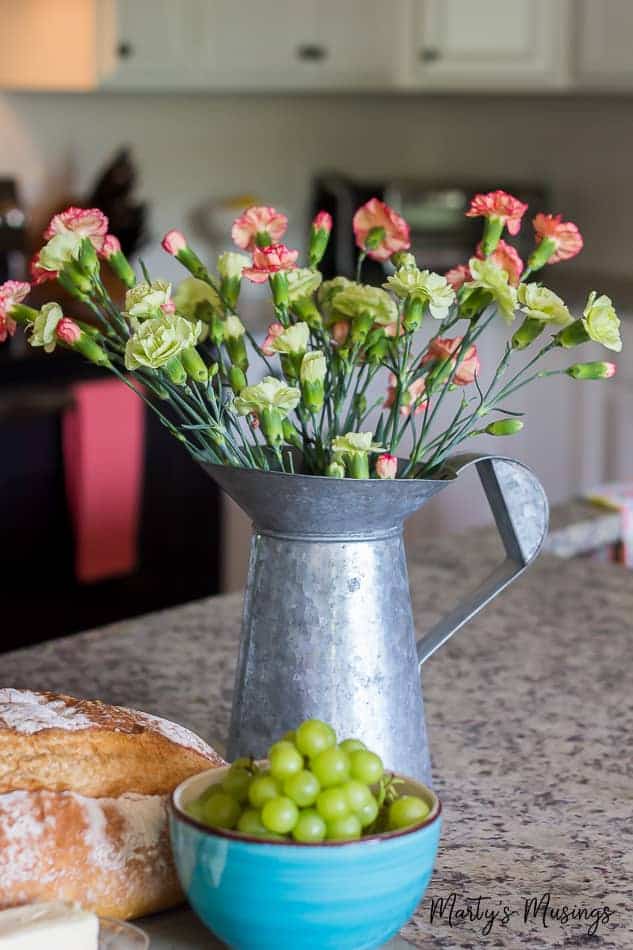 New life where we tenderly cradle each other's hearts instead of using them as weapons.
Has it been easy? Not for one second.
Is every tear and fear worth taking a step towards healing?
Absolutely.
In the last months of 2016 we designed and built our dream kitchen while our marriage was gutted and rebuilt from ashes as well.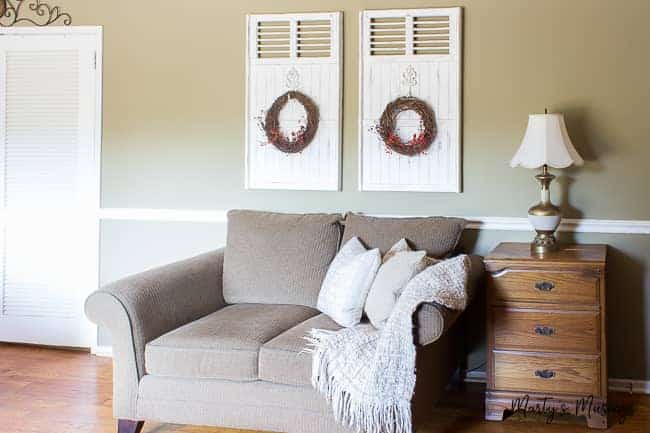 (living room before)
Anyone see the significance of both life markers?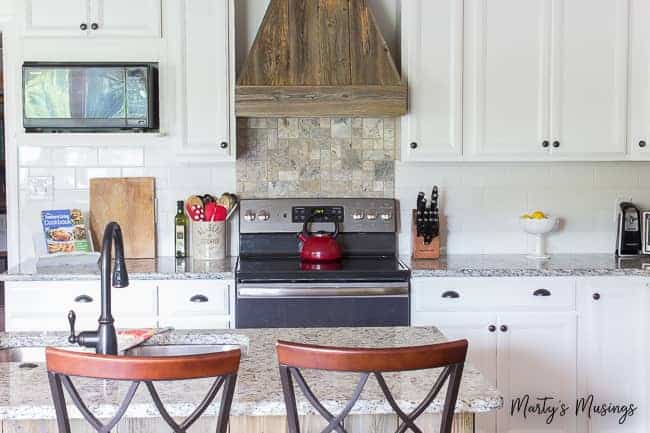 (after taking down the living room wall)
More than just DIY tutorials on this blog, this piece of real estate is where I share my heart. My desire is to give encouragement and hope to others walking through a dark season.
To me, nothing represents transformation more than my marriage and our kitchen.
Both are stunning examples of hard work and faith.
Relationships are full of little details that often go unnoticed, just like our kitchen remodel.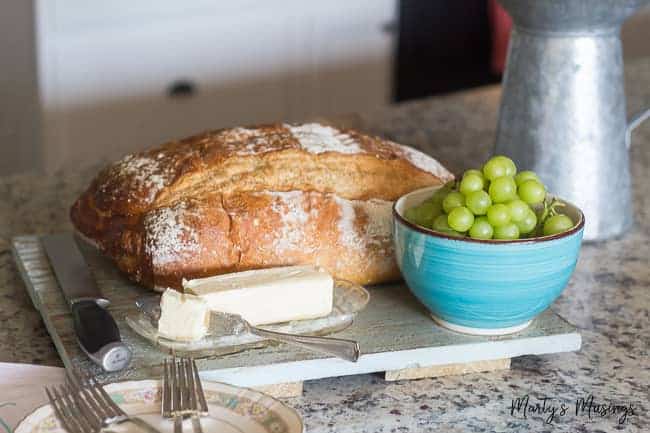 Today I'm thrilled to report (and those of you who are email subscribers have rejoiced with us as I've shared with you these last few months) my husband and I have weathered the storm and found a new "normal" together.
We not only celebrated 31 years of marriage this year, but year one of our "new" life moving forward. A life where we treasure every moment and continue to peel back layers that have kept us apart.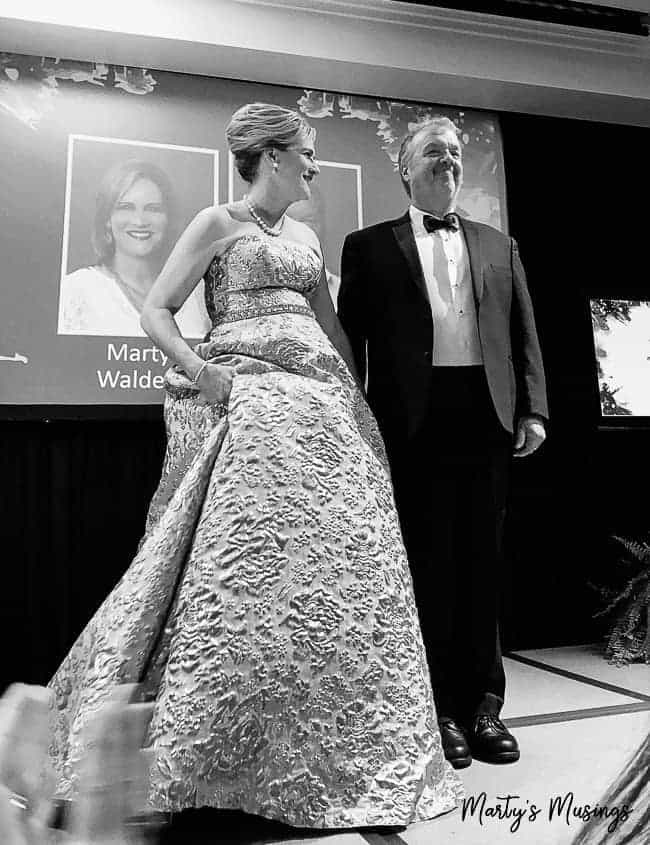 Is marriage still a struggle at times?
Absolutely.
Do we have to pick ourselves up and start over again?
Yep. More times than I want to share.
But life is good and as I write this we've gutted a bathroom and started another DIY project from the ground up!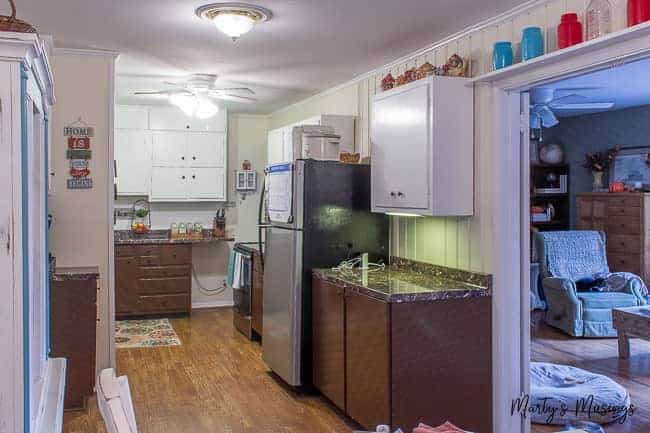 (before of galley kitchen and living room)
To my faithful readers who wonder why I haven't done a reveal post in the year and a half since our kitchen has been completed, now you know! I've been navigating the waters of relationships and writing about everything else.
But our kitchen makeover isn't just about a pretty space. It's about how anyone, and I mean ANYONE, can tackle their dream project if they have the courage to step out of their comfort zone.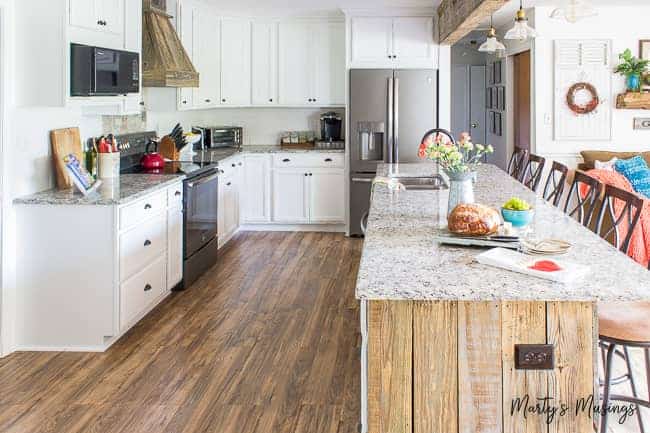 (after wall removal between kitchen and living room)
I have absolutely no design experience. Nada. Zilch. The fact that I write a DIY home decor blog makes me cackle pretty much every day.
Yet my husband and I designed this space from scratch with the help of a kitchen designer from Lowe's Home Improvement and the expertise of our contractors.
Not surprisingly I did what I always do. I threw myself into this project with my entire being and lived and breathed it for months. I researched and asked questions. Then I asked more questions.
I asked for discounts and put my yard sale bargaining skills to good use. (You can read how we saved thousands of dollars on the remodel here.)
And you know what? We pretty much got it right! This space works for us and is everything we dreamed of (and more!)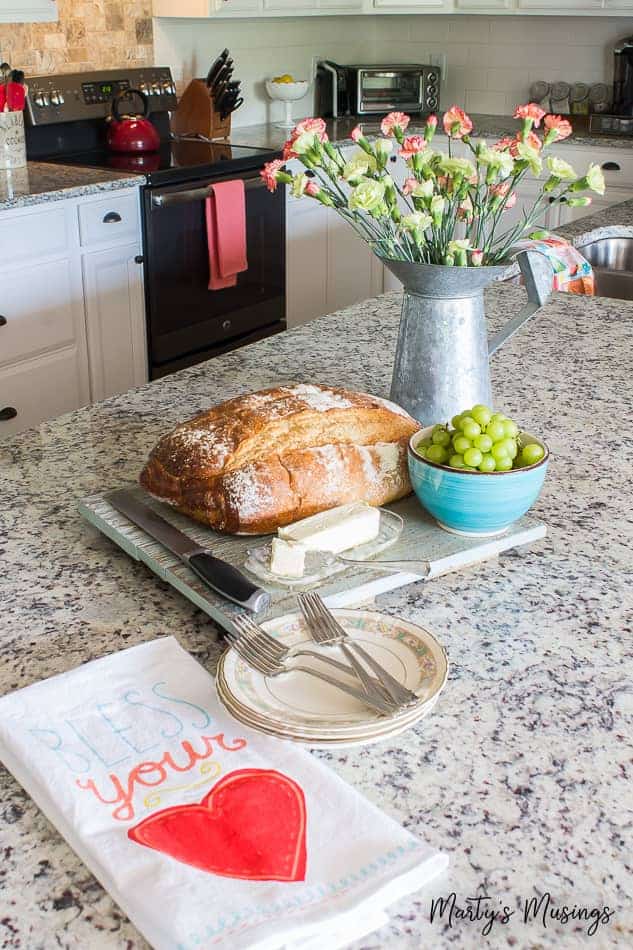 I want to encourage you that if we can tackle this massive project then I know there's something in your life you're aching to do and fear is keeping you back.
Don't let it.
How to Remodel a Ranch Style Kitchen
(I've included some affiliate links for your convenience. Click here to read my full disclosure policy.)
Now on to the good stuff! To remind you of where we started, my husband and I bought our 1950's ranch style fixer upper 27 years ago.
That's a lot of years filled to the brim with five children and too many pets to count.
Throw in homeschooling 23 years while blending adoption and biology, all chosen to live and love together in one small home.
This home needed some fixin' up, just like its' owners!
You can read the whole story on how Tim and I made the leap to take out a load bearing wall between our living room and kitchen. It was one heck of a conversation!
You might ask why we decided to spend the money after all these years in our home. I would tell you our house just no longer worked for us, or more specifically, me.
We are almost empty nesters, some of our children are married and we now even have grandchildren. Our galley kitchen kept me stuck cooking while the rest of my family visited in a separate room.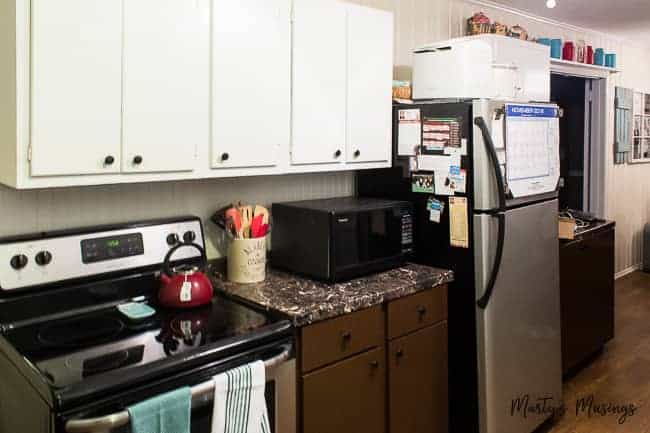 I was tired of missing conversations and precious moments on those rare occasions we're all together.
My vision was of one open space where everyone could hang out while I prepared the food (with helpers!) and little ones ran around getting their energy out.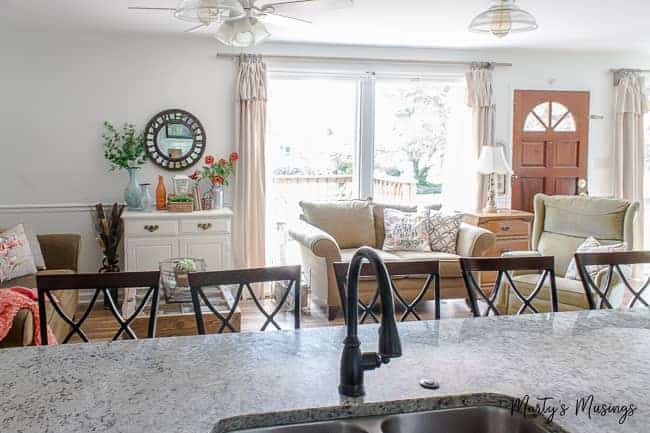 Although we hired contractors to do the heavy lifting (which included taking out the wall between the two rooms, jacking up the floors, new electrical wiring and plumbing, and installing the cabinets) my DIY hubby and son did all the deconstruction and the finish work (sheetrock, tile, facing the beam with barn wood and the island with fence boards, flooring, vent hood design, sliding barn door, painting and probably more things I can't remember!)
To really appreciate the new space, you have to compare the before and after. (And realize how awkward it was even trying to take pictures of the old kitchen.)
There was no prettifying this room but it served us well for almost three decades.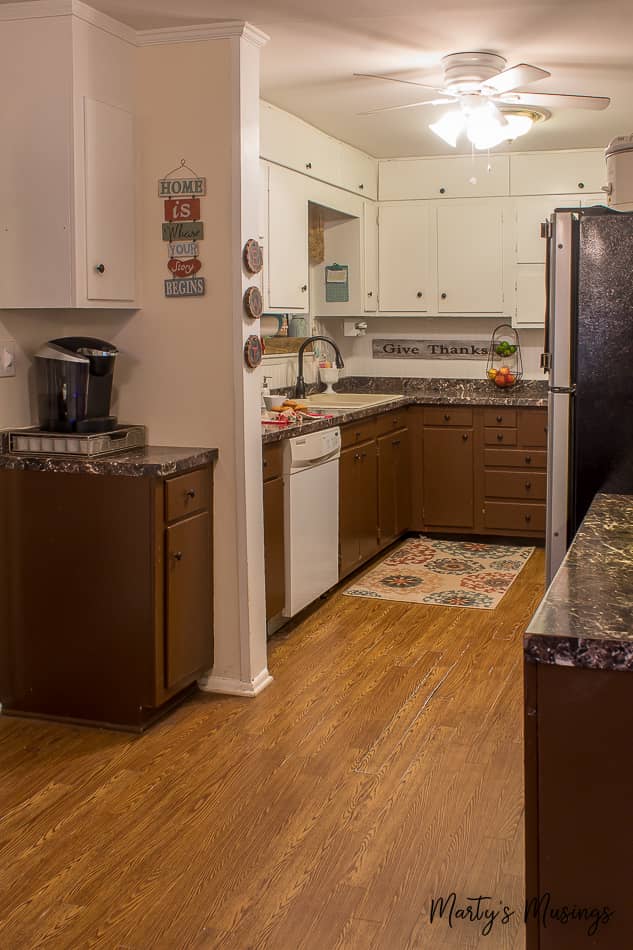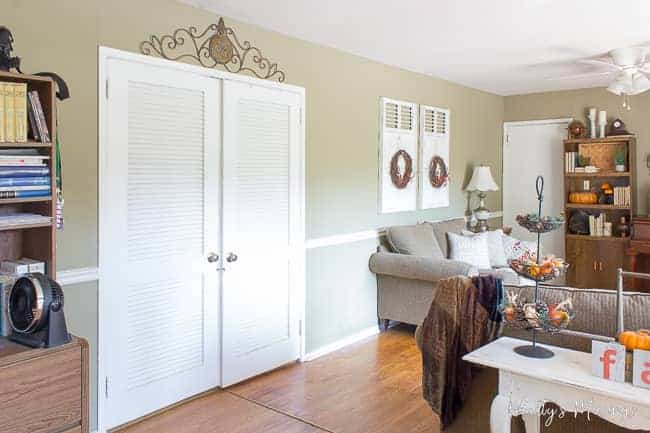 When we remodeled we totally changed the footprint of the kitchen, adding a 10-foot island in place of the wall that came down.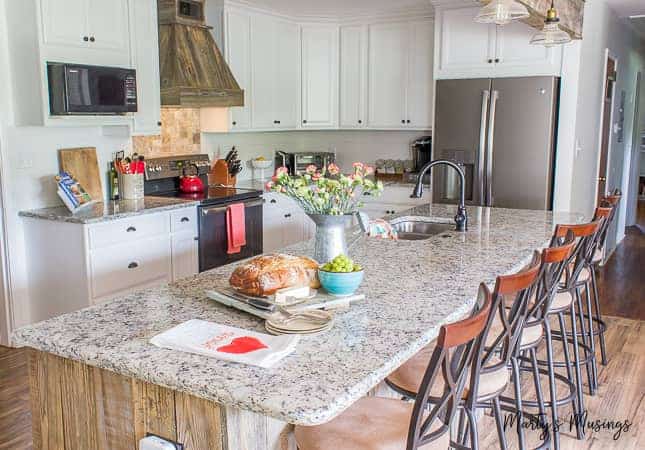 I now have new workspaces and countertops for days! Hallelujah!
Meal prep is now delightfully done at the island and I almost (almost, I said!) enjoy doing dishes as I look out our front windows.
My grandsons and our family sit six wide at the granite topped island, and this new room is perfect for entertaining my small group from church and our extended family for holidays.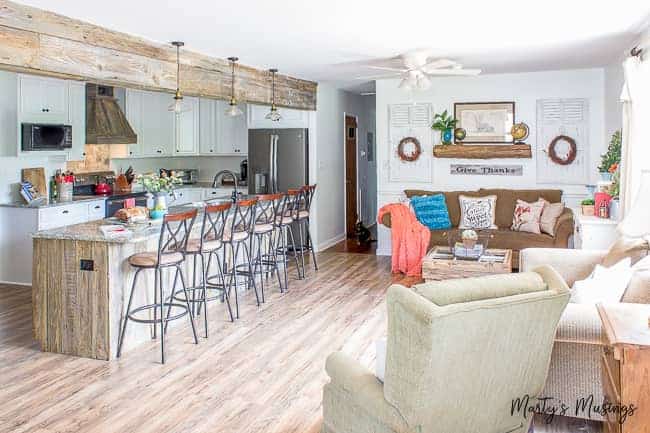 One of my most favorite features is the beam covered in barn wood. Instead of just a necessary part of the remodel the beam has become an architectural feature of the room.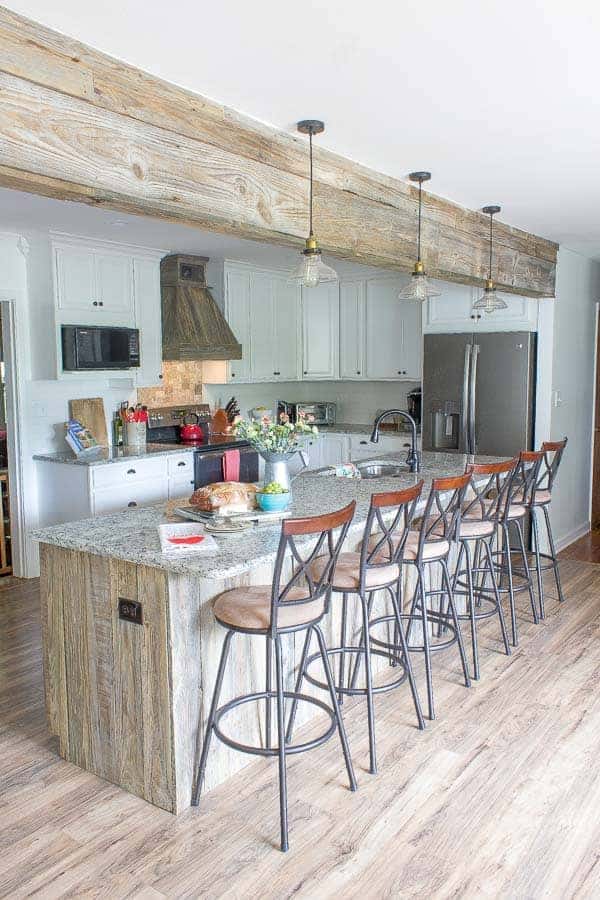 These industrial bronze pendant ceiling lights are a favorite feature of ours. Unfortunately the lights we used are no longer available but this is a similar one.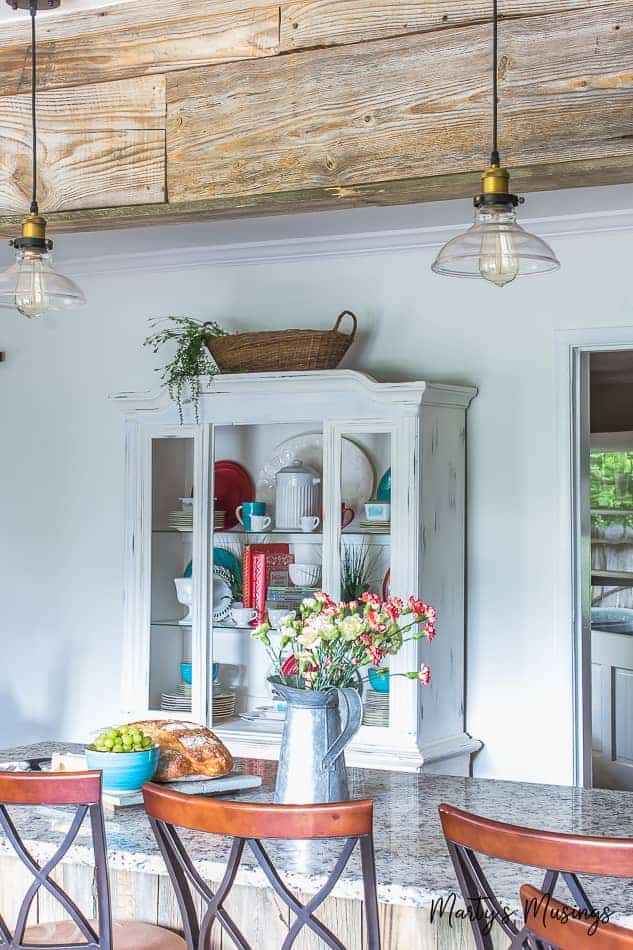 One of the true splurges that we hadn't planned on was new appliances, but I got lured in by great deals on Black Friday!
And can I just say that slate appliances are ah-mazing?!!! No fingerprints except on the refrigerator door handles. Oh, to have had these when my kids were younger! No regrets on this splurge whatsoever!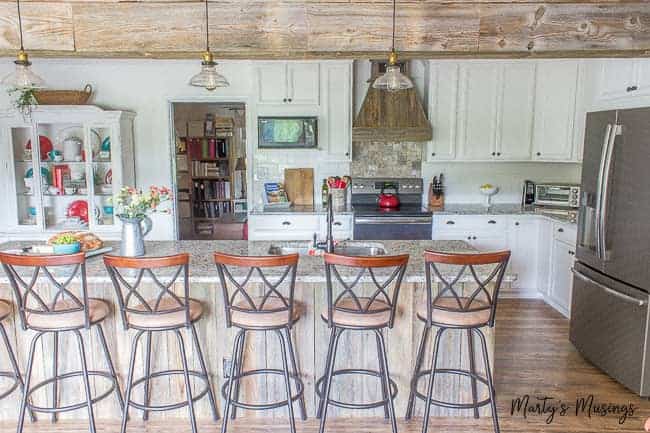 The other end of the kitchen remained the same except for the addition of the sliding barn door my talented husband built.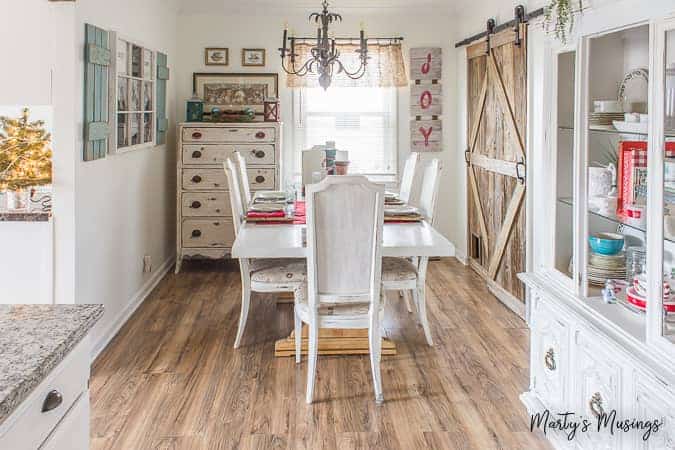 Previously when you walked in the front door of our home this was what you saw. My husband's office nook didn't make a good first impression.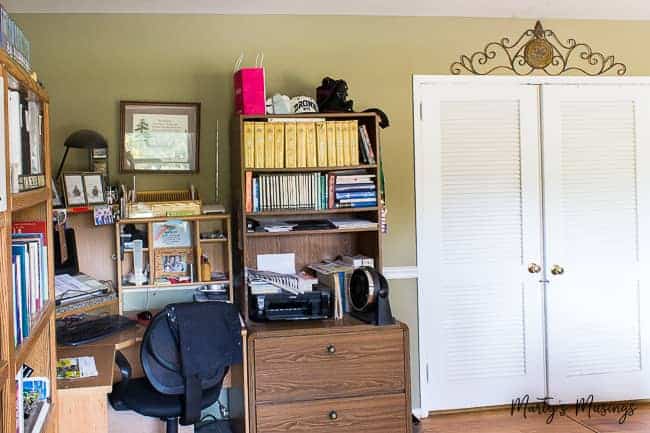 Our new drop zone is everything I dreamed of and, of course, was again built by my DIY husband.
If you look closely you'll see we built the entire unit around the bottom cabinet and countertop from the old kitchen. (The cabinet cost $10 at a yard sale!) The rest of the cabinets were stock units from a home improvement store.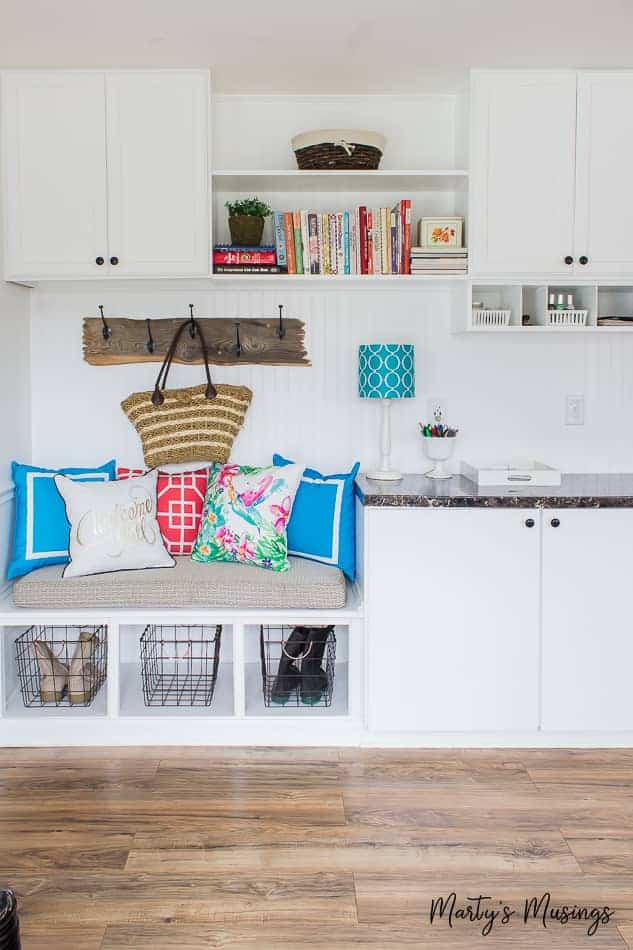 These two French doors led into our old kitchen.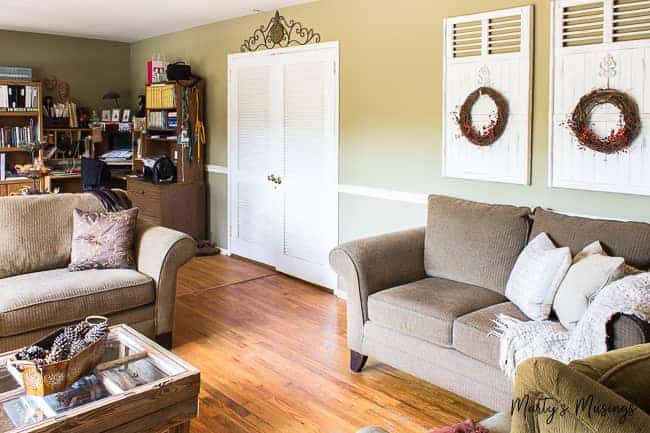 The new drop zone and kitchen space!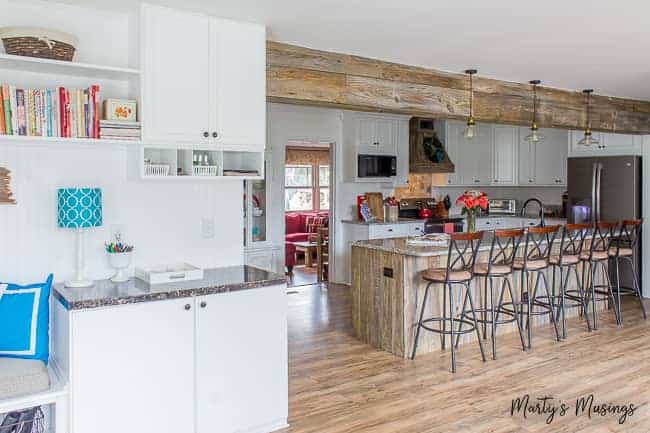 Nothing pretty about this before picture, especially since this is the first thing guests saw!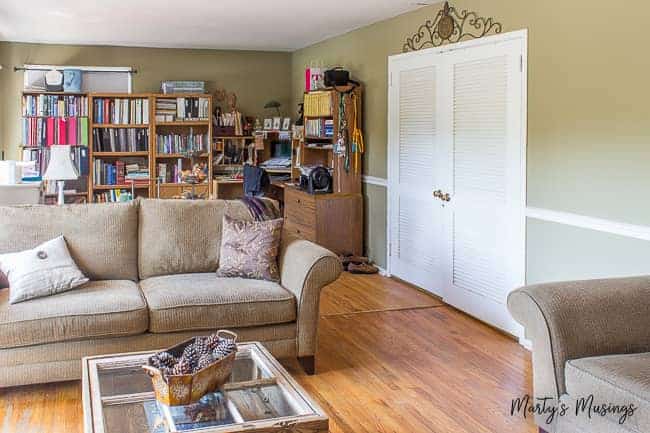 I created a new seating area by the front door with $25 Pottery Barn chairs bought off Facebook marketplace.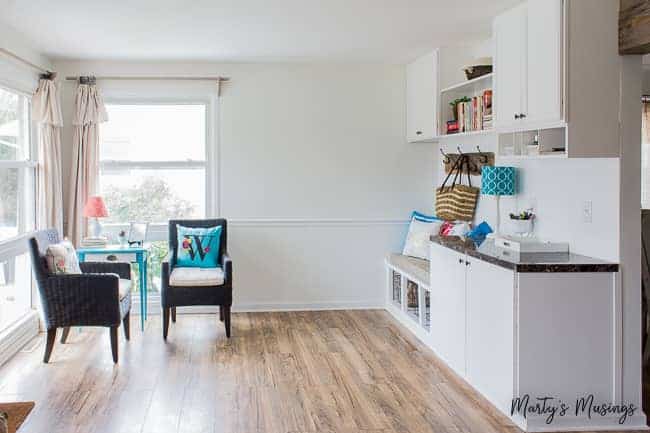 The table was handed down from my parents, and I chalk painted it to brighten up this corner. (Read all my best chalk painting tips for beginners here.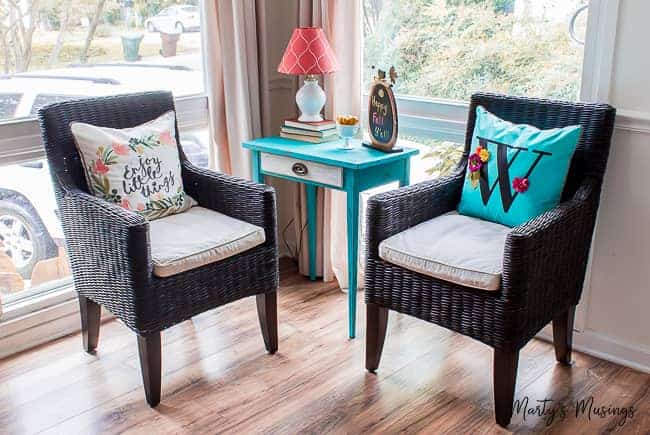 A bit of a closeup of our new sitting area and the mantel my husband made me. This space has evolved over the last year as we've discovered how best to use the rooms.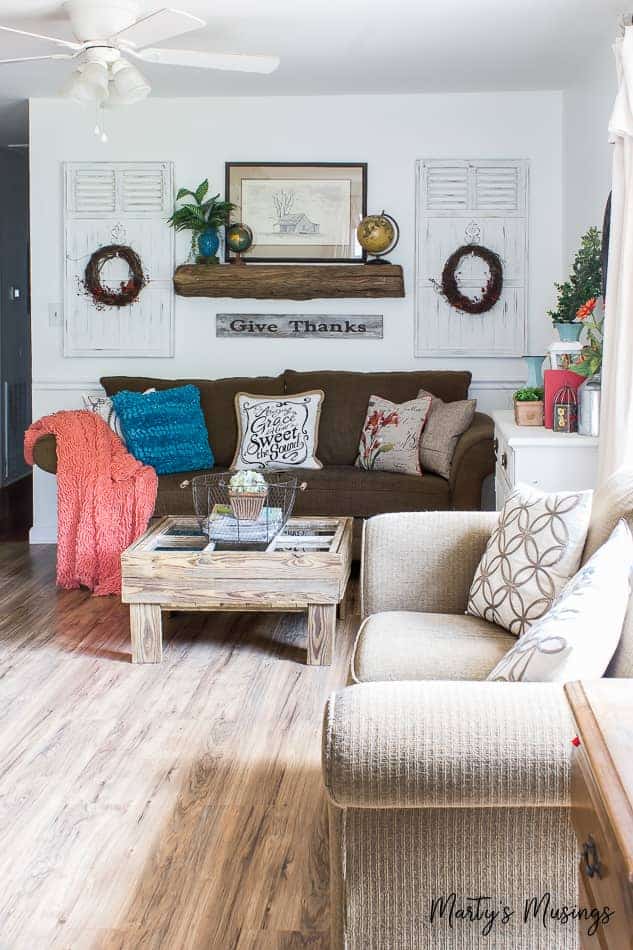 That's the end of the tour, friends! Do you have any questions for me on how to remodel a ranch style kitchen? If not, what's your favorite part of this new space? I'd love to know!
Paint color on walls: Night Blooming Jasmine from Behr Paint
Kitchen Remodel Source List:
(I've included some affiliate links for your convenience. Click here to read my full disclosure policy.)
Industrial bronze pendant ceiling light (the lights we used are no longer available but this is a similar one)
Edison vintage bulbs (this is the best deal on bulbs we've found!)
Oster Convection Countertop Oven
Sonoma adjustable swivel stools (we bought these on Black Friday and they are perfect for our space!)
GE French Door Refrigerator (Slate) (our appliances are slate colored which means they don't show fingerprints. TOTALLY worth the price!)
GE Electric Range
GE 24 Inch Dishwasher
Hamilton Beach Smooth Touch Can Opener (is it possible to be in love with a can opener? If so, I am!)
Bronze Free Standing Paper Towel Holder (not pictured but my absolute favorite!)
Bless Your Heart kitchen towel (this one is similar) or this is one of my favorites!
Amazing Grace pillow cover
Enjoy Little Things pillow cover
CLICK BELOW TO SEE THE OTHER POSTS IN OUR RANCH STYLE HOME KITCHEN REMODEL:
♥ Small Ranch Home Kitchen Remodel: The Dream Begins!
♥ How to Save Thousands of $$$ on a Kitchen Remodel
♥ 5 Practical Tips on How to Choose Flooring for Your Home
♥ How to Take Care of Your Pets During Your Remodel
♥ Set up a Temporary Kitchen During a Remodel
♥ How to Install Laminate Flooring: DIY Tips and Tricks
♥ How to Choose Kitchen Cabinet Hardware
♥ How to Build a Sliding Barn Door
♥ How to Remodel a Ranch Style Kitchen (you are here
♥ DIY Floating Mantel out of Barn Wood