How to Save Money on a Kitchen Remodel
This post may contain affiliate links which won't change your price but will share some commission. Read more here.
These practical tips and advice on how to save money on a kitchen remodel will save you both time AND money as you prepare for this big project!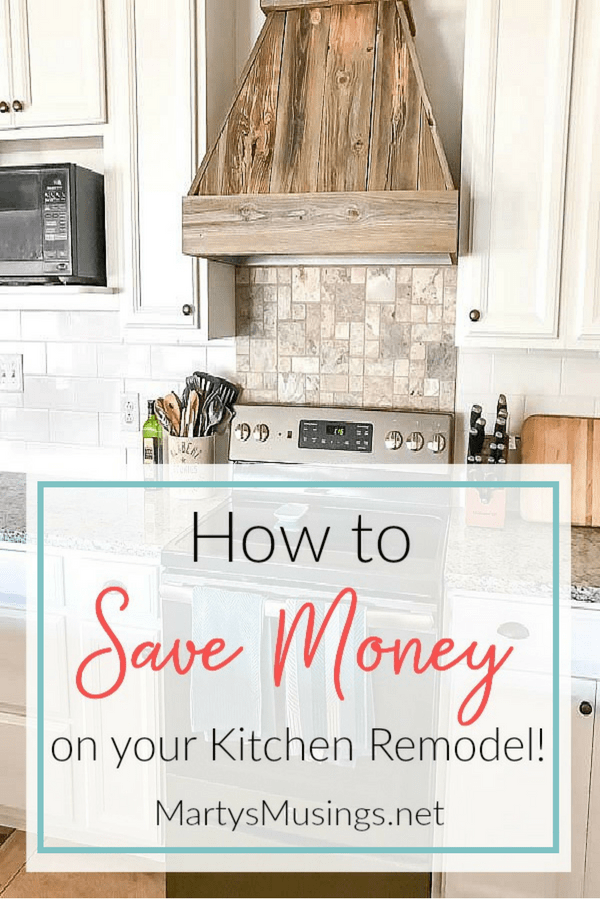 We all want to save money, right?
I'm the queen of pinching pennies, but you already know that don't you?
Remember the time I used an old step ladder for a side table with shelves?
Or when my DIY hubby took a closet door and made a headboard out of it?
I love a good bargain. Free is even better!
So you have to know our kitchen remodel is stretching my frugal ways to the max!
Here's a dose of reality, though. There was no way to take down a wall between our living room and kitchen, totally gut the room, fix the rotted floor and jack up the house, make the space resale worthy and keep it on the cheap side.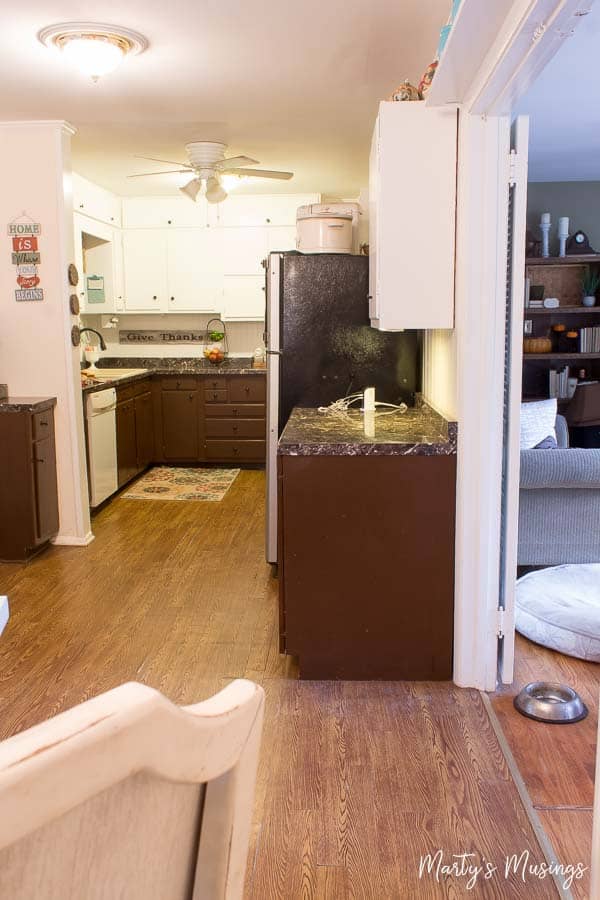 Trust me. We wrestled every which way before making the decision to go all out (you can read all about it here.) After that we both dove into this project head first.
Which leads me to my point.
Are you ready for my number one tip on how to save money on a kitchen remodel?
It's simple, really.
How to Save Money on a Kitchen Remodel
Best tips for saving money on a kitchen remodel:
Do your research before you start.
Don't be afraid to ask questions such as "should you use a contractor" or "what things can you do yourself."
There's no such thing as a dumb question!
Can you afford it?
Why are you tackling such a big job?
What design decisions have to be made?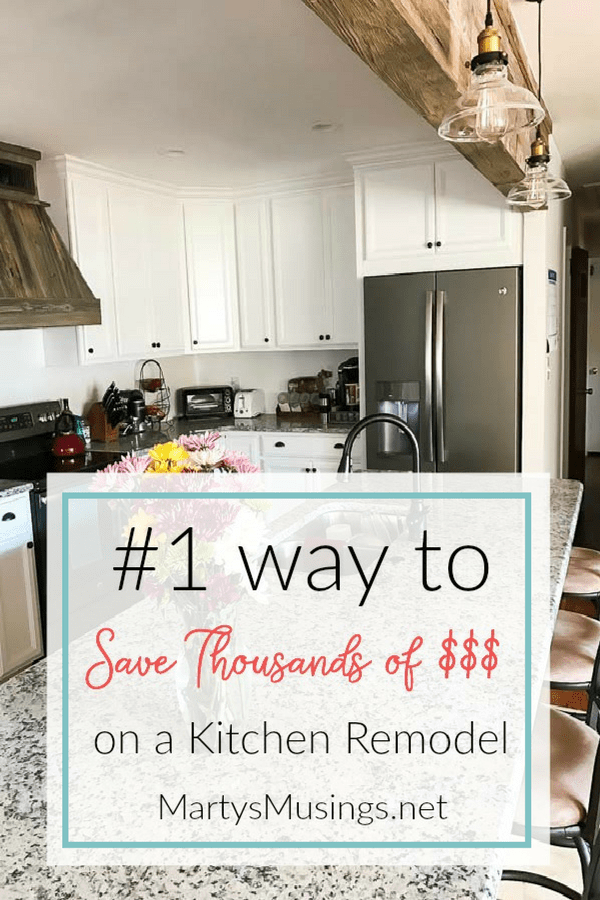 1. Do your research.
Yep, that's it.
We had no idea what we were doing when this remodel began. We've done tons of DIY projects (see my entire gallery here), including gutting a small bathroom, designing our front deck and making over our master bedroom, but this was the mother of all DIY projects!
We didn't know what we didn't know.
Today I want to walk you through our process in hopes it will show you how to save money on a kitchen remodel or any other large scale home improvement project.
First we had to ask ourselves a few questions.
Why were we doing this, what did we want and how were we going to pay for it?
Why were we doing this?
No matter how many coats of paint Tim applied (see his best professional tips here), our kitchen was hopelessly outdated. Anyone wanting to buy our house would look at the kitchen first and probably run.
We want to make sure our house is ready for resale when that day comes down the road (or if I find an old abandoned church to convert into a home, but that's another story!)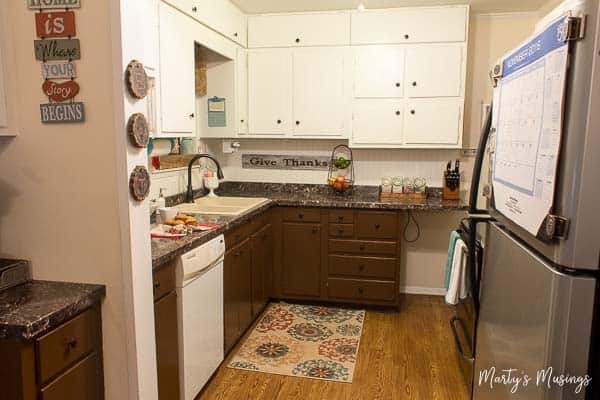 What did we want?
Our family is changing. We are soon to be empty nesters, yet we have added spouses and a grandson. When we all get together I didn't want to be stuck in the kitchen while my family visited.
I envisioned a new, modern kitchen and family room space where we could all be together. Our ranch style home just wasn't designed for that purpose.
How were we going to pay for it?
After living in our home for 25 years we were now one year from being mortgage free but we still lived in a home so badly in need of fixing it was beyond our ability to save for in real time.
We also had a home equity line we used to pay off huge medical bills and the loss of income from Tim's two rotator cuff surgeries and health scare last year.
Our solution? We ended up rolling the last little bit of our mortgage, the equity line and what we borrowed for home improvements into a new 10 year mortgage which leaves us debt free by the time we're 65 if not before.
We now have an amazing kitchen and family space that allows all of us to spend time together as our family gets bigger in the future.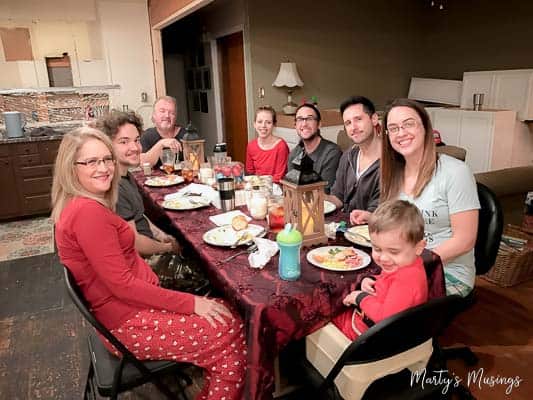 (Picture at Christmas mid-renovation)
As we answered these questions the design conversations took over our lives for the next several months.
What would you think if we……?
If we do this then we need to…….
I don't think we can afford to…….
We certainly didn't need any conversation starters for date night for a while at least!
As we started researching, Tim took on the more technical side of things and I started analyzing my Pinterest boards for styles and space planning.
We had to start somewhere so we asked questions of other people AND of ourselves.
Since my blogger friend Suzy from Worthing Court had recently remodeled her kitchen I picked her brain a lot. Annoyingly so. I asked her to come to my house and I even went to her house just to look at her sink. Seriously.
2. Don't be afraid to ask questions.
Should you use a contractor or not? What things can you do yourself?
Even though my husband is incredibly handy much of this project was out of the scope of his capabilities and my comfort zone! We knew we might run into some problems with the floor (and we did……that will be another post!)
Don't know any contractors/electricians/plumbers? Ask your friends, coworkers, church members.
I asked for a referral from a real estate agent friend but there's always my favorite place, Facebook (follow me here!) People love to give their opinions and are passionate about sharing contacts for those who have done good work.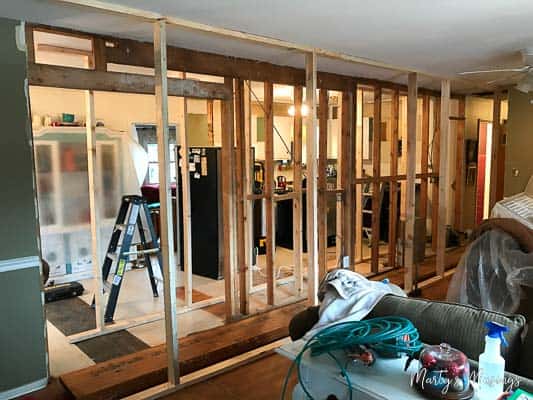 (erecting a temporary wall as part of taking out the load bearing wall)
What things can you do yourself? Tim did all of the deconstruction of sheetrock and cabinets as well as replacing the sheetrock once all the new work was completed. He's also doing the backsplash, flooring, painting and a few repurposed wood projects that you're gonna love!
He was able to work with our contractors and save us a lot of money because we asked questions before we hired them.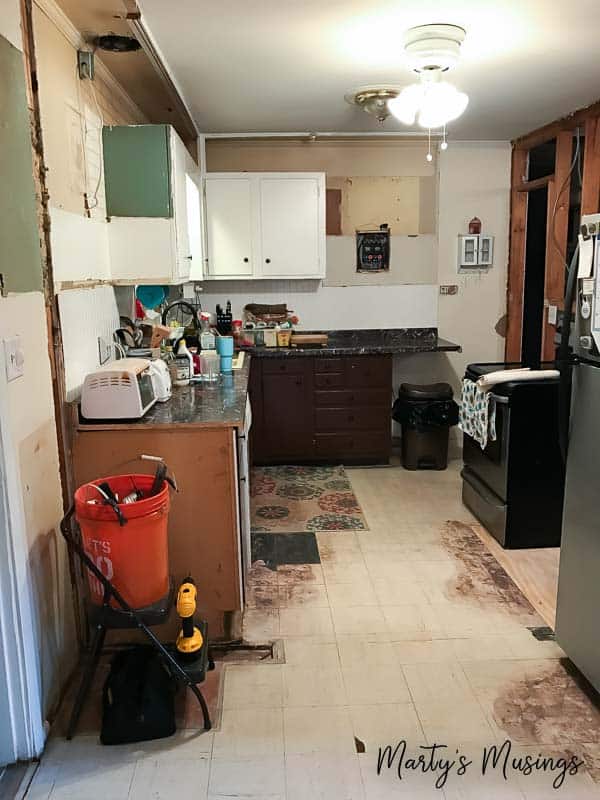 3. There's no such thing as a dumb question.
When we got in deep into the specifics of the kitchen as to cabinets and countertops, I decided I was not too shy to use my yard sale negotiating skills. Along with the regular sale deals we got at Lowe's, I also got us a couple of specialty drawers free just because I asked!
We saved about $6k from the original quote for cabinets by JUST ASKING QUESTIONS and making wise choices.
We also saved $2/sq. ft. on the granite because I inquired if there were any other discounts available since we were basically getting the entire kitchen at Lowe's.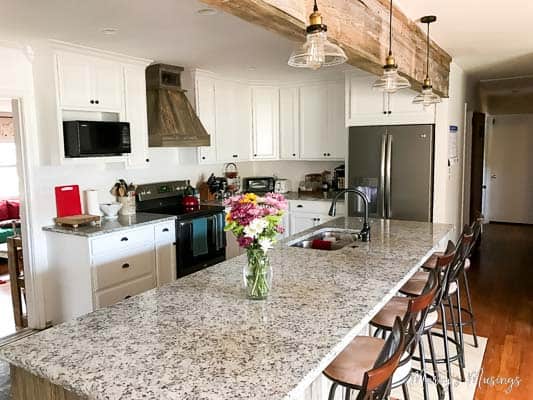 I think Tim was ready to crawl under the kitchen designer's desk at this point but I saved us a bunch of money. ~grin~
We purchased all new appliances at black Friday sale prices and Lowe's said they would also match any other ads for lower prices. The store ended up with the lowest price but we saved several hundred dollars because of the time of year we bought the appliances.
On a side note: the appliances were NOT in the original budget and were a splurge. Totally worth it though. I'm in love with my French door refrigerator.
We also opened a Lowe's credit card to save an extra 5% on purchases over $350. Although I don't recommend this if you have bad credit or can't pay it off, we were able to save even more and we paid it off immediately.
To sum it all up, if you want to save money on a kitchen remodel take time to ask yourself and all others involved questions as well as research each step along the way to save you money and time avoiding possible financial disasters and poor design choices and mistakes.
Was this a helpful post for you? I'd love if you'd share it on Facebook or pin it so others can learn how to save money, too!
Click below to see the other posts in our Ranch Style Home Kitchen Remodel:
♥ Small Ranch Home Kitchen Remodel: The Dream Begins!
♥ How to Save Thousands of $$$ on a Kitchen Remodel (you are here)
♥ 5 Practical Tips on How to Choose Flooring for Your Home
♥ How to Take Care of Your Pets During Your Remodel
♥ Set up a Temporary Kitchen During a Remodel
♥ How to Install Laminate Flooring: DIY Tips and Tricks
♥ How to Choose Kitchen Cabinet Hardware
♥ How to Build a Sliding Barn Door
♥ How to Remodel a Ranch Style Kitchen
♥ How to Build a DIY Floating Mantel (out of barn wood!)