How to Choose Kitchen Cabinet Hardware [New Guide]
This post may contain affiliate links which won't change your price but will share some commission.
Disclosure: D. Lawless Hardware sponsored this post on How to Choose Kitchen Cabinet Hardware but all opinions are my own.
Learn how to choose kitchen cabinet hardware whether you're designing a kitchen from scratch or just upgrading, with tips on finish, size and style.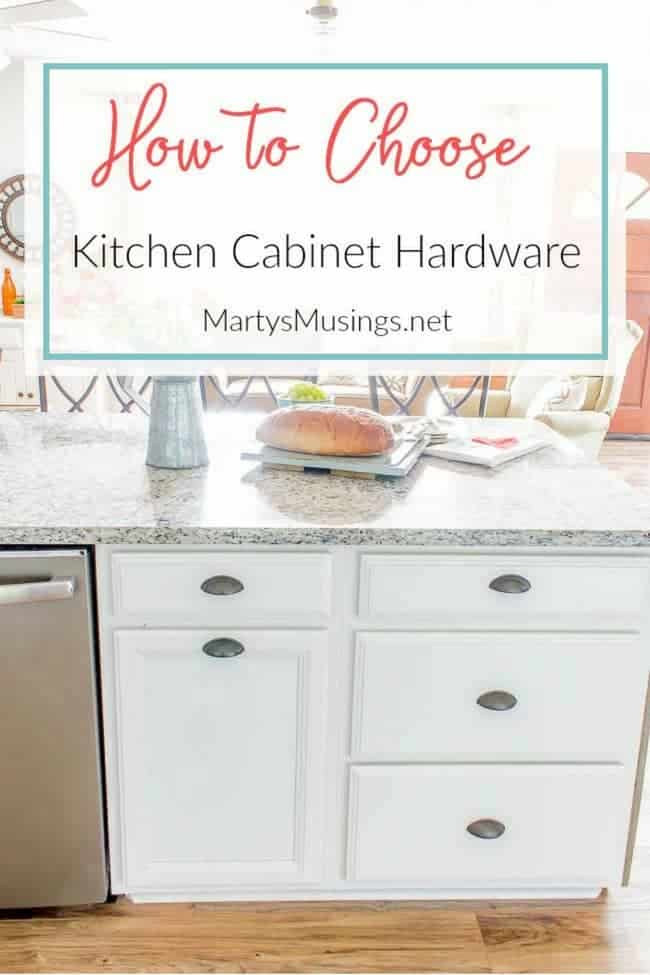 Are you a big picture person?
Do you think in broad strokes, with the finished portrait as your guide?
Or are you better at the little details, making sure every piece of the puzzle fits perfectly into place?
My DIY hubby and I make a good team because we both have a good mix of both of these traits.
At least this all sounds good in theory.
Before our kitchen remodel we had only worked together on small projects in our home, more "fixing" than "dreaming."
But what happens when the moment you've always dreamed of arrives?
You have a blank slate, a brand spanking clean canvas.
No more ugly, dated 1950's kitchen for you!
No more tiny rooms with people crammed on top of each other, mama stuck in the kitchen cooking, missing all the great conversations!
And yet you're paralyzed, afraid to make a mistake.
This may be the only time you ever get to start from scratch.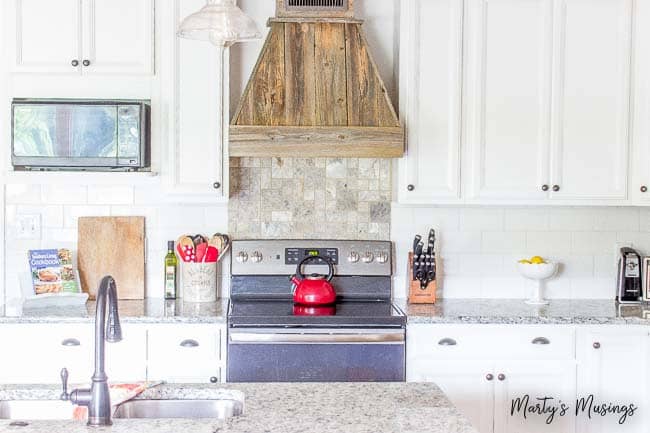 You want to go all Joanna Gaines yet you feel a little like an imposter.
A pretender.
What if you get it all wrong?
I have to admit I spent many a sleepless night wondering if my dream was too much, or my ideas too far fetched.
Maybe you've felt the same way in some area of your life?
It might not be gutting your kitchen but it could easily be trying a new wall color or bright pillows for your couch.
The fear of making a wrong decision can be overwhelming.
Now what do you do with that indecision?
I always go back to my homeschool mom roots. Research, research, research!
Knowledge is power and today I want to share how to choose kitchen cabinet hardware and how this one relatively small decision can have a great impact in your kitchen.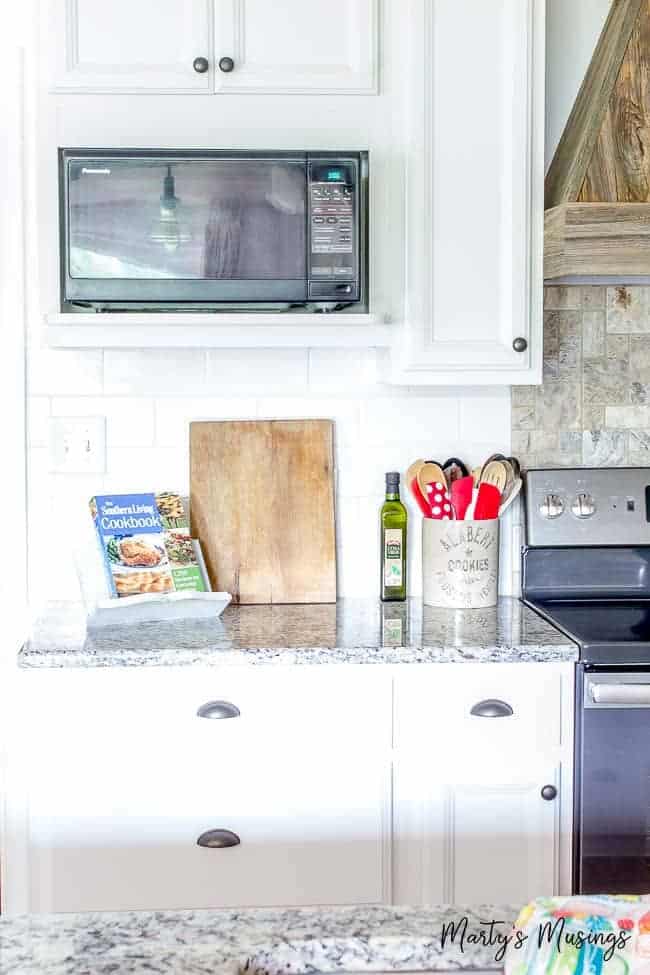 How to Choose Kitchen Cabinet Hardware
I'm thrilled to partner with D. Lawless Hardware on this project. They've supplied cabinet hardware for over 30 years to businesses, home builders, crafters, DIY blogs and corporations. In addition to their great selection, they have a price match guarantee as well!
Kitchen Design Style
One question to ask yourself is what design style are you going for in your kitchen? Do you have an overall look or theme? Are you going for contemporary or French country? Traditional, coastal or a blend of styles?
What style of knobs or pulls goes best with your design ideas?
Is your kitchen one room or is it open to the rest of the house?
When your kitchen is contained in one room it's easier to focus on one style for that room. When one space flows into another it can be more challenging to bring it all together.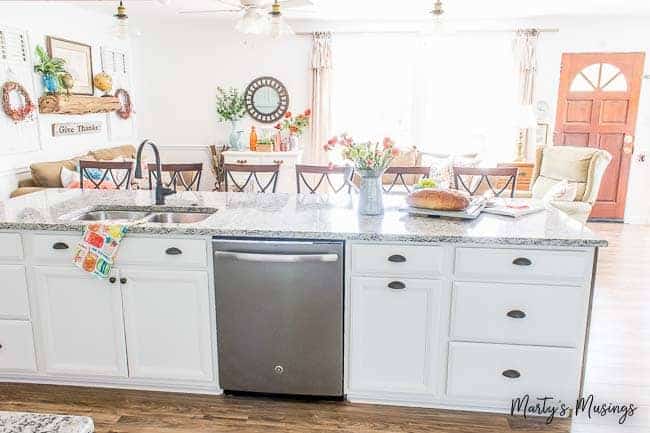 We chose an oil rubbed bronze pull and rope edge knob that would work well with our white cabinets.
Size and Style of Cabinets
Do your cabinets go all the way to the ceiling? The larger and heavier the drawer or door, the larger the handle or pull should be.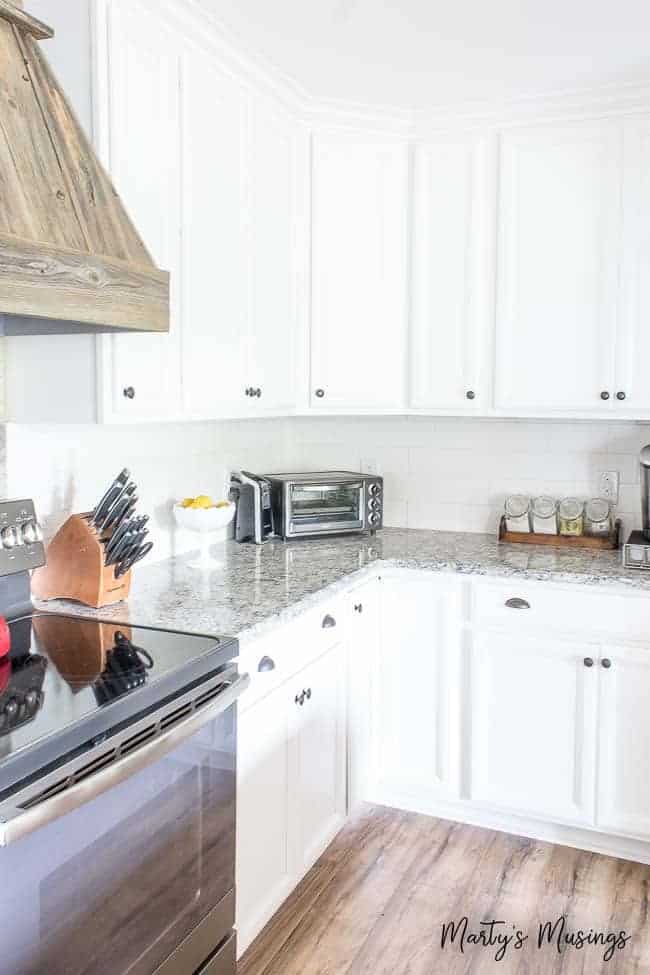 As far as size, a knob is smaller and simpler than a pull. If your kitchen cabinets are more decorative or finely detailed, go with a knob rather than a pull.
As we were designing our kitchen one of the features I wanted most was drawers and pull out trays. In our original kitchen (which was actually cabinets I bought at a yard sale when we moved into the house 26 years ago!) we only had knobs. I was so excited to be able to use both pulls and knobs in our newly remodeled room.
Finish
Are you trying to match the finish of appliances, faucets and lighting in the room? Or are you taking a more eclectic approach?
The same idea of an open or closed room concept applies here. The more open the area the easier it is to refrain from trying to match the finish of every single item in the room.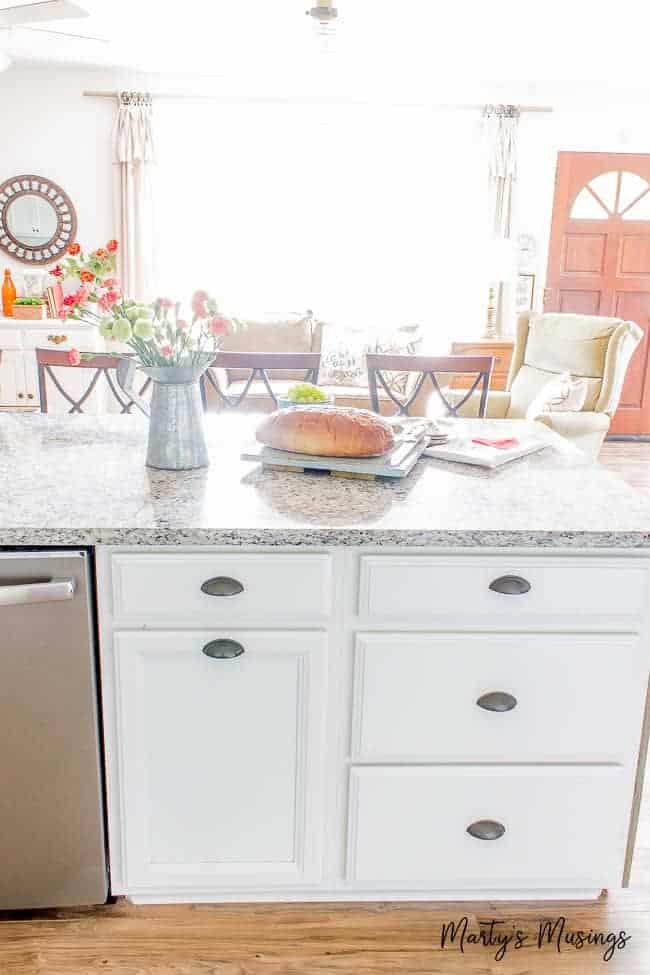 Honestly, there are no hard and fast decorating rules in this area anymore. Thank goodness!
(I've included some affiliate links for your convenience. Click here to read my full disclosure policy.)
One of the only things we salvaged from the original kitchen was our Tuscan Bronze pull down faucet (affiliate link). It doesn't match the knobs and pulls exactly but it has a dark finish which is perfectly fine!
Are hinges on cabinet doors exposed? If so, you probably want to take that into consideration.
One of my favorite upgrades of our cabinets is the soft close hinges on the doors. My almost three-year-old grandson is entertained by watching the doors close all by themselves!
Can you understand now how even this one seemingly small decision added to the many other decisions in our kitchen remodel and at times was overwhelming?
My best advice (in both DIY AND life?) Do your homework and choose process over perfection.
I'd love to know if there's anything holding you back from trying something new today!
CLICK BELOW TO SEE THE OTHER POSTS IN OUR RANCH STYLE HOME KITCHEN REMODEL:
♥ Small Ranch Home Kitchen Remodel: The Dream Begins!
♥ How to Save Thousands of $$$ on a Kitchen Remodel
♥ 5 Practical Tips on How to Choose Flooring for Your Home
♥ How to Take Care of Your Pets During Your Remodel
♥ Set up a Temporary Kitchen During a Remodel
♥ How to Install Laminate Flooring: DIY Tips and Tricks
♥ How to Choose Kitchen Cabinet Hardware (you are here)
♥ How to Build a Sliding Barn Door
♥ How to Remodel a Ranch Style Kitchen
♥ How to Build a DIY Floating Mantel (out of barn wood!)