Making a New Home After Divorce or Loss
This post may contain affiliate links which won't change your price but will share some commission. Read more here.
Whether you're suffering through divorce or loss of a spouse, creating a new home will allow you to process the emotions while challenging and healing you.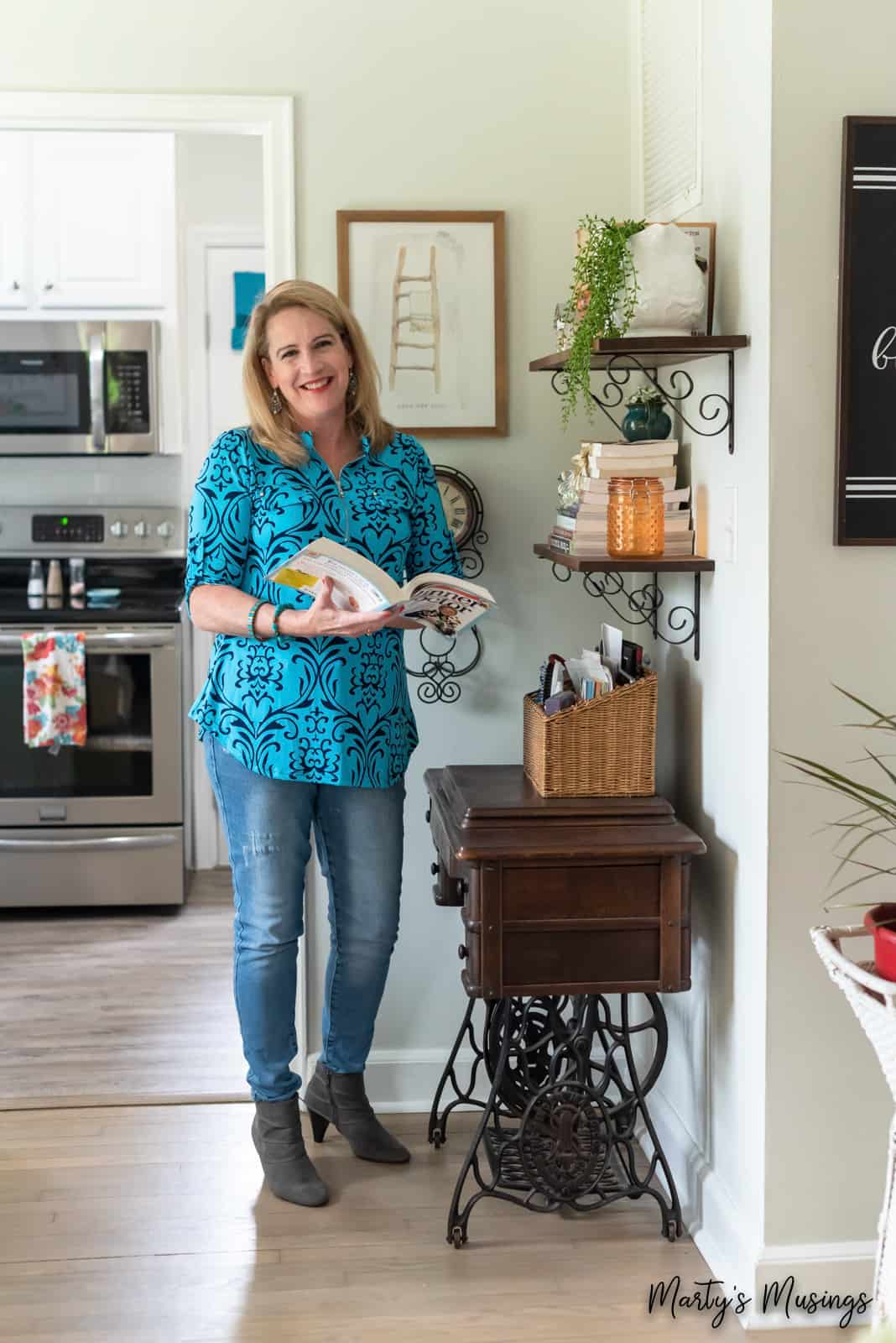 On July 30th of 2021 I purchased a little cottage I've since turned into home sweet home step by step, day by day. This new home has all the inexpensive projects you've come to love combined with the wisdom of an encouraging friend.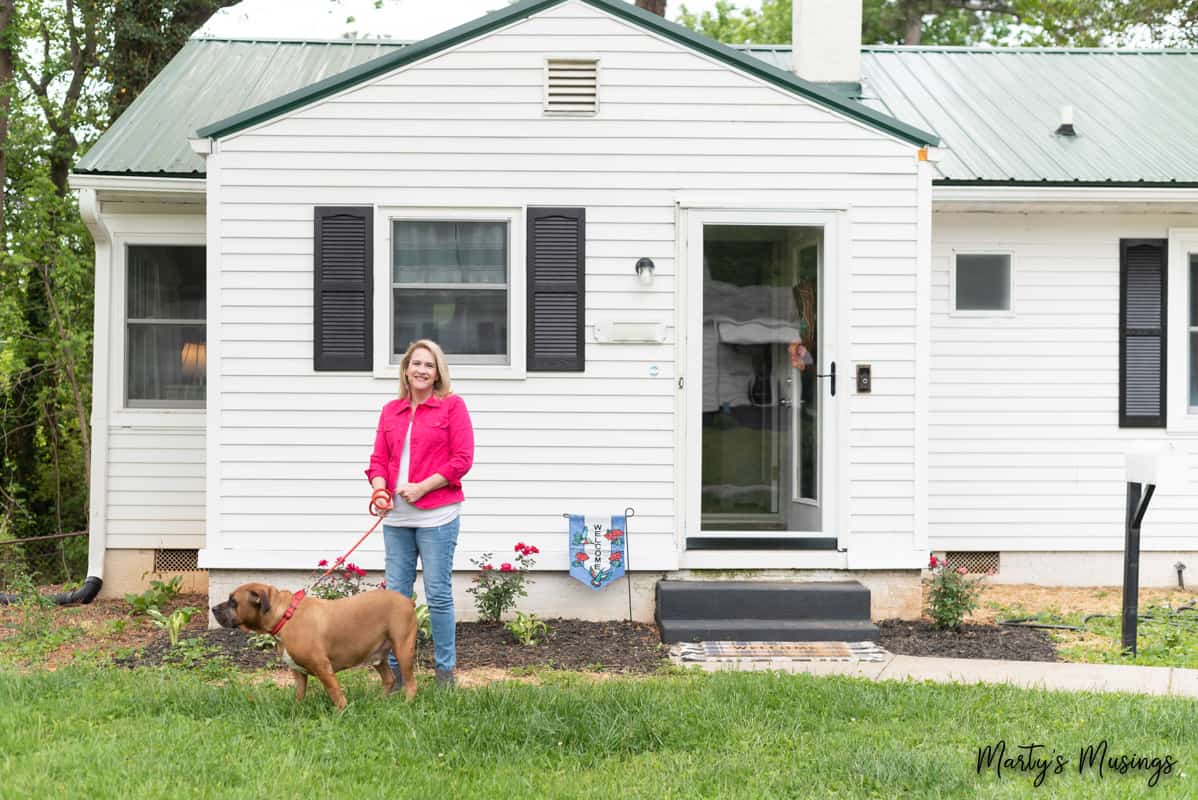 This move and the reason behind it came as a shock to all of us. One month earlier the difficult decision was made for my husband and I to separate. This was not the ending I imagined for our story but I've seen the faithfulness of God in a million different ways.
I've been fairly open about the struggles my husband and I experienced in the past but most of the details will remain private. To say my kids and I were blindsided is an understatement.
Instagram has been the place I've shared my tears and triumphs, heartache and joy. Those first few months were a blur of brokenness, change and the ever present goodness of God.
For years I've shared the home my husband and I owned together, letting you see glimpses of simple projects on a budget and massive makeovers (our ranch style kitchen and farmhouse bathroom).
Because of the new direction in our marriage we needed to put our dearly loved home up for sale.
Should you sell your home when you divorce?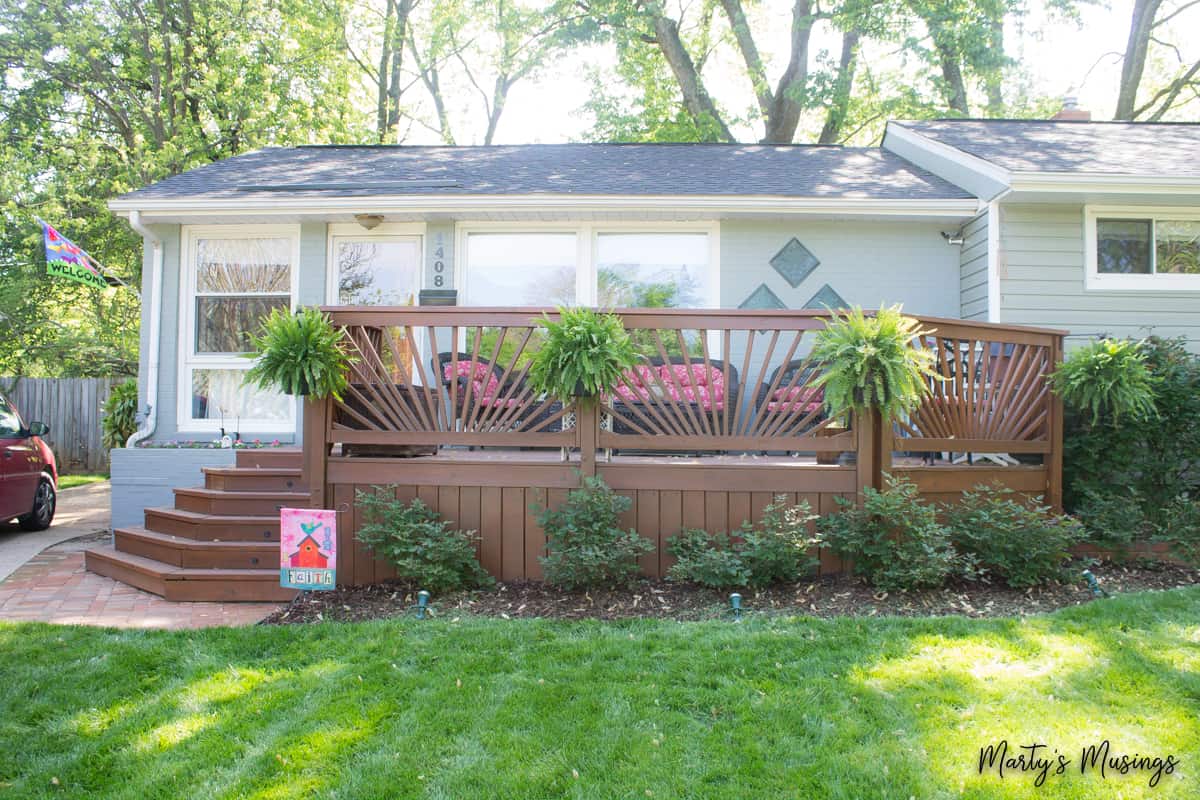 Although our home was almost paid off neither of us could afford to buy the other person out. I personally had no desire to stay in such a large home and handle the normal upkeep and bills.
There was also the painful issue of continuing to live in our home of 30 years while processing the grief. All the memories of raising our children, homeschooling and celebrating life together made the decision easy for me to move on. I needed a fresh start and my new cottage has been that for me.
Unbelievably, as great as the real estate market was at the time, we had two buyers fall through and our home was on the market for three months. The first buyer lost his job a couple of days before closing. An investment company backed out an hour before the contract was proceeding.
We spent a lot of time and money making sure the next buyer would make it to closing! In the future I'll have much to say about decluttering and the selling process. It was a rough ride and there was much disappointment in the price we got for our home. But in all things God knows better than I what I need.
Some day I'll also share how I decluttered and literally gave away 1000 square feet of "stuff" in less than two months when we put our home on the market. That was 35 years of belongings collected as a married couple.
Where will you live after a divorce?
For weeks I was focused on next steps. Where will I live? Should I rent or buy? What does the future look like? All.the.decisions.
My heart's desire was to stay in the same neighborhood where our kids were raised. One of my very best friends had moved back from out of state two months earlier (that was a definite God thing!) into my neighborhood.
I also didn't want to live in an apartment because my 90-lb dog Carson really needed a yard! (If you follow me on social you know Carson is well loved by my followers!)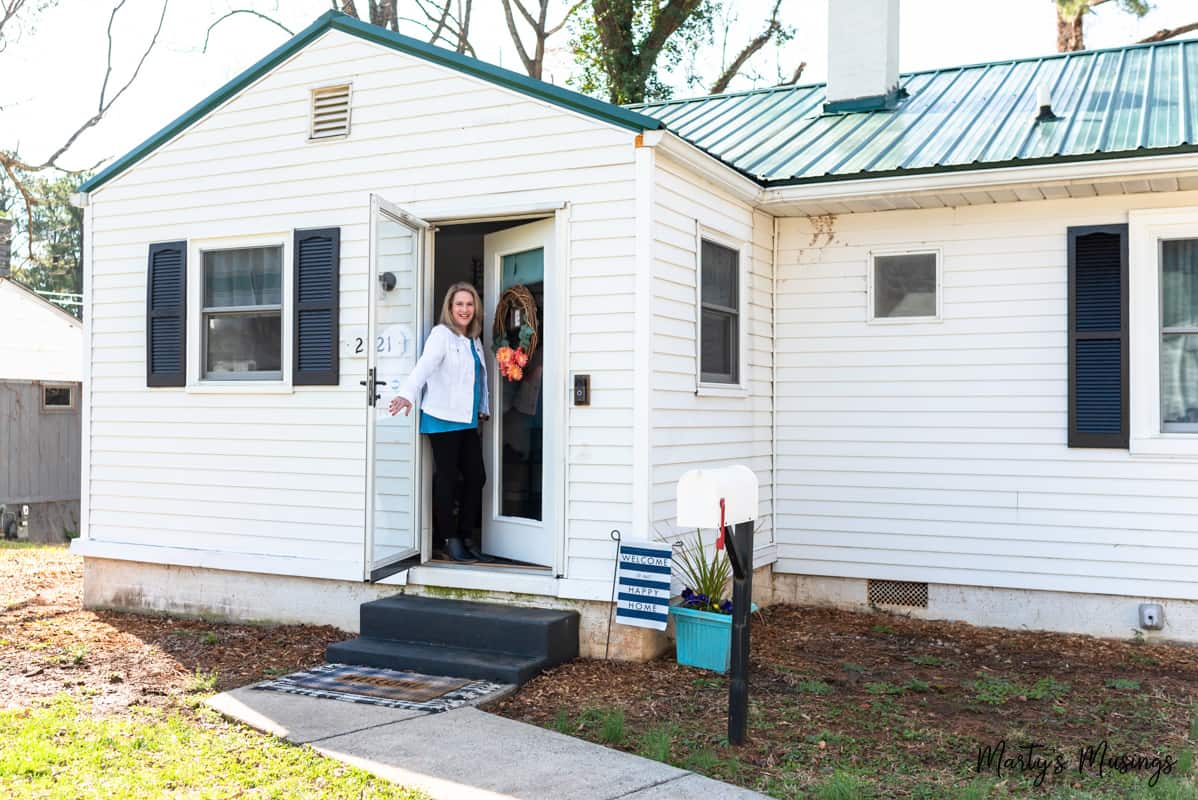 God answered my prayers in a big way! 18 days after the decision was made to separate I put an offer on a house ON THE VERY SAME STREET AS MY FRIEND and the deal was done! My new cozy cottage is literally around the corner from the house my husband and I shared for 30 years.
Moving into my own home, stretching as I've learned to do things I've never done before and coming into my own as a woman of God have been quite the ride!
Can you buy a house while separated?
Obviously I did! But before it closed I made sure we had a separation agreement in place and my new home was both my responsibility and ownership. (ALWAYS consult a lawyer to get the best advice for YOUR situation.)
I could go on and on about the miracles God performed and the ways my friends and family stepped up to carry me through those months. But most of the stories will be left for the book I believe I'm called to write one day.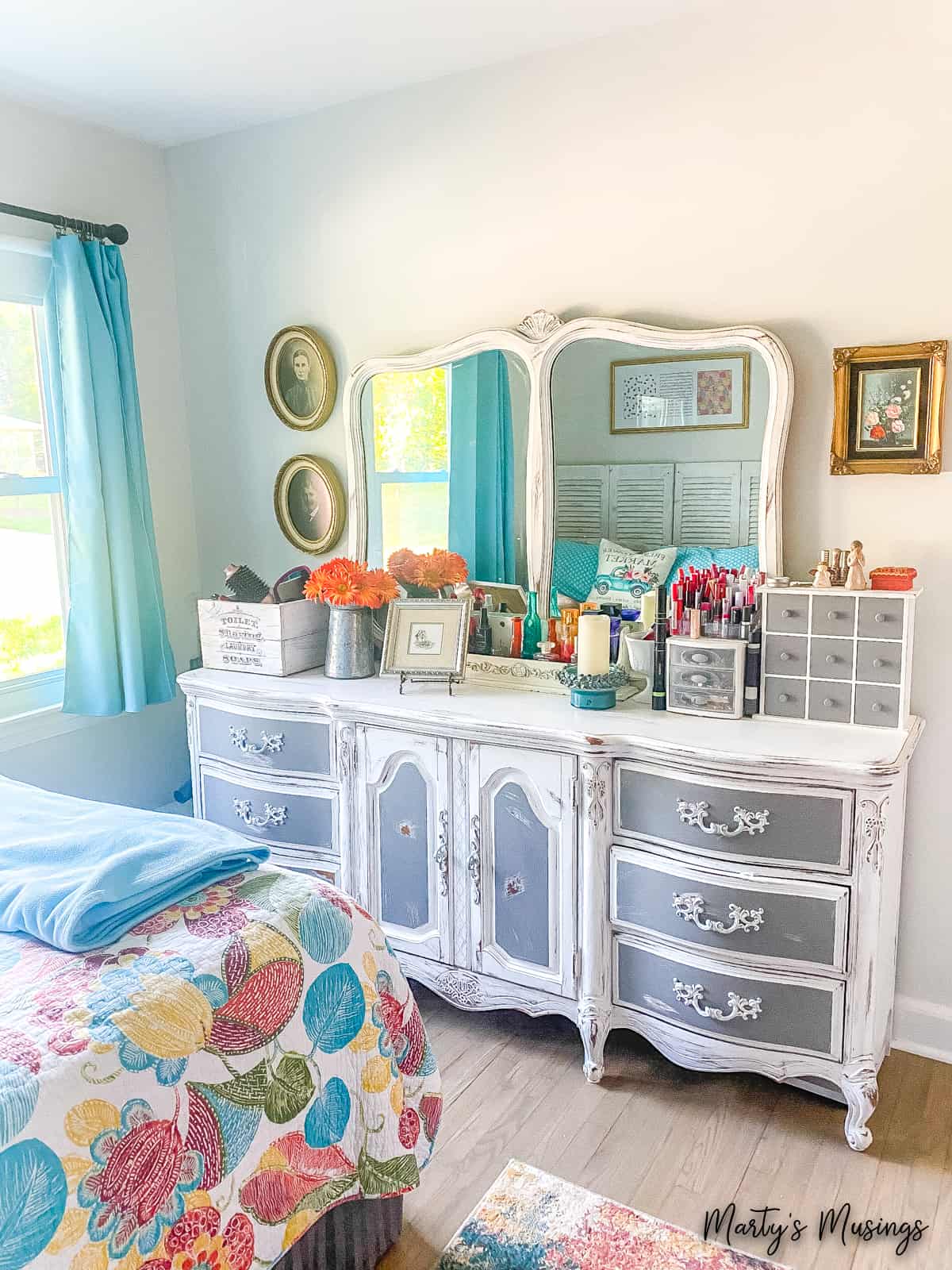 ***However, I thought it might be helpful for any of you going through a divorce or loss of a spouse to have some helpful tips on moving on in a new home. Grieving is universal no matter the loss. But I believe strongly having a home to love and feel safe in is a gift.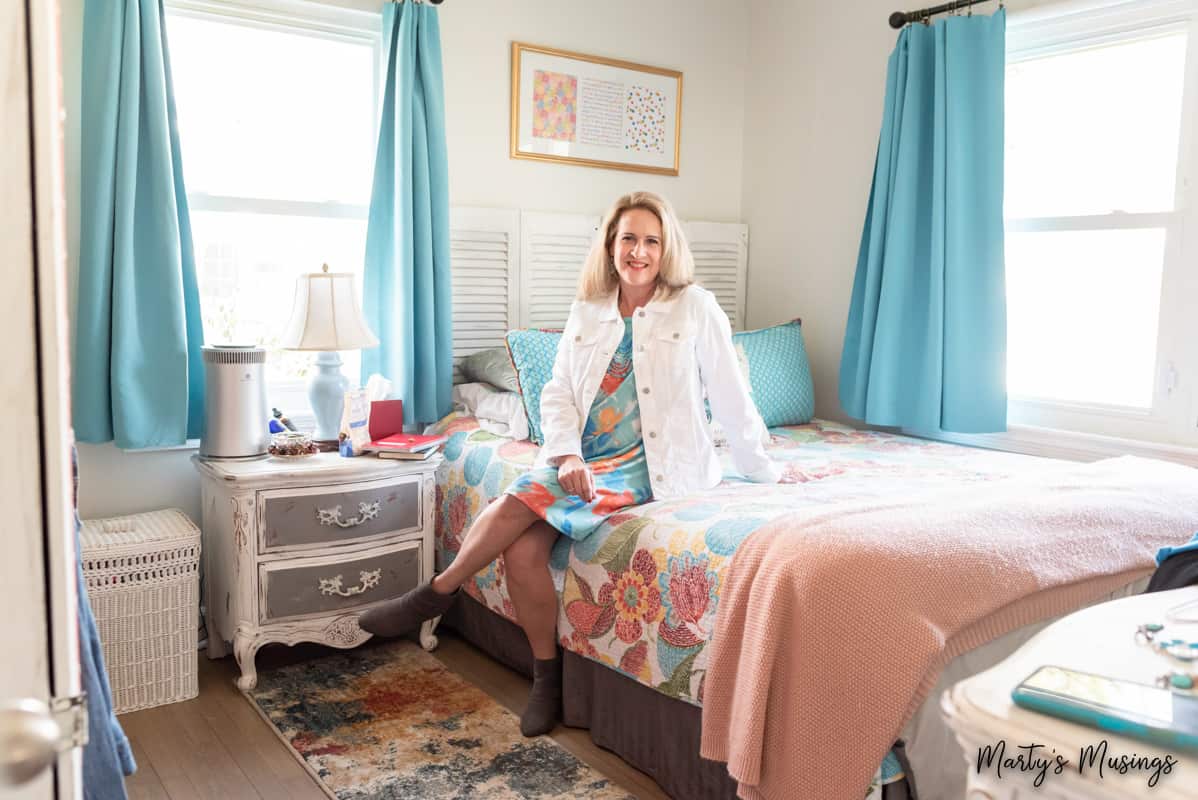 Embrace your new life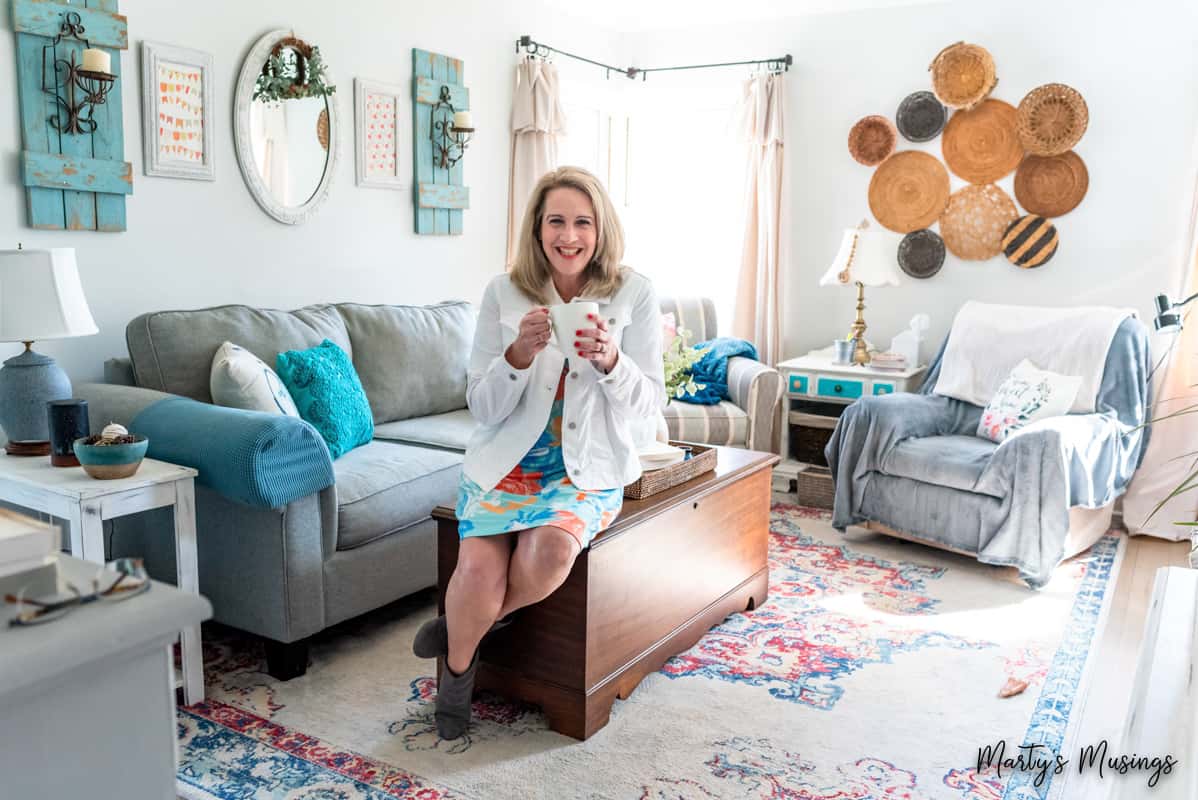 Every day is a new day and I get to decide how I live out my story, one I never asked for or desired. In fact, I often seek to run away from the ugliness and brokenness.
But that's not God's way. He brings us THROUGH the darkness not around it. His grace is sufficient in all things, not just the easy days.
Through it all I'm learning to make mistakes, trust my instincts and pray without ceasing. Most of the cottage decor you see in these pictures were in my old home and now I'm using the pretties in a fresh new way.
Decide what YOU want in your new home.
My cozy cottage screams "home" from the second I walk in the door. My personality and loves are everywhere. I no longer have to worry about pleasing anyone else so anything goes as far as I'm concerned!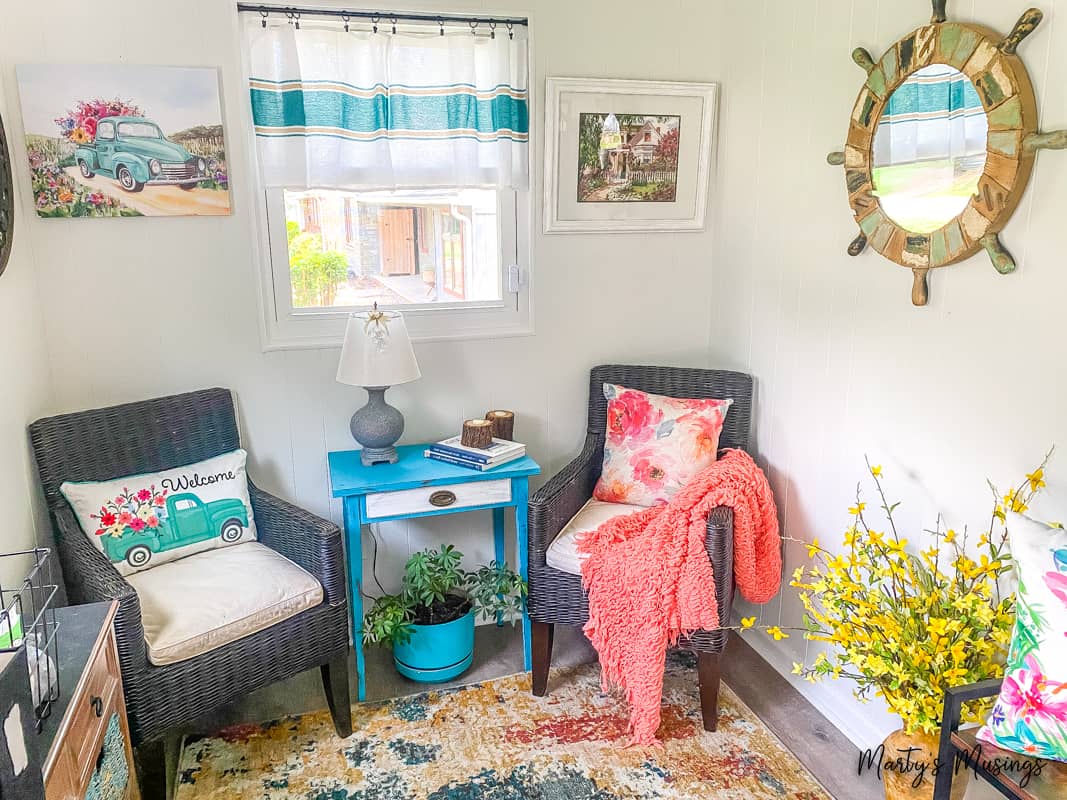 When you're married the name of the game is compromise and that's the way it should be. But when you're living as a single woman do whatever brings you joy!
Don't be afraid to experiment with colors, textures, styles and decor. You'll never know what you really love until you start making changes.
I know this entire season is change for you but look at this as an opportunity to discover the new, true you!
Let go of sentimental memorabilia that keeps you bound to the past.
Embrace this new season of hard instead of running and burying all the emotions. I know it's all you can do to put one foot in front of the other and it's ok. Truly. You are loved.
This may be hard if you're still clinging to the past or sentimental memorabilia has a death grip on you. Give yourself permission to let go of sentimental items that cause you grief or anxiety.
When we emptied our old home there were so many things left to deal with that I wasn't taking with me and he didn't want. We rented a pod to help remove a few things for staging. I ended up using the pod to store all the things I didn't want. Then I offered everything free to friends and family and gave what was left to charity.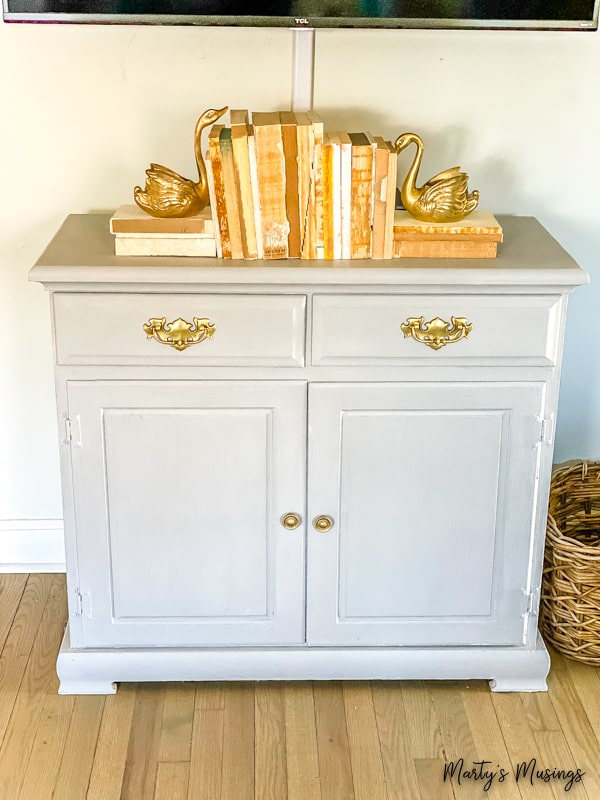 I have an entire bookcase filled with family scrapbook albums, literally thousands of hours devoted to documenting our family history. As of right now I have only taken out a couple of albums to show my grandkids. My heart just isn't ready to process that hurt.
I gave away my wedding dress and threw my portrait in the trash. Yes, I probably could have saved the frame but there was something freeing about letting go.
If there are items that you love but don't have room for take a picture! Then put those pics in a safe place for you to appreciate when you're ready.
Box up any belongings you're indecisive about.
If you can't bear to let go of things box them up and put in storage. Wait until your heart is ready and more healed to make decisions. Only YOU can decide what is right for you in this season.
This tip ultimately depends on how much storage space you have. I discovered when there was a finite amount of space I could be brutal and decisive with my choices.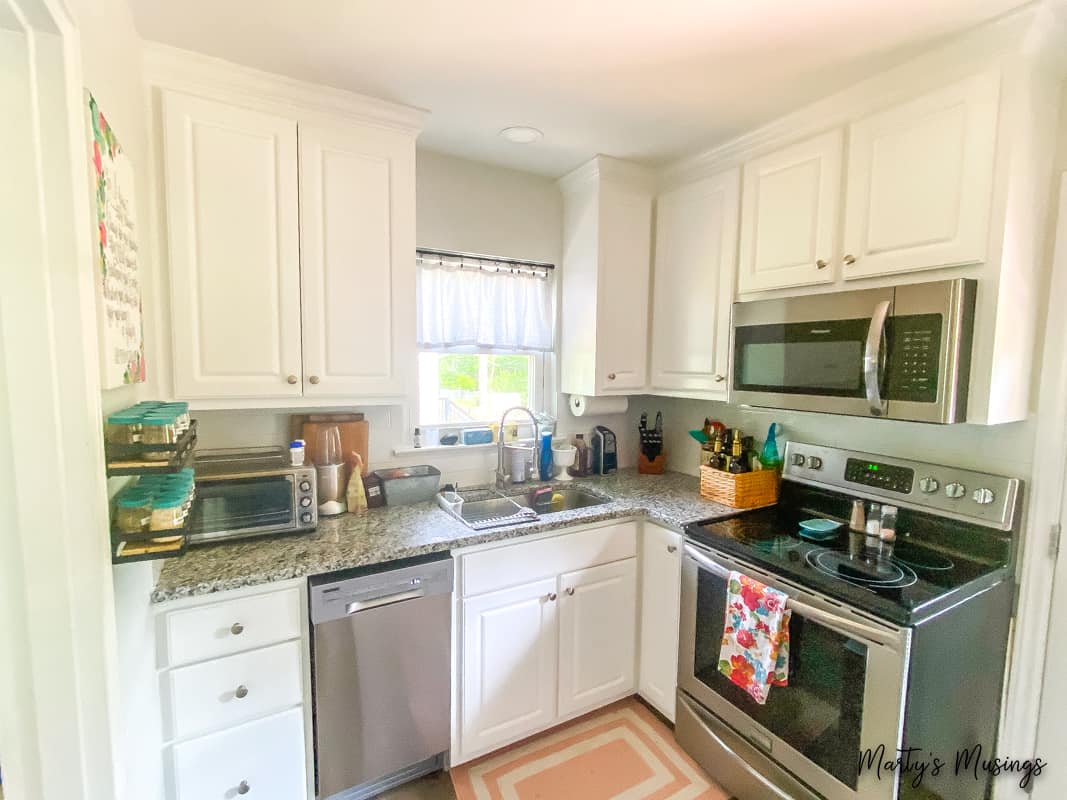 I struggled over whether to decorate for Christmas this first year in my new home. I chose to decorate a tree with no family ornaments and only use the decorations that made me happy. It was a happy medium for me.
Give yourself permission to fail and learn.
Even though I'm a DIY blogger most of the projects were built by my husband. Moving into a home where every single decision fell on me has been intimidating at times.
Money is always a consideration but I was the one who handled our finances and I feel perfectly capable of providing for myself and fixing up my home.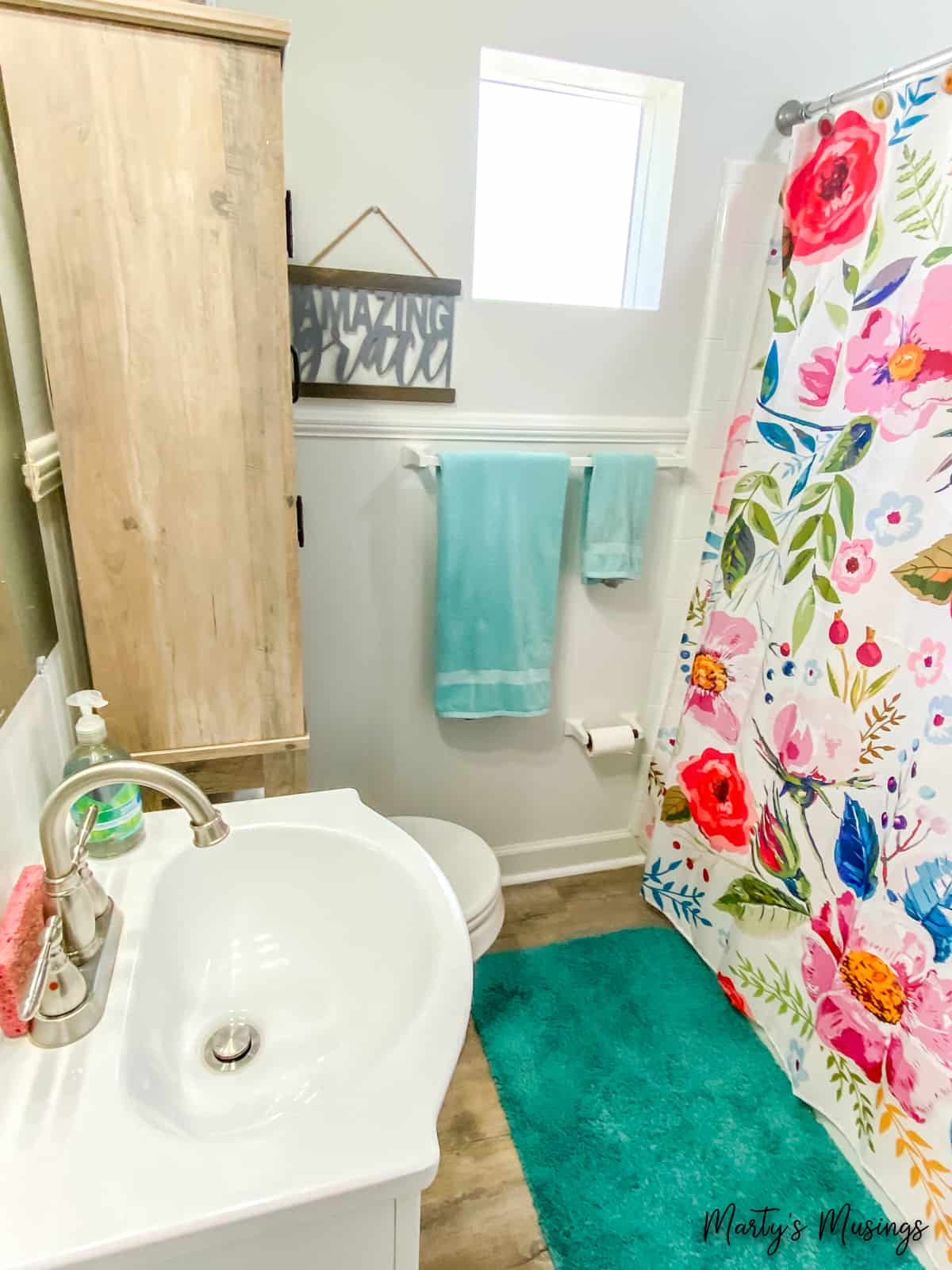 You'll never know if you're capable if you don't try. I've googled and YouTubed and researched to figure out the things I can and cannot do. Ain't no shame in paying someone to do what's not in your skill set.
Don't be afraid to ask for help.
Honestly I feel blessed to be loved so well by my friends and family. I've shed more tears than I thought possible yet I know in this next season God is going to do amazing things! That's been the prayer of my heart for months.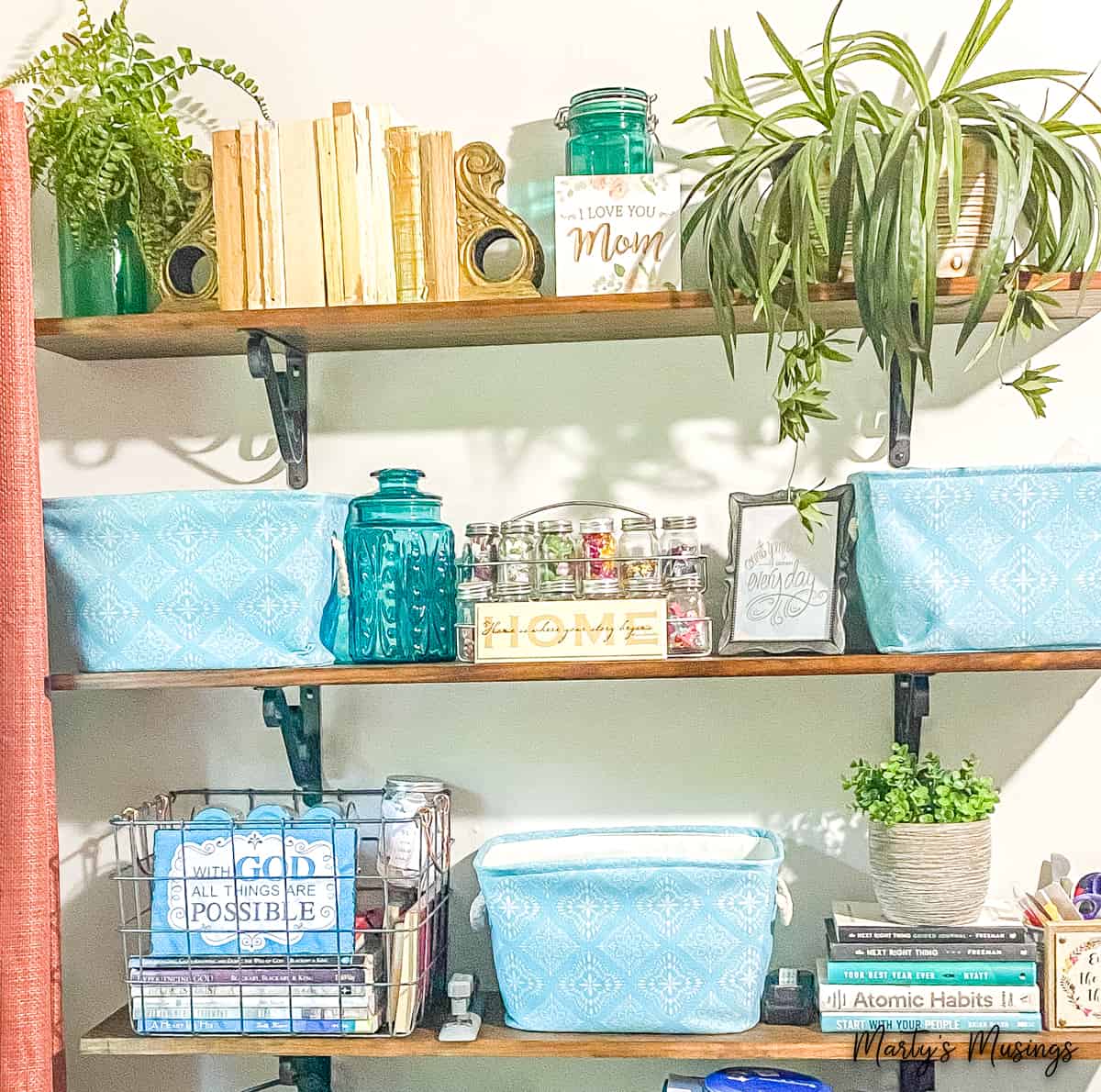 I've also had wonderful friends who have built shelves, fixed door knobs and crawled under my house. They've taught and empowered me to have the courage to figure things out as I go. It's been a tremendous gift.
My youngest son has been a rock for me and used all his construction skills to lay flooring in the attic, fix the wonky dryer situation and install anything I need. He literally has done almost all of the heavy lifting. What a gift.
These precious folks wouldn't have helped if they didn't know my story. None of my closest friends and blogging community have judged or walked away from me. But it might not have been the same if I hadn't shared honestly and openly (as much as I can at this point) and let them into my story, as difficult as it may be.
How to make a new house feel like home.
You can make your new house (apartment, house, cottage, RV, wherever you may live!) feel like home by going slowly and doing small projects. The time for remodeling and taking down walls may have to wait a while!
Hanging pictures was one of the first things I tackled. You can't see the nail holes where I didn't get it right the first time….or the second. Or third. I just see where I tried something new and succeeded!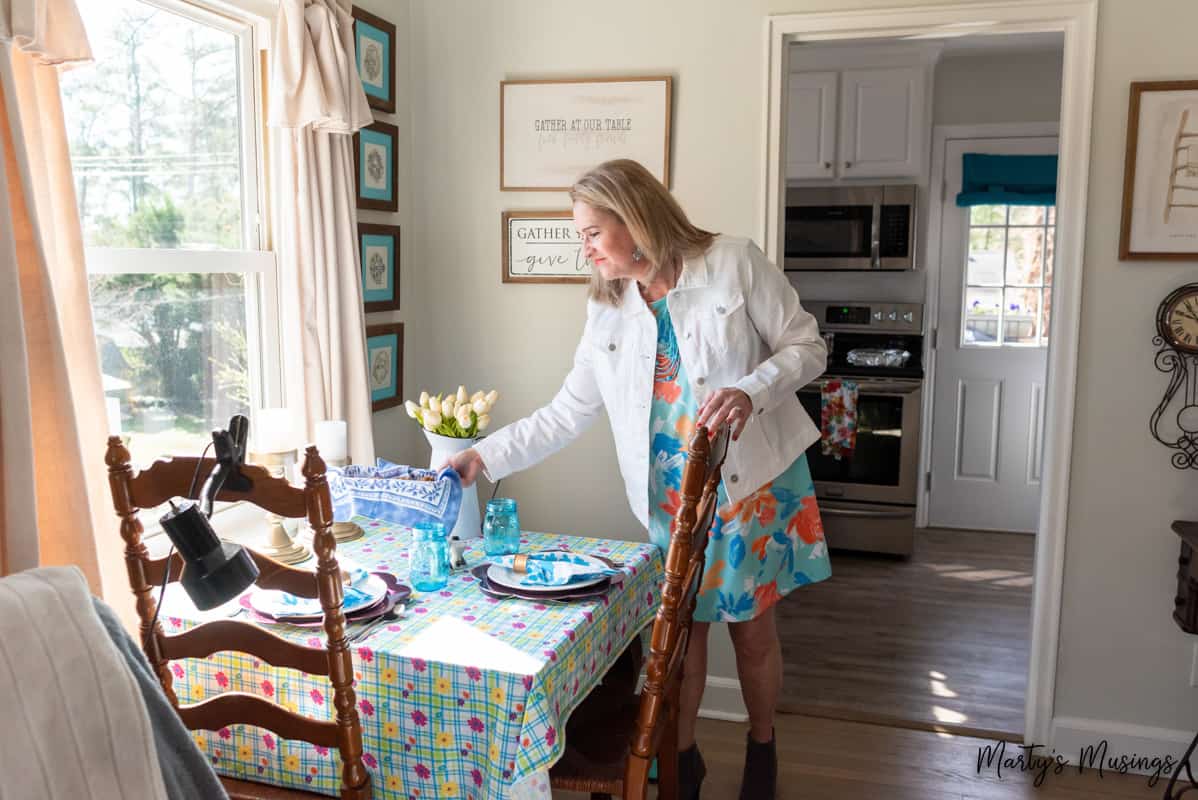 In the process I've learned how to spackle, sand and touch up with paint. Boom! New skills!
I've also cleaned out drains, painted furniture, dealt with a mouse (ewwww!) and a few stray roaches (double ewww!!) I've also hired numerous individuals to take down trees, grind stumps, mow my yard and start with the backyard renovation.
Each of these accomplishments encourages me to keep going! I constantly have to remind myself perfection is not the goal. The prayer of my heart is to become a healthy, strong woman of God and use my story for His glory.
Allow grief and joy to coincide.
My desire is to be a real and transparent light for Jesus. You won't find fake here my friends.
In this present moment I have to let go of "what could have been" and believe that "what is" will one day be a beautiful story of God's redemptive work.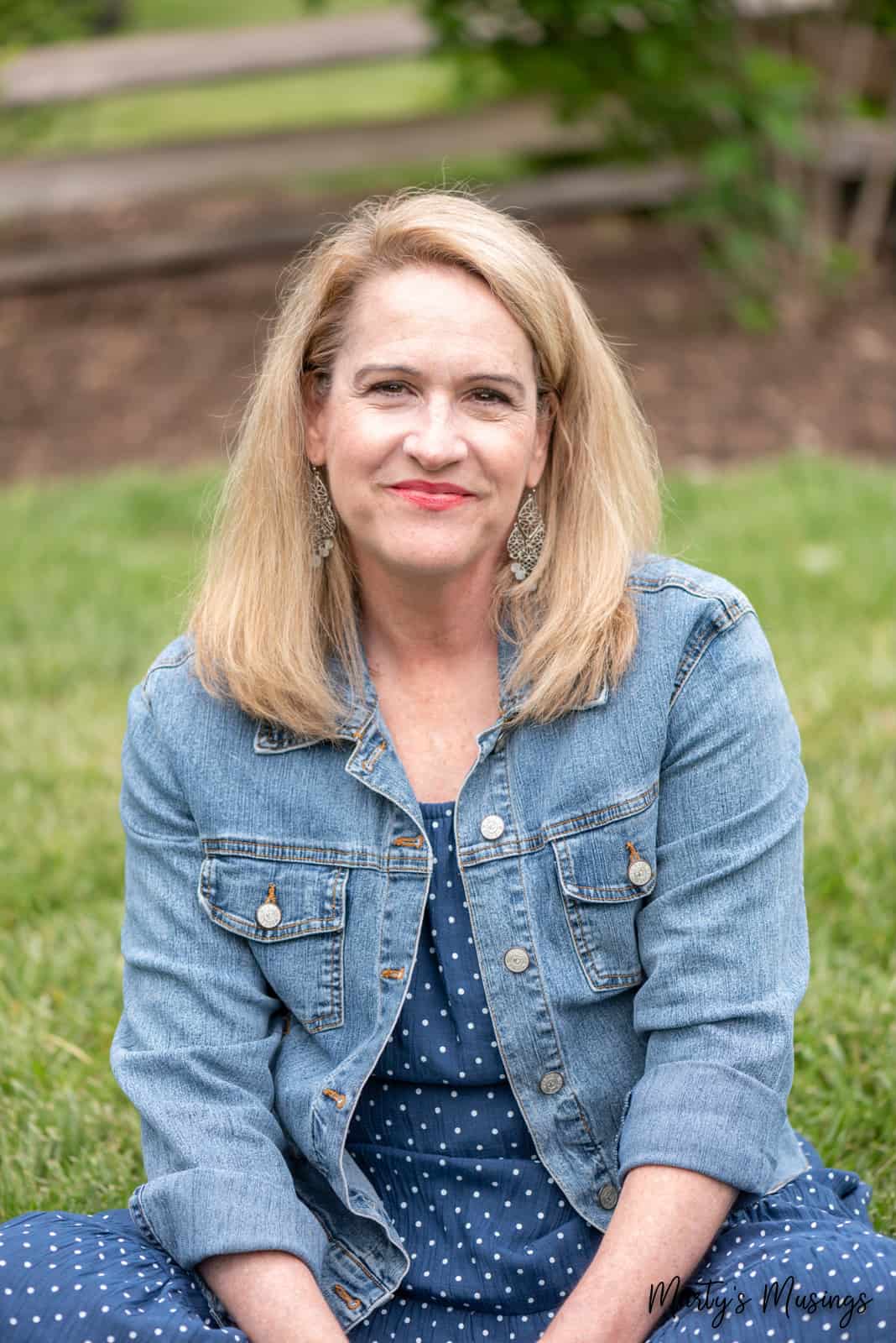 I don't have to understand why all things happen. I just have to believe God is bigger than I can see and accept His ways are not my ways.
Life is rarely easy and God gave me a phrase weeks ago as I process and grieve.
With divorce there is no funeral and burial where life is celebrated. There is just ongoing pain and deep disappointment in our humanity.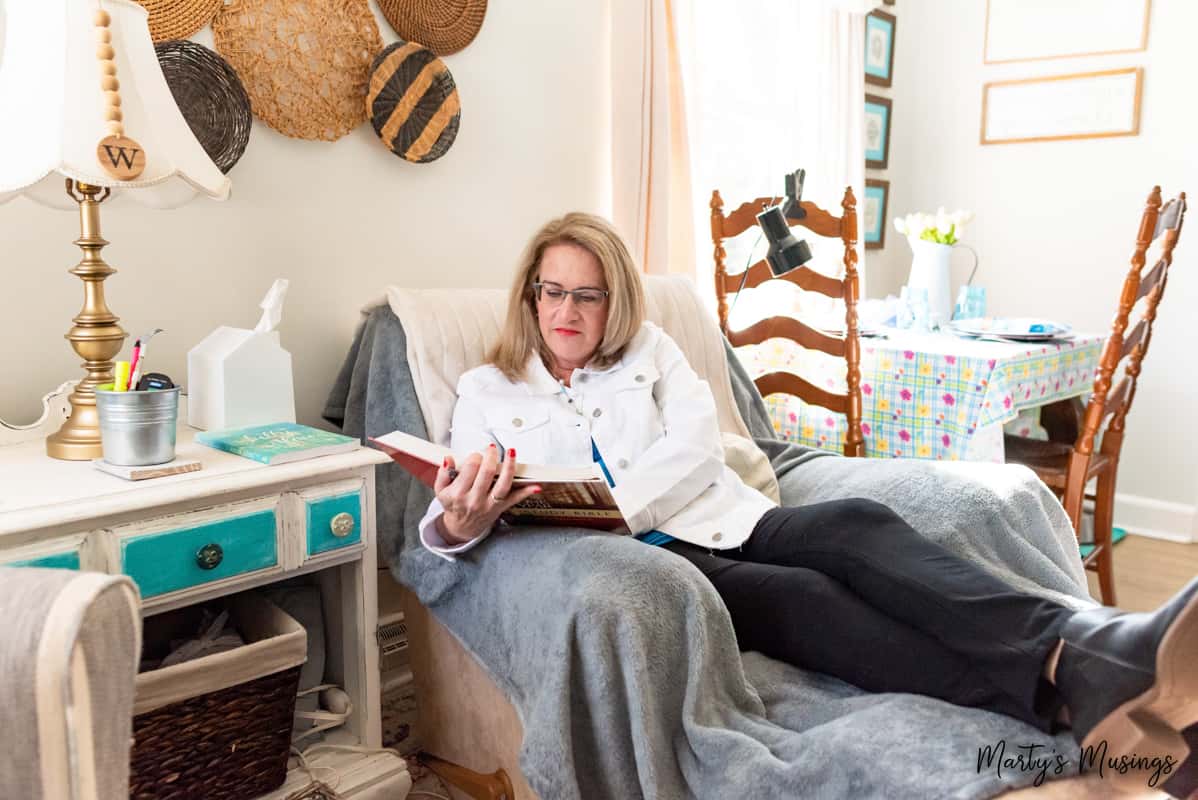 I have days where I'm doing incredibly well (thanks to five years of counseling before my marriage imploded) and there are days where I wake up crying. Both of these emotions are healthy and part of the natural process of grieving.
I had a friend text me today saying, "Thank you for being such an example of how grief and growth can coexist." This expresses the complete desire of my heart.
Find your new purpose.
If you've followed me for any length of time or know me personally you probably know my life motto is "to encourage women in hard places with hope." I pray these thoughts and tips on making a new home after divorce or loss will truly give you hope and the confidence to keep going!
My new home is half the size of the home my husband and I shared, but I love this little bungalow with all my heart! I've found clever ways to store the most important things yet still decorate in a way that shows my style and heart.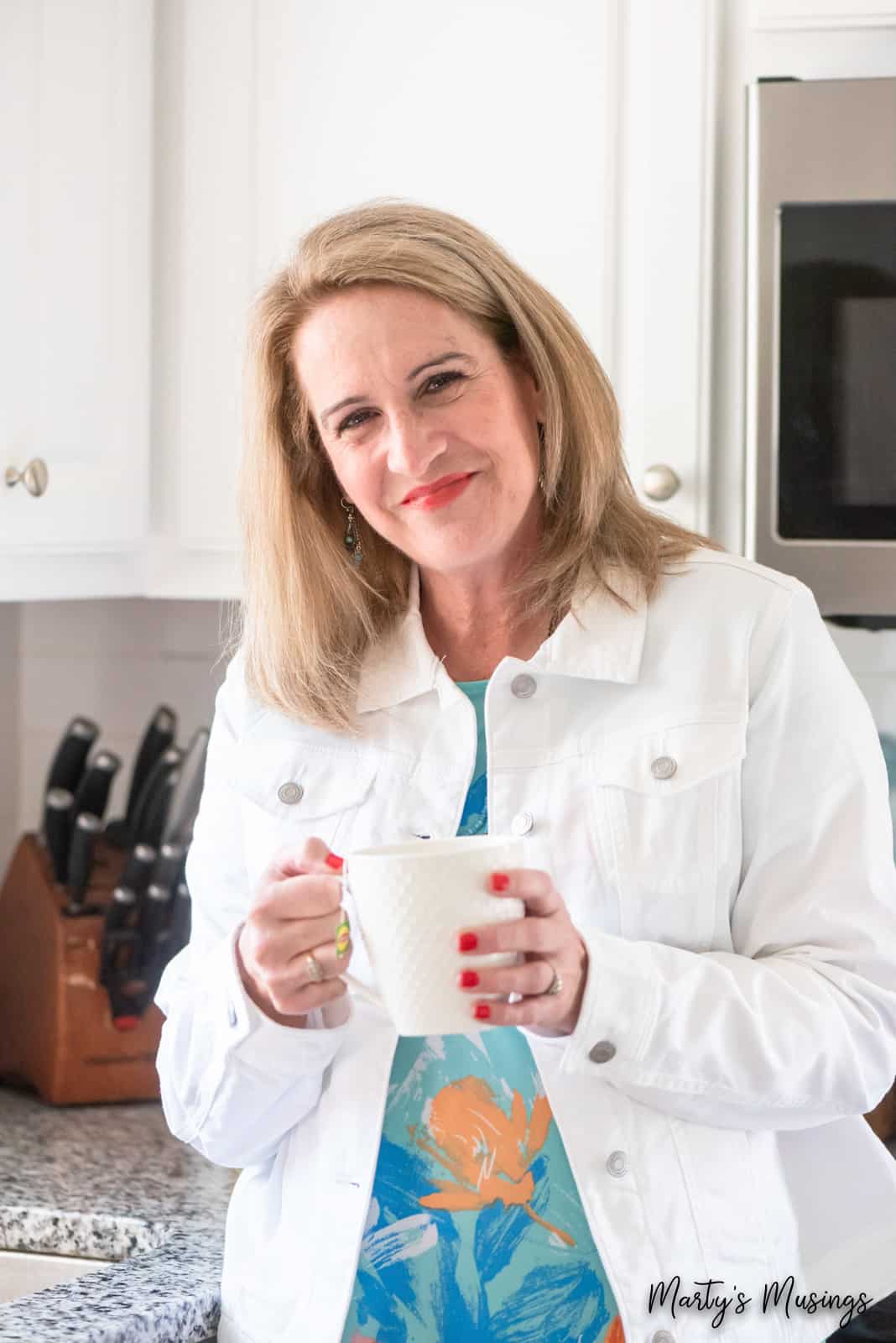 I've also invited many women to come sit on my couch and share their stories with me. Some from my childhood, theater days, adoptive moms, church family and new friends. This home is truly God's home and I ask Him to allow me to be a vessel of hope and strength to all who enter (whether in person or through this website!)
What is life after divorce like?
That remains to be seen for me but I've used all the tools available to me to continue to live a good life. Those include counseling, safe and supportive friends and family, financial advisers, lawyers, a support team of doctors to keep me physically healthy and a faith based community here on the blog and social media.
I can tell you that you WILL get through this period. There's no time frame for healing from the devastation divorce and loss brings but each new day brings an opportunity for growth and love. You've got this, my friend!
More home inspiration:
Making a New Home After Divorce or Loss
Whether you're suffering through divorce or loss of a spouse, creating a new home will allow you to process the emotions while challenging and healing you.
Instructions
Should you sell your home when you divorce?

Where will you live after a divorce?

Can you buy a house while separated?

Decide what YOU want in your new home.

Let go of sentimental memorabilia that keeps you bound to the past.

Box up any belongings you're indecisive about.

Give yourself permission to fail and learn.

Don't be afraid to ask for help.

How to make a new house feel like home.

Allow grief and joy to coincide.

What is life after divorce like?
I'd love to know if you have any questions for me! I've got great ideas for other posts but would love to know what would be helpful to YOU!