Small Linen Closet Organization: 7 Simple Steps for More Room!
This post may contain affiliate links which won't change your price but will share some commission.
These 7 simple steps will help you make more room with your small linen closet organization. Proves even a small space can become pretty by decluttering and organizing!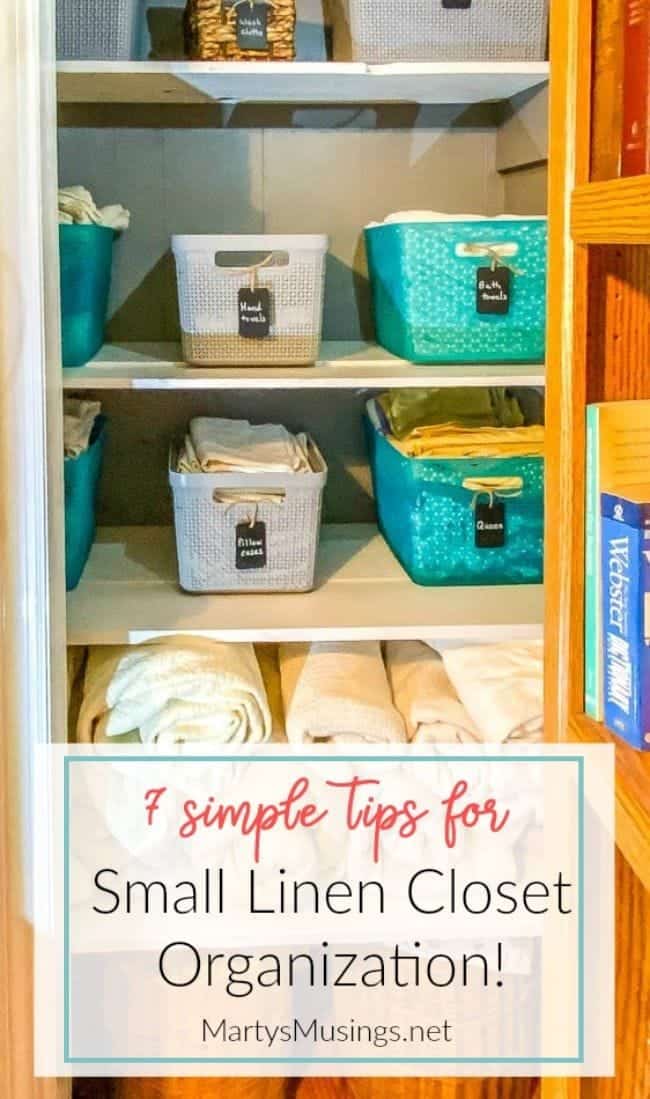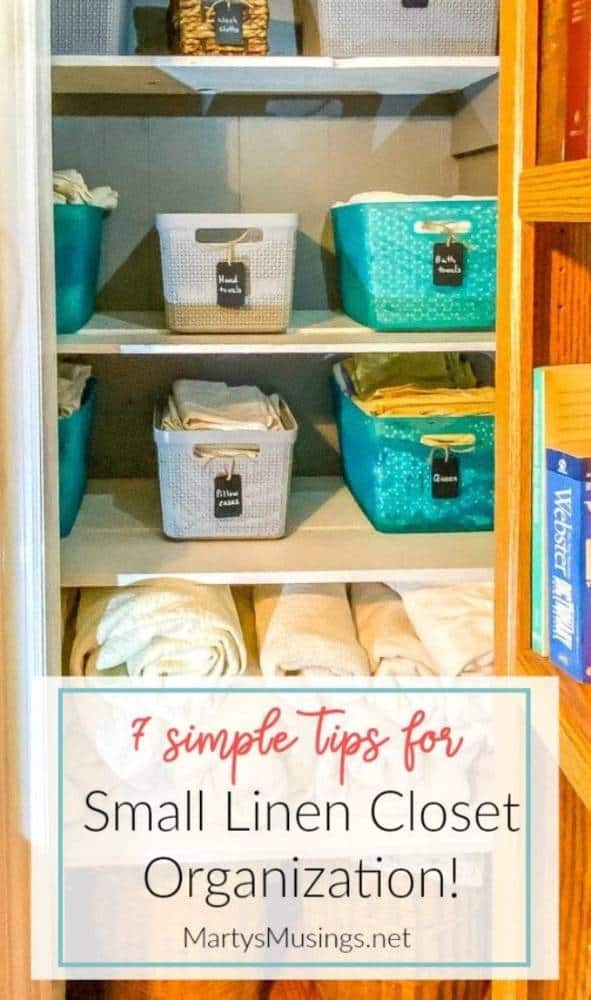 Ready for an amazing before and after? Somehow I think the reason our home transformations look incredible is the befores are really, really ugly!
Who else feels crammed into a small space, whether it's your kitchen, bathroom or linen closet?
We have a 5-bedroom home, which sounds huge but our bedrooms are very small. When we had five kids at home those extra bedrooms were incredibly necessary.
Now that we're almost empty-nesters we live in our home a different way.
What does that even mean? Basically in this season of life we have room for a craft room/office for me as well as a studio to shoot videos and photograph projects.
My goal has always been to love our home regardless of the season. We lived in our ranch home for 26 years before we took down a wall and totally gutted our kitchen.
However, our linen closet wasn't going to get any bigger no matter how many kids left home!
Believe it or not, I had already removed a bunch of homeschool craft items from this space. Here's what I started with.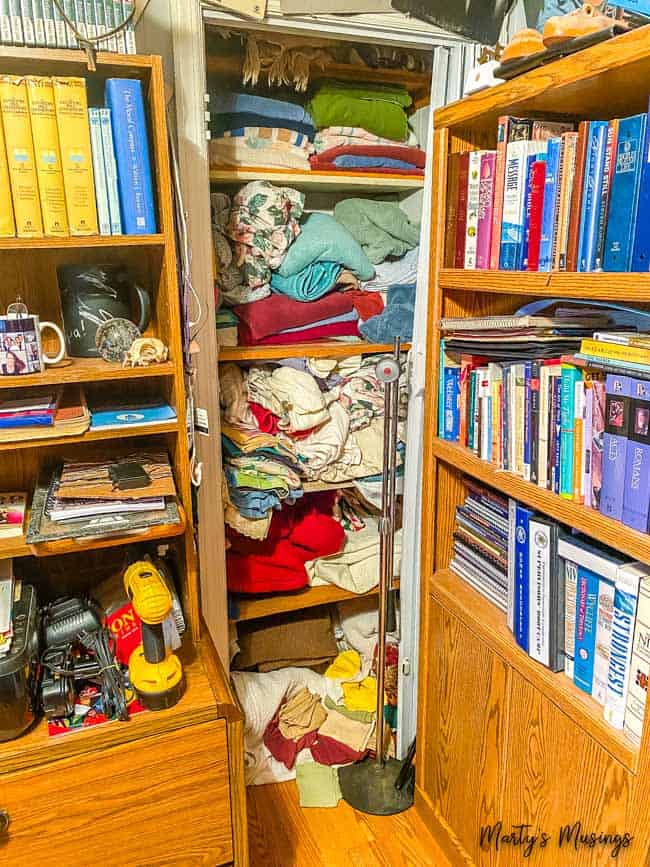 I know. I know. How can a DIY blogger/crafter/declutter expert have a space so very very ugly and inefficient?
It's because it wasn't on the list of priorities. This closet is actually in my husband's office (which used to be a kid's bedroom).
Such a crammed space. As much as I'd like him to get on the pretty wagon it's Tim's space to store all those things that are important to him, including guitars, books and music.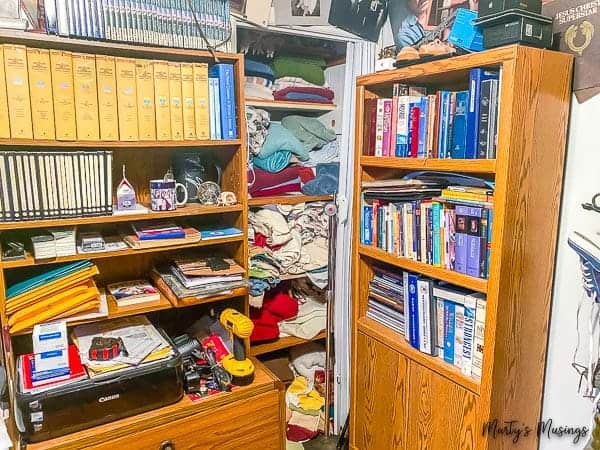 (Let me just mention what a nightmare it is to photograph this space. We do have windows in this room but Tim prefers to keep the shades closed to protect his equipment.)
Here are 7 simple steps for transforming your own small linen closet!
Ways to organize your small linen closet:
Open up the space.
Take everything out of the closet.
Declutter.
Organize similar items.
Roll blankets (and towels if desired).
Mix and match storage bins.
Label everything.
Small Linen Closet Organization: 7 Simple Steps
Materials:
(I've included some affiliate links for your convenience. Click here to read my full disclosure policy.)
Gray baskets (similar ones here)
Teal baskets
Small rattan basket
1. Open up the space.
Our cats love to curl up in this space, thus the reason linens are pouring out of the accordion door. I'm not usually such a slob but I got tired of picking up everything so I would just throw them back in the closet!
First step was ripping down the door. My husband was nice enough to take down any hardware and patch and touchup the door frame.
2. Take everything out of the closet.
Ugh. This room is teeny and I had severe claustrophobic during this process! But it was necessary and a step I couldn't skip.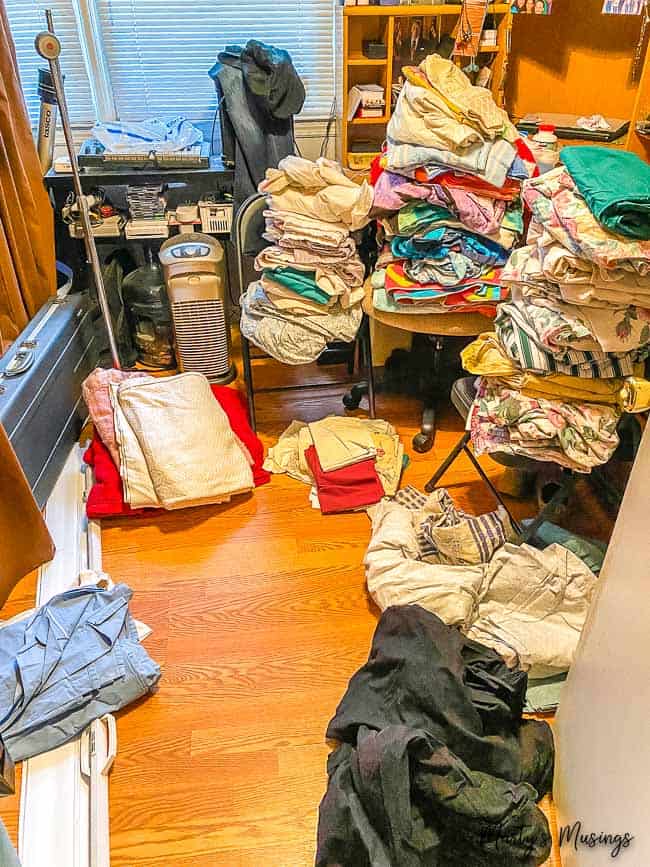 Once everything was out I knew the shelves needed paint. Once the shelves were out I decided I should also paint the walls.
Isn't that how it works? You pretty up one part and it makes everything else looks bad!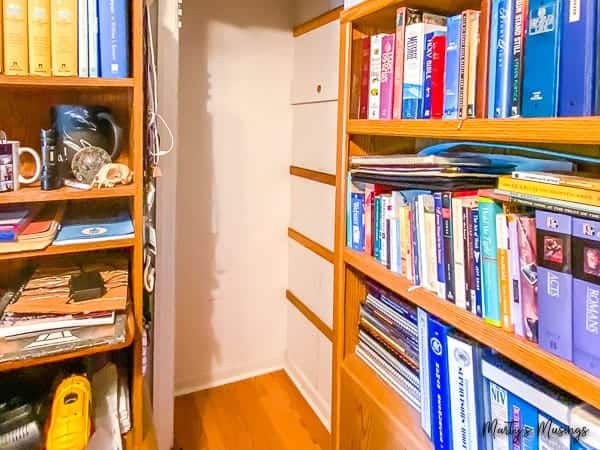 I have to tell you I painted most of the walls inside this closet. My painting contractor husband was not too keen on the gray and felt it would make the space look even smaller. I didn't even think that was possible!
When we moved into our home 29 years ago I was relegated to the closets. Obviously that still holds true!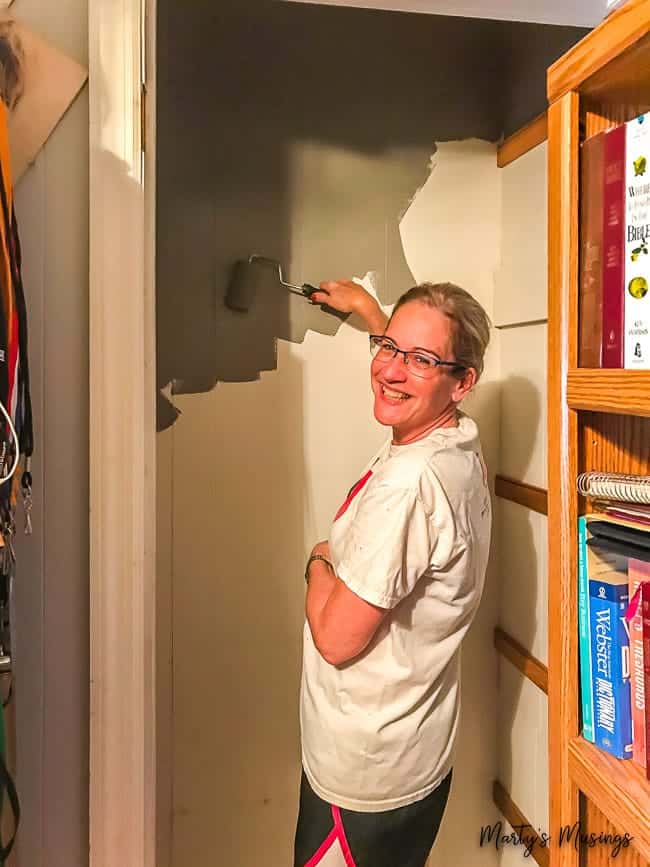 If this space wasn't so hard to maneuver in I would've loved to have added peel and stick wallpaper or a bright color to the back wall. But since I was on a budget I used gray paint we already had.
3. Declutter.
Yep, that's it. Things had to go! I threw away a bunch of old blankets and mismatched sheets.
Who needs king sheets when there is no bed that size? Ten sets of twin sheets anyone (and only one twin mattress!)? Fifteen beach towels?
I organized the rest of the linens from this closet and hope to sell on Facebook marketplace to recoup some of the cost of the bins.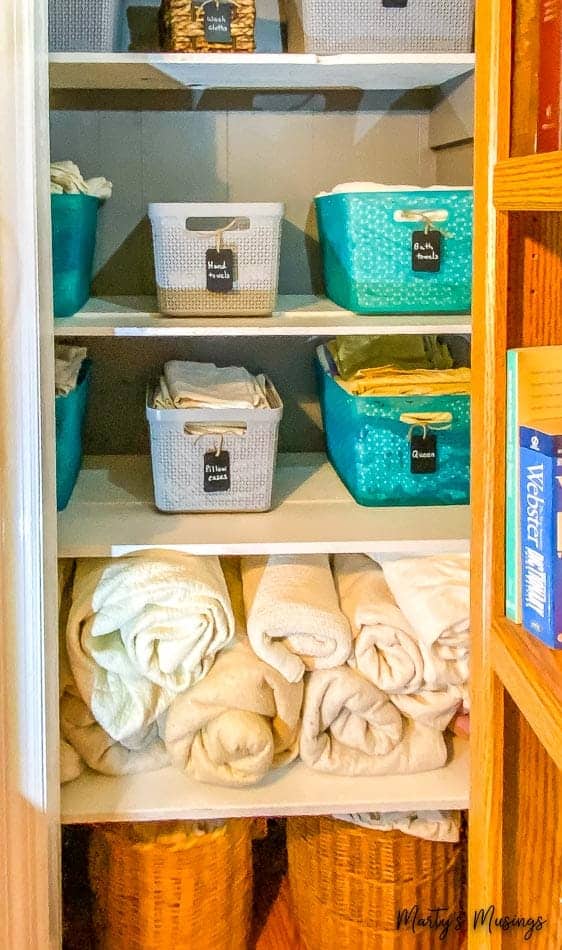 One of the things I also organized was our scrap towels used for spills and accidents. They were stored in our pantry/laundry room and taking up valuable real estate in that room.
I shopped my attic (who doesn't?) and found two similar wicker baskets for hiding my ugly stash.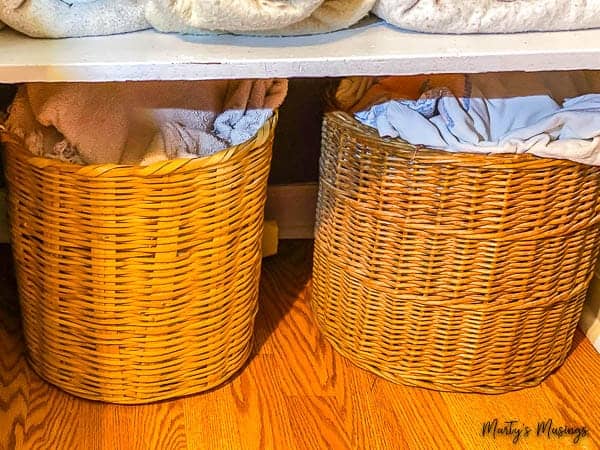 4. Organize similar items.
Sheets were organized according to bed size and like towels placed together. Extra pillowcases got their own special storage as did washcloths and hand towels.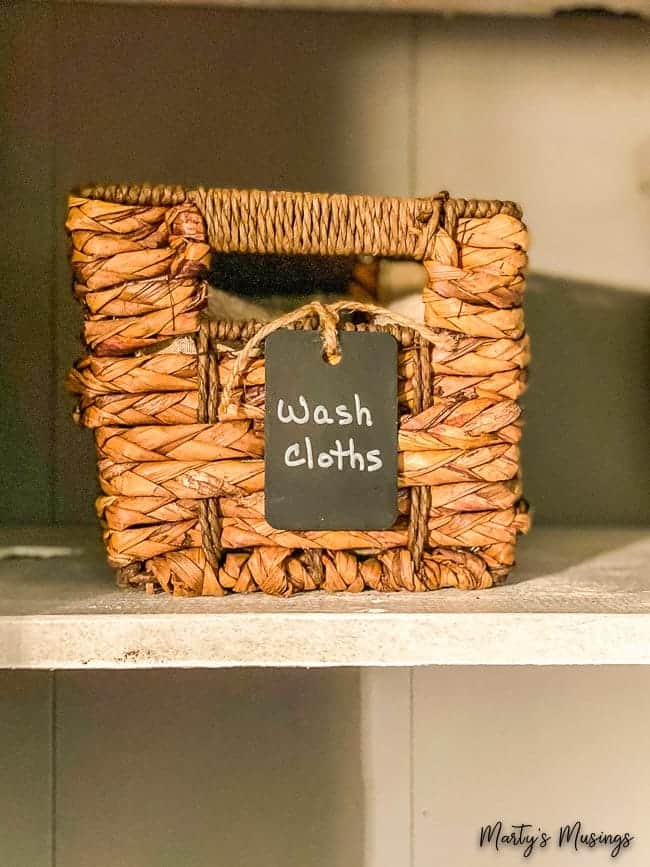 Anyone else struggle with folding fitted sheets? My husband is the expert in this category but I'm the one usually folding them.
Make sure and fold sheets the right way. If you want to learn how to most efficiently fold them check out this tutorial from Good Housekeeping.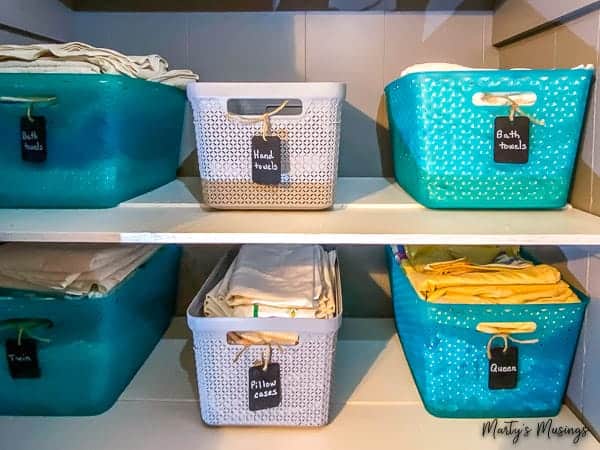 5. Roll blankets (and towels if desired.)
I chose to roll blankets to conserve space and help my small linen closet organization.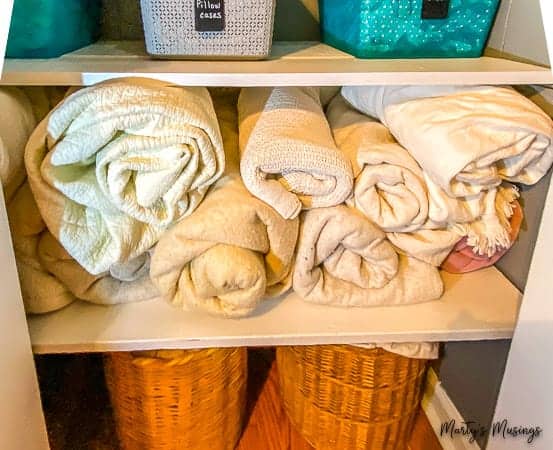 6. Mix and match storage bins.
Since I spent two entire days on this project I wanted it to look pretty! It doesn't matter that no one will EVER see it, but it mattered to me!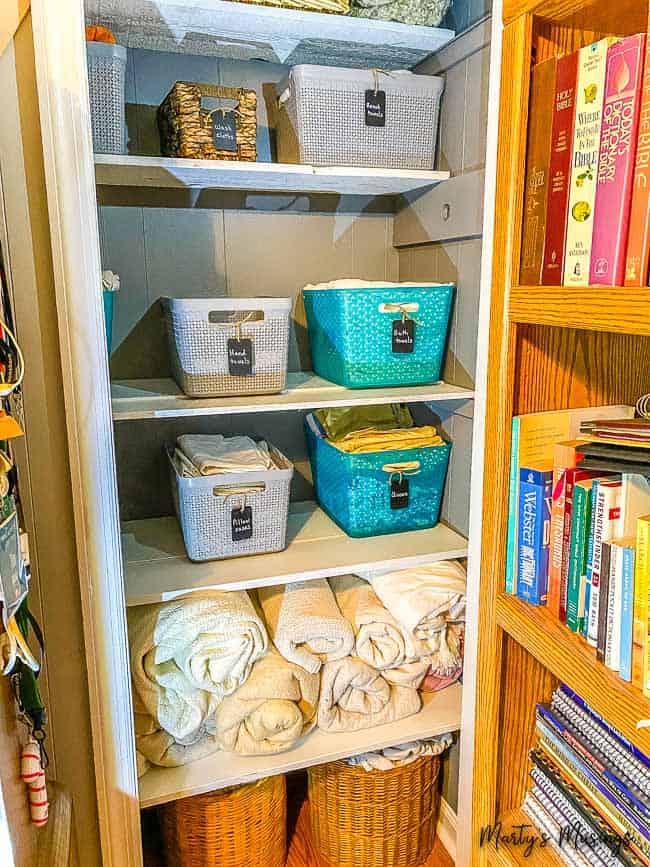 These larger teal baskets are woven plastic, and the smaller gray baskets are perfect with the dark gray walls.
The top shelf is difficult to reach (but better now that I got rid of the accordion door!) I rolled throws and used a basket I found in the attic for the rest of them.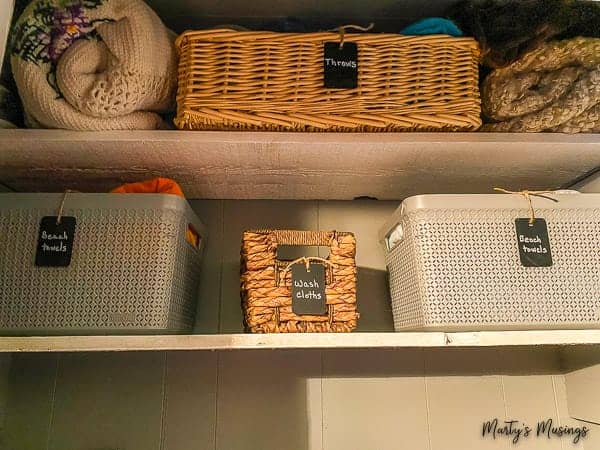 7. Label everything.
Make it easy to find what you're looking for with a good chalkboard label! (This DIY post shows a couple of different ways to create them.)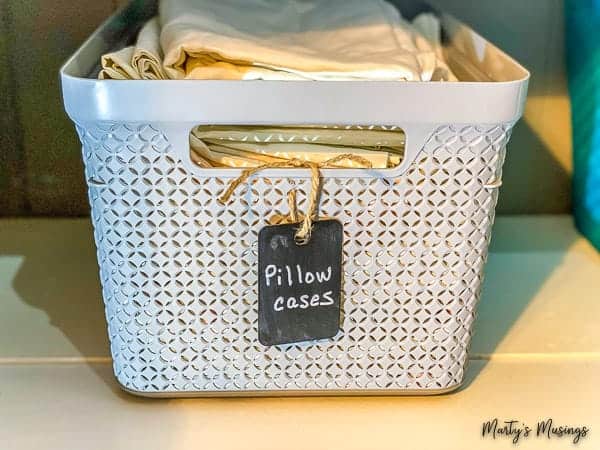 And I'm done! And done in! This may look like a small project but it required quite a bit of work. Now that it's completed I'm thrilled with the finished product!
Do these tips on small linen closet organization make you want to go organize yours? Leave me a comment and tell me what you think!
More organizing and decluttering posts: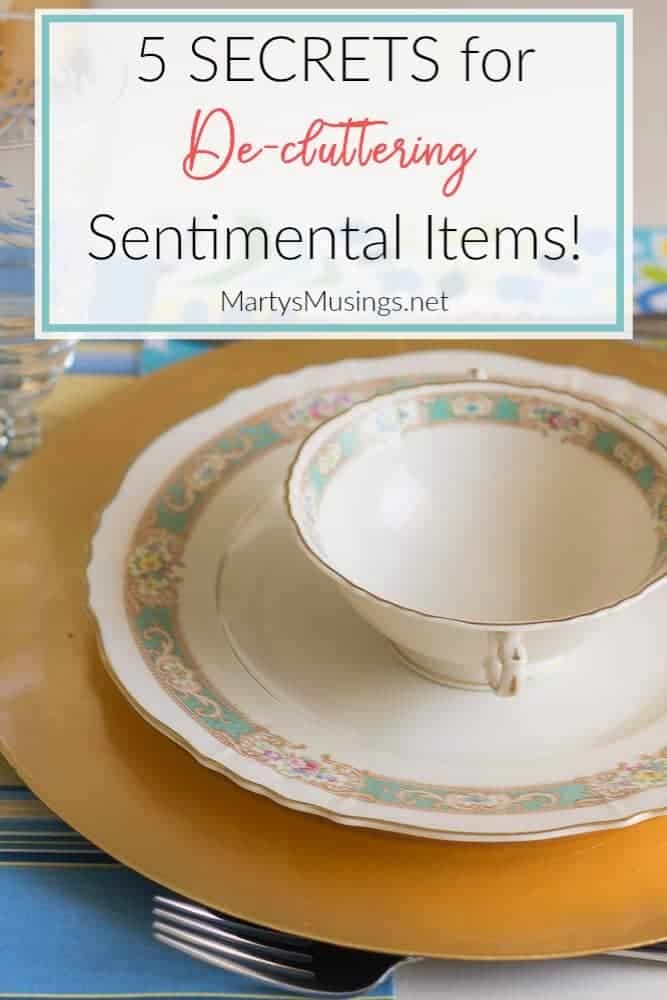 Decluttering Sentimental Items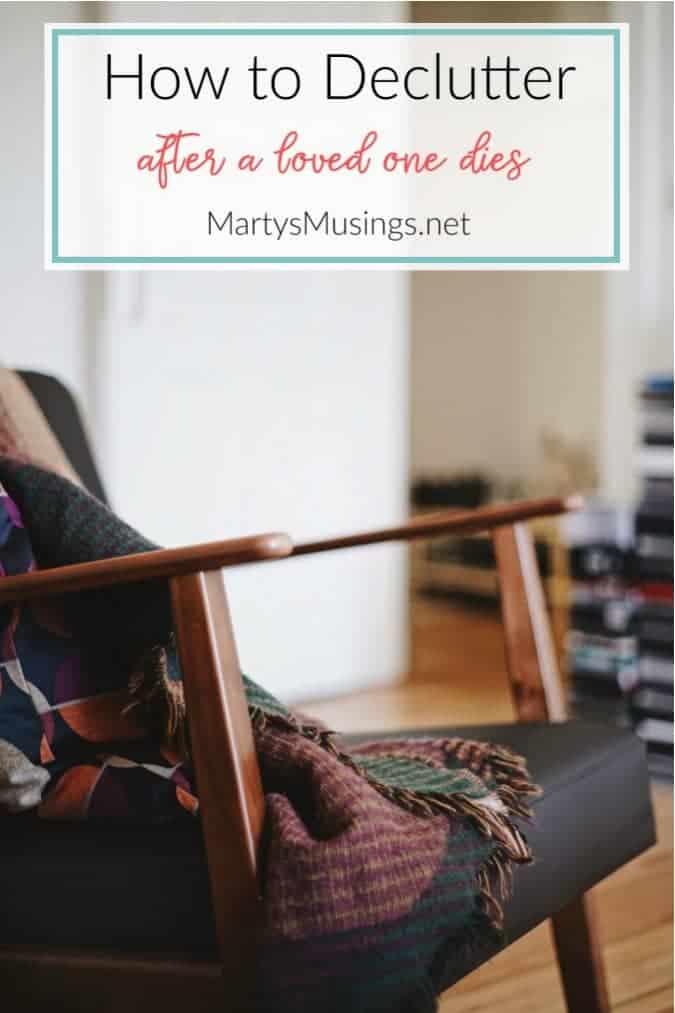 How to Declutter After a Death or Loss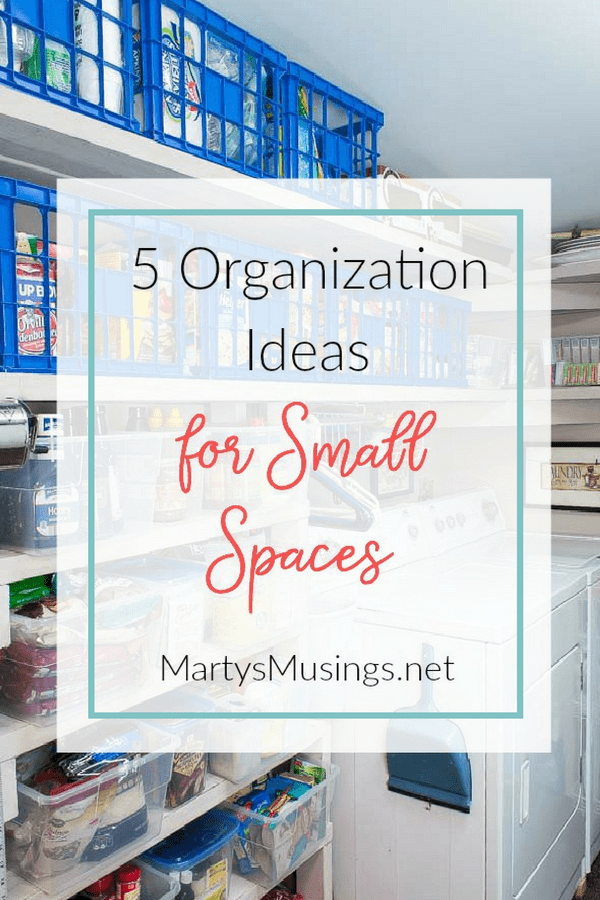 5 Organization Ideas for Small Spaces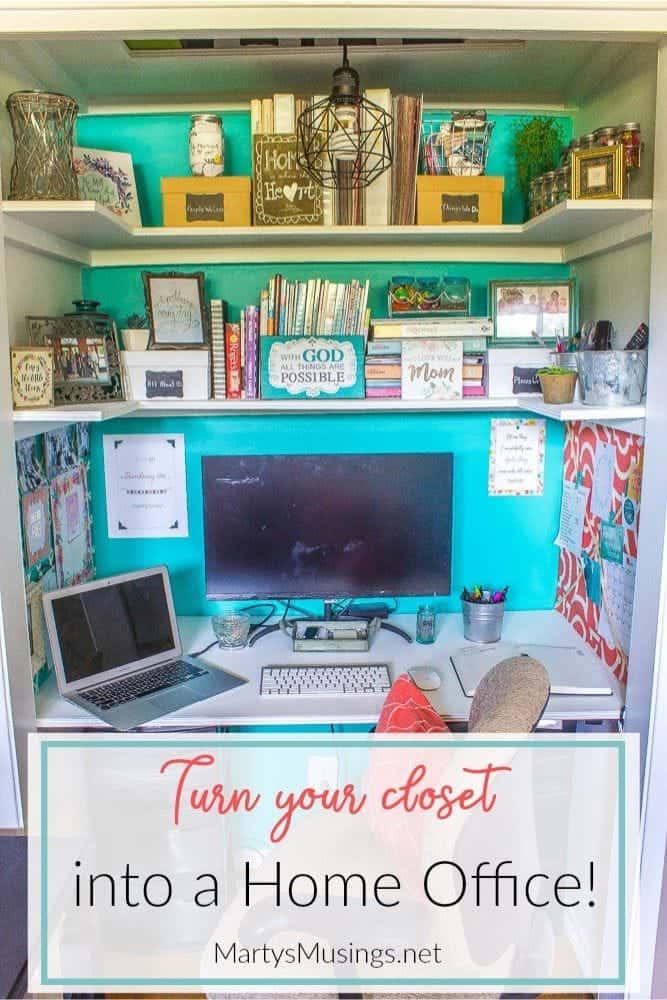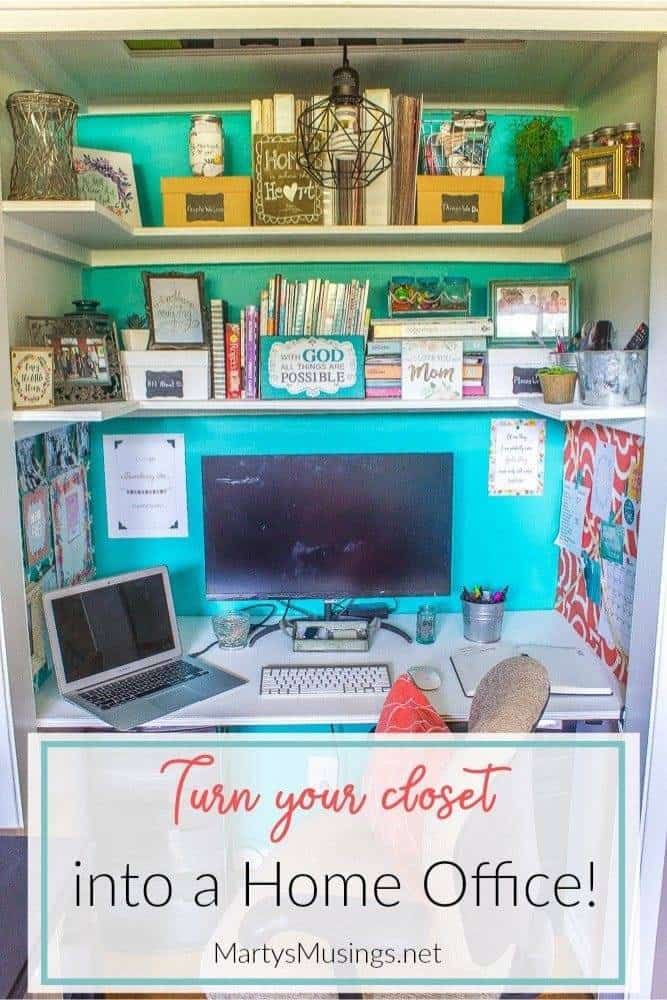 How to Turn an Closet into a Home Office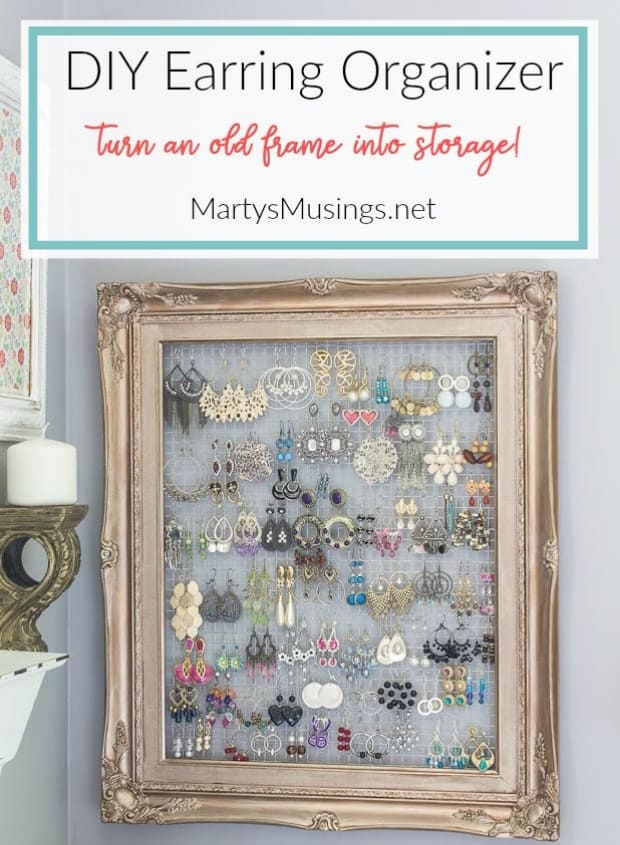 DIY Framed Jewelry and Earring Organizer