How to Turn a Closet into a Home Office
This post may contain affiliate links which won't change your price but will share some commission.
Disclosure: This shop has been compensated by Collective Bias, Inc. and its advertiser. All opinions are mine alone. #CreateWithPilot #PowerToThePen #CollectiveBias
Work from home but no space for an office? Learn how to turn a closet into a home office (plus all the details on the craft room organization!)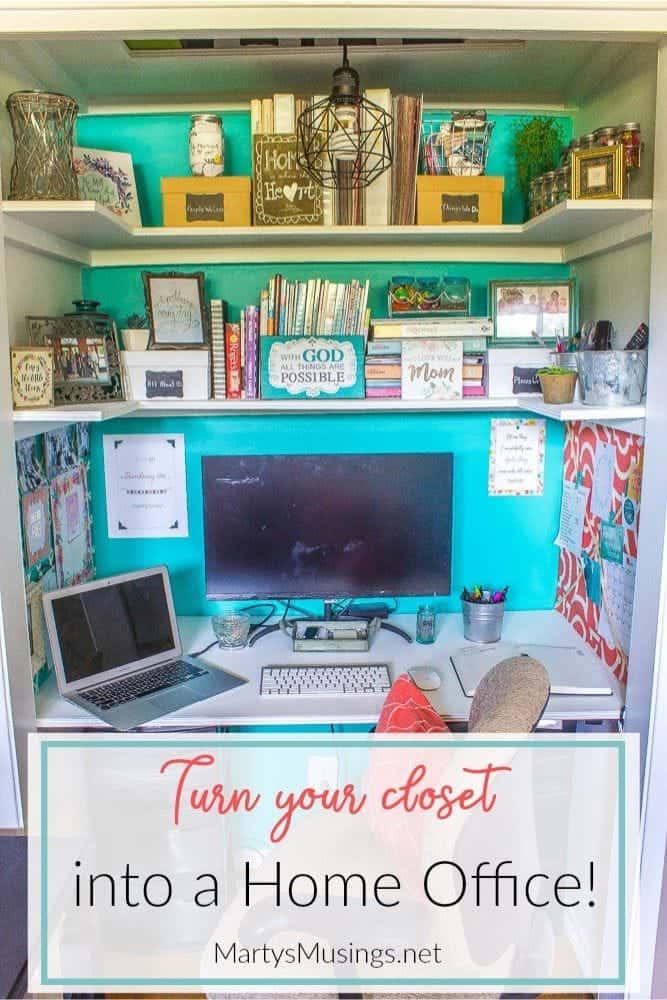 (Check out my video tour at the end of this post!)
When I first started blogging I used the computer that was in our den. Just a desk on a short wall in the room but I could work while the rest of my family relaxed.
Eventually we created an office nook on a different wall in the den and I loved the added space.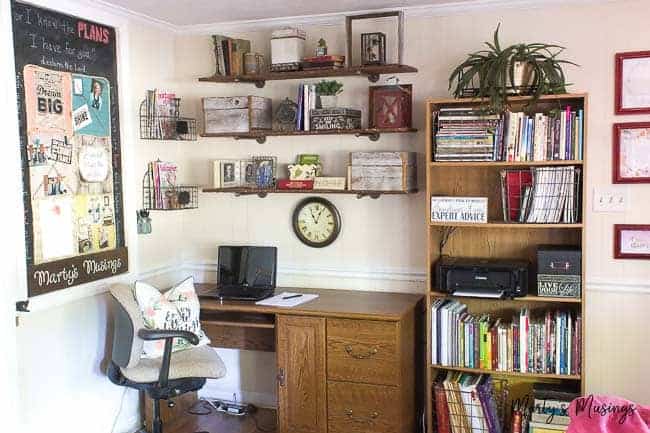 Fast forward a few years, and my oldest daughter kept telling me I needed an office with doors. When we began our huge kitchen remodel (see that amazing reveal here) the contractors were in and out constantly. It was NOISY and DUSTY. (Anybody else remodel and think dust is from the devil?)
Time for mama to take this job seriously. I had finished homeschooling my children (23 years total. Where's my medal? lol) It was basically just me and the dog home during the day, but I knew I wanted a space that would inspire my creative side.
When our oldest son went to college and our oldest daughter got married within six weeks of each other, I needed a project to keep my mind off that grief. My craft room was the result! (You can see this room makeover here.)
As much as I loved that purple wall I needed to go a little more neutral. Okay, a LOT more neutral! That was a "go big or go home" color choice for sure!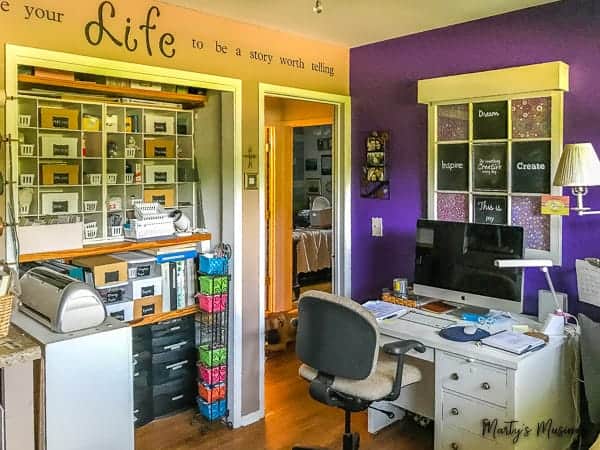 I still love color A LOT, but I balance it with neutral walls and color from the furnishings and decorative elements.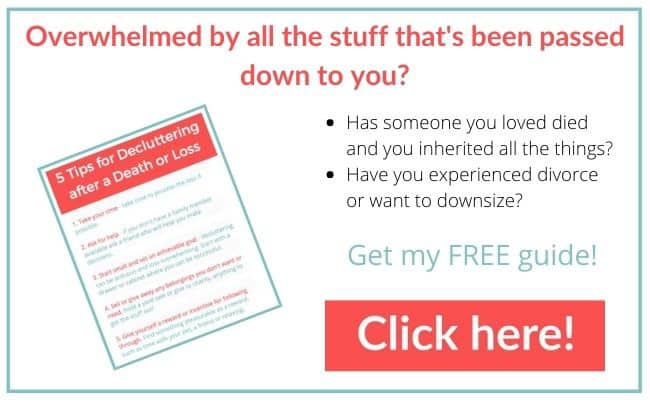 For a while I had a cheap desk in my craft room but it was just so crowded! I needed a place where I could use my day planner and journal, as well as edit photos and all the other business things I do.
On a side note, does anyone else have an absolute FAVORITE pen for journaling? I started using G2® Pens by Pilot Pen a couple of years ago and they're the ONLY ONES I'll use! For real.
Last week I went shopping at Michaels for G2® Pens (the perfect place for all your back to school and office needs.)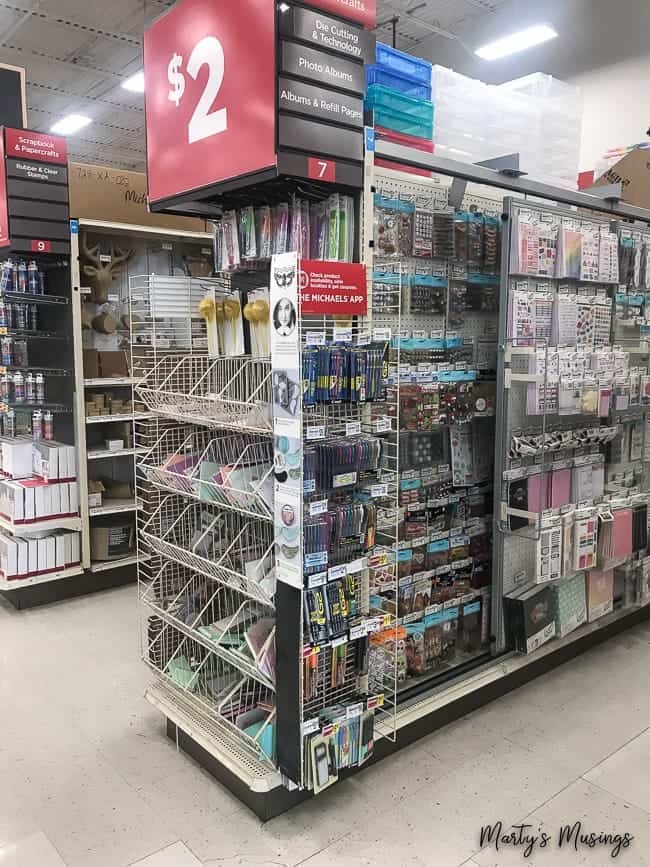 Since I work from home I believe my office nook needs to be a place that is both beautiful and creative. I use the G2 pen for everything (appeals to the Overachiever in me!) This pen writes smoothly, comfortably, and has been proven to last longer than competitive gel ink brands.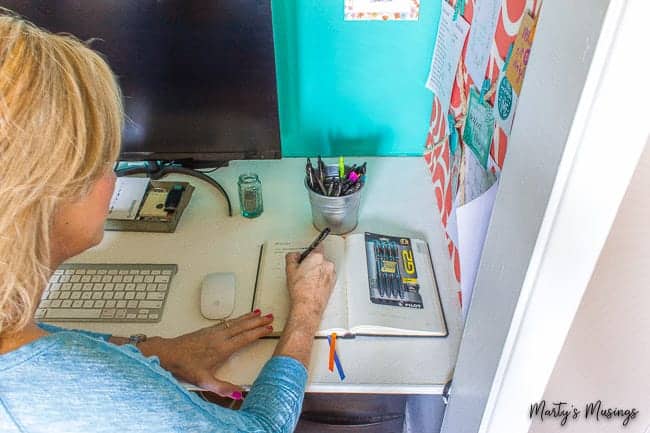 But honestly, all that matters is I love how it performs! (You can shop for them here at Michaels.)
I also purchased a pack of the Pilot G2® colored pens and love them for writing in my personal journal and work planner.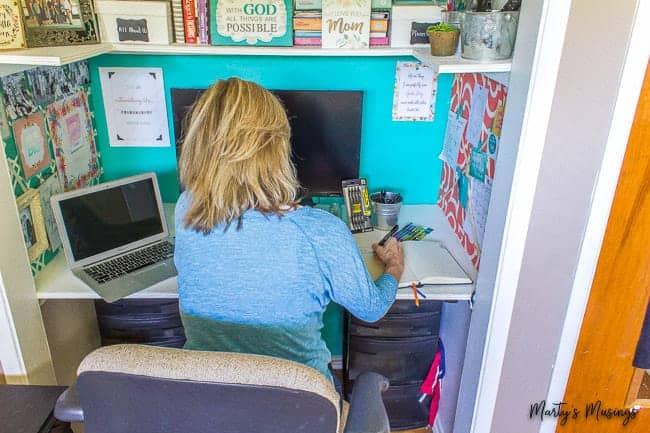 Did you know you can get a teacher's discount at Michaels? As a homeschooler I used that extra 15% every time I shopped. I miss it now that my kids have all graduated.
So what do you think of the way we turned a closet into a home office?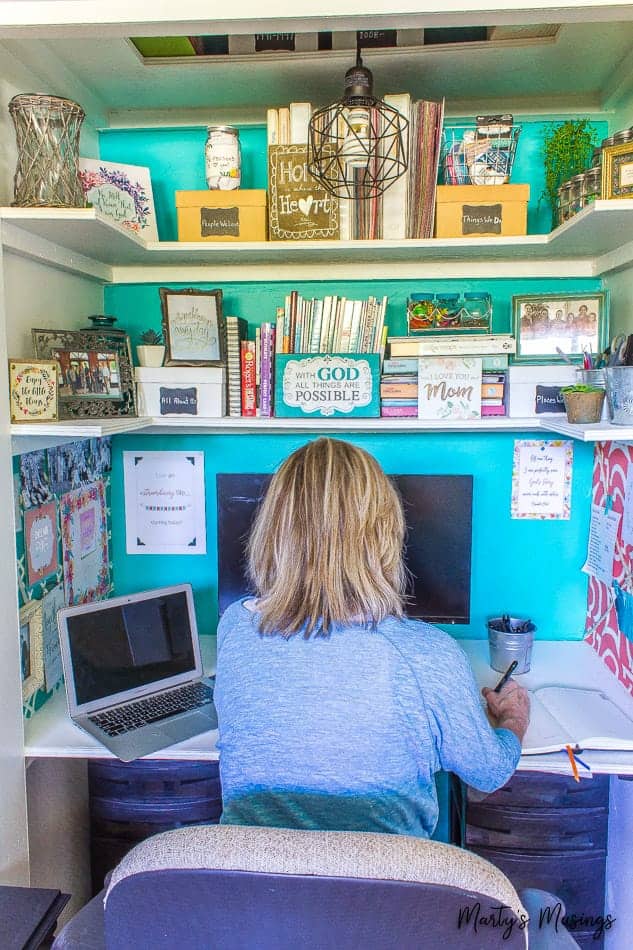 How to Turn a Closet into a Home Office
The most important aspect for me was this teal accent wall. It just makes me happy when I come into my office to work.
I would love to have all the walls painted a lighter color, but the thought of taking all that stuff off the shelves makes me nauseous. Plus, my hubby's kinda tired of so many "honey do" projects! (You can read why in our farmhouse bathroom remodel reveal.)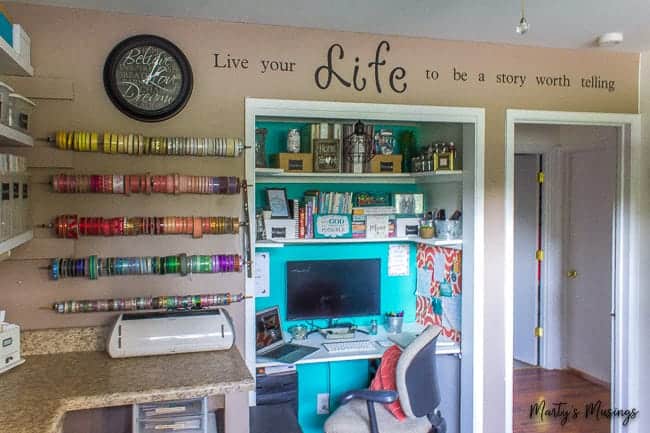 Tim cut these shelves out of plywood. Each shelf is just one piece and is perfect for the open concept I wanted.
The shelves are filled with both practical storage and inspirational sentiments, family pictures and evidence that I am loved.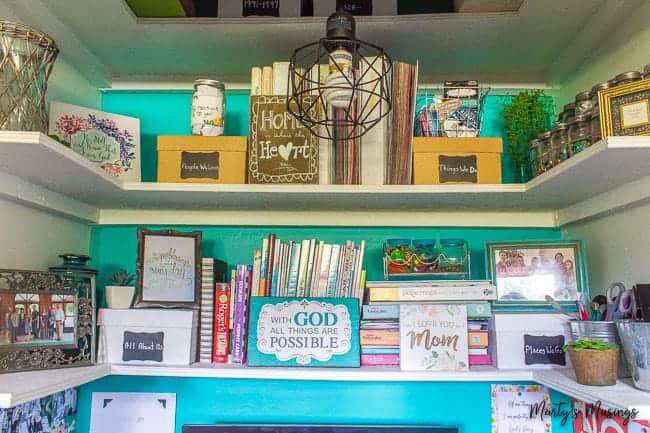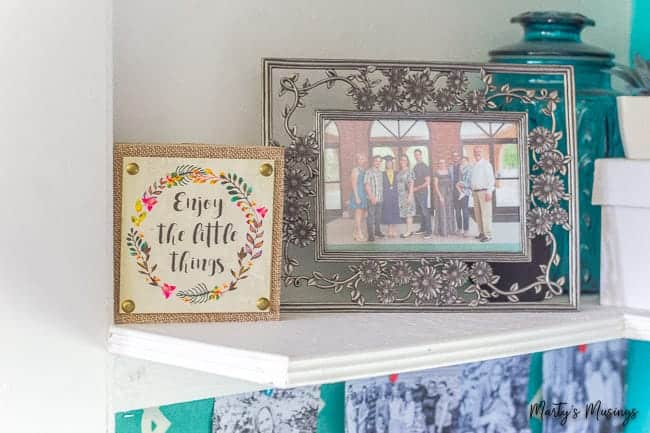 I used fabric I bought off facebook marketplace to create two bulletin boards on each side. Since I was a big scrapbooker I used part of my collection to create art that would inspire me.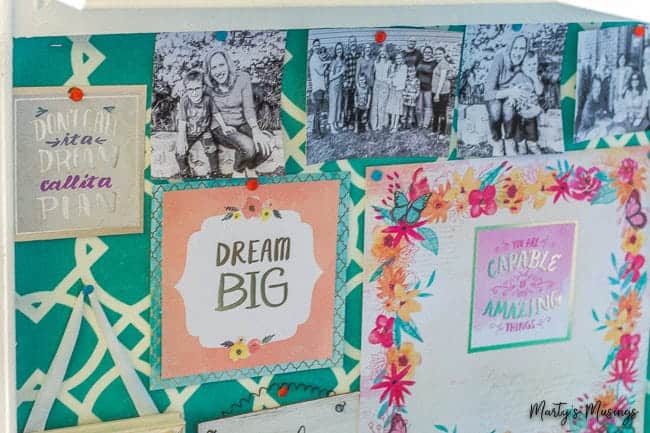 I also criss crossed jute to create a place where I could add a calendar and notes.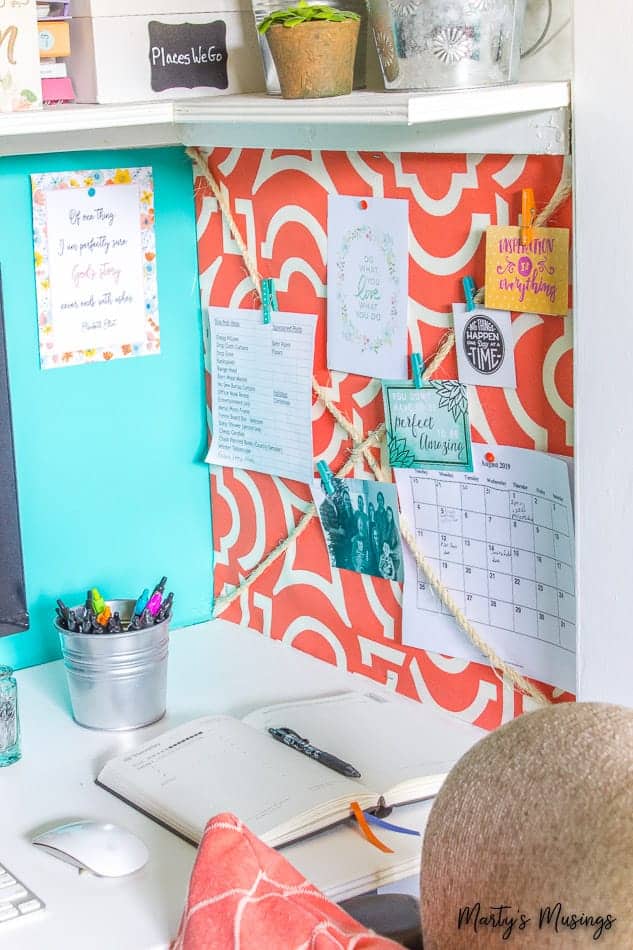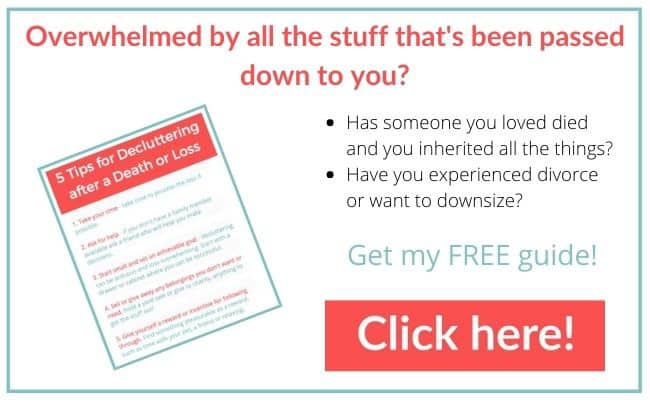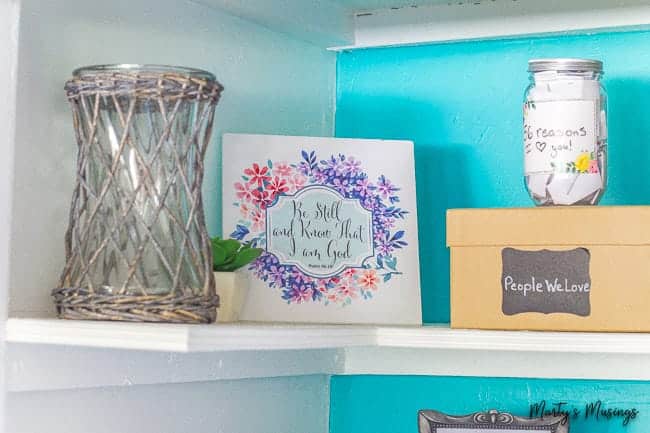 This $3 table was chalk painted black for a place to put my laptop, which hooks up to a large monitor for photo editing.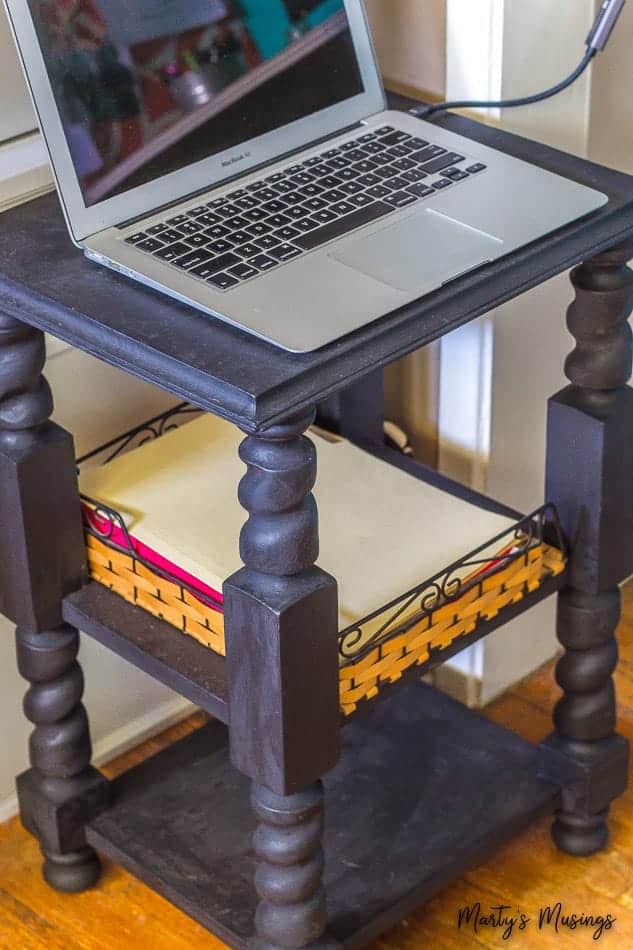 In this picture you can see a better look at the entire room.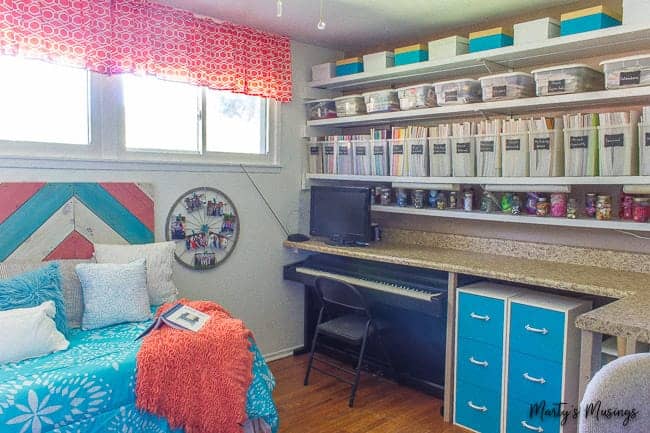 Tim built the daybed out of fence boards and chalk painted them. Isn't it amazing?
I bought three pairs of window treatments and cut one in half to add to each side to make them wide enough.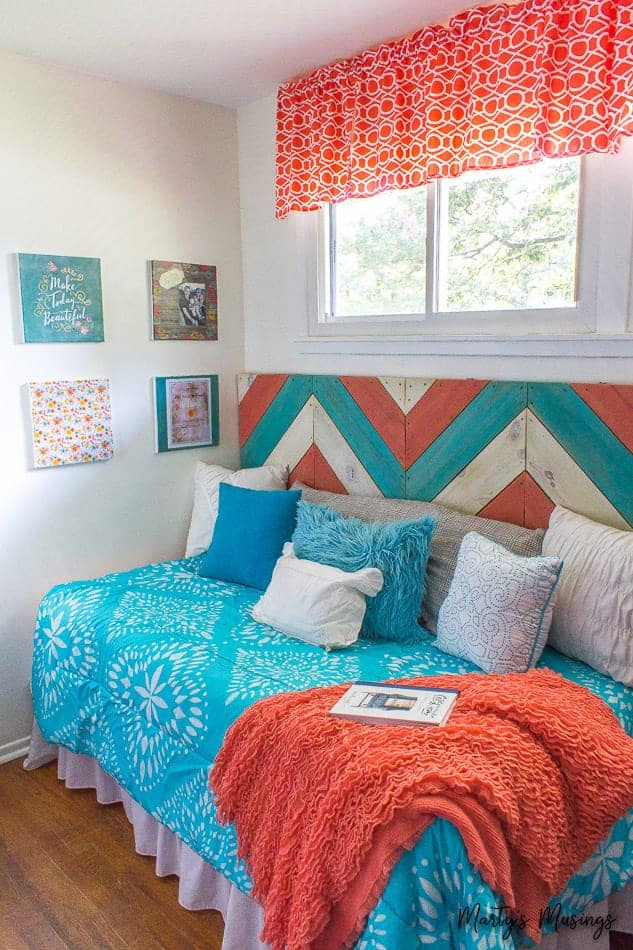 Pillows are yard sale finds!
You can see the 12×12 canvases I decoupaged with scrapbook paper below. I love these patterns so much!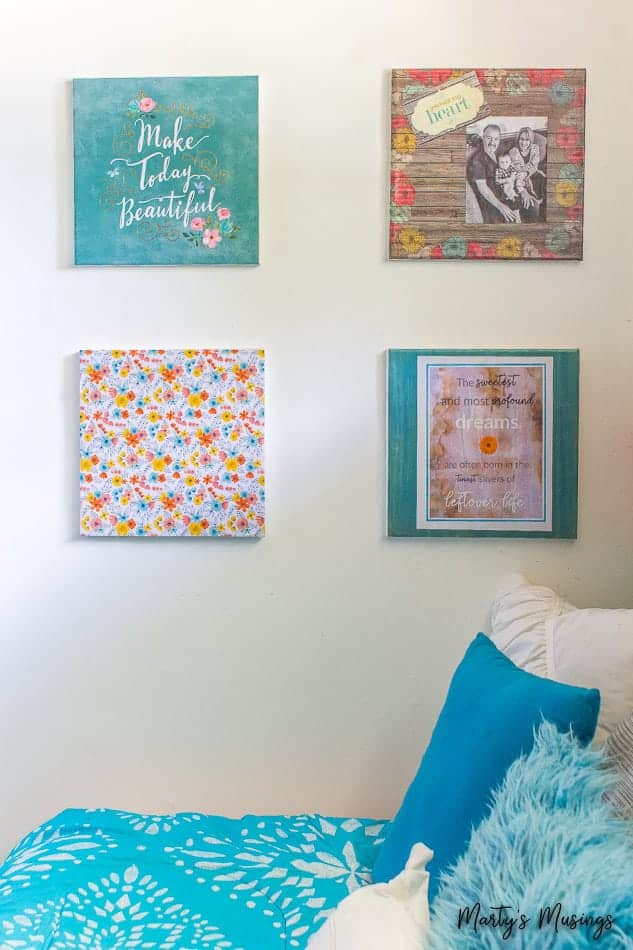 I painted these inexpensive boxes the same color as drawers below. Such an easy way to add a pop of color and still stay organized.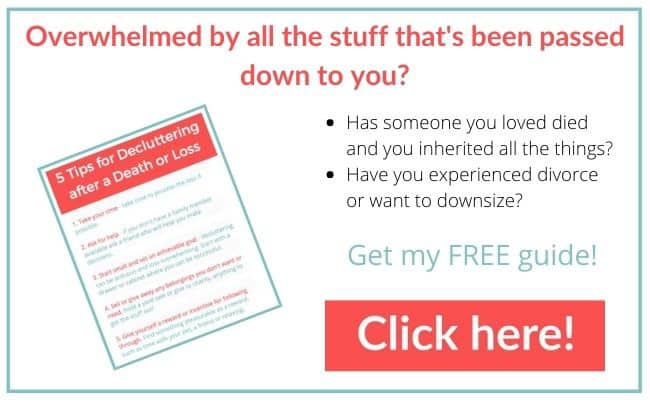 These drawers have been in this room the entire time but were in sore need of a makeover. I chalk painted the drawer fronts and added inexpensive new handles.
The file storage boxes are my favorite for storing my HUGE collection of scrapbook paper!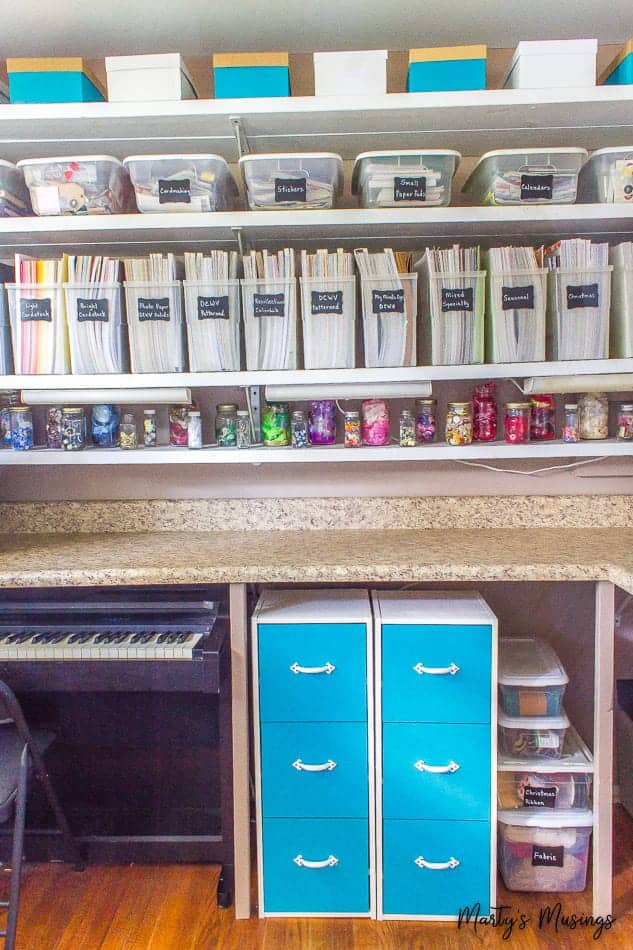 Love this storage unit and canvas baskets! The baskets on top were scored for a $1 each at a yard sale.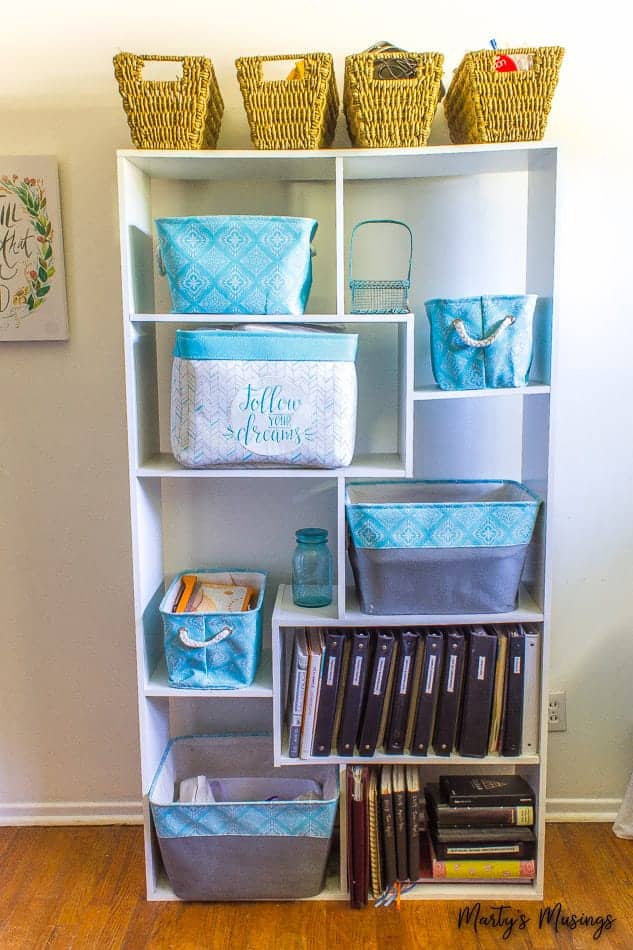 I used both teal and aqua in this room and they're both such happy colors for me. Oh, and the coral. So so fun!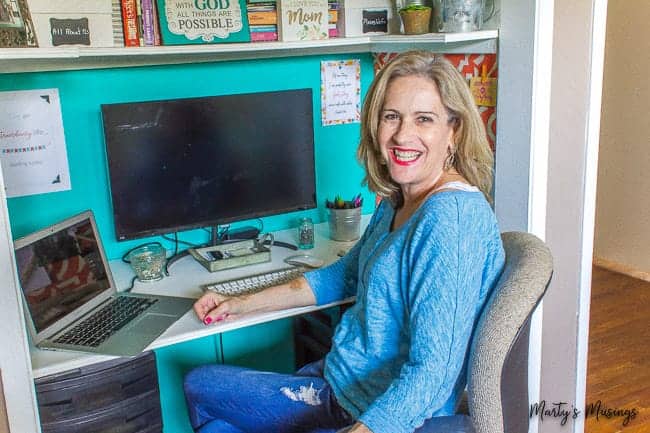 There's still some work to do on this room but if I waited until it was perfect you'd never see it!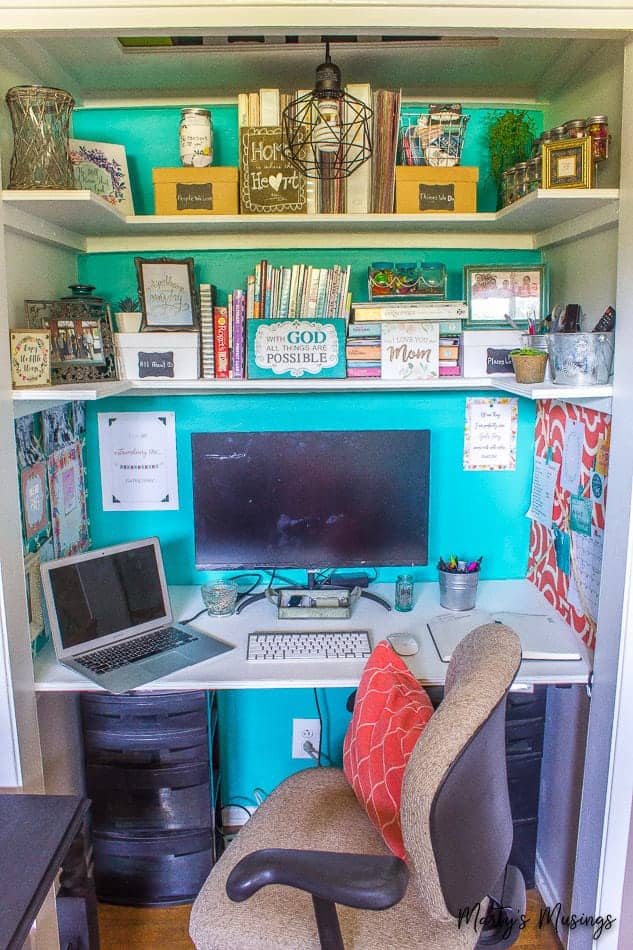 Take the virtual tour here!
Remember you can buy Pilot G2® pens at Michaels now!