Create an Organized and Thrifty Home Office Nook
This post may contain affiliate links which won't change your price but will share some commission.
Create an organized and thrifty home office nook in your home with these simple tips on organizing your office space, time AND your life!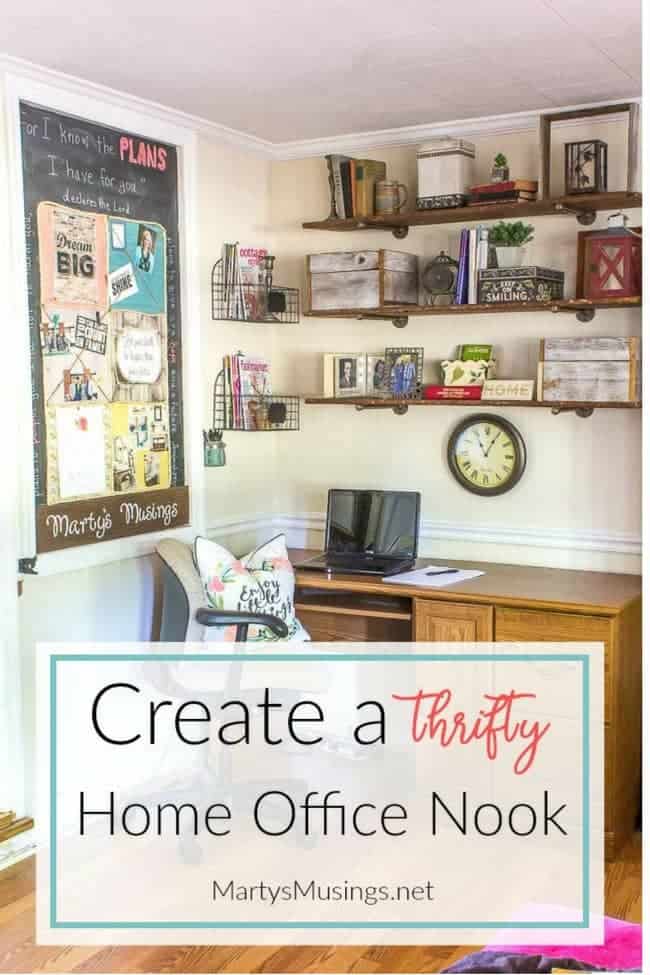 It seems everyone wants to work from home these days.
Ah, the luxury.
Leisurely mornings, cup of coffee in one hand, checking emails on the cell phone with the other.
Checking off to do lists with efficiency and speed while juggling schedules and family needs.
The best of both worlds.
Screeeeech!!!
That's the sound of reality interrupting the daydream.
More than likely if you're a work from home mom boss/entrepreneur/juggler of many balls in the air, you jumped out of bed today, frantically began to get the kids ready for school, lunches packed, pets fed, a load of laundry started, dinner in the crockpot and on and on until you fall exhausted into bed tonight.
I feel your pain, not because this has always been my life, but because most women I know burn the candle at both ends. Whether you stay at home raising your kids, work full time outside the home or seek desperately to find a balance somewhere in-between, life is busy and stressful.
Since we're all in this together I thought I'd share a few ideas for those of you who might need some extra motivation and inspiration as you work from home (or dream about it!) There's definitely been a learning curve for this former homeschool mom turned business woman.
Or maybe you just need some help prettying up your school area or home file storage. I think you'll find tips and suggestions for all of these and more!
I've already shared a couple of projects from my home office nook (How to Build Industrial Pipe Shelves and Make New Wood Look Old and my DIY Bulletin Board) but I wanted to show you the entire small space in my den.
Let me remind you where we started.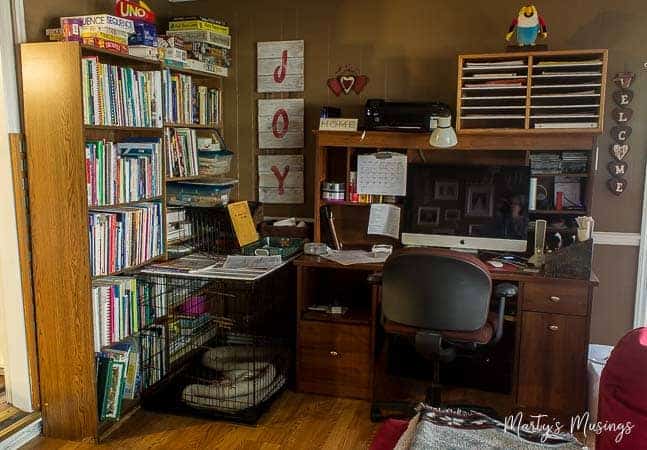 This corner of the den was shared with our homeschool books, the dog's crate and as a catch-all for ALL THE JUNK. Pretty isn't it, and such an inspiring place for a creative to work don't you think? (And those brown walls? HAD TO GO.)
You can read more here about how we found this space 28 years ago (cue the really UGLY picture in that post) and created a fresher, more efficient use of our small space.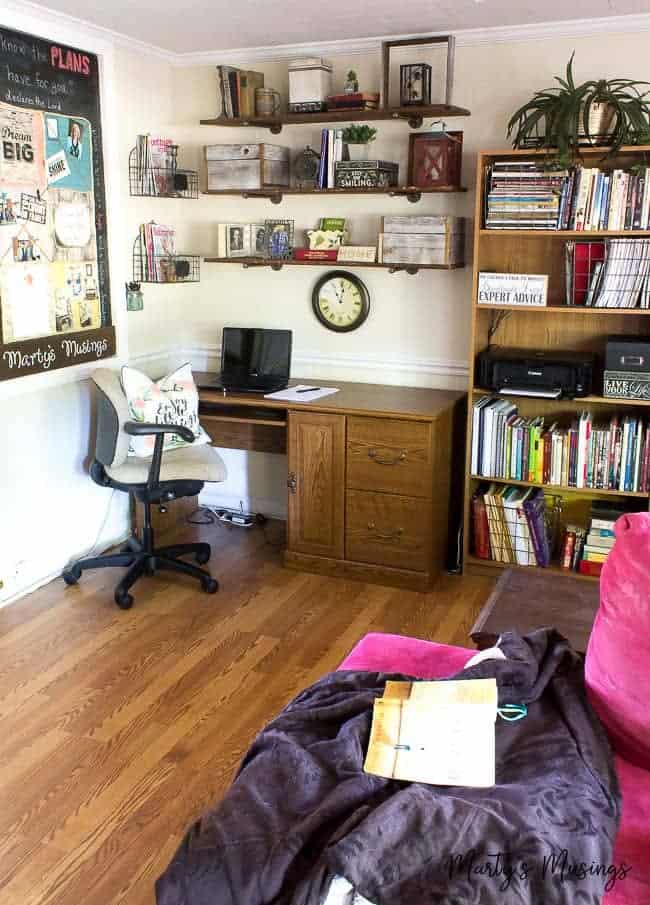 Quite a change don't you think?
You might be wondering: what's the big deal about this work at home deal? Sounds like a piece of cake.
Think again, my friend.
Create an Organized and Thrifty Home Office Nook (Plus Tips for Working From Home)
Create a routine
I'm gonna confess from the get go that this is a hard one for me. After years of flexibility as a stay-at-home mom, finding a routine that works has been challenging.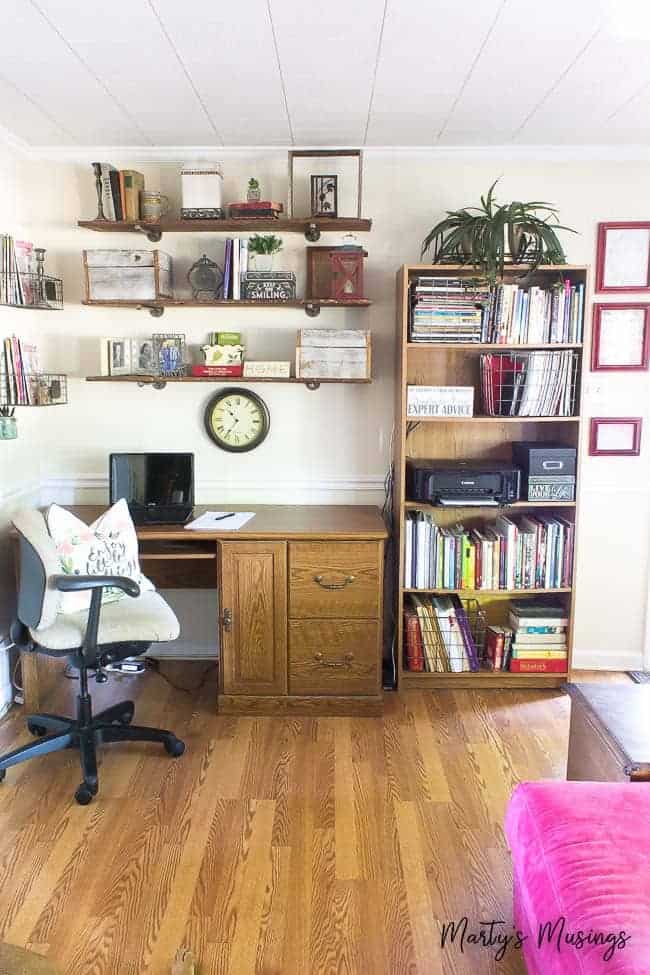 Yet it's also a necessary piece to the puzzle of keeping your business, home and life moving forward.
Routines create consistency for everyone involved and help make sure you get the things done that are important…..like finishing those projects and spending time with those you love!
Dress the part
As a homeschooling mom for 23 years, it was easy to enjoy a more leisurely morning reading to/doing projects with the kids in their pajamas (and mine!)
These days it's rare that I'm not dressed early. Usually it's my workout clothes first, then a shower and normal everyday clothes follow. If I'm running errands I try to make an effort to be more presentable (makeup on a good day!)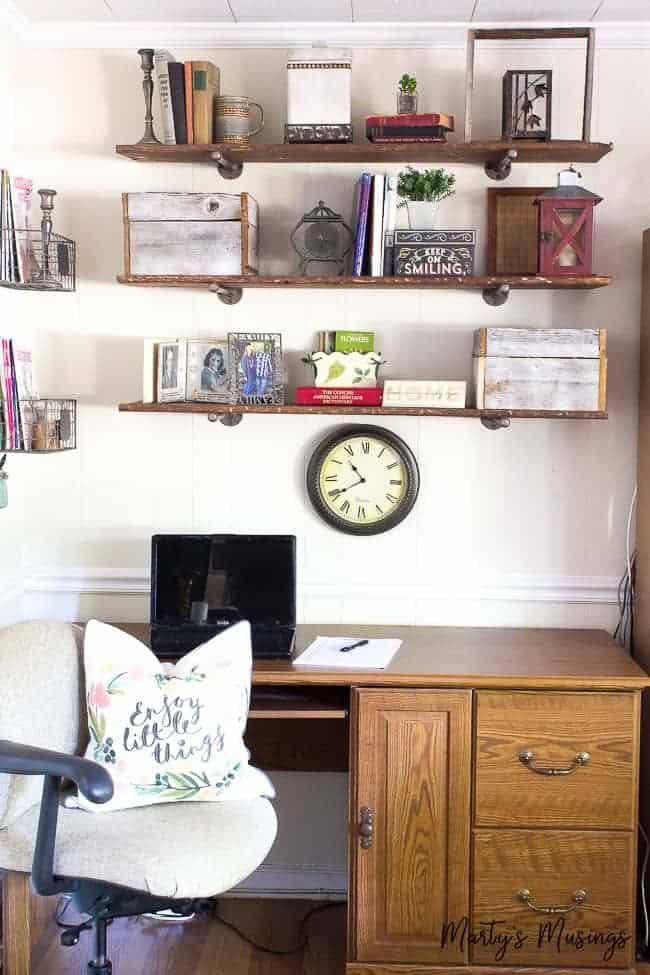 When I dress the part of a business woman I respect myself and take my job more seriously.
I'm not talking dresses and heels, but sometimes clean jeans rather than dirty yoga pants is a step up!
(In my office, this sturdy desk hides most of my files and necessary office supplies. I was tired of the matching hutch unit so my DIY hubby built me these industrial pipe shelves and made new wood look old to blend in with my rustic, shabby chic style.)
Prioritize your time
Is it just me or can hours go by with seemingly nothing getting accomplished?
I'm a pretty driven person by nature and I place fairly high expectations on myself. However, I'm just as easily drawn into the social media abyss as the next person.
DON'T DO IT.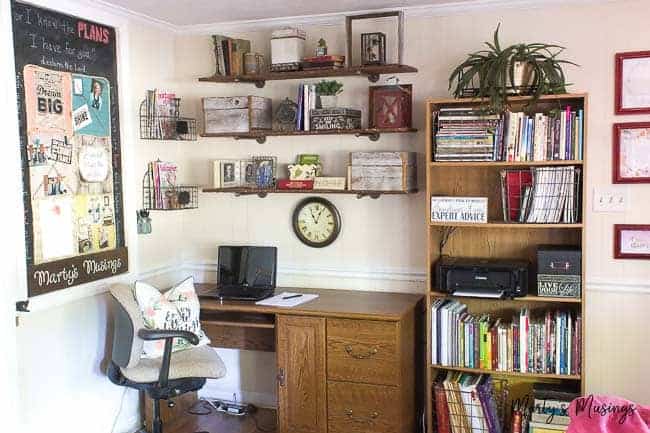 Respect your time limitations and stay off social media unless you've added it to your daily schedule.
I'm preaching to the choir here, y'all. I can use the excuse all day long that "it's part of my job" as a blogger/website owner/mompreneur.
But we both know we're scrolling feeds looking at the pretty food, reading the latest drama and seeing whose kid did better than ours.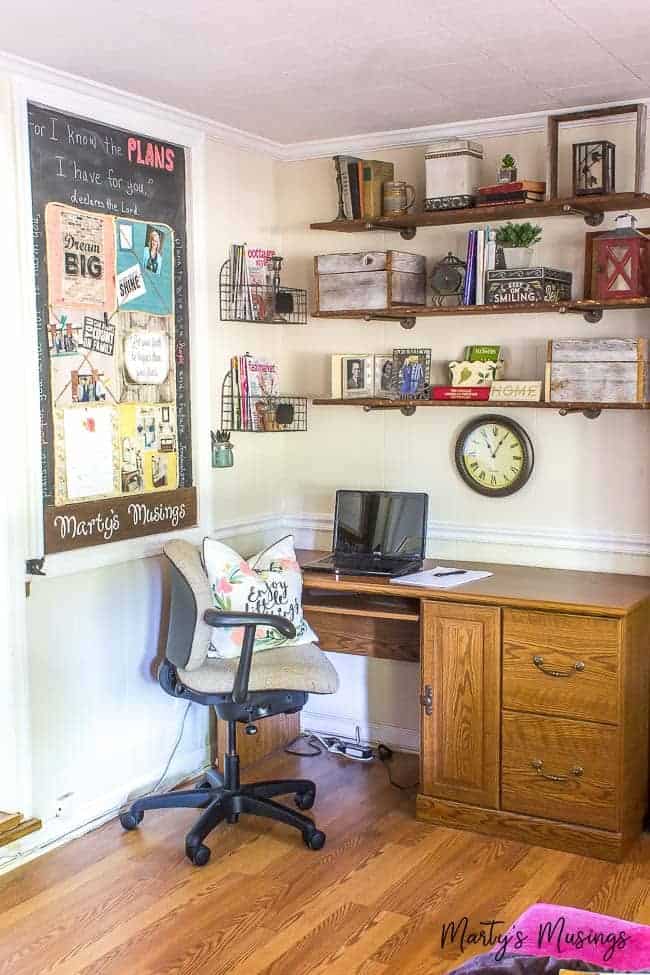 Stay focused and prioritize your to do lists. You only have so much time in the day. Make the most of it.
(This post contains some affiliate links for your convenience. Click here to read my full disclosure policy.)
Make your office space pretty
I don't know about you, but I work better when my eyes are resting on something beautiful and creative around me.
One of the best parts of my small home office nook is this built-in DIY bulletin board.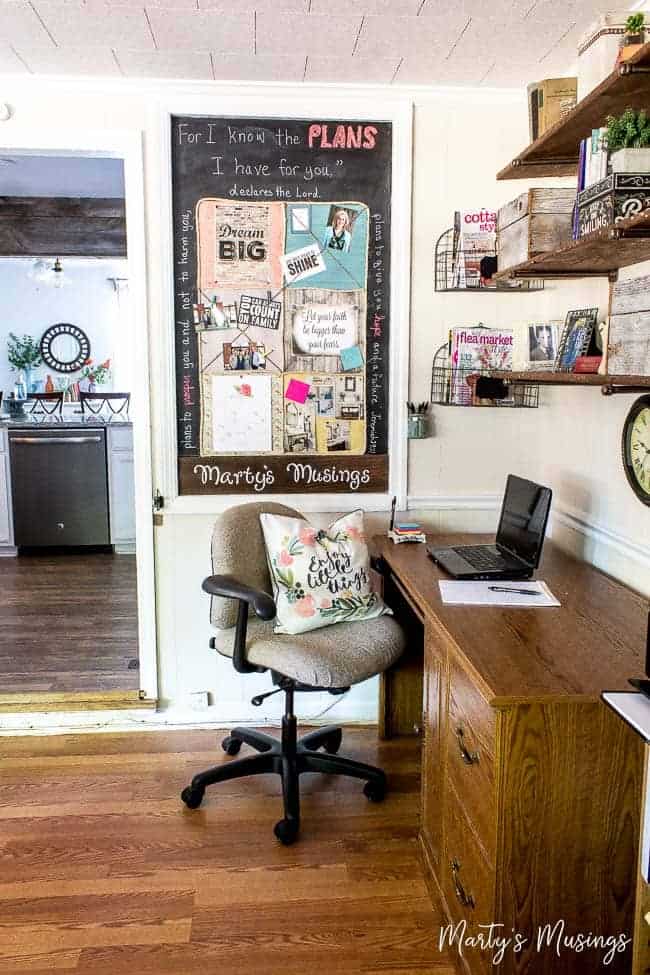 I keep quotes, ideas, family photos and my life verse as a reminder to focus on my goals and remember why I do what I do.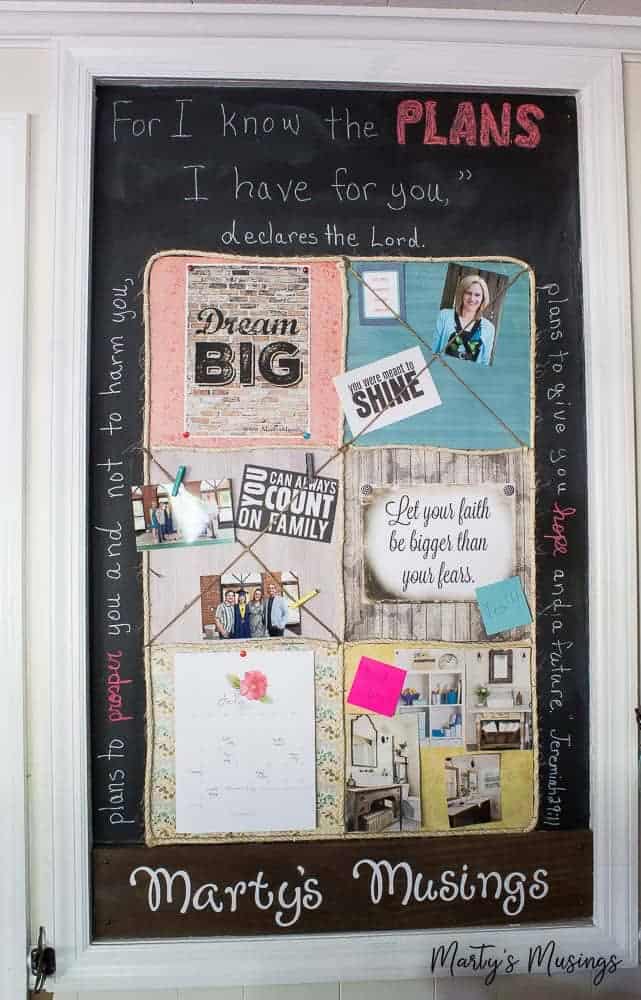 This wall decor was put together from an inexpensive stack of frameable quotes in $1 yard sale frames that I sanded just a touch to look distressed. I chose words that would inspire and encourage me to work harder.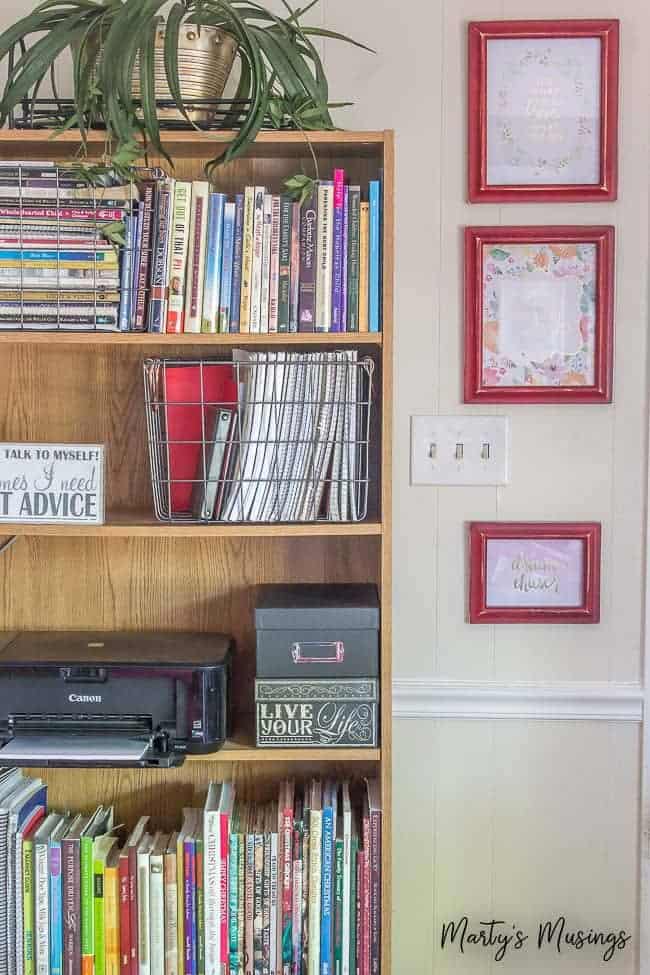 Think about what you want in your space. Is it bright colors (to keep you awake, lol!) or subtle floral patterns, a touch of modern or rustic accessories?
Get organized
I don't deal well with clutter. It messes with my ability to focus on the task at hand so I try to store items in an attractive way or keep them out of sight.
I used these metal baskets to store books and notebooks as well as copy paper and empty file folders.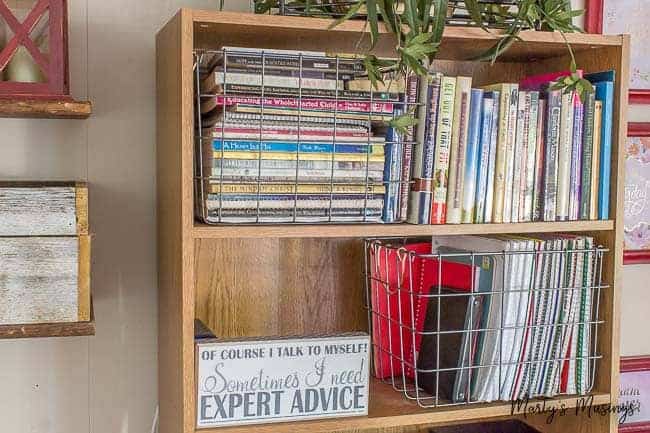 Remember you still have to work in your space but whenever possible hide the ugly if you can! I used a cute little wooden plaque to hide our router and those photo boxes hide envelopes and other office supplies.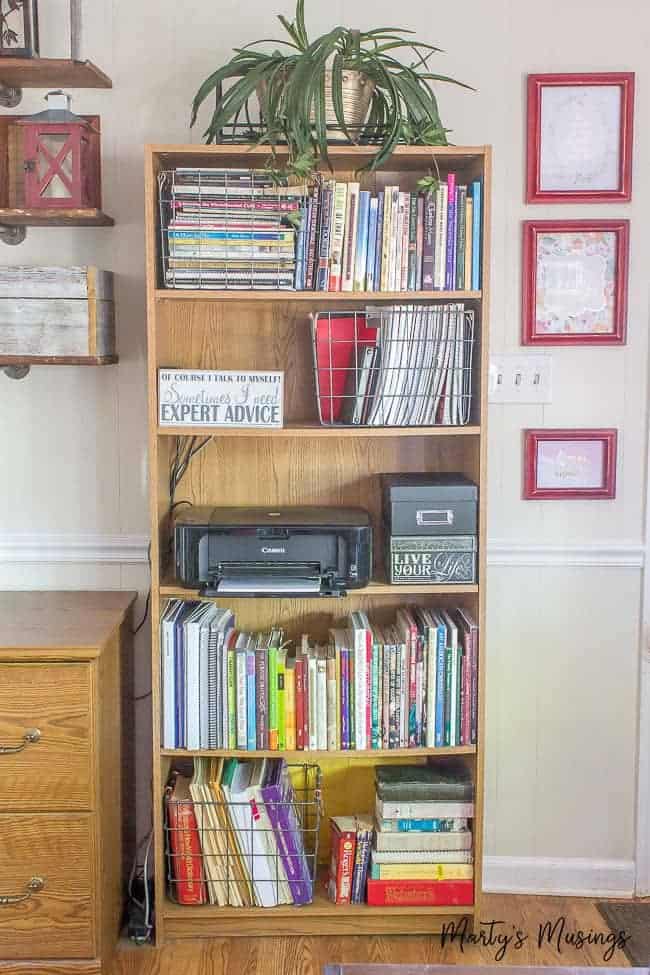 Since my home office nook is in the corner of our den I need all the storage I can get. These metal wall magazine/file holders provide a great way to store my decorating magazines (or you could use them for file folders or whatever you might need.) Notice I didn't bother to label them. #notgonnastress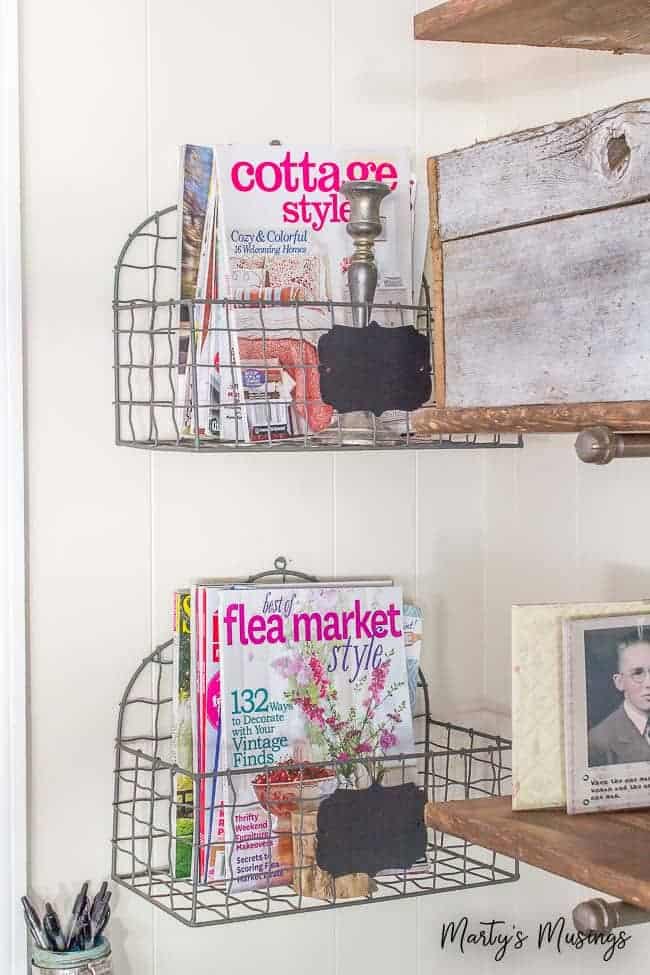 A word of advice?
[clickToTweet tweet="You can't do it all. No one can. Do your best and let go of the rest." quote="You can't do it all. No one can. Do your best and let go of the rest."]
So much easier said than done but whatever stage of life you're in, it's worth remembering!
Most of the items I used for my home office nook were purchased on sale but I wanted to include some links to similar office decor items you might like!
HOME DECOR SHOPPING LIST
Wire storage basket
Metal wall magazine/file holder
Enjoy the little things pillow cover
18×18 pillow insert (here or here)
Wall clock (not sure where we got ours but I love this one!)
DCWV Frameable Quotes (5×8 and 8×10 sizes included)
Home is where our story begins sign (similar one here)
Black photo box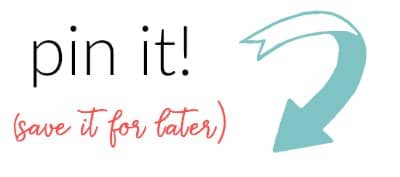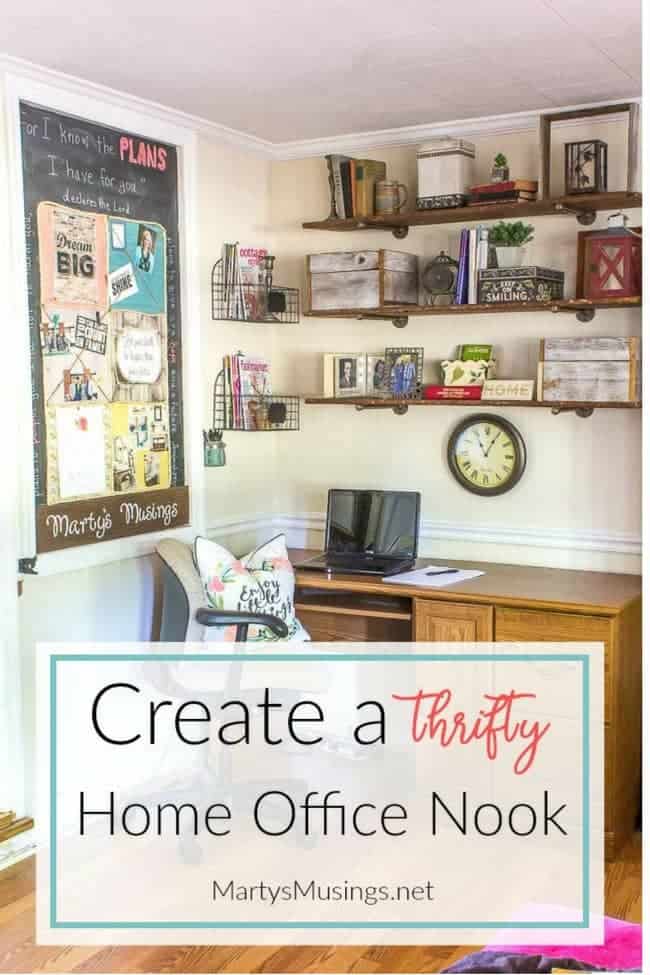 SaveSaveSaveSave
SaveSave
SaveSave
SaveSave
SaveSaveSaveSave
SaveSave
SaveSaveSaveSave
SaveSave
SaveSave
SaveSaveSaveSaveSaveSave
SaveSave