This homemade potpourri is easy to make, smells amazing and adds a festive scent to holiday parties and celebrations. Perfect for any occasion!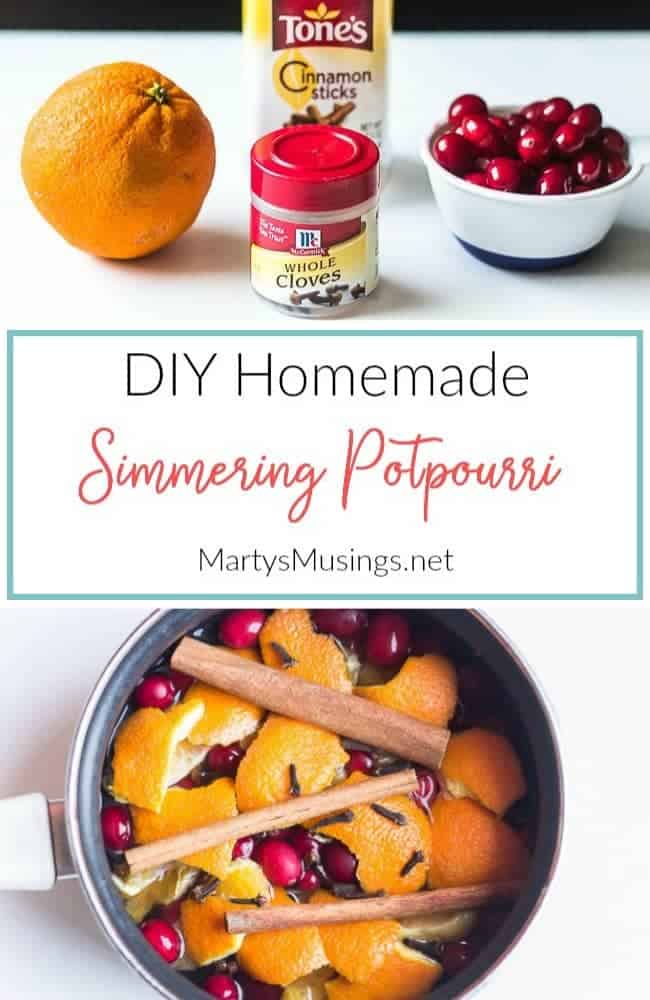 When you walk into your home what do you see?
Is it cluttered or clean? Messy or orderly?
What sounds do you hear?
Is it the sound of your beloved pets welcoming you home or the laughter (or bickering) of children?
What do you smell?
Pet odors or air freshener? Your spicy garlicky dinner or the scent of flowers?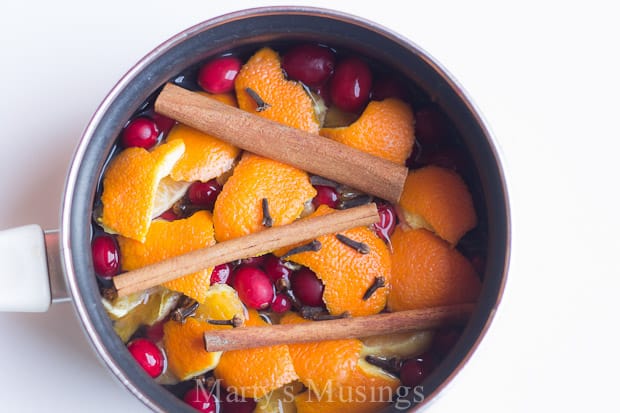 I almost always notice the smells as I engage with my surroundings.
A pleasant scent immediately makes me feel welcome while an overpowering odor grabs my attention.
Does anyone else feel the same way?
We've owned pets for years and I always wonder if someone might sniff out a bad odor when they visit us.
With this easy simmering homemade potpourri the worry is gone!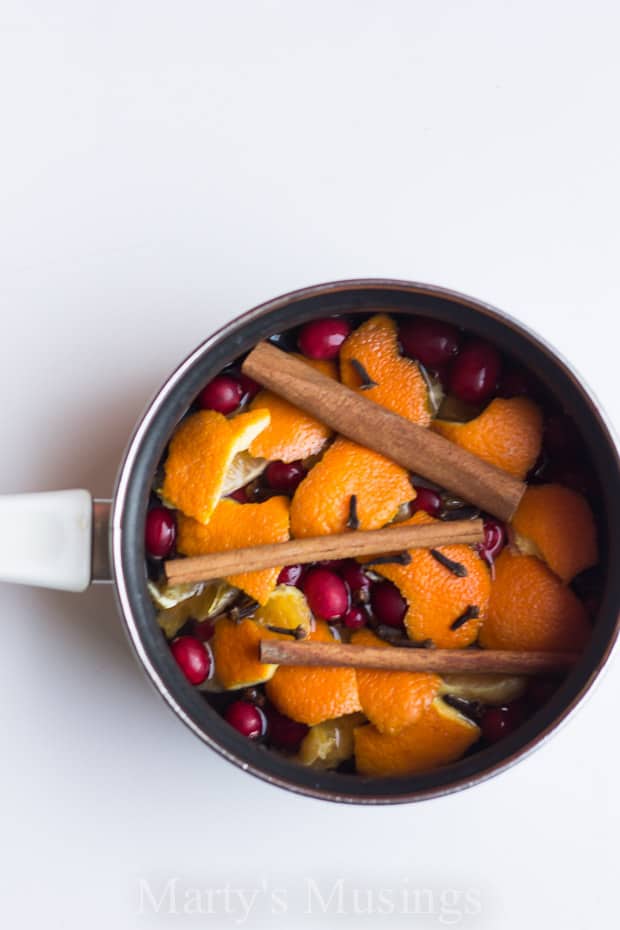 I love to make the potpourri because it's easy, smells amazing and adds to the festive party atmosphere when I'm entertaining.
Made with four ingredients, the potpourri will have your home smelling like the holidays in no time!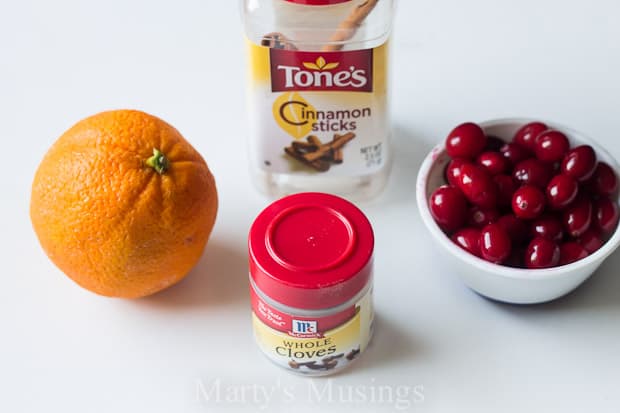 The cinnamon and cloves together create such a rich fragrance that I also enjoy using it during the day to get us in the holiday spirit.
Next month, put on some Christmas music, take out the baking supplies and make some memories with your family!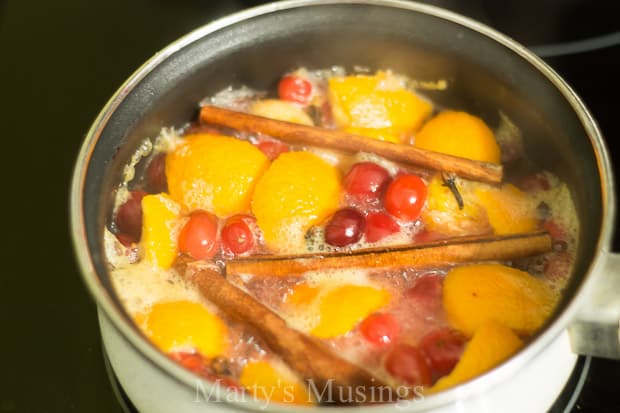 Simmering Homemade Potpourri
(I've included some affiliate links for your convenience. Click here to read my full disclosure policy.)
Ingredients:
1 whole orange or orange peel
1/2 cup cranberries
1 tbs whole cloves
3 Cinnamon sticks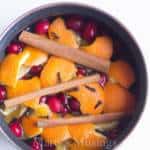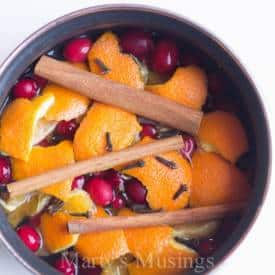 Simmering Homemade Potpourri
Make this easy homemade potpourri for a delightful holiday home!
Keyword:
Homemade Potpourri
Ingredients
1

whole orange or orange peel

½

cup

cranberries

1

tbs

whole cloves

3

sticks of cinnamon
Instructions
Quarter the orange and add to a small saucepan (or just use the orange peel).

Add cranberries (I had some frozen) and cinnamon sticks.

Fill pan with water and and set on lowest burner setting.

As the potpourri simmers, add water as necessary.
Recipe Notes
Do not allow the water to evaporate. I check the water and refill as necessary every time I use it.
Potpourri will last several weeks, but you can add more ingredients to freshen the scent as necessary.
This mixture will fill your house with the warmth of the holiday season!
Have you joined me for my 31 days series yet? It's not too late to follow along!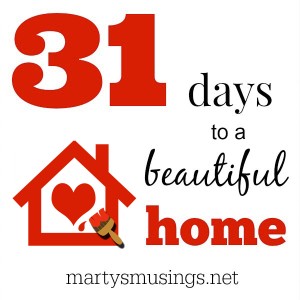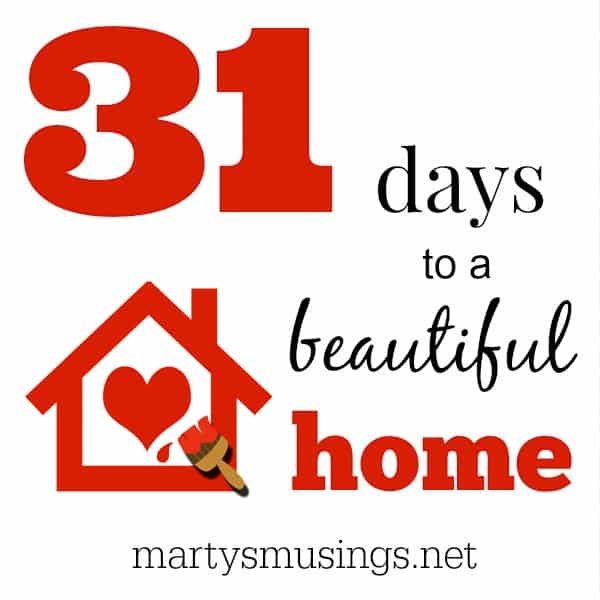 My hope is that my 31 Days to a Beautiful Home series will motivate and inspire you to spend just a bit of time creating a home you will love and embracing the life you have been given! Just click here to view all the posts.