Are you paralyzed by your home? Exhausted, overwhelmed and don't know where to begin to create a home you'll be proud of?
Does this describe YOU?
You struggle with letting go of sentimental items.
You're afraid you're going to need "it" one day.
You want to save your family the trouble and weight of dealing with all your stuff when you're gone.
You want to downsize but you just can't figure out how to accomplish it.
You are not alone.
I believe there is hope to heal from loss and reclaim your home.
How did you get here?
Maybe you've sadly been tasked with the chore of taking care of a family member's earthly possessions.
Quite possibly you're the family caretaker of all the sentimental memorabilia.
Perhaps you've even suffered a divorce but don't understand why you just can't let go of all.the.stuff.
The things that used to bring you joy are now gathering dust, getting in the way of what's important: FREEDOM to enjoy your home and not feel like you're in a prison.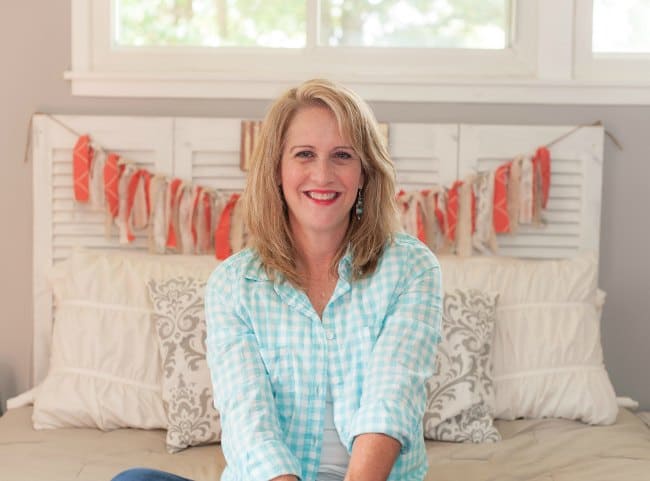 As my husband and I raised our five biological and adopted children I felt like our home was in constant chaos.
Three months after we adopted a sibling group of three children, my sister died of a massive heart attack at age 53. Life was already overwhelming but immediately became heartbreaking as well.
Over the years I've tried to be the best aunt and substitute mom figure to my niece while juggling my own busy life homeschooling five kids.
Just a few years later my parents went from their home to a nursing facility in the course of three weeks.
It was devastating.
They were unprepared and I was stunned and completely alone. I was tasked with disposing of everything except the few things that would fit into one small hospital size room.
I was grieving both my parents ill health and the grave responsibility thrust upon me as their daughter.
I'll never forget how I wished someone could have walked beside me and told me where to begin and which steps to take next.
I am oh too familiar with grief and the necessity for dealing with life's last possessions.
I've learned some valuable lessons along this journey and I'm passionate about helping others discover the hard fought peace I've found.
Decluttering is overwhelming.
Finding a place to start may be the hardest part of all.
Doing it alone feels like one more heartbreaking struggle.
Yet the truth is letting go of the STUFF can lead to freedom: a home you can be proud of and a respite from the storms of life.
What you will gain from my coaching services?
THREE VIRTUAL PRIVATE COACHING SESSIONS WITH ME FOR $97

a plan to help you choose where to begin dealing with all your stuff
permission to let go of sentimental items
assistance in locating resources for donations and/or selling what's important
bringing order back to your home
steps to take once the decluttering is done
I was not expecting reality here. I was just looking at your de-cluttering information and not expecting more than a list and some cheerful encouragement. I almost didn't continue with your site, because I'm bogged down with challenges that cause anxiety, depression, and PTSD. Another happy DIY guide seemed like too much, so I was just about to delete your email. I don't know why I pushed the confirmation box instead. I'm sure glad I did. Thank you, thank so much for honestly sharing. ~a reader

So here I am. Unbelievably, I'm feeling more relaxed from your heartfelt sharing and all the supportive comments. You've given permission and a place to say we're struggling, that some things are really hard, and maybe I can find a way through. ~a reader
Can you relate? Are you just stuck and feel like you're hopelessly spinning your wheels?
I can help!