DIY Framed Jewelry and Earring Organizer
This post may contain affiliate links which won't change your price but will share some commission.
This DIY framed jewelry and earring organizer is created inexpensively from a yardsale frame and chicken wire. Perfect for hanging necklaces or earrings!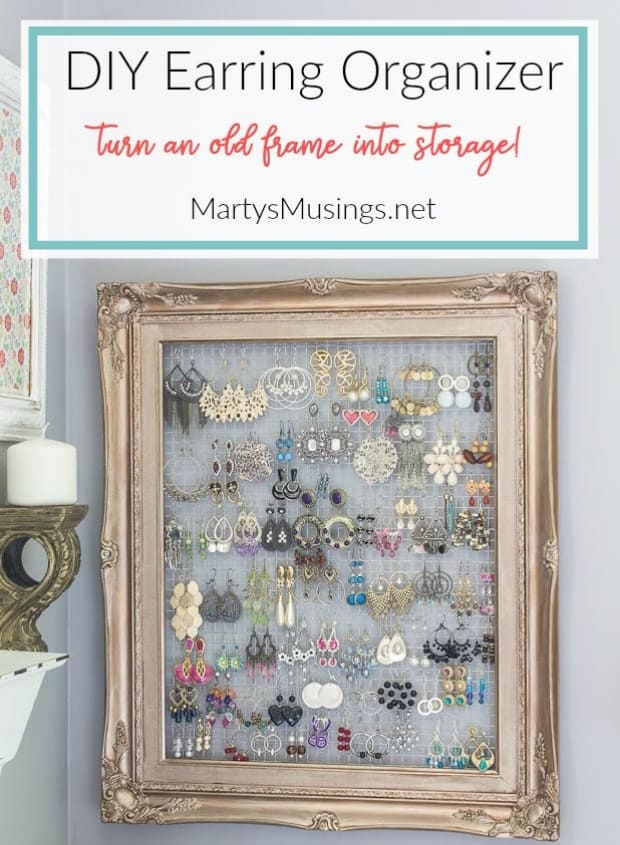 Today my DIY hubby and I are here to give you the skinny on one of my favorite projects in my low budget bedroom makeover.
I'm in possession of a bunch of earrings. And necklaces. And a few bracelets. ~smile~
My daughter got married and left a bunch with me. I yard sale and pick up a few things.
I'm a hoarder collector, okay?!
Anyway, I wanted a more chic and sassy way to organize my hoard collection.
This jewelry and earring organizer is so simple but packs a punch on the style meter!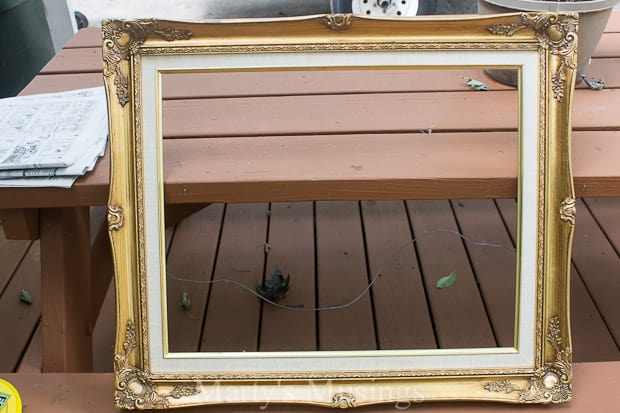 The frame was $1 at a yard sale (read how to know the difference between trash and treasure and my top 10 yard sale bargains) and I bought it because I loved the intricate design.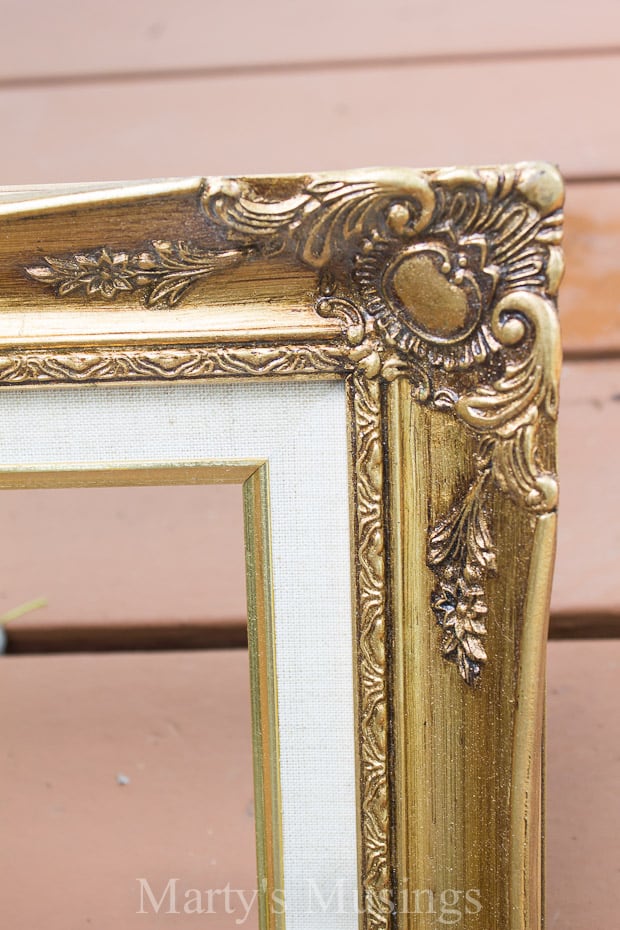 Yes, there are times when I buy just because!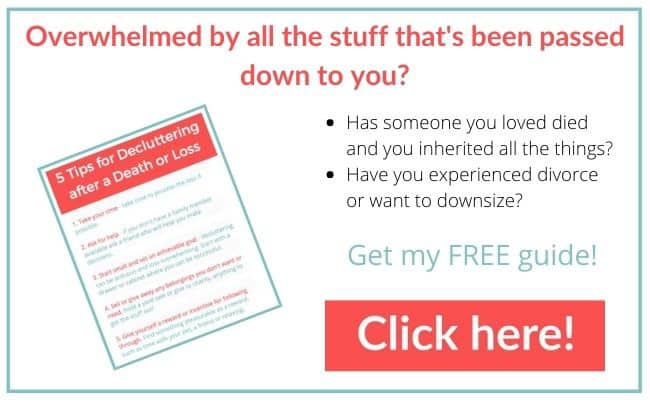 Sometimes a dollar is just a dollar, 'ya know?

DIY Framed Jewelry and Earring Organizer
(I've included some affiliate links for your convenience. Click here to read my full disclosure policy.)
Materials:
Modern Masters Gold Rush (semi opaque) ME65
Modern Masters ME221 Warm Silver (opaque)
Foam craft brush
1/2 in. x 2 ft. x 25 ft. Hardware Cloth (like chicken wire)
Wire cutters
Stapler/nail gun
3/8″ staples
16″ Gauge Steel Wire
I wanted a burnished gold look for the frame to blend in with the rest of the bedroom and I also needed to paint over the canvas strip around the inside of the frame.
Step 1. Paint frame
I used Modern Masters Gold Rush (semi opaque) ME658 for the first coat over the entire frame. I just used a disposable foam craft brush to apply.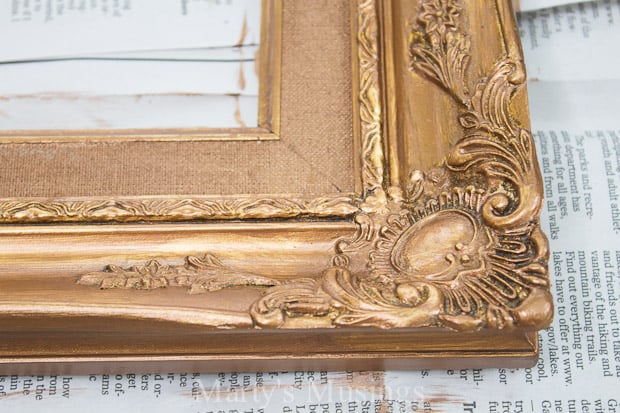 Not so gold anymore but not exactly what I was looking for.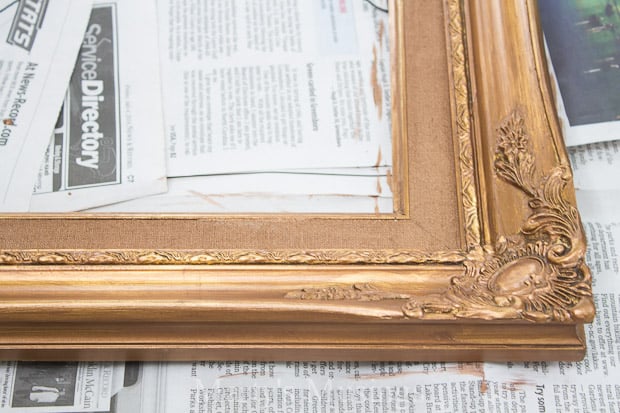 I then used a coat of Modern Masters ME221 Warm Silver (opaque) and this worked much better!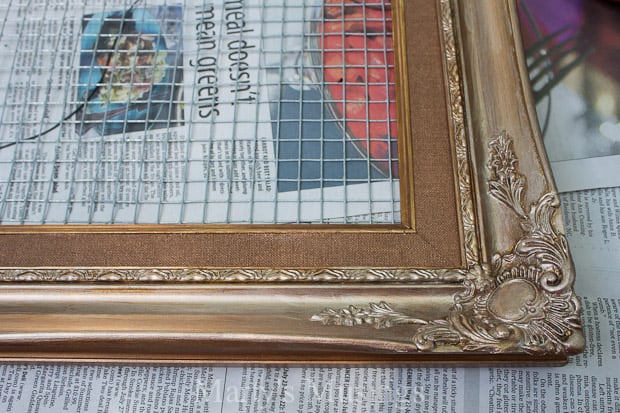 Here's Tim to give you the details on putting it together.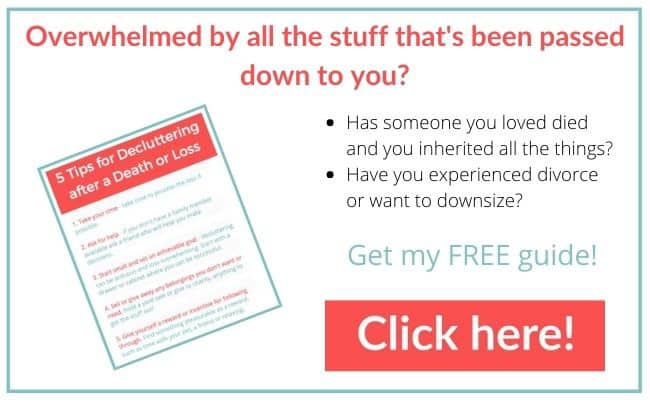 Step 2. Attach chicken wire
Tim: The chicken wire I used was 1/2″ x 1/2″ squares on a 36″ roll (width) and purchased from the hardware store, and even though we're talking about earrings here, there is some weight involved.
I left a 1″ overhang around the perimeter of the frame, which is two rows of wire for spacing. No hard rule here, just do what you like.
The wire can be cut with tin shears, wire cutters, or a cut-off wheel. The last is, by far, the easiest.
Use a commercial grade staple gun with 3/8″ (10 mm.) staples to attach the wire to the frame. The goal is to eliminate any ripples in the wire, so keep it tight and staple at intervals that will solve that problem.
You will also need to drive these in a bit deeper with a hammer, so lay the frame face down on a towel and pop each one a time or two. Stapling across the corner allows for a better grab.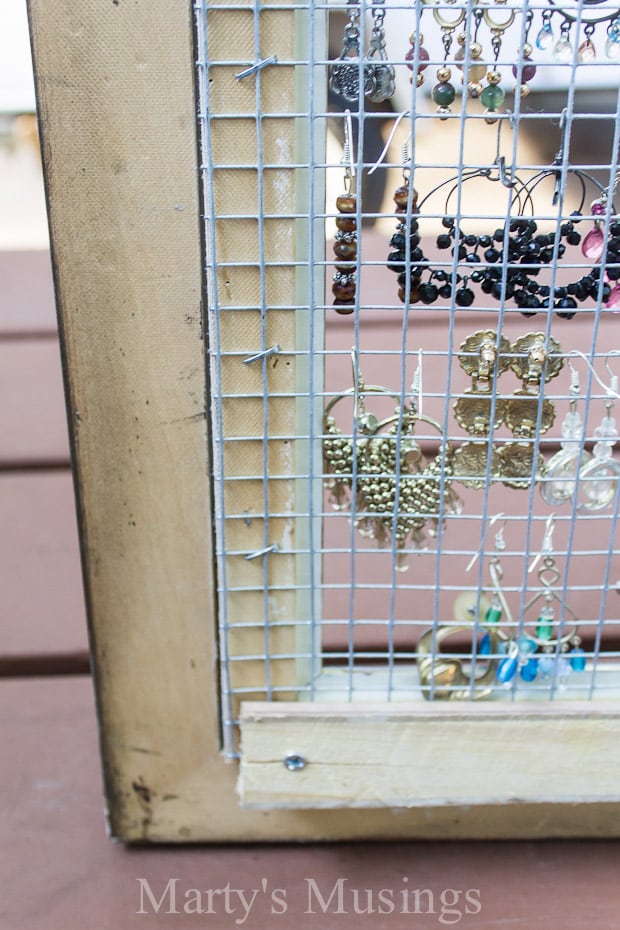 Step 3. Add spacer to frame
It is very important to also include some kind of spacer on the back. In the picture, this is the 1″ x 2″ piece of wood at the top and bottom of the frame, installed OVER the chicken wire. This allows for the earrings to hang without touching the wall. If it was not included, the earrings would not hang properly.
By the way, to avoid that nasty crack by the screw, pre-drill and then run the screw through that hole…I'm just sayin'.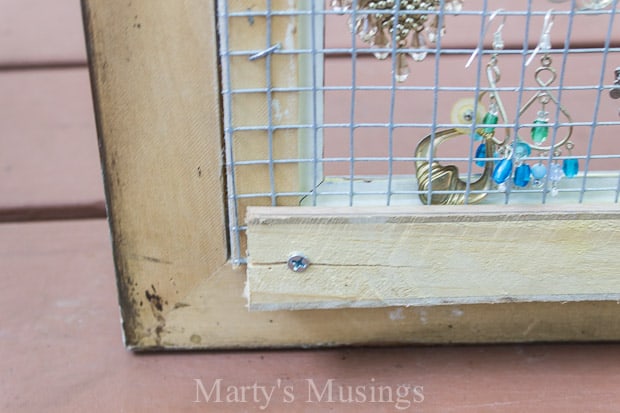 Step 4. Hang with wire
The last thing to execute is some type of hanger. I chose to use picture wire, but you can also use picture hangers of various types…your preference.
In anticipating a question, you could install two more wood backers where I did not, on the vertical sides. If your wood is thicker, you may not like that you can see too far behind the frame on those two sides. In that case, just install two more pieces and that gap disappears!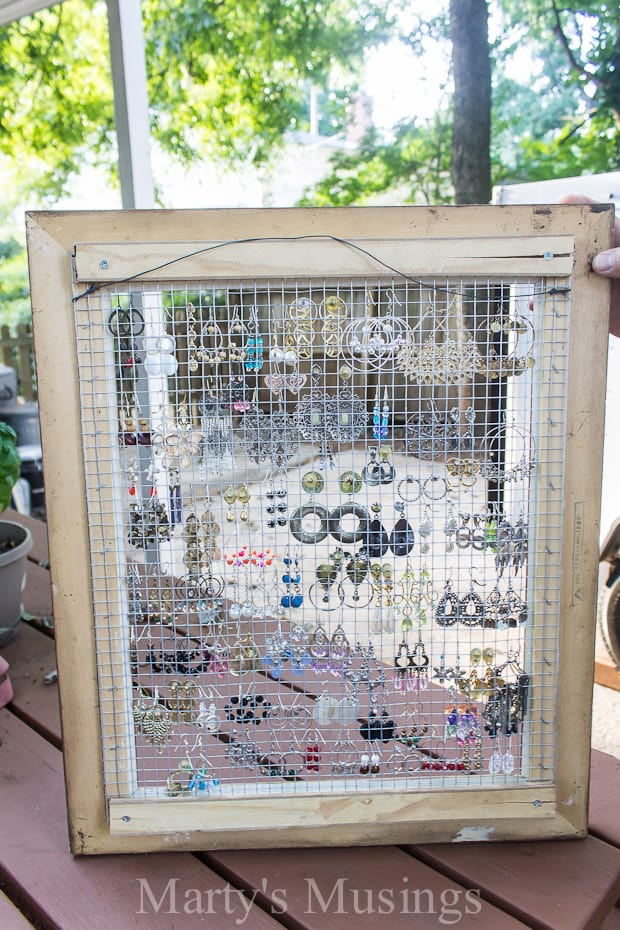 I found that the chicken wire, once securely attached to the back of the frame, was perfect to hold the plethora of items my wife managed to hang there!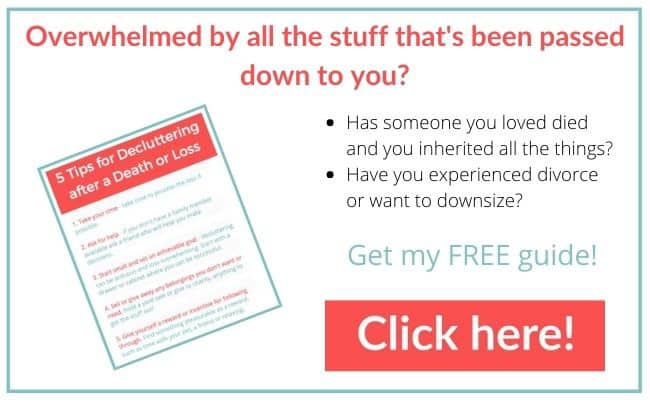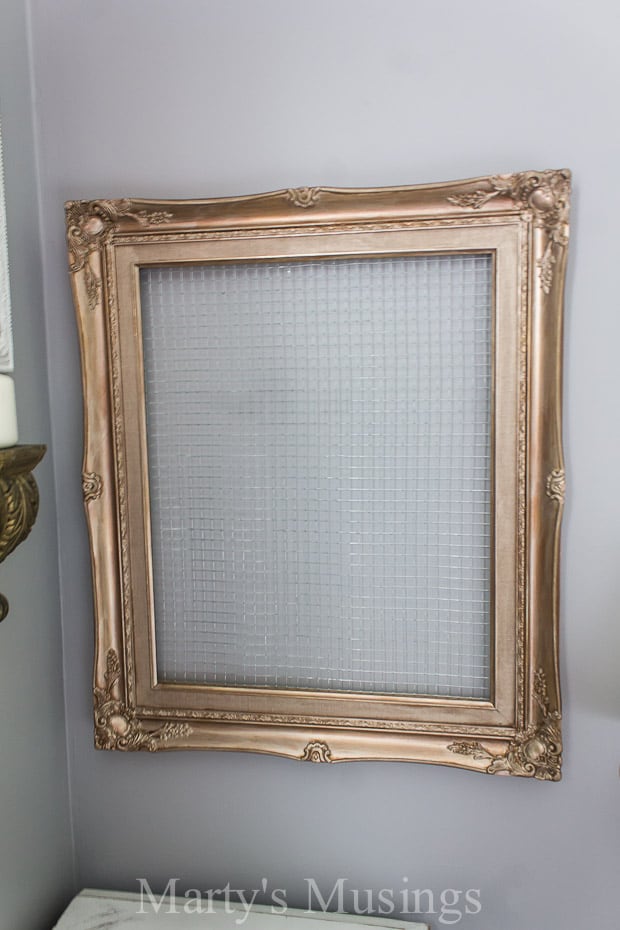 Marty: I love the way it turned out!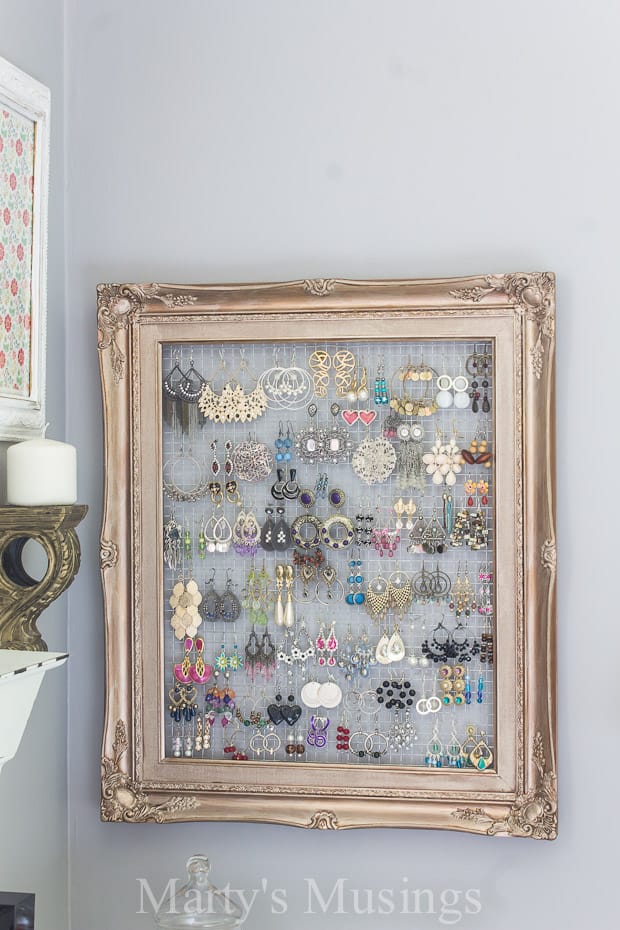 Don't you love it decorated with all the fancy bling?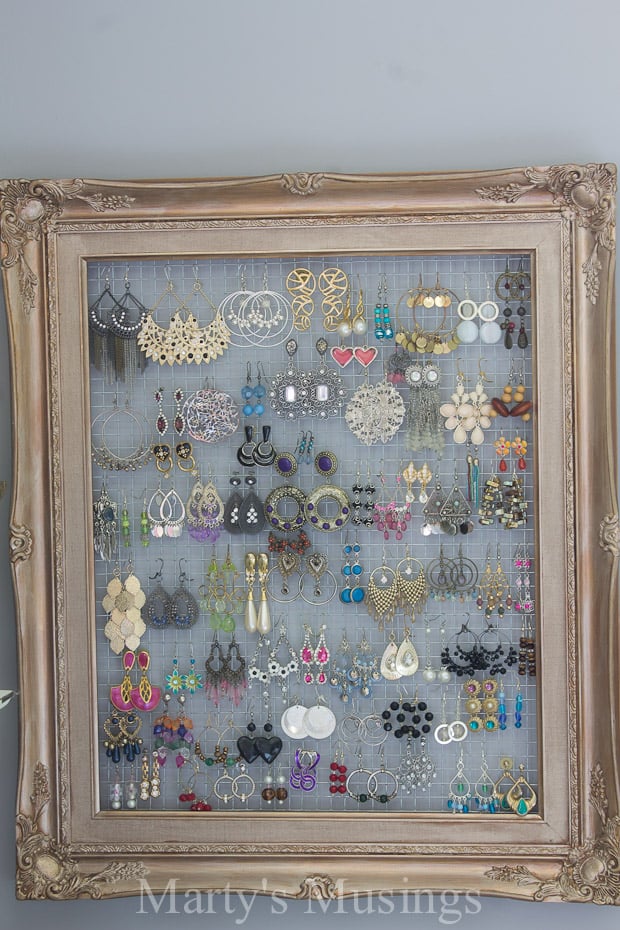 The frame is tucked beside a dresser in the corner.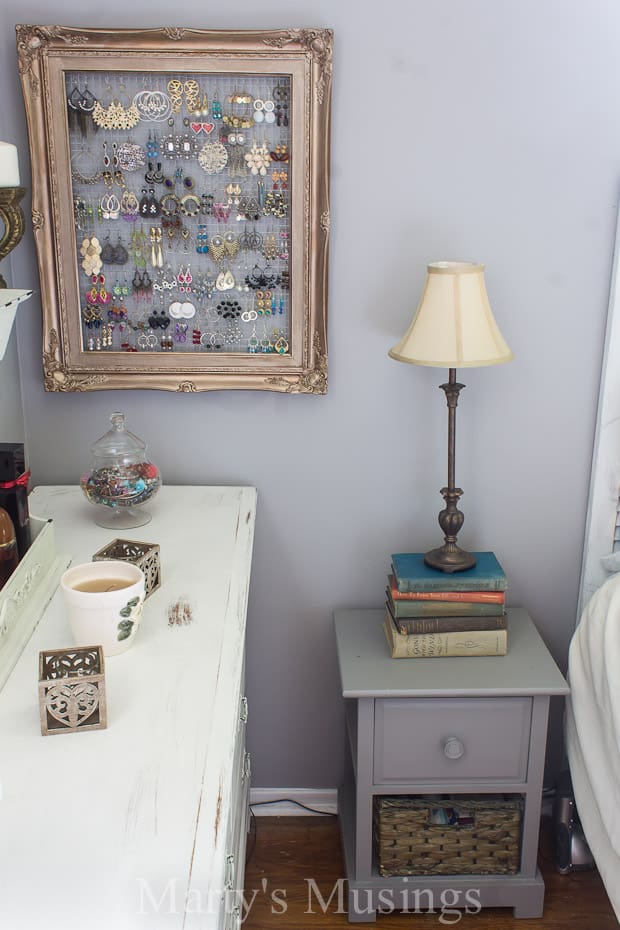 Did you know I decorated my bedroom for practically nothing?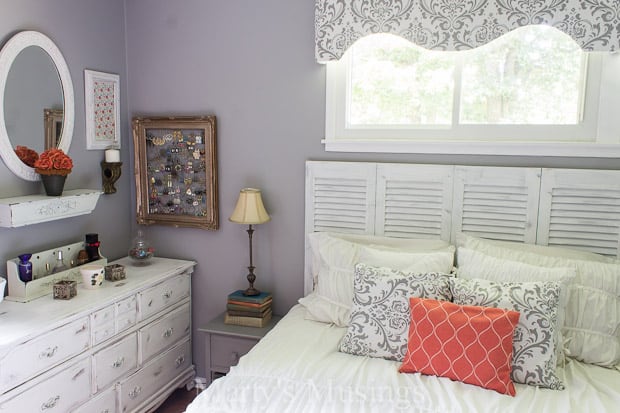 Why yes I did and I'm so pleased with how it turned out!
How do YOU organize your jewelry?