Set Up a Temporary Kitchen During a Remodel
This post may contain affiliate links which won't change your price but will share some commission.
Kitchen torn apart? Everything you need to know to set up a temporary kitchen during a remodel plus tons of practical tips for surviving the process!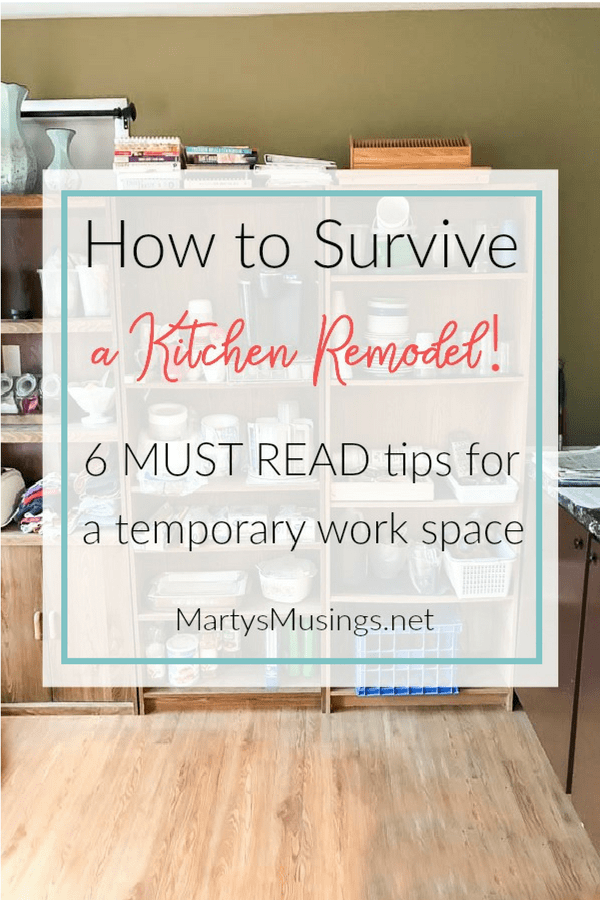 This post contains some affiliate links for your convenience. Click here to read my full disclosure policy.
Do you gaze longingly at the beautiful homes on Pinterest or watch the amazing transformations on Fixer Upper and think, "if only that were my home?"
I'm guilty. They're amazing.
Who doesn't love a stunning before and after?
I even somehow dare to write a blog about home decor and trash to treasure projects.
Heavens. My slogan is "create a treasured home" and I actually believe what I write!
Yet the #waldenkitchenremodel (yes, I gave us a hashtag. I'm cute like that ~eyeroll~) is not done.
Yes, it's been over three months since we began and we're still waiting for the floors to arrive. Most everything else is DONE. (Don't get me started on the search for the perfect white paint for the walls. My hubby may not forgive me for that.)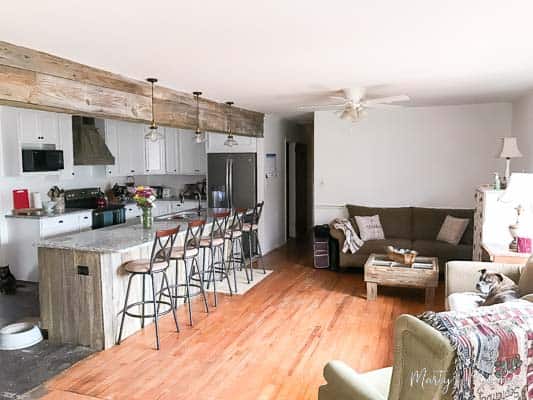 While we're waiting to pull everything together I wanted to share some of my best tips on how to set up a temporary kitchen during a remodel.
The first one is very important.
For the love of everything that is good, DON'T START TWO WEEKS AHEAD OF SCHEDULE AT CHRISTMAS TIME!
Did I just lose all credibility with you?
Yea, we kinda don't follow the rules at our house more times than not, at least when it comes to our DIY projects.
I blame it on my husband.
Being married to a painter means if I ever want our own home painted I better be ready when HE is ready to paint, i.e. work is slow, it's snowing or he is feeling especially generous for some reason. (Don't question, just be ready!)
It's kinda like the story of the cobbler whose kids had no shoes.
Does that comment about the perfect white paint make more sense now? Let's just say this isn't the first time he's had to paint the kitchen twice (and now the living room because it's all one big room) because I didn't like the color after it was on the walls.
But I digress.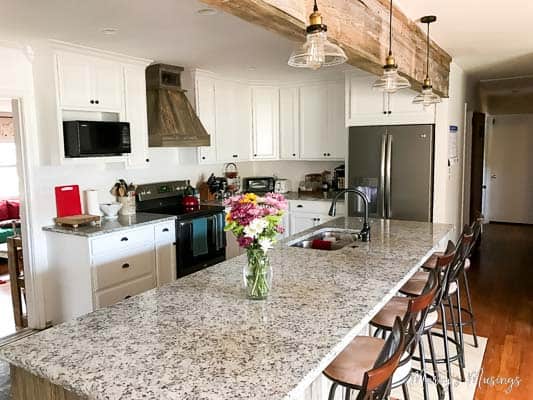 Paint colors are obviously not my forte. Planning and organizing are.
We spent weeks researching and planning (read all about that process here) before we made the decision to go all Fixer Upper and take down the wall between the kitchen and living room and totally gut the room. I had great plans for freezer cooking a month's worth of menus.
I was in the process of gathering everything together when our contractors decided we could go ahead and take the wall out TWO WEEKS EARLIER THAN PLANNED. Before the Christmas holidays.
Nix the freezer cooking plan and cue the "we don't have any boxes, call the storage pod people, this is exciting, help me" freakout!
If you're going to remodel your kitchen there's no way to avoid some inconveniences. Depending on how major the project is and how much you do yourself, it will be a pain in the backside.
Here's what we did to survive living without our kitchen during the worst of the construction.
Quick tips for setting up a temporary kitchen during a remodel:
Pack up everything you don't absolutely need.
Make a plan for meal preparation.
Carve out a work space.
Decide a storage solution for food and everything else.
Find a place to wash dishes.
Be flexible.
How to Set Up a Temporary Kitchen During a Remodel
#1 Pack up everything you don't absolutely need.
If possible go ahead and declutter while you're packing up. Unfortunately I didn't have time to do this so when I began setting up the new kitchen I was totally stressed because I needed to eliminate some things for space reasons.
We rented a Pod for a month so we had a place for almost all of the furniture in our living room, kitchen and the contents of our cabinets.
If you have a garage or storage building this is an option as well. There are going to be workers in and out of your home so remove as much as you can to give them space to work.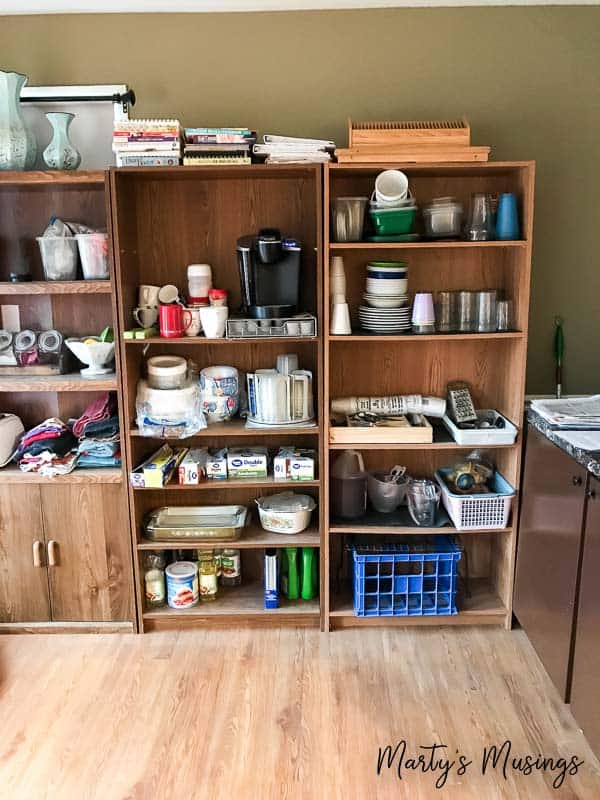 Think through the bare necessities for daily meal prep and eating during the estimated time the kitchen will be out of commission. You probably don't need cake decorating supplies or every pot and pan you own. You probably WILL need a coffee station!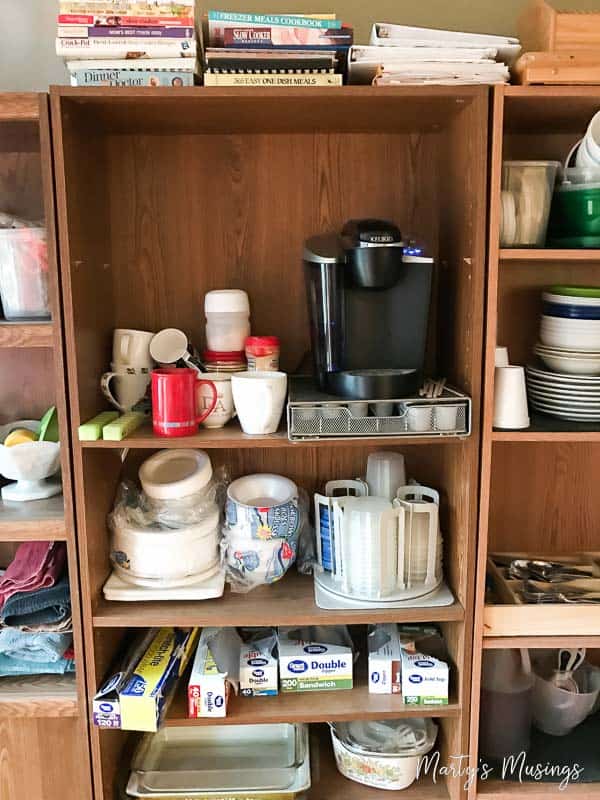 I kept out some plastic dishes and some regular glassware because we had room on the shelves we set up. Don't forget plastic containers for leftovers!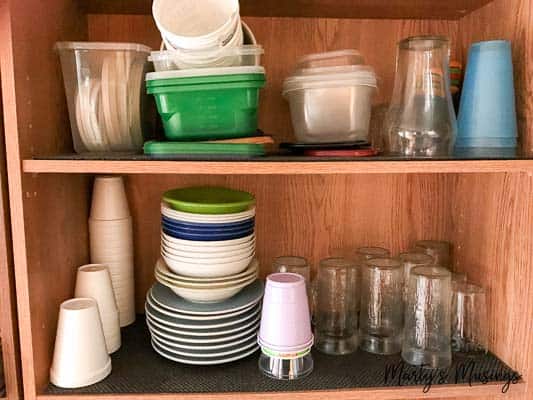 Favorite Tip: Stock up on paper goods and plastic utensils.
#2 Make a plan for meal preparation.
For some families one of the biggest expenses during a kitchen remodel can be eating out. With two teenagers this was not an option for us.
We only had $5 footlong subs one night and pizza on another occasion. THAT'S IT.
OK, Tim and I did pick up lunch one day using a buy one get one free coupon, but seriously, that was it.
I put out an SOS on my Facebook page for suggestions for survival tips and gained valuable insight including tips such as using rotisserie chicken, frozen veggies and which small appliances could replace larger ones, etc. We all love to share our opinions so ask your friends for ways to save money without eating out.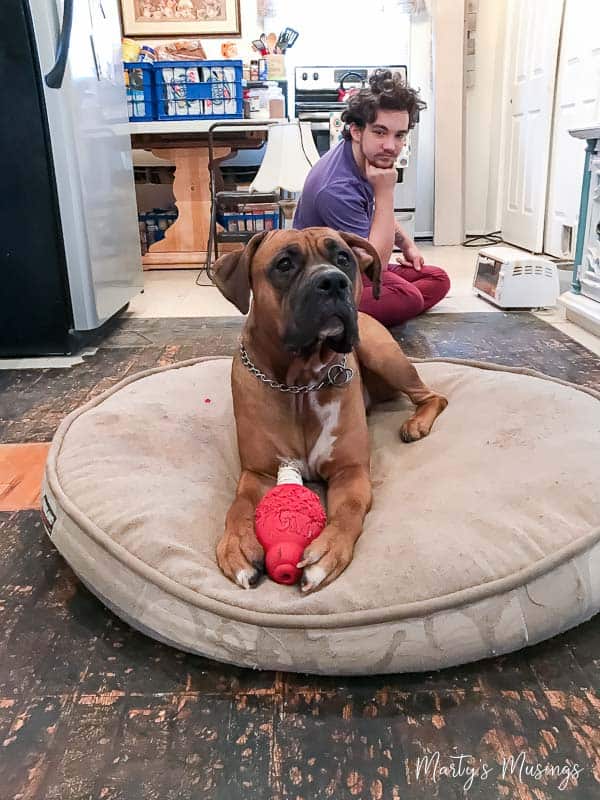 Favorite Tip: Easy is good enough. This is not the time for gourmet meals. (You can find all my crock pot meals here. I've used ours so much I'm in the market for a new one now!) Also, don't be hesitant to let other people drop by food or take you out to eat. God gave us friends for a reason!
#3 Carve out a work space.
Tif you're going to create a temporary kitchen during a remodel, this is one of the hardest elements of the process. We didn't completely figure out until we started deconstruction (taking the kitchen apart).
Are you going to lose your stove and/or refrigerator for some or most of the construction time? This is the biggest question to ask your contractors or take into consideration if you're doing the project yourself (And if you're DIYing it, I can give you the number for a marriage therapist, lol!)
If you don't have a working kitchen you're more likely to eat out, which adds expenses on to the budget.
The answer to this question will possibly hinge on how much empty space you have available in your home. Because we chose to rent a Pod we had room to set up a temporary work space where our dining space usually was.
We took the leaf out of the table, pushed it flush against the wall and moved both the refrigerator and stove to that end of the kitchen.
(I can't believe I didn't take a better picture but you can see the frig and stove set up below.)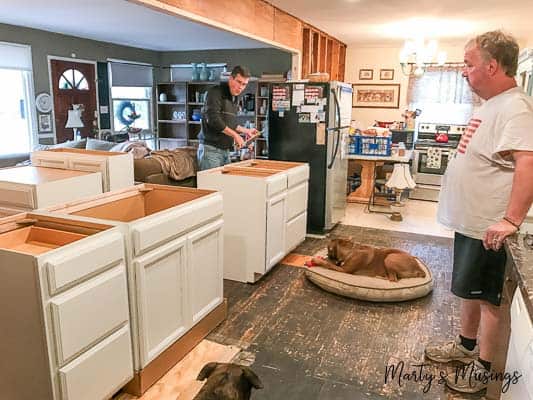 Since we needed so much electrical work done we specifically asked our electrician if he could run a line so we didn't lose the stove. You never know unless you ask questions (read how to save thousands on a kitchen remodel) and this was an important one for me.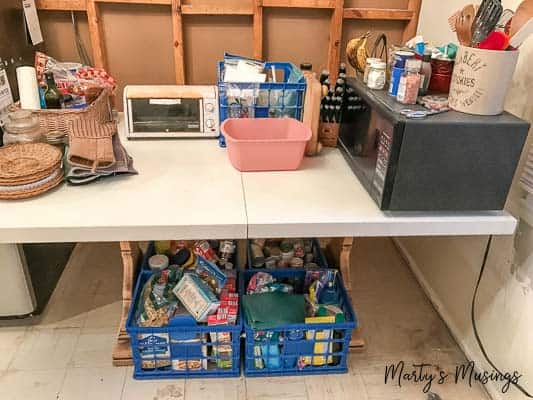 Favorite Tip: Find a place for small appliances such as microwave, toaster and crock pot.
#4 Decide a storage solution for food and everything else.
We have a separate pantry/laundry room off our kitchen but I stored food from the kitchen cabinets I didn't think we would need during these weeks.
This is also a perfect time to check expiration dates and throw some of that food AWAY! Who needs a stray box of instant potatoes you got on sale five years ago?
Instead of storing our bookshelves in the Pod we moved them into the corner of the living room to use as storage for a little bit of everything.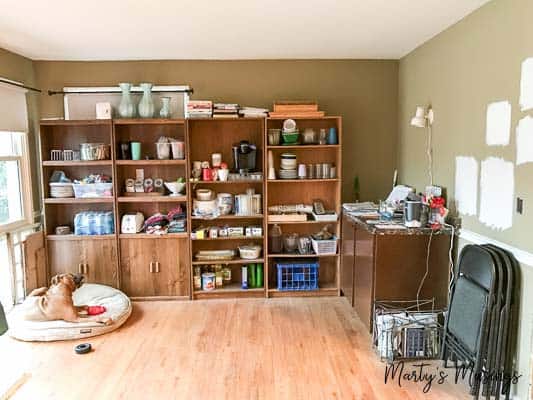 We also used some of the crates I organized the laundry room makeover with for food storage under the kitchen table. (You can find more storage options here.)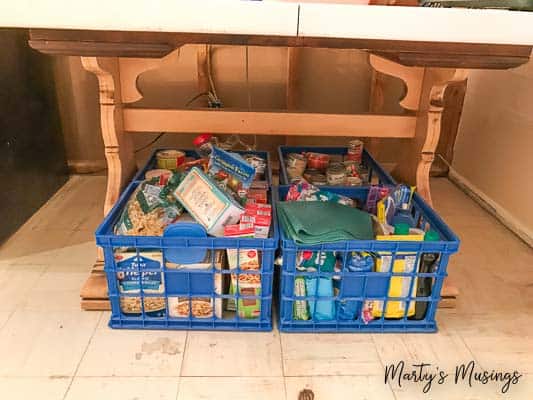 Favorite Tip: Make the best use of available space to find what works best for you during your remodel. Make adjustments throughout the process as necessary!
#5 Find a place to wash dishes.
This was a tricky one for us. We originally started this entire process because we have a bathroom we need to gut as well (see our first small bathroom makeover here).
Unfortunately the kitchen took more of the budget than we anticipated (yep, always happens) so we're not going to start on the bathroom quite yet.
The point of that little side trail is I really wasn't sure where we would end up doing dishes when we lost our sink.
I tried our shower but that wasn't fun so my hubby just used one of the small sinks in our 2nd bathroom. It worked just fine as long as we kept up with dishes (thus, the advice to use lots of paper products!)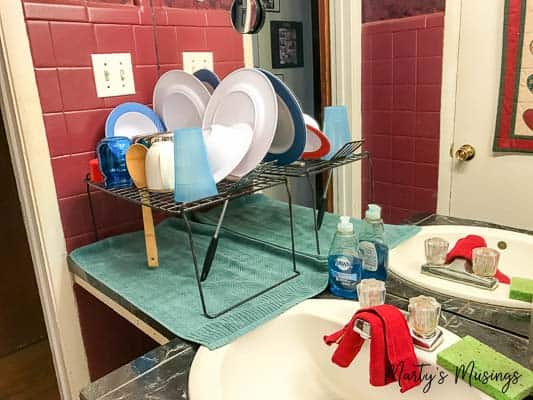 We used this wire shelf (get one like it here) for drying the dishes. You just need to find a space that works for you. It might be a utility sink in your garage, a guest bathroom or even a portable sink that can be rented.
It could even be outside rinsing with a hose and boiling water on a camp stove for washing. You do what 'ya gotta do!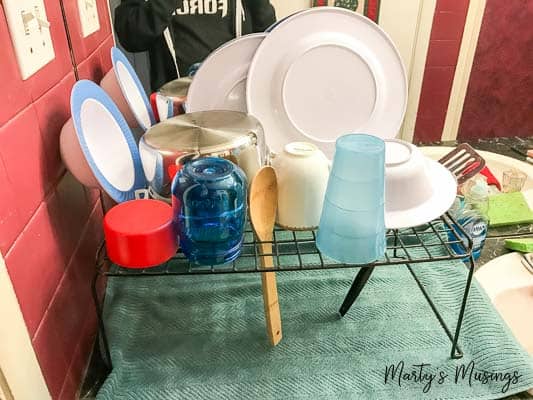 Since we were changing the entire footprint of the kitchen our contractors allowed us to leave up our old sink for as long as possible and then put the same sink into the new plumbing while we were waiting for the granite on our island to be delivered.
It takes about two weeks from the time the template is measured for granite until it is delivered and installed. That's a long time without a sink so the solution of using our old one (with plywood for temporary countertops) was a lifesaver.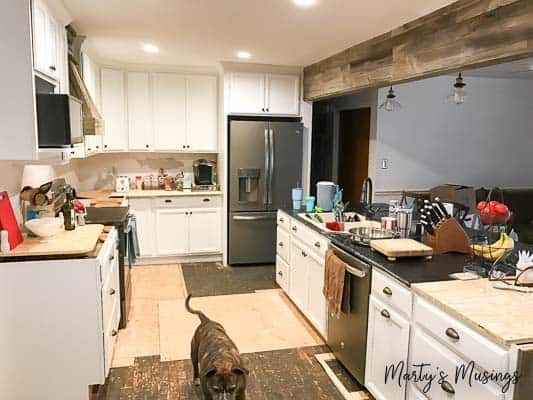 Favorite Tip: Plan for a simple station for washing dishes and accept the inconvenience is only temporary.
#6 Be flexible.
Even with all my planning I never knew from day to day where the workers would be at any given time. Our contractors were good about giving us a general idea of the steps in the process.
If a lot of electrical work was happening I knew to plan for a crockpot meal because I was going to lose circuits at some point during the day. A crockpot can be plugged into any available working outlet if necessary.
There were also days equipment was all over the place and I could barely even see the refrigerator or stove. I just had to tell myself it was MY house and tiptoe around the tools and obstacles. Our workers always cleaned up at the end of the day.
I can't emphasize enough how important it is to educate yourself as to what you want, what can be expected and how your contractor will be communicating with you during the project.
(I was given these Property Brothers gnomes during a blogger Christmas party and they were our "Gnomes on the Shelf" during Christmas and beyond. Find humor where you can, my friends!)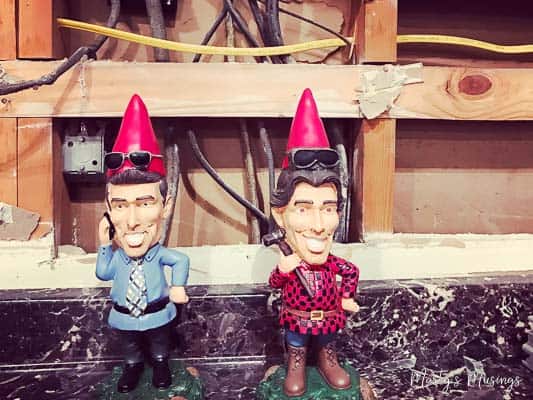 Favorite Tip: Keep the end result in mind. It WILL be worth it, but you still have to live with the people in your home once you're done! Show grace and treat this as an adventure. Attitude really is everything!
I'd love to know if you've ever been through construction in your home and how you handled it! Just comment below and let's share!
Click below to see the other posts in our Ranch Style Home Kitchen Remodel:
♥ Small Ranch Home Kitchen Remodel: The Dream Begins!
♥ How to Save Thousands of $$$ on a Kitchen Remodel
♥ 5 Practical Tips on How to Choose Flooring for Your Home
♥ How to Take Care of Your Pets During Your Remodel
♥ Set up a Temporary Kitchen During a Remodel (you are here)
♥ How to Install Laminate Flooring: DIY Tips and Tricks
♥ How to Choose Kitchen Cabinet Hardware
♥ How to Build a Sliding Barn Door
♥ How to Remodel a Ranch Style Kitchen
♥ DIY Floating Mantel out of Barn Wood