5 Practical Tips on How to Choose Flooring for Your Home
This post may contain affiliate links which won't change your price but will share some commission.
The post How to Choose Flooring for Your Home was sponsored by Golden Select but all opinions are my own.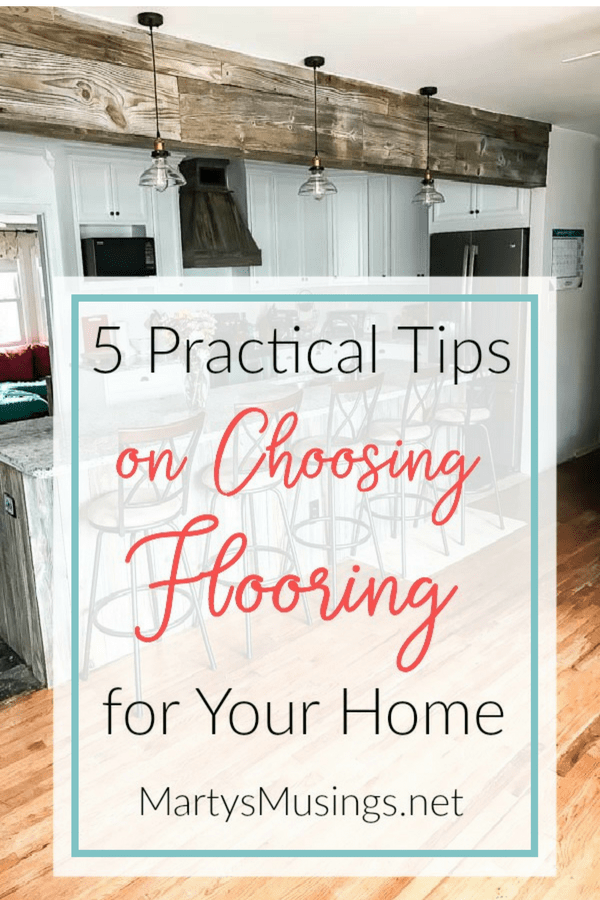 If you've been following along with our kitchen remodel (read about the conversation that started it all and how to save thousands on any big home improvement project) you've seen some pretty ugly pictures of our 1950's ranch style home.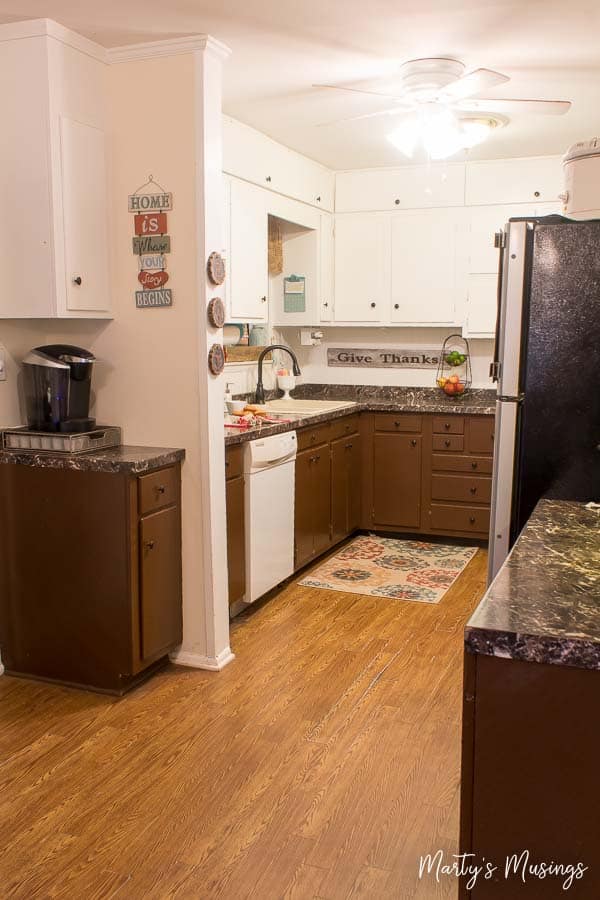 The original "honey do list" that started us on this journey began with a project as simple as our floors.
That's right, flooring. Doesn't sound like a big deal or overly complicated does it?
Big gigantic eye roll here, folks.
We think our home was originally three rooms and one bath with a side porch. It appears to have been added on to at least three times, including two bedrooms and a den addition on the back of the house. This is great for us but bad when you consider our flooring is all wonky!
Our living room has partial hardwood floors like you can see in our coastal themed bedroom. Tim refinished those bedroom floors and they are just beautiful.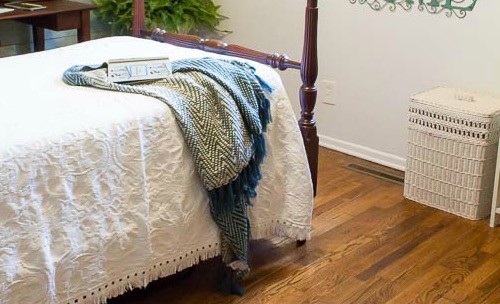 However, when we pulled up the carpet in the living room a few years ago we discovered there were hardwoods in most of the room but only plywood where a porch had been converted to living space.
So we did what every responsible home owner does. We added peel and stick flooring and a threshold to try and hide the fact that the floors didn't match.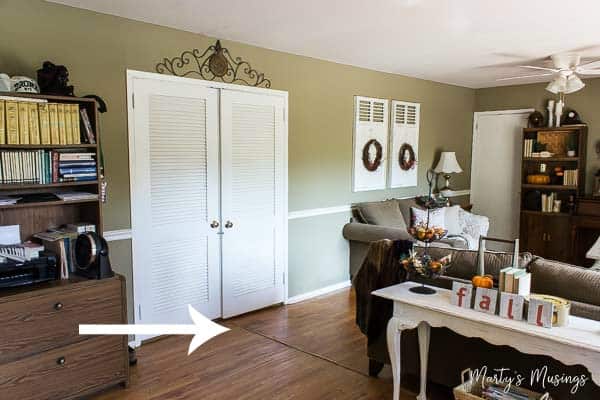 Not pretty. But we lived with it because that's what you do when you're not sure how to fix the problem.
Our kitchen? It's a whole 'nother story! When we first moved in 25 years ago we put laminate sheet flooring down and called it good for awhile.
(You can see what it looked like and where our oldest daughter wrote on the flooring 20 years ago!)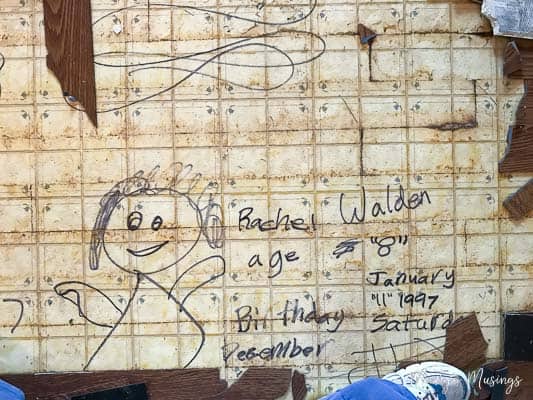 Then we did the peel and stick fake hardwood flooring thing which, believe it or not, actually lasted way longer than we ever thought it would. It had the "distressed" look like the rest of the house! ~grin~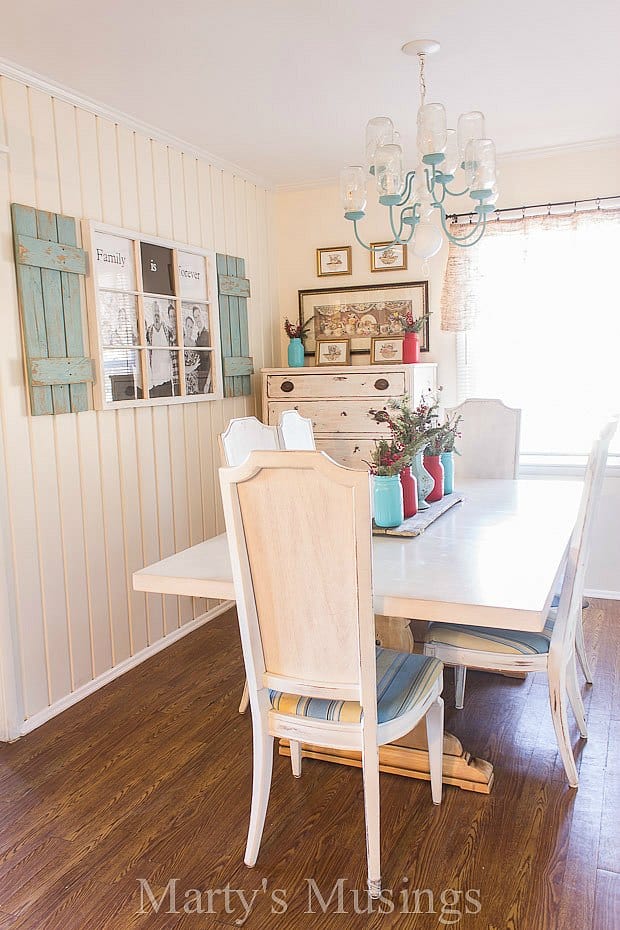 As Tim and I began to talk about replacing the floors we knew we wanted the same flooring in both rooms to unify and enlarge the space.
Did someone say enlarge the space (me!)? That's a great idea! And we were off to the races with the idea of taking down the wall between the two rooms, gutting the kitchen completely and totally changing the footprint of our ranch style home.
Since Tim and I wanted to DIY as much as we could he and our son began the deconstruction of the kitchen with the floors. We had a few refrigerator leaks through the years and knew we probably had some damage. Plus, you could sit at our kitchen table and roll all the way to the center of the room if you sat in a desk chair with casters. It made for great entertainment!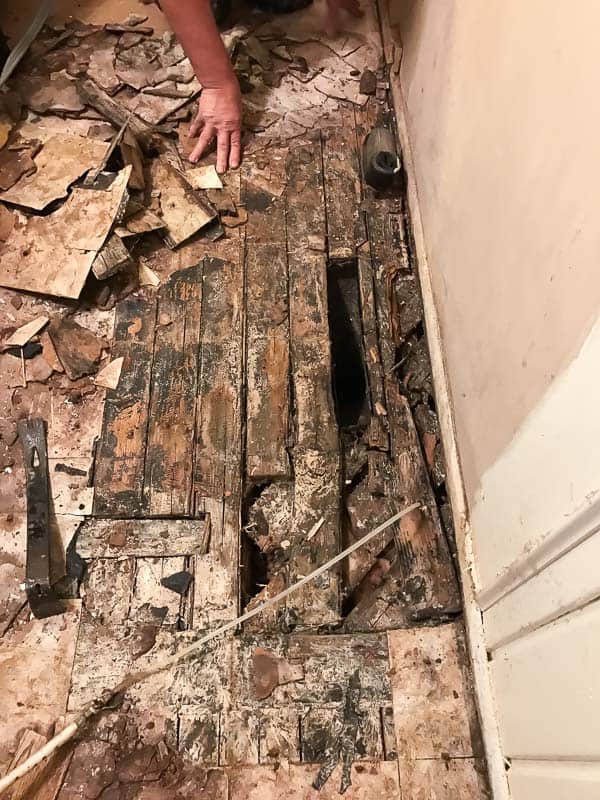 Here's where I give you my first remodeling tip.
Always plan on unexpected expenses.
Ouch. Oy. Yikes. Sad face.
Everyone always tells you that and we kinda sorta knew we would have problems, but we didn't know we would have PROBLEMS.
Once the wall was torn down our contractors told us we needed a reinforcing pier and the kitchen floor jacked up with five more piers under the house where our new kitchen island was going.
Cha-ching. Merry Christmas and buh-bye to any wiggle room in the remodel budget.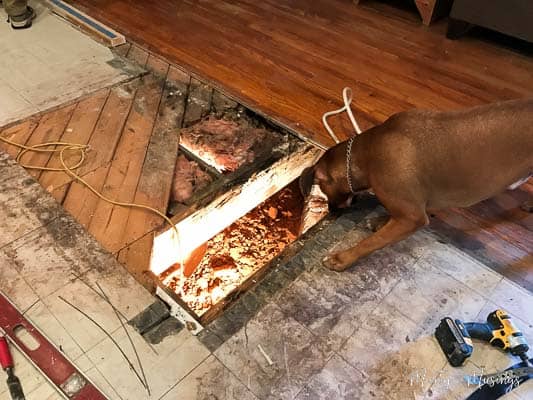 (Our dog Carson was quite the helper. He even licked the bald head of one of our contractors!)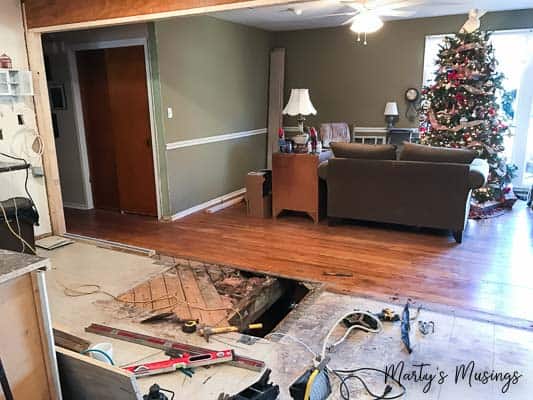 Now that our floor is level (but still not pretty!) I thought I'd share 5 practical tips on how to choose flooring for your home. I'm hoping your process won't be as complicated OR as expensive!
5 Practical Tips on How to Choose Flooring for Your Home
Type
What type of flooring is best? Should you go with carpet, hardwood or tile? So many options today! Spend some time looking online before you go into the store to educate yourself on your choices.
We're going with laminate flooring and were so excited when we received these two samples from Golden Select. Is there any surprise that we've chosen Toledo?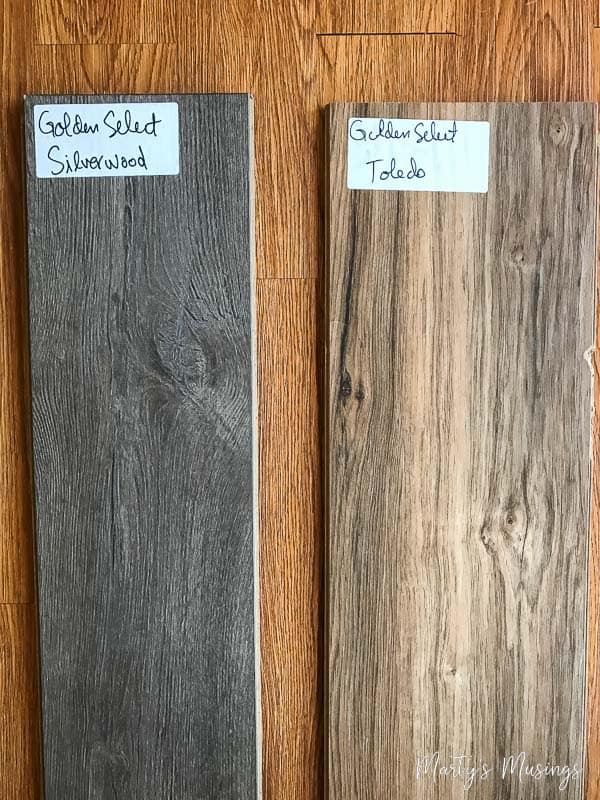 You know we love the look of real wood grain to go with all our repurposing projects! Toledo is a new style and will soon be available in Costco Canada.
Durability
How much traffic does your home see and what kind? There have been loads of people and pets tearing through our house for many years. Our poor carpet just flat wore out a few years ago! We didn't quite expect our flooring experience to be so complicated OR so expensive, but I know once we're done the floors will have a tremendous impact on the space.
Make sure you think through your long term needs before you purchase any product. Golden Select laminate flooring has a 35 year residential and 10 year light commercial warranty on their floors and is also pet friendly! Carson will put them to the test for sure!
Function
Is the flooring simply to cover up what's underneath (if it's ugly or mismatched like in our living room) or maybe you need to upgrade before selling your home? Each room may have a different function and that's perfectly fine. It's your home so make it your own!
Price
Hardwood floors are wonderful but they do show wear and tear and are a pricey choice in flooring. We have laminate floors in the back of the house and they've held up extremely well over the last five years. As a budget shopper laminate appeals to me because the price is much more affordable than hardwoods.
Installation
If you are confident in your DIY skills, by all means go ahead and tackle installation yourself. If not, pay somebody else to do it! The laminate floors we've chosen have an easy, no glue, click installation system with an attached foam backer. Let me tell you, the foam backer makes all the difference in the world!
My handy hubby will be sharing all the details on the floor installation in the next few weeks as our kitchen nears completion, but here's an unstaged photo to show you our current progress. We're near the finish line!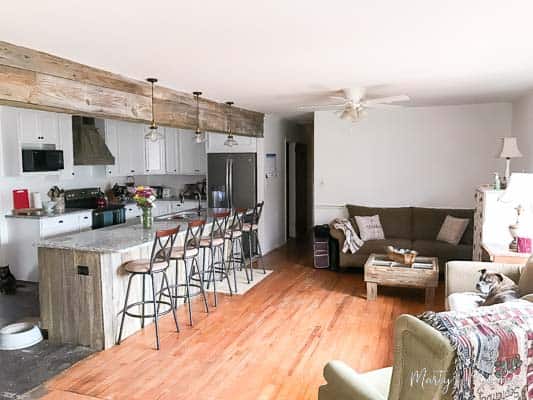 Click below to see the other posts in our Ranch Style Home Kitchen Remodel:
♥ Small Ranch Home Kitchen Remodel: The Dream Begins!
♥ How to Save Thousands of $$$ on a Kitchen Remodel
♥ 5 Practical Tips on How to Choose Flooring for Your Home (you are here)
♥ How to Take Care of Your Pets During Your Remodel
♥ Set up a Temporary Kitchen During a Remodel
♥ How to Install Laminate Flooring: DIY Tips and Tricks
♥ How to Choose Kitchen Cabinet Hardware
♥ How to Build a Sliding Barn Door
♥ How to Remodel a Ranch Style Kitchen
♥ How to Build a DIY Floating Mantel (out of barn wood!)
If you were inspired by this post I'd love if you'd share it or save it for later. You're the best!