Wooden Pumpkins from Fence Boards
This post may contain affiliate links which won't change your price but will share some commission. Read more here.
Want a cute rustic pumpkin that's easy to make and very affordable? Try these fun and easy wooden pumpkins made from leftover fence boards.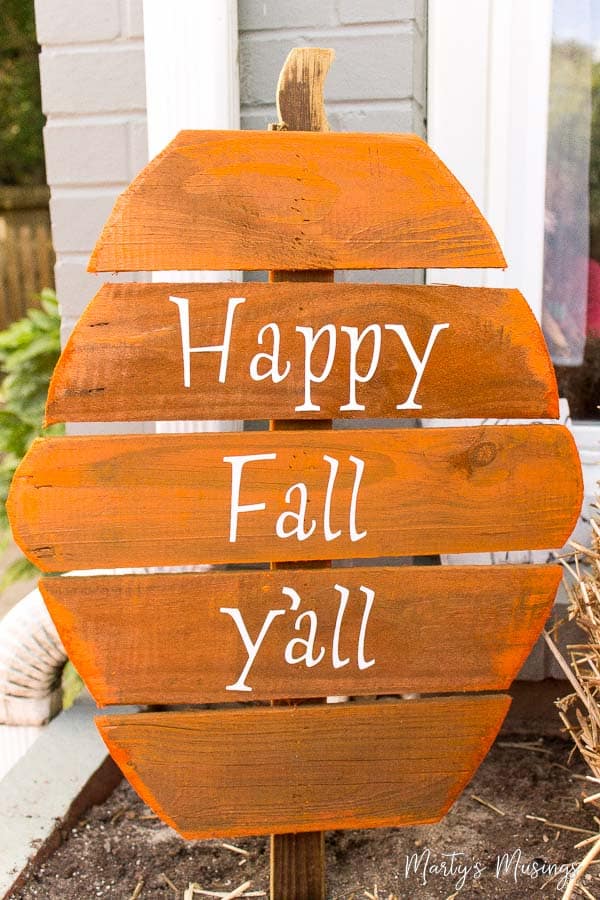 Decorating the entry of your home is such a fun way to bring each season alive. I've used these primitive wooden pumpkins for several years and in two different homes.
Fall is everywhere in my home, but one of my favorite places is the way we greet friends and family with good ol' southern fall decor! I believe the front porch of a home sets the mood for enjoyment within the home.
This was before we gutted our front stoop and built an amazing deck on the front of our home.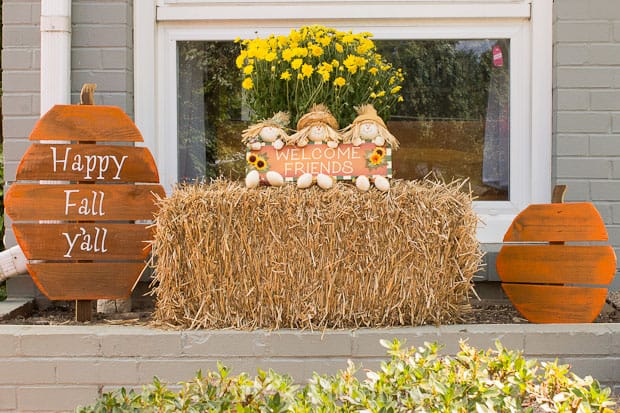 How do you make a wooden pumpkin?
Wooden pumpkins can be made out of many materials but I love the idea of using scrap wood such as pallets, barn wood or fence boards like I used. Go to your wood pile and see what goodies you can find!
How to decorate wooden pumpkins?
I chose to use vinyl letters but permanent markers or acrylic paint. (Make sure to waterproof to prevent runs.) You can decorate with fabric, a bow, metal, jute or rafia. Use non-traditional colors if that's your thing or paint stripes on the autumn wood pumpkins! Just let your creativity dictate the direction your autumn decor will go!
Will a wooden pumpkin withstand weather outside?
These wooden pumpkins have been used for years and are still going strong. You can always use a spray sealant if you're concerned about longevity.
If you're not the crafty type I've got several suggestions for rustic wooden pumpkins to purchase at the end of this post!
Wooden Pumpkins from Fence Boards
(I've included some affiliate links for your convenience. Click here to read my full disclosure policy.)
Materials:
5-inch Disc Sander
Frog Tape Painter's Tape
Orange Spray Paint and Primer
Cricut Explore Air
Adhesive Vinyl
Transfer Paper
Permanent labels
Step 1: Locate and prepare wood.
It's important to let the wood weather so this is a project that might require some forethought and planning. If you're using fence board just lean the wood against a fence or your house a few weeks before beginning the DIY wooden pumpkins.
Remove any nails from the boards and lightly sand if necessary.
The wood is pretty green looking in the picture below.  The wood has just weathered that way.  It's possible to pressure wash or even sand the raw slats, depending on how the wood will be finished.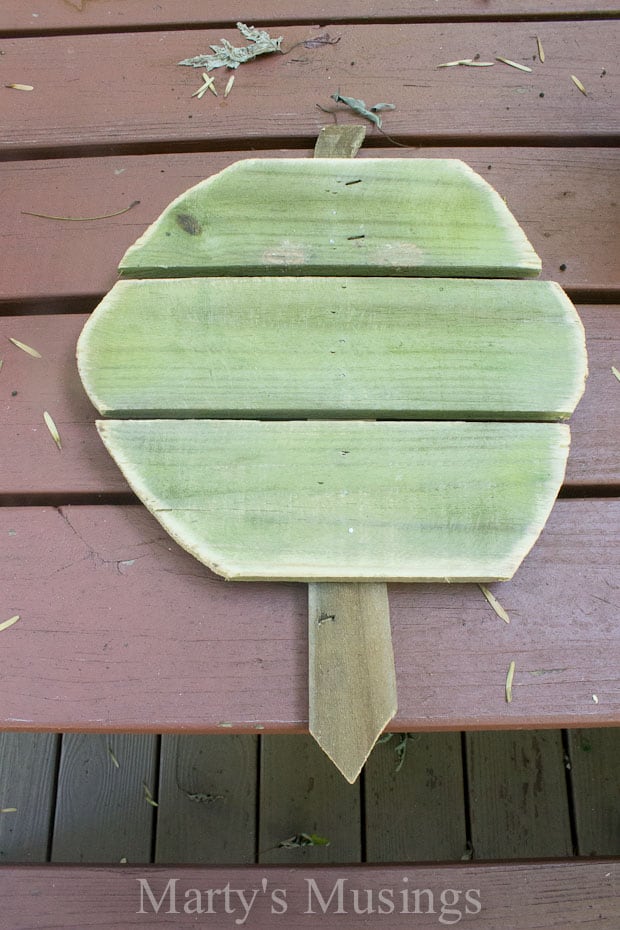 The real appeal of this material is its raw, naked beauty.  To take advantage of that, I like an intentionally distressed, imperfect feel.  
Step 2: Cut out design.
It's perfectly okay to use pumpkin patterns or draw on the wood to achieve the design you want.
For these pumpkins, I first determined the length for the widest middle piece, then backed off each direction roughly two inches with each slat.  The ends were cut with a chop saw and then rounded with a jig saw.  
The vertical center stake was the anchor point and also the stem of the pumpkin, with a point on the other end to penetrate soil.
Step 3: Distress wood.
For extra distressing, I used a disc sander with a 60-grit wheel (which is like gravel glued to sandpaper) and roughed-up all the edges.  This also helped grab the orange paint a bit better.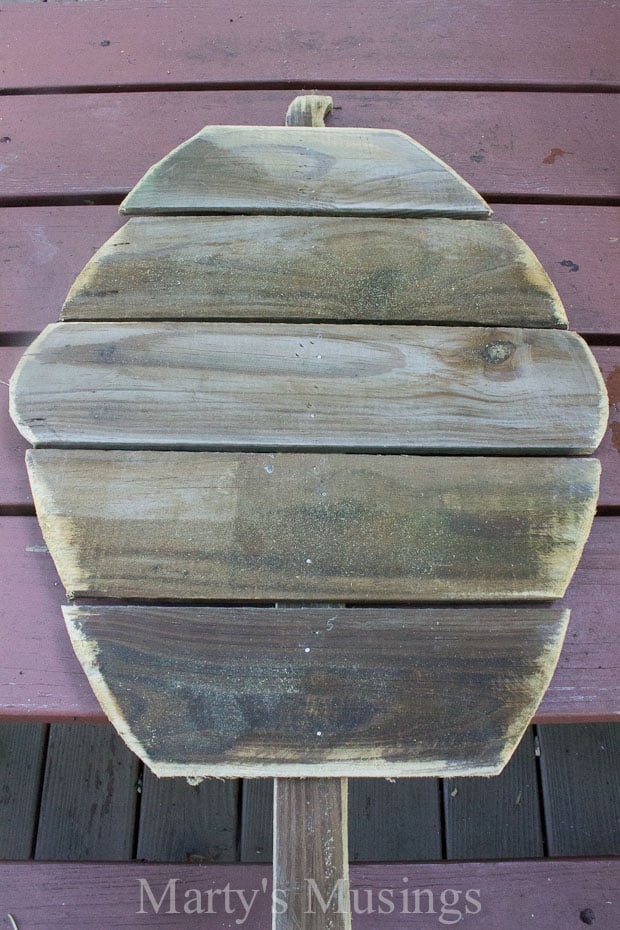 Step 4: Paint pumpkin.
This was a super-fast, super-simple project.  To finish it off I taped off each end of the center stake and over-sprayed with the orange gloss spray paint.  Two coats here, just to enhance the color. The stake will remain a neutral wood color.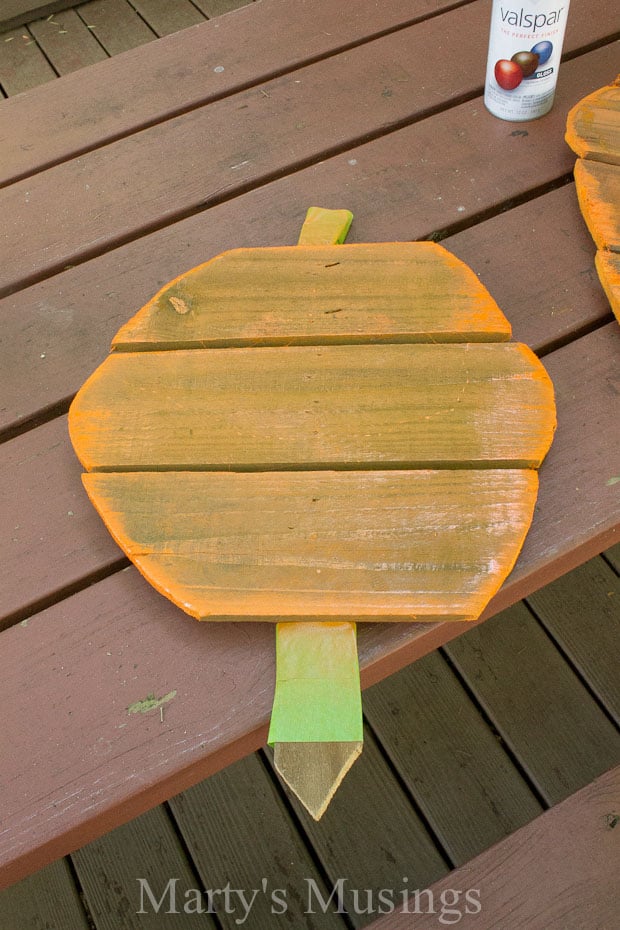 Same for the larger pumpkin.  I love how the wood takes the color but also retains the imperfections in the grain.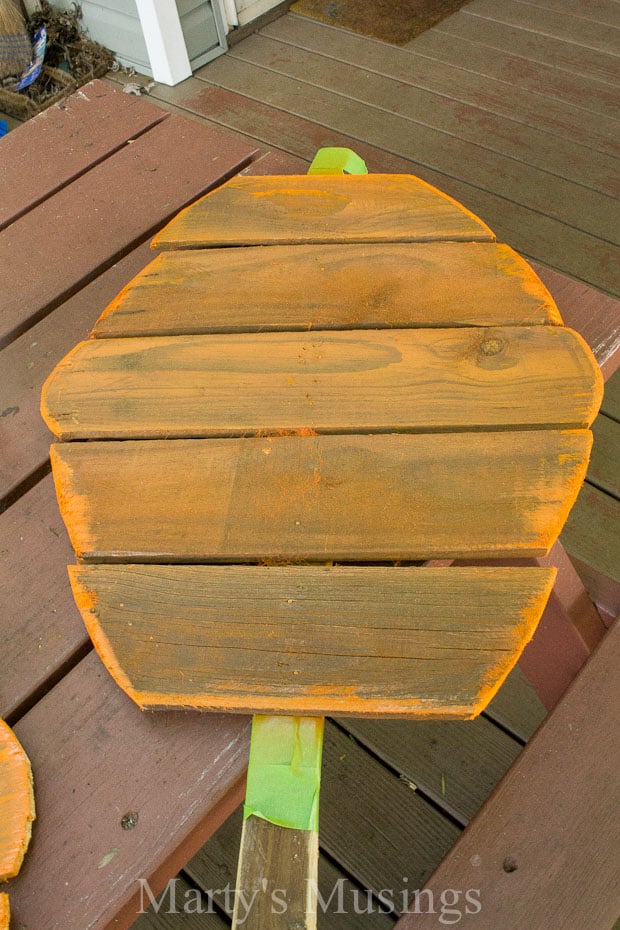 Step 5: Add adhesive letters.
I liked the plain pumpkins a lot but thought I could add my own style to it.
I hauled out my trusty Cricut diecutting machine and went to work. I chose the Lyrical Letters font for this project.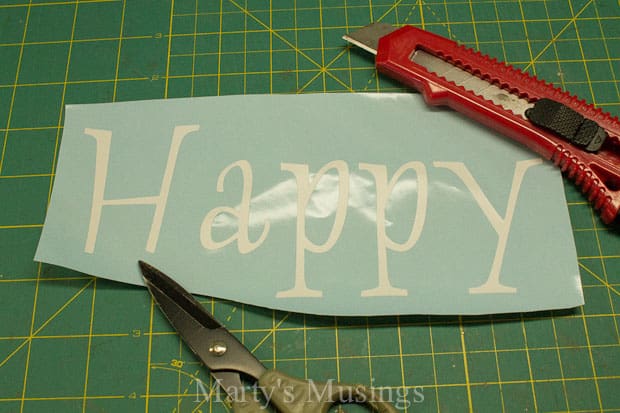 You can see the details of the exact process on how I use my vinyl letters on fence board on this post or see how I made a family gallery wall with vinyl lettering here.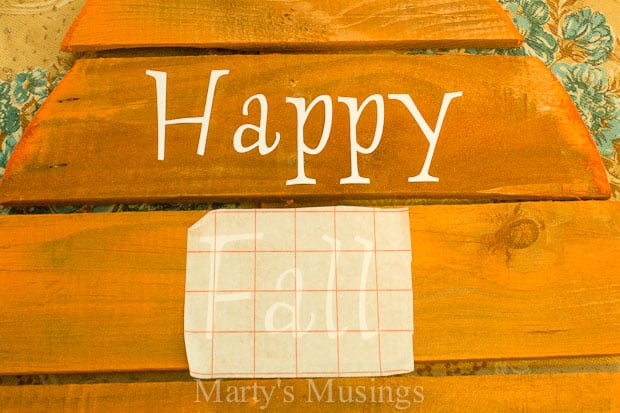 A good vinyl and transfer paper are necessary (this is my favorite vinyl and transfer paper).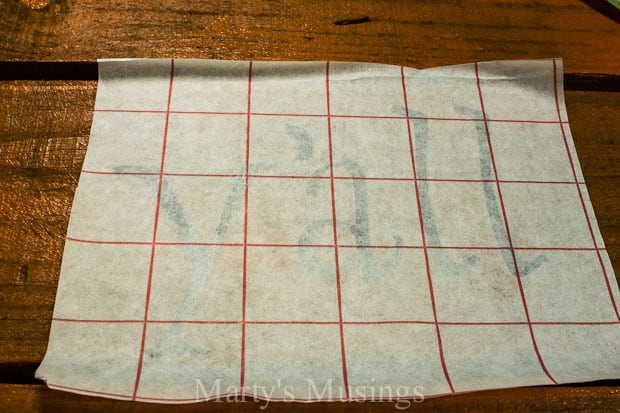 Here's the wood pumpkin without the greeting.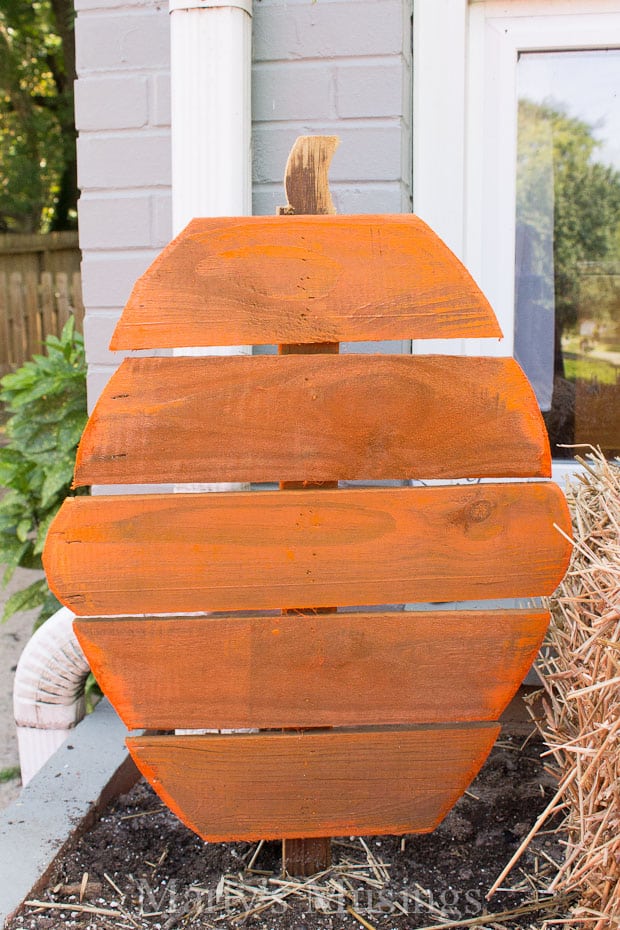 And here is my pumpkin decor and so much more welcoming and happy!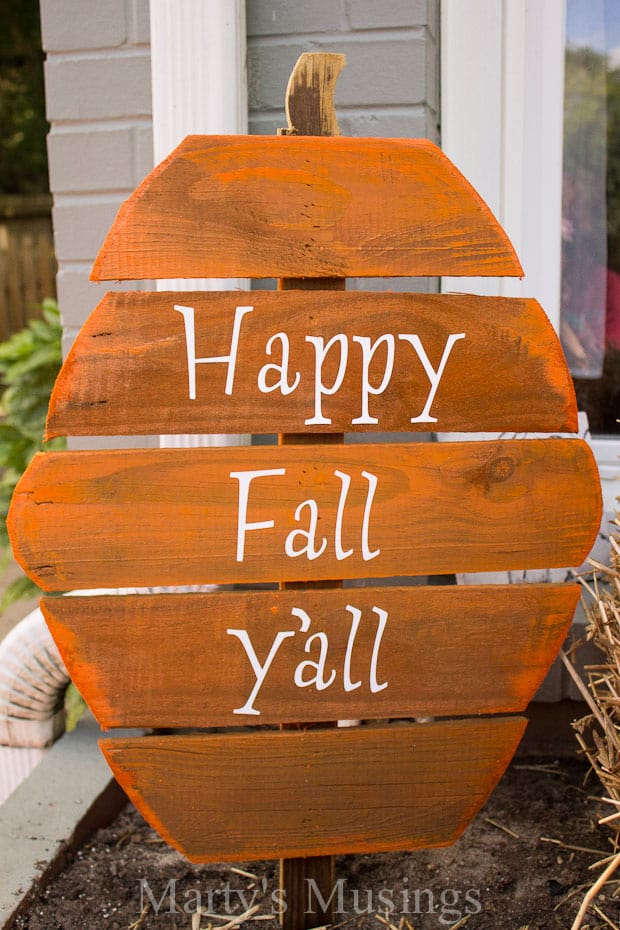 It's perfectly fine to use permanent stickers or labels on your rustic pumpkins. As you can see below my stickers kinda lost their stickiness about year four or so. Permanent markers to the rescue!
The pumpkins have followed me to my new home (read all about it here) and I couldn't be happier! I'm thinking I might need to add a buffalo check ribbon to the display!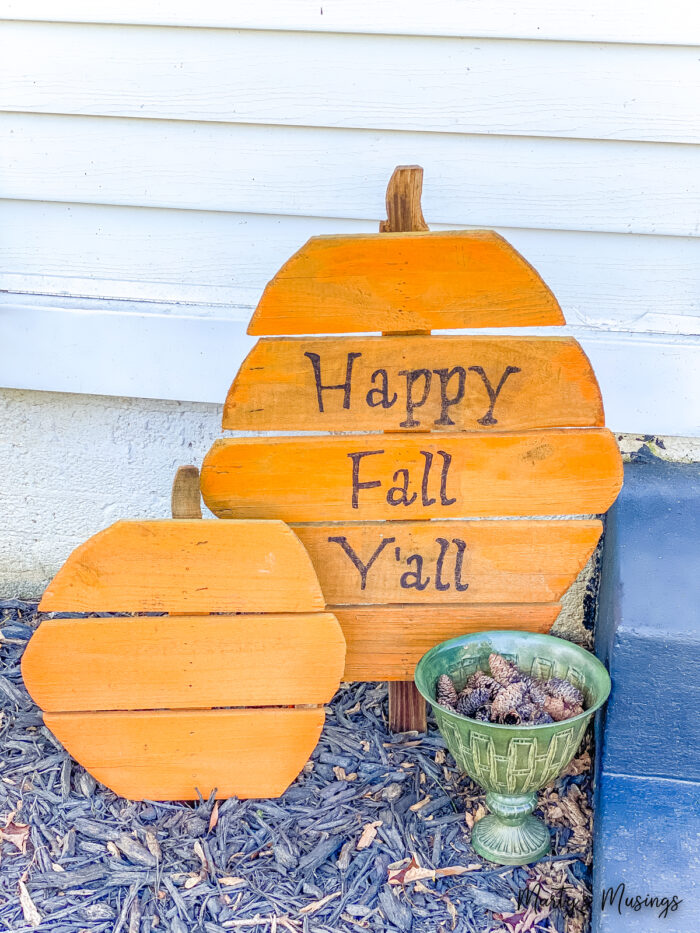 Wooden Pumpkins Printable Instructions
Wooden Pumpkins from Fence Boards
Want a cute rustic pumpkin that's easy to make and very affordable? Try these fun and easy wooden pumpkins made from leftover fence boards.
Ingredients
1

5-inch disc sander

1

Painters tape

1

Orange spray paint and primer

1

Circuit Explore Air

1

Adhesive vinyl

1

Transfer paper

1

Permanent labels
Instructions
Locate and prepare wood.

Cut out design.

Distress wood.

Paint pumpkin.

Add adhesive letters.
Wooden Pumpkin Ideas to buy if you're not crafty!