Ranch Style House With a Front Deck
This post may contain affiliate links which won't change your price but will share some commission.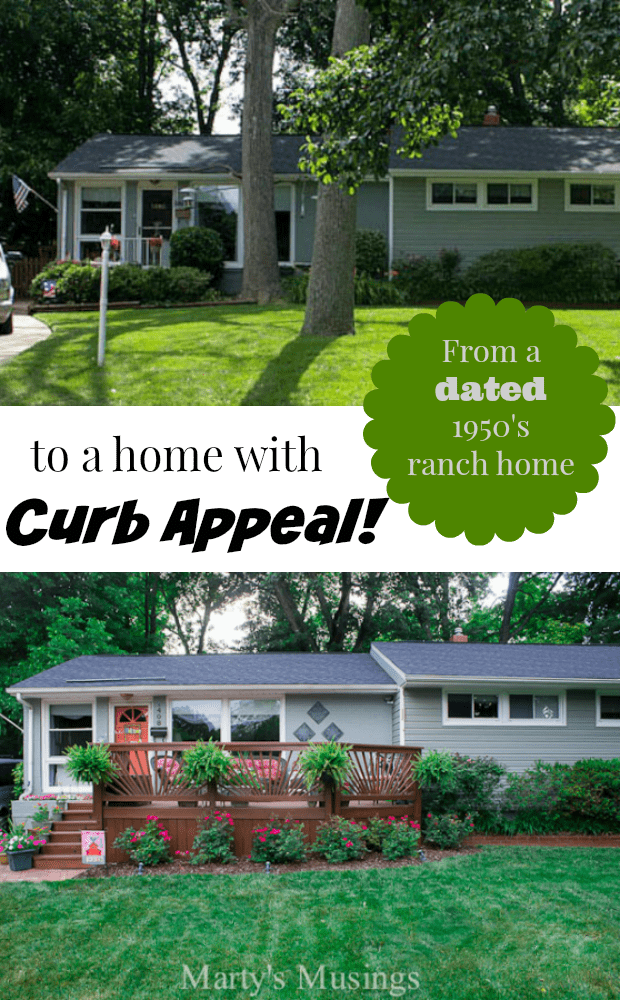 Last year we had our dream deck built on the front of our house. No, my DIY hubby Tim didn't build it himself (although he did build the one in our backyard and restored it last year.)
We were able to find someone willing to build it for a daily charge and it was a great deal. We haven't regretted spending the money paying someone else even one little bit.
Tim did do most of the finish work including the sunburst deck railing and I did all the decorating (and y'all know that's the hard part!)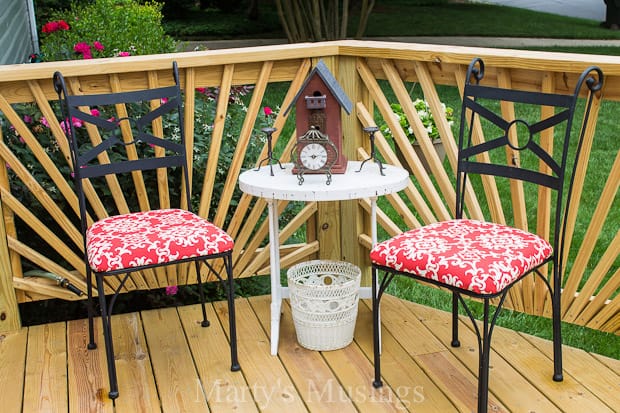 We have absolutely loved this new addition to our ranch style house. We live in the hot south and it's common to see a porch or a deck on the front of the house.
If we had unlimited funds I would have preferred a porch, which means a roof and not getting wet. But that wasn't part of the plan and even without it I couldn't be more pleased with the way our project turned out.
(For a little perspective you have to see where we began a couple of years ago with the dead (but pretty) trees in the front of our home.)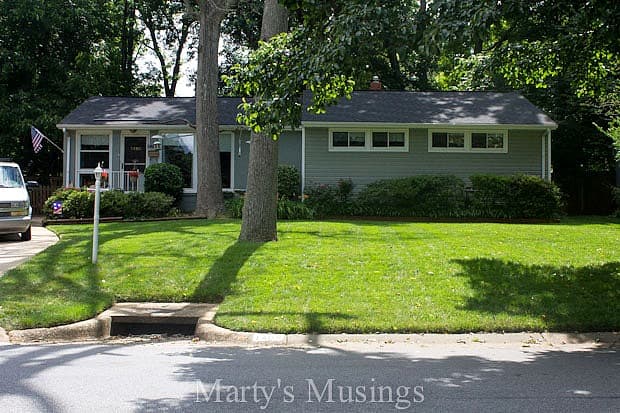 Last year when I posted our deck on one of the groups I'm part 0f I had no idea I would become involved in a particularly animated discussion on the pros and cons of decks versus porches. Everyone had their own opinion and sometimes they were not always expressed politely.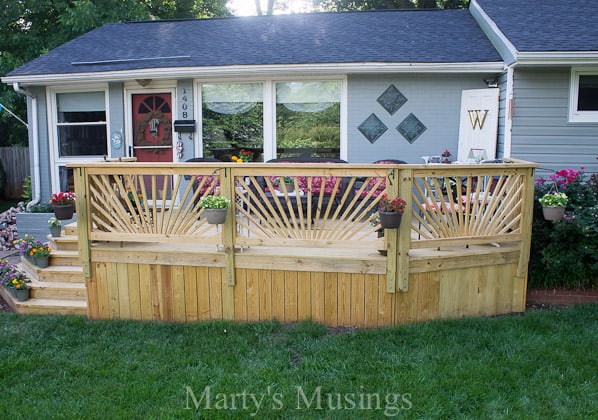 Hometalk is a wonderful community to find project inspiration for everything from building, DIY, crafts and more plus there's a community of contractors and professionals to answer questions for you. (No, I'm not getting paid, just a community I enjoy being a part of).
Sometimes, though, the comments can get a bit mean spirited (here's the thread if you want to read along, but you have to join first.)
I always try to avoid conflict in terms of social media. My reputation is more important to me than getting my point across with the whole world watching.
Plus my mama always taught me if I didn't have something nice to say I shouldn't say anything at all!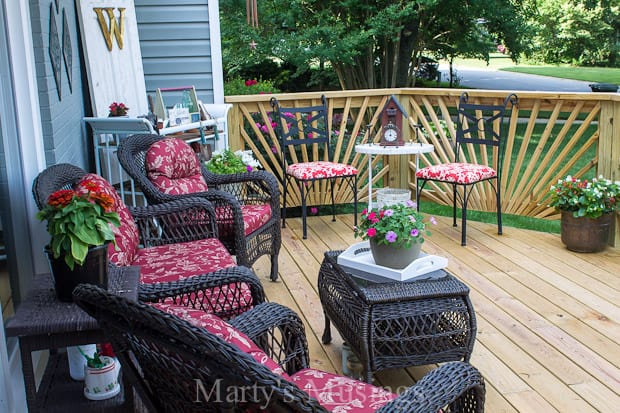 So I took the high road in the comments and only responded to the kinder ones. The funny part was watching other folks come to my defense without me saying a word!
I did think it would be fun to explain some of our thoughts about this project and show you how it looks a year later!
Money was definitely a deciding factor. Like most of you, we live on a limited budget. Our DIY projects are not done on a whim. Usually they involve months (and sometimes years) of conversation and research.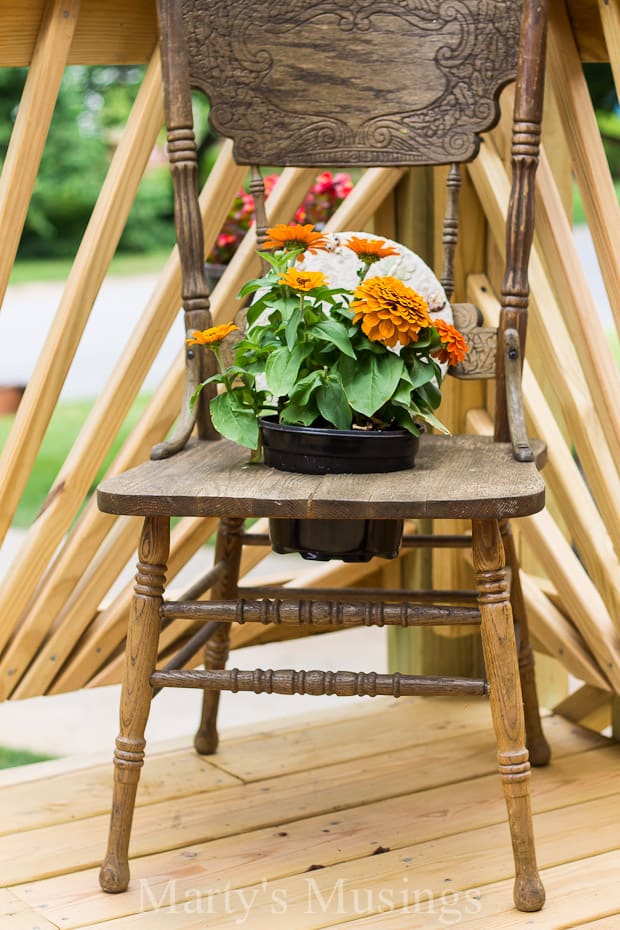 Neither one of us gets everything we want. We compromise and usually find the least expensive option that will help us obtain our goals.
No, we DIDN'T build a deck so I would have something to write about! Even though my husband laughingly says that it's hardly true. But since we did build it you bet I'm going to decorate it, enjoy it and tell you all about it!
We spent years tossing the idea around the idea and dreaming. When that dream became closer to reality we had to make some decisions.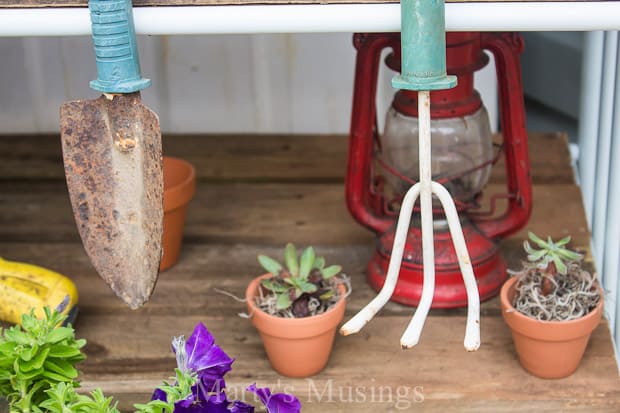 The first one involved removing the dead trees in the front yard. Wow, did this stir up a controversy!
While I love trees and would have gladly saved the thousands of dollars we spent on dead tree removal it was a necessity for the trees in close proximity to our house. We've removed about ten on our property through the years and every time we spent that money I grimaced but it's better than buying a new roof or car or whatever they might have landed on if they fell.
The second step was the jack hammer demolition of the front stoop and stairs so that the deck could go right over the stoop itself. Fun times. Not.
You can read all about our adventures in family bonding, with a comical look at this project with a "he said" and "she said" commentary. Plus you can see me rock a jack hammer with my freshly dyed blonde highlights (a girl has to do what a girl has to do!)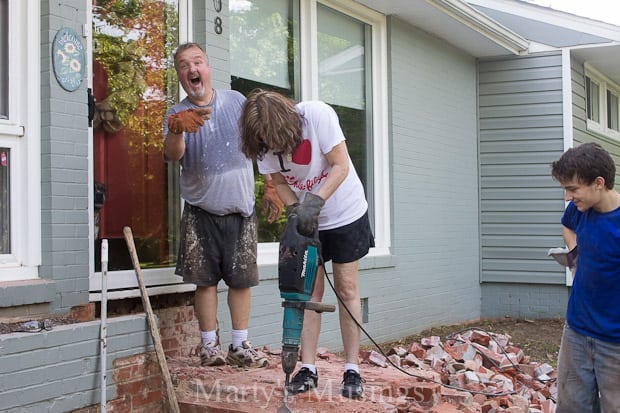 Finally, last year I couldn't wait to show my readers the finished project in all its glory with my yard sale finds, including my $15 changing table turned DIY Garden Cart and a few curbside treasures thrown in.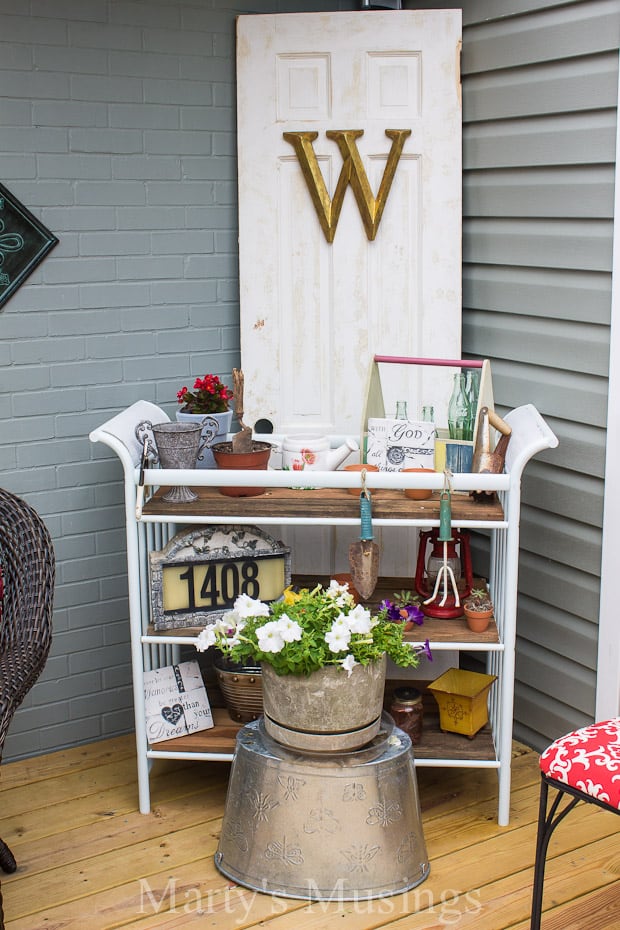 This year I took the old door down. I really loved it last year but somehow the rustic look just turned dingy and bad first impression. I'm okay if everything doesn't work. No one gets it right all the time.
After waiting the necessary time for the wood to cure, Tim then stained the deck and we love the way it makes the deck blend into the house. (You can read another lively discussion on our choice of color over on Hometalk!) Before we just had a stoop and I really had no place to decorate for each season. Not anymore!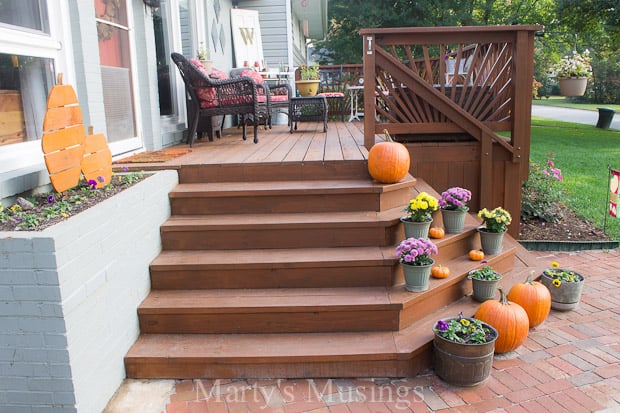 Now we're ready to move on to this year's deck after living with it a year (and more time spent yard sale shopping since then!)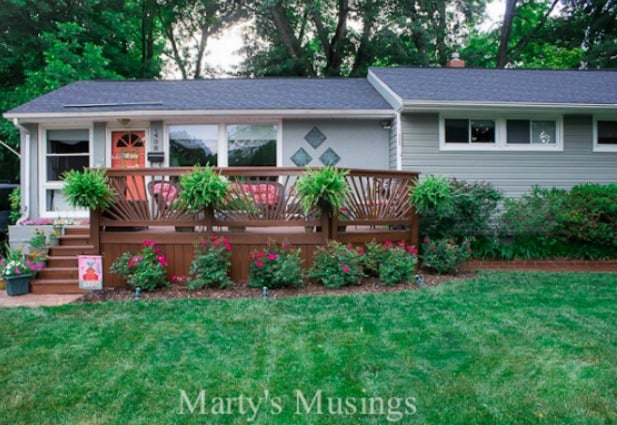 What do you think?
Last year Tim planted roses for non gardeners like me. Knockout roses are just amazing! Tim is the gardener in the family and I'm the waterer and pruner of dead buds!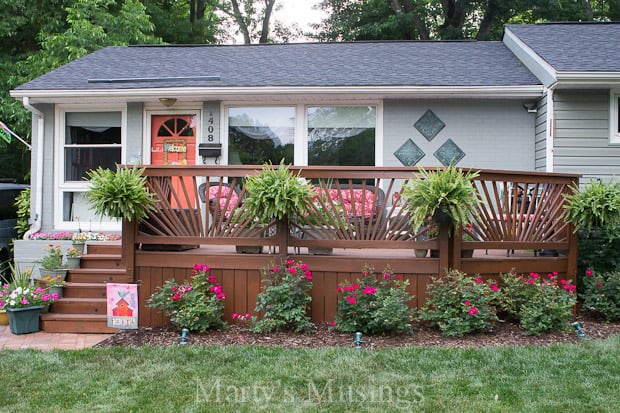 The one thing I wanted most this year was the ferns. Love them!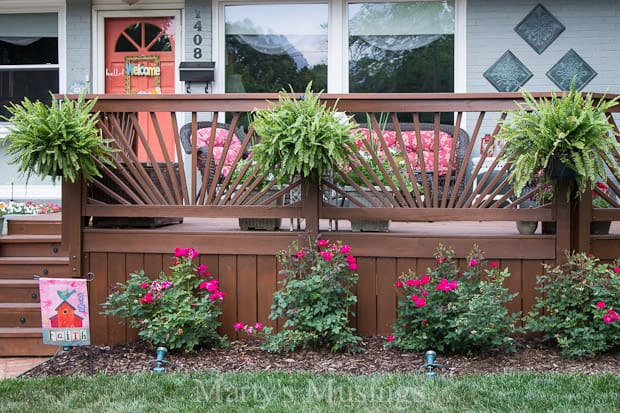 Our home has so much more curb appeal now. I love the way the stairs lead straight to the front door and the flowers just make me smile!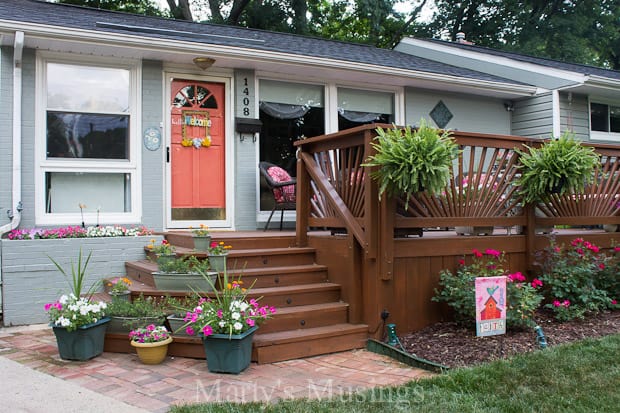 We used a combination of petunias, impatiens, lantana, marigold and spiky plant (my husband says that's the official name but I'm not so sure!)
Somehow I think he got the best job with just planting and I got the worst with watering pretty much every day and picking off the dead blooms. We might have to switch next year!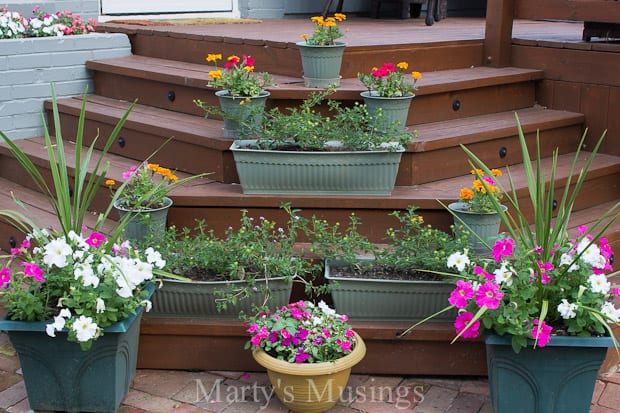 My front door welcomes all with its cheery Japanese Kimono color and makes me happy as well!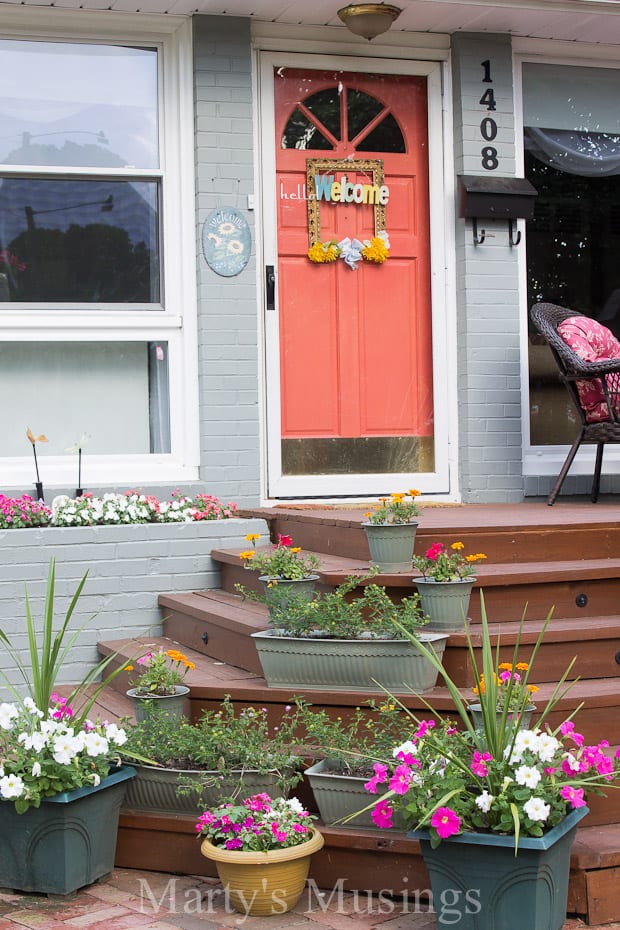 Our answer to the uproar of whether it was right to build a deck on the front of a house? We're enjoying every second of the view!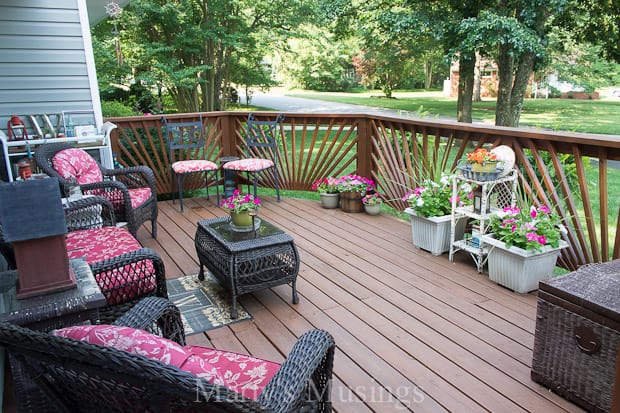 THIS IS NOT OUR DREAM HOME. Are you living in yours? Most of us are not.
If I had wads of cash and unlimited time it would be different. Accepting reality and living contented is my goal and it's why I share our journey, not only through our DIY projects, but through our family story.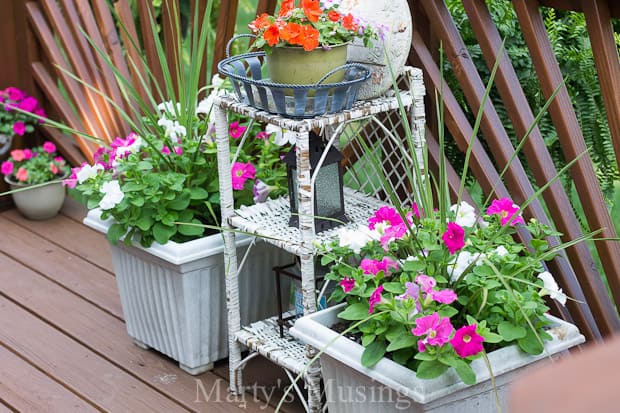 At the end of the day when we're relaxing on our deck with our feet up, holding hands and talking through the details of the day, we love every inch of our deck.
It's more than just a DIY project. It's proof of hard work, patience, commitment, team work and a whole lot of love.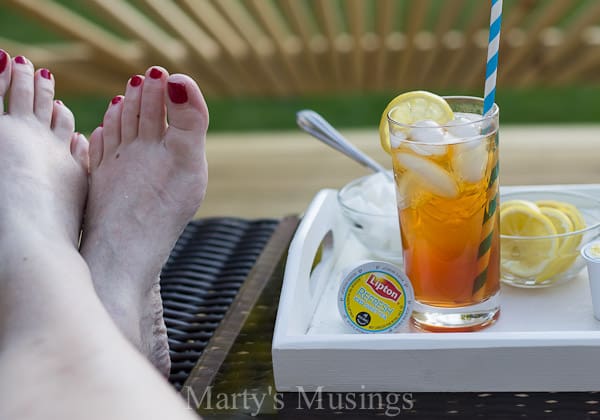 Won't you join us along the way? I'd love to know whether you'd rather have a porch or if a deck would suit you just fine!
See more of this year's budget decorating and all the latest yard sale and trash to treasure finds (or last year's here).