Deck on Front of House
This post may contain affiliate links which won't change your price but will share some commission. Read more here.
All the questions you need to ask before adding a deck to the front of your ranch style house. Check out the curb appeal added by these homeowners!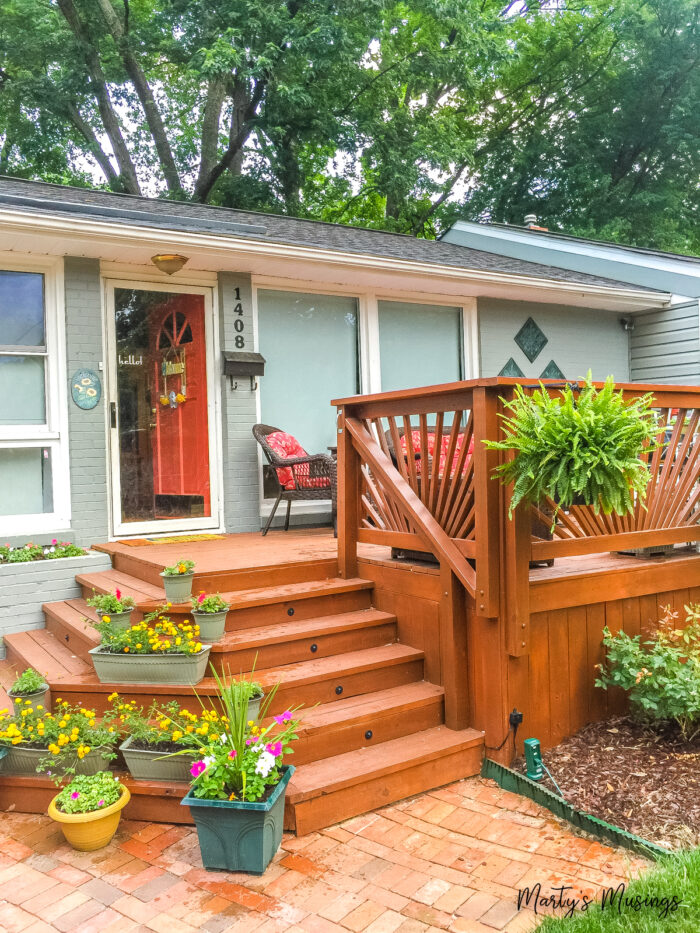 One of my favorite projects in my previous home before my husband and I divorced was adding a deck to the front of the house. We spent years tossing the idea around and dreaming.
We had already added backyard decking where we loved to entertain friends from the neighborhood. However, that project was years and years old so we used a restorative product to help it last longer. (You can read about our experience in this Behr DeckOver product review.)
Our new front deck more than surpassed our expectations and gave us an outdoor living space we thoroughly enjoyed. I loved the additional curb appeal as well as a sitting area for entertainment with friends and family.
Things to consider when building a front deck
Deck vs. front porch?
I'm southern born and bred and I sure do love a good front porch! Here in the south we're especially known for them because of the warm climate.
Honestly, I would have loved a covered porch instead of a deck but that put the financial cost way too high. It would have been necessary to add a roof and connect it to the house in a way that both looked good and was functional. So a front deck is what we ended up with.
What is the purpose for the deck design?
The improved entrance to our home was one of the biggest reasons for adding a new deck. Previously we had just a small stoop and it was so difficult to get in the door with kids, groceries and pets trying to escape! I wanted to be able to walk straight up the stairs onto the deck and into our home!
How much will it cost?
Our deck was built several years ago before the price of lumber skyrocketed. I would definitely price out every single item you might need and go from there. If you're not trained in this area search for a contractor or worker who has experience in this area.
If you use a contractor they may be able to price per square foot. Always check references and make sure someone you hire is reputable. Cheaper isn't always better in the long run!
Can I build it myself?
The real question is whether you have the skills necessary for framing, adding joists and beams and all the DIY steps that are required. We ended up hiring someone with the architecture skills to help us flesh out our open deck concept. He then supplied the labor building all but the railings.
Will it add value to the home?
I absolutely love composite material decking which never needs to be replaced. But I would guess most of us have to settle for plain ol' lumber. Either way, the value of taking down trees like we did (pine trees are everywhere in the south!) and improving the look of your home makes the decision to build and invest money much easier.
Front of ranch house before
Our ranch home before was pretty basic for our neighborhood. We actually had 2000 sq. ft. because there's an addition on the back of the house. That's how we fit five children and numerous pets in there!
I had some concerned readers who didn't like the idea of taking down any tree. But these two in the front were dying and needed to go! Weigh the cost of the beauty of the trees vs. the addition of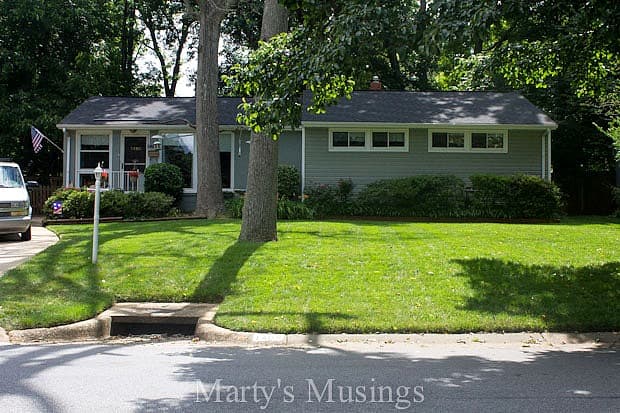 Design ideas
What is your inspiration? How will you use the space? Is your deck ground level or will you have a raised deck?
What about placement of this feature? Will it run the length of the front of your home or just a section on one side of the house. Is the weather formidable with intense sunlight and if so, could you add an awning in lieu of a roof?
I always like to start with a file of home ideas that appeal to me. You can do this through Pinterest or find another way that works for you. You may find you tend towards a certain wood tones such as cedar or redwood.
Is an open concept important so you can entertain a guest at your leisure? Is dining important if there is room enough for a table?
Take your time with this part of the process. Whether you're building a deck or an open porch, knowing the answers to these questions will help you as you begin.
Budget wisely.
Money was definitely a deciding factor. Like most of you, we lived on a limited budget. Our DIY projects were not done on a whim. Usually they involved months (and sometimes years) of conversation and research.
Neither one of us gets everything we want (in DIY or life!) We compromise and usually find the least expensive option that will help us obtain our goals.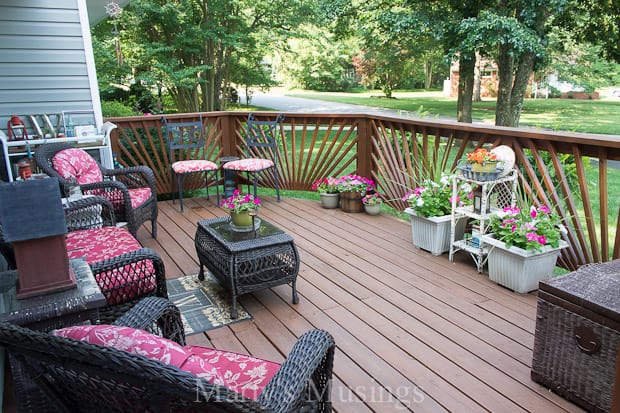 We spent years tossing around the idea and dreaming. When that dream became closer to reality we had to make some decisions.
If we had unlimited funds I would have preferred a porch, which means a roof and not getting wet. But that wasn't part of the plan and even without it I couldn't be more pleased with the way our project turned out.
Remove trees and foliage and grade the area.
While I love trees and would have gladly saved the thousands of dollars we spent on dead tree removal it was a necessity for the trees in close proximity to our house. We removed about twelve on this property through the years and every time we spent that money I grimaced. But it's better than buying a new roof or car or whatever they might have landed on if they fell.
(You can read all about tree removal here.)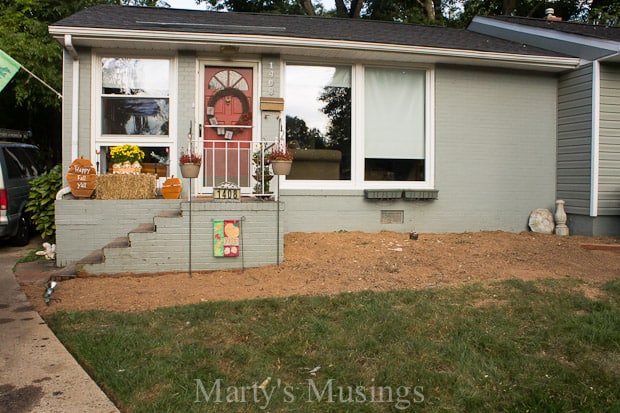 Deconstruct the current front entryway.
Our second step was the jack hammer demolition of the front stoop and stairs so that the deck could go right over the stoop itself. Fun times. Not.
Don't be fooled. You may see me rock a jack hammer with my freshly dyed blonde highlights but I didn't contribute much to this part of the process. Also remember all that brick has to be disposed of as well. We kept the flower bed to the left of the front door because it adds interest (and also it would have been an additional pain to remove!)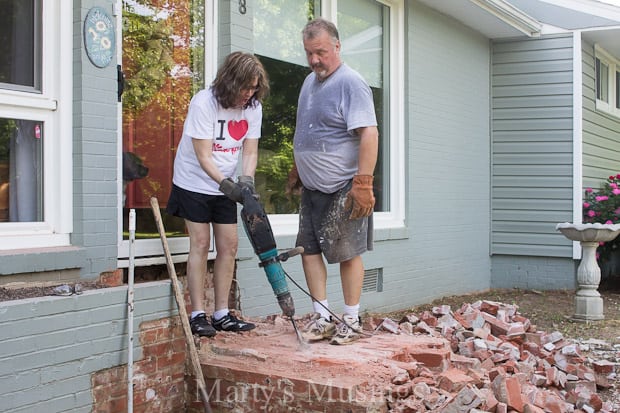 Construction of deck
We were able to find someone willing to build it for a daily charge and it was a great deal. We haven't regretted spending the money paying someone else even one little bit.
I wanted a front entrance of stairs with access from the front and also along the brick wall by the built-in flower bed. In the middle the stairs connect to create a beautiful tiered landing for flowers.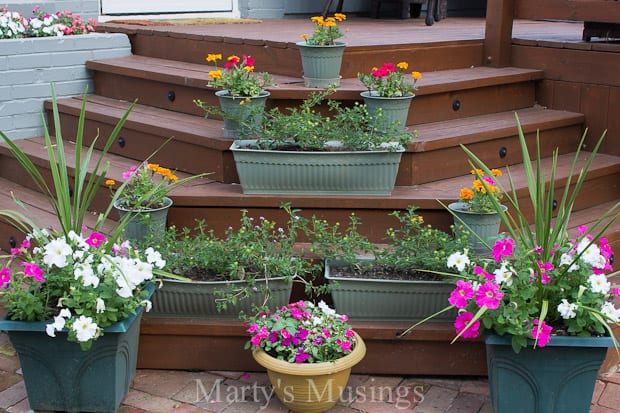 Add interest with a sunburst deck railing.
Want to add pizzazz to an ordinary deck? Add a sunburst deck railing to set your home apart from the rest of the neighborhood. Take your home from ordinary to extraordinary!
This type of project requires a lot of attention to detail and knowing the code for spacing the pressure treated wood. It was kind of like a Jinga puzzle at times but well worth it!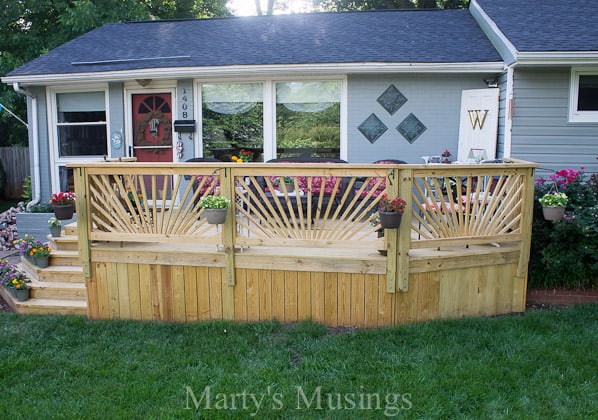 After wood has cured stain or paint.
After all the work is done on your beautiful new living area, there is still one more crucial step to protect your investment, waterproofing or sealing. We waited 90 days or so before staining, but always check the manufacturer instructions. (Read how to stain your wood deck here.)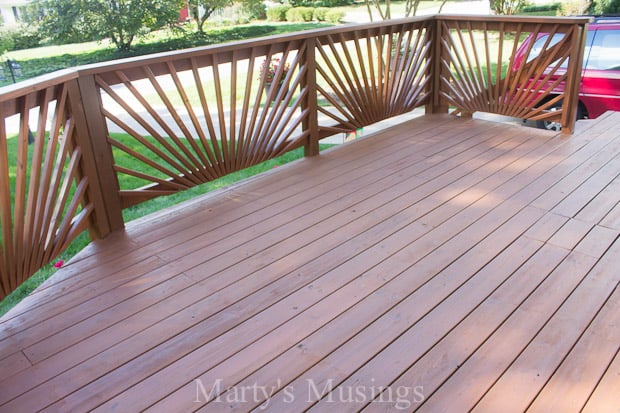 Furniture and outdoor decor
Now comes the fun part for me! If you want to create an additional seating area patio furniture is a must. I can happily say almost ten years later our furniture from Big Lots is still going strong! It moved with me to my little cottage and I have the sweetest patio set up in the back of my home.
Eventually I added a small rug and the pops of color are delightful! (You can also read about our Upcycled DIY Potting Bench from a changing table here.)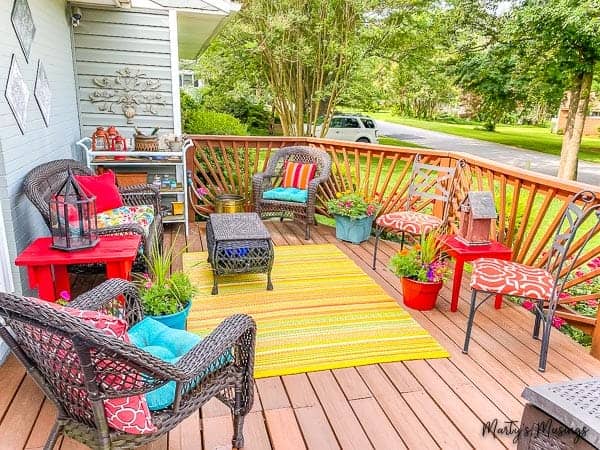 Shop yard sales and thrift stores (and the side of the road!) to add interesting pieces to make your deck or front porch unique.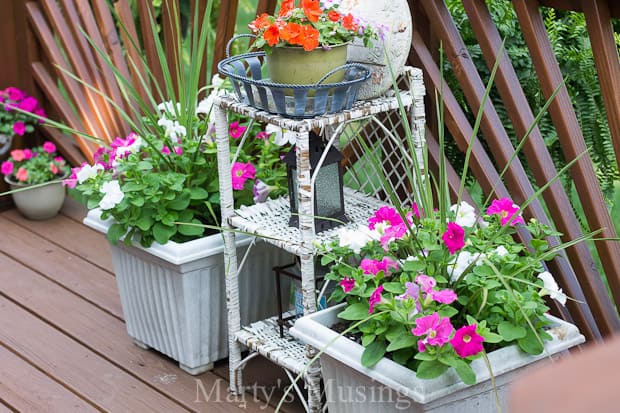 My style certainly evolved over the years but that's what makes decorating fun! Discovering what you like and don't like and what works for your home.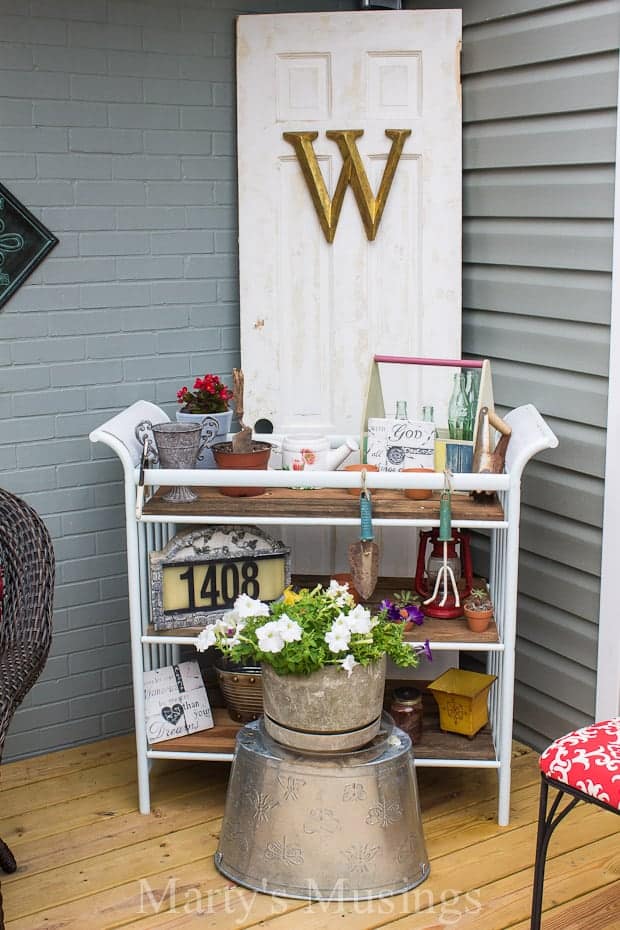 You may even want to make your own mason jar citronella candles to keep away the bugs!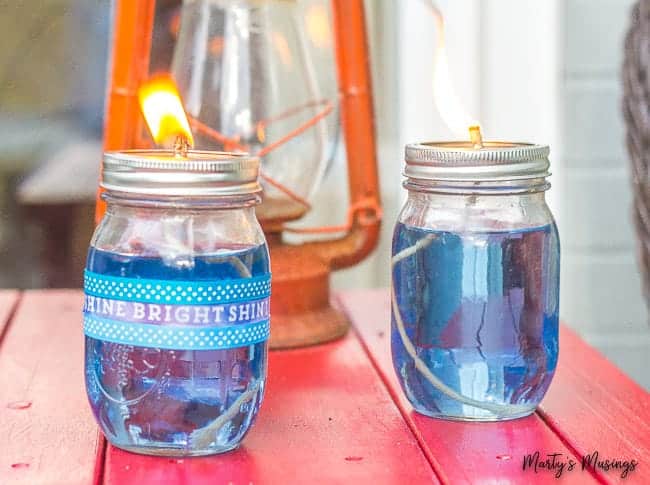 Add beauty with plants.
My ex planted knockout roses in front of the deck, and they were stunning! Ferns hanging from the railing were a must. I also added planters around the deck itself and coming up the front steps.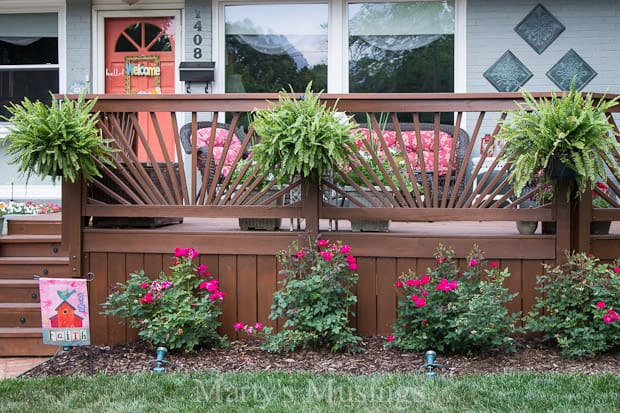 Each year I used a combination of petunias, impatiens, lantana, marigold and spiky plant (my husband says that's the official name but I'm not so sure!) The deck received full sun so I either got plants that could handle the heat or I watered every.single.day.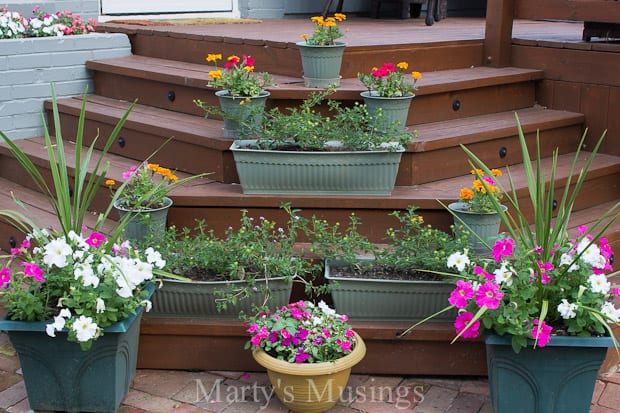 Some tips for decorating your outdoor space:
Save your pots and containers from year to year and spray paint them bright colors to go with your color scheme (if you have one!)
Use outdoor fabric on chairs and furniture to preserve them through the seasons.
If your area gets extreme winter weather you may want to store your cushions, rug and pillows. I loved the look of my deck year round so I get mine out.
The change in our home was pretty incredible! The front yard and new landscaping were definite positive additions but the deck itself steals the show!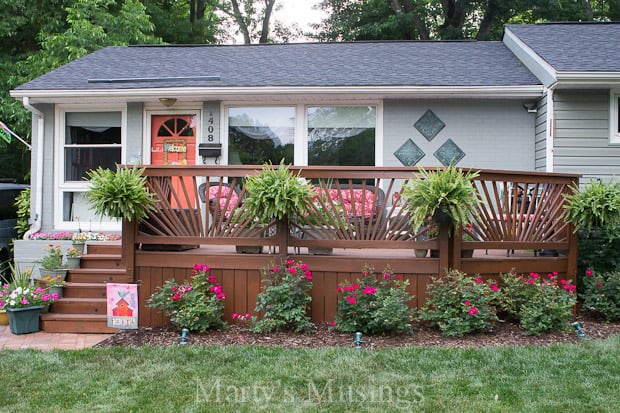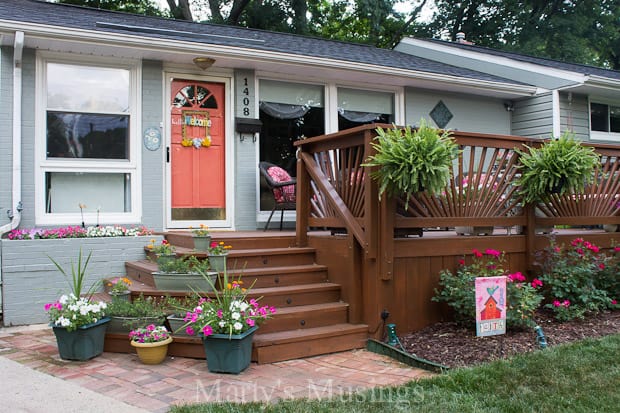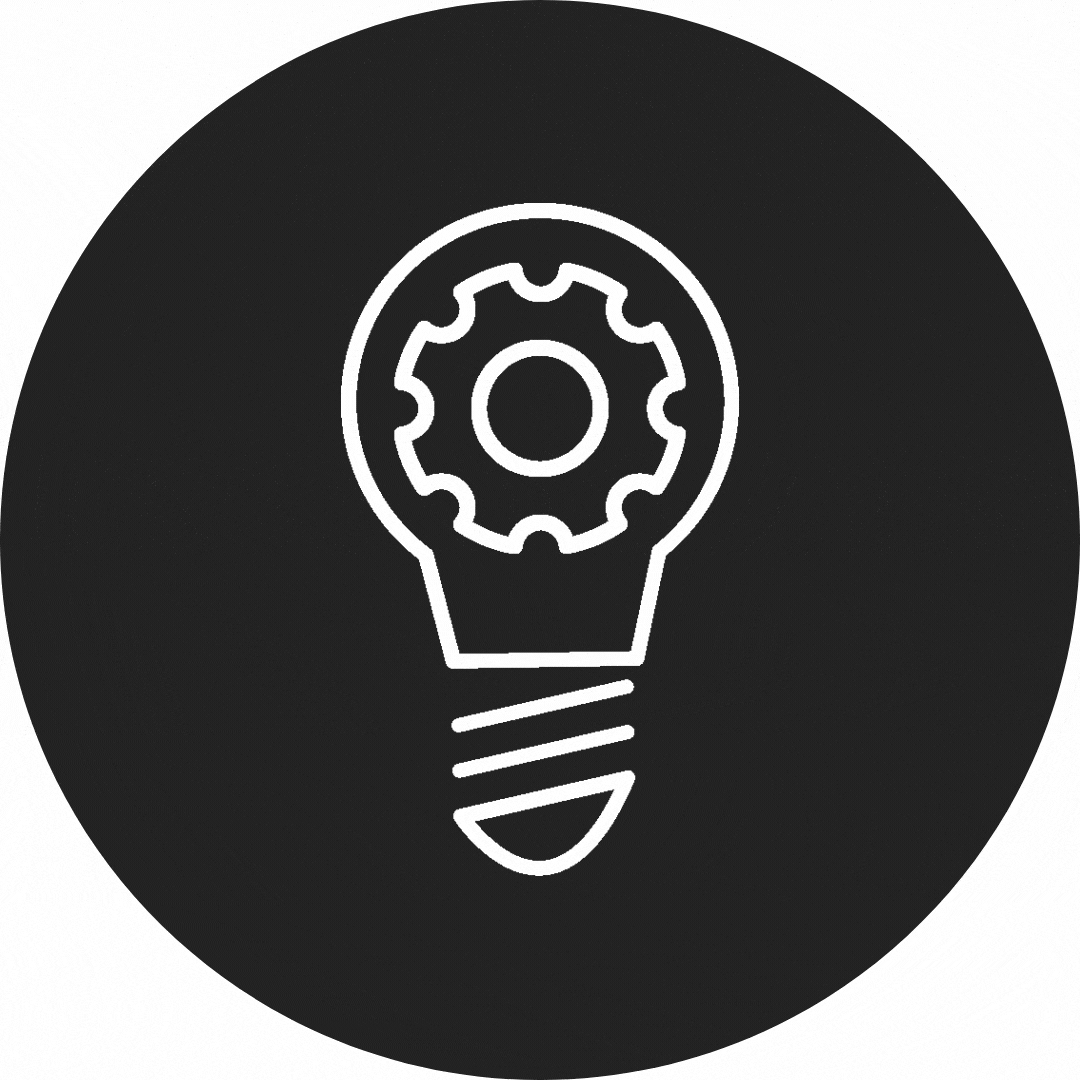 FAQs about deck on front of house
More Outdoor Living Projects
ll the ideas and instructions you need for relaxing outdoor living on a budget.
Deck on Front of House
All the questions you need to ask before adding a deck to the front of your ranch style house. Check out the curb appeal added by these homeowners!
Instructions
Things to consider when building a front deck

Front of ranch house before

Design ideas

Budget wisely.

Remove trees and foliage and grade the area.

Deconstruct the current front entryway.

Construction of deck

Add interest with a sunburst deck railing.

After wood has cured stain or paint.

Furniture and outdoor decor

Add beauty with plants.

More Outdoor Living Projects