How to Stain Your Wood Deck
This post may contain affiliate links which won't change your price but will share some commission. Read more here.
Even an ordinary homeowner can stain your wood deck with these practical tips and product recommendations from a professional painting contractor.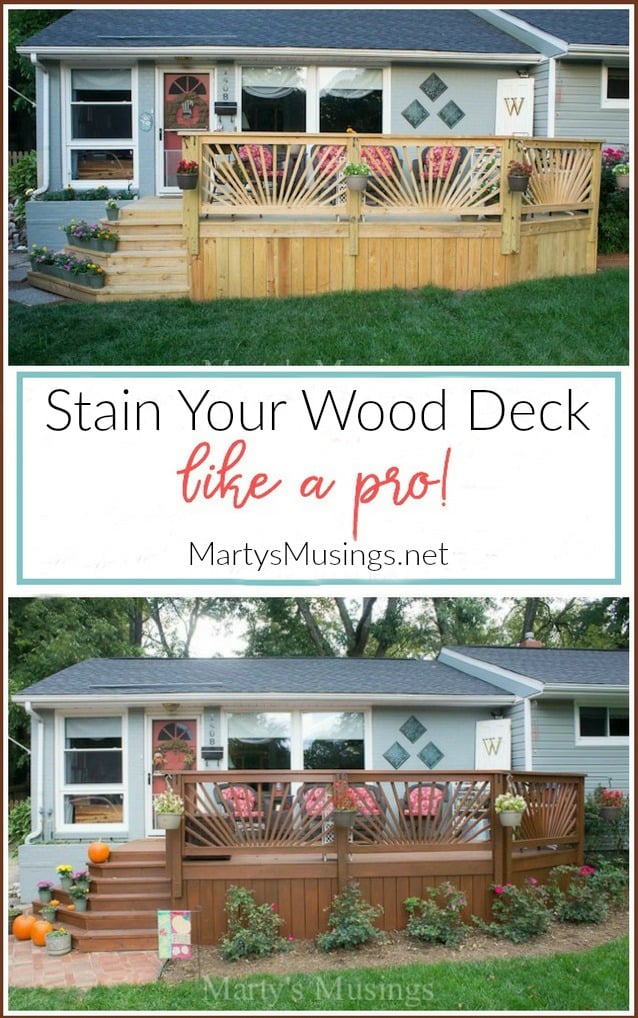 I hope you've enjoyed following along on our journey as we've updated our 1950's ranch home with a deck on the front. If you haven't read the story you can start with Part One, go on to Part Two (where I rock a jackhammer!) and the deck reveal.
Here's a reminder of where we started.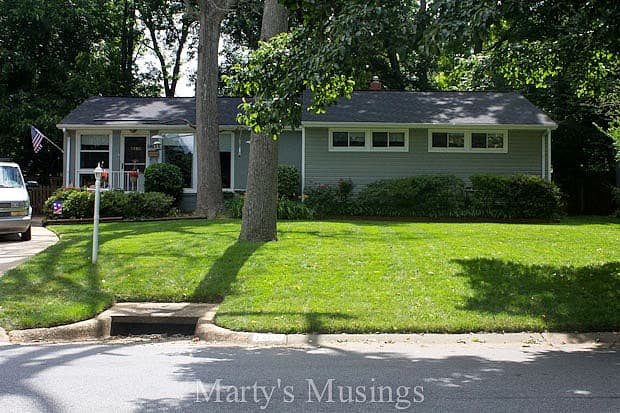 We don't have a garage so every time I come home I park the car, come up my deck stairs and see the results of our hard work and dreams.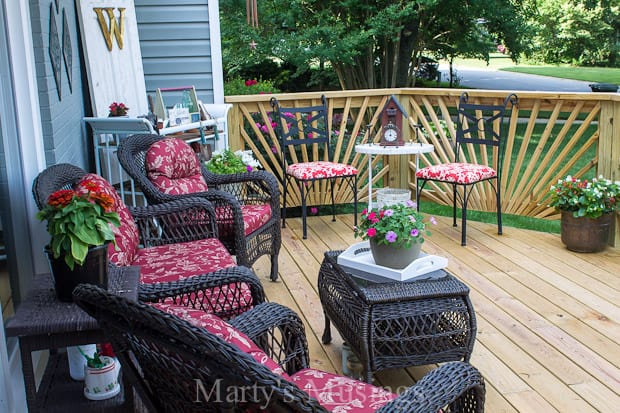 It doesn't matter that we spent years in the planning stage and months in the building and finishing stage. I love every square inch of it!
I didn't think it was possible for me to love this outside room more than I do but I was wrong!
Here's my handy hubby to tell you about our next step with how to stain your wood deck.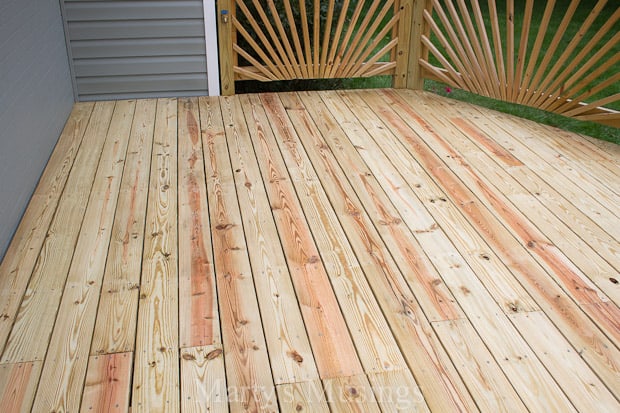 From Tim: After all the work is done on your beautiful new living area, there is still one more crucial step to protect your investment…..waterproofing or sealing. I still like to wait 90 days or so before executing this, but there is some debate that you can do it earlier.
How to Stain Your Wood Deck
Materials:
Behr Premium Semi-Transparent Weatherproofing All-in-One Wood Stain and Sealer
roller cover
roller frame
extension pole
paint brush
disposable paint tray
painter's tool
Painter's Plastic
Wagner Power Paint Sprayer
The first and very important step is to clean the deck, even though it is relatively new. I usually pressure wash, but you can also use a deck prep product found at the hardware store. At any rate, it is important that the surfaces be clean. You also want to remove everything off of and away from the deck.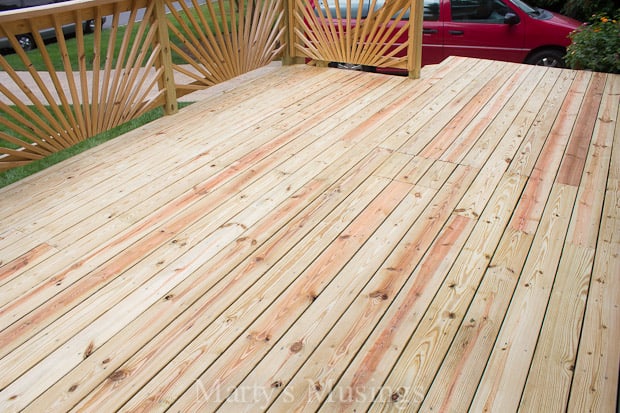 If you pressure wash, you might be surprised at how clean the wood comes. It may not look like new wood, so don't worry if it doesn't look brand new.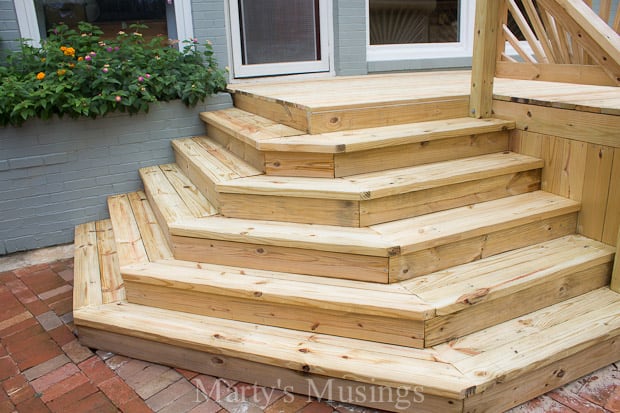 There are a lot of different surfaces on this deck, so I chose to spray as much as possible. Of course, that means protecting anything you don't want the sealer on.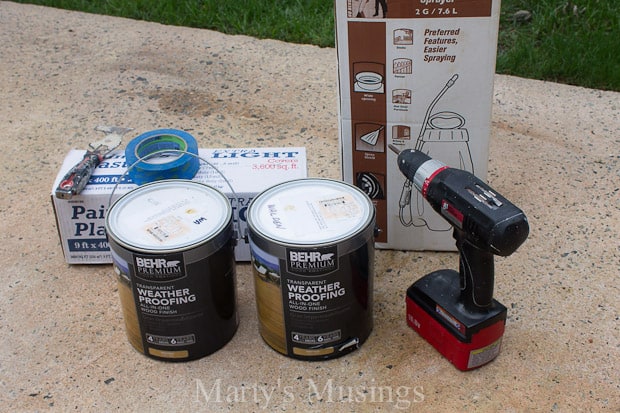 These were my original weapons of choice, but the pump sprayer turned out to be a wrong choice.I originally chose a Behr color called "Baby Diaper Brown" Antique Oak, but it was not at all what I was looking for.
After a re-tint (adding more gold and red), the product was too thick for the pump sprayer and I switched to a Wagner Power Paint Sprayer. This, of course, meant extra protection, since the over-spray would be more significant.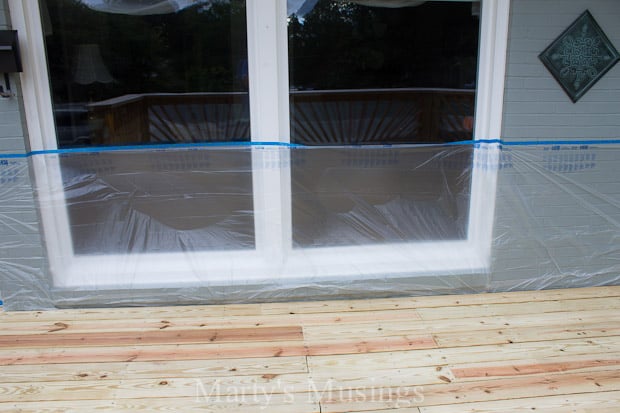 To protect the house, I used Painter's Plastic with the tape already attached and ran it 3′ or so up the walls. The excess was tucked behind the decking.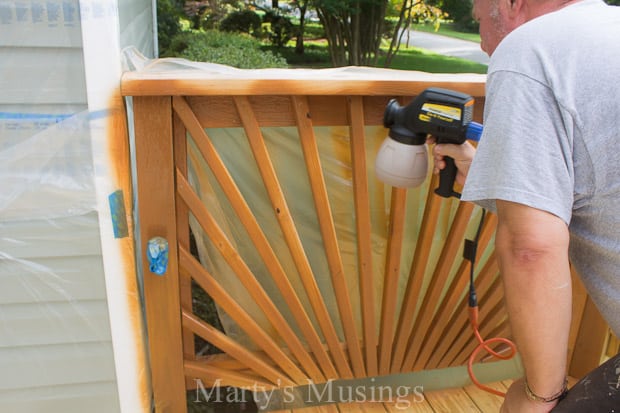 And we are spraying! You'll notice that I also stapled plastic to the outside of the railing. This was to prevent the over-spray from flying everywhere, especially onto the knock-out roses below!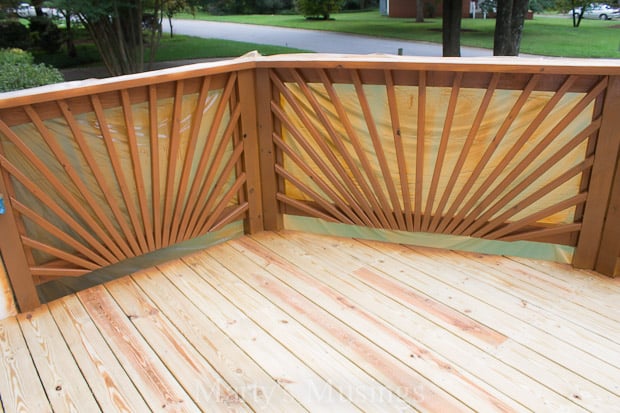 This railing design would have been incredibly tedious to do with a brush, so spraying this part of the project was really a no-brainer. I could have done it the other way, but had the sprayer in my shop and chose to use it.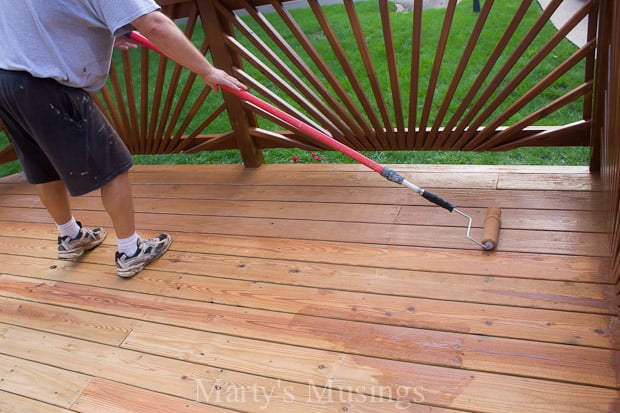 The lighting and time of day makes the stain look quite different in these pictures, but it did darken to a rich golden brown. Perhaps more color than I had originally intended, especially for the first application on a new deck, but it was beautiful against the house.
Usually, you want to hold off on a lot of color until later in the life of a deck; once you start adding color, you can never go backwards. I almost always suggest a clear waterproofer in lieu of a stain for the first several years, then gradually adding color as the deck ages. More color hides more years!
I had to roll the decking because the sprayer does not work on horizontal surfaces without a special (purchased) accessory that allows you to point the spray nozzle down at a 90 degree angle. I also liked going old school again!
I want to make a special note here to use the brush to apply product BETWEEN each board. This is especially true if you are applying a lot of color and your deck boards are spaced more than a nail's width apart. This not only completes the weatherproofing but makes the final application more uniform and aesthetically pleasing.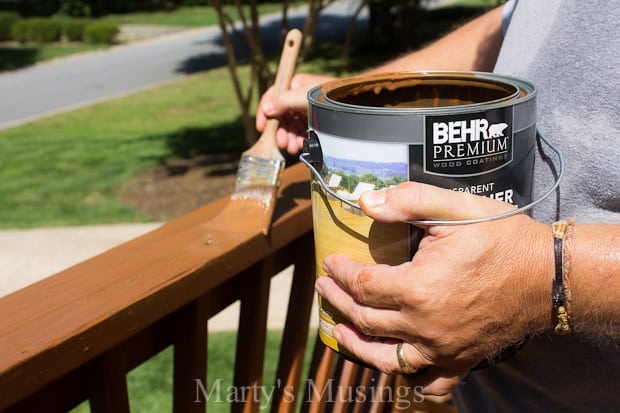 I used a brush to "cut-in" where the deck meets the house and some other tight areas, and I couldn't resist applying a few coats the old school way on the hand rail!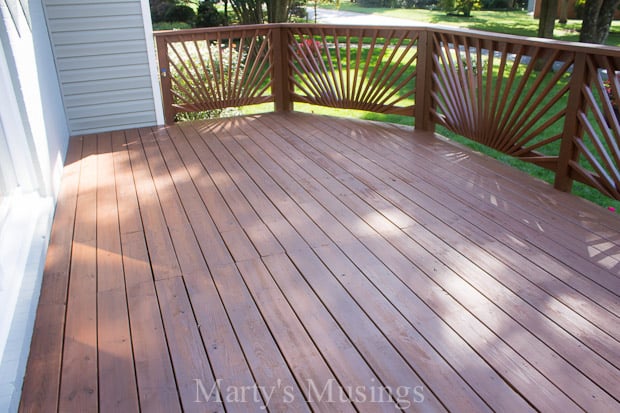 And here is the first coat completed! This Behr product is exceptional and I was very pleased, even at this point. There were very few lap marks and the consistency of the application was good.
You do need to be very careful about drips and runs! This will be true under the vertical surfaces and at the edge of boards, such as the steps. Simply grab that brush and feather the drips out.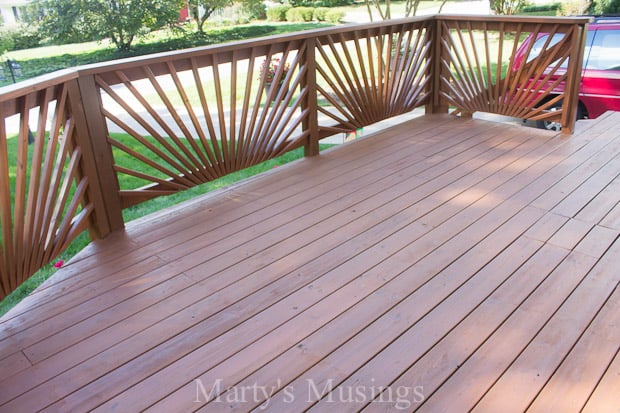 I was so pleased with coverage on these hand rails and the sunburst design. I had considered removing each 6′ panel and spraying them in the back yard, but decided to keep it simple and paint them in place.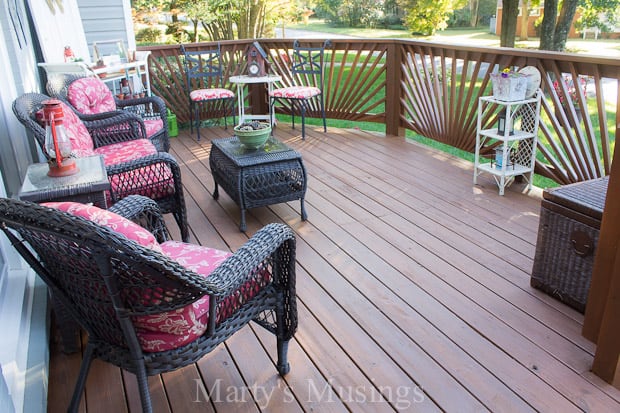 And this is finished…two coats, and everything back in place. We absolutely love this space!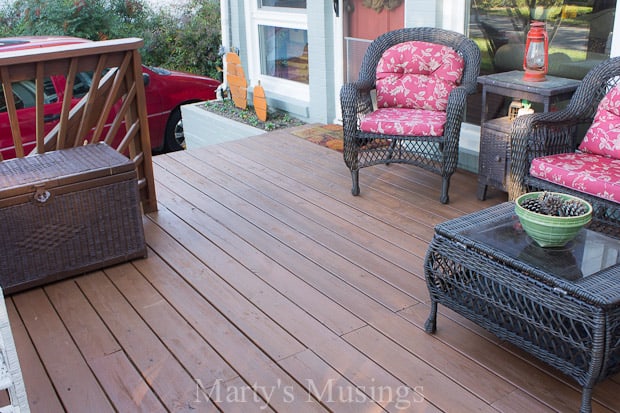 Marty: Don't you just feel like you're in the woods now with the darker wood?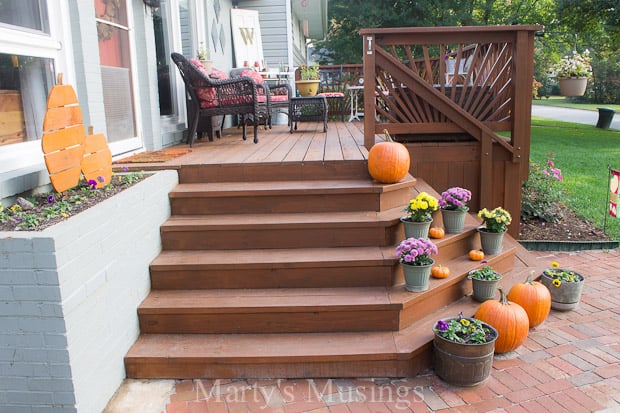 Now I have the steps I've always dreamed of all decorated for fall!
***Product is Behr Premium Semi-Transparent Weatherproofing All-in-One Wood Stain and Sealer. The color began as Antique Oak but was tinted with more gold and red.
Here are some of our other Behr projects:
all of the Behr Paint colors in my home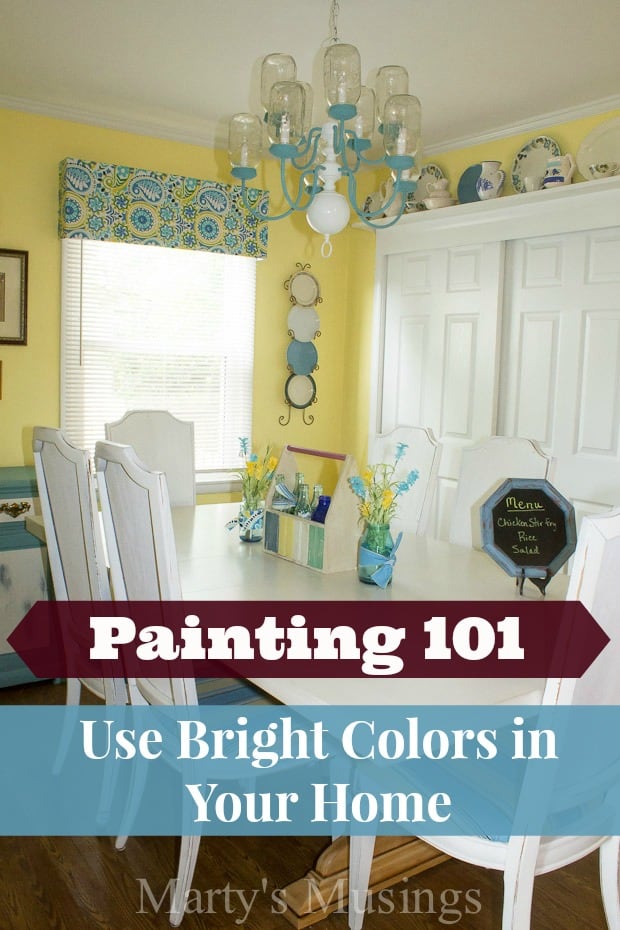 my totally creative and fun purple accent wall in my craft room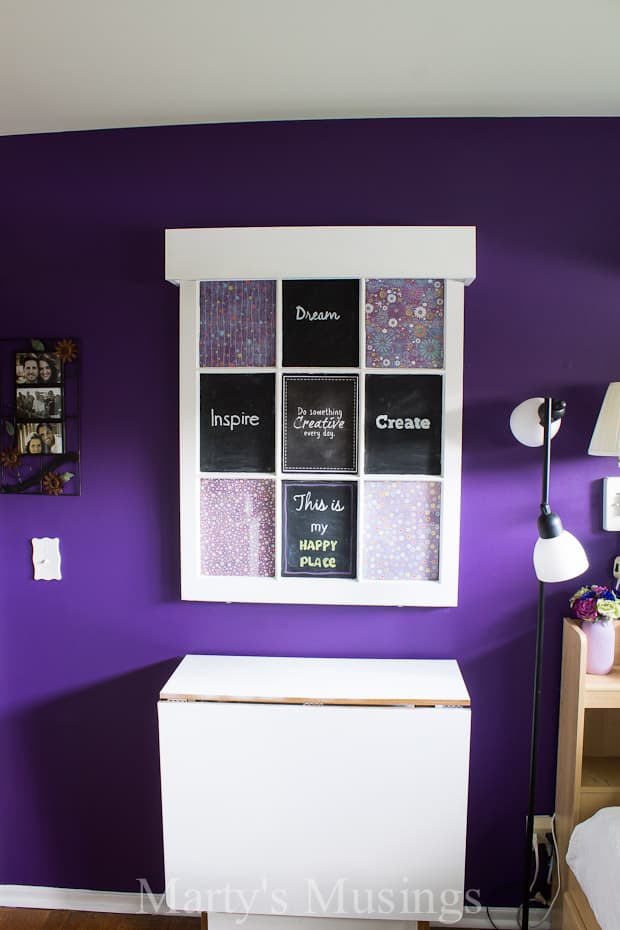 another accent wall, this time in my daughter's home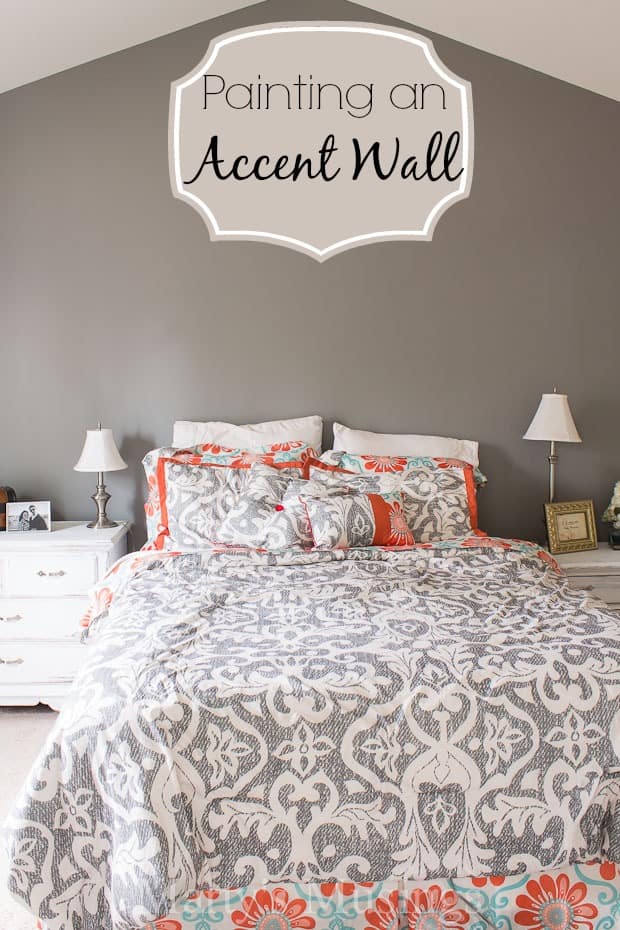 our back deck wood restoration project

painting our front door with BEHR Exterior house paint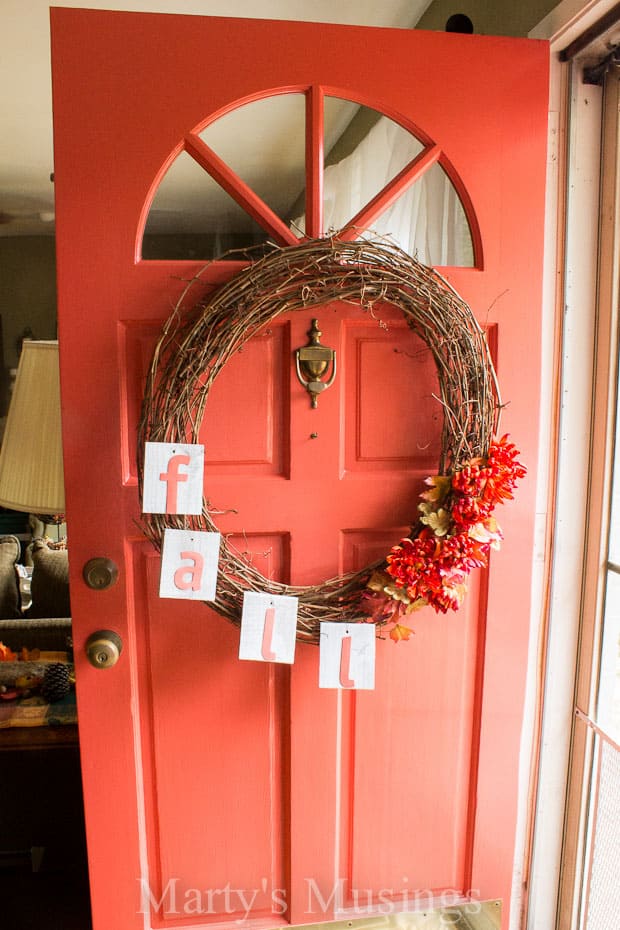 This post contains affiliate links.
Whether you've "done it yourself" for years or never lifted a single tool, these DIY home projects will inspire you to just try one new thing! You'll be amazed at how empowered and proud you'll feel!