Accent Wall Color: Behr Perpetual Purple
This post may contain affiliate links which won't change your price but will share some commission.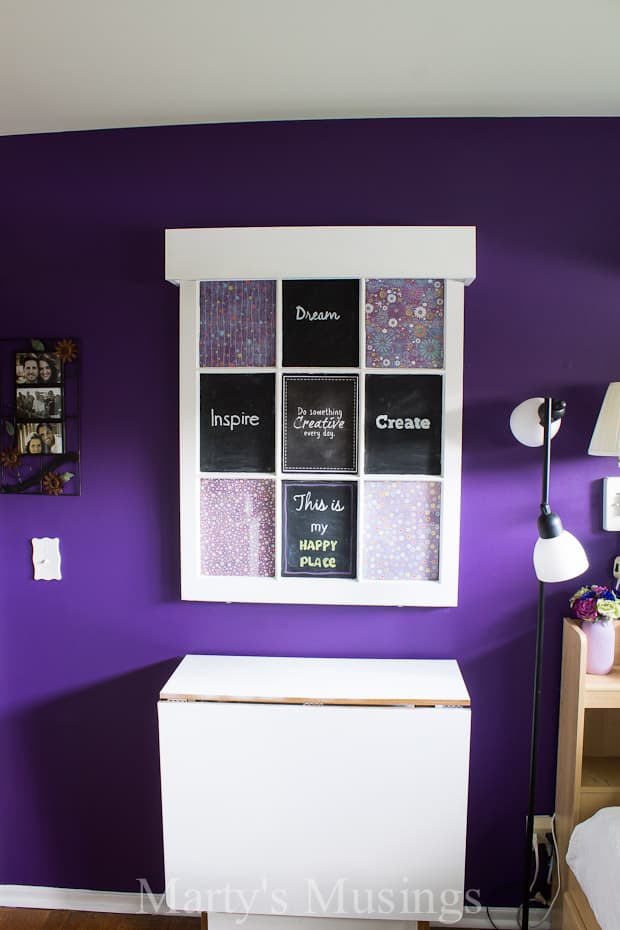 Have I told y'all how somewhat spontaneous our DIY projects seem to be?
I lie in wait for an opportunity for my DIY hubby to take a break in his schedule or……
I wait for the spirit to rise up in him to tackle my next honey do project.
When he says go I better be ready to go!
Actually, we also sometimes talk a project to death with all the what ifs and how much is it gonna cost and is this really what you want questions.
Spontaneous meets obsessive compulsive researcher.
When Behr asked me to be one of their DIY Experts again this year, I jumped at the chance for a first look at the new Marquee One-Coat Interior Paint.
We were even sent a paint deck to choose any color that my heart desired…..
and then I committed the cardinal sin of all things paint.
I pulled ripped the card out of the color deck so I could carry it around with me.
Oops.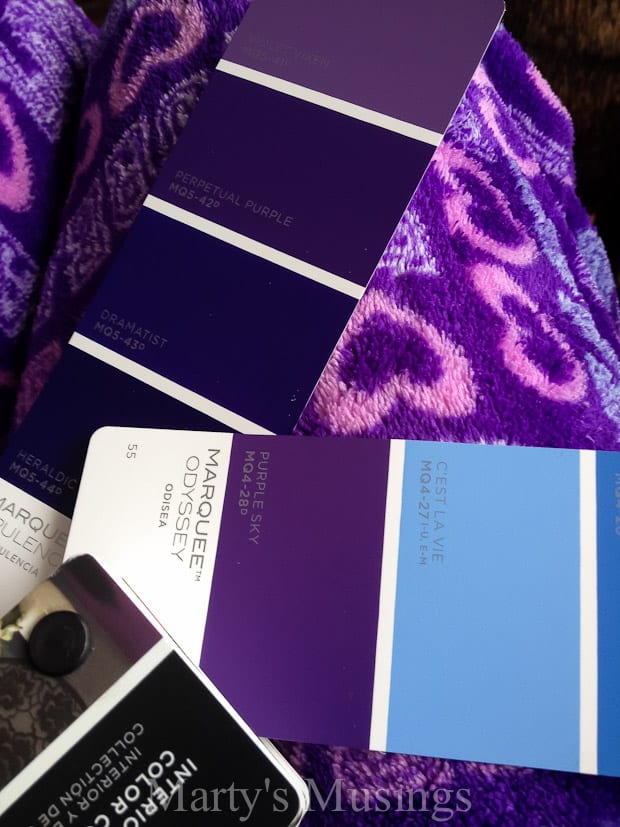 Oh boy. I'm just a blogger and make no claim to being a painter, but apparently I could be hung for the crime. (Tim did finally stop hyperventilating a couple of days hours later.)
Lesson learned.
For my craft room I wanted an accent wall color that was different and creative and BOLD!
I went for spontaneous this time!
Hello, perpetual purple!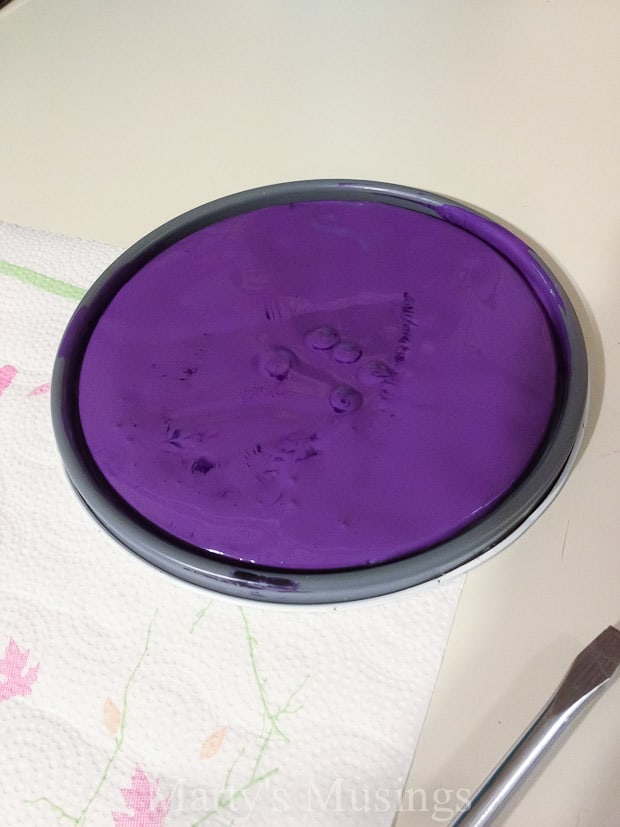 The walls in my craft room were all a neutral color and generally very ordinary looking.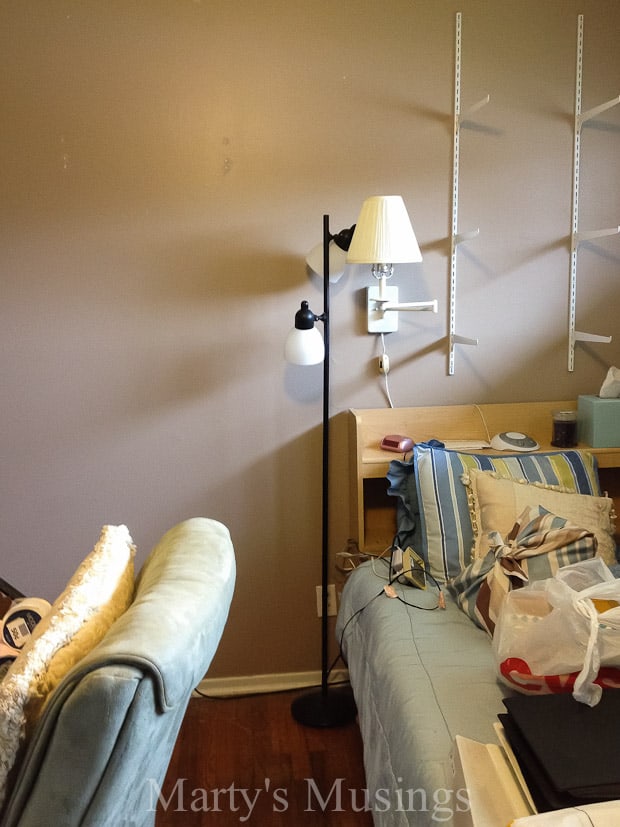 I jumped in with both feet to shake up this room.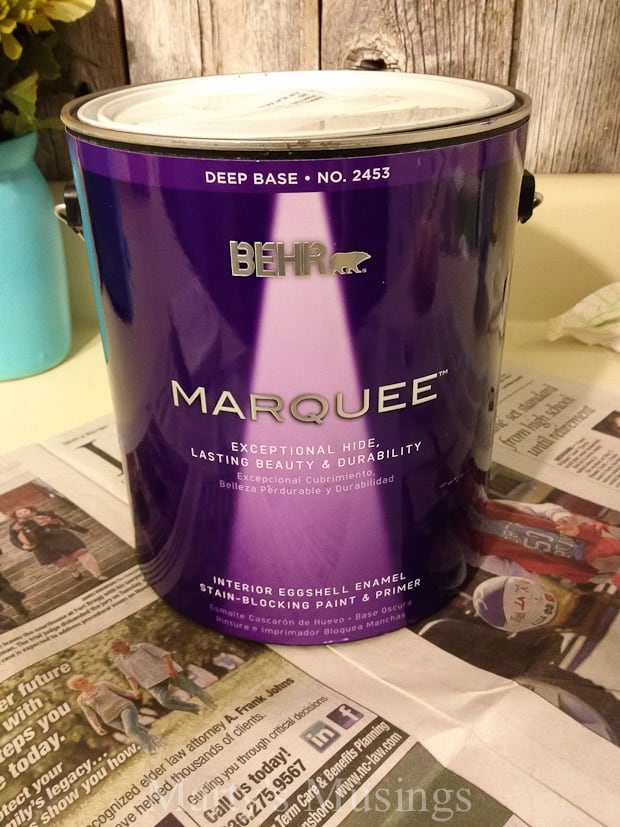 I was afraid to even take pictures during the painting process!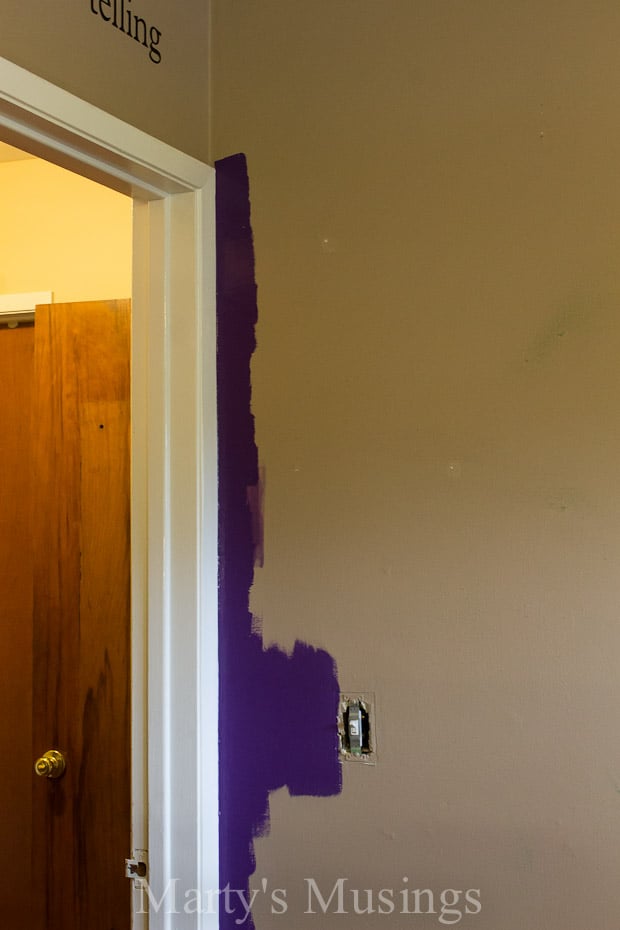 My smart husband painted the standards for the shelves to match the wall color.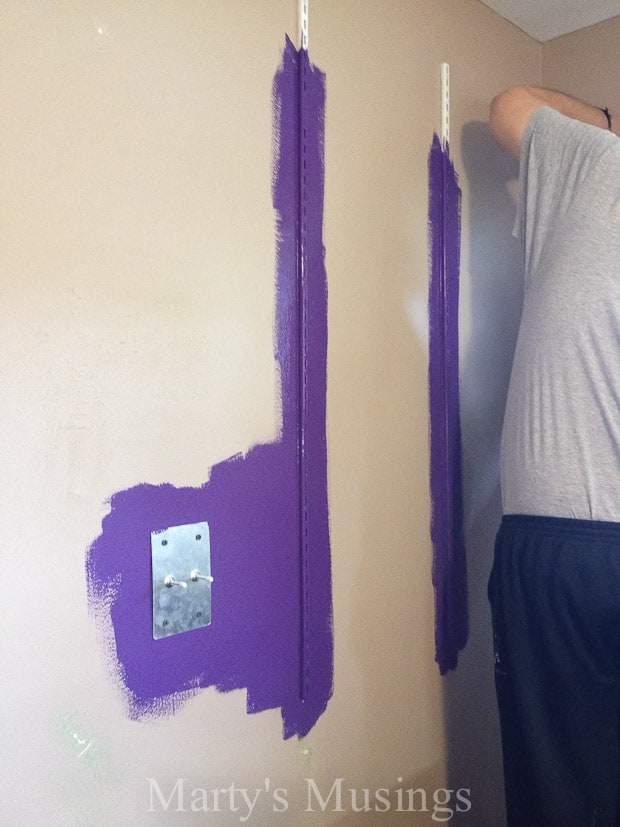 At about this time I was thinking I'd lost my mind with the purple and it was going to glow in the dark and swallow me up (insert every childhood fear here!)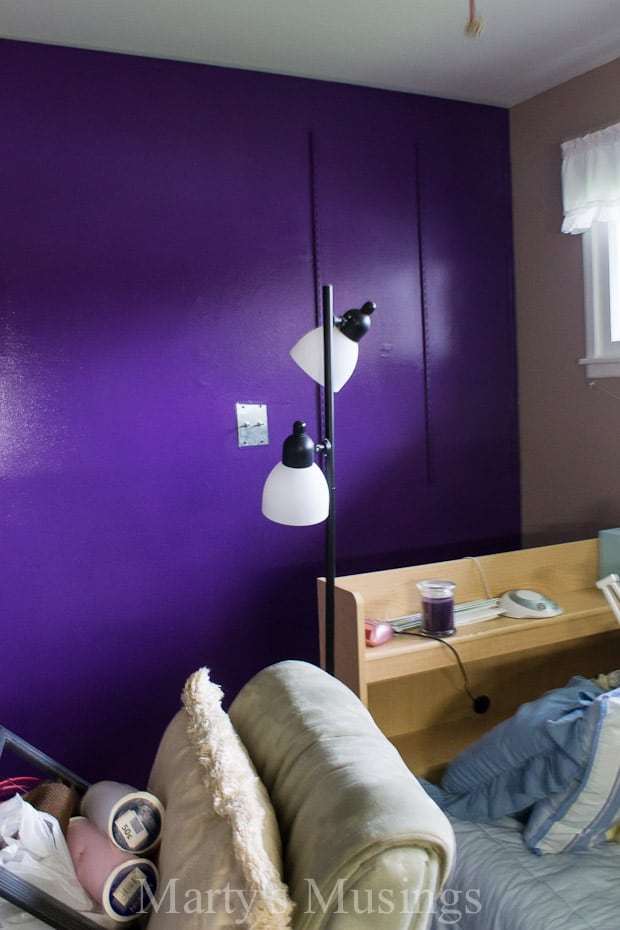 Tim was so sweet because he kept telling me it was just paint (although I'm sure he was cringing inside at the thought of painting yet another wall!)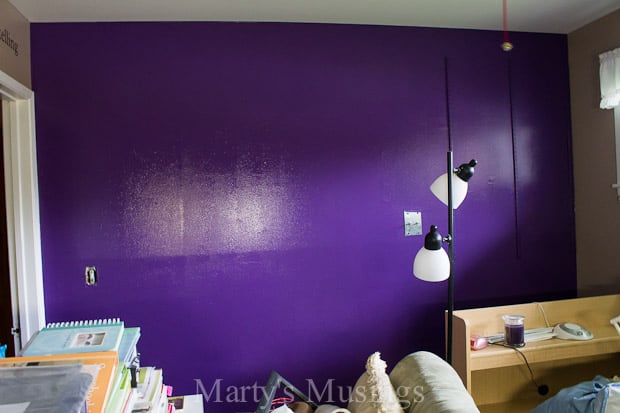 Since we all love a good before and after, what do you think of the difference?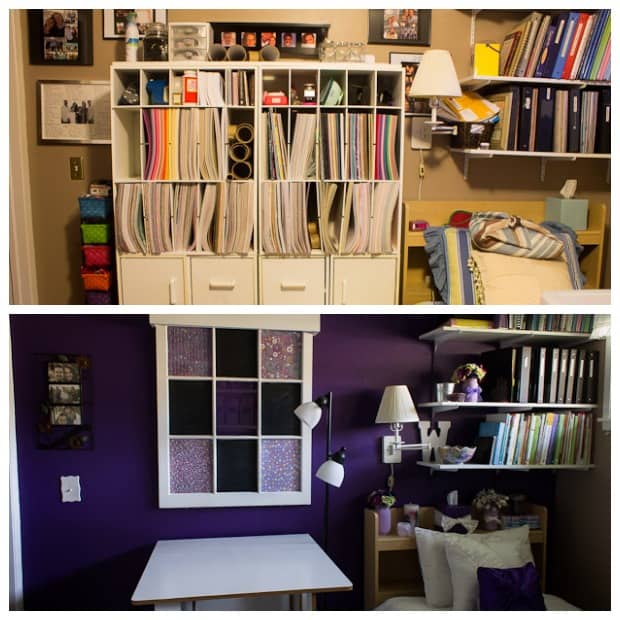 I moved those storage cubbies into the closet and added a movable craft desk to create an area to photograph my projects (I promise I'll post on that soon!) You can check out the finished room here.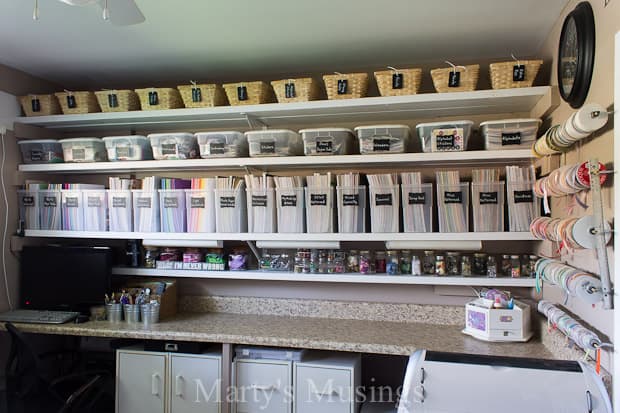 I also organized with DIY chalkboard tags and couldn't be happier with the functionality and perpetual purple color!
Here are all the details on this great Behr product from Tim:
You must know that it takes a LOT for a new paint to impress me. Not because I'm a guru but, after 23 years of painting every single day of the week (and then some), I have used many, many different types and qualities of products.
This Marquee line from Behr really surprised me in a great way! Primarily, it has incredible coverage with exceptional viscosity…that means it goes on good and thick! I couldn't believe how well one coat of obnoxious beautiful purple covered over a medium taupe color. Additionally, I really didn't have to modify how I applied the product. Sometimes paints designed for extreme coverage become so thick and gloopy that you have to be very careful of leaving "ropes" and lap marks behind. Not so with the Marquee paint. It is also not a terribly smelly paint, even for a primer/paint combo. While a strong paint smell doesn't bother me, these high coverage mediums can run you right out of the room, even before you're done!
So, for all you weekend warriors that want to get in and out of a room as fast as possible, THIS IS YOUR PAINT! You'll pay a bit more per gallon but end up better off in the end. Easy to use, superb coverage, beautifully rich color choices, and fabulous results, the Marquee line from Behr is a welcome entry into the crowded field of competitors.
From Marty: Now, I might have to take offense at the statement that my perpetual purple is obnoxious, honey! Of course, my oldest daughter calls it gaudy. Nevertheless, I adore it and wouldn't change a thing!
BEHR MARQUEE™ Interior Paint and Primer is available online now at homedepot.com and in stores in September. (I used the Interior Eggshell Enamel finish.) If you don't love purple they have a huge selection to choose from. Check out their One-Coat Color Collection guarantee.
another accent wall, this time in my daughter's home
painting our front door with BEHR Exterior house paint
Practical painting tips for the home that anyone can use, including chalk painting, accent walls and choosing the right colors.