Behr Exterior House Paint: Color Me a New Front Door!
This post may contain affiliate links which won't change your price but will share some commission. Read more here.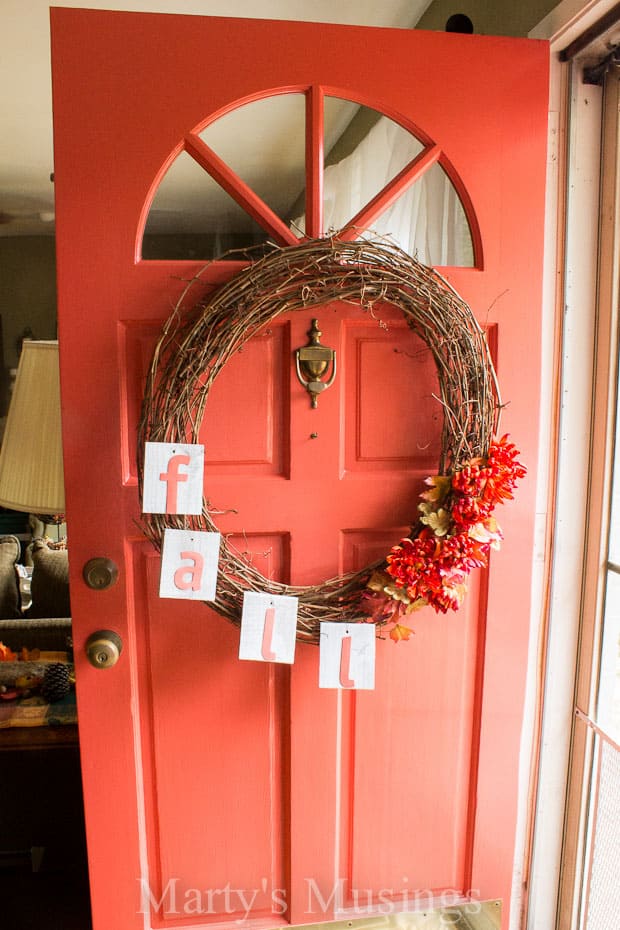 I am so excited to have been chosen as a Behr DIY Expert. Sounds kinda fancy, doesn't it?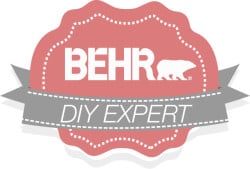 But really, it's my DIY hubby that helped me get the gig.
Even though he's a painting contractor in his day job, his love of the Behr product also shows throughout our own home.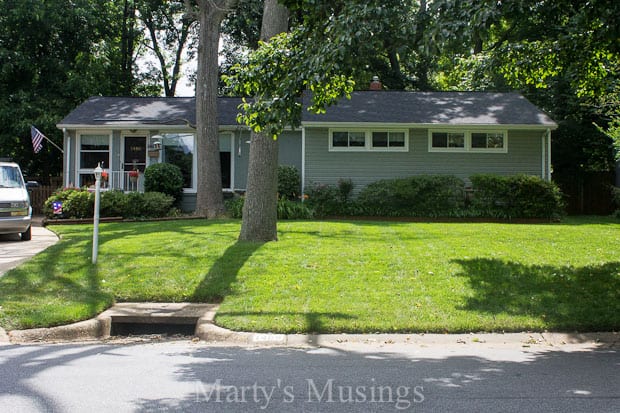 In a lot of rooms. Seriously, most of our home is painted with Behr paint.
If you follow my blog you may know my husband and I have been on a big DIY kick over the last couple of years. We've discovered that we make a pretty good team and our projects are unique to our style and strengths.
In the months to come I'll share more details on our painting projects and colors. Since every.single.room is a different color. ~smile~
But first up is our new front door! I cannot even tell you how happy it makes me! Our door is 22 years old, and I have been asking to paint it red for a very long time.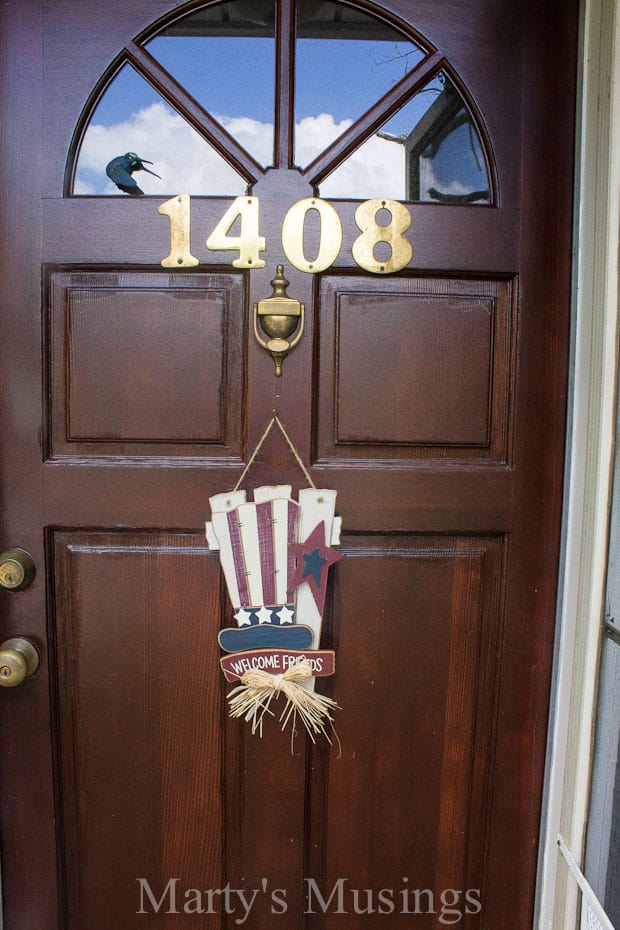 Take it away, honey, and tell us all about my new door with Behr exterior house paint!
From Tim: This door REALLY has some age on it! A few years ago, in an effort to distract appease my wife, I took the door down and sanded the mess out of it in the driveway. I mean I went down to bare wood everywhere and then re-stained it and sealed it with spar urethane. Unfortunately over time the grain opened up a bit since the door takes a beating from full afternoon sun.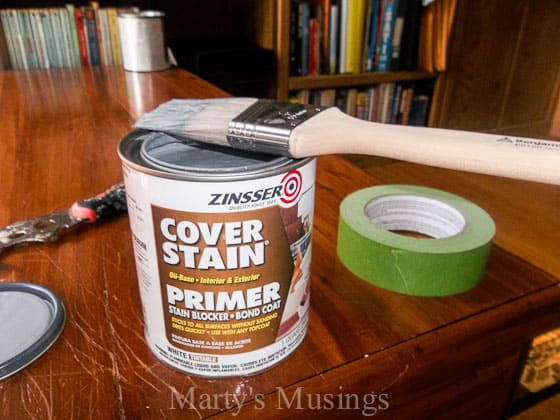 On the way to a new red door is a critical first step – gray oil-based primer. These are my weapons of choice. The primer has been tinted as dark as you can have it done and as close to battleship gray as possible. Do not omit this step! Using bright red anywhere mandates a gray primer underneath, and anyone selling you red paint should tell you that! I once painted a kitchen Chinese Red and it took 10 coats to cover because I didn't prime gray first!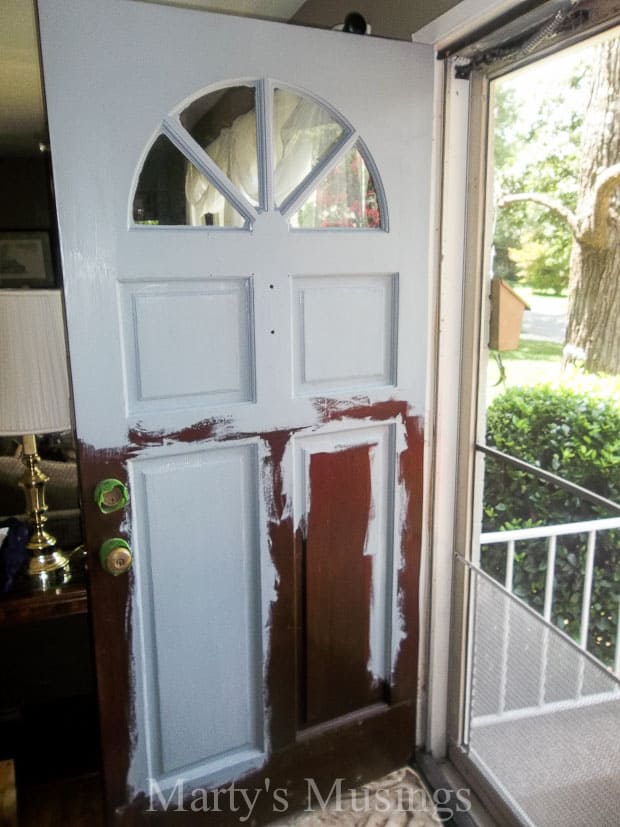 You just want a good even coat here, nothing fancy. I went ahead and overlapped onto the glass, since I knew many coats would follow. You can go back later and scrape it off with a razor blade.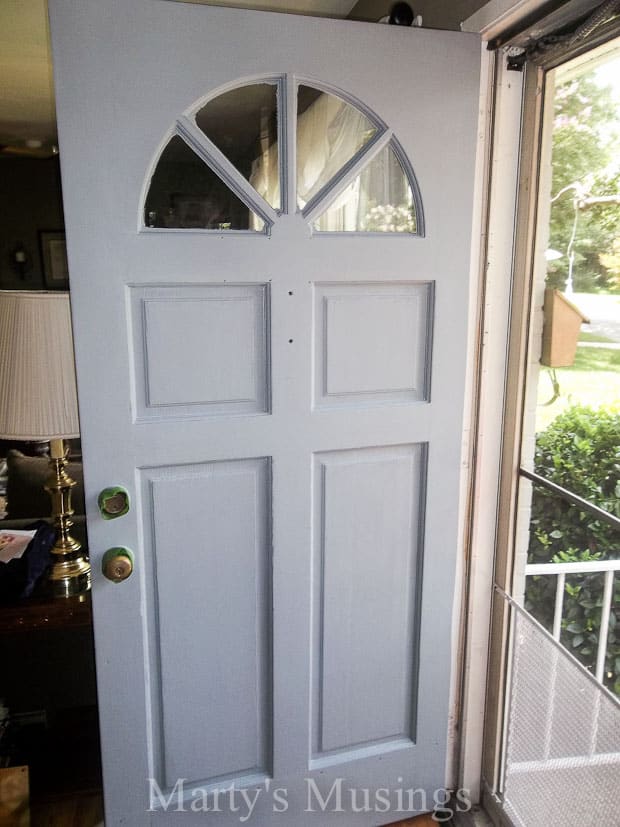 The coat of primer is complete and we are well on the way to granting my bride's desire for a painted front door. The clear choice was the Behr Premium Plus Ultra exterior paint. This is a primer/paint combo that provides great coverage, is easy to work and has awesome hide over any color.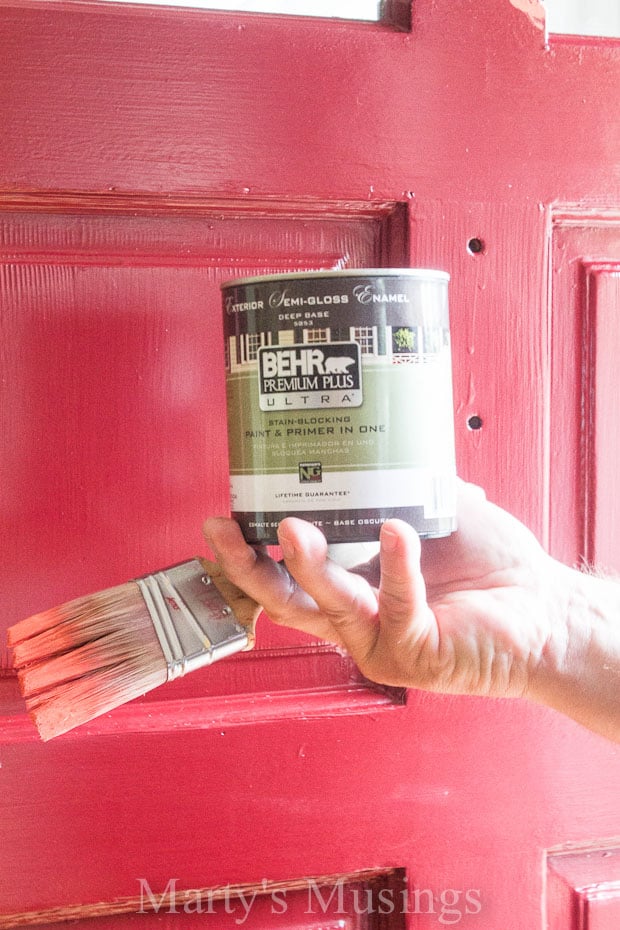 Now, if you've read the blog about other projects, you'll know that one of my favorite things to do is surprise my wife with blog-jects when she is out of town. I will confess that I can never keep a secret and I usually end up sending a picture over the phone.
This process sort of bit me this time and the front door ended up a less than desirable red the first time around…after three coats! That's the color behind the can in the pic. I am just switching over to the final color here – Behr's "Japanese Kimono." Oh, don't worry about those ugly drips by the two holes, they get covered by the knocker!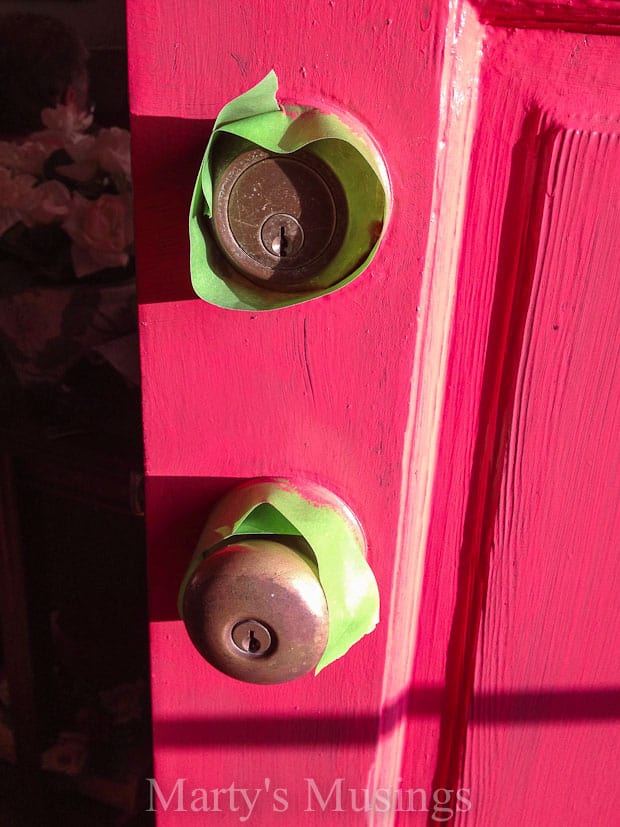 A little plug for Frog Tape! These handles are nasty but that's for another day. Without taking the locks/handles off, tape is a great way to keep that paint off where you don't want it. This must have been the very first coat of the wrong first color since there is so much trash on the surface. See it between the handles? This is not unusual when you go from stain to paint, since there may be a lot of "stuff" you don't see, even after a good cleaning. No problem, though. A light sand between coats and those little boogers (yes, that is a technical term in the industry) will go away…just flick them right off with your pointer finger. You can even roll them between your fingers for better trajectory. OK – enough already.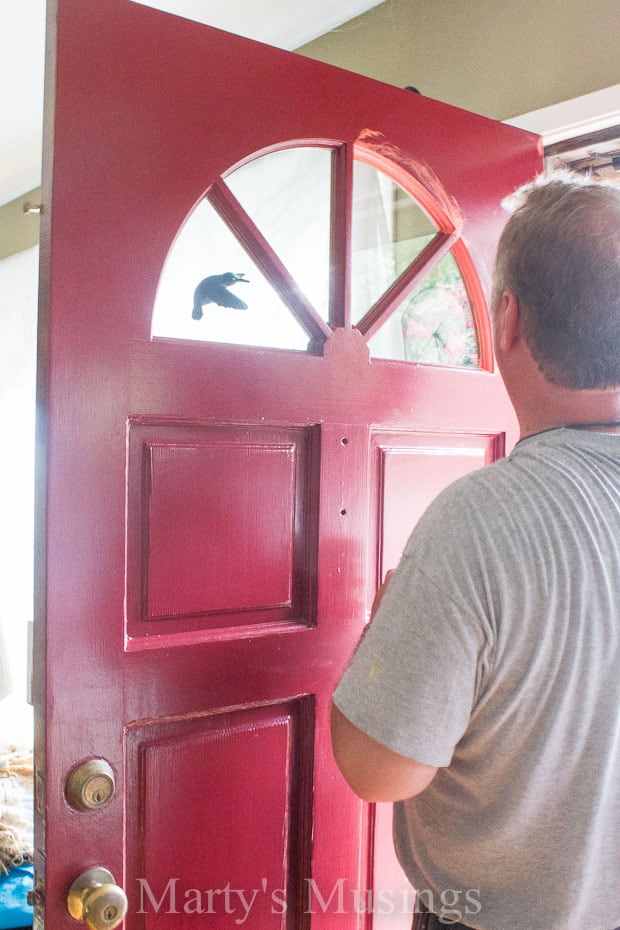 So here we go with the beginning of the second color in the two right-hand curves. It is a very different choice, but we are surrounded by neighbors on all sides and across the street who have red front doors! We MUST be different.
You might notice that I did treat some of the bad spots on the door with wood filler – just filled and sanded a couple times to bring it back to smooth. Six coats of paint also helped!
That humming bird on the window? It's two magnetic pieces that attach to each other through the glass to make it look like the bird is flying through the window! Unfortunately, it did not make it back after this renovation…
From Marty: And here we have the final product! Isn't it amazing?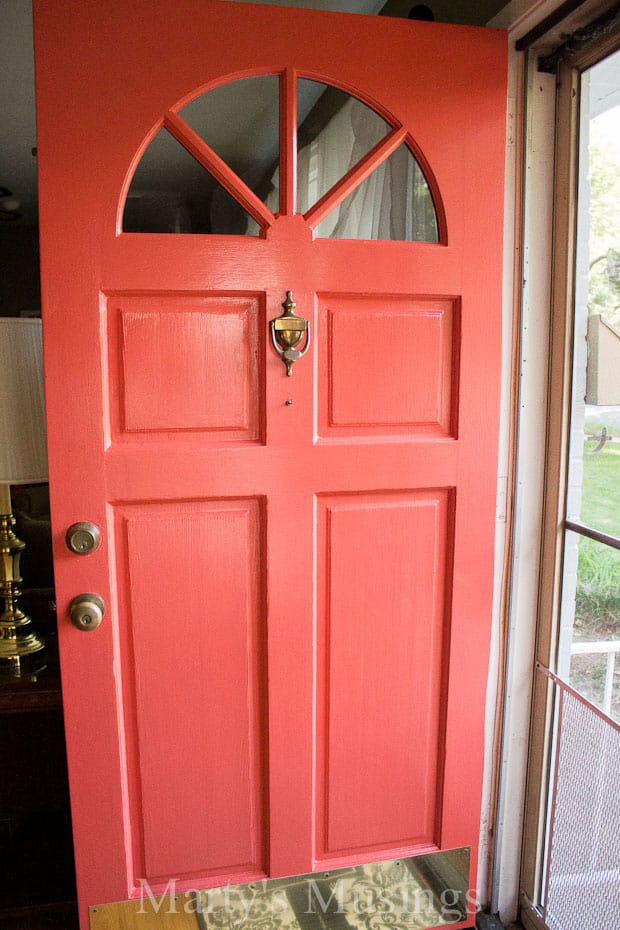 I am totally rockin' this coral (Japanese Kimono) color both in the small bathroom remodel and now with the door.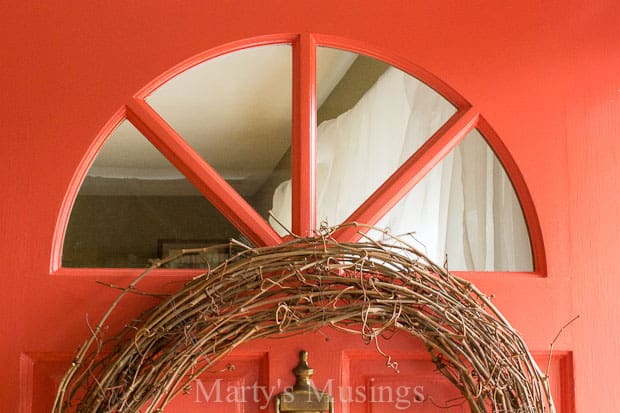 After all these years I just wanted something different. I would never have tried this bright of a color in years past but I'm redefining my style and going for it!
Of course, since the All Things Home Fall Tour is coming to my house next week I had to make a new wreath for the door!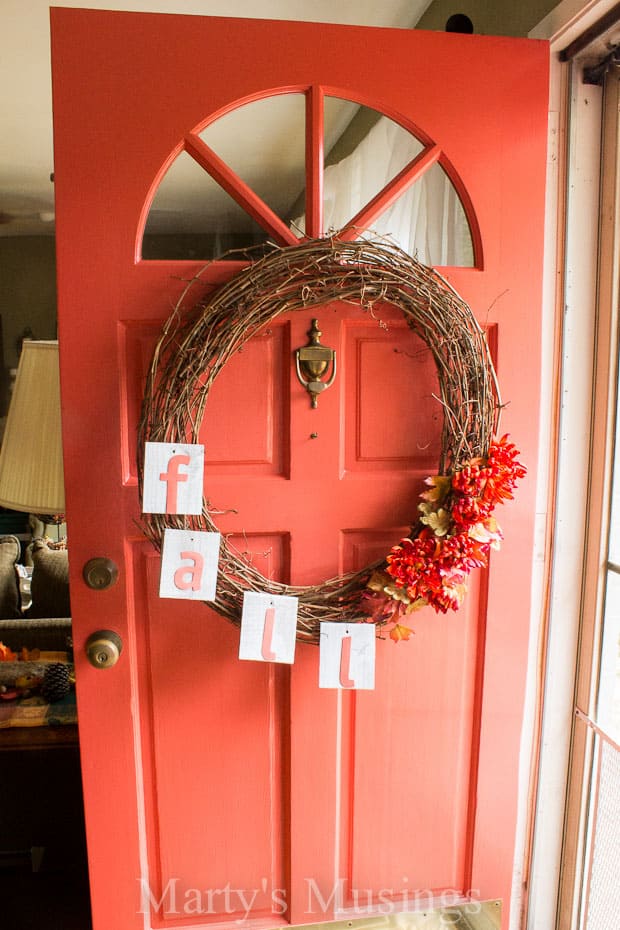 It cost me $2 at a yard sale for the wreath and the flowers (and I'll tell you all about it next week!)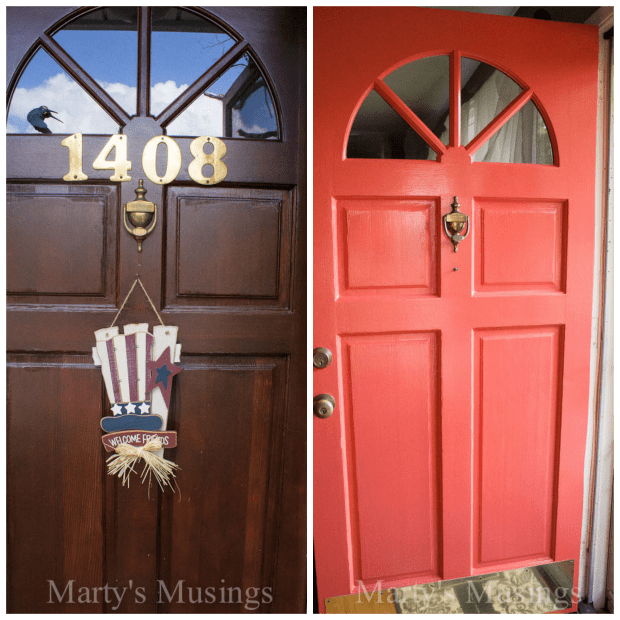 So what do you think? I love it (which my husband will tell you is all that matters)!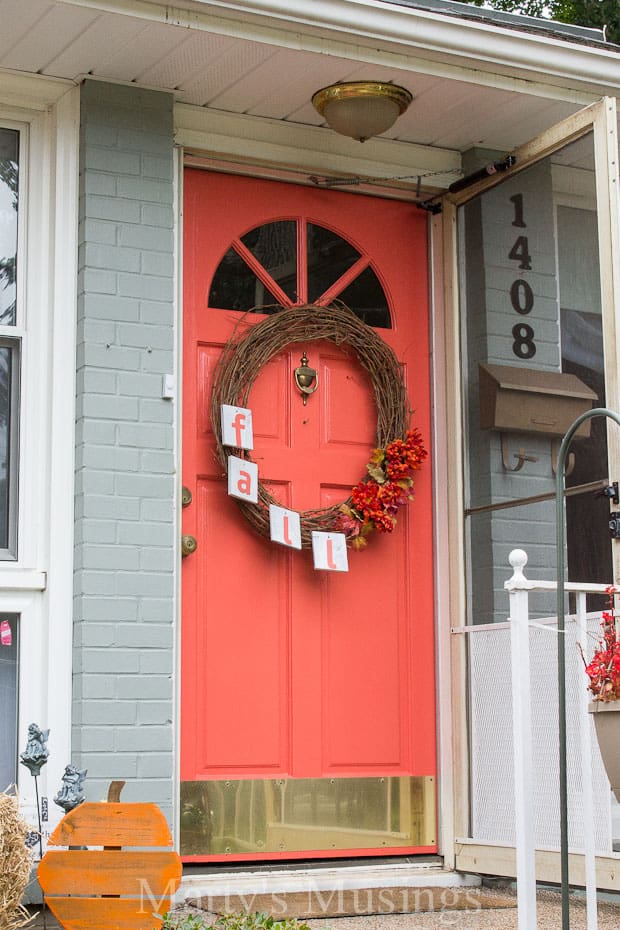 Practical painting tips for the home that anyone can use, including chalk painting, accent walls and choosing the right colors.