Summer 2013 Showcase of Homes
This post may contain affiliate links which won't change your price but will share some commission. Read more here.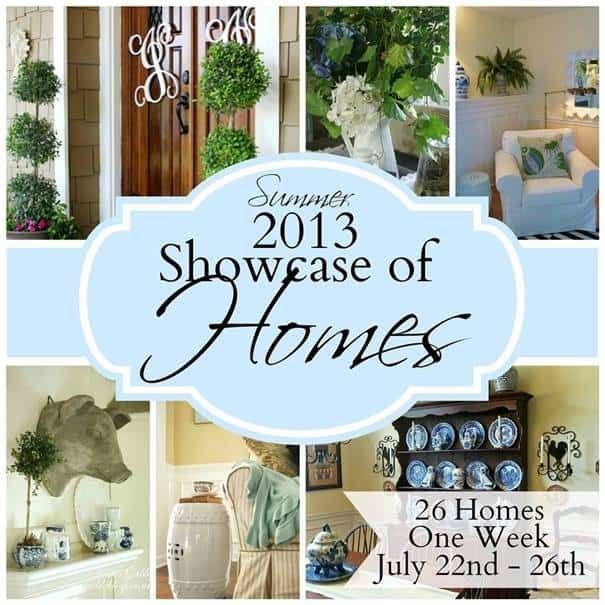 It's finally here! I feel like a kid in a candy store.
Or like I just got invited to the senior prom.
It's my birthday home tour day!
All these wonderful bloggers invited ME along for their tour.
I am so honored….
I'd like to thank the academy.
Oops! I got confused there for a minute.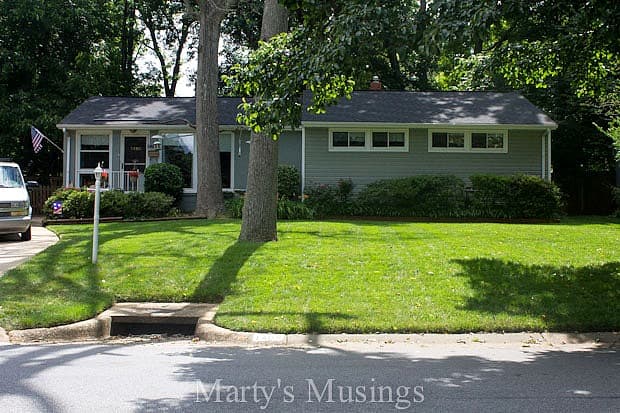 Seriously, though, we have a wonderful group of bloggers who have joined together for the Summer 2013 Showcase of Homes to share our hearts and homes.
I hope you enjoy a little taste of our modest home where my husband and I DIY and honey do from one project to the next.
I thought I'd start with our most recent project, the bathroom!
That's probably not polite to do in civilized company so I apologize.
But I'm so pleased with our small bathroom remodel and here it is anyway!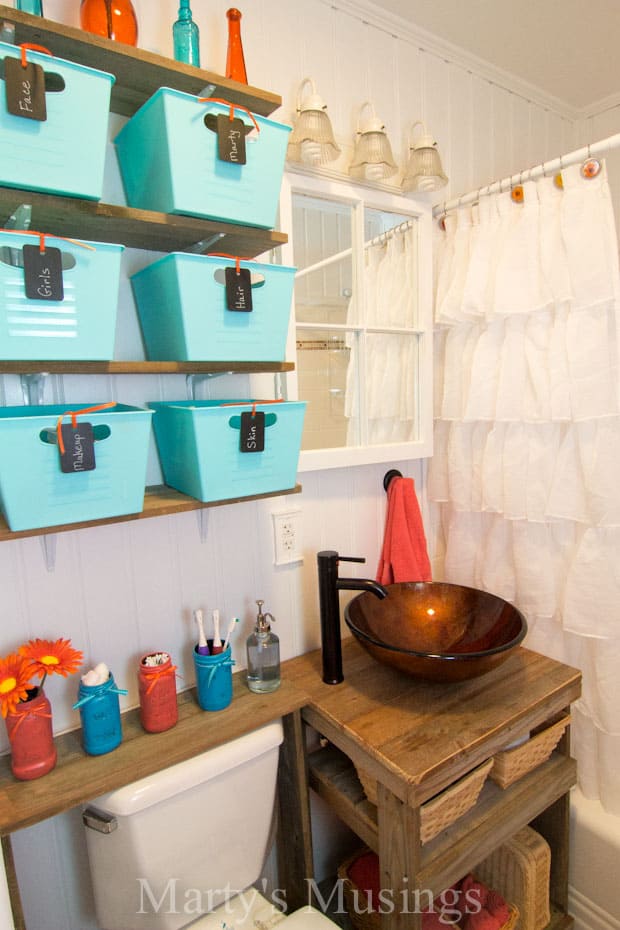 I'm just going to whet your appetite with a couple of photos and you can check out all the details if you want to know more. I've only just done the reveal so there will be many more tutorials to come from my DIY husband and I.
Yet another use for an old window? You betcha! They're everywhere!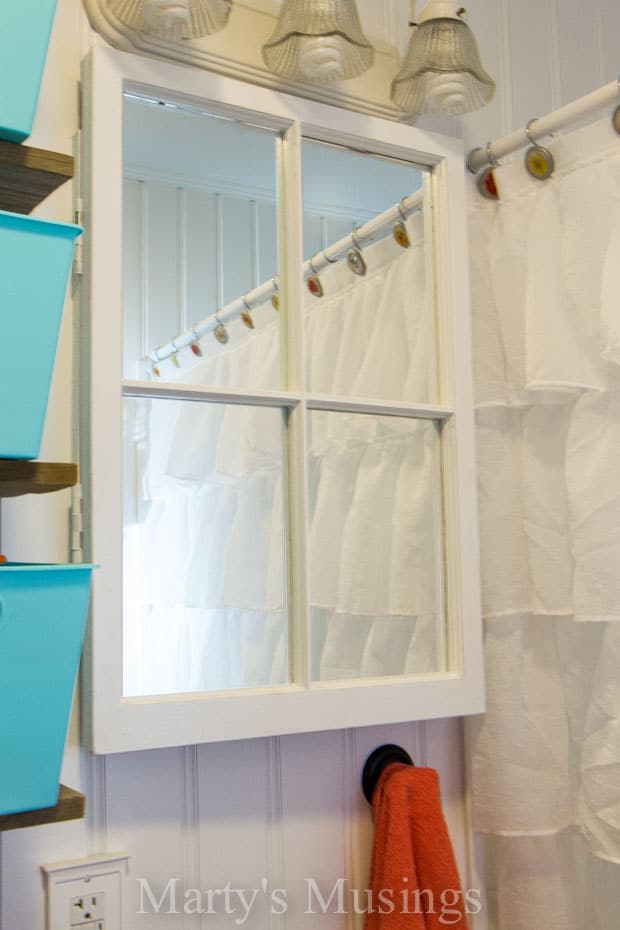 You can read all about how this shower and tub went from atrocious to spotless.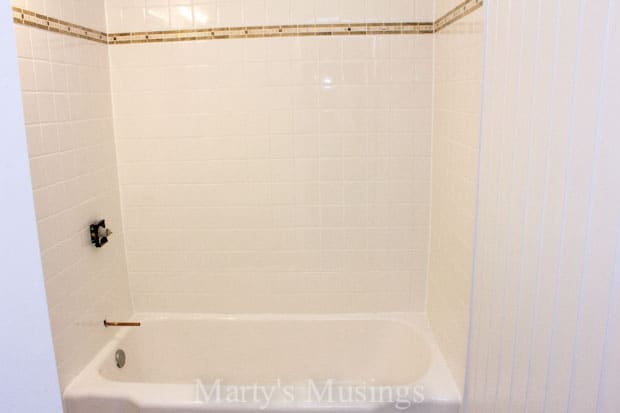 We do like a good fence board project here at the Walden home, and here's the latest one: a custom built fence board vanity.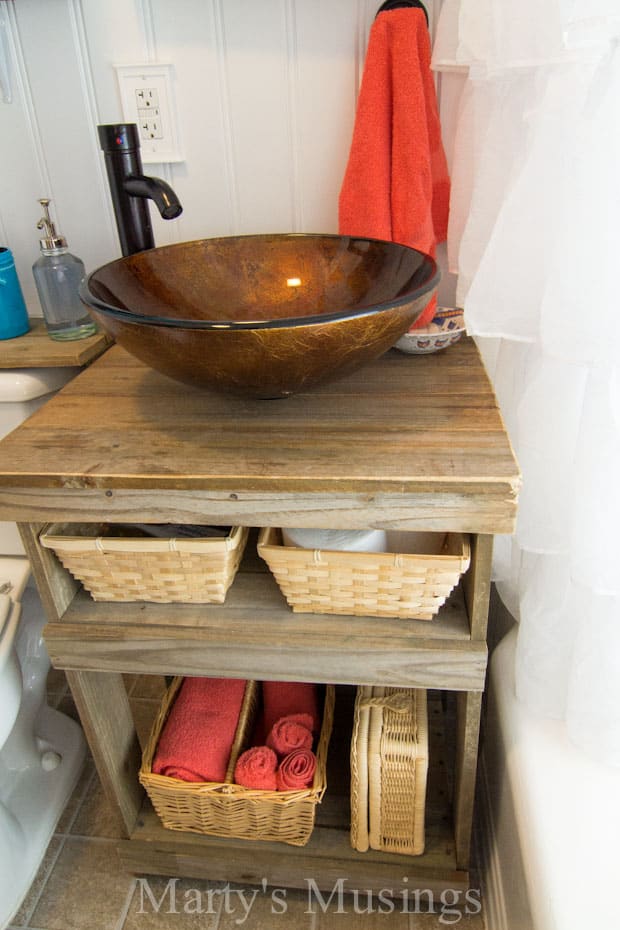 Now that you've shared my excitement over the bathroom I'll welcome you properly.
Our living room is the first room you enter and is fairly long and narrow.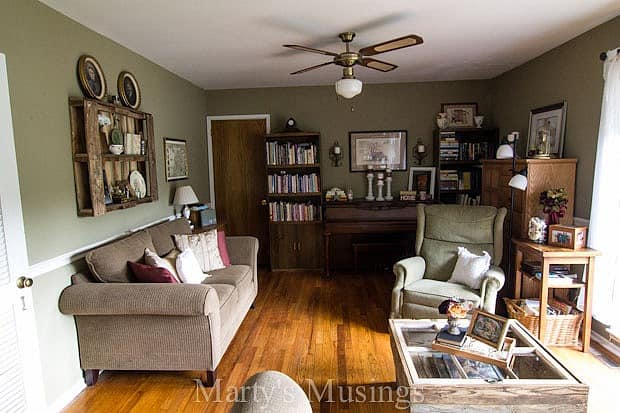 This is a room that is comfortable and without pretense. The bookcases are not styled and the hardwoods are unintentionally "distressed" on their own!
This rocking chair? My favorite place in the house. My children have told me they will fight for this chair because it represents home to them.
It's where I have taught them for 19 years, read untold books and had uncountable conversations about life and faith.
It's where I rock and pray and listen to praise music in the wee hours of the morning when I battle insomnia.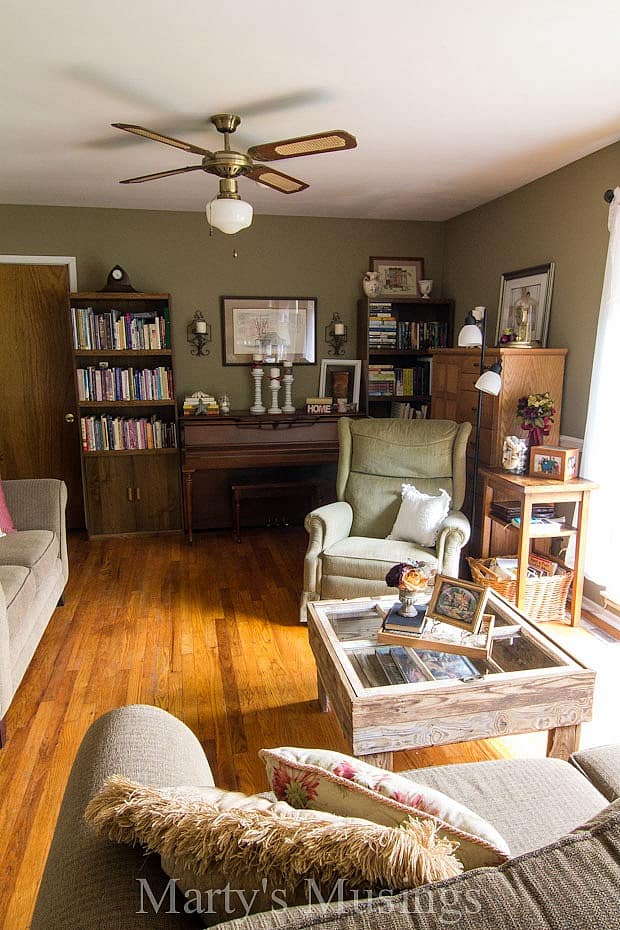 The piano is rarely played because it is out of tune and very old, but it's a reminder of my childhood days tickling the ivories, with a wee bit of protest along the way.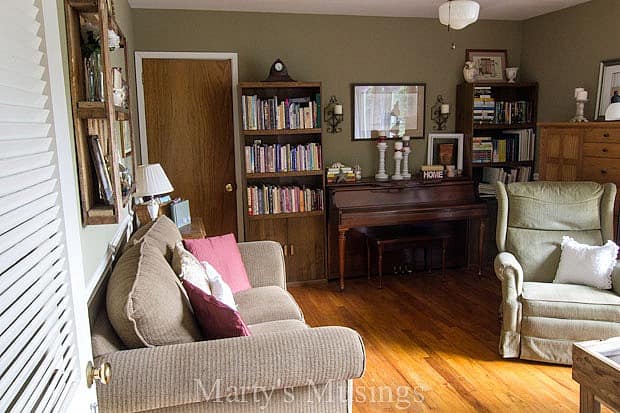 I love the way you can see the pallet shelves and my old map project in this picture. The vintage frames on top of the shelves? My great grandparents at their vintage best.
If you look close enough you can see a basket full of scrapbook mini albums on the chest beside the loveseat. I don't have much time to scrapbook these days but I'm still working on my yearly Project Life album, although I'm way, way behind. ~sad~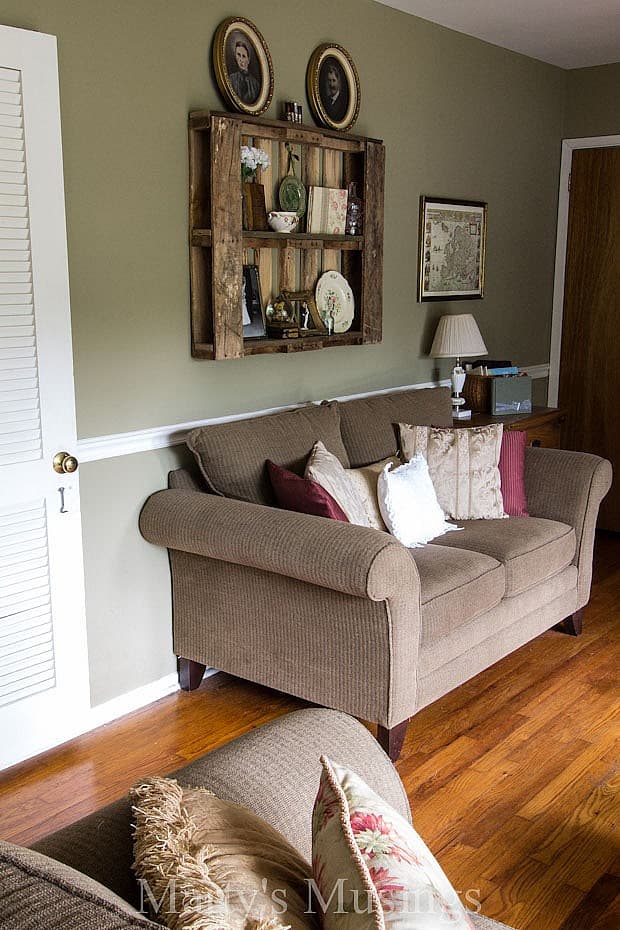 I will have to admit when you walk in the front door of our home you don't get the best first impression. Just inside (behind this couch, although I cropped it real tight on purpose) and against the outside wall are my husband's bookshelves and his office work area. We just don't have an extra bedroom to spare so this works for him.
The couch and love seat? Bartered in exchange for some painting by my husband. The window table was one of the first real Pinterest projects my husband made for me. I still love it!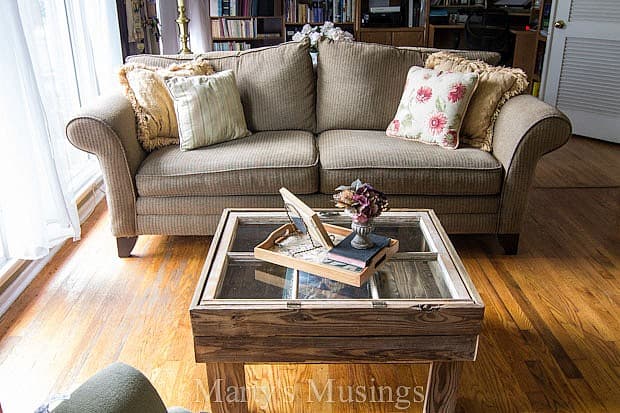 I have finally found a non-seasonal arrangement that I like on our pretend mantel piano. The two wall sconces were a steal at $1 each, the painted candle holders have been used for both Valentine's Day and fall decor. Talk about repurposing! The rest of the vignette was from around the house or the attic.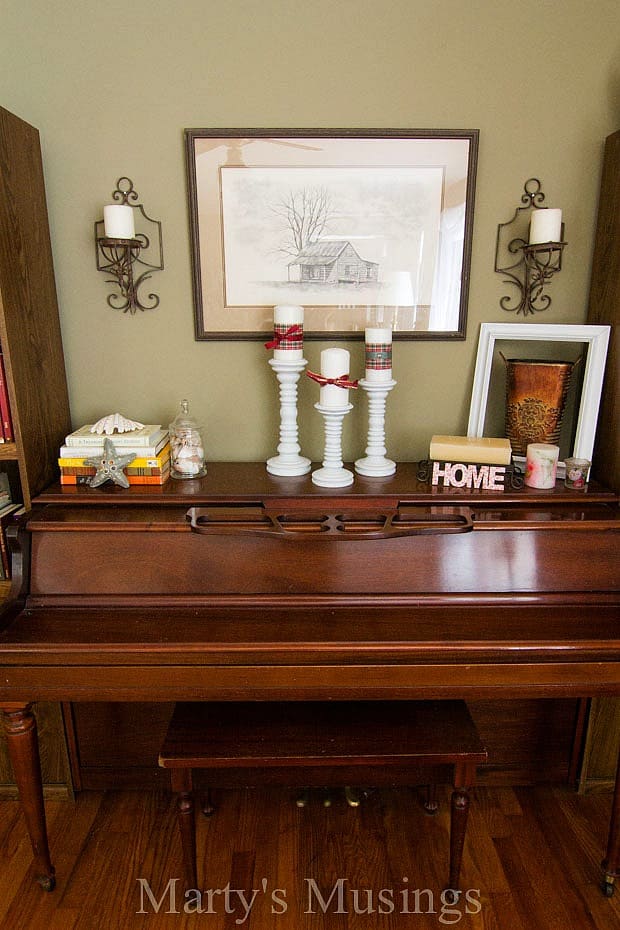 Our kitchen is definitely a room that has developed over the months we've worked on it, one project at a time.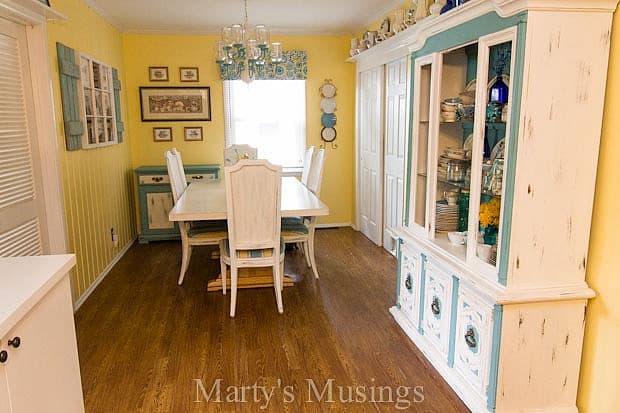 It's the room I'm proudest of and the room that makes me happy every time I walk into it.
From the fence board backsplash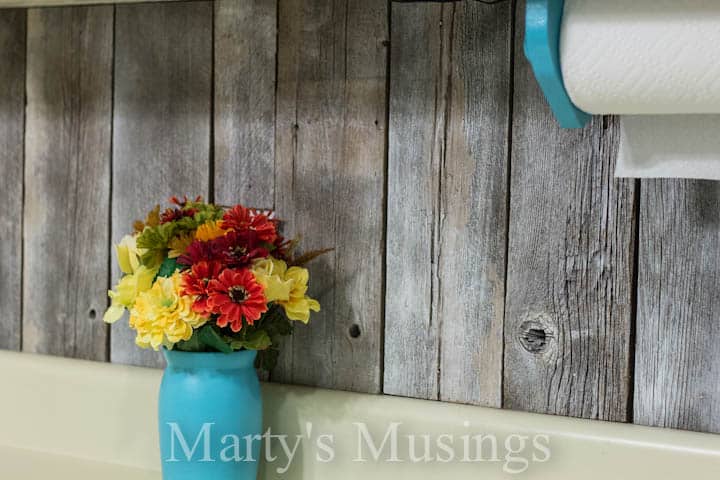 to the Mason Jar Chandelier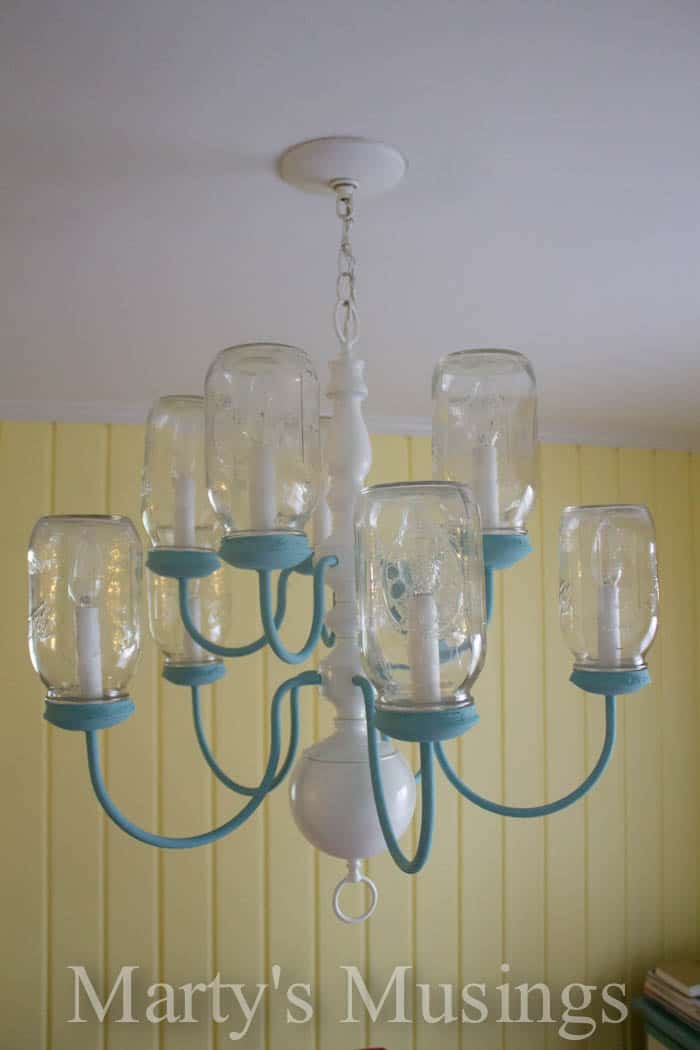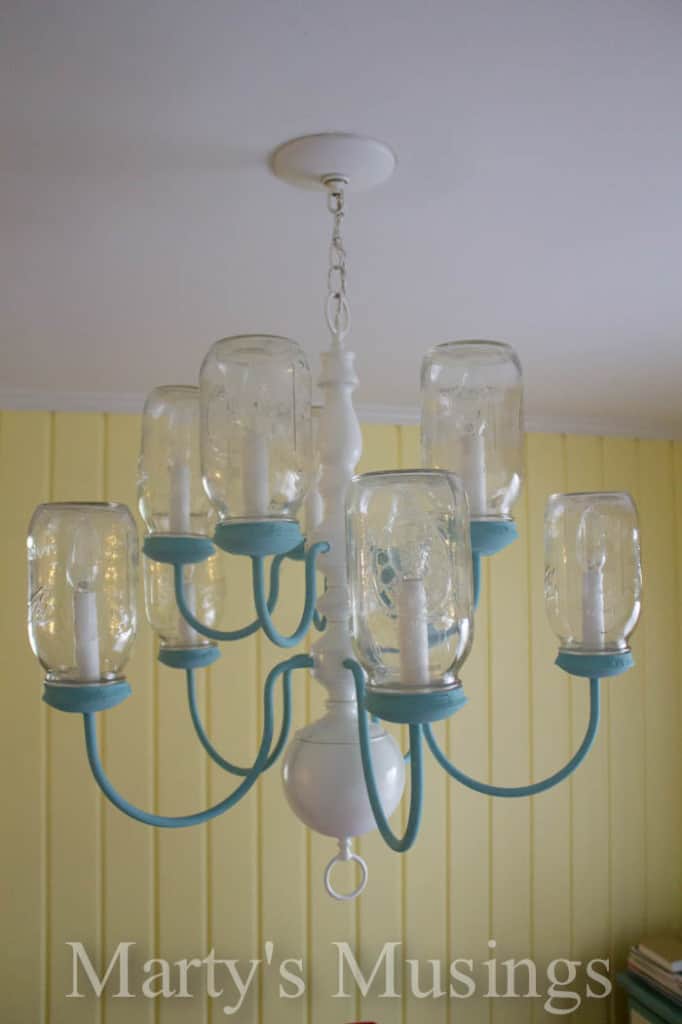 and the Chalk Painted Buffet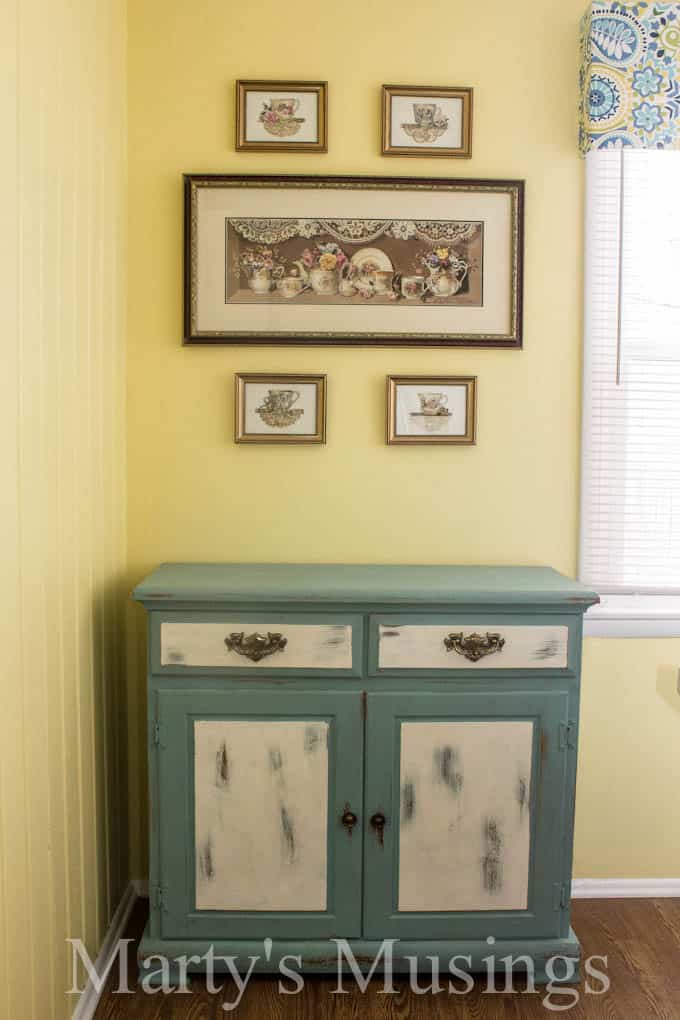 our kitchen is bright and cheerful and so very happy!
Our den is the room that got the quickest transformation over a year ago with new Pergo flooring, a coat of paint,new and "new to us" furniture.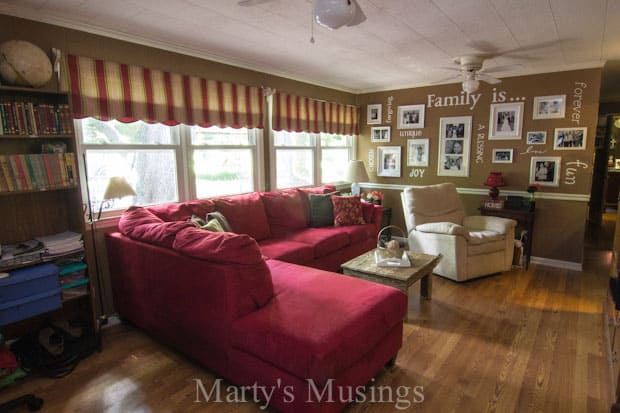 You can read all about the gallery wall and find out how it helps define our family.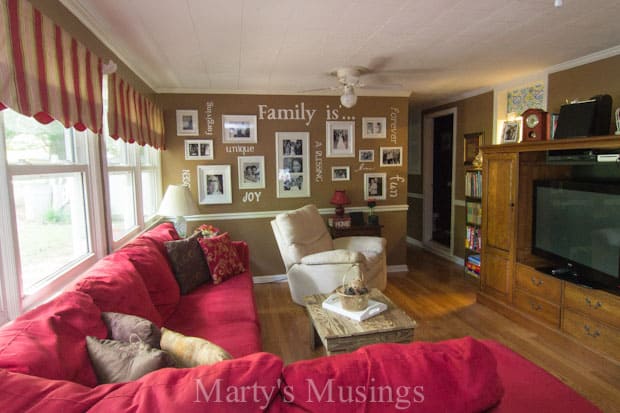 The first real room my husband and I made over was the scrapbook/craft room. My oldest son went to college, my daughter got married and I needed a distraction!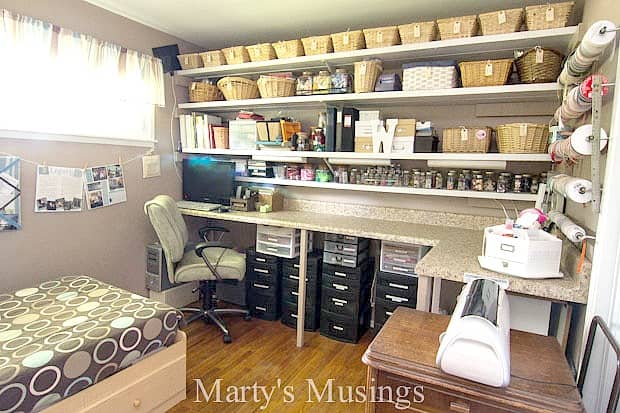 We spent weeks talking about my dreams for the room and how to do it with as little money as possible. Storage was a big consideration and the ribbon organization and paper storage unit were parts of the solution, as well as dollar store baskets and yard sale jars.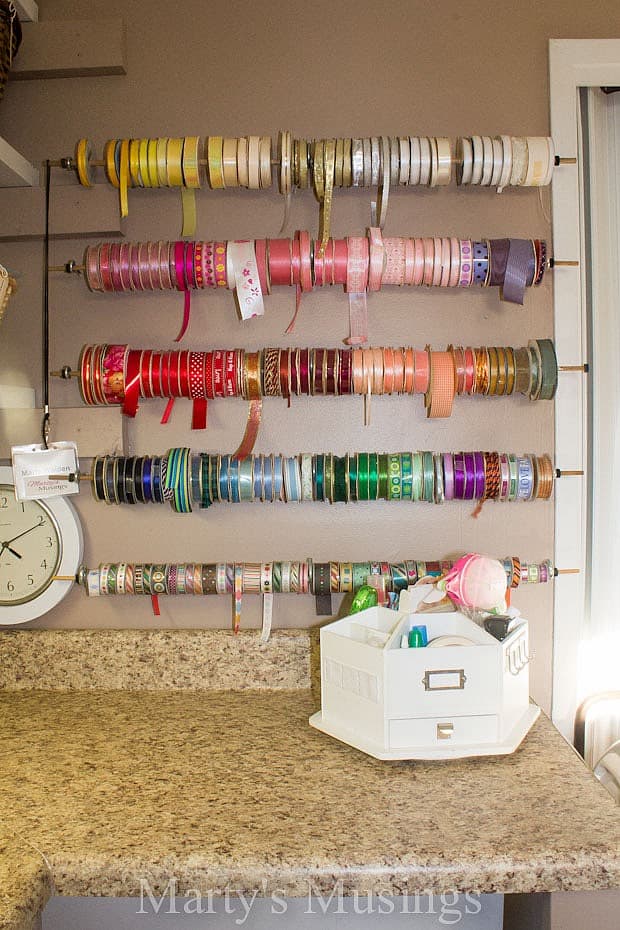 I have not shown any pictures of my teenage daughter's room before, simply because, #1 she's a teenager, #2 her room is not always "blog worthy" and #3 the day I took pics with my rented lenses it was cloudy all day. But she cleaned and I shot and edited and now you get to see it here first!
The pom poms are from her sister's wedding, the curtains were made by my husband and the scripture verse on the wall was done by me with my Cricut diecutting machine and vinyl..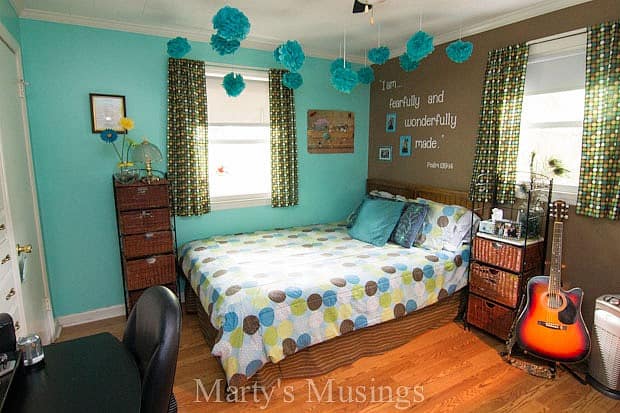 As my adopted daughter battles to believe the truth about who she is, I wanted a visual reminder for her to remember she is "fearfully and wonderfully made."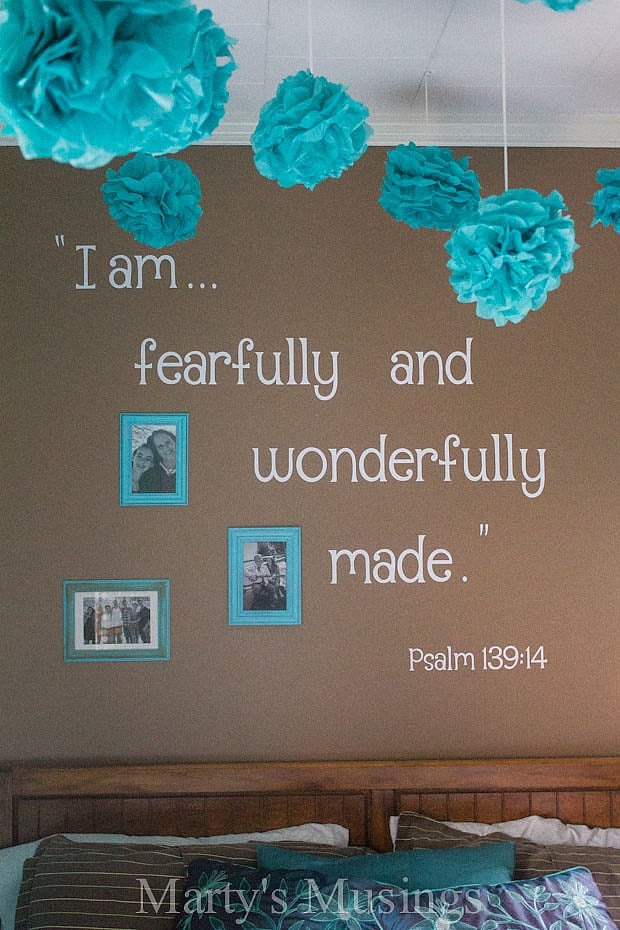 Can you tell this next room has my husband's creativity all over it? Much like the theater wall, my husband mounted old vinyl albums on the wall and hung his guitar collection. My man now has his man cave studio where he can write or play to his heart's content.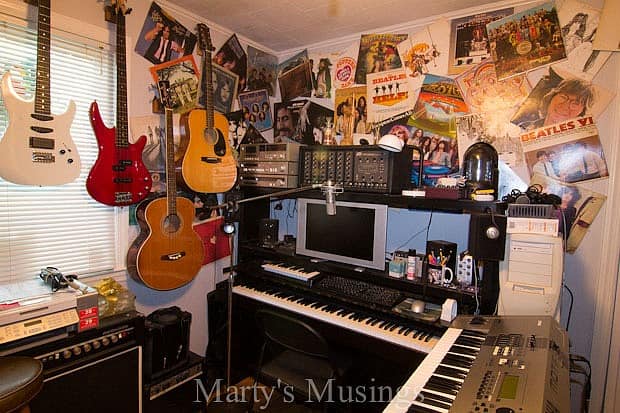 Are you exhausted from the tour yet? That's a lot of cleaning and fluffing!
I'm so glad you ventured into my neck of the woods (that's Southern for a place where people talk funny).
Y'all come back now, 'ya here?
If you're visiting Marty's Musings from The Lily Pad Cottage I thank you for stopping by! Please make yourself at home and enjoy our DIY projects.
Your next stop on our tour is with Debbie at Confessions of a Plate Addict. I love her unique style and fabulous projects, and I know you will, too!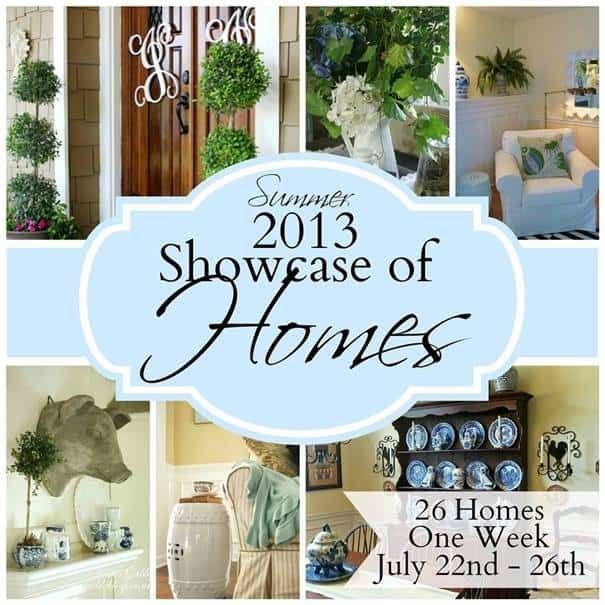 Check out all the blogs below at our Summer 2013 Showcase of Homes
Monday, July 22
Atta Girl Says
The Happier Homemaker
Rain on a Tin Roof
Better with Age
Top This Top That
Tuesday, July 23
Mom 4 Real
Cedar HIll Ranch
Practically Functional
While Wearing Heels
French Country Cottage
Wednesday, July 24
The Lily Pad Cottage
Marty's Musings
Confessions of a Plate Addict
Town and Country Living
Adventures in Decorating
Thursday, July 25
Good Life Of Design
A Stroll Thru Life
Worthing Court
Back Porch Musings
The Rustic Pig
Friday, July 26
Our Southern Home
StoneGable
The Everyday Home
Recreate and Decorate
Sophia's
Vignette Design