DIY Mason Jar Chandelier Tutorial
This post may contain affiliate links which won't change your price but will share some commission. Read more here.
Have some extra mason jars and an outdated chandelier? Turn them into a clever chalk painted DIY Mason Jar Chandelier for a unique shabby chic look!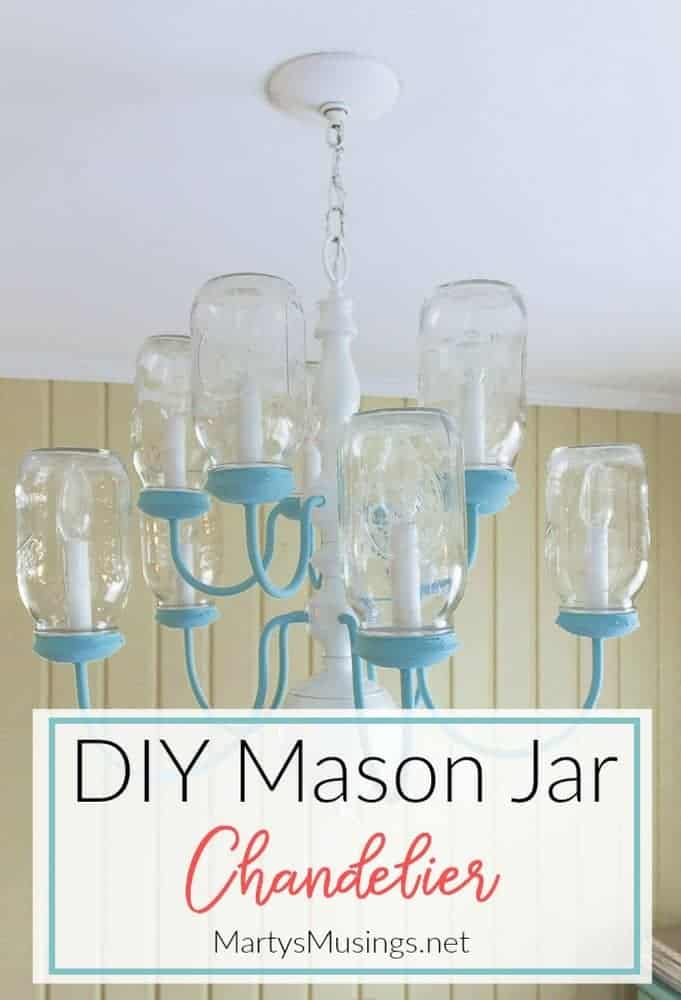 I'm so excited to finally be sharing our DIY Mason Jar Chandelier! With all the seasonal projects I've been working on I was waiting until I had enough time to devote to this post. So here it is from my handy hubby Tim!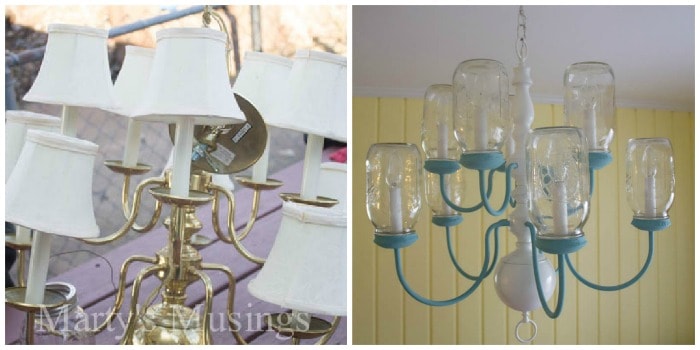 DIY Mason Jar Chandelier
Tim: Let me start by saying that this DIY mason jar chandelier is not for everyone, for a number of reasons.
Not everybody has a spare chandelier hanging around (hah! get it?), nor a design template to accommodate a mason jar conversion. But the difference was quite amazing and was perfect for where we were going in our kitchen.
As a painting contractor, I have access to a lot of throw-aways as people undertake a remodel. Their trash – our treasure! The only difference is imagination…and Pinterest!
I got a number of fixtures from a client that replaced many of the older fixtures in their new home. This was a 10-light brass chandelier with cloth shades; pretty, but pretty dated. With some Pinteresting launchpads, I went to work fleshing out just how I could make the transformation.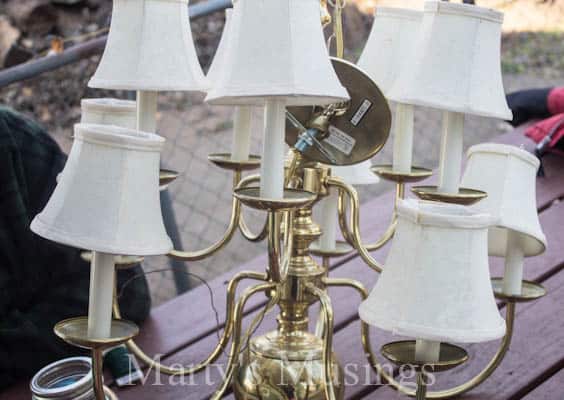 The big challenge was how to make the mason jars work. Incredibly, the little platforms around the fake candles were the perfect size to accommodate the rings for the mason jars. This was HUGE, and set the stage for the entire fixture.
I began by hot gluing the rings upside down onto the platforms and checking to see if they would support the weight of the quart jars. I was also concerned about the added weight of ten jars, but neither turned out to be an issue.
There was some concern about heat, too, but I backed off the bulbs and reminded my bride that mason jars are made to withstand the sustained heat of the canning process. I would also decide later to install a dimmer on this fixture.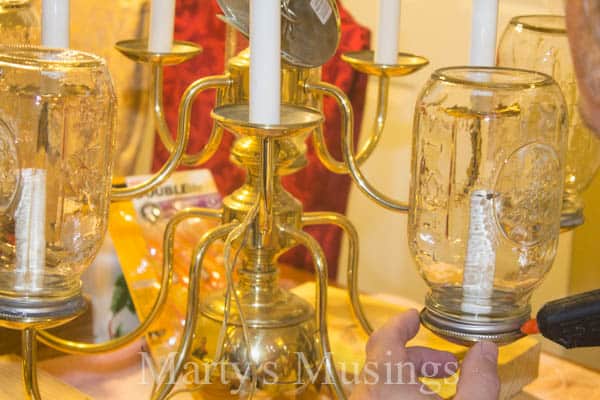 An important consideration while working is balance; it's almost like tightening lug nuts on a tire! You install on one side and then work on the opposite side. This keeps the fixture balanced and insures stability as you work.
Worthy of note here as well is the fact that I had to select a very specific bulb that was short enough to not touch the mason jar. Not a big deal, but important if you are using this as a tutorial for your project.
This doesn't have to be really pretty at this point, since there was painting yet to be done. You want a good bond to support that jar, remembering that you still have to unscrew it to install/change bulbs.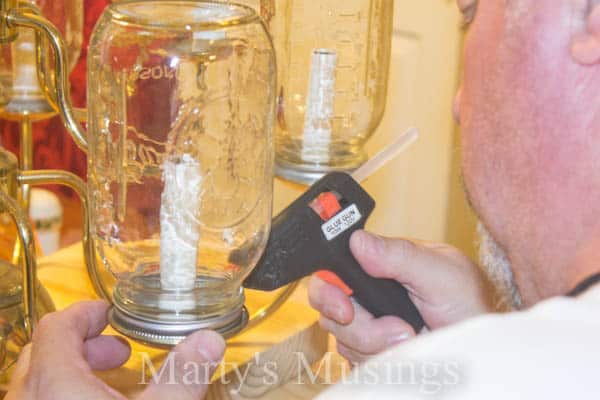 Yikes! Look at all that glue! Not to worry – remember there is paint to follow.
I made the decision that I would use caulking (yes, painter's caulk) to smooth out the transition between ring and platform and it worked beautifully. That step is down the road a bit.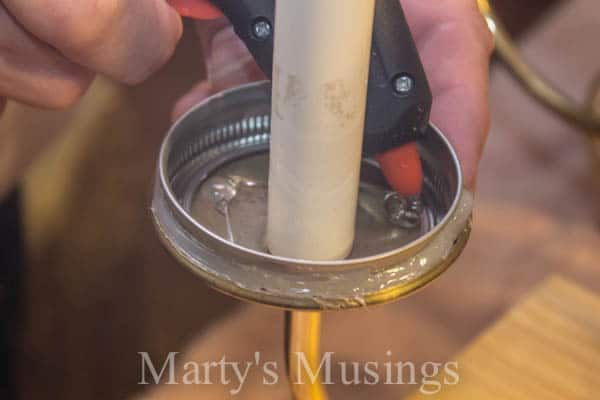 So, here we are, ready to begin the painting step. All the rings have been secured, jars removed, and the fixture now hangs from a tree above the deck outside. The key word here? Outside! (Yes, it was at night.)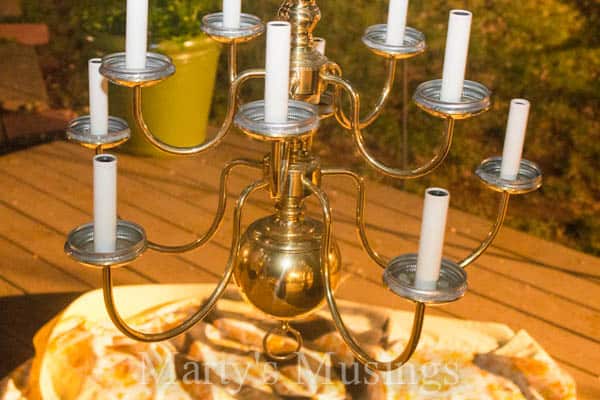 I used a Zinsser aerosol primer over everything first. Notice that nothing was taped off. I wanted a coat on everything, even the white "candlesticks".
You don't, however, want to spray down into the bulb sockets – it almost looks like I am, but they are being avoided. I also did not sand or distress the brass at all. No need, as you'll see.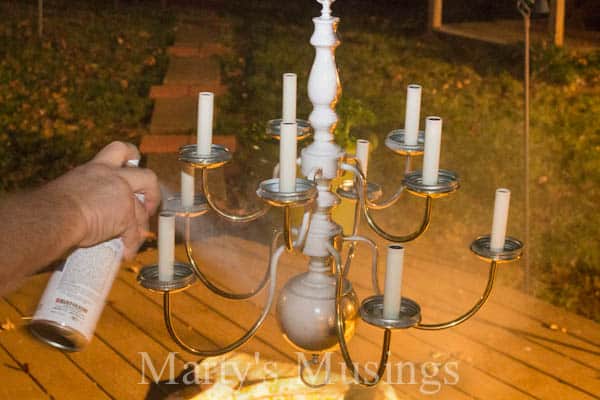 After the prime coat, everything was top-coated with a gloss white aerosol. No specific choice, just something I had in the shop. You may notice some imperfections still obvious around the platforms. Remember the caulking? Now's the time!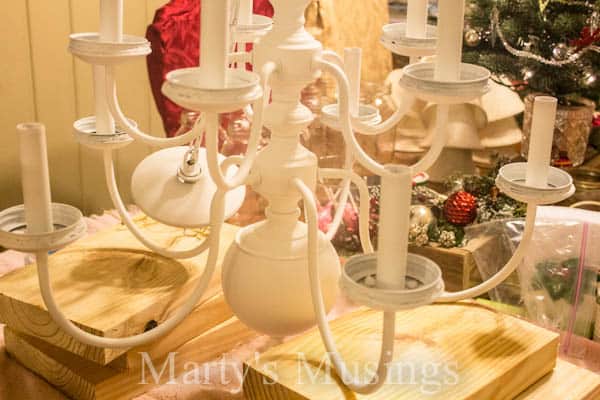 Probably the messiest part of the project, the caulking was the perfect solution to finish off the platforms. I was also confident the caulk could handle the heat of the fixture.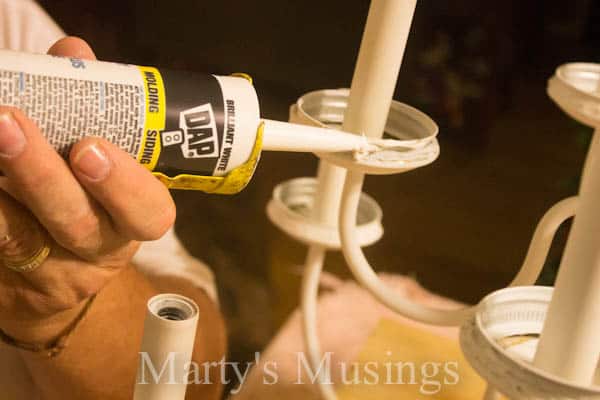 Apply liberally and then smooth with your finger. I went around the entire fixture twice with this step, just to get as smooth an effect as possible. I also have one more layer of paint in the accent color, so any wiggle room disappears after this process.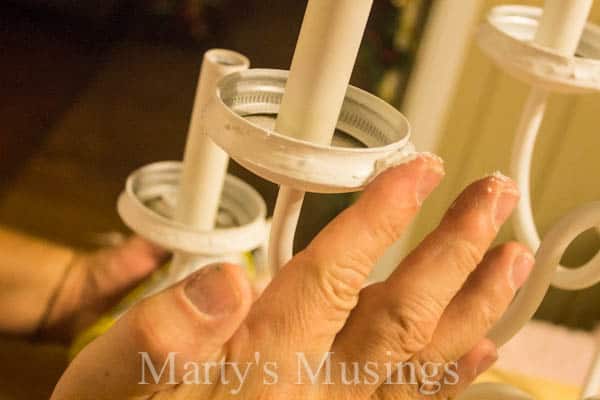 Because the accent color would be applied to all the arms, I needed to go back outside to the tree and suspend the fixture. There was also some white touch-up to cover that caulk.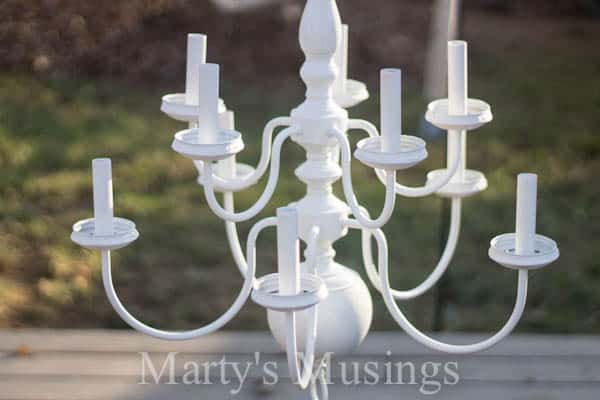 The accent color is actually leftover chalk paint from our china hutch makeover. VERY tedious and intricate at this step, especially since two coats were required, but the end is in sight!
An added bonus of the chalk paint is the flat finish in contrast to the glossy white on the rest of the fixture. The consistency in design color was not accidental, either!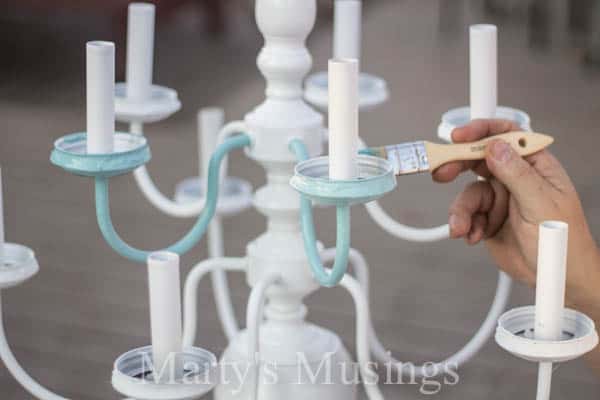 And yet another bit of Pinteresting perfection perseveres! This is such a unique addition to our kitchen and works very well in the space. The light passing through the mason jars creates wonderful patterns in the room, and the dimmer switch simulates candlelight beautifully.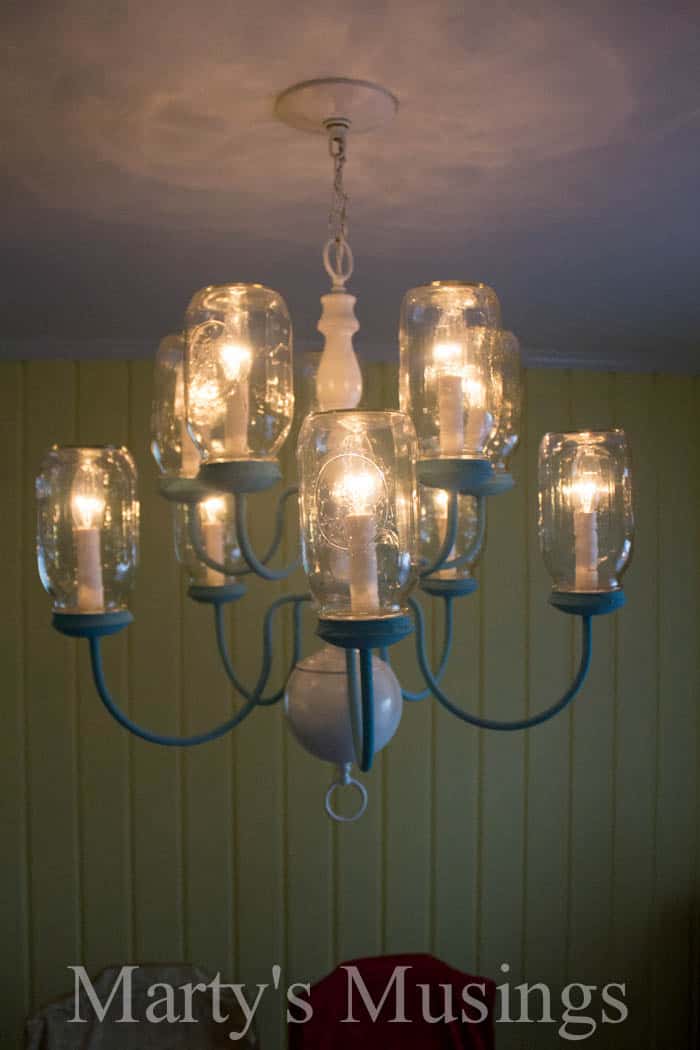 We did briefly consider blue jars, but I was concerned about an artificial overtone that those jars would create. We stayed with the normal quart jars from the local grocery store (and good luck trying to find some out of season!)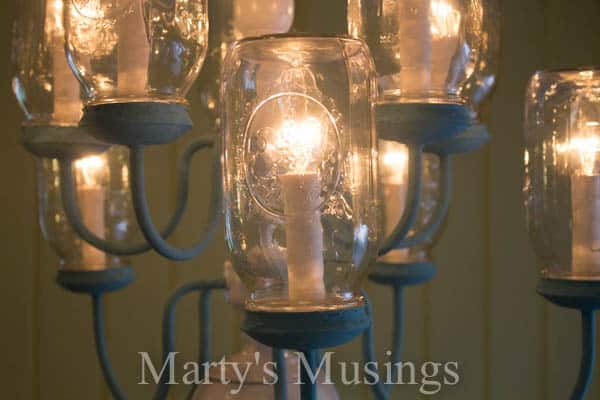 So, go get that dusty old chandelier, dump the nasty green beans out of those mason jars, get you some spray paint and go for it! After all, the only thing missing is your imagination!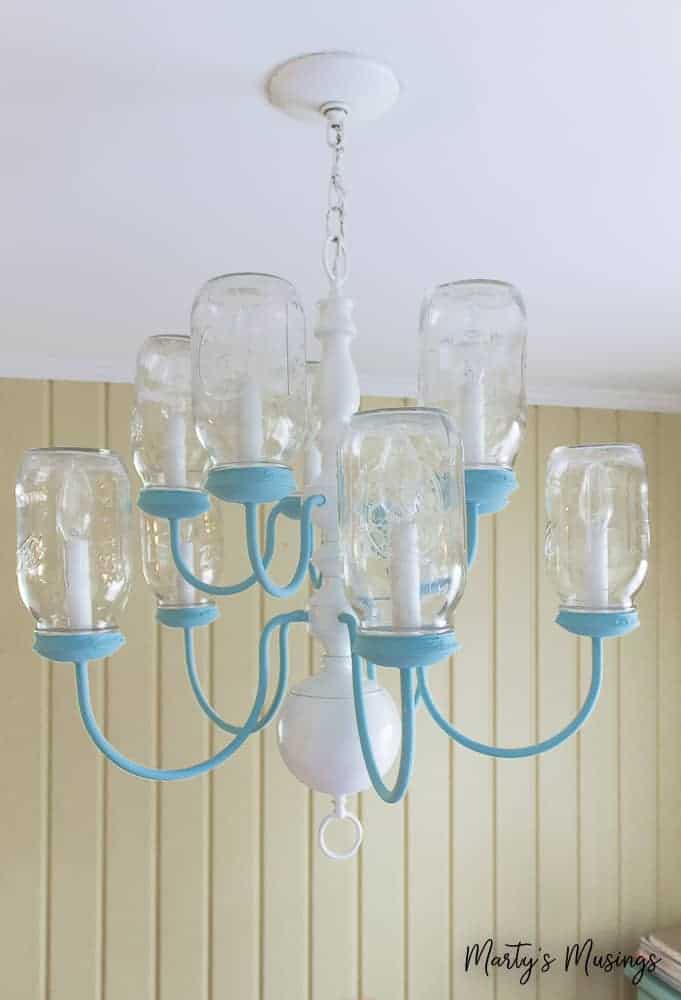 I absolutely love the dimmer switch Tim installed. We've never had one before and it allows us to set the tone when we entertain or enjoy dinner as a family.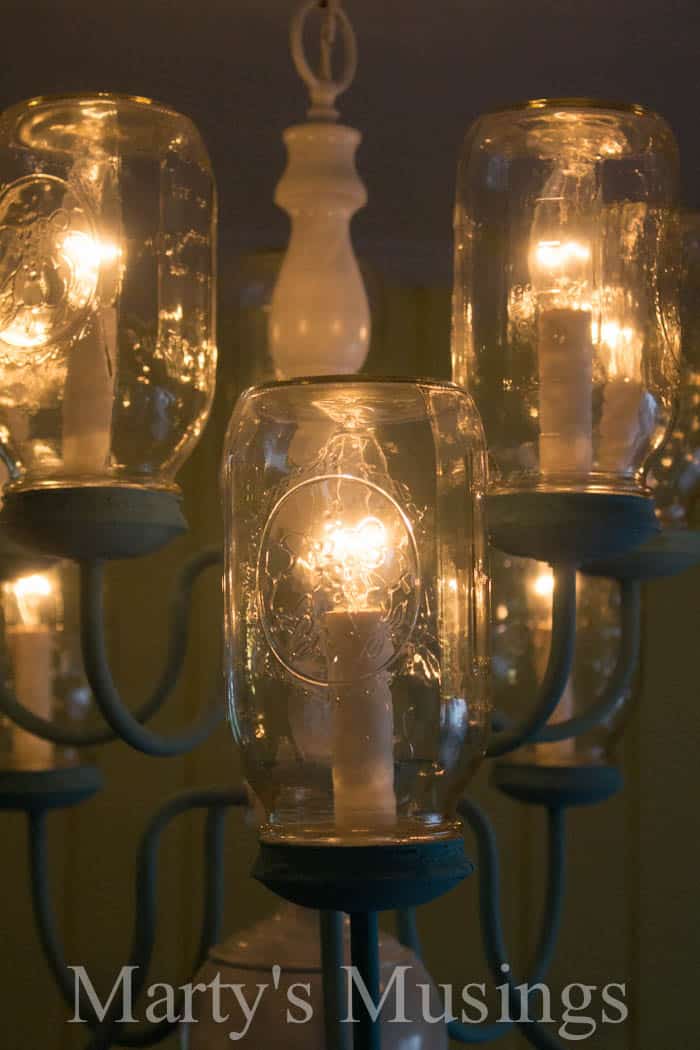 I send my hubby Pinterest projects, he creates, I take photos, we write, I edit and together we make a pretty good team.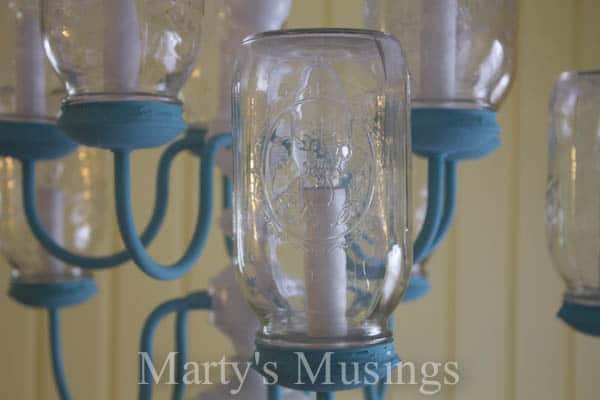 Cost of DIY Mason Jar Chandelier:
Chandelier free
Mason Jars and rings $10
Chalk Paint (leftover)
Light bulbs $12
Primer $8
Total: $30
That's a lot of bang for the buck!
***Since we created our DIY Mason Jar Chandelier we've totally changed our kitchen! As in, taken down the wall between the living room and kitchen and gutted the entire room, Fixer Upper style!
Practical painting tips for the home that anyone can use, including chalk painting, accent walls and choosing the right colors.