How to Paint Furniture with Chalk Paint
This post may contain affiliate links which won't change your price but will share some commission.
Don't throw away that old furniture! Learn to take an ugly, beaten up piece and transform it with this how to paint furniture with chalk paint tutorial. Easy step by step instructions and supplies below!

If you took piano lessons when you were a child raise your hand.
I see you. I feel your pain.
My MawMaw who lived with us was the one who made me practice every afternoon and it was a thankless chore for both of us.
I really loved to play but I didn't love to practice.
However, I LOVED to sing. Somehow this painfully shy kid found the courage to sing at both church and school, achievements that were huge for my four-eyed, picked on self.
Once I began doing theater performances in high school I was HOOKED. I remember each one like it was yesterday.
The camaraderie of the cast, the thrill of opening night and the thunderous applause.
Ok, maybe it was just your average mom and dad applause, but there was still clapping!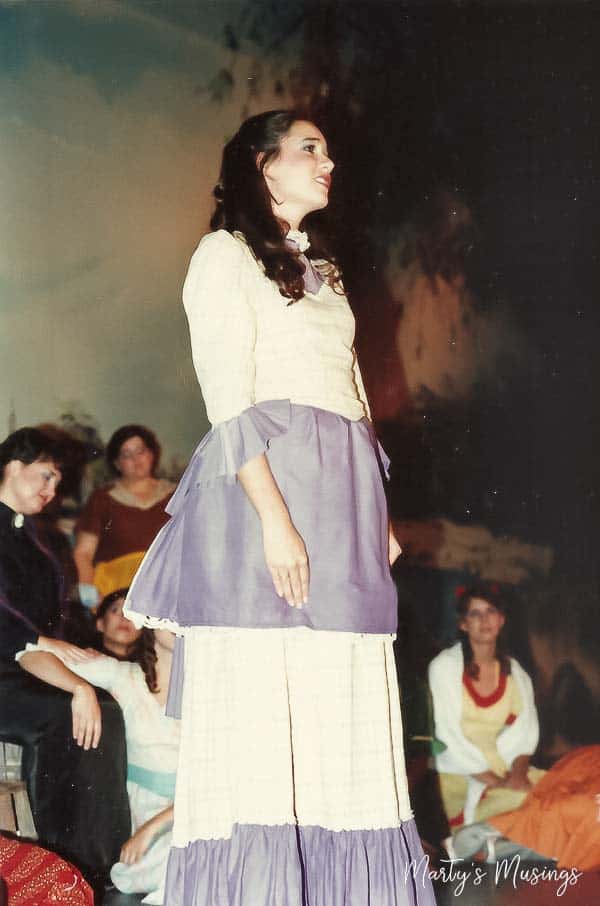 One show in particular taught me valuable lessons that were painful at the time but have served me well since then.
When I was 19 my boyfriend at the time was directing his very first show named Li'l Abner, a musical comedy based on a comic strip about a fictional clan of hillbillies in the impoverished mountain village of Dogpatch, USA.
Sounds like a real winner of a show, doesn't it? I knew I could nail the accent, y'all!
And the female lead Daisy Mae? It didn't matter that I wasn't blonde or voluptuous, I was perfect for the part!
When the cast list was posted my heart was beating fast as I tried to locate my name on the sheet.
No. How could it be? One of my very closest friends got the part I knew was mine.
[convertkit form=1968335]
I was devastated. I don't think I spoke to my boyfriend for at least a week. How could he not have chosen me? I was perfect. I was certainly better than my friend.
All those voices that poke and prod you in your worst moments of defeat had a field day in my mind.
You're not good enough or pretty enough and you certainly can't sing well enough to get the lead. Your boyfriend didn't even pick you.
I did, however, get a bit part in the musical and was in the chorus with the rest of my friends.
To add insult to injury, though, my role was Moonbeam McSwine, the girl who carried the PIG.
Oh yea. That's right. I carried a pig. On stage.
Moonbeam is described as the "only gorgeous woman in Dogpatch that can't keep a man. She never bathed and preferred the company of pigs to men." Now that's a resume builder for sure!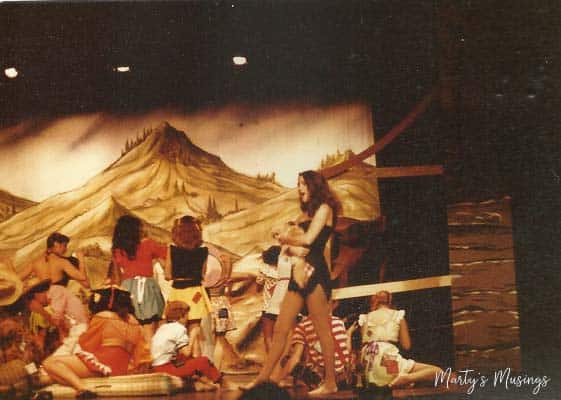 Talk about a humbling experience.
(If you look close enough you'll notice that's not a pig but a dog I was carrying for dress rehearsal. I did get the privilege of carrying the real thing in performances. Go me!)
These moments of heartbreak can either define or destroy us, make us better or bitter.
I chose to learn and grow from the experience instead of allowing it to keep me from my dreams.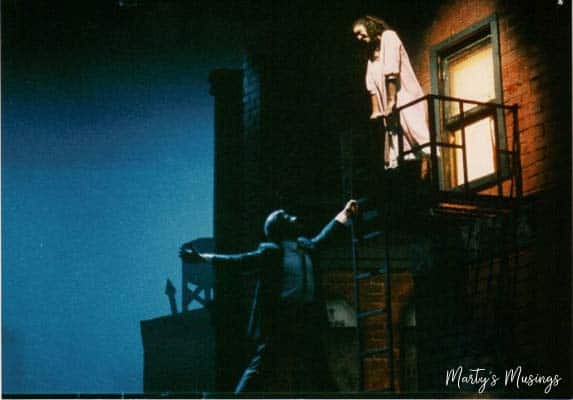 In years to come I lived through more rejections and achieved some successes. Maria in West Side Story was my all time favorite role that eased the pain of being the "pig carrying reject."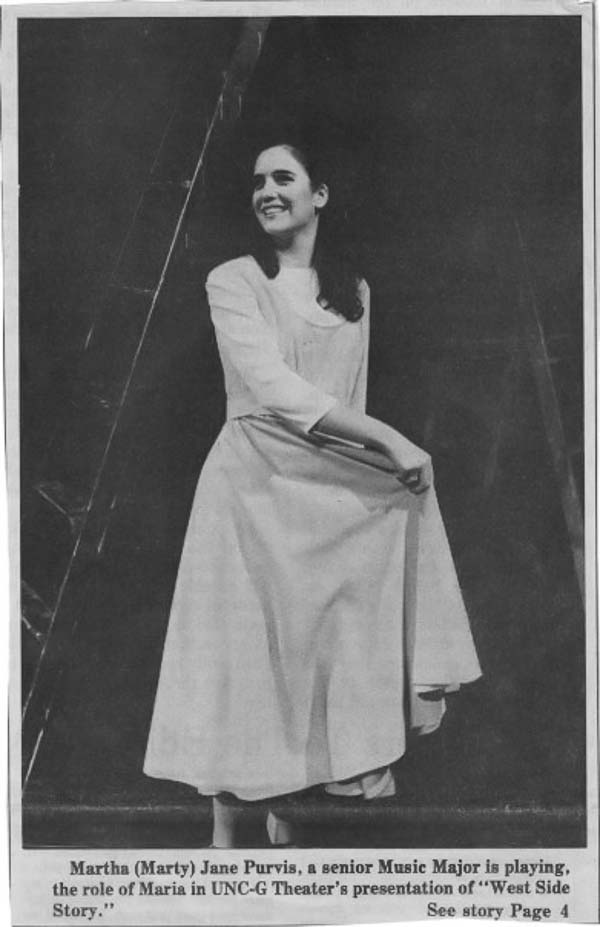 I believe even now as an adult God continues to teach me to find beauty among the ashes of broken relationships and junk other people throw away.
How's that for a transition?
Moral of the story: Don't give up when disappointment and rejection strike. Learn from the lesson and allow it to refine and make you stronger.
[convertkit form=1968335]
This oh so ugly dresser with the broken handle was beaten up and almost sent to the curb (literally). But there was beauty yet unseen in this solid wood piece of furniture. We just had to invest a little time and effort in discovering its potential.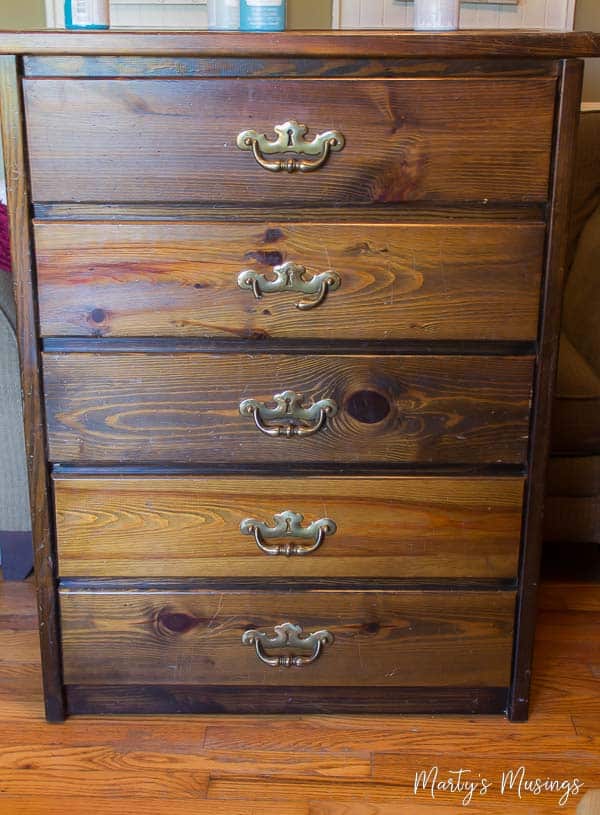 Now it has a starring role in our coastal themed bedroom!
Here's my hubby to give you the details on how to paint furniture with chalk paint.
Tim:
I guess the most important thing to remember about these DIY chalk paint projects (see all our best tips here) is that you don't have to do them like anyone else! That is the beauty and uniqueness of the projects; nobody on the planet has one just like yours.
How to Paint Furniture with Chalk Paint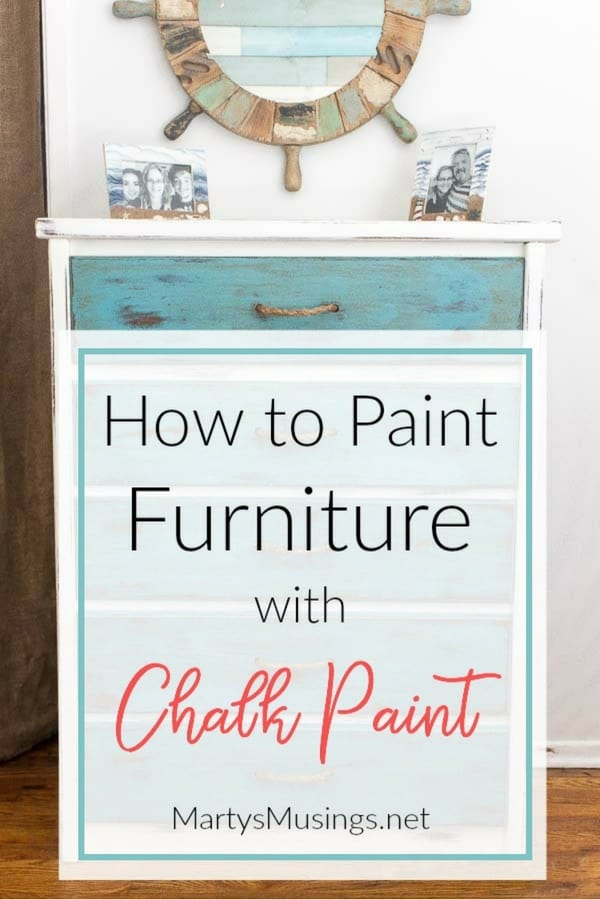 Materials:
(I've included some affiliate links for your convenience. Click here to read my full disclosure policy.)
Deco Art Americana Chalky Paint Everlasting 8 oz.
Deco Art Americana Chalky Paint Escape 8 oz.
Deco Art Americana Creme Wax 8 oz. Deep Brown
Deco Art Americana Decor Creme Wax, 8-Ounce, Clear (sides of dresser)
Paint Brush
Manila Rope
Palm Sander
Steel Wool
Step 1. Paint drawer fronts
For this dresser, we knew it would live in a somewhat nautically-themed room, so the drawer fronts would be the accent color. As such, I decided to start with them with this rather dramatic Escape aqua blue chalk paint. As always, no straight line brush strokes here! Criss-cross to your heart's desire. Distressing is just down the road.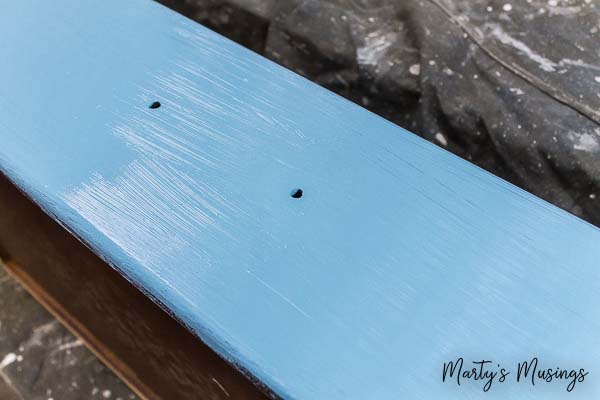 Step 2. Paint body of furniture (dresser)
While those drawer faces were drying, I was free to move on to the body of the piece with Everlasting white chalk paint. Pretty drastic change from the dark wood, but this product really covers well. Notice NO PRIMING first!! That is one of the best things about treating pieces this way.
However, if your are NOT going to distress at the end, you may want to consider priming with an oil-based primer first to ensure durability. You can also still wax or put polyurethane on top as well.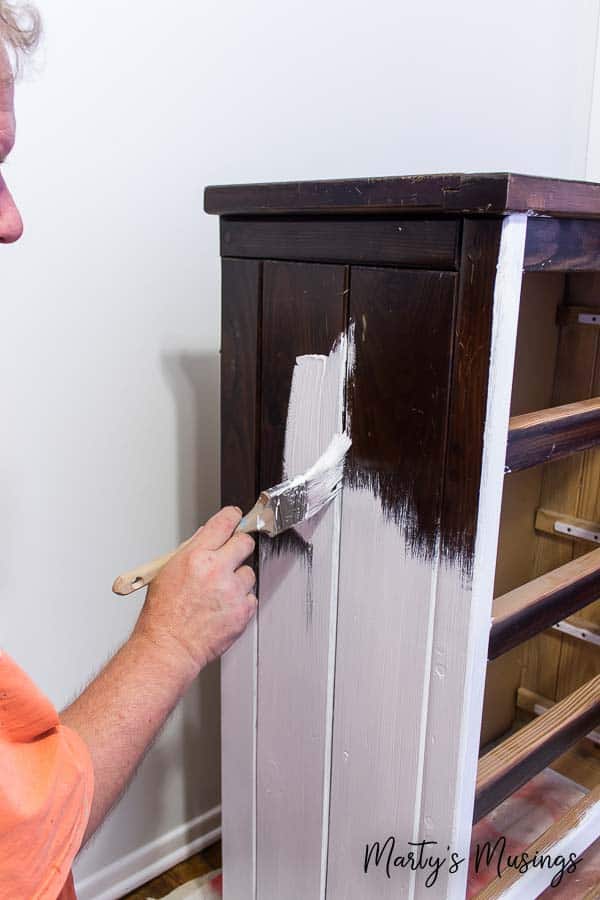 White paint drying…back to the drawer fronts. I felt like the blue was a bit heavy for what we wanted, so I went for the palm sander to distress the wood. You can easily see how much I took back off!
Step 3. Distress or sand to your liking
Play with this part to suit your taste. The worst that can happen is that you re-coat and start over. Don't be afraid to just use sandpaper, a sanding block, or even steel wool instead of a power tool. Again, if you're not interested in the distressed look skip this part!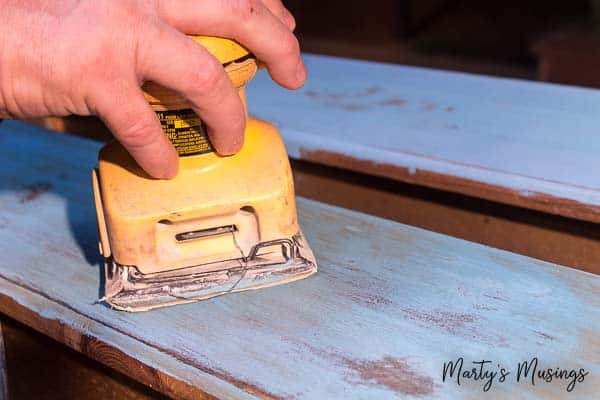 Here's a good look at the five fronts together. Pretty fair amount of removal, but I still was looking for a more weathered look, plus I wanted to try something I had never used before…dark wax!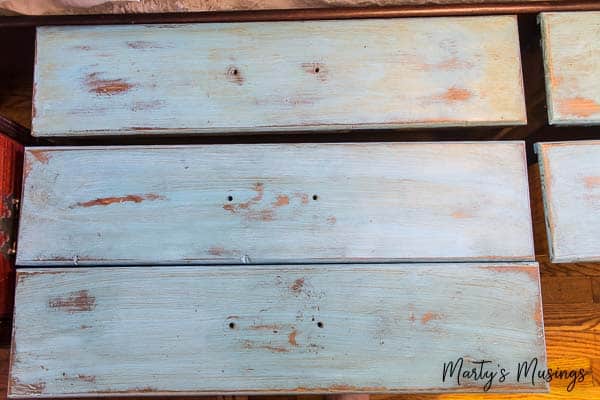 Step 4. Apply wax and let dry
(Make sure and wipe down the furniture before applying wax.)
[convertkit form=1968335]
So, one final experiment with dark wax. This is very dramatic, especially on white surfaces, so a little goes a LONG way. The more dimensional the surface, the more dramatic the effect; the wax tucks down into those crevices and corners and stays there.
Since these fronts were smooth, I merely wanted to highlight the bare wood and "dirty" them up a bit. Apply to the desired degree and then remove to your preference. Pretty simple.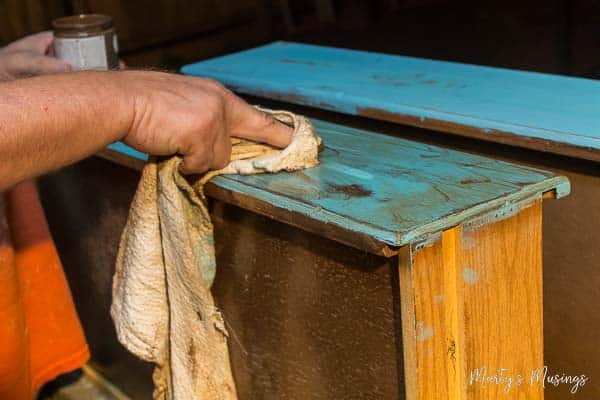 Step 5. Buff with a clean cloth
No picture but this step is merely wiping down the piece with a clean cloth.
And now we get to the fun part! There was no way "normal" drawer pulls were going back on this piece, so I really pondered a variety of unique options and landed on twisted manila rope for the handles. I could use the existing holes, although they would need to be enlarged, and I could use rope I already had in the shop.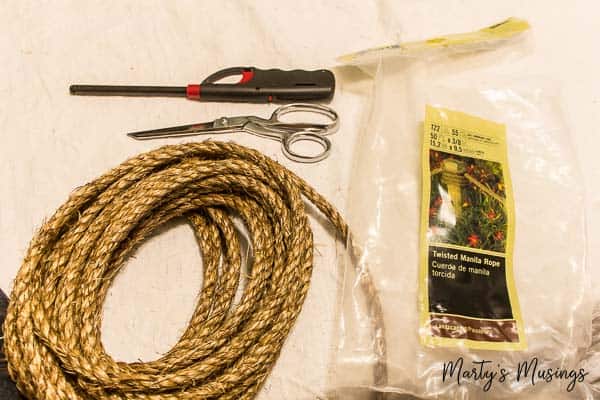 While I knew I would have some variation in the end result of each handle, I did want them to be as similar as possible, for functionality if nothing else. The first one sets the template!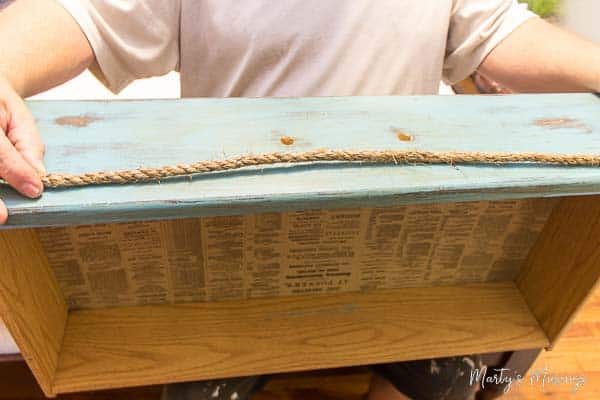 The idea was to feed both ends through the front of the drawer and tie knots on them on the inside of the drawer. If you've worked with twisted rope in any capacity, you know that it's important to seal the ends so it doesn't unravel over time. My preferred method is to burn them, forming a hard, burnt crust that bonds the strands together. Careful! We are talking about fire here!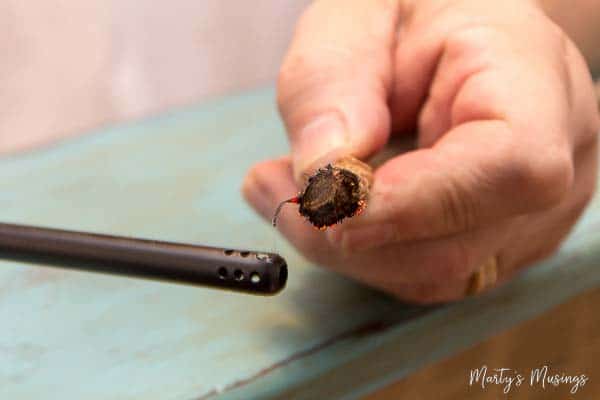 I think I was testing the size of the holes here, because I'm actually doing the process backwards (feeding the rope from inside to outside = backwards.)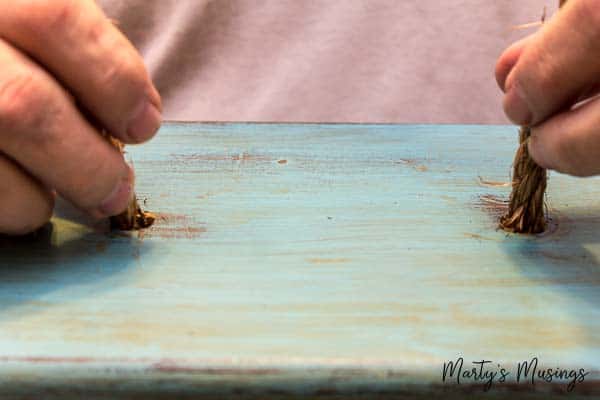 Here, my method has been corrected and the ends are inserted from the outside. Then, I simply tied a single knot to hold the loop in place. The key is to just size the outside loop at a comfortable and functional place for the user's hands, then knot accordingly.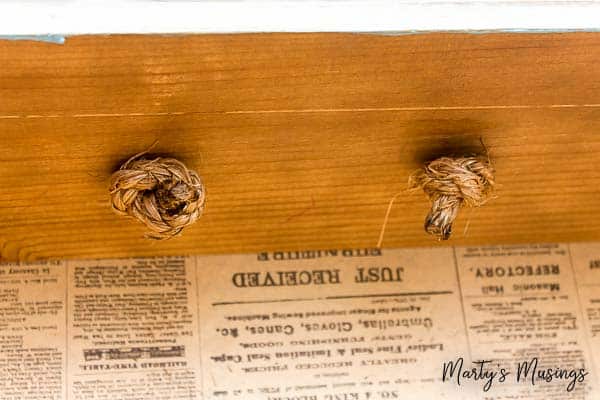 Voila! Your own home-made twisted rope handle for a beach feel. This rope looks a bit prickly here, but it's really fine. It also wears well and softens over time.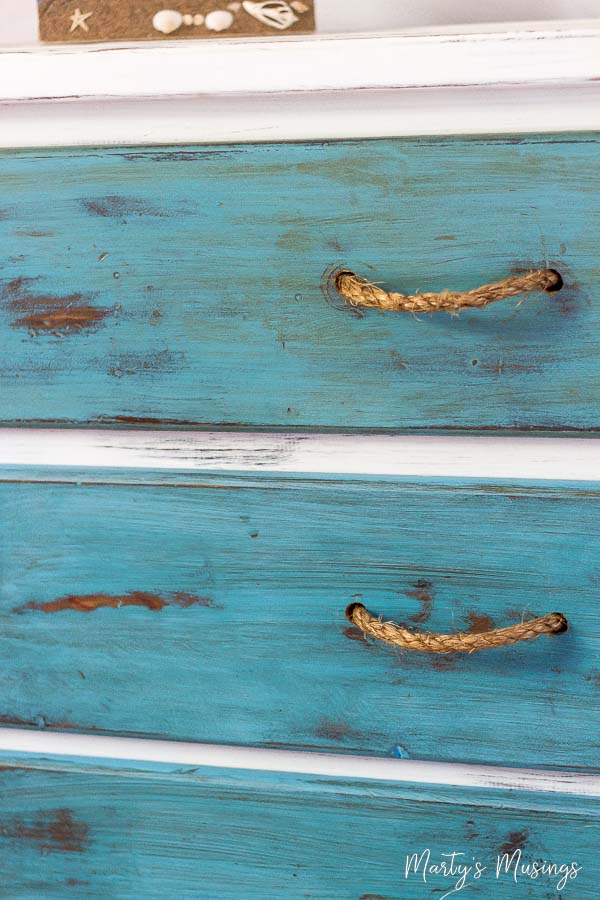 HEY! The finished product! Pretty cute and a BIG change from the clunky old original.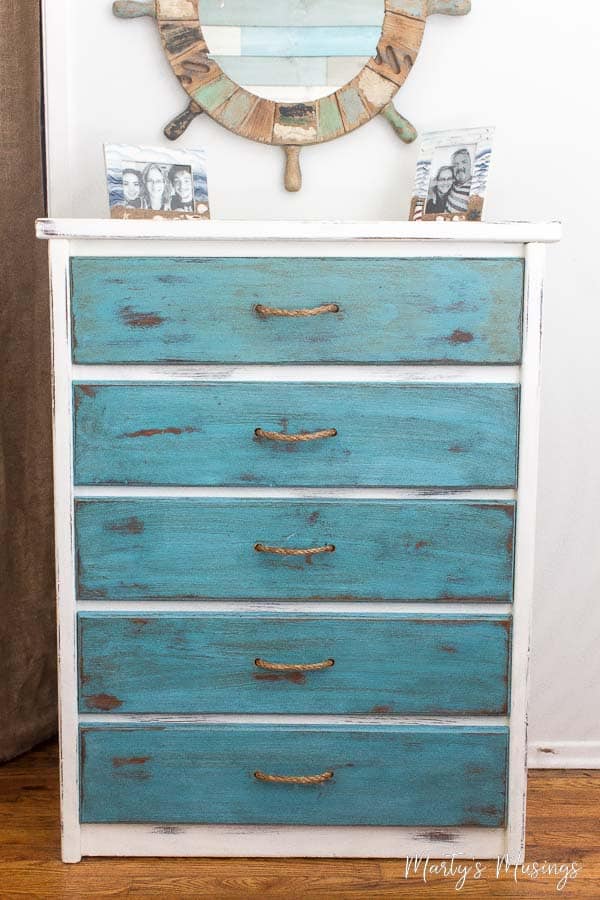 Marty here. It's always amazing to me how chalk paint totally transforms a beat-up piece of furniture into a treasured part of a room makeover.
[convertkit form=1968335]
My husband did a great job didn't he? Can you believe this room started out with red walls (read our best tips for painting over dark walls here)?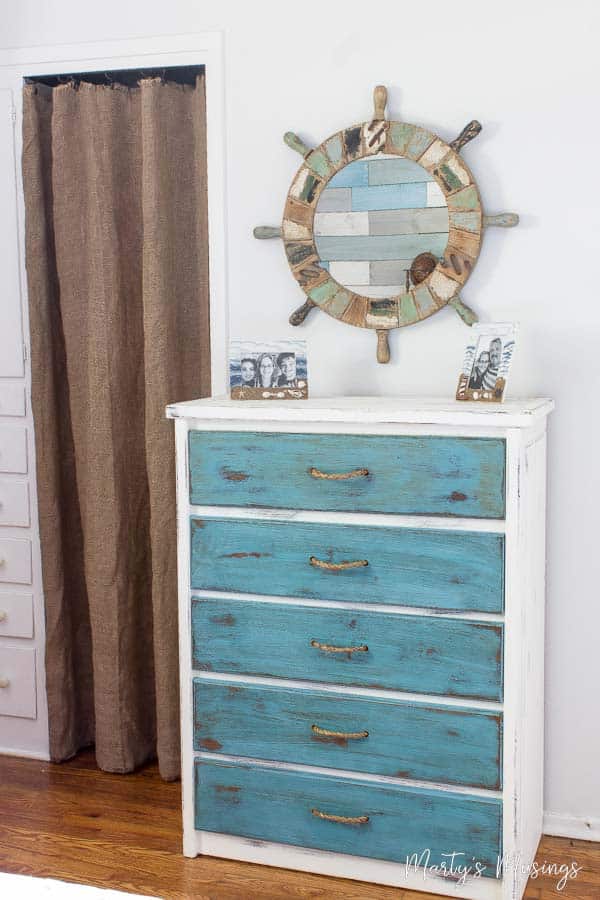 I designed this room from a single inspiration piece and decorated it almost completely with yard sale and repurposed items. It was truly a labor of love.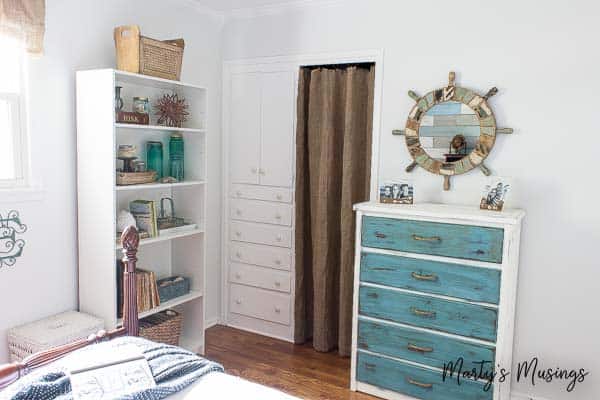 Read all the posts in our Coastal Bedroom Makeover series:
♥ How to Paint over Dark Walls
♥ Teen Boy Bedroom Makeover
♥ How to Design a Room Around an Inspiration Piece
♥ How to Paint Furniture with Chalk Paint (you're here)
♥ How to DIY a Plank Wall with Chalk Paint
♥ Inexpensive DIY Beach Decor Ideas and a Bedroom Makeover
Were you inspired to try something new today? I'd love if you'd share this with a friend! Us budget decorators need to stick together!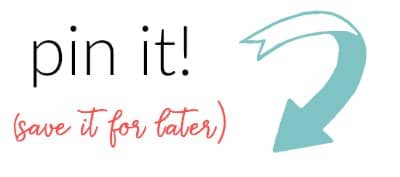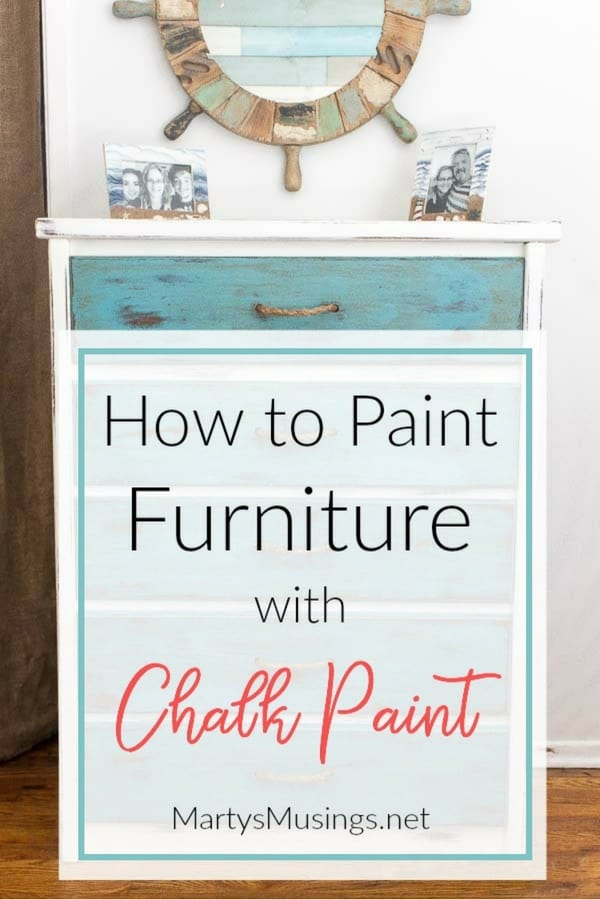 SaveSave
SaveSave
SaveSave
SaveSave
SaveSave