Stamped Books DIY [Tutorial using Chalk Paint]
This post may contain affiliate links which won't change your price but will share some commission.
Create your own farmhouse decor with this stamped books DIY tutorial using cheap paperback books, chalk paint and rubber stamps.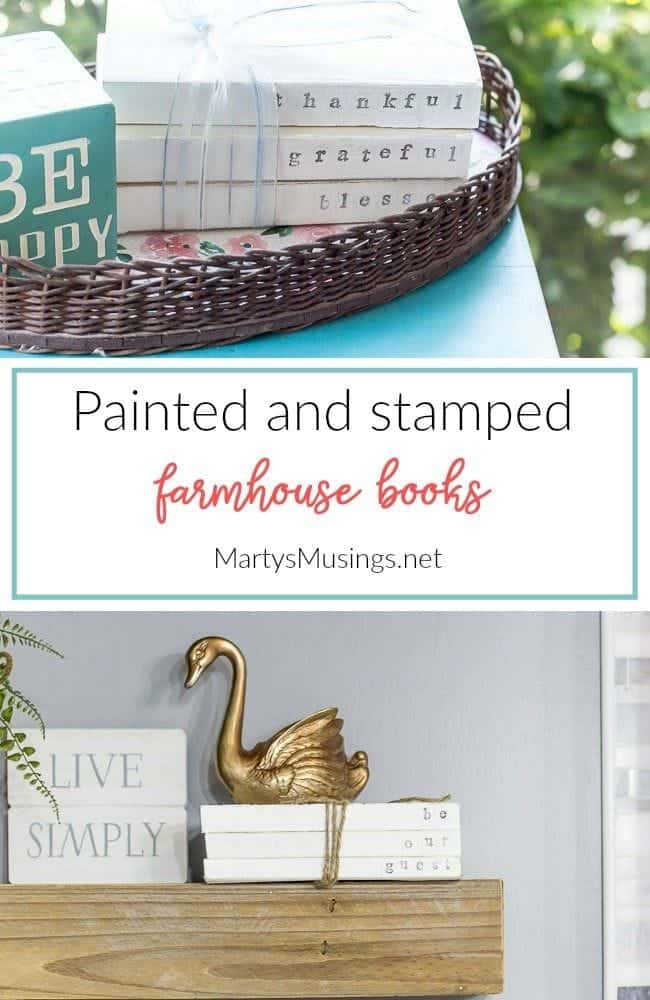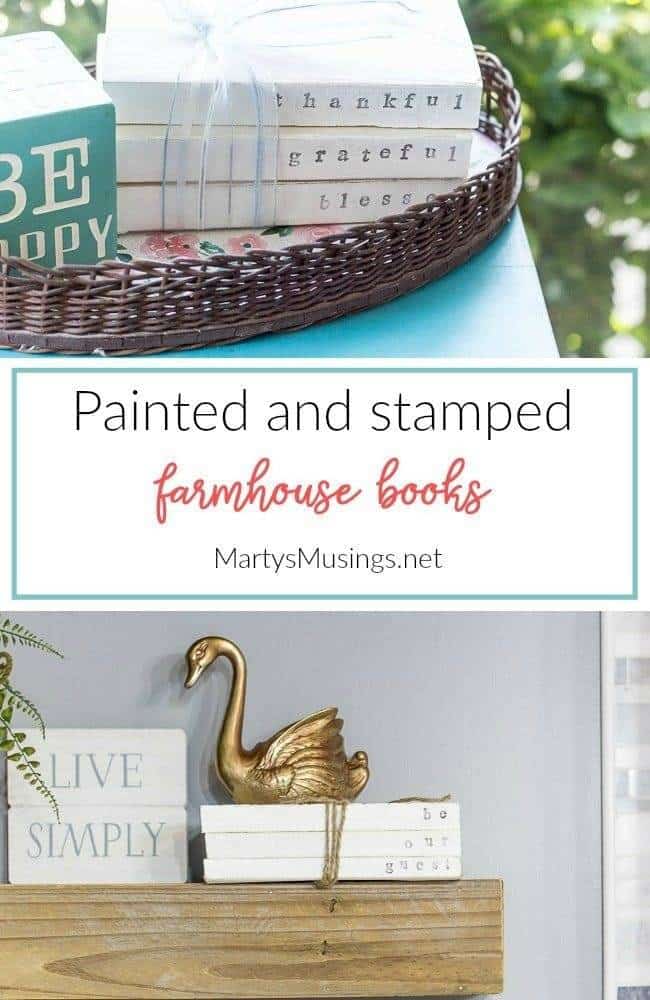 Do you want an authentic, one of-a-kind home? Me, too!
Have you run out of original ideas? Yep, same here!
Sometimes there's a crafty DIY project that appears EVERYONE has done to death.
Know what, though? It doesn't matter! If YOU like it, DO IT!
In my case it was these stamped books. I thought the project was adorable but just never made time to make some. (Our bathroom remodel took over our lives for a while!)
Then I saw my friend Christina from The Frugal Homemaker demonstrate them on Instastories. So good I couldn't resist trying them myself!
The best part of this craft is you may already have everything you need on hand. If not, the supplies are so inexpensive and easily available.
Stamped Books DIY
Materials:
(I've included some affiliate links for your convenience. Click here to read my full disclosure policy.)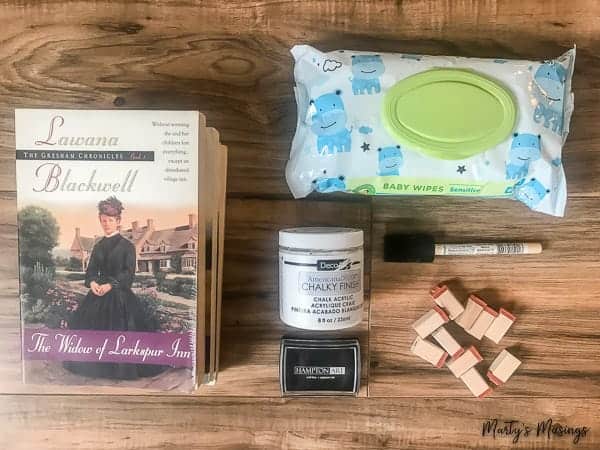 Old paperback books
Chalk paint
Rubber alphabet stamps (make sure the size fits the spine of the book)
Black stamp pad
Foam paint brush
Baby wipes
Sandpaper
Glue stick
[convertkit form=1968335]
Step 1. Find a few inexpensive paperback books of similar size.
There are many places to find cheap paperback books including yard sales, thrift stores or used bookstores with a "free" pile. (Read my best yard sale tips here.)

Step 2. Tear the cover off each book.
Simple step but make sure you get as much of the rubbery glue off so you'll have a smooth surface to stamp.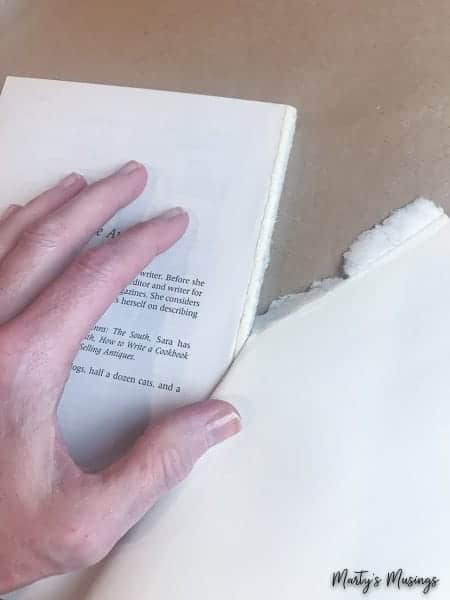 Step 3. Find a page with no writing if possible and chalk paint.
You really only need to chalk paint the top book of the stack but since I was figuring it out as I went I chalk painted all of them.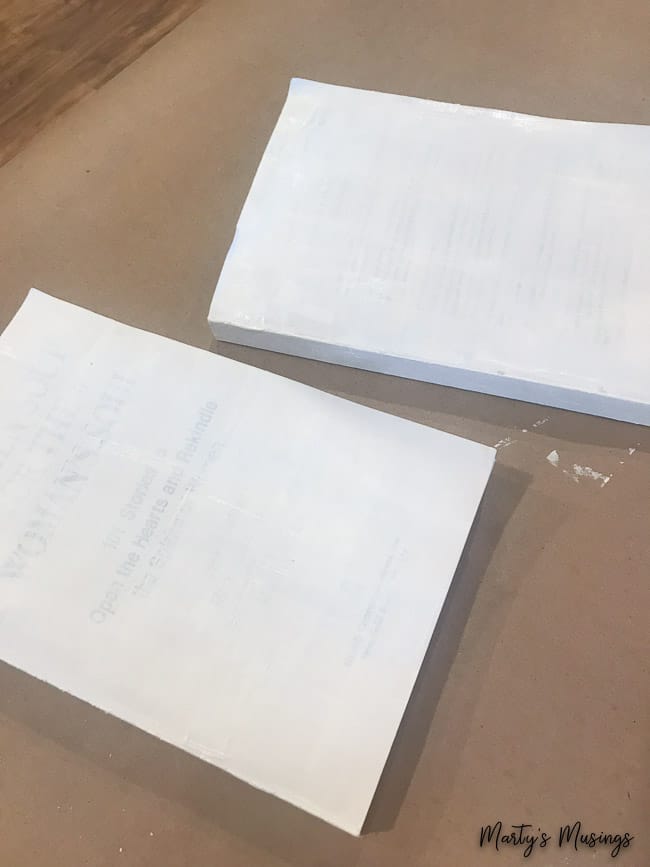 The number of coats depends on whether your page is blank or you're covering words. I did three coats if there was no lettering on the page.
Step 4. Chalk paint the spine of each book.
Even though the spine is white I still added chalk paint to give the stamps something to cling to.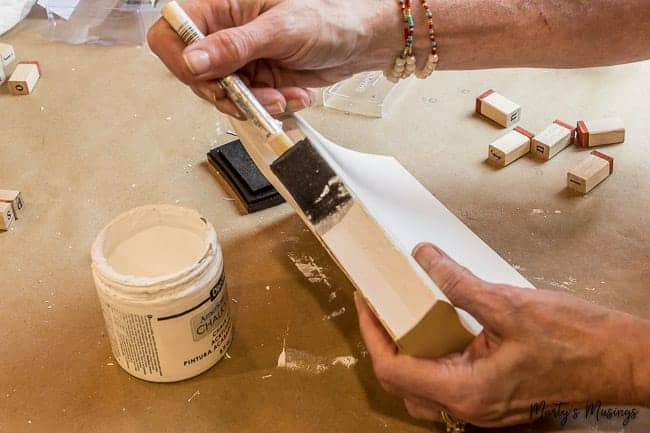 Step 5. Distress spine if desired.
If you have any glue leftover on the spine and want to achieve a smoother surface, try sanding it. This is also good if you want a more rustic look to your books.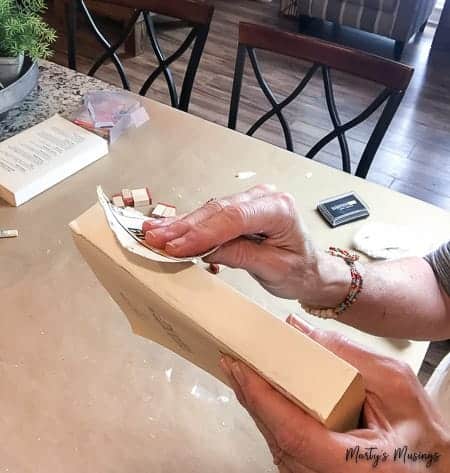 [convertkit form=1968335]
Step 6. Glue pages together if curling.
If you find your pages aren't staying flat you can use a glue stick to attach pages to each other.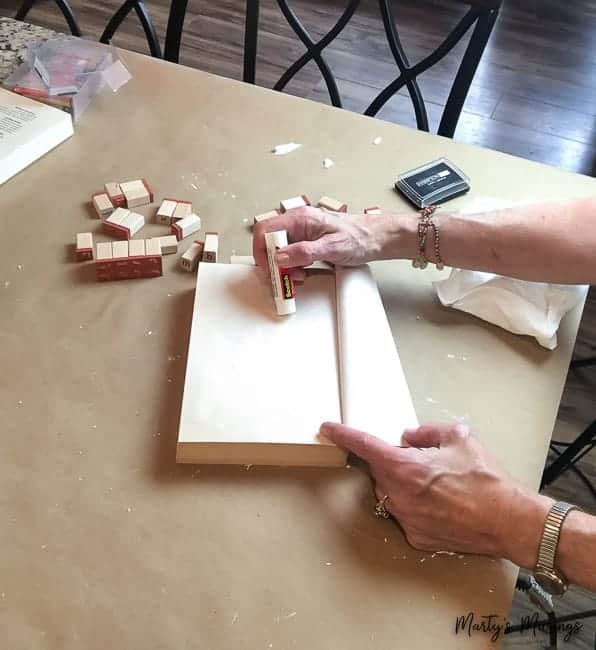 Step 7. Press stamp onto ink pad and remove excess ink.
I used my rubber alphabet stamps and a black stamp pad to create the letters. The harder you press into the ink the better the letters will be on the book.
Use a baby wipe to wipe around the letter and remove any excess ink you don't want to show on the book.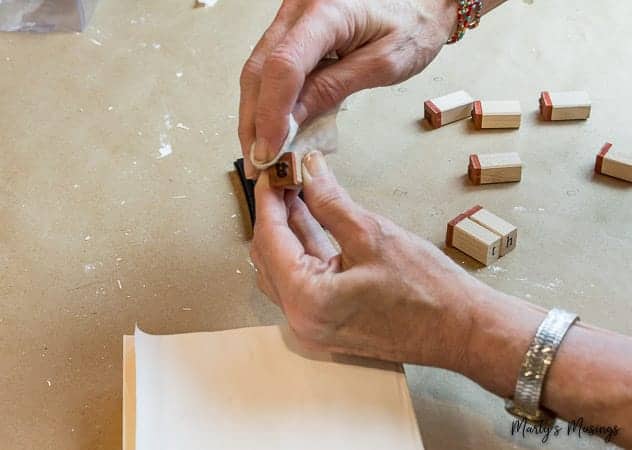 Step 8. Stamp spine of book.
This is the step where you'll need to let go of perfectionism! I had to practice stamping just a bit.
I wanted to be able to line up the letters perfectly each time but it's hard! If you get too much ink on the stamp it will leave inked edges. Since this is farmhouse style the imperfections can just be part of the process.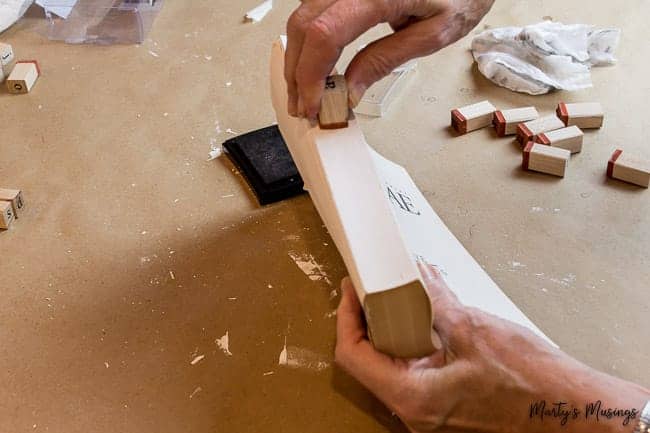 But if the stamp doesn't come out as desired, simply paint over the letter/s and start over!
I found I got the hang of things as I went along. And I DID make some mistakes and repainted! That's the beauty of chalk paint. It dries quickly!
(Did you know I'm a huge fan of chalk painting and have all my best tips on the blog?)
We recently remodeled one of our bathrooms (see the full reveal here.) I thought it would be adorable to have stamped books wrapped in jute with "be our guest" on them.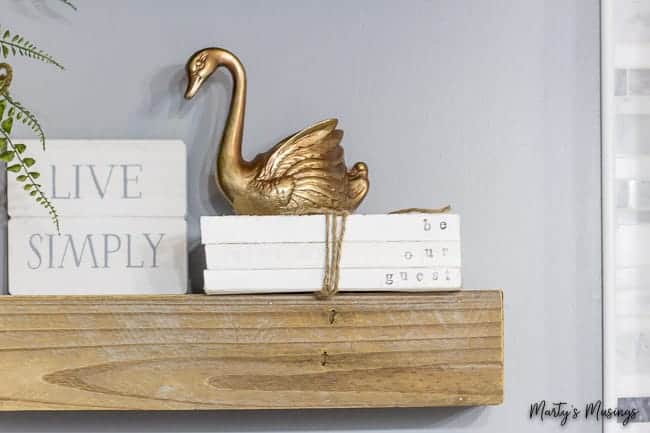 My husband built these floating shelves and they're a favorite addition to this space!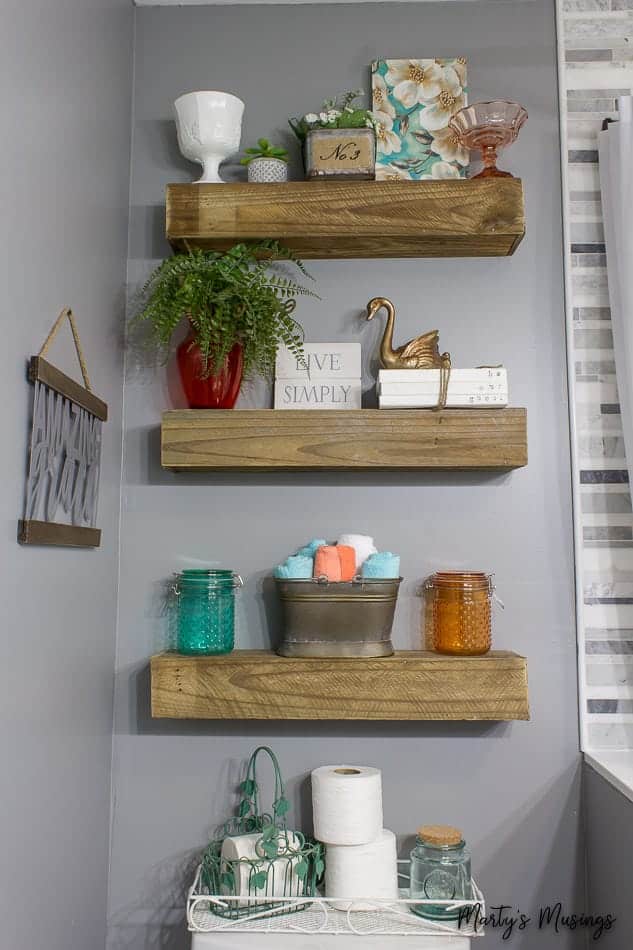 Once I finally got this process down I decided I had made such a mess I needed to do some more books!
I added a ribbon to these and set them on my chalk painted table right by the front door.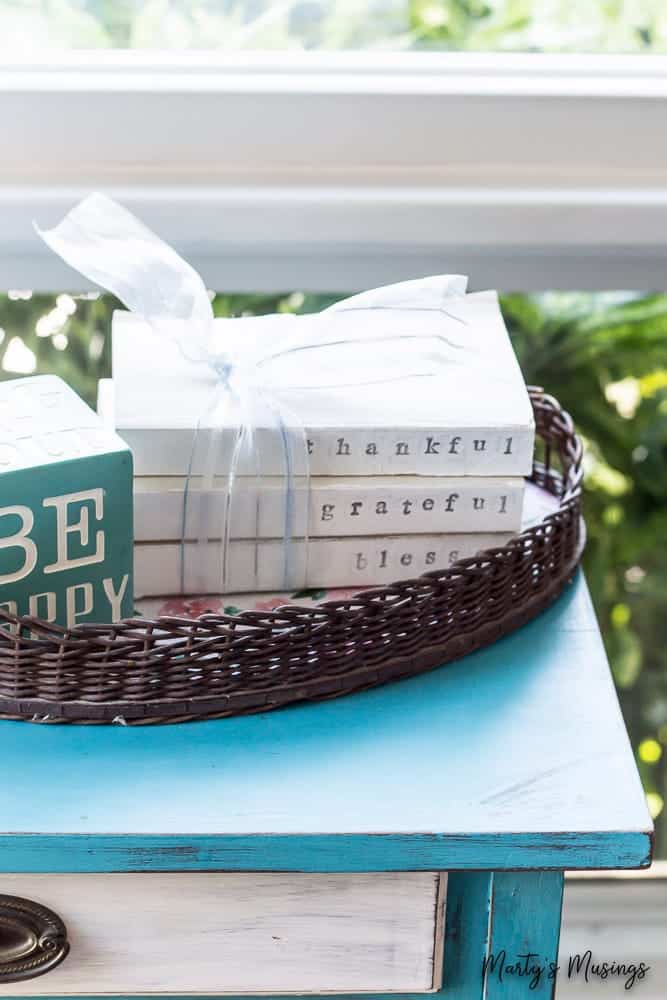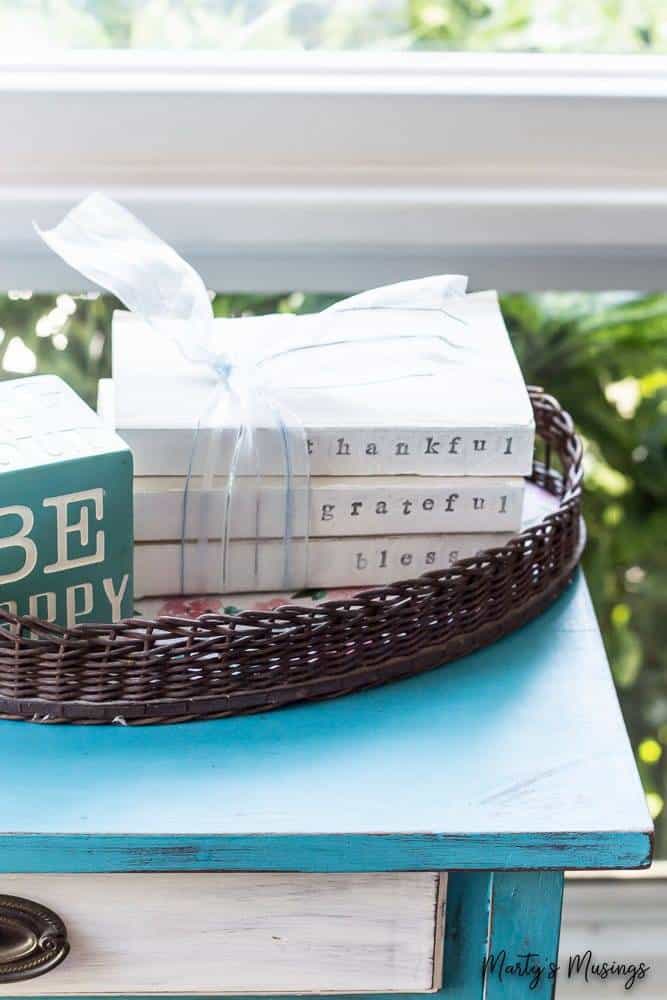 By stacking them in a basket lined with scrapbook paper, it sets them apart and adds interest to this little table.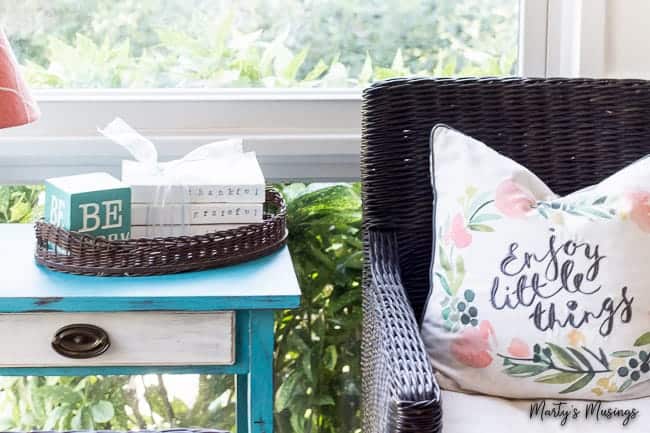 So easy, my friends! What do you think of this stamped books DIY project? Where would you like to add this easy craft in your home?
Click below to see the other posts in our Small Farmhouse Bathroom remodel:
Stamped Books DIY [Tutorial using Chalk Paint] (you are here)