How to Spray Paint Plastic Chairs
This post may contain affiliate links which won't change your price but will share some commission.
Don't throw away that UGLY outdoor furniture! This easy DIY ANYONE can do shows how to spray paint plastic chairs without spending a lot of money or time!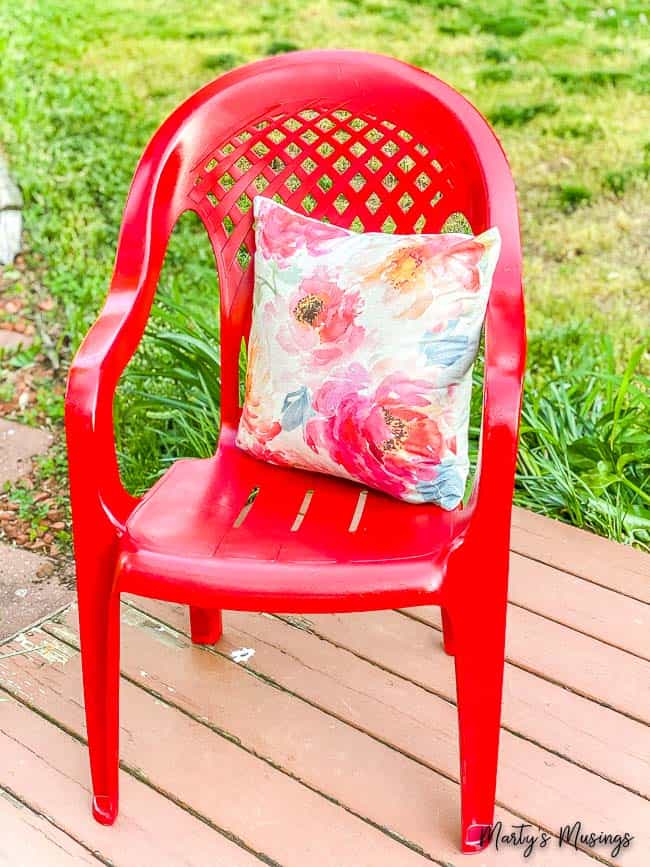 I like free stuff. Free is good, but sometimes you need to spruce up the free stuff. Know what I mean?
Today's project is a short little tutorial on how to spray paint plastic chairs. I'm thinking you probably have a couple of ugly chairs in your backyard that need a makeover, too! Or maybe a little kid's table or side table made of plastic.
This chair was in dire need of transformation and since I love pops of color I knew the backyard was the perfect place for them.
Materials
(This post contains some affiliate links for your convenience. Click here to read my full disclosure policy.)
Step 1. Find a chair or piece of furniture.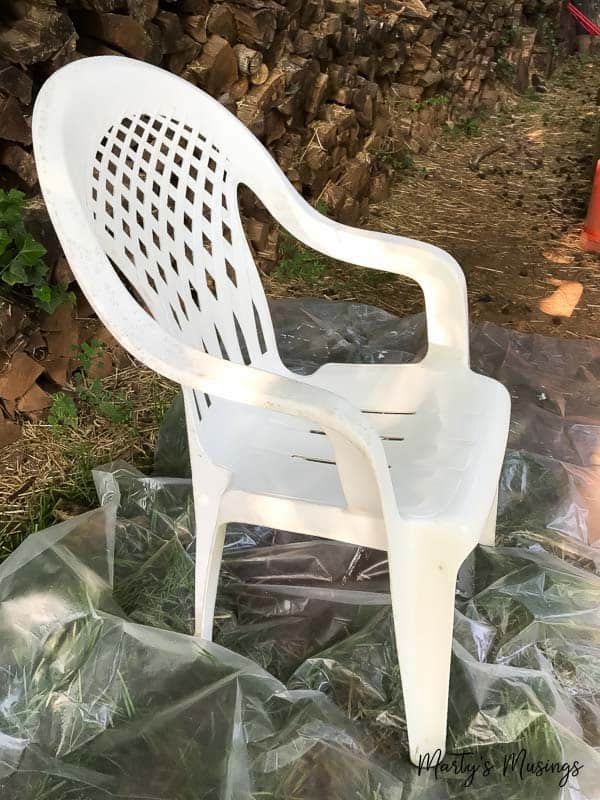 In our neighborhood, people are always throwing out chairs but you can also be on the lookout at yard sales and thrift stores.
Seriously, if everyone knew what a quick transformation a coat of spray paint provided those chairs would be snatched up!
Step 2. If necessary, sand to obtain a smooth surface.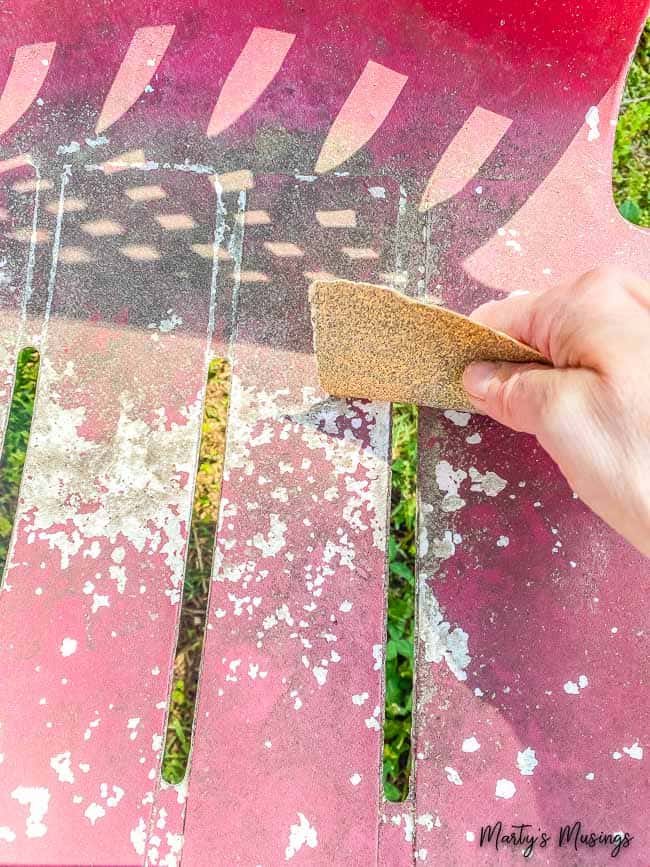 Update: I repainted this chair 4 years later and sanded areas that needed it.
Step 3. Clean chair.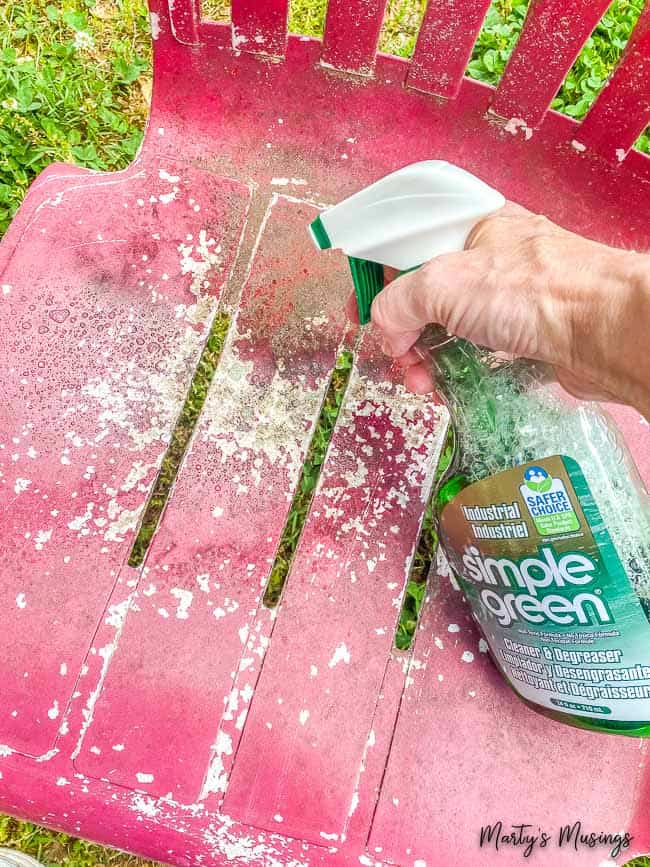 Plastic chairs tend to absorb all sorts of debris and stains from living outdoors in all types of weather.
All I did was scrub with a good cleaner (you can even get one specifically designed for plastic) but more than likely you won't get the chair perfectly clean. That's alright! Paint covers a multitude of sins!
Step 4. Let the chair dry.
I made sure I saved plenty of time for the plastic to dry out so the paint would adhere well. No sense skipping this step and messing up the final product!
Step 5. What kind of paint do you use on plastic chairs?
The spray paint market is filled with all kinds of spray paint. Too many to choose from! I would choose a product that's formulated especially for a plastic surface such as this spray paint for plastic.
If you're not aware, prices of all supplies have gone sky high and often there are shortages. Just check big box stores, home and gardening stores, Amazon and google!
Step 6. Apply the first coat to the bottom of the chair and any areas that will be seen.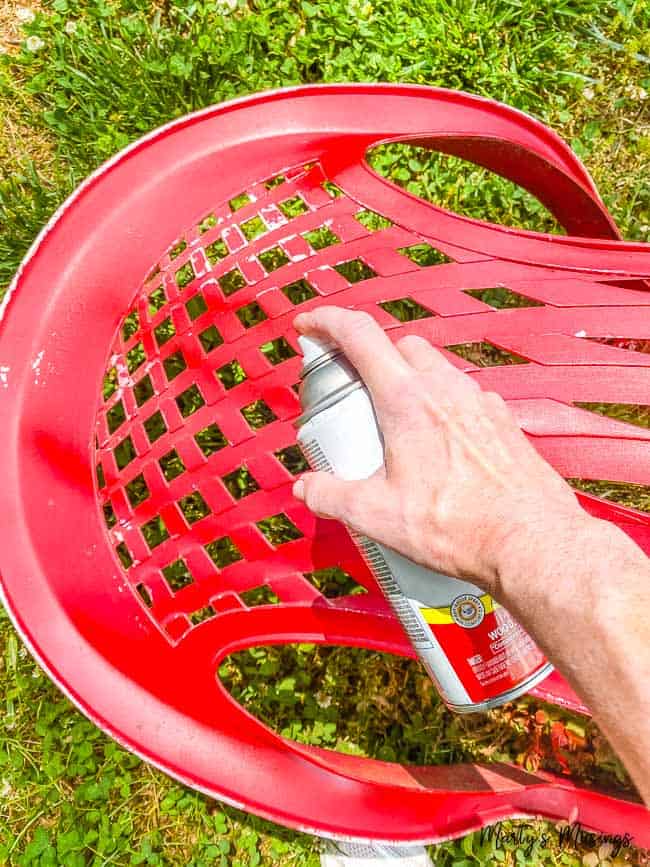 Nothing fancy about spray painting. No priming is needed but you can add a coat of outdoor spray paint and then top with the plastic type.
Make sure and layer on a decent first coat and let it dry for about 45 minutes. Since I'm a messy painter I used plastic underneath to protect the yard. You might want to put on old shoes, too. ~eye roll~
Step 6. Turn your piece over and paint the remaining areas.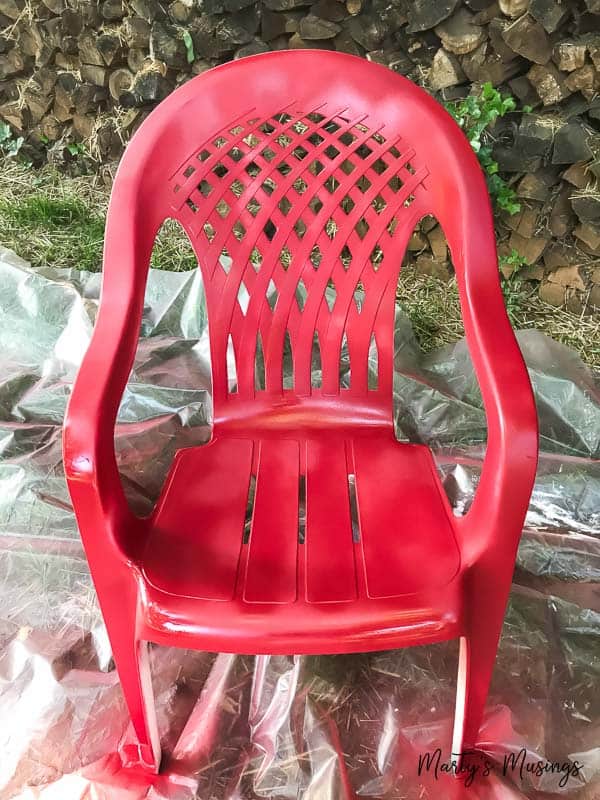 You don't have to waste paint on the underside of the seat but check for nooks and crannies that will be visible. Let dry for another few minutes.
Step 7. Repeat for a second coat on all areas.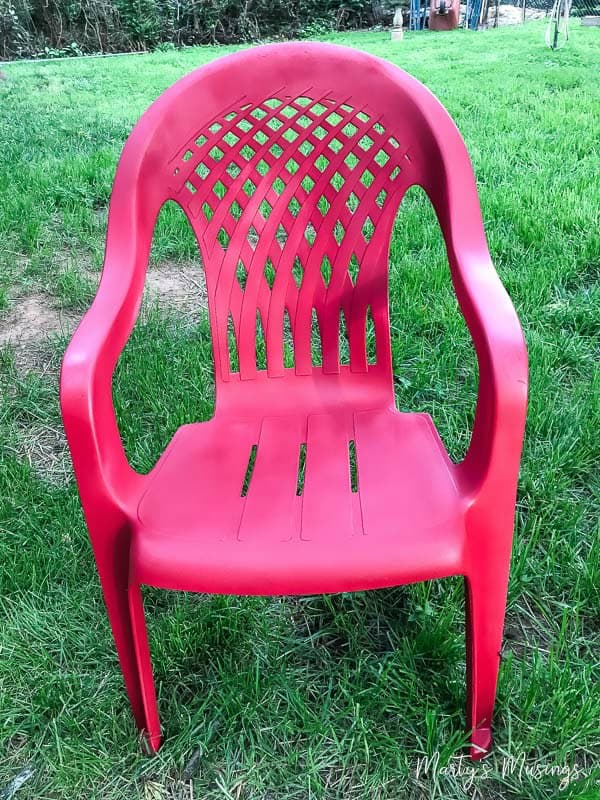 I found two coats to be sufficient, which ended up using about 1 1/2 cans of paint per chair. I'm probably a little more liberal but for just a few bucks you've got brand new chairs!
Step 8. Add a protective topcoat.
I actually chose a matte color and wanted a top coat that was also a gloss. But I recommend that you seal your chairs with a protective top coat, especially if they will be seeing any kind of weather.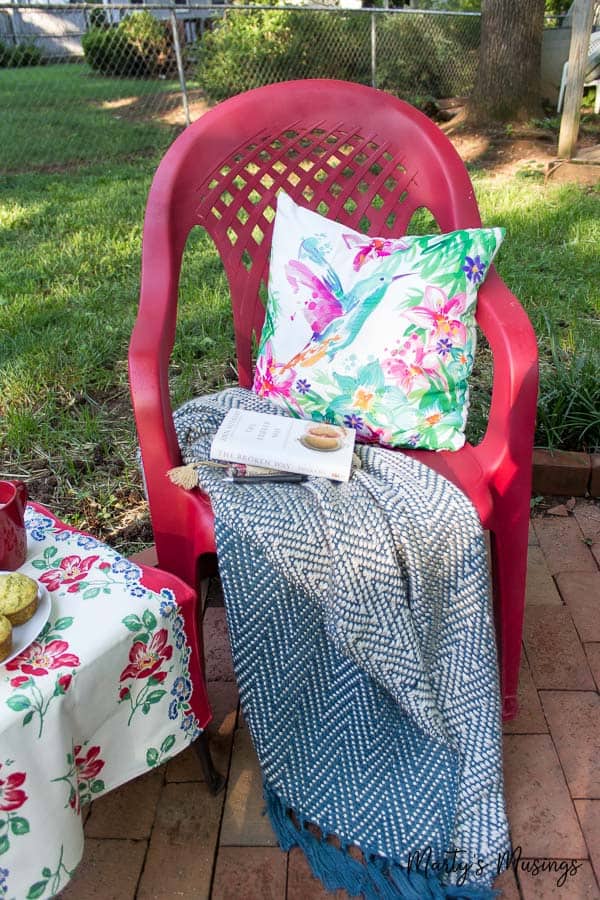 Step 9. How long will the painted chairs or furniture survive outside in the weather?
Chair update: these chairs lasted 2-3 years out in the elements in our backyard. I live in NC where the temperature is probably considered moderate. We get down in the teens in winter and 90's in the summer.
If you're not going to use them during the winter and you have room for them in storage I'd take them indoors. They'll last longer!
When I wanted to update them I simply sprayed them again with a gloss and love how it looks!
It doesn't have to be perfect especially if there is no protection from the weather.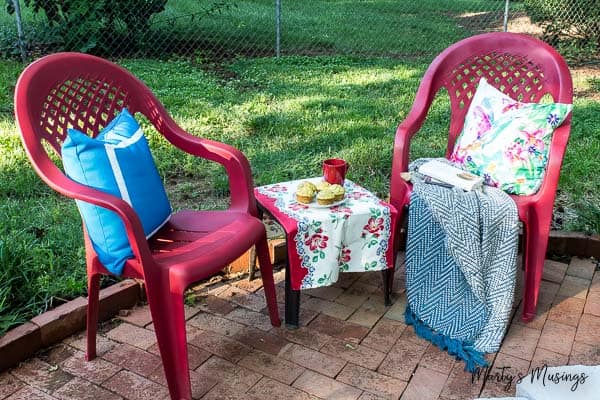 I think learning how to spray paint plastic chairs qualifies as one of the easiest DIY projects anyone can do!
What do you think? Do you have some old chairs or furniture you want to paint now?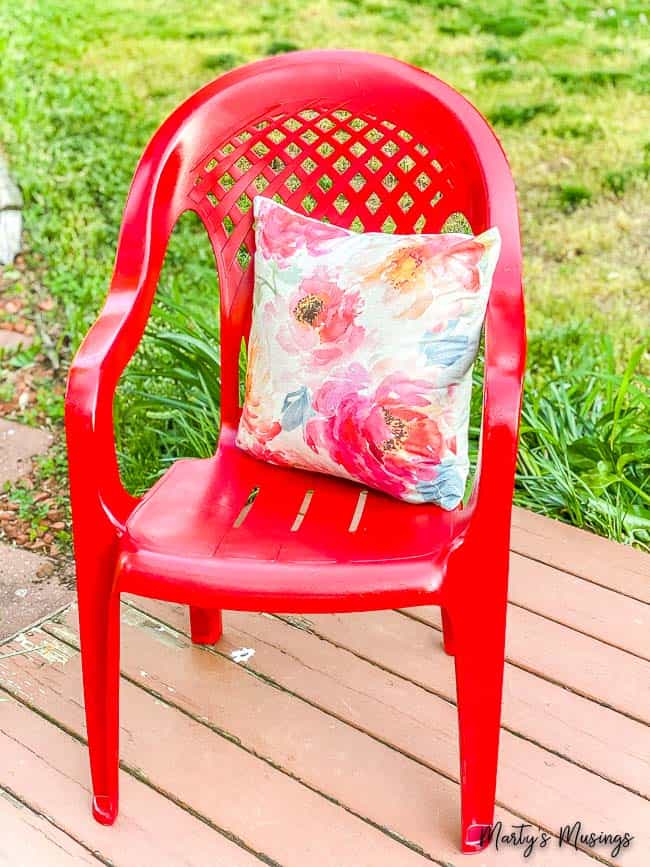 More painting tips:
7 Chalk Painting Tips for Beginners
How to Use Chalk Paint Wax + Distressing
How to Paint Over Dark Walls
How to Stain Your Wood Deck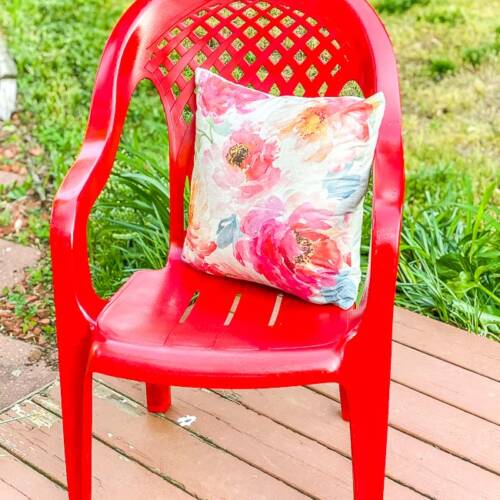 How to Spray Paint Plastic Chairs
Don't throw away that UGLY outdoor furniture! This easy DIY demonstrates how anyone can spray paint plastic chairs without spending a lot of money or time!
Materials
1

spray cleaner

1

sheet

sandpaper

1

can

spray paint for plastic

1

can

protective gloss top coating
Instructions
Find a chair or other piece of furniture.

If necessary, sand to obtain a smooth surface.

What kind of paint do you use on plastic chairs?

Apply the first coat to the bottom of the chair and any areas that will be seen.

Turn your piece over and paint the remaining areas.

Repeat for a second coat on all areas.

Add a protective topcoat.

How long will the painted chairs or furniture survive outside in the weather/