A professional painter shares tips on how to paint over dark walls in your home including preparation, product and how to do it the right way!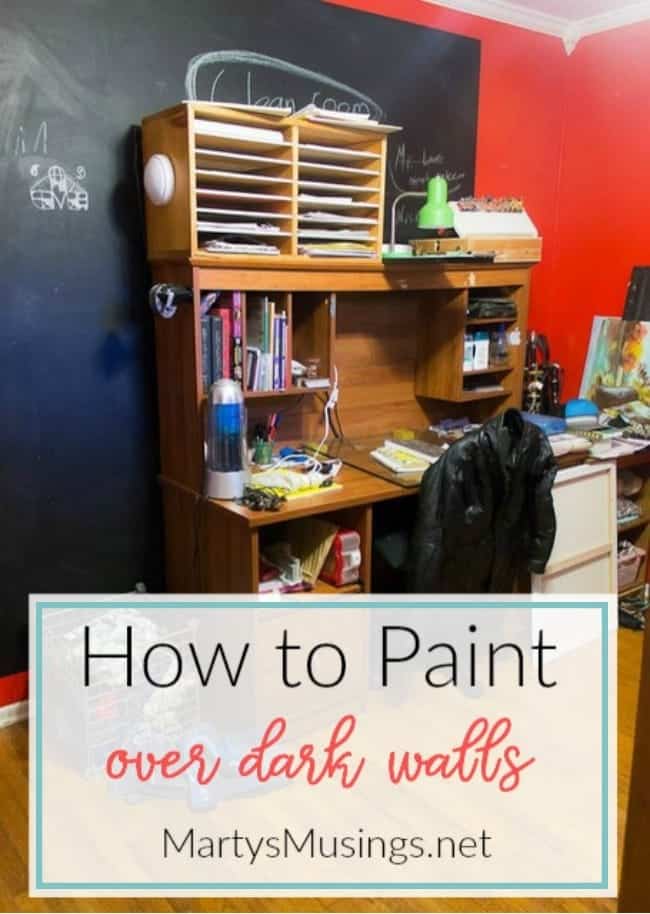 For much of my 32-year marriage I was a bright color girl in my home decor. I think I spent so many years in college and early work life in bland rooms with cream walls that I was ready to spread my wings!
By the time I got married I was over it! Give me all the bright blue walls and sponge painted green accents (anyone remember that trend? Bless it ~smile~)
But now I'm back where I started. I want my walls white, whiteish or an option with a gray tint.
I'm thinking resale down the road when my husband and I want to downsize or do something different. (My dream? An old country church I can transform into a home. I haven't sold Tim on that one yet. )
Until then I want to show you how to paint over dark walls because it's a necessity!
Here's the before and it's a makeover waiting to happen!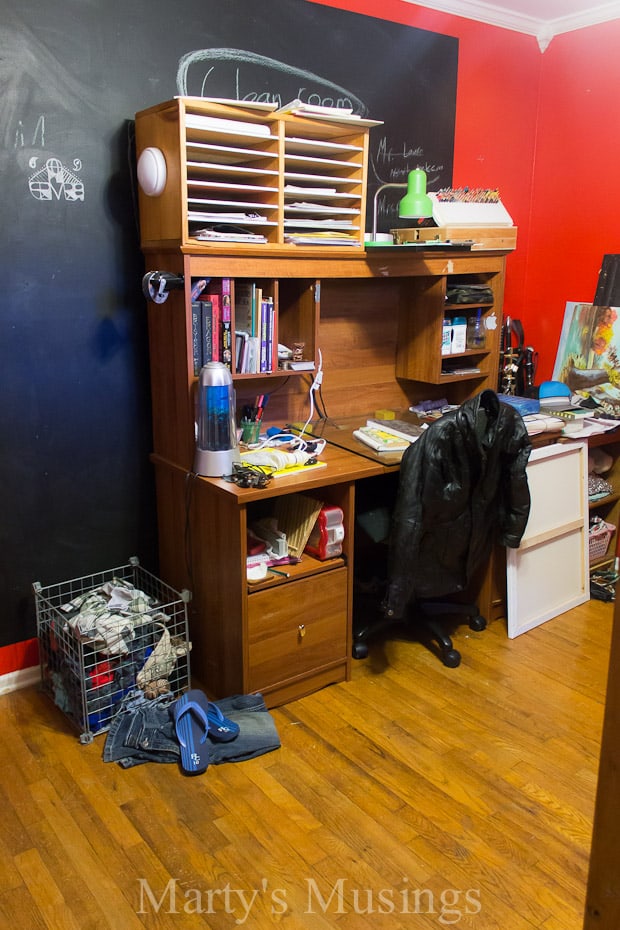 This bedroom belonged to our youngest son and was painted bright red with one wall chalkboard paint. Since the room underwent a huge transformation I knew I wanted to go for lighter and brighter!
Here's my DIY hubby to share all the details on how to paint over dark walls.
How to Paint Over Dark Walls
I've included some affiliate links for your convenience. Click here to read my full disclosure policy.)
Materials:
Paint Brushes
Purdy Roller Covers
Roller frame
Plastic tray liners
BEHR Premium Plus Ultra 1 gal. Ultra Pure White Eggshell Enamel
From Tim: The two most important factors to remember when covering a dark wall with a lighter color are patience and product.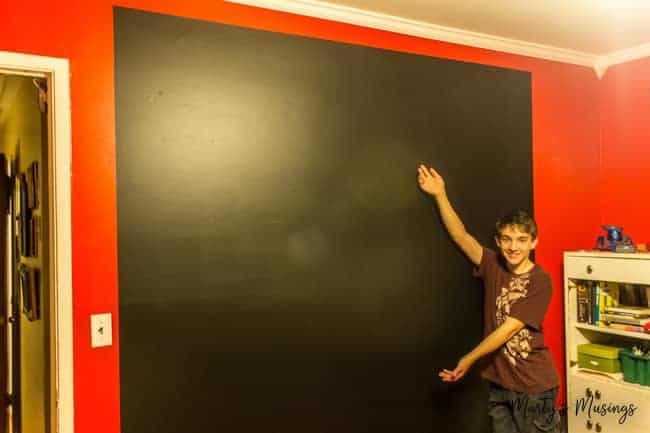 The more extreme the transformation the more likely your project will require multiple coats. If you go into it with that in mind, patience will see you through that second coat (or however many it takes!)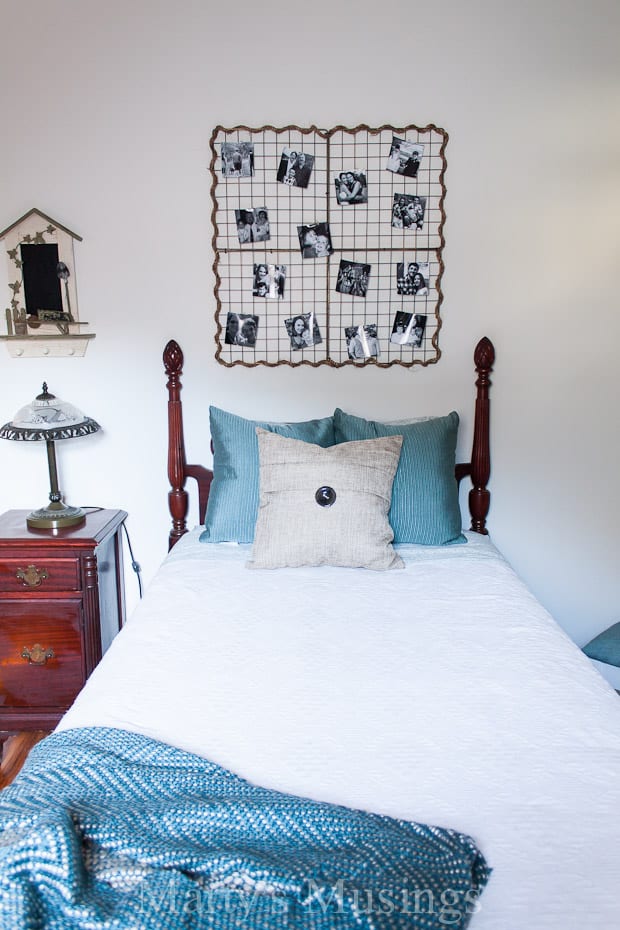 Process
Let's talk about process. It's good to remember that darker is smaller and lighter is bigger. As you say goodbye to the dark, the space will really begin to open up and "breathe".
The major difference in this process is not to worry about perfect coverage on the first coat. Use a shed resistant roller cover to keep the fuzz off the surface.
The chalk board black wall that was my challenge to cover presented a small obstacle in that the edges had to be sanded. When the wall was covered the edges were taped for a nice, clean line.
That left a slightly raised line around the perimeter. You don't want that to show through your new color.
Preparation
Beyond that, normal preparation of the surface remains; fill holes, sand as necessary, repair cracks, and tape off baseboards or casings if need be.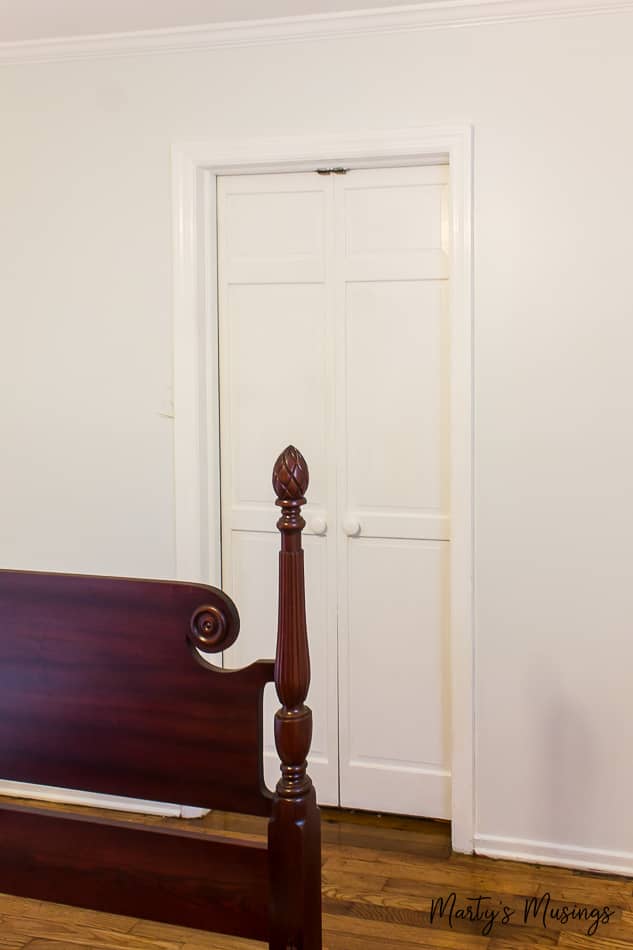 Painting
Work from the top down, cutting in with a brush and then rolling the remainder of the surface. Repeat with the second coat.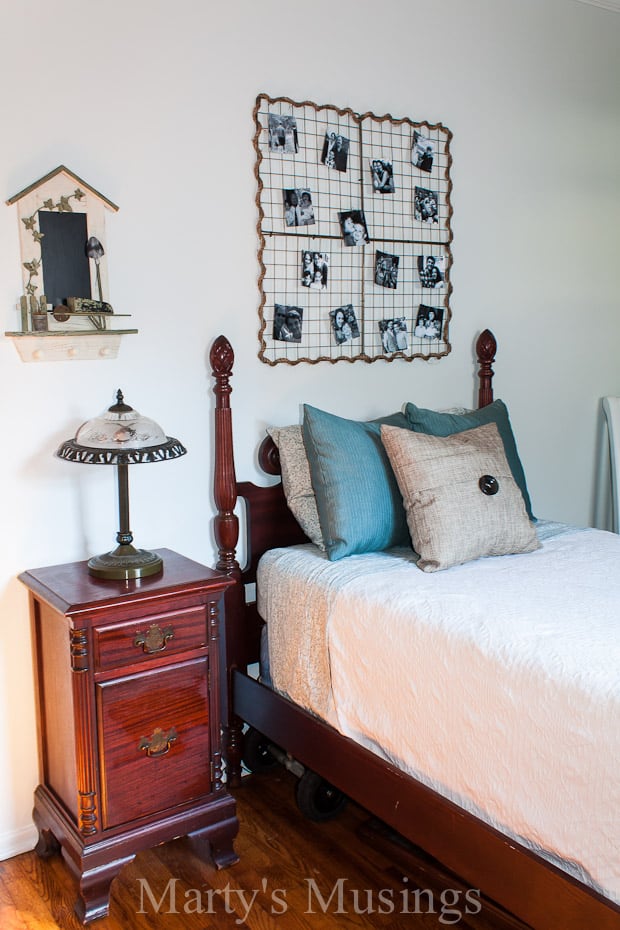 Product
Which leads me to product. Behr Paint now has a primer/paint combination that is excellent and will go a long way in shortening your project while delivering excellent results.
I use Behr Premium Plus Ultra Interior Eggshell Enamel, which is a stain-blocking paint and primer in one that is excellent and will go a long way in shortening your project while delivering excellent results.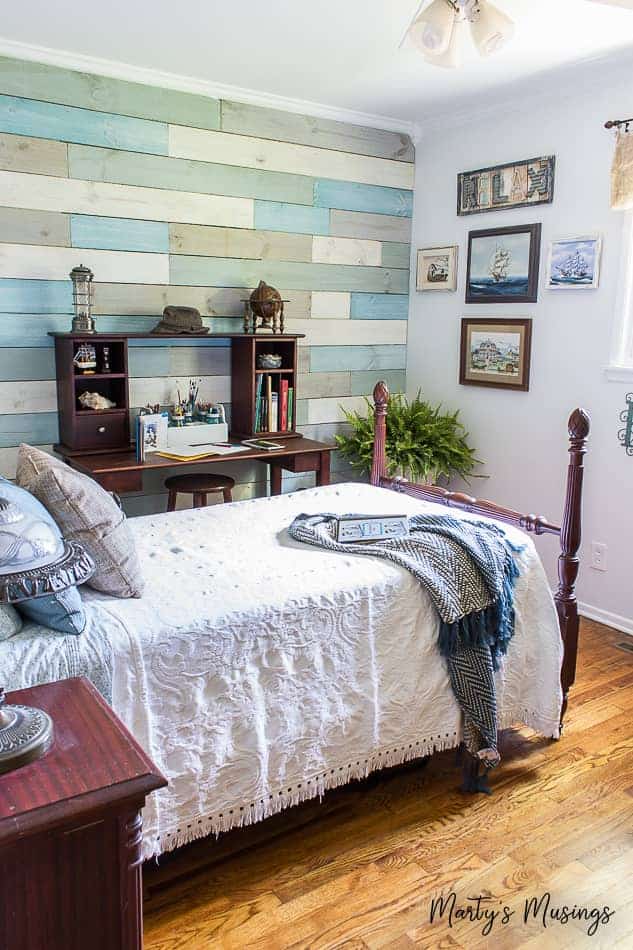 The big question here is whether to use a primer on the first coat or not. My preference is not to specifically use a primer.
The reason is that, unless you tint the primer close to the color of your finish coat (thereby making it almost unusable later), the white primer has the potential to force you into two more coats after priming.
So, there is no disadvantage to just applying your final color right off the bat. This also allows you to tweak the color between coats if you get surprised.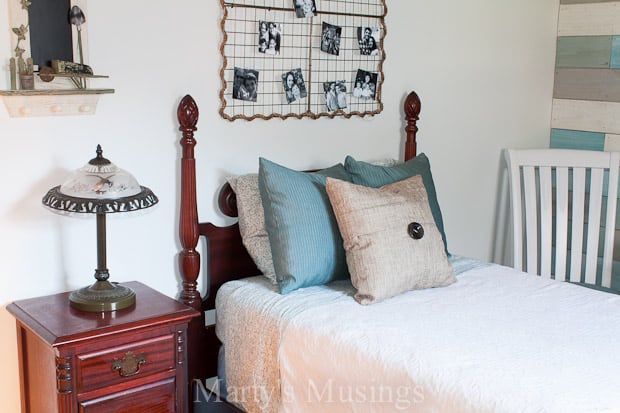 Dive in and change that space! You'll be amazed at the difference.
From Marty: My hubby makes it sound so easy, doesn't he? And no, ladies, he's not for rent! My honey do list is long and getting longer!
I promise there is so much more to this room than just this one wall, including sentimental family heirlooms, side of the road treasures, and a DIY project to knock your socks off (you can see just a hint in the above picture!)
***BL-W8 Frothy Surf Behr Premium Plus Ultra Interior Eggshell Enamel is the color we used on the walls.
You can find all of the Behr Paint colors here that were used in our home.
Read all the posts in our Coastal Bedroom Makeover series:
♥ How to Paint over Dark Walls (you're here)
♥ Teen Boy Bedroom Makeover
♥ How to Design a Room Around an Inspiration Piece
♥ How to Paint Furniture with Chalk Paint
♥ How to DIY a Plank Wall with Chalk Paint
♥ Inexpensive DIY Beach Decor Ideas and a Bedroom Makeover
SaveSave
Want thrifty home ideas you can do yourself?
Sign up and get my FREE guide: 5 Easy Ways to Decorate Your Home for Practically Nothing!