Painting Ideas with Behr Paint Colors
This post may contain affiliate links which won't change your price but will share some commission.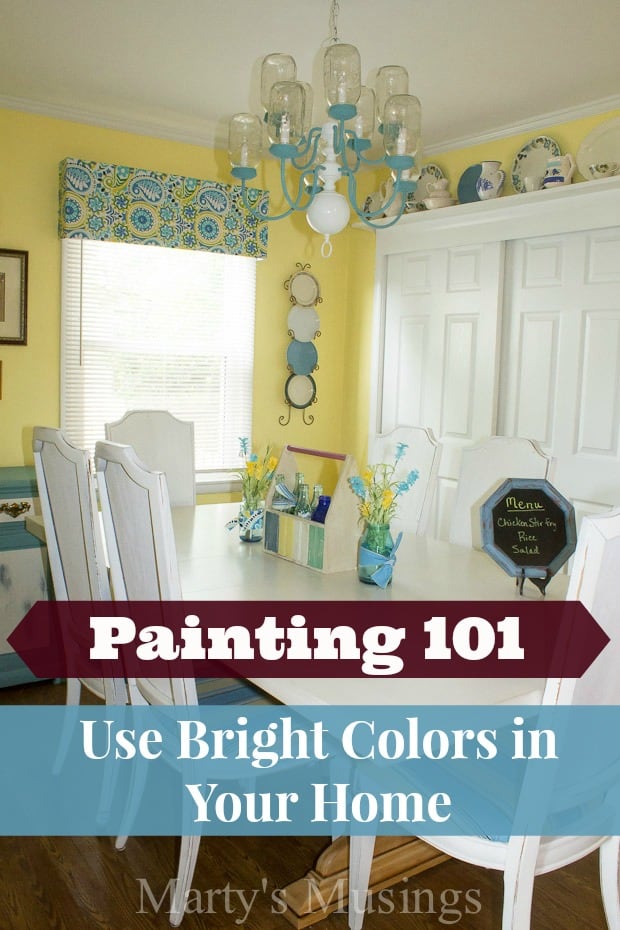 23 years ago we moved into the only home we've ever owned. At the time we were sick of boring cream or white walls in apartments and rental houses.
One thing you probably know about me if you've followed our DIY journey very long…I LOVE COLOR!
Actually, I do really love the way others use white as a backdrop for all things serene and tranquil.
Apparently I don't like serene and tranquil (with five kids that probably goes without saying!)
I've never been a pastel kinda gal and you can usually tell that in my clothing choices.
When we claimed this home as our own we might have gone just a little bit color crazy. And obviously I'm still leaning a wee bit in that direction!
My DIY hubby is a painting contractor who always recommends BEHR paint. Since I have new readers I thought I'd share some painting ideas with Behr Paint colors and why I chose them.
Let's start with the front door. I wanted a splash of color on our house. Tim talked me out of red since two of our neighbors had a red door, but I fell in love with this bright coral.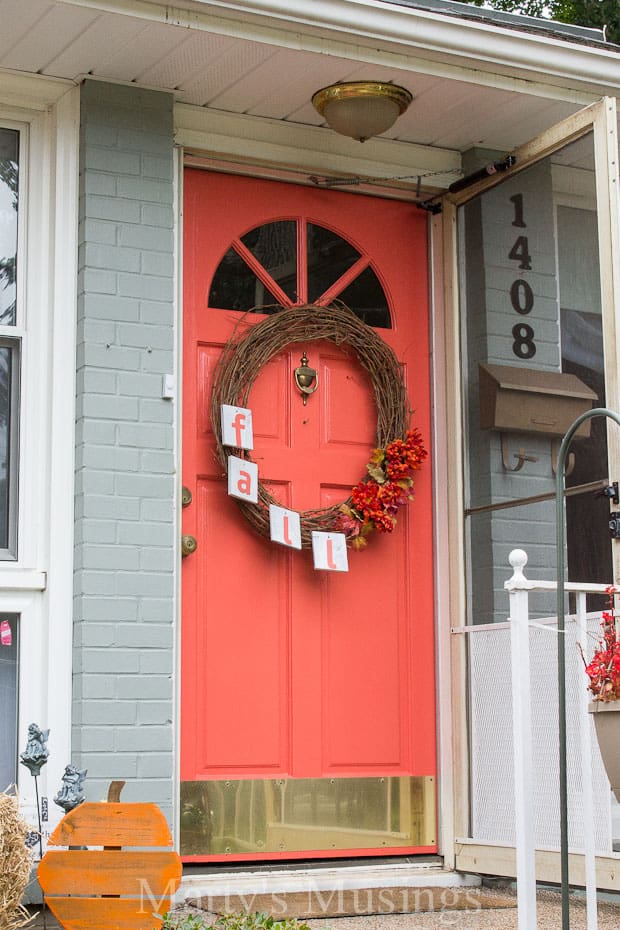 I don't regret making a bright statement one little bit.
Front door: Behr Premium Plus Ultra exterior paint, Japanese Kimono
When you walk into our kitchen you are once again surrounded by happy colors!
Tim said when he started painting this room he felt more unsure about the color than in any other job. Oh boy. That's a lot of pressure!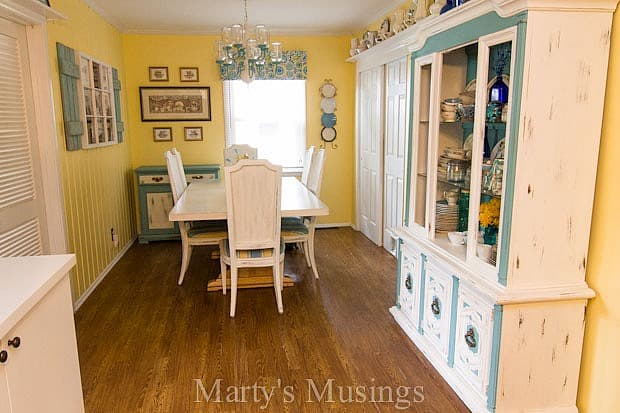 Guess what? I love it! Since I spend a lot of time in this room I'm so glad it cheers me up! The aqua accents and all the DIY projects speak to my heart.
It's not fancy but it's where our family gathers and makes memories around the table.
Kitchen: Behr Ultra Premium Plus Eggshell Enamel in Duron color 7242W Yellow Begonia
We have a step down into our den (the back of our home was added onto) where brown walls are used as a more neutral color.
Guess what? There's more color here! I'm a huge fan of red personally, but I've never been brave enough to actually buy red furniture. We decided to be brave and just go for it when we found the furniture on sale.
This is the room where my blog gets written (here are a few hints of the office makeover I'm working on), homeschool materials stored, television watched and family games played.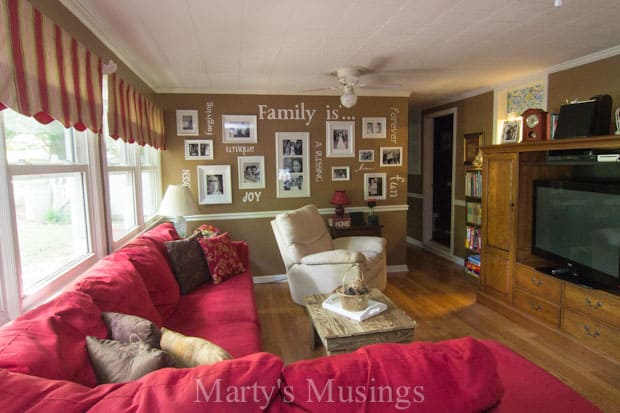 Den: Behr Interior Satin Enamel Paint and Primer (brand) in Sherwin Williams #6095 Toasty (color)
Are you getting the idea that I like color? Well, hold onto your hats 'cause the craft room is a doozy!
For the room where I create and imagine and work I wanted an accent wall color that was different and creative and BOLD!
Perpetual Purple was the answer!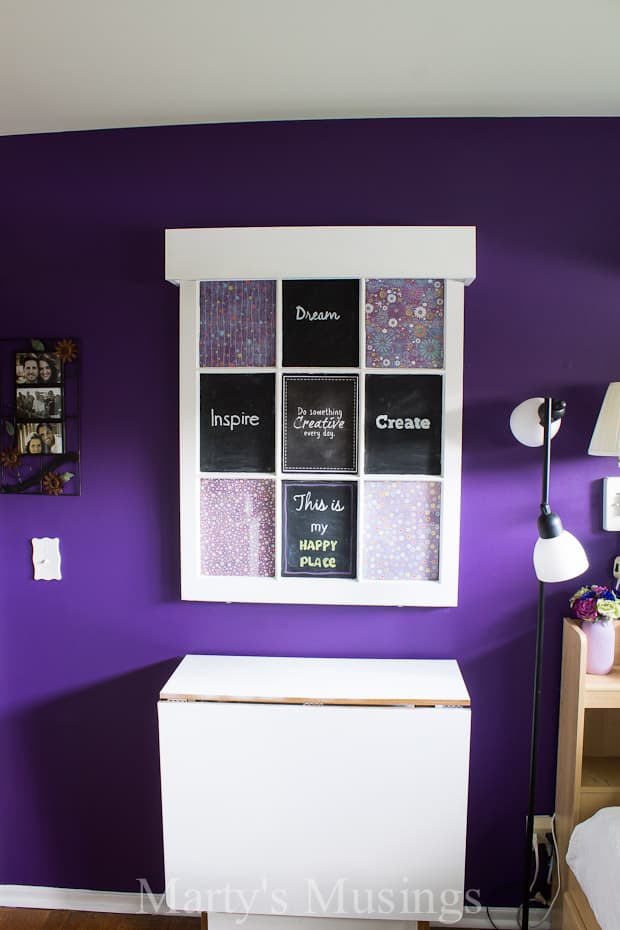 While Tim was painting the wall I was thinking I'd lost my mind with the purple and it was going to glow in the dark and swallow me up (insert every childhood fear here!) But you know what? No regrets here!
Craft room accent wall: Behr Marquee Interior Eggshell Enamel Perpetual Purple
Our master bedroom is undergoing a DIY budget transformation beginning with the paint color.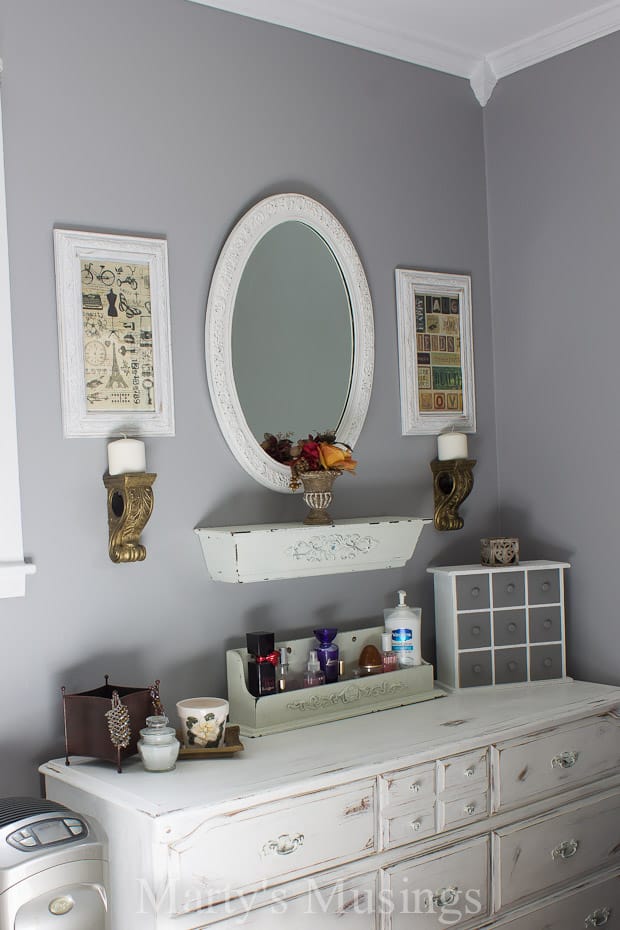 I am so very, very close to revealing the finished product. Most of the other rooms I've shared on the blog have been revealed project by project.
Not this baby! This makeover has my blood, sweat and tears all over it and I want to show you the drastic change all at once!
You won't believe how the room was transformed when we painted the furniture (and yes, I learned how to chalk paint on this project!) and moved things around! You know how I said I like things serene and tranquil? I'm finally actually doing that in our bedroom which makes me feel like I finally have a grownup room.
Master bedroom: BEHR Premium Plus Ultra, Interior Eggshell Enamel, Pewter Mug 770E-3.
When our oldest daughter got married her younger sister took over her room. I've never showed much of her sanctuary because she's a teenager, you know? I did, however, share a few pictures and her inspirational scripture wall.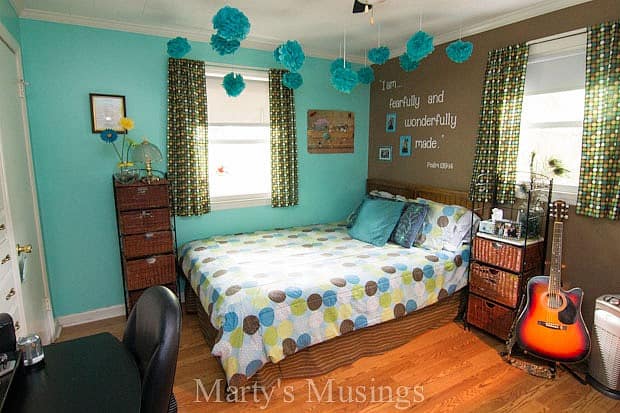 I don't have the accent color name for the brown wall, but the rest of the room is painted in a teal color. If you come over tomorrow it won't look anything like this. Because, after all, she is a teenager. Just sayin'.
Teenage bedroom walls: Behr Ultra Premium Plus, Sherwin Williams Tantalizing Teal 6937 Color
Now that our oldest daughter is married she's quite happy to take advantage of her dad's painting talents.
For her home Tim painted an accent wall that was the inspiration for our own bedroom makeover.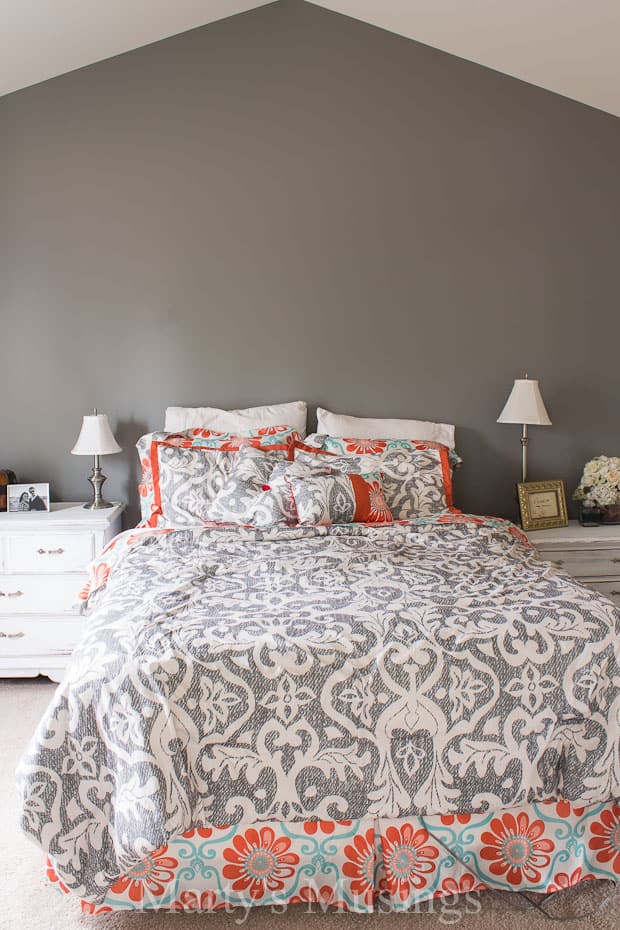 Bedroom accent wall: BEHR Premium Plus Eggshell Finish, 780F-5 Anonymous
This summer has been full to overflowing with projects, including our DIY baby, the new deck on the front of our home. On the back of our house Tim spent a few hours on our wood deck restoration project.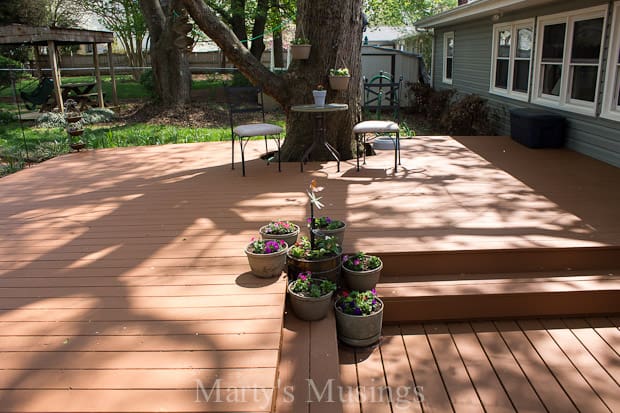 Check out the before and after. It's amazing!
Deck: Behr DeckOver Woodbridge Color
So tell me. Are you a subtle pastel kinda person or a bold is beautiful one?
Practical painting tips for the home that anyone can use, including chalk painting, accent walls and choosing the right colors.