Small Kitchen Ideas
This post may contain affiliate links which won't change your price but will share some commission. Read more here.
Welcome to my Kitchen Tour featuring all of my small kitchen ideas. A virtual tour at least.
Which means I don't have to shove all the dirty clothes in the closet or scrub the countertops or wash any more dishes.
Y'all just sit back, relax and enjoy all these pics of a clean house.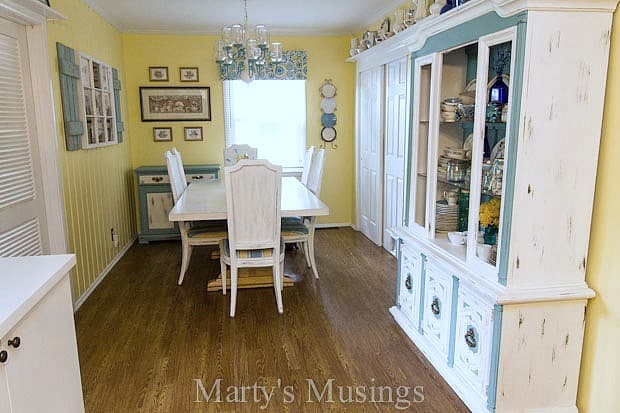 Never mind that they weren't all taken at the same time or that I had to walk around with a tub for all the everyday messes.
Or that I went from room to room loading and unloading the "stuff" that encompasses real life.
So let's just pretend it's all still clean. k?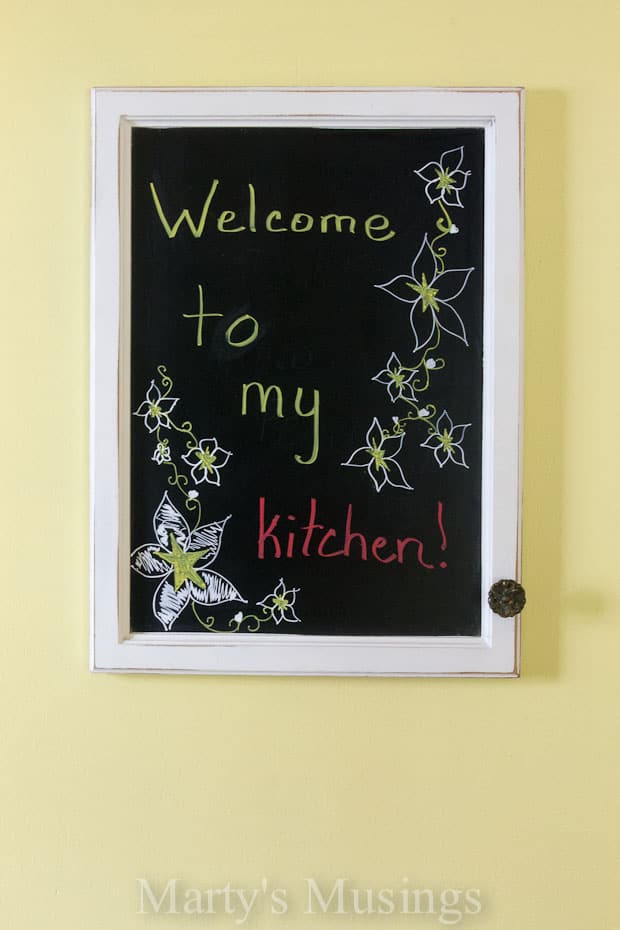 Come on in and set a spell, 'ya hear?
I don't really talk like that (well, I do say y'all a lot), but I hope you'll find my kitchen a welcoming spot after a hard day's work.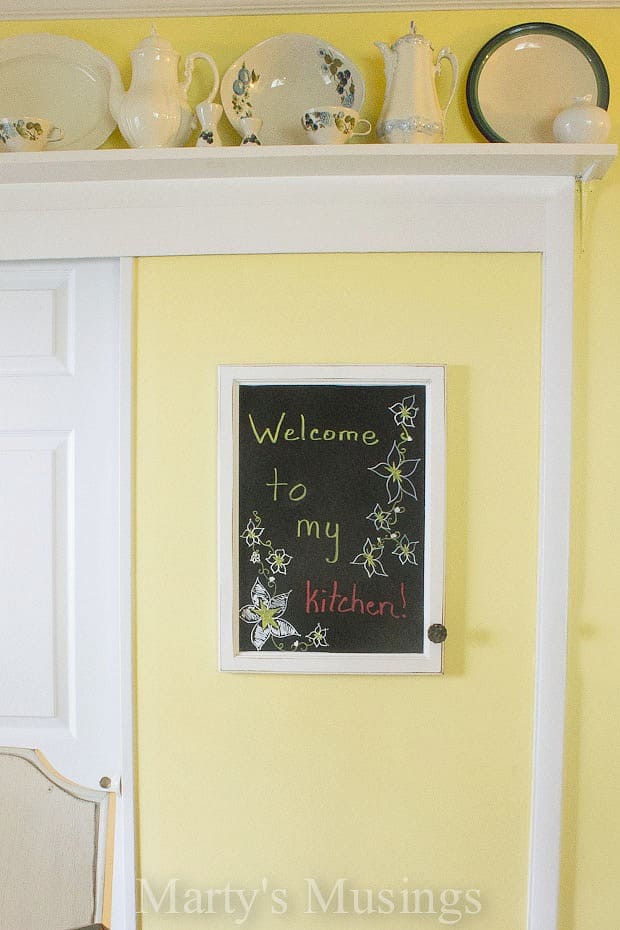 Our family eats together every.single.night. It's just one of those traditions we hold dear.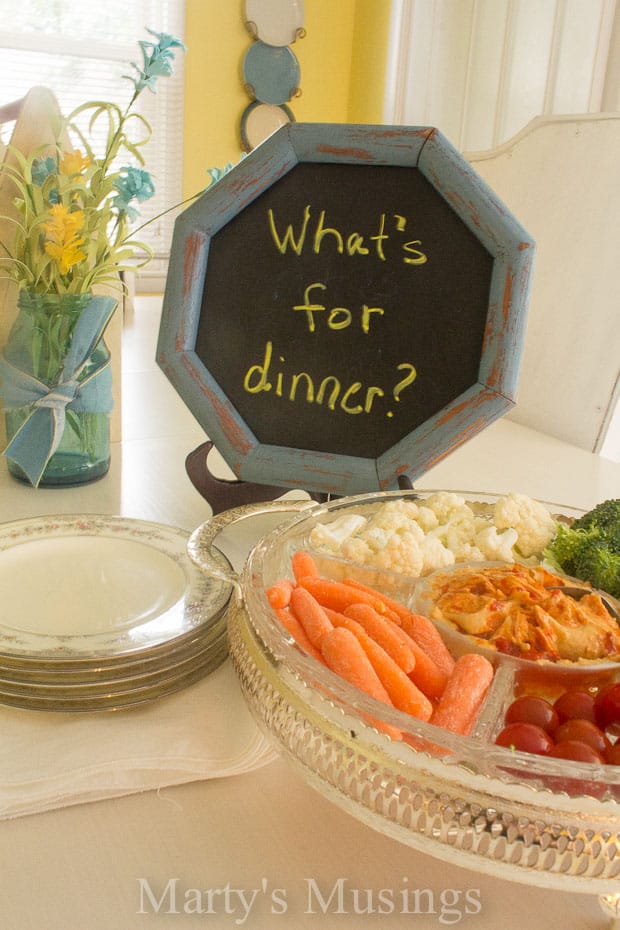 The flowers and mason jars in the centerpiece make me happy.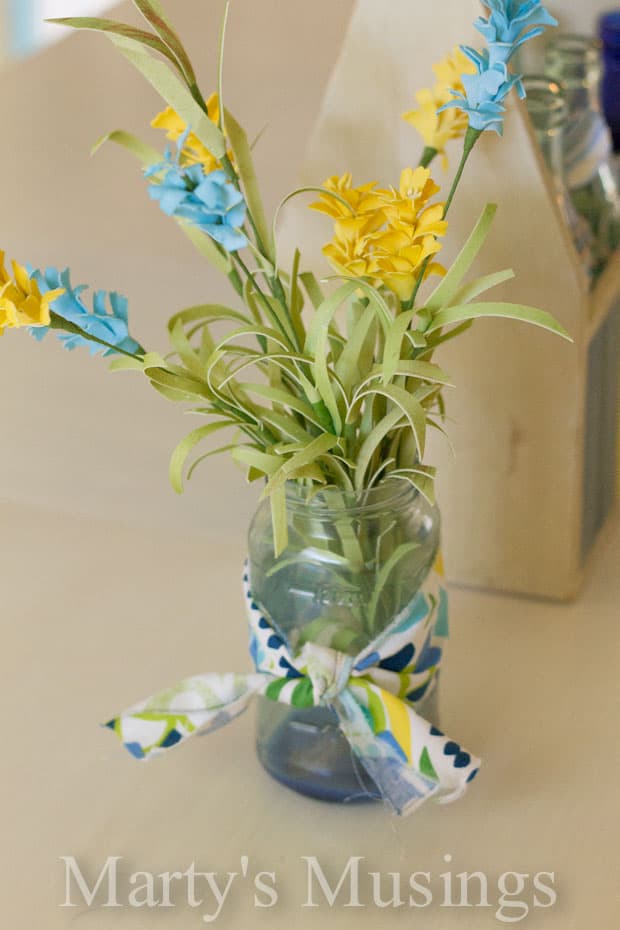 Sometimes we merely look at each other through tired, glazed eyes, and other times there's a lively discussion to be heard.
Either way, this is one priority that we hold sacred. It may not always be home cooking, but we share it together.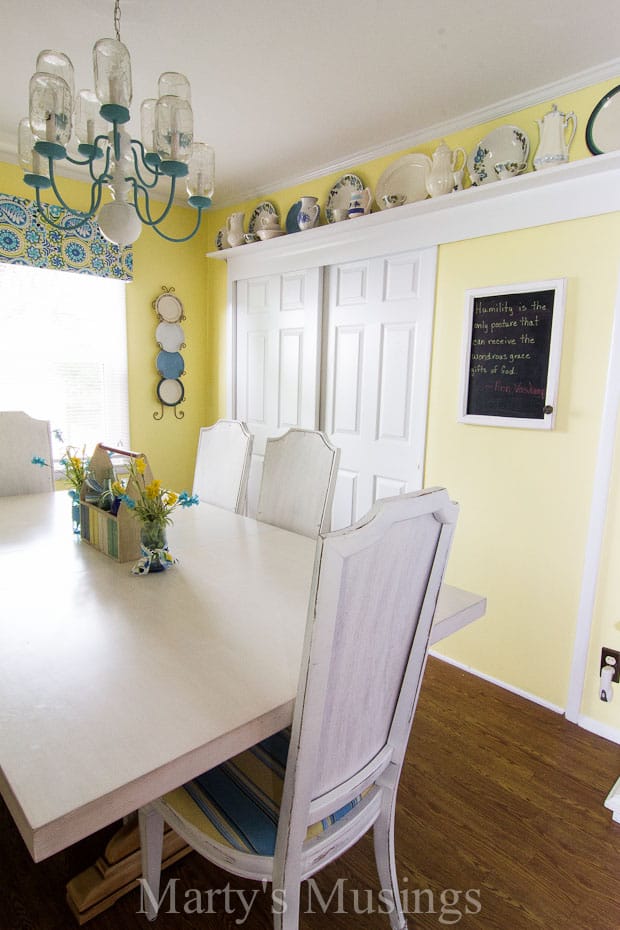 In updating our kitchen we took an old, scarred up table with great memories and turned it into this painted beauty.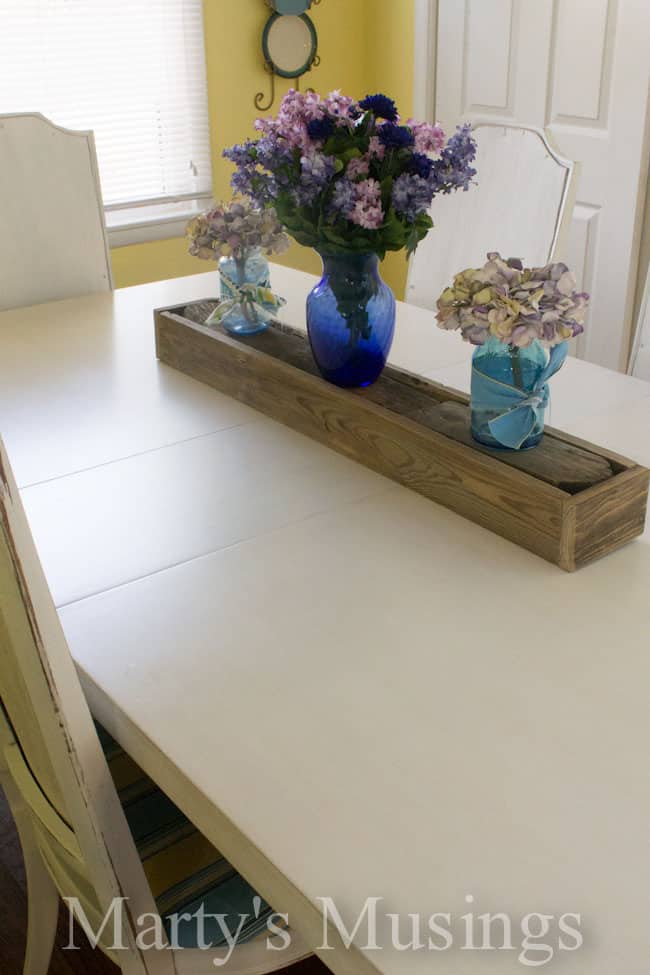 You can see a little bit of my former recovering plate addiction here.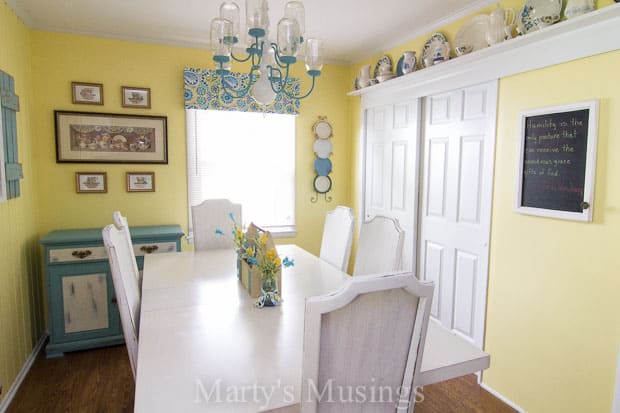 I dearly loved my teapot and tea set collections but in the desire to update I only saved a few for display. (The rest are still in the attic. Don't tell anyone, k?)
I've mixed in vintage family plates with yard sale bargains on this above door shelf.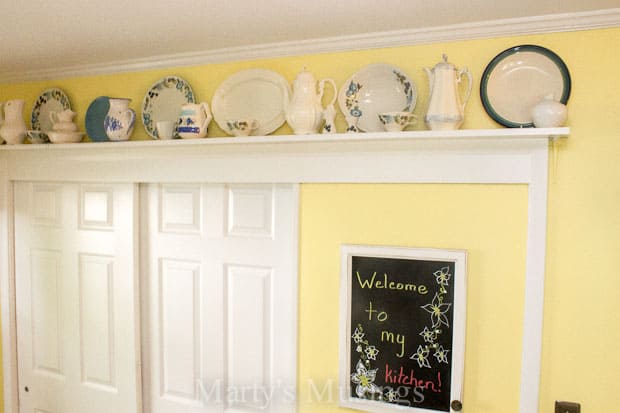 Doesn't this kinda look like a butterfly?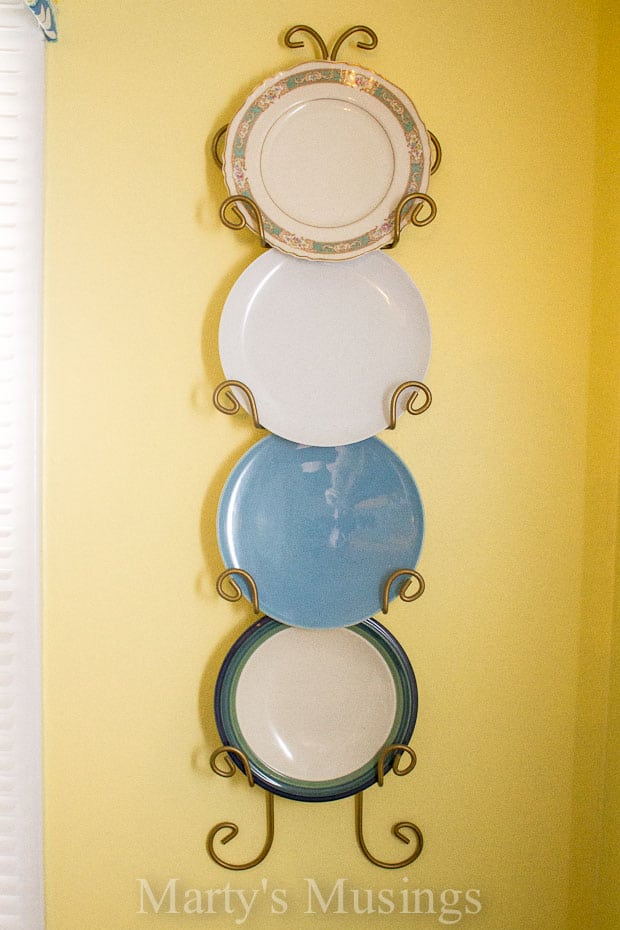 I spray painted these mats to match the kitchen and again mixed in various styles of teacups and saucers.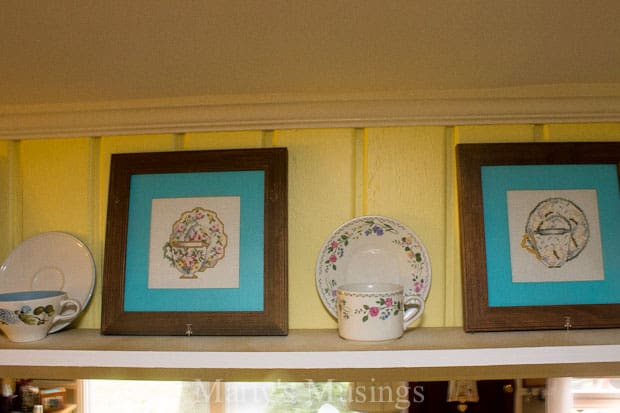 This china hutch makeover changed my whole kitchen.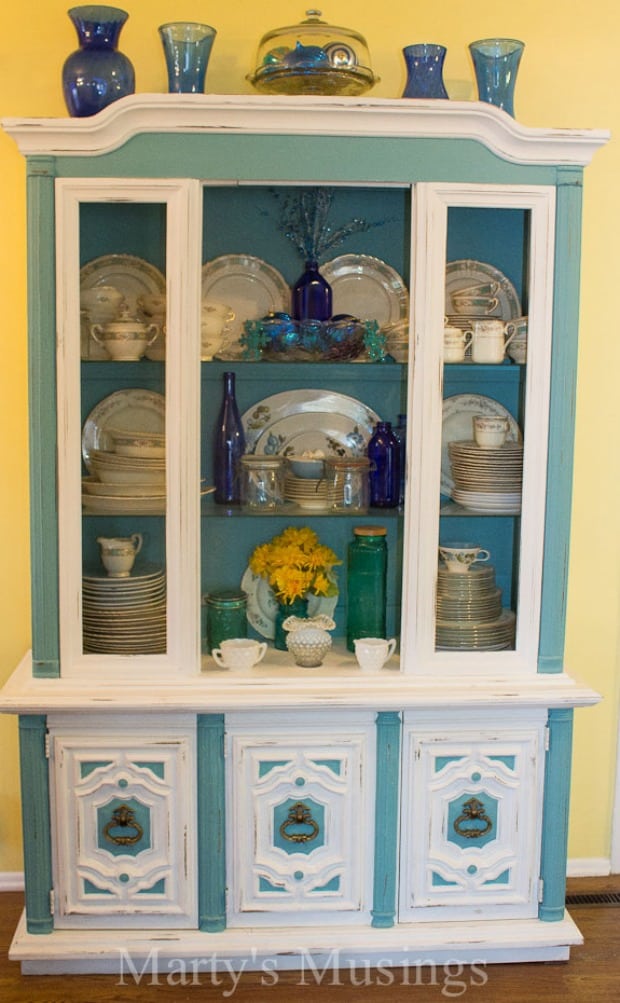 Project by project my husband and I have designed a kitchen that is functional yet so very happy and bright.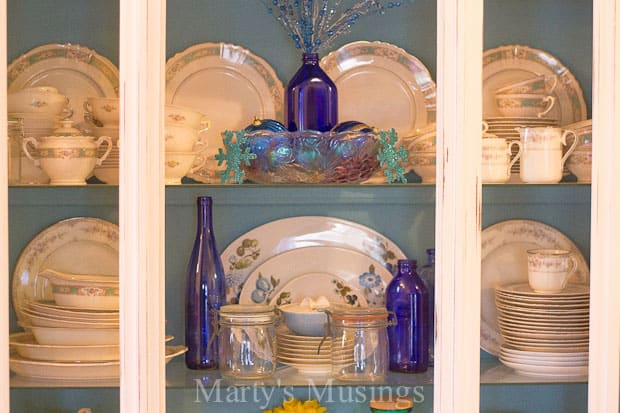 These dishes were my mom's everyday ware from early in her marriage.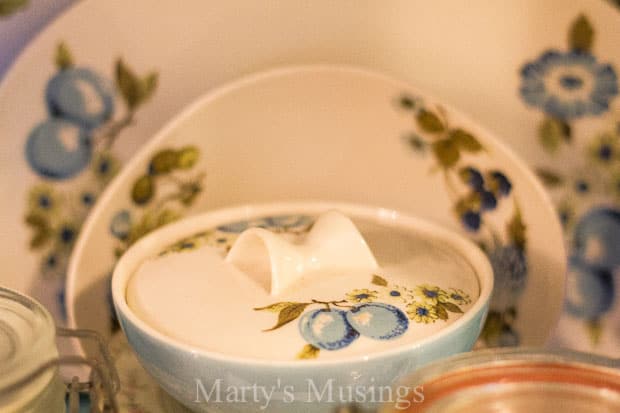 This creamer is from my own wedding china.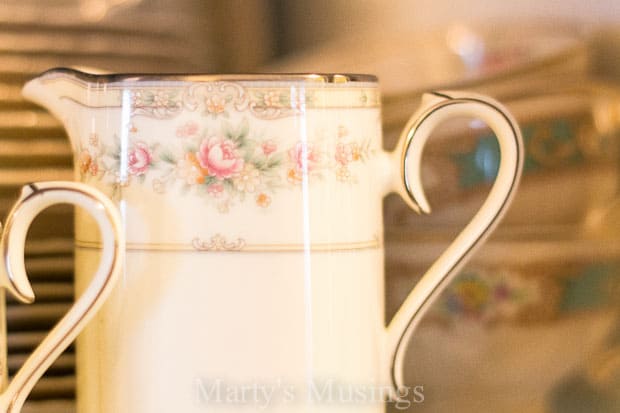 Here is my mother's wedding china, a 16 piece setting that is one of my most cherished possessions.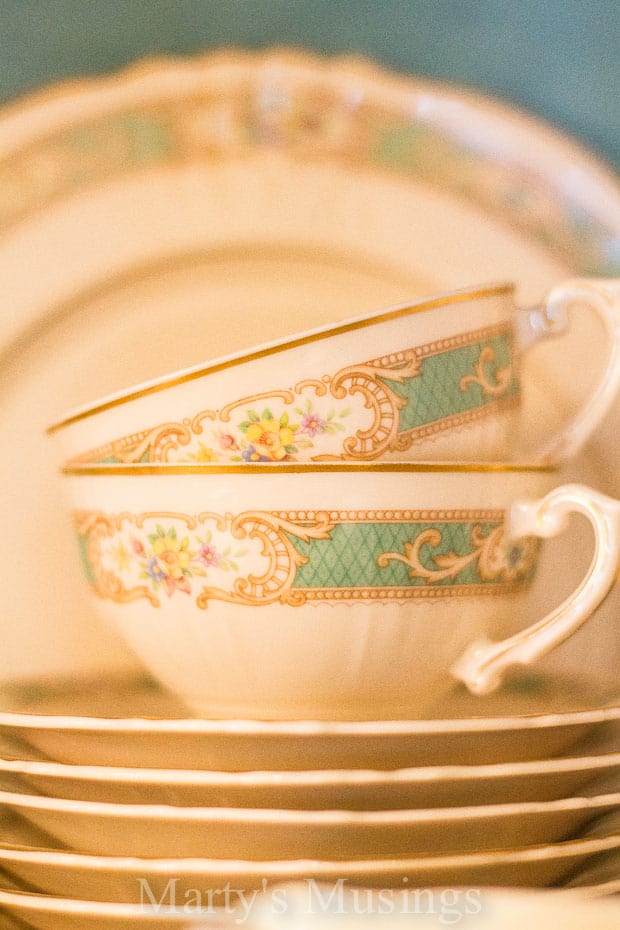 This little decorative jar with cheerful flowers was my inspiration for our kitchen makeover, and I still love it today!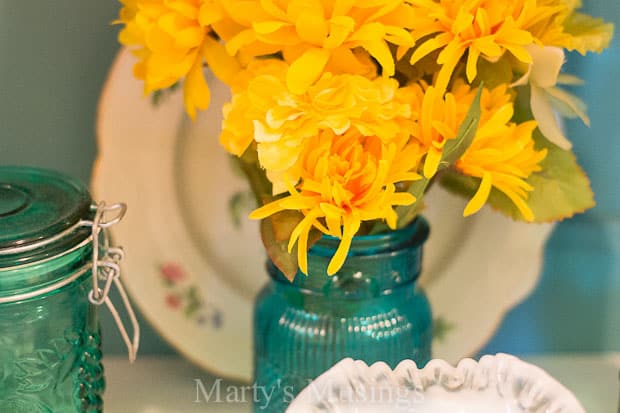 This mason jar chandelier shines like the beauty she is, whether in the middle of the day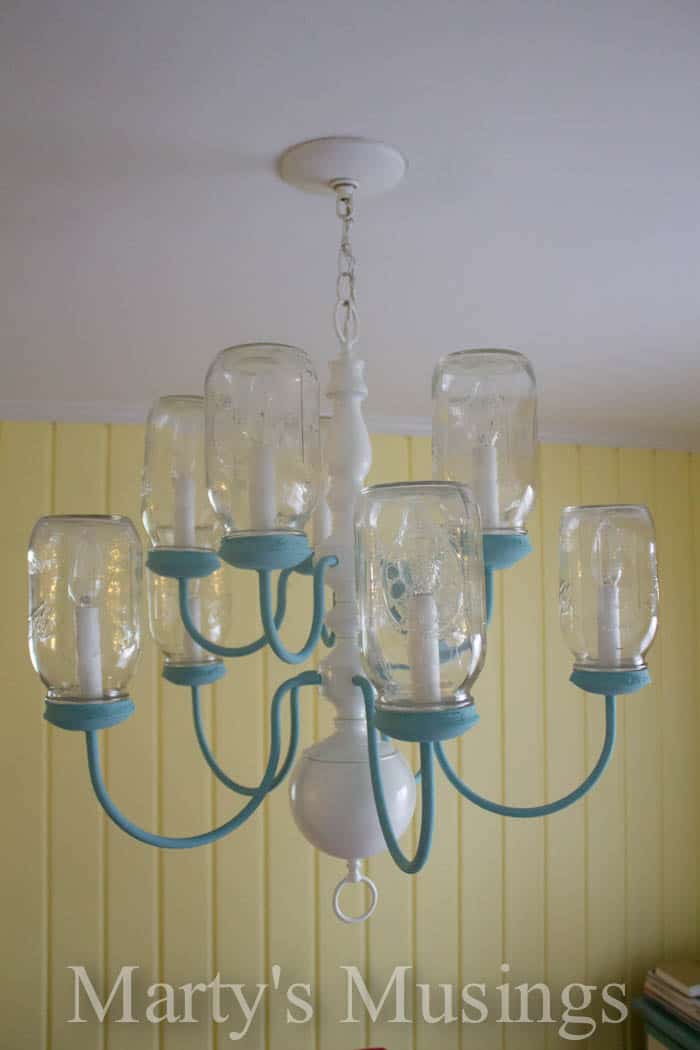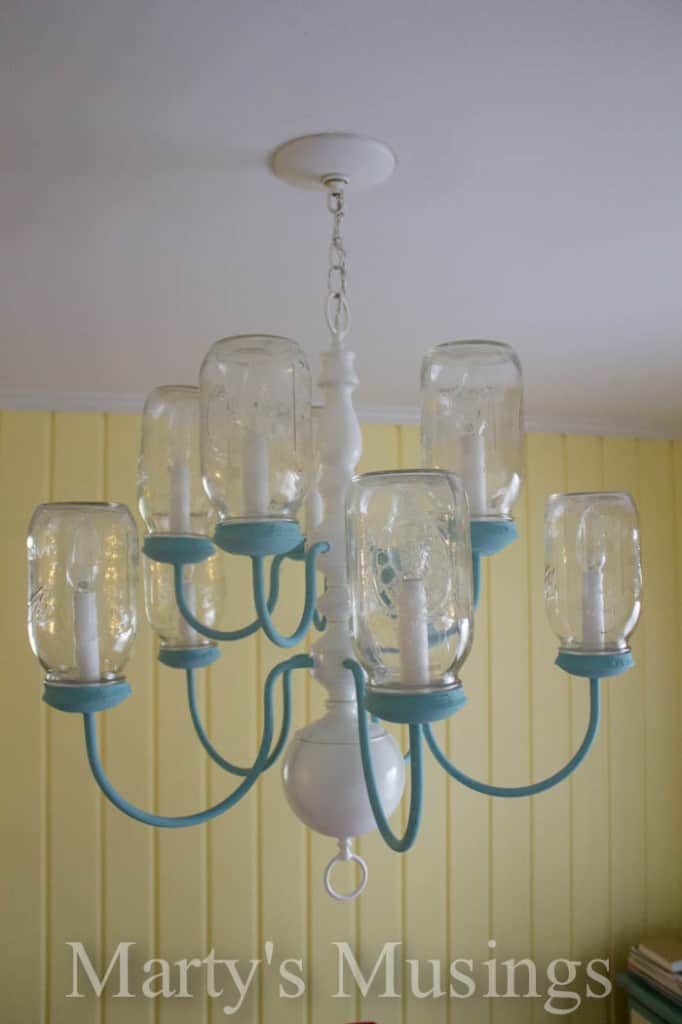 or in the evening.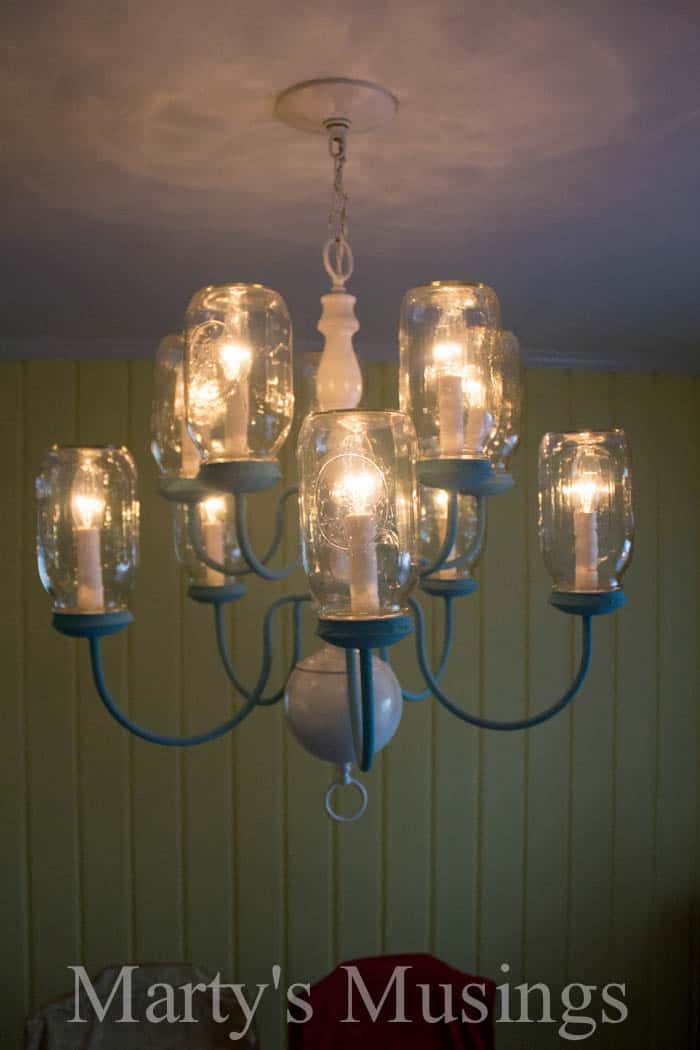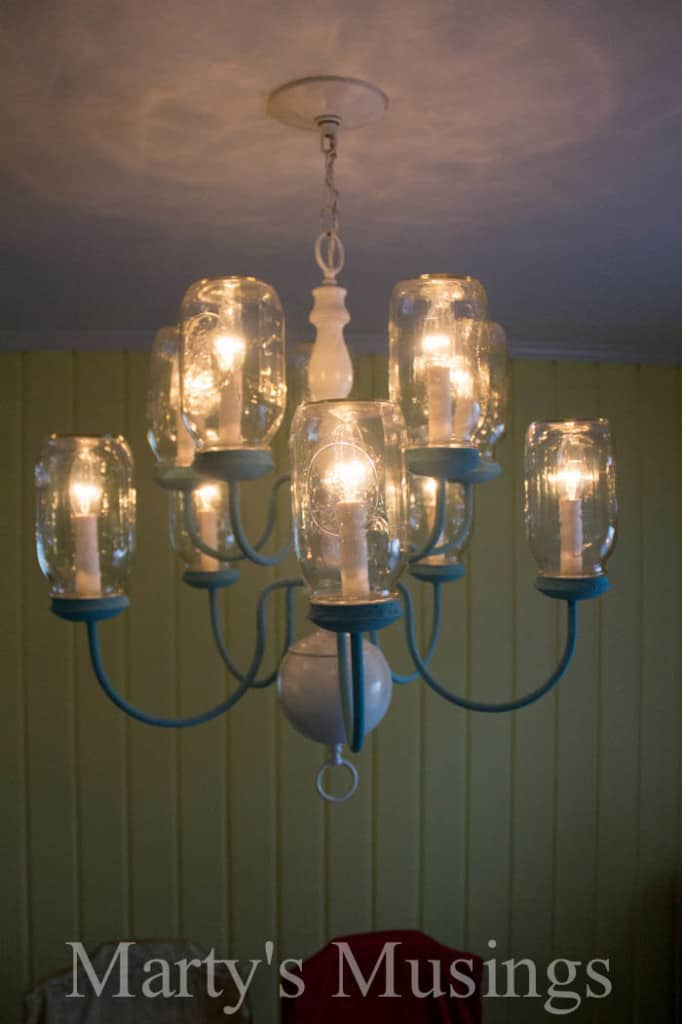 Yet another project with Annie Sloan Chalk Paint. Could you guess it hides the dog food?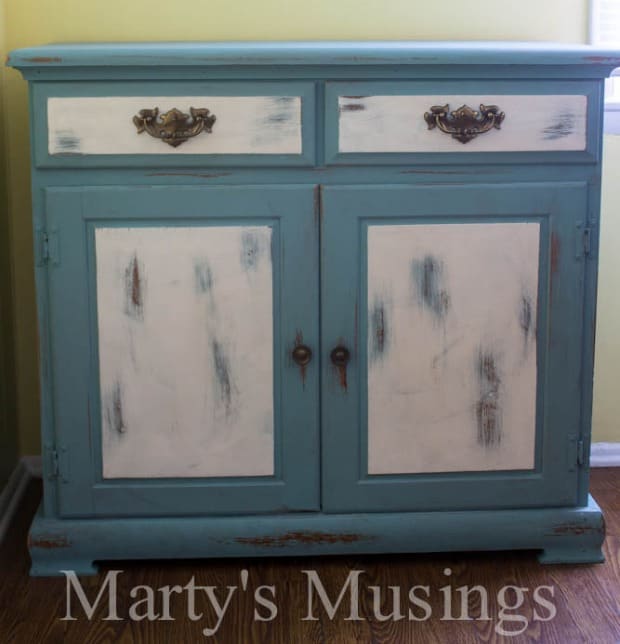 Aren't these details amazing?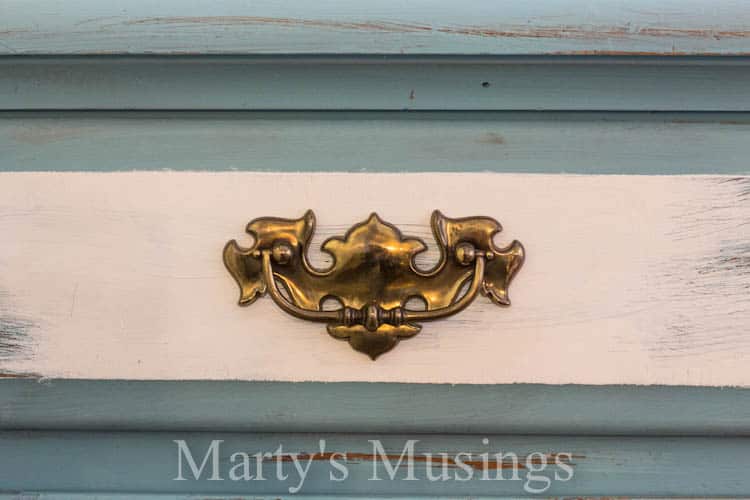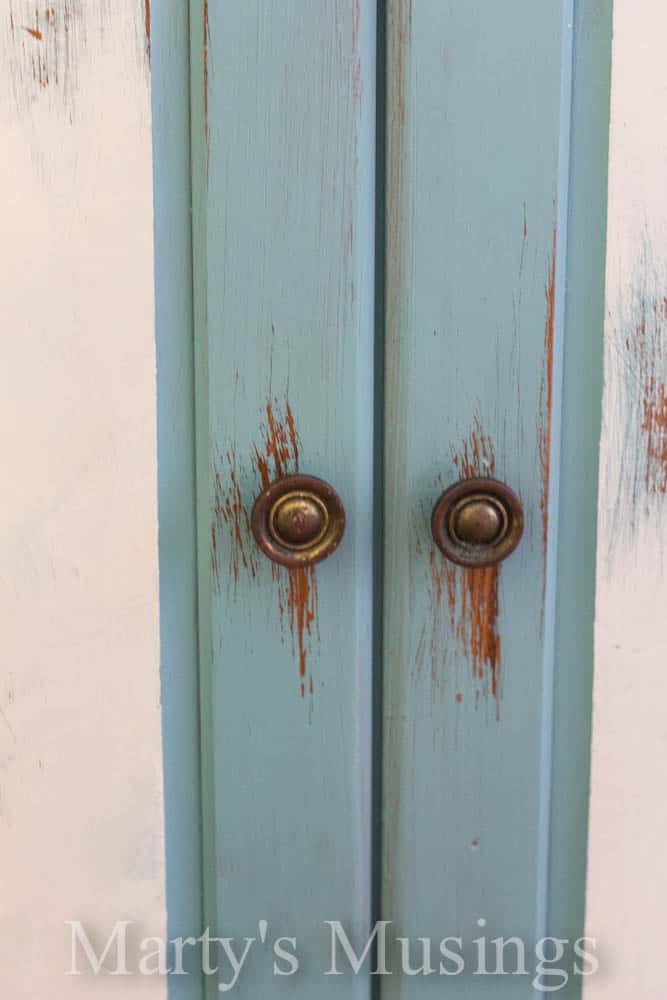 Several years ago my husband surprised me with this framed picture below. I was an avid collector of everything "tea": teapots, tea sets, cups and saucers. I even had a wallpaper border with teapots on it. This particular birthday my husband contacted the artist and bought the print, had it framed and hit it under the sofa to surprise me. Still beautiful to me today.
The four cross stitch teacups were stitched for me before my sister passed away in 2000. This arrangement may not go with the rest of my more rustic decor but the memories surrounding them bring such joy.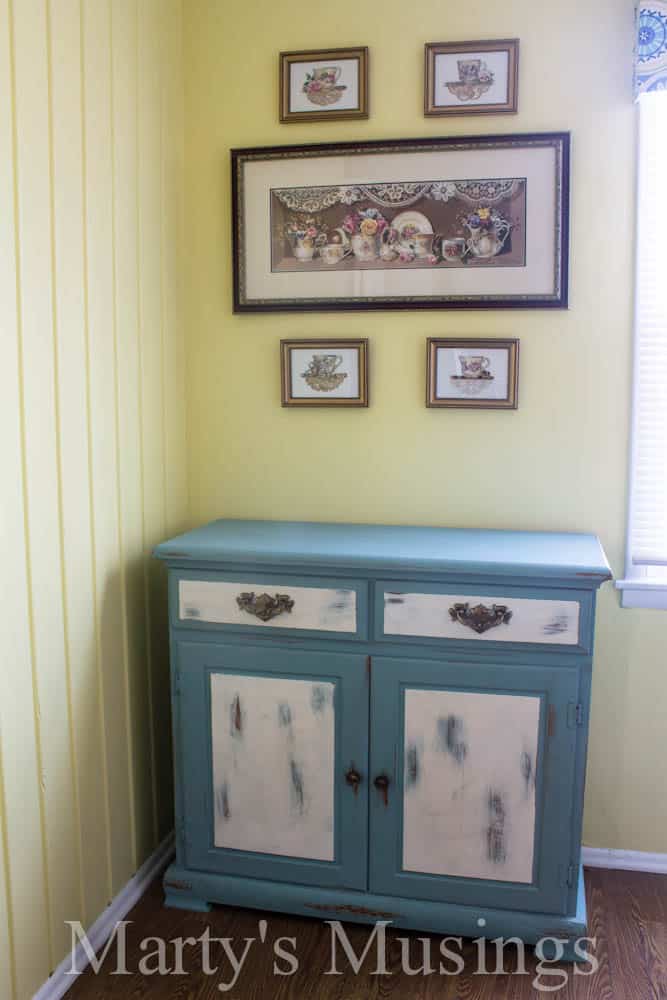 These shabby chic chairs were a brilliant repurposing project by my husband.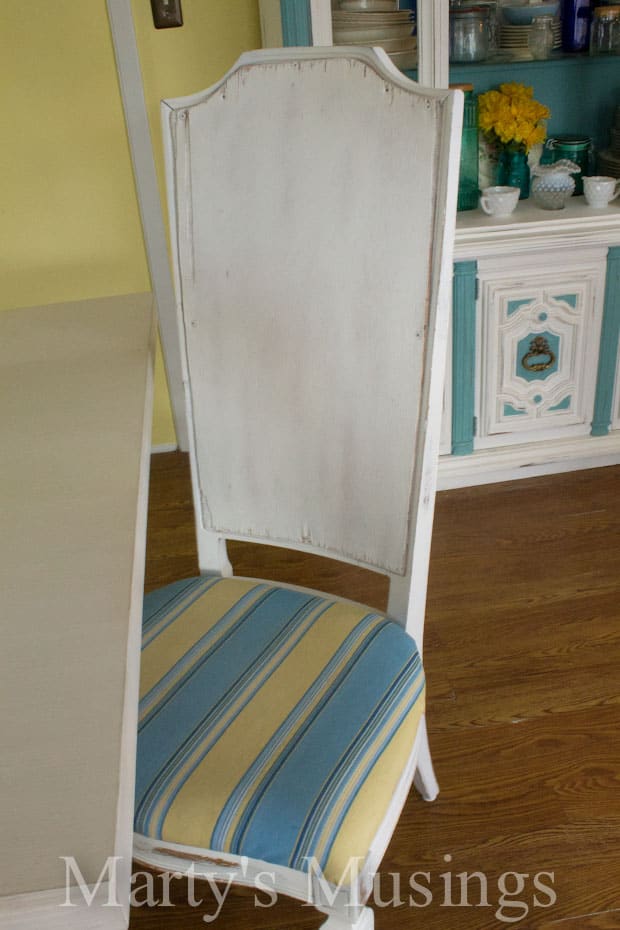 Another reminder of our strong family bond is this old window photo frame.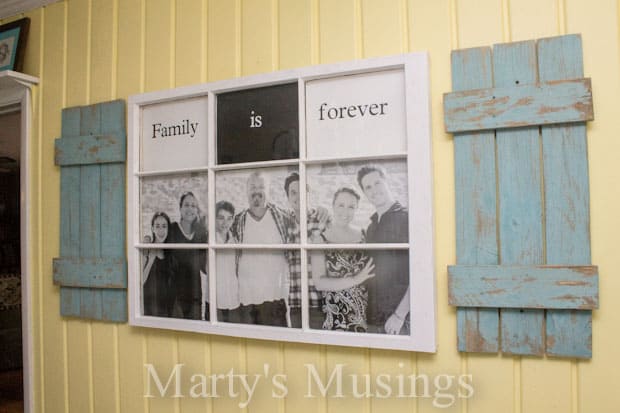 The other end of our kitchen is not completed but I will share the fence board backsplash my DIY hubby came up with. Love the beach cottage feel it brings to the kitchen!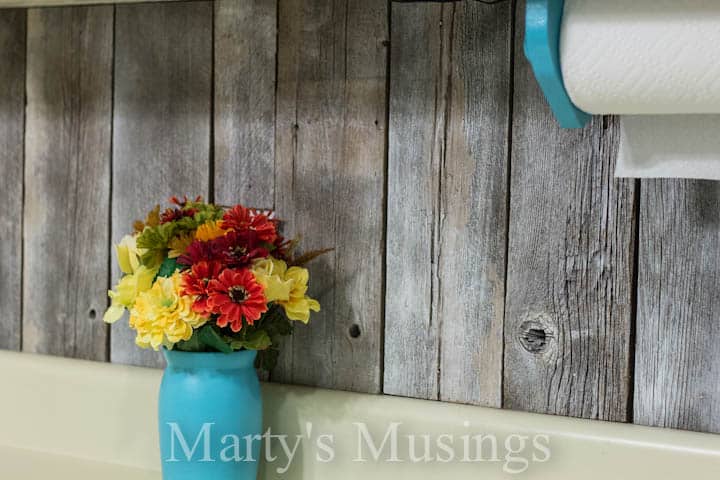 How about whimsical canisters? Just more of the little details that are so inviting.