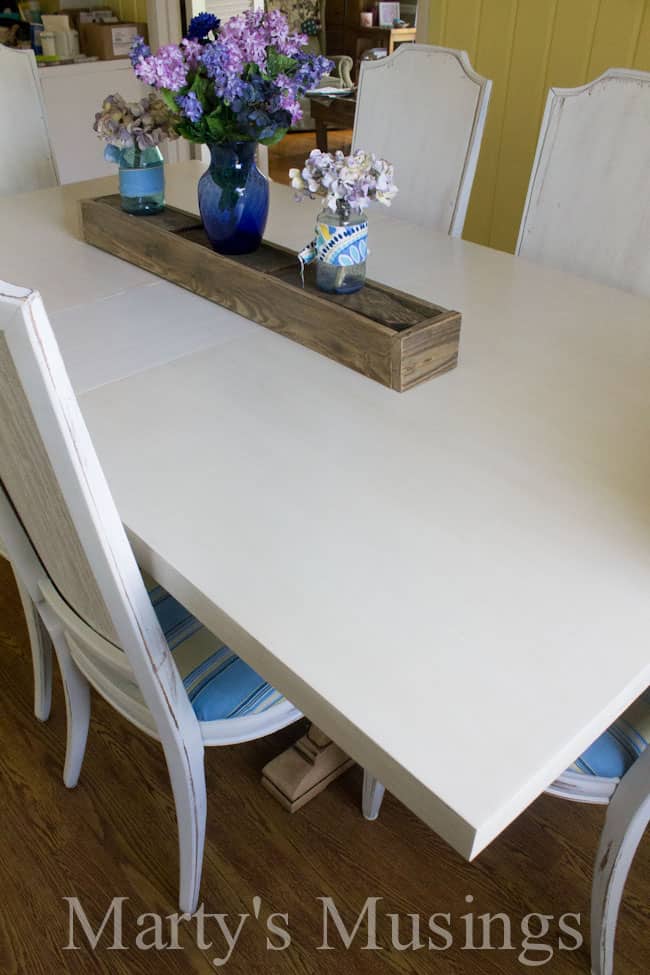 I left you last week with Part 1 of our kitchen table makeover. Here's a reminder of the table after the sanding job my husband and son accomplished. Now my hubby will take over with the details. I'm just in charge of the pictures!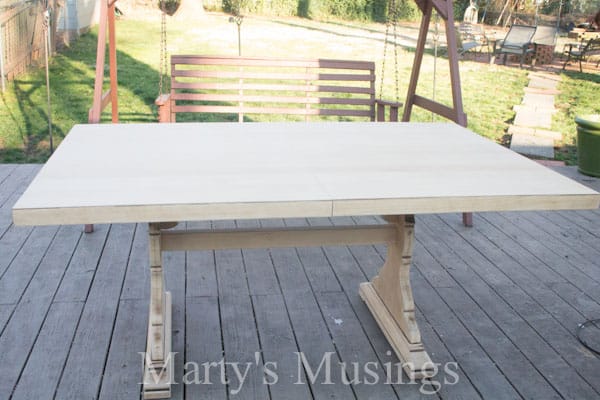 Tim: Back to the hubby for the gory details! After getting the top suitable for finishing, it was time to determine just where this project was going. The china hutch and small kitchen buffet in this space were done with Annie Sloan chalk paint and then distressed. However, those pieces were done over dark wood so the distressing was quite pronounced. This table was a very blonde pine.
I originally thought a good alternative would be a white-wash effect, but even this effect was muted because of the light wood. So, I made the decision to go white and then try and work backwards with some kind of "faux distressing." Yes, that may be a new technique with unknown results, but forward I went. Below is the table, inside the kitchen, ready for treatment.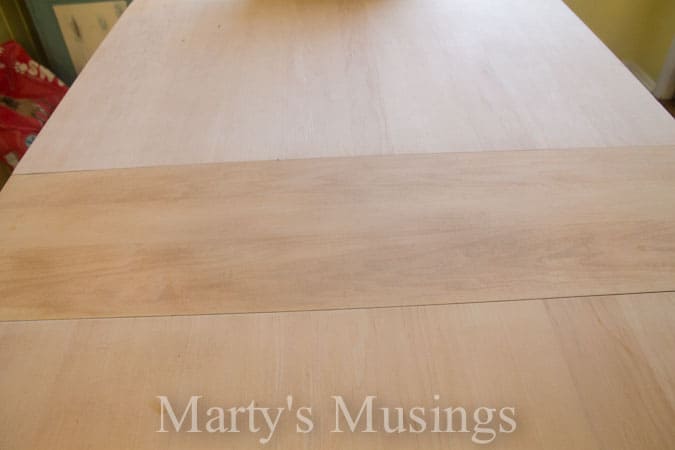 The direction I went may startle even the most weathered artisan; I chose to mix white latex ceiling paint (the Eminence can below, an awesome product) with the Minwax water based Polycrylic in a clear satin finish. With 23 years experience as a painting contractor, I knew the go-ahead was the fact that these were both water based products. Normally, and under any other circumstances, mixing paint and poly would be a bad idea. But, you can go ahead as long as you mix water with water or oil with oil. Oil and water do not mix.
There was no magic formula or ratio. I just mixed, starting with small portions and sampling on a spare pine piece of lumber. When the right effect and depth was achieved, I increased the ratios and went to the table.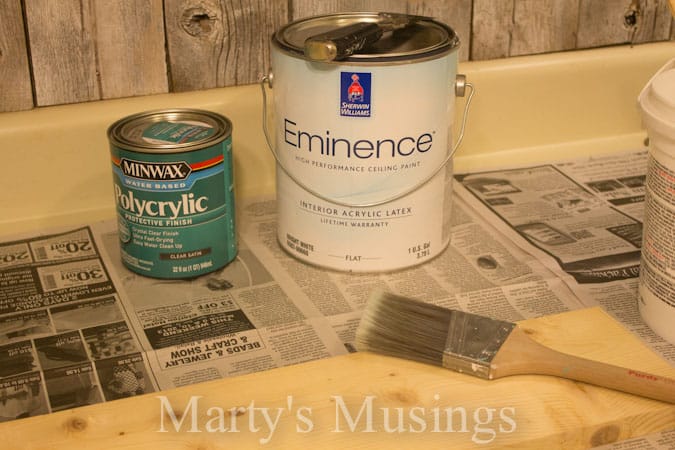 Here's the beginning of that sampling process and the effect was not dramatic enough. I was looking for a deeper and whiter color, so the experimentation continued. I didn't mind the imperfections showing through, but there was still just too much pine.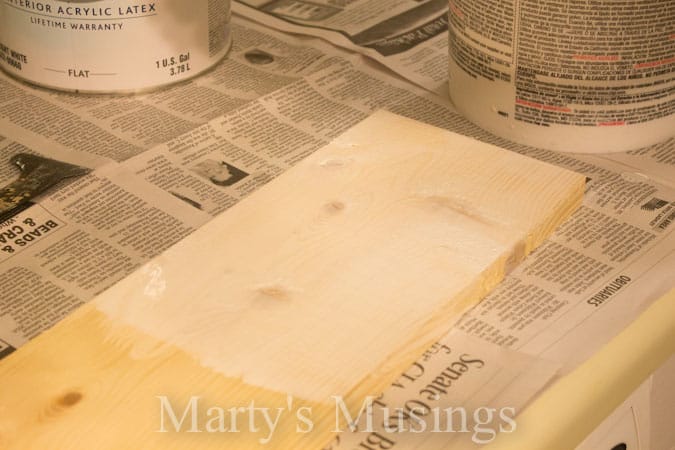 This is the first coat of the paint/poly combo right on top of the bare pine. The leaf, in the center of the table, was done first and ended up being my experimental area.
If I totally blew whatever happened on the leaf, I could just pull it out and start over without re-working the entire table top. Working with the grain here in nice, long strokes and catching any drips at the edges.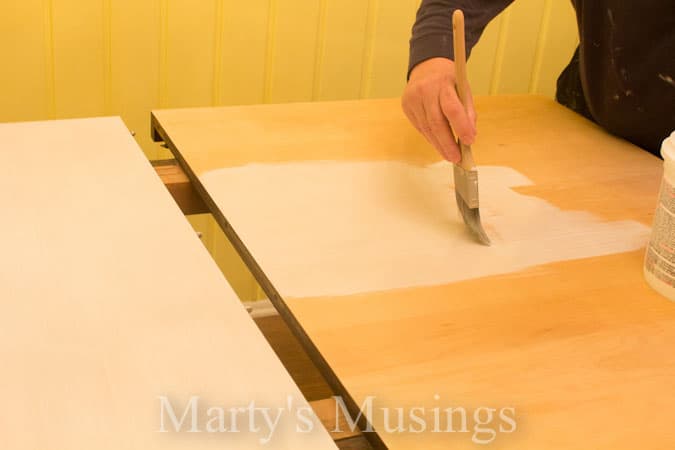 I wasn't completely sold on the solid white effect, so I experimented on the leaf by lightly dragging a rag dipped in dark walnut stain across the surface. Bad move – didn't like it at all. So I quickly removed as much as possible and re-coated with the paint/poly stuff.
Here's a critical tip; if you are custom mixing any kind of multiple products, be SURE and mix enough at the very beginning for the entire project, even if it means you finish with too much. If you run out before you finish, it is highly unlikely that your new mix attempt will match the first round you started with! Trust me, you don't want to let this happen.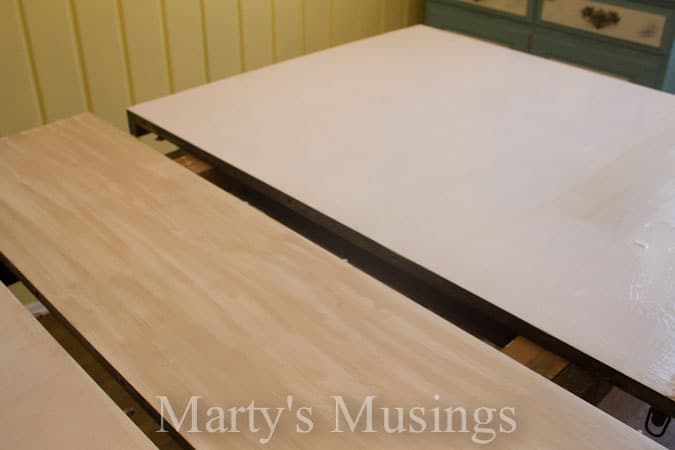 So here is the top with two coats of the milky paint and polyurethane combination, not quite dry. I still wanted just a bit more depth, so a third coat of the same and then two top coats of just the polyurethane to finish. Five coats in all, lightly sanding and cleaning in between each.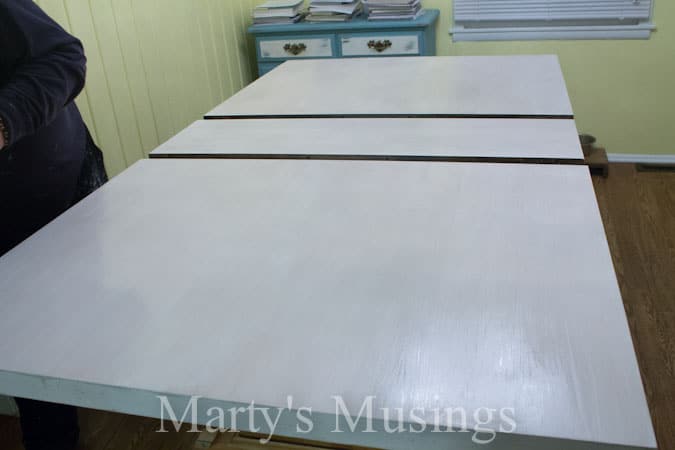 And here is the end result. The grain of the leaf actually runs opposite the rest of the top, so it looks slightly different in color in this picture. Not as jarring in reality.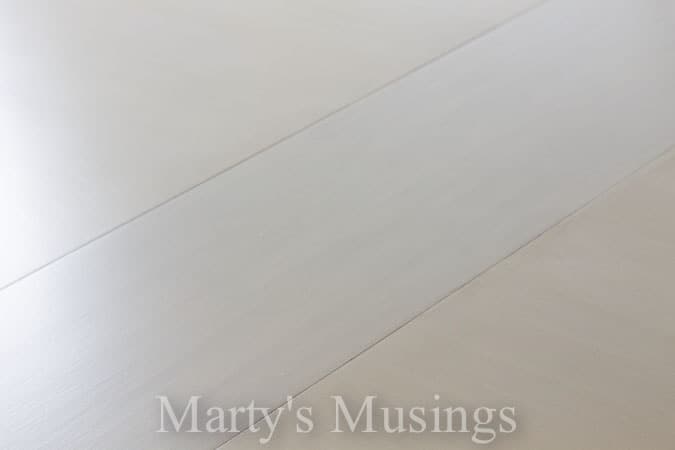 Back to Marty: here's a before and after pic of the transformation. Pretty amazing difference.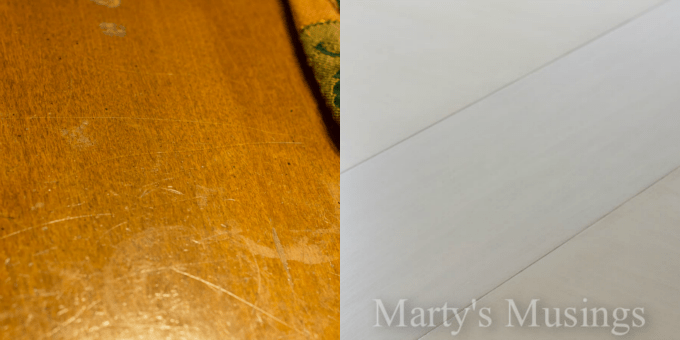 And lest you think I have no input, Tim and I discuss each of these projects ad nauseum before we start! I scour Pinterest and Hometalk and send him links with ideas. In each of these DIY kitchen projects it's been a trial and error process to start and see what worked and didn't. I am incredibly pleased with the outcome, but it wasn't without sweat (Tim's) and tears (mine!)
Here you get a sneak look at our chair makeover and a closeup of the table base. If you recall from the previous post, the base was left unfinished and received two coats of the clear Polycrylic polyurethane. It was a nice effect and saved my hubby the trouble of doing everything white.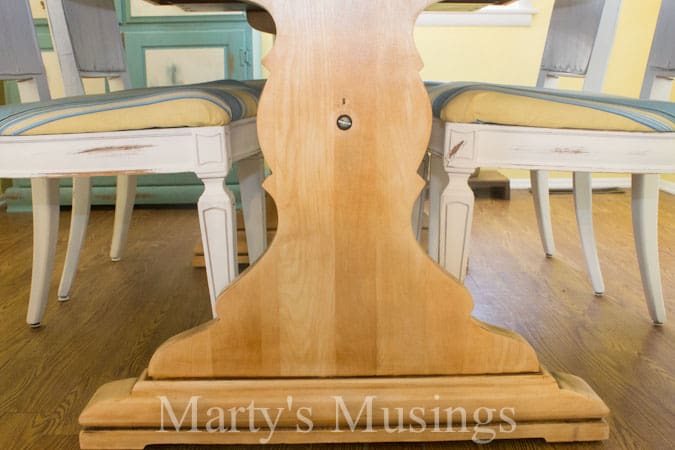 We love the contrast of the wood base with the painted top. The room feels so much lighter with the big white table instead of the large dark slab. (My husband is a tad bit concerned about the wear of a white top, but I think with five coats of poly we should be good. The surface is really quite hard.)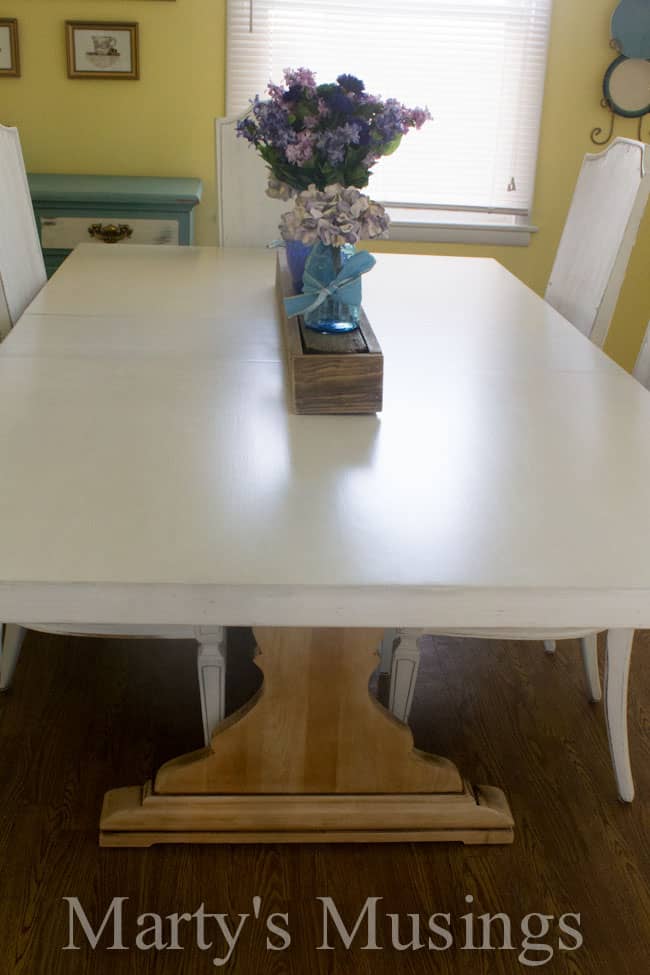 This section of the room is done…..except to decorate the walls and then eventually put in new Pergo flooring like we did in our den.
I still want to show you the fabric I used in the kitchen and the way we decided to use these chairs and make them work for this space.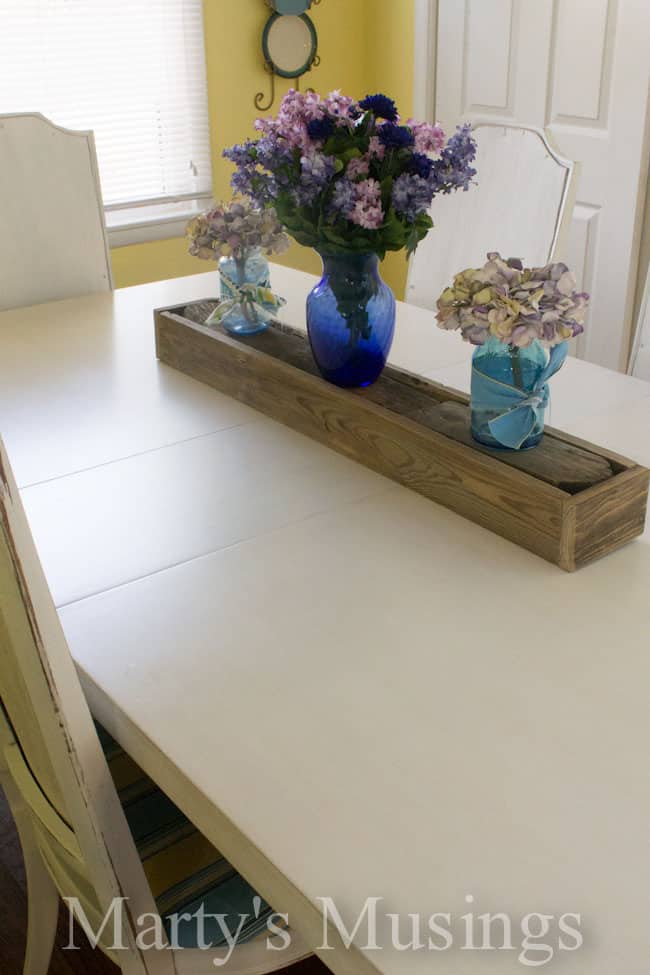 It is absolutely stunning how this room has changed! It is light and bright even though there is only one window in the entire room!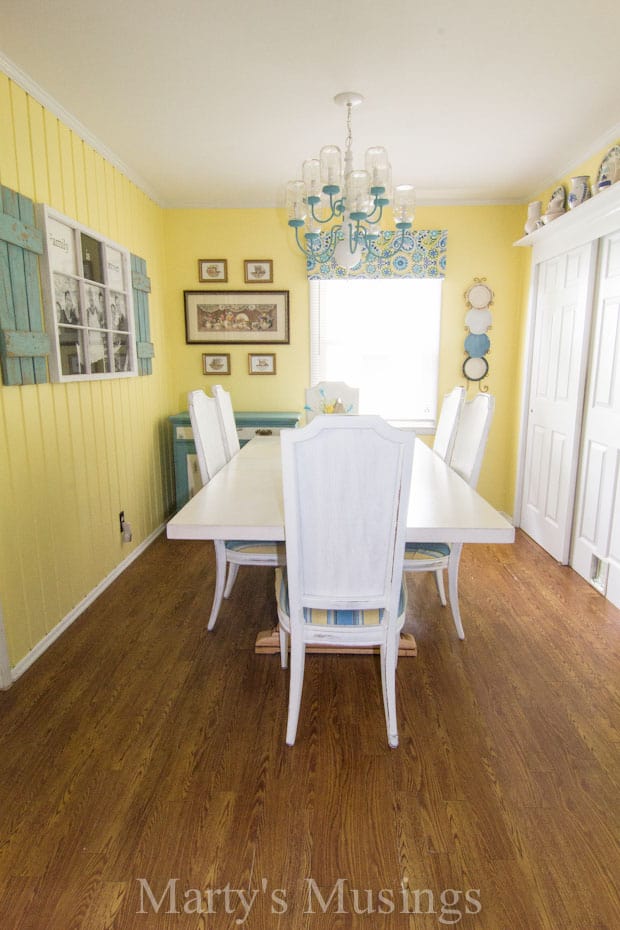 Have you been following along with our kitchen makeover? First there was the 1970's outdated china hutch and small kitchen buffet transformed with Annie Sloan Chalk Paint. Then came my husband's creative mason jar chandelier project and fence board backsplash. Finally, I livened up the room with these whimsical kitchen canisters.
So you're probably thinking my hubby is amazing! And he definitely is. He has even written some Ask Tim posts where he shares tips on exterior painting, peeling wallpaper solutions, textured ceiling removal and sheetrock repair.
Linking with: My Uncommon Slice of Suburbia, Crafty Texas Girls, Today's Creative Blog, Chef in Training, Savvy Southern Style, We are That Family, Seven Thirty Three, From my Front Porch to Yours, 36th Avenue, Stone Gable, 52 Mantels, French Country Cottage, Crafty Scrappy Happy, Imparting Grace, Miss Mustard Seed, 504 Main, The Shabby Nest, Serenity Now, DIY Showoff, Craft-o-Maniac, Between Naps on the Porch, An Original Belle, Inside BruCrew Life, Cupcakes and Crinoline, Beneath My Heart