Mother to Daughter on Your Wedding Day
This post may contain affiliate links which won't change your price but will share some commission.
This precious letter from a mother to daughter on her wedding day is filled with memories and photos through the years plus gift ideas for the perfect wedding!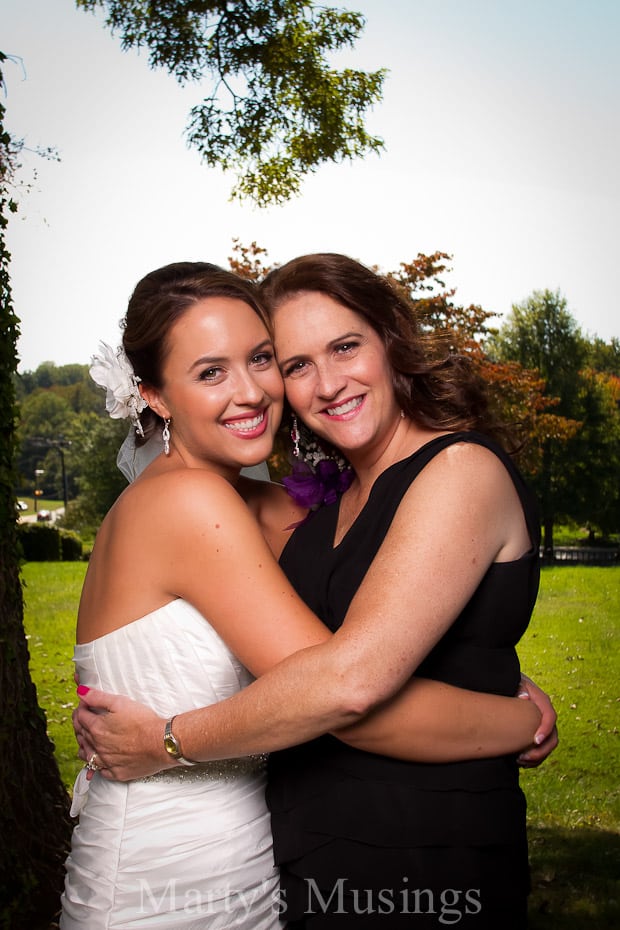 (At the end of this post I've included some of my favorite inexpensive gift ideas for your daughter on her special day.)
Every mom of a baby girl dreams of the big day their little girl gets married, hoping and praying for a perfect day and the man that will make their girl complete.
Today I'm sharing my heartfelt words from a mother to daughter on her wedding day and hoping these words will encourage you, the mother of the bride (MOB for short!)
What should the mother write to her daughter on her wedding day?
There is no set right or wrong idea for a letter to your daughter before the wedding ceremony. I chose to go sentimental with pictures from her life until that special day.
If you're more of a funny writer, tell her a funny story she might not remember (fun not embarrassing in any way.) If your talent is photography share beautiful photos that are meaningful to the two of you.
Should the mother give a speech at the reception or keep it more personal?
This is totally up to the mom! If you're not comfortable speaking in front of people then don't stress out on the most important day of your daughter's life.
I did not speak at Rachel's reception although her dad spoke a few words. I gave her the letter the night before so she could have time to absorb and enjoy it.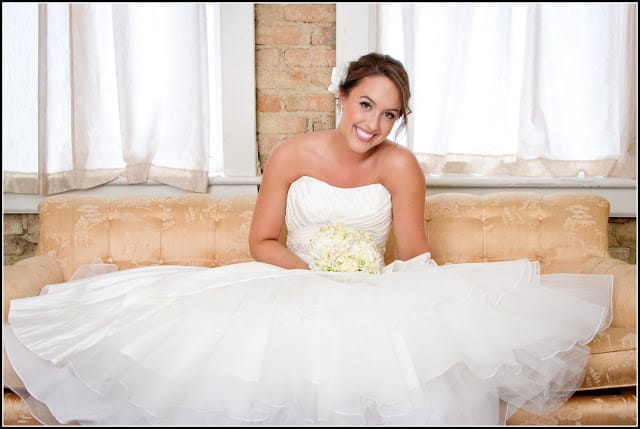 This feels like a lot of pressure. How can I make it easier and more enjoyable?
Use available resources! If words aren't your thing google best wishes for daughter on wedding day or something like that. This site has lots of ideas on what to write.
Does this idea include stepmoms, adoptive mom or other close female relationships?
This is the bride and groom's day and should represent what THEY want. Planning a wedding is stressful enough so the adults in their lives should respect their decisions.
Weddings should be joyful occasions. Yes, something will go wrong. It always does! But find out what the couple wants as far as speeches, toasts, letters, etc. and honor their desires.
Is it a good idea to give your daughter a gift of congratulations as well?
Rachel had a couple of wedding showers so I gave her a gift at those events. However, if you'd like to do something more personal, check out the list of sweet gift suggestions for the bride at the end of this post.
You can read more about my daughter's beautiful wedding (and how we pulled it off for under $5000!)
Heartfelt Letter from

Mother to Daughter on Your Wedding Day
October 8, 2011
Dear daughter,
Today is your wedding day, the most special day of your long lived life at twenty two. Today you will walk down the aisle, radiating beauty, leaning on your father's strong arm, to meet your true love.
This is the day the man we have prayed for will take you as his wife, for better or worse. This specific God-ordained pairing of two young people claiming Jesus as their Savior, joining together in a beautiful ceremony and pledging to live for Christ the rest of their days. I don't know about you, but it overwhelms me.
This life-altering special occasion has been prayed for and given to God by your father and me. We didn't know who we prayed for all these many years but God did.
He knew the one who would love you with an everlasting love. The man who would take on the role of head of your family with certainty and a little fear. Someone who desires to uplift and encourage and love you as Christ loved the church.
Your daddy and I merely give warm wishes and our blessing for a wonderful life together. Soon you will be newlyweds and experience all the joys and sorrows that life will bring. We look forward to watching love bloom and sparkle in the two of you and are thankful to have a front row seat as your life together unfolds.
I couldn't be more proud of the young woman we give away today. May God richly bless you with great happiness and a successful married life.
Head strong and confident.
Stubborn and feisty
Loving and giving
Sweet and sassy
You are my child.
My daughter.
The speck within me that has been loved and cherished since conception.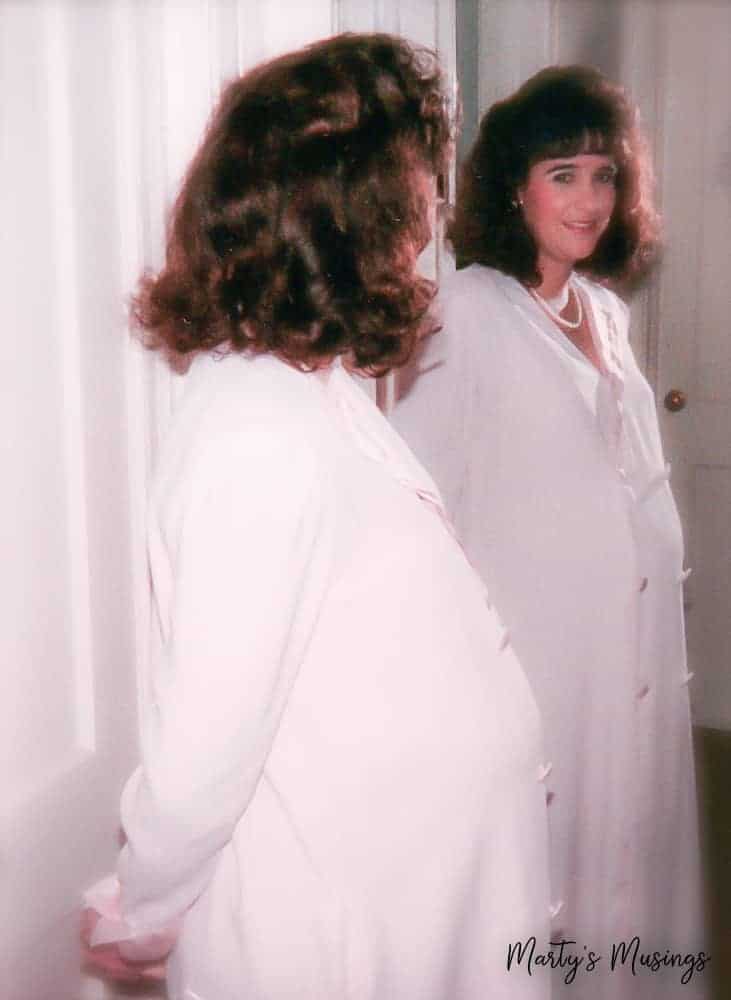 The one I fell in love with twenty two years ago.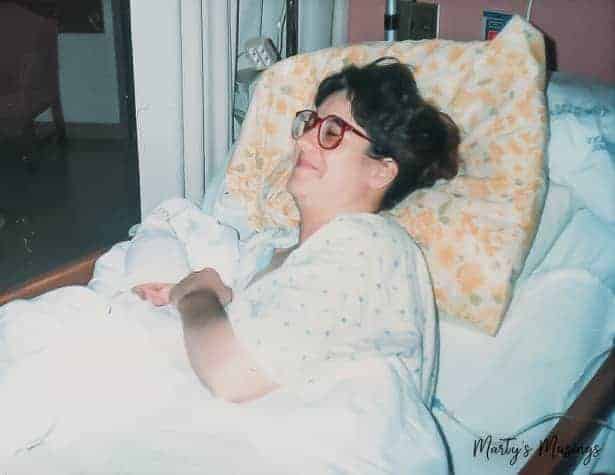 The little sweetheart I drove around the neighborhood, begging to go to sleep.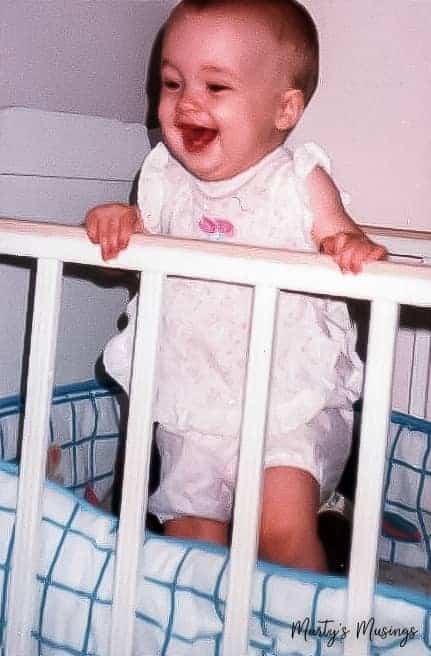 The toddler who clung to my leg and pleaded with me not to leave her.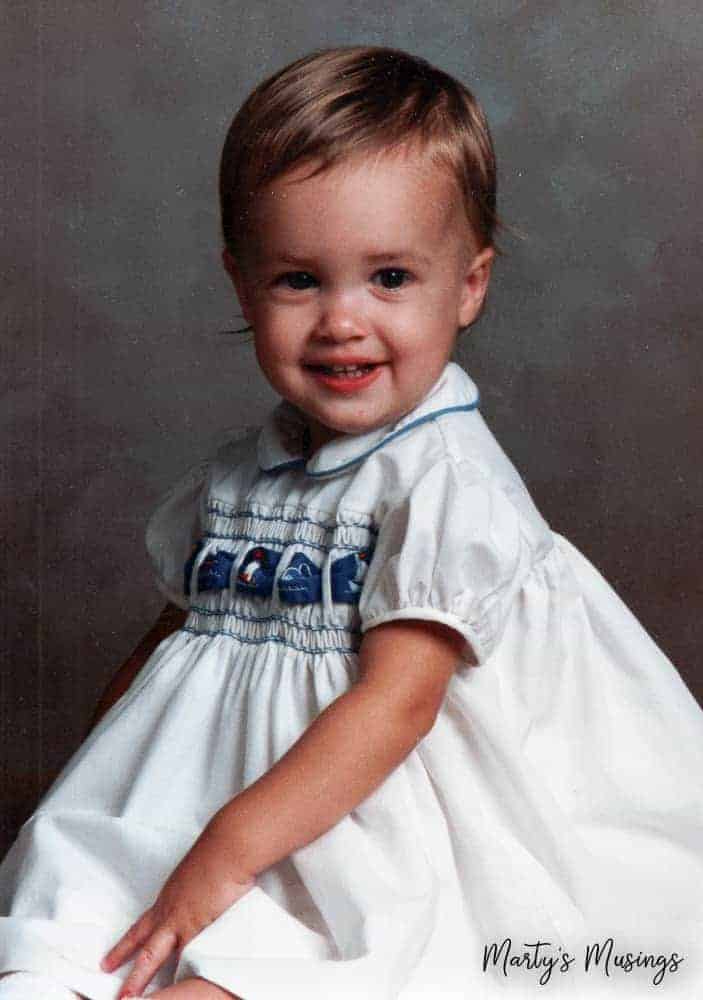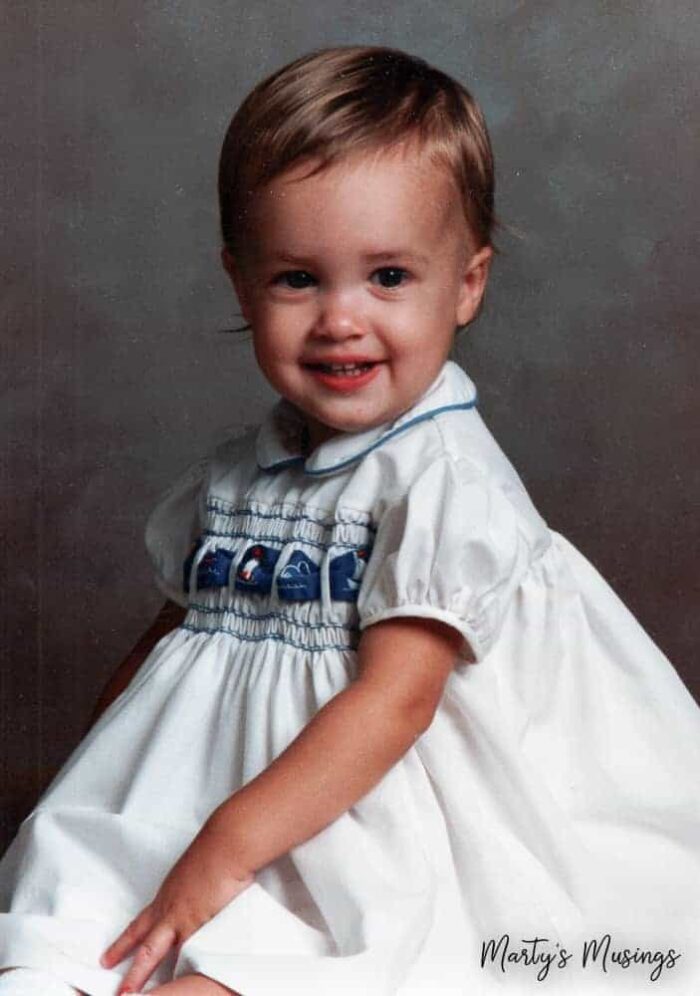 The shy preschooler, afraid to talk in class but who turned into an amazing leader as your childhood presented challenges and opportunities for growth.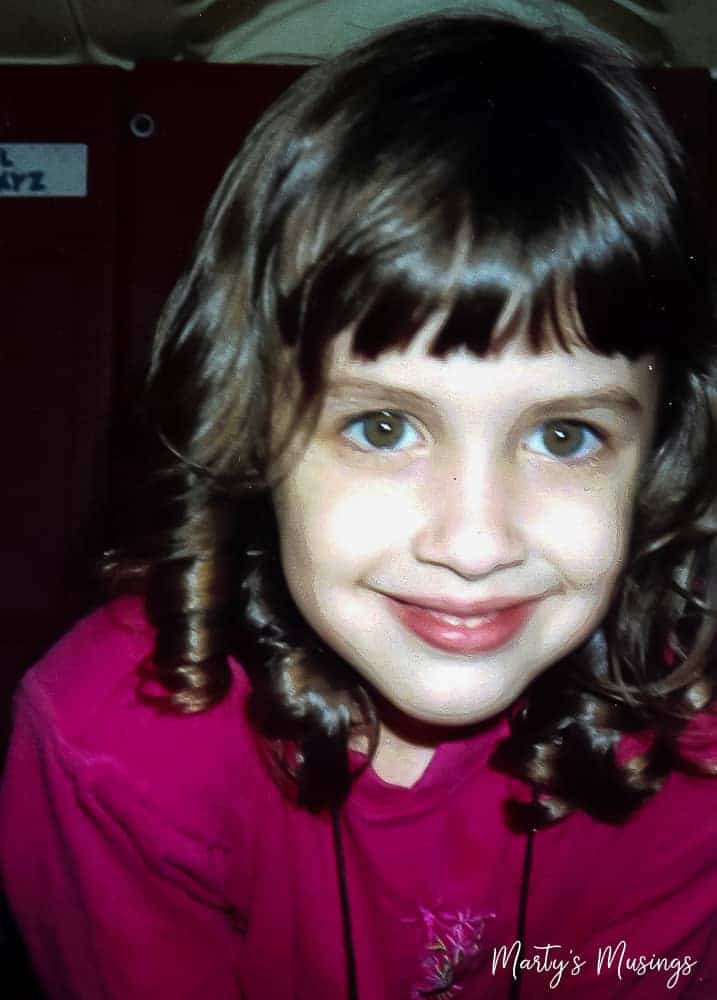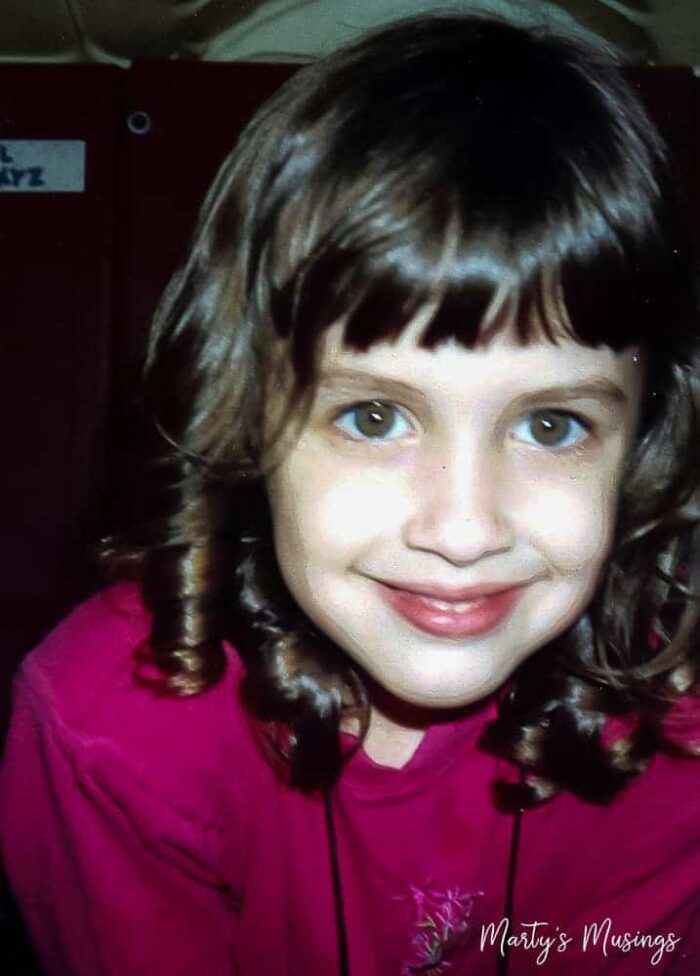 The big girl dressing as an angel at the Robinson's Bible Study.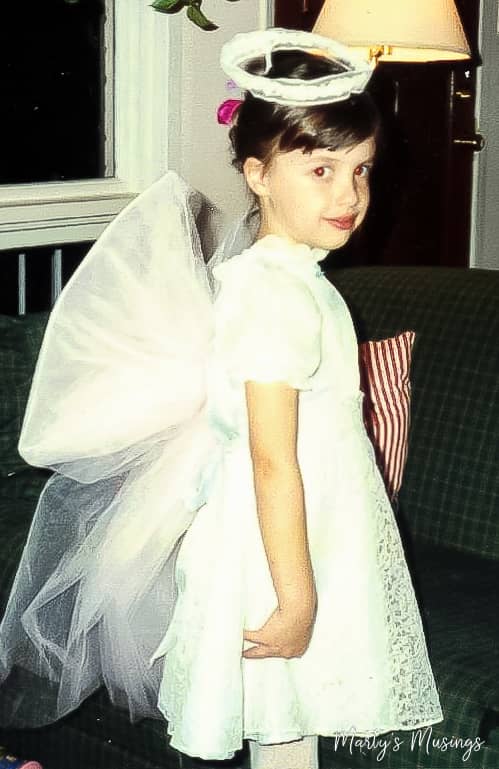 The homeschool student who labored with me over phonics.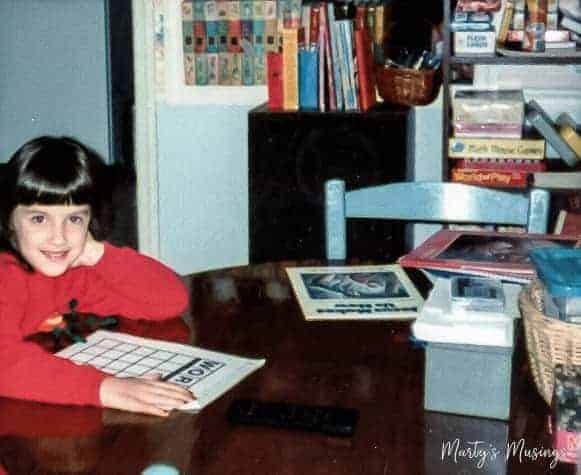 The piano student who didn't always like to practice.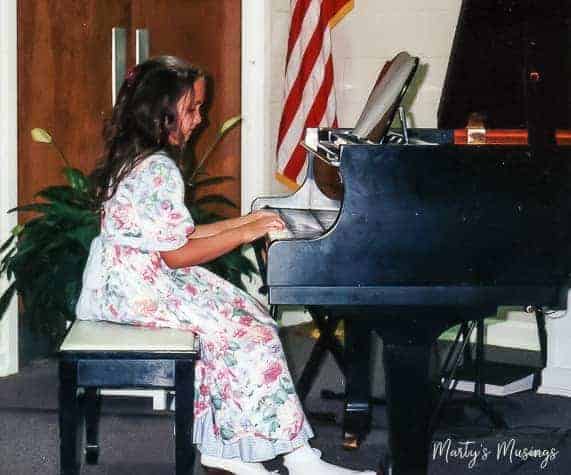 The elementary school "mama" who loved all babies.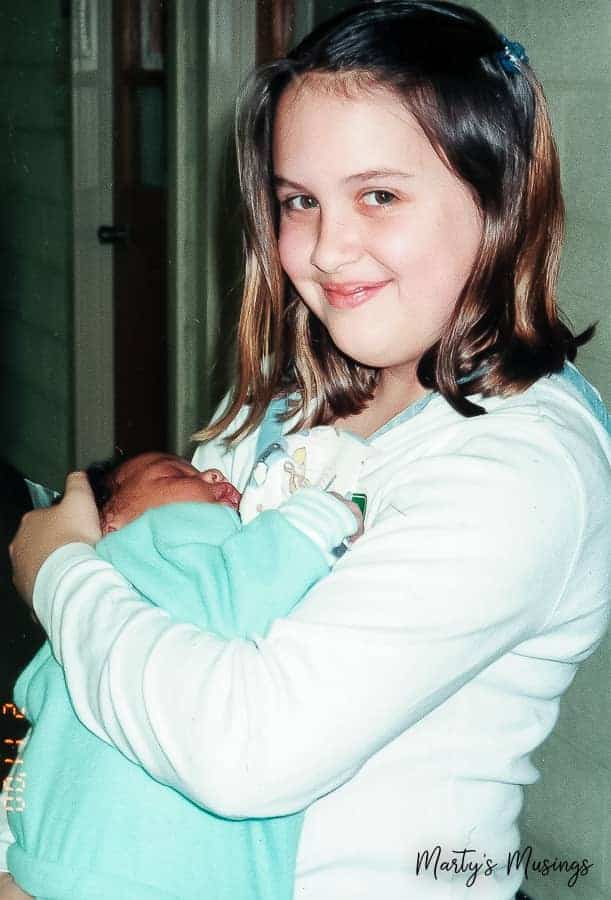 The sister who willingly embraced three adopted siblings.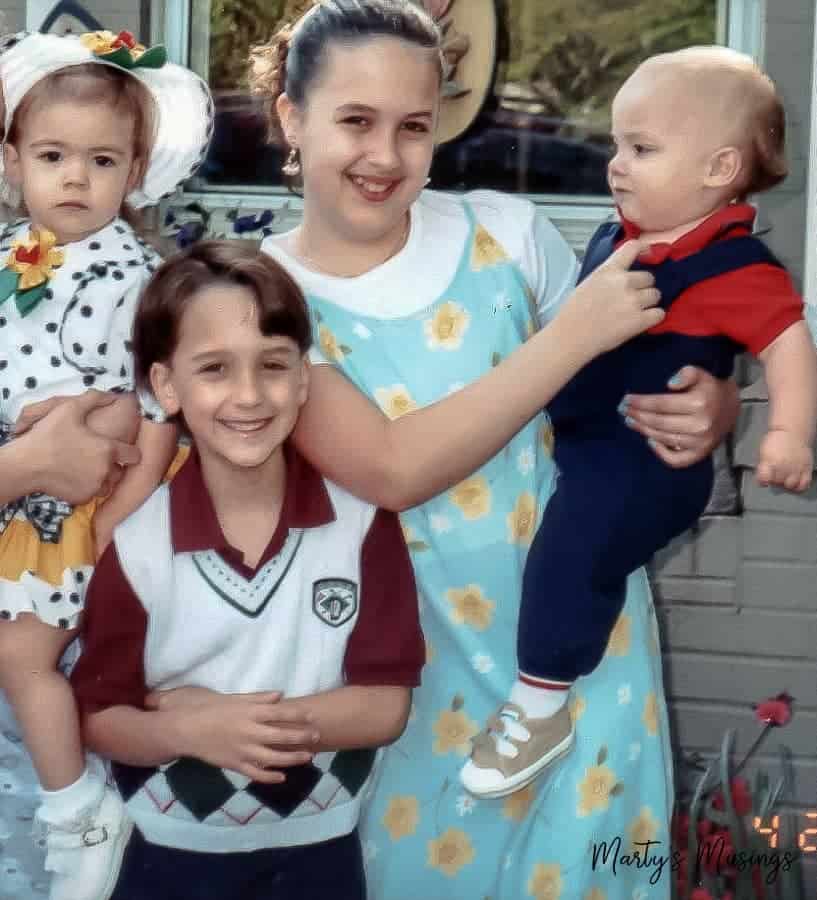 The teenager with braces.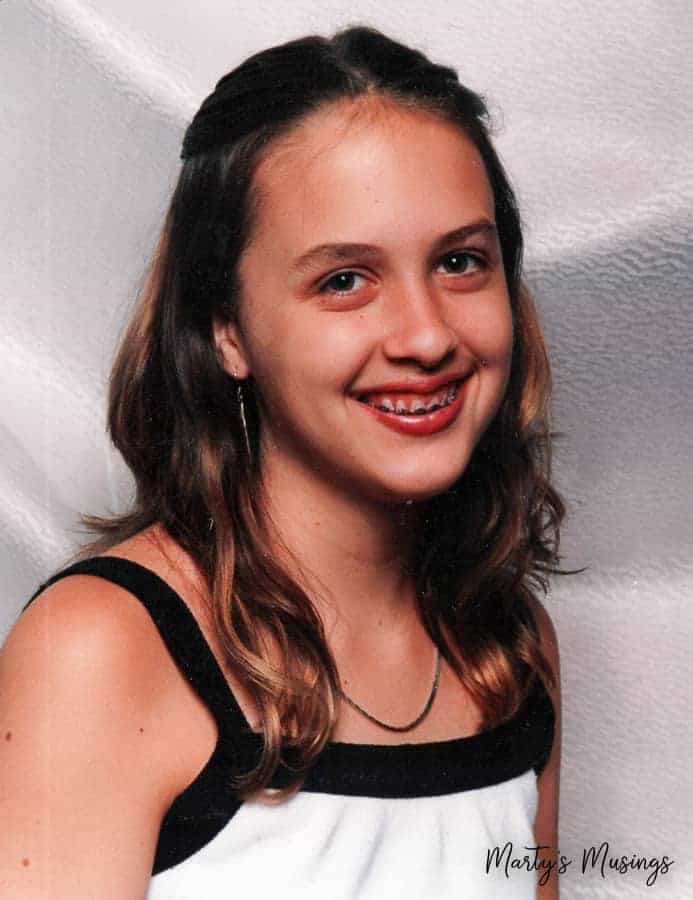 The young woman with the amazing long hair who chopped it off for Locks of Love.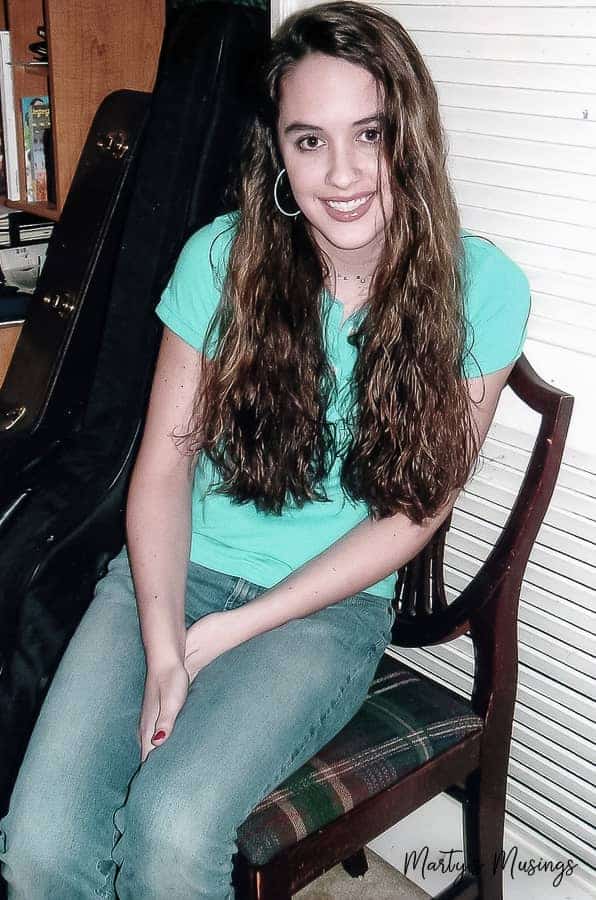 The not so little princess going to prom.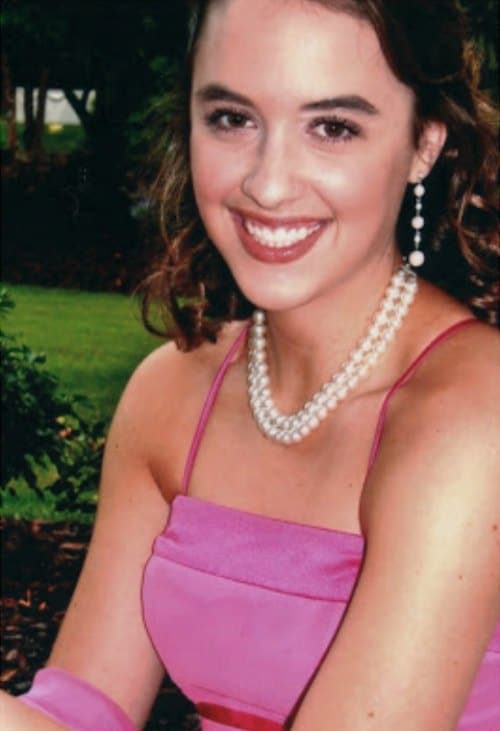 The sassy, opinionated, confident woman.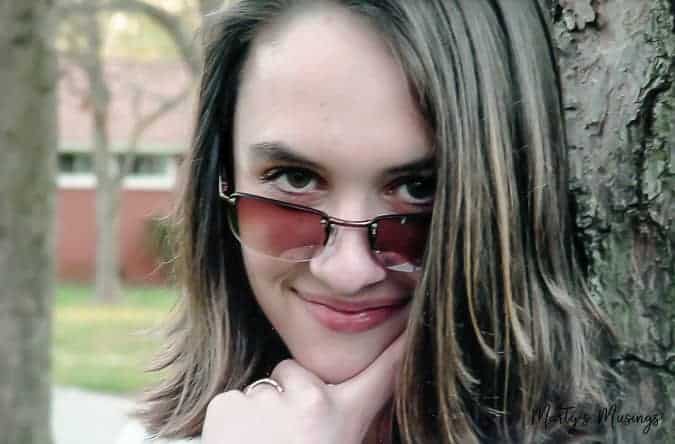 The young lady with hopes and dreams.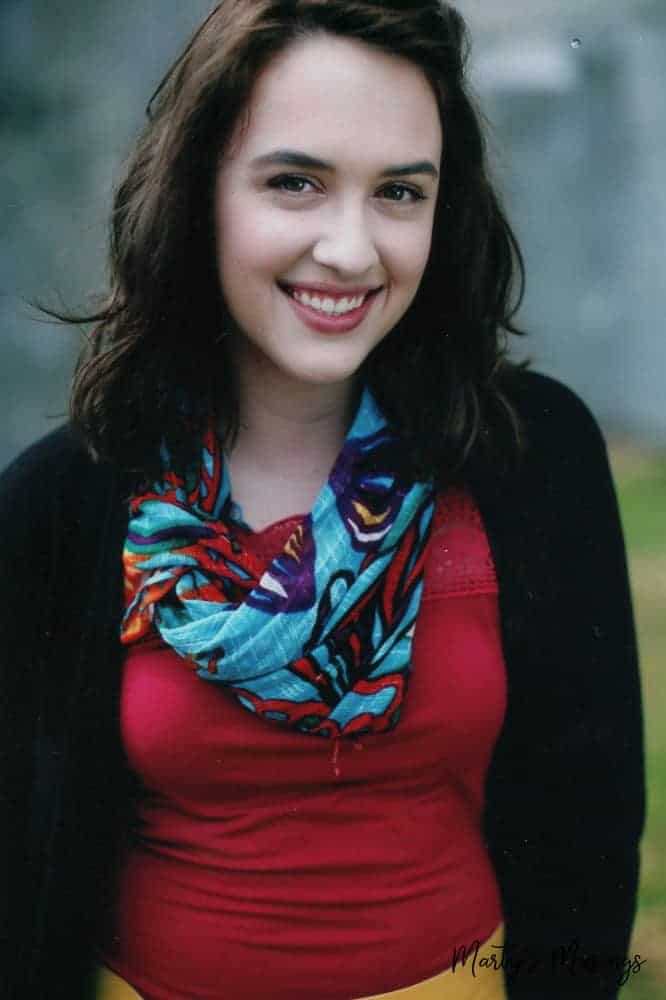 My sweet daughter with the"800-watt" whose smile and laughter lights up the room.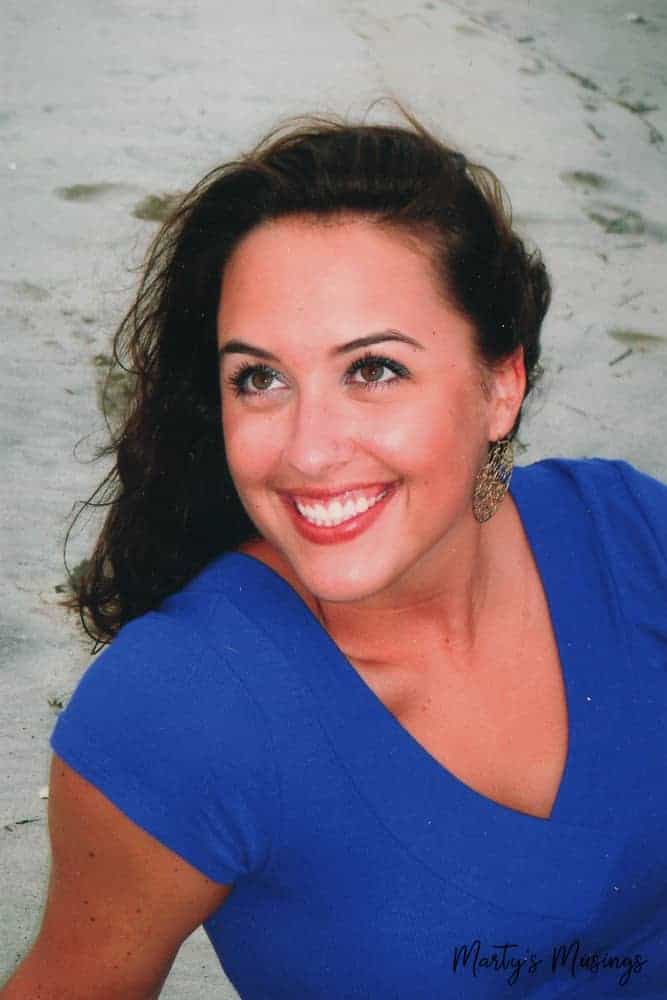 Today you are the bride. The center of attention as your wedding processional begins. You are our beautiful joy and gift.
As mothers of the bride know, time flies when you're raising your children. Part of this day will be letting go and watching you fly into this new season. This new chapter is filled with excitement and I hope this keepsake letter will always remind you of this moment in time.
You are never far from our thoughts and our hearts. As you begin your new life as newlyweds with your life partner we will be here to give our most heartfelt wishes and to celebrate and rejoice with you both.
Thank you for being my "practice" child. And for teaching me more than I could ever teach you. I love you, sweet girl.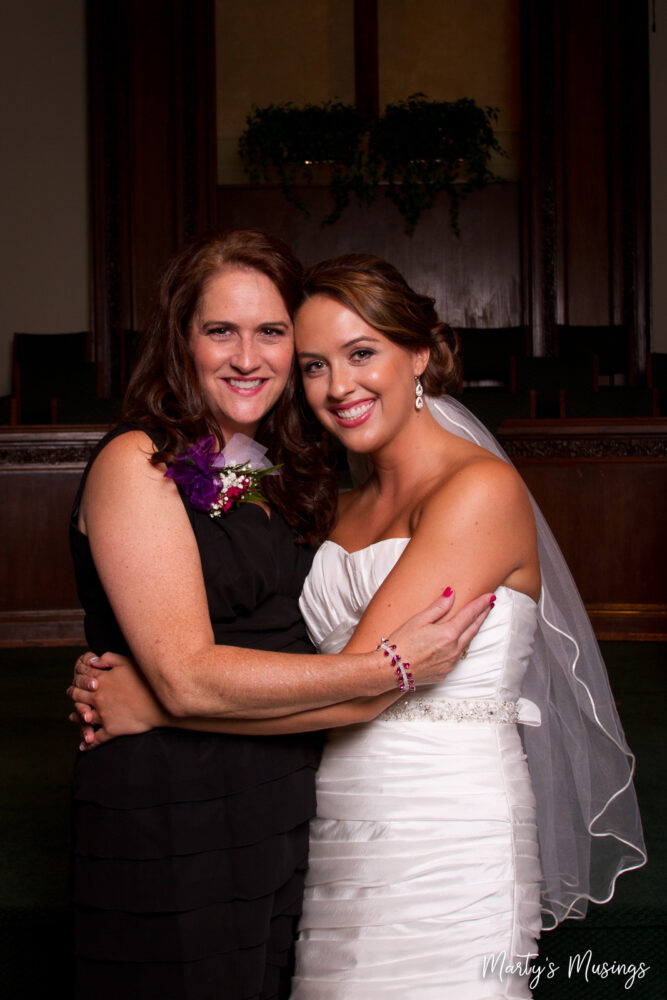 I'll love you forever,
I'll like you for always,
As long as I'm living my baby you'll be.
With lots of joy and prayers,
Mom
*** When Rachel got married I would have loved some helpful ideas for a thoughtful gift from me to her. We DIY'ed so much of the event (in those pre-Pinterest days, thank goodness!) that I was too tired to be creative by the time the wedding rolled around. I hope some of these links will help you cross one more item off your to do list! Happy Wedding Day and congrats to mama and baby girl!
Gift Ideas for the Bride (or Mother of the Bride or Groom's Mother!)
(I've included some affiliate links for your convenience. Click here to read my full disclosure policy.)
I'll Love You Forever(I read this book to all of my children and it still makes me cry!)
The Love Between a Mother and Daughter Will Last Forever(and inexpensive but very sweet necklace)
Gift book full of encouragement and wisdom(with drawings by Marci)
I Survived My Daughter's Wedding! mug(yessss!)
Hand Crank Music Box (what a sweet, unusual gift!)
Mother of the Bride Embossed Handkerchief(sweet sentiment to carry on the special day)
Stainless Steel Bangle Bracelet with Charm (perfect gift for mother of the bride OR groom)
The Love Between a Mother and Daughter is Forever (collection of poems and artwork)
The Life-giving Home by Sally and Sarah Clarkson (beautiful book on the true meaning of home)
Read more about my daughter's wonderful wedding (and how we pulled it off for under $5000!)
Favorite encouraging words for my children: